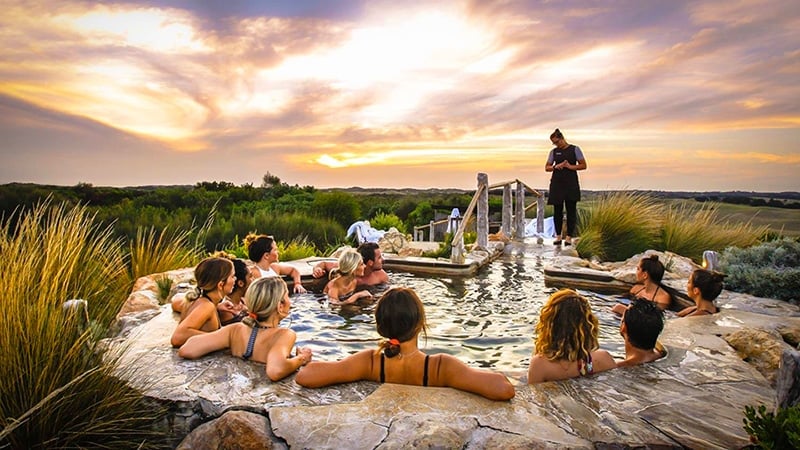 The healing powers of mineral-rich hot springs have been known and utilised for centuries across many cultures. Australia, in fact, is home to some of the most extensive artesian systems in the world. A soak in those thermal waters can increase your metabolism, clear your skin and provide relief from physical aches and mental stress. So, to help you rejuvenate your body and mind, we've curated a list of the most relaxing natural hot springs to visit in Australia.
1. Hepburn Springs, VIC, Australia
Established in 1895, the Hepburn Bathhouse & Spa is the area's only historical bathhouse. While this spa offers a range of rejuvenating therapies for your body and soul, its real highlight is the Sanctuary Retreat. This healing experience combines natural mineral bathing with ancient cultural spa traditions. Ten luxurious five-star rated villas also provide the perfect overnight accommodation after a relaxing day of renewal.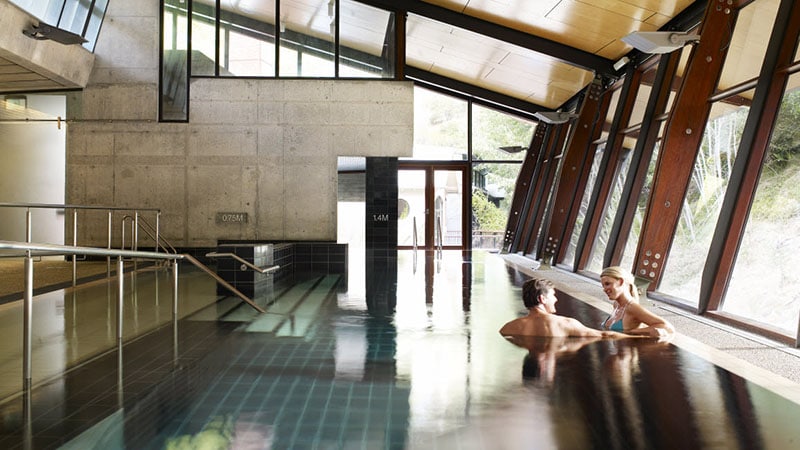 2. Mornington Peninsula Hot Springs, VIC, Australia
Set in the middle of the beautiful Mornington Peninsula, the Peninsula Hot Springs provide an excellent spa experience. Located south of Melbourne, guests will find themselves in a secluded and peaceful environment, equipped with rugged caves and rock pools filled with pure thermal mineral waters. Inspired by the Japanese bathing culture, brothers Charles and Richard Davidson created a sanctuary for the soul, where patrons can unwind and get back in touch with their inner selves and mother nature.
Visit Mornington Peninsula Hot Springs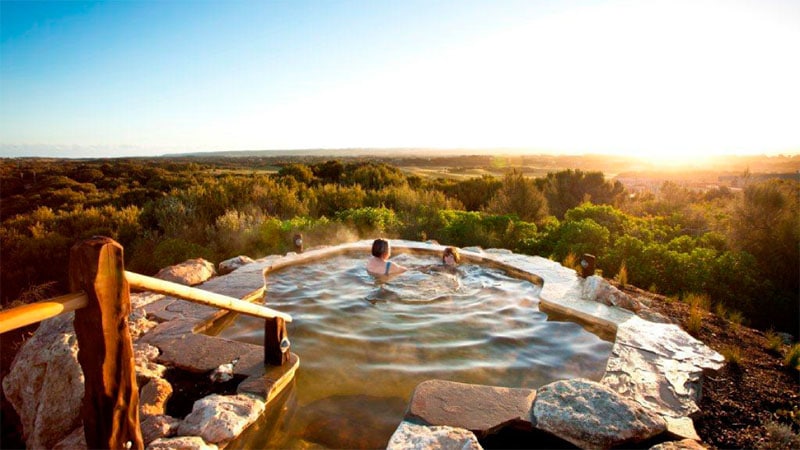 3. Deep Blue Geothermal Baths, VIC, Australia
The Deep Blue Geothermal Baths form part of the spa facilities at the Deep Blue Resort in Warrnambool in Victoria's west. Here, the pools circulate water from an ancient underground source known as the Dilwyn Aquifer. Due to this incredible spring, the first mineral baths in this area were created in the late 19th century. Today, there is one open geothermal mineral pool and four private hot mineral pool rooms for your use.
Visit the Deep Blue Geothermal Baths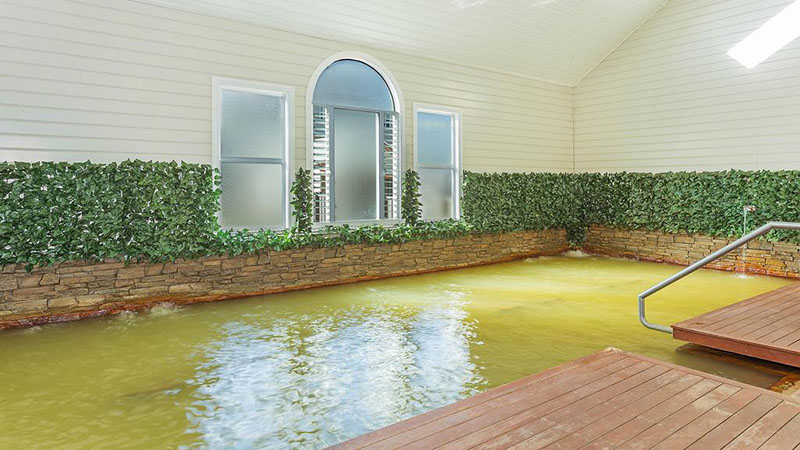 4. Dalhousie Springs, SA, Australia
Dalhousie Springs in South Australia is an accumulation of over 60 natural hot springs. Located in the heart of the country within Witjira National Park, 500 kilometres south of Alice Springs, these thermal wells form a true outback oasis. Looking at the tree-lined, deep blue clusters of thermal goodness, it's not surprising that local indigenous tribes consider these springs a sacred place.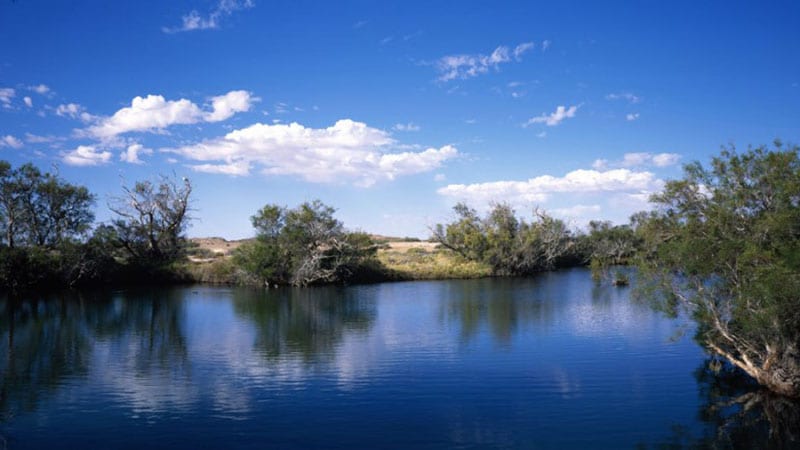 5. Mataranka Thermal Pool, NT, Australia
Shaded by towering palms and lush, green bushland, the Mataranka Thermal Pool is one of the most popular places in Elsey National Park. Like Bitter Springs, it's not only a feast for the eyes but also a joy for the soul. The underground mineral water veins continuously pump large amounts of soothingly warm water into the pool, ensuring a renewing experience every time.
Visit the Mataranka Thermal Pool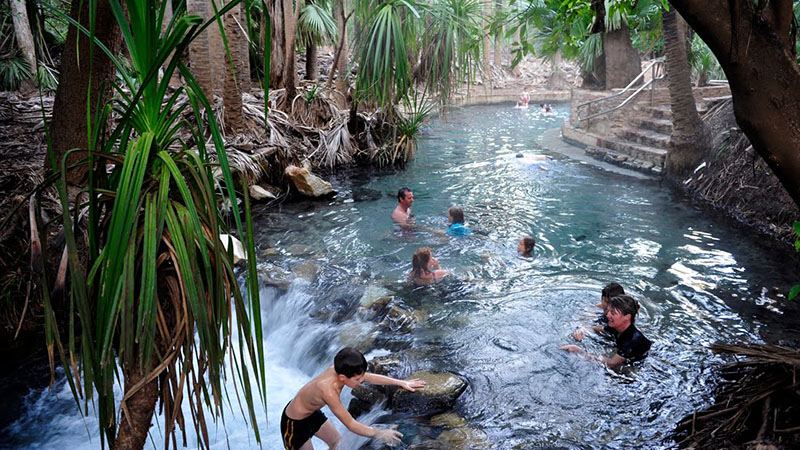 6. Bitter Springs, Mataranka, NT, Australia
Bitter Springs is one of the several natural thermal clusters in the Mataranka region. Here, a slow drift leads the springs into a stream, which enables swimmers to follow the water for up to 100 metres. Since Bitter Springs is also deeper than others, it is unsuitable for small children, but can provide a relaxing and quiet experience.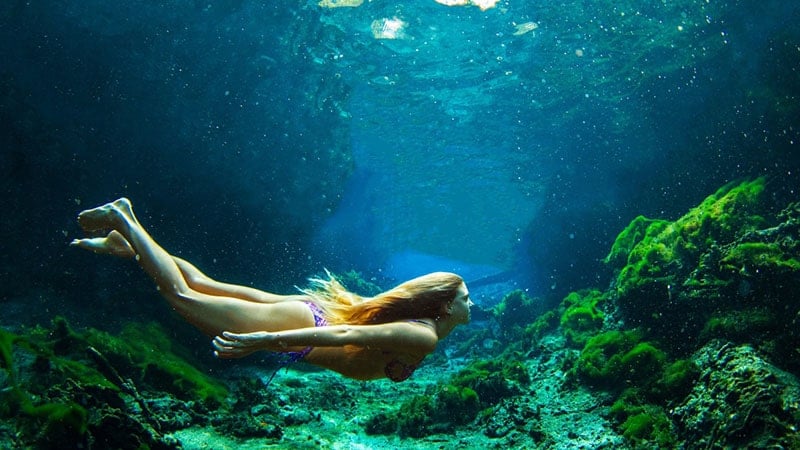 7. Tjuwaliyn/Douglas Hot Springs Park, NT, Australia
The Tjuwaliyn/Douglas Hot Springs Park is a small oasis made up of different natural thermal pools. The warm wells are a big drawcard for seasoned campers and adventurous travellers. Surrounded by dry woodland, it's also an excellent place for spotting some of the quirky local species, like bandicoots, quolls and flying foxes.
Visit Tjuwaliyn/Douglas Hot Springs Park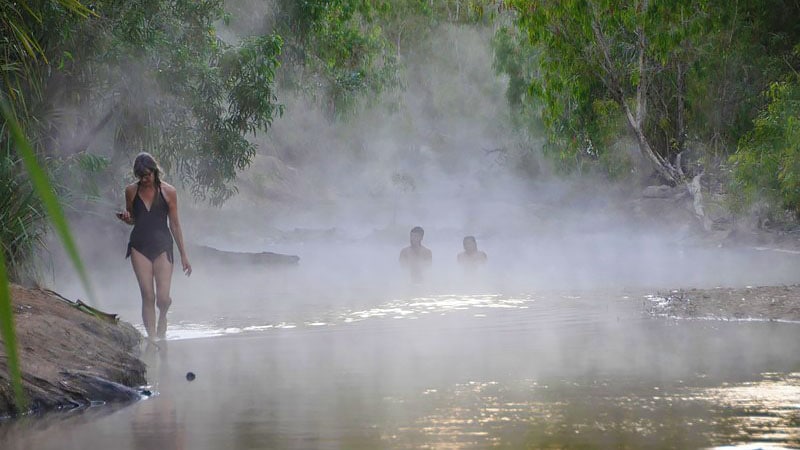 8. Katherine Hot Springs, NT, Australia
The hot springs near the small township of Katherine offer a perfect spot for a little lunchtime picnic and a recreational dip. Nestled within the Katherine riverbed, the spring usually averages around 32 degrees. This temperature makes it a perfect destination all year round, but especially tempting during the cold months.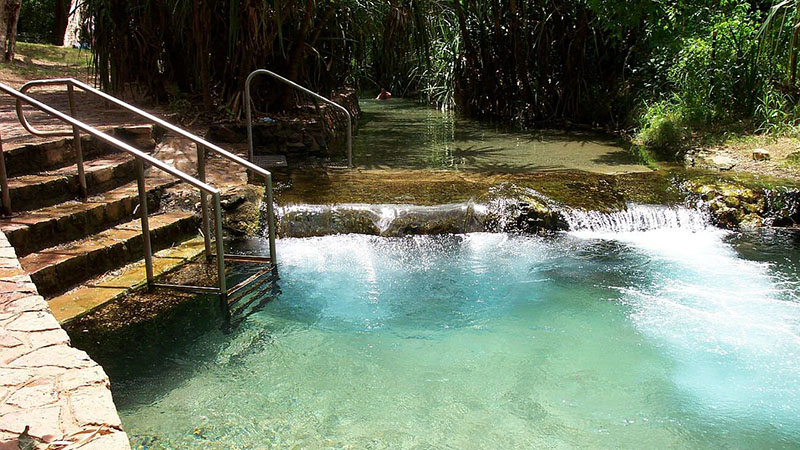 9. Innot Hot Springs, QLD, Australia
The Innot Hot Springs in Far North Queensland first gained attention approximately 100 years ago when the water found at Nettle Creek was bottled and shipped to Europe. Today, the Innot Hot Springs Leisure & Health Park combines six public pools where tourists are invited to bottle their own water. Alternatively, you can have a shovel and go on a digging adventure for thermal spring water.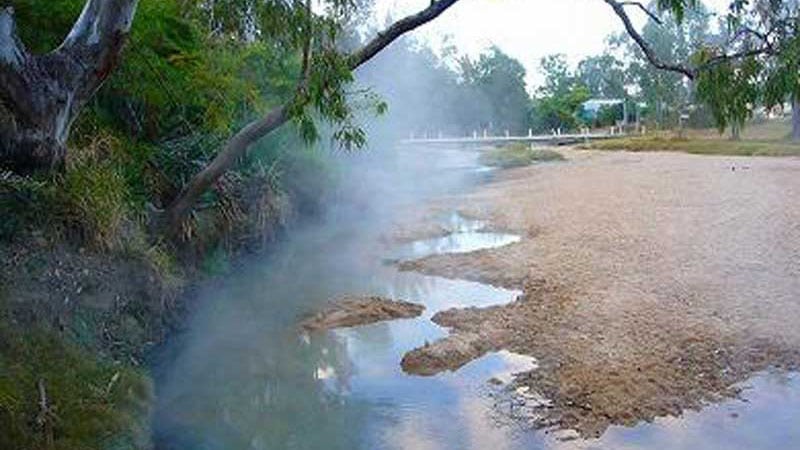 10. Moree Artesian Baths, NSW, Australia
The Moree Artisan Baths in New South Wales are perfect for a trip with the whole family. While the kids enjoy the waterpark, you can withdraw to the Artisan Soak & Sauna Retreat to relax in healing thermal spring water before receiving a rejuvenating treatment. Additionally, there are group fitness classes, commercial gym facilities and an Olympic pool.
Visit the Moree Artesian Baths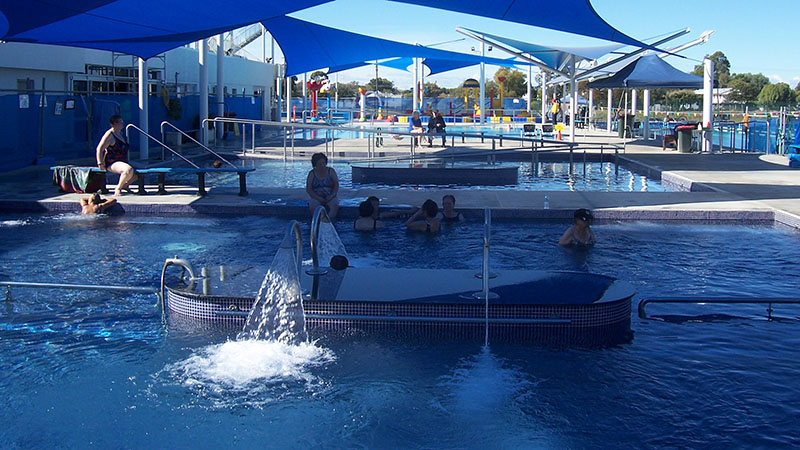 11. Blue Mountains Sparadise, NSW, Australia
The Blue Mountains Sparadise allows you to relax in a Japanese-inspired setting. There, you can cleanse your lungs with a herbal steam bath and have a soak in the mineral-rich water before retreating to the Zen garden. Even the hotel rooms in the old Tudor-style house are furnished in traditional Japanese fashion with futon beds and sliding doors.
Visit the Blue Mountains Sparadise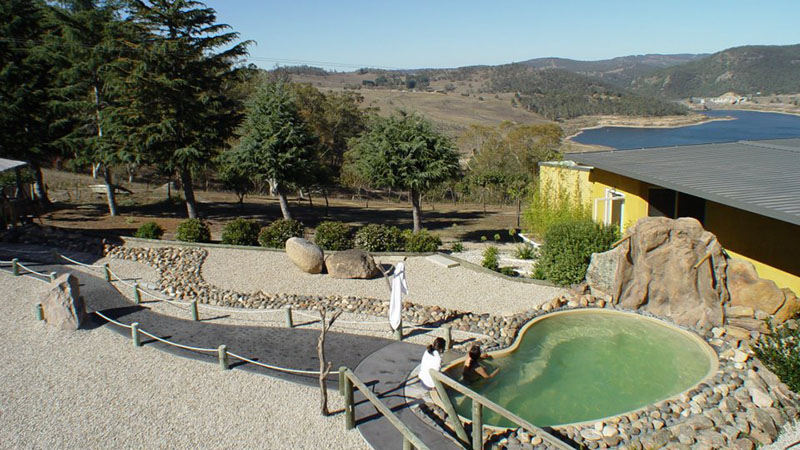 12. Lightning Ridge Bore Baths, NSW, Australia
The water supplying the Lightning Ridge Bore Baths comes straight from the Great Artesian Basin, which happens to be the largest and deepest artesian basin in the world. (Its water reservoir is even estimated to be around two million years old.) Here, you'll find a bore that regularly pushes new water to the surface for perfect temperatures of 40 to 50 degrees Celsius.
Visit the Lightning Ridge Bore Baths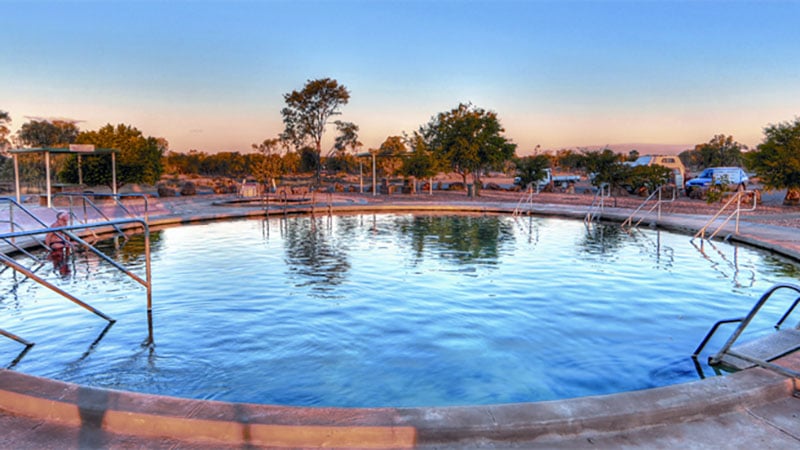 13. Zebedee Thermal Springs, WA, Australia
Located deep within the El Questro Wilderness Park in Western Australia is the Zebedee Thermal Springs. Like a thin river, they curl their away around tall palm trees. For a dip in these delicate waters, the park urges travellers to arrive early. The springs close to the public at midday to reduce any environmental impact on this unique spot.
Visit the Zebedee Thermal Springs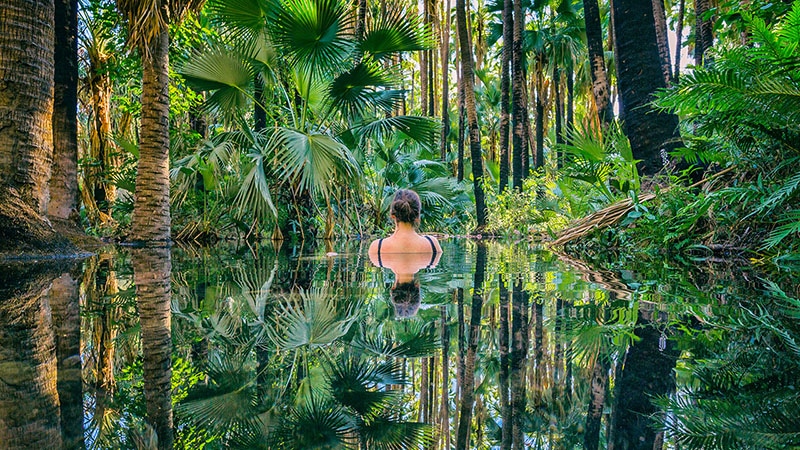 14. Hastings Thermal Springs, TAS, Australia
One of the many great things about Tasmania is that nothing's too far away. One example is the Hastings Caves and Thermal Springs, which is only about an hour-and-a-half drive from Hobart. Here, you'll find yourself exploring million-year-old dolomite caves while feeding your soul with warm, nourishing water in the local thermal springs.
Visit the Hastings Caves and Thermal Springs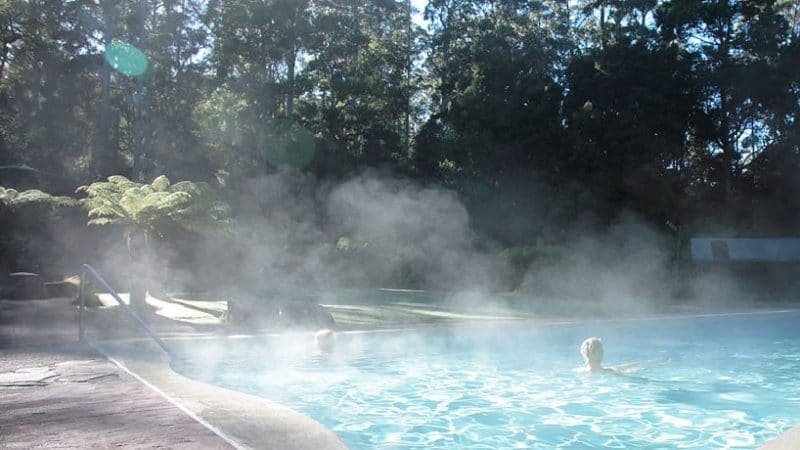 15. Kimberley Warm Springs, TAS, Australia
The Kimberley Warm Springs in Tasmania's north is a hidden gem. Far from the standard tourist attractions, these geothermal springs pump warm water from about 350 metres below the surface into a generously sized natural pool. The constant temperature of about 25 degrees keeps you cosy on cold days while still feeling refreshing in summer.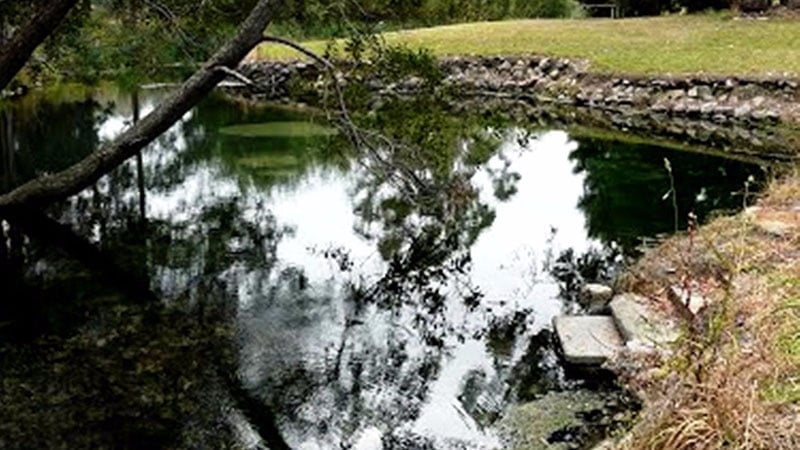 SUBSCRIBE TO OUR NEWSLETTER
Subscribe to our mailing list and get interesting stuff and updates to your email inbox.