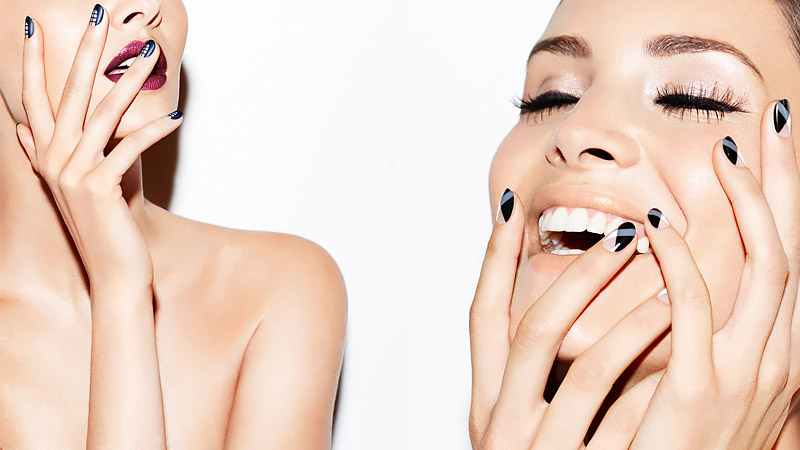 A fresh manicure is a perfect way to add a little something extra to your outfit. While we will always love ballet slipper pink or a classic red, why not try something a little more adventurous for your next manicure? From subtle chic detailing to bold designs, there is something for everyone with this season's most stylish nail trends – because life is too short for boring nails.

1. Graphic Detail
Go graphic with this season's boldest look! Choose contrasting colors to turn heads in your direction, or opt for similar shades for a more muted style. Try your hand at simple shapes and patterns at home. You might want to head to a technician though if you are after a more elaborate design.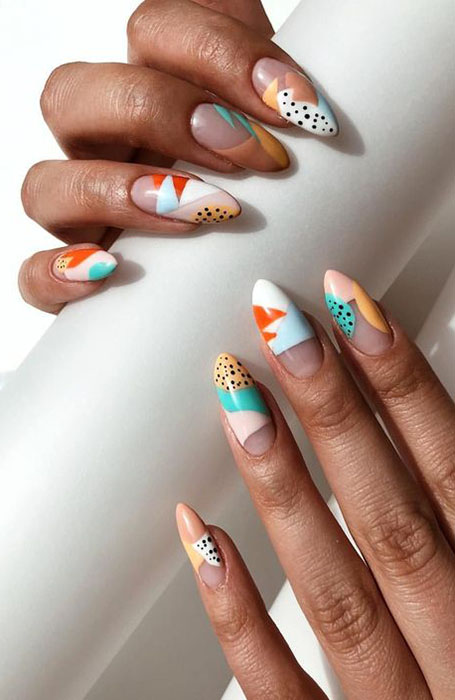 2. CD Nails
Embrace the 90s with a holographic CD-inspired nail. This eye-catching look is easily achieved with a special pigment made up of tiny reflective particles. Start with bare nails or your desired base color, apply a layer of the pigment, and finish with a clear sealing gel!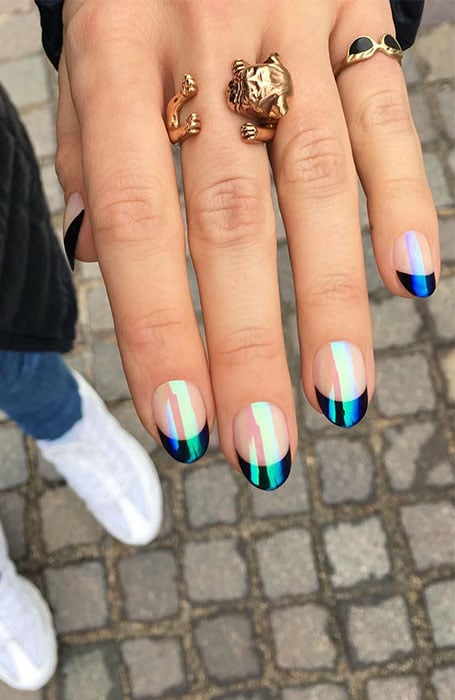 3. Nude and White Minimal Detail
We love the super subtle detailing of this nude and white design. Keep things simple with clear polish over well-kept nails and add a splash of white to one or two nails as desired for a tasteful manicure that is perfect for the office.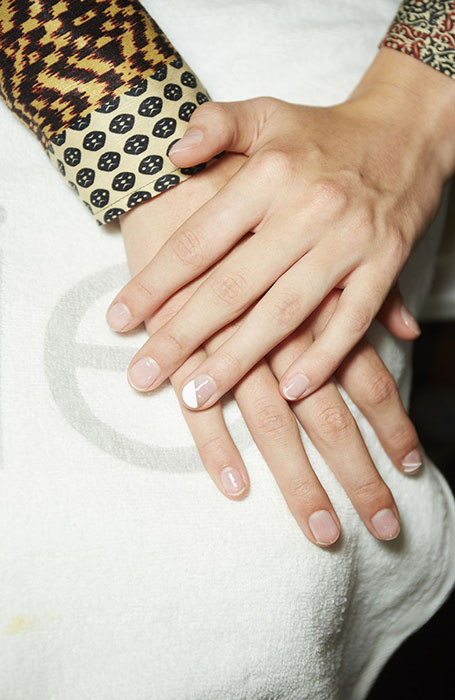 4. Pearl Detail
The pearl nail trend has been brewing for some time now. The best thing about this trend is how versatile it is. If you're after something luxe, have physical pearls applied to your nails. Depending on how glamorous you want to go, you can stick one on each nail at the cuticle or cover your nails completely. However, if you want something a little more subtle, then iridescent pearl nail polish is a perfect alternative.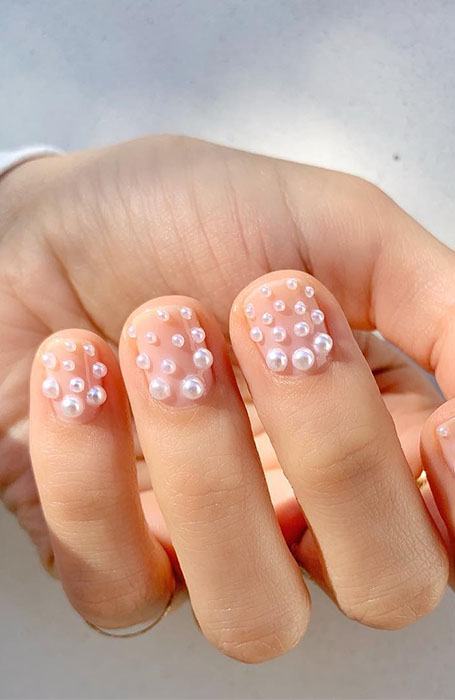 5. Gingham Nails
Gingham seems to be everywhere at the moment, and the trend isn't showing any signs of slowing down. Mimic the popular checked fabric on your fingertips to stand out from the crowd while still jumping on the trend.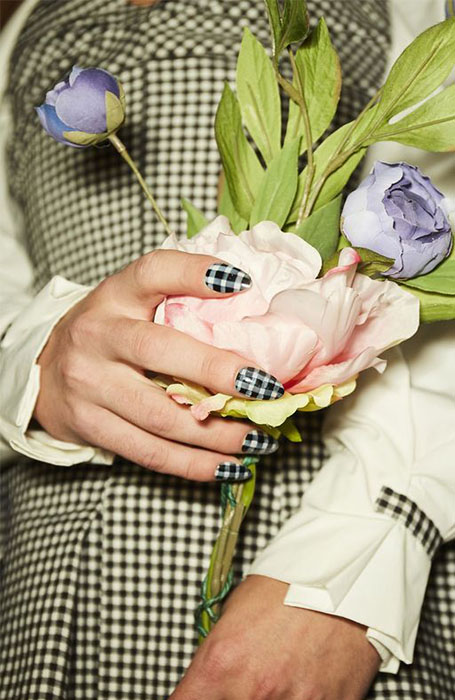 6. Zigzag Nails
Zigzag nails, sometimes known as chevron nails, may look complicated but are relatively easy to recreate at home! With just two shades of polish, some sticky tape, and a bit of patience, you will be rocking this retro manicure in no time!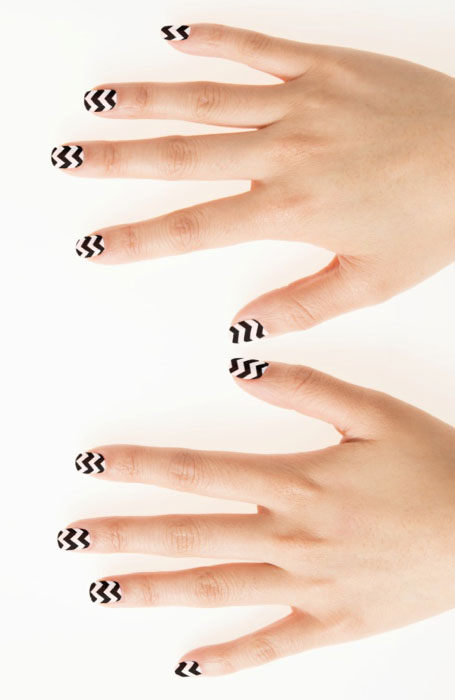 7. Marble Nails
Believe it or not, that marble countertop you've been dreaming about for your kitchen is actually the perfect manicure inspiration! The sophisticated trend is deceptively easy to recreate yourself with the help of one of the many DIY videos online. Start with a single marble feature nail, or if you are feeling more confident, go for a full set.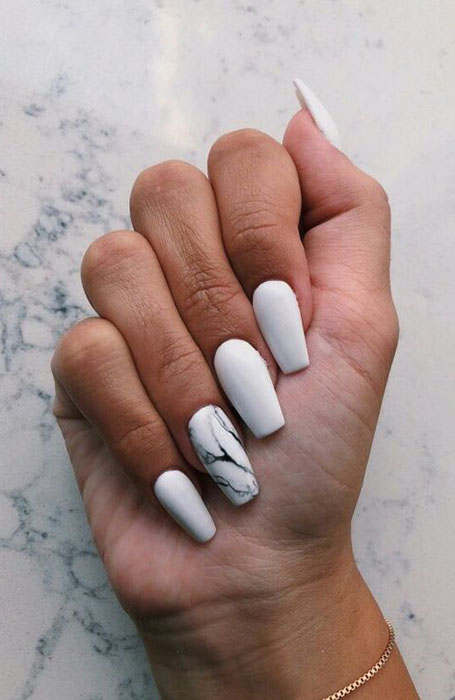 8. Animal Print
Animal prints are one of those trends that never seem to fade. While a classic leopard or cheetah print is always a safe bet, why not try the season's hottest new print: cow print! Celebs like Ariana Grande and Kendall Jenner can't get enough of the sassy style this season and neither can we!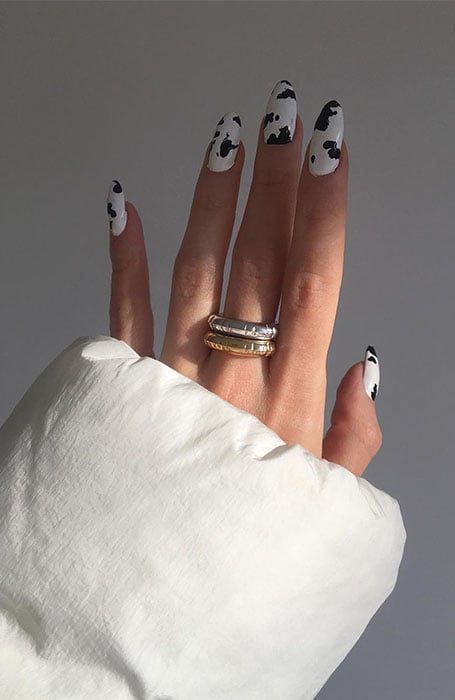 9. Geometric Art
For nails that make a statement, try out geometric art. This design is all about sharp lines and bold shapes. Don't be afraid to get really creative here with different patterns on each nail.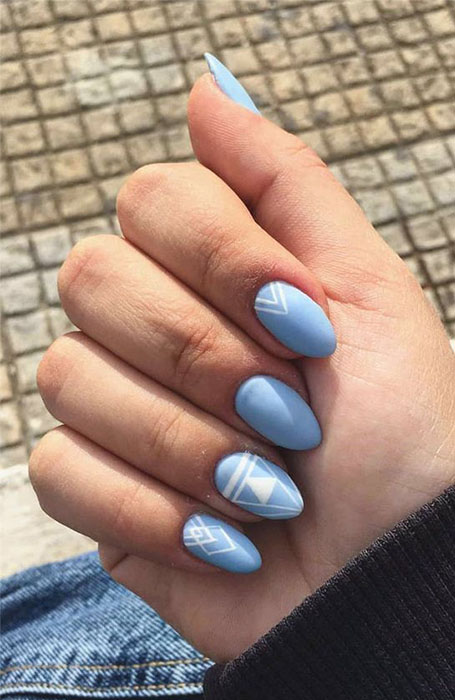 10. Double French Tip
The Double French Tip is a modern take on the classic French mani. While we will always love a good French manicure, the addition of an extra line is a fun way to spice up your nails this season.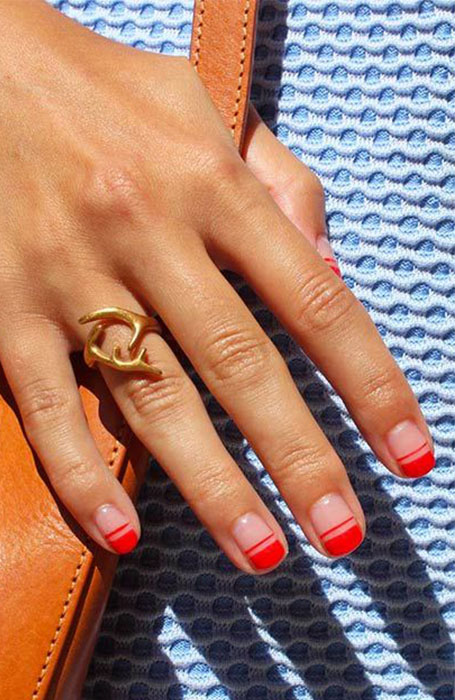 11. Colour Block French Manicure
Similarly, the color-block French manicure is another excellent way to breathe new life into the classic style. It is also a great way to add a pop of color to any outfit.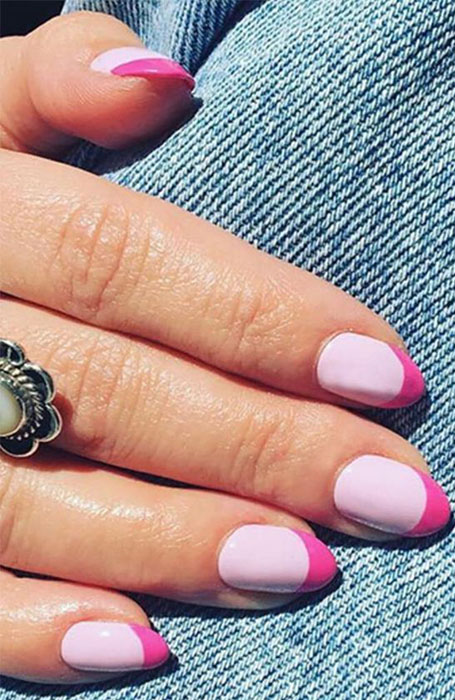 12. Single Nail Feature
Subtly unleash your creativity with a single nail feature. For this understated trend, paint all but one of your nails in a block color of your choice and make the remaining nail pop! A classic option is a single metallic or sparkly nail, but you could try patterns or graphics. The possibilities are endless!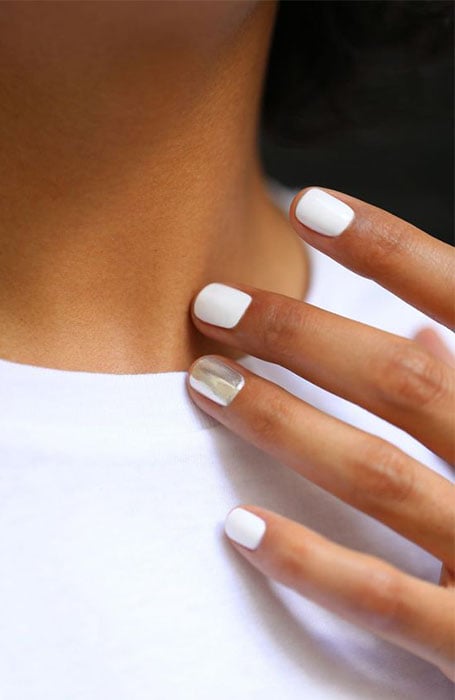 13. Metallic Nails
Metallic nails are having a moment this season. The funky craze is appearing all over Hollywood at the moment with nail queen, Kylie Jenner, regularly rocking the style. The metallic trend works in just about any color and pairs best with longer coffin shaped nails.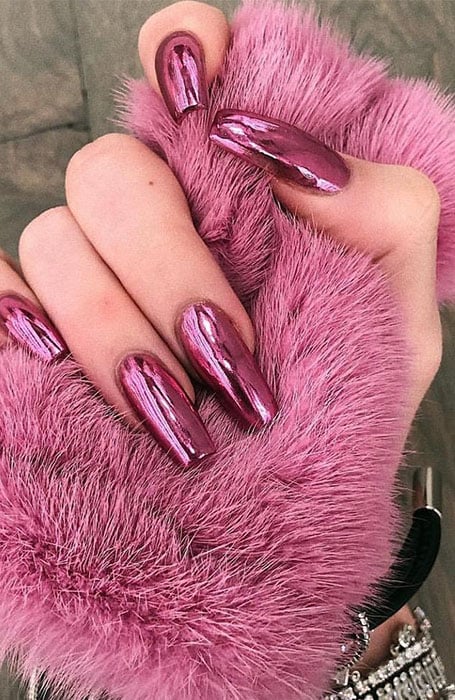 14. Galaxy Nails
For something out of this world check out the galaxy nail trend! The space-inspired design has been popping up on YouTube tutorials all across the internet, making it a trend to watch. Galaxy nails are surprisingly easy to do at home, and due to their abstract nature, you can't mess it up!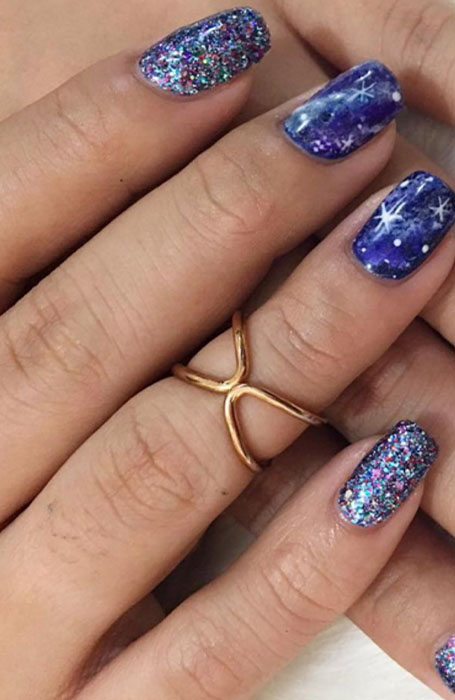 15. Jewel Nails
Inspired by Cardi B's famous encrusted talons, jewel nails are this season's most extra trend yet. Jewels and crystals of varying sizes are applied to the nails for a blinged-out look that is practically dripping.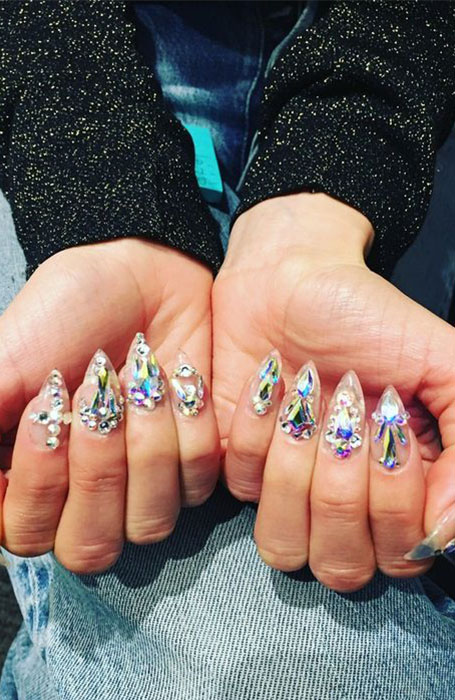 16. Pastel Nails
If there is one nail trend that will never go out of style, it is pastel nails. Choose from popular pastel colors like lavender, mint, yellow or pink for cute but chic fingertips any day of the week.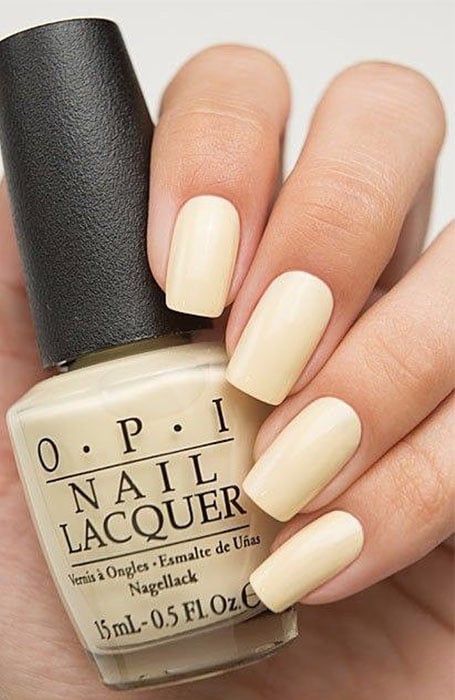 17. Green Nails
For a manicure that will turn faces green with envy go for this season's hottest shade: green! From emerald to mint to neon green, there is a hue in the lush color to suit every mood and occasion.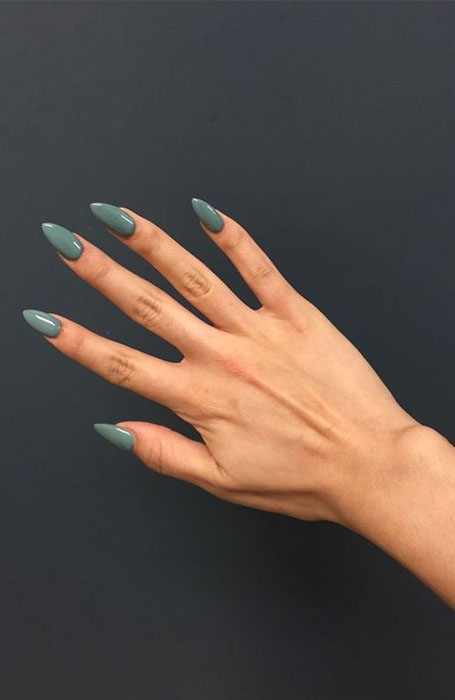 18. Pastel Rainbow
Why choose one shade when you can wear them all? Pastel rainbow nails are the playful trend celebrities are loving this season. You can go as quirky or as subtle as you like. Try a different color of the rainbow on each nail or go for different shades of the same color.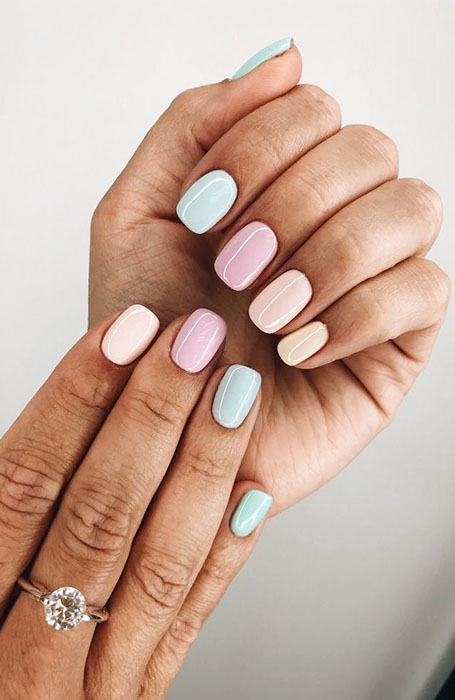 19. Ombre Pastels
Ombre made a splash in the world of hair a few years back, and now you can rock the trend on your fingertips. Elevate your usual manicure at your next appointment with this gradient pastel look.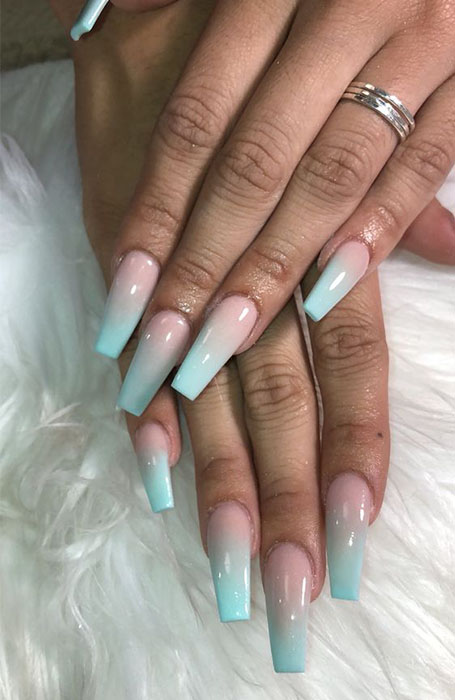 20. Nude and Neon
Give your classic nude manicure an unexpected twist with a pop of neon! The contrasting trend is perfect for trying your hand at neon shades without feeling like your nails are screaming at everyone.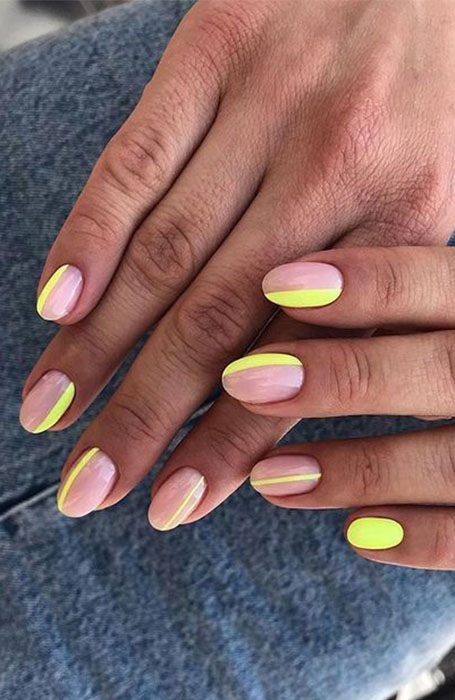 Trendy Nails FAQs
What is the nail trend for 2023?
It will be an excellent year for nail trends in 2022 because there are many exciting designs to choose from. Among these are the graphic detail trend, holographic CD nails, gingham print, pearl accents, and retro zig zags. There are also a few super wearable options for every day and every setting, such as the nude and white minimal detail looks and pastel shades.
What nails are in style right now?
There are subtle and chic options to choose from that are perfect for all occasions, as well as bright and bold choices. If you want your nails to be noticed, consider embracing a trend like galaxy nails, color block french manicure, or the nude and neon combination, which is bound to turn heads.
What is the popular nail color for 2023?
A few colors that will be on-trend for 2023 and transform your home manicures include spearmint, natural shades, candy pink, mulberry, and minty green. Like vibrant yellow and bright greens, some others shads make a statement and immediately draw the eye to your perfectly buffed nails.
SUBSCRIBE TO OUR NEWSLETTER
Subscribe to our mailing list and get interesting stuff and updates to your email inbox.