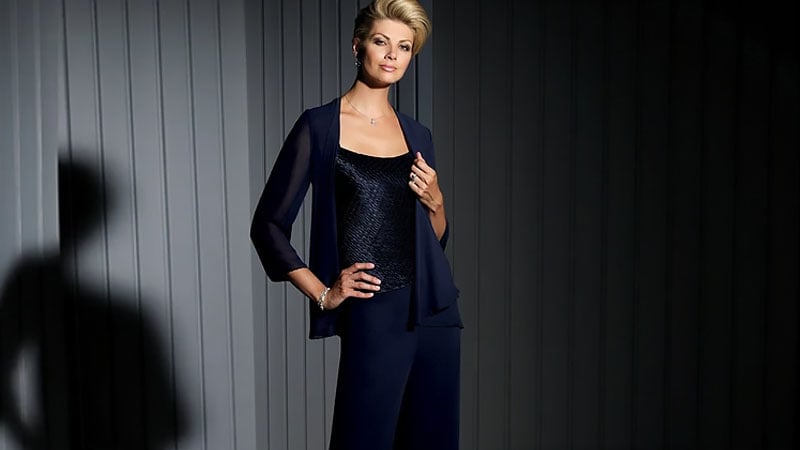 It's your child's big day! This day requires a lot of energy and patience as you watch or walk your daughter down the aisle, complete dances at the reception, and greet guests throughout the day or night. This means you need freedom of movement, and a touch of comfort. A pantsuit is a fantastic choice for a wedding, as it provides all of these elements, plus the welcomed addition of style and sophistication. In the last few years, these outfits have become more modern and sophisticated, so you can choose a design that is timeless and elegant. You will smile with pride looking at these images in the years to come, not just because of the happy couple, but because you looked so good. Get ready for the day, here are the best pantsuits for the mother-of-the-bride.
RELATED: 55 Most Beautiful Mother of the Bride Dresses
Mother of The Bride Pant Suits
Plus Size Mother of The Bride Pant Suits
Celebrating the wedding of your child is one of the most exciting days that a mother can have, so why not look your best? These mother-of-the-bride suits exude elegance and style while flattering your curves. Depending on the season and theme, you can try a nude or soft pink two-piece with lace details or embellishments. For cooler temperatures, you can't miss a dark pantsuit with a statement lapel or sequin details.

Get the Look
Classy Mother of The Bride Pant Suits
Mother-of-the-bride suits don't have to look dated to feel classy. Fabrics such as silk or satin tie in elegance and sophistication without taking the shine away from the newlyweds. Before deciding on the color, be sure to understand the theme of the wedding – garden or outdoor venues require softer colors, whereas an indoor event allows you to explore darker shades such as navy or gray.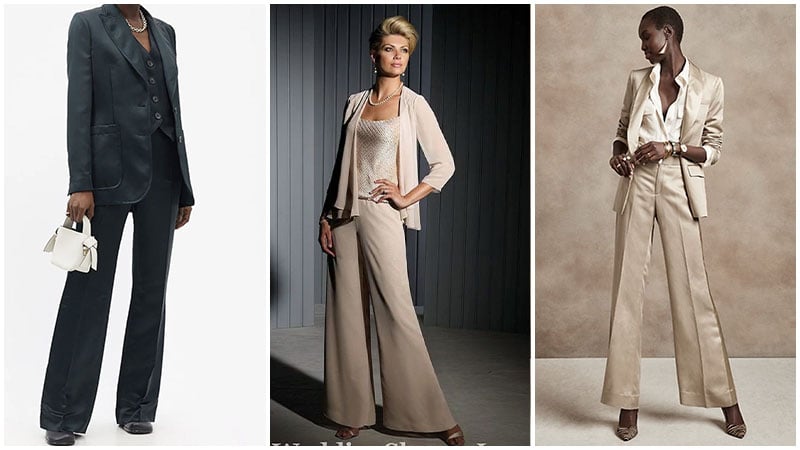 Get the Look
Designer Mother of The Bride Pant Suits
Finding the perfect pantsuit for your child's big day can be tough. Luckily, there are plenty of designer options that are perfect for the event. From Sergio Hudson to Veronica Beard, you can search for something that flatters the theme and your body type. The tailoring on these pieces is exquisite, meaning you can wear them over again whenever the occasion calls for it.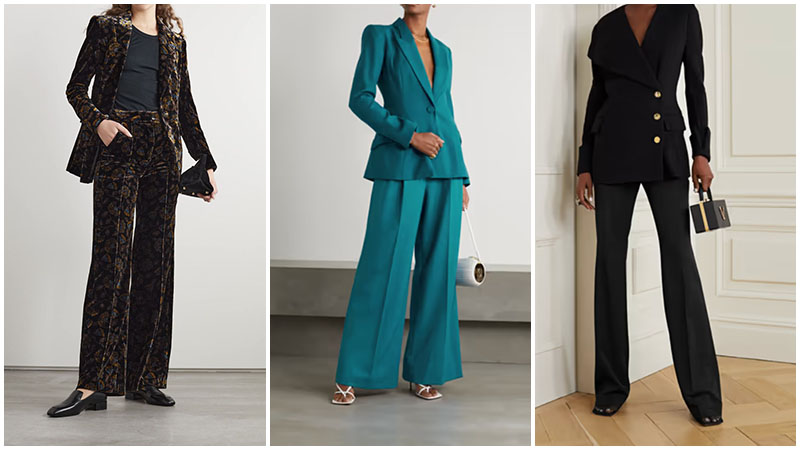 Get the Look
Elegant Pant Suits For Mother of The Bride
Looking back at the photos from your child's wedding day will be filled with joy, so you'll want to look your best. These elegant pantsuits offer a sophisticated edge, utilizing textures and varying lengths to create an interesting silhouette and effortless style. Try shades like silver, or navy for a timeless feel. Dress the look up with earrings or a dainty necklace for a dramatic finish, or let the clothes do the talking with sequins and sparkle.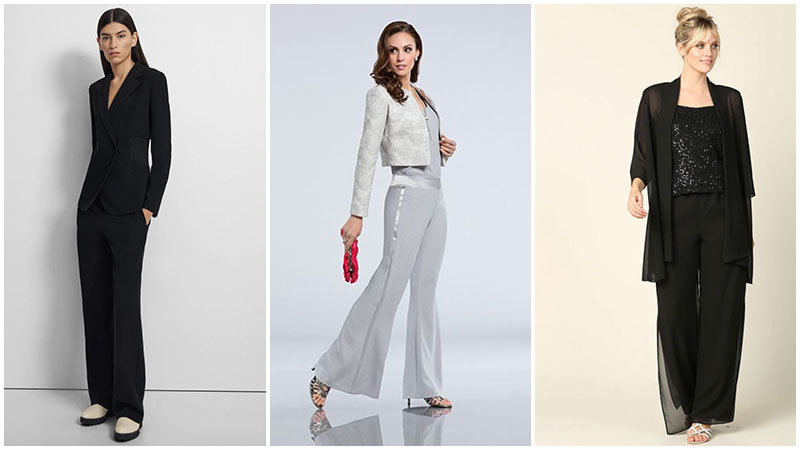 Get the Look
Modern Mother of The Bride Pant Suits
Not all mother-of-the-bride looks have to be boring – these modern adaptations of the pantsuit are worthy of attention. A tailored double-breasted blazer and trousers in cool charcoal or gray give the wearer a stunning tan, whereas nude or pink shades are best suited for a spring or summer event. Highlight your curves with a peplum jacket, which cinches the waist and accentuates an hourglass silhouette. For an updated interpretation, avoid three-piece ensembles – stick to leg elongating trousers and slim-fitting styles.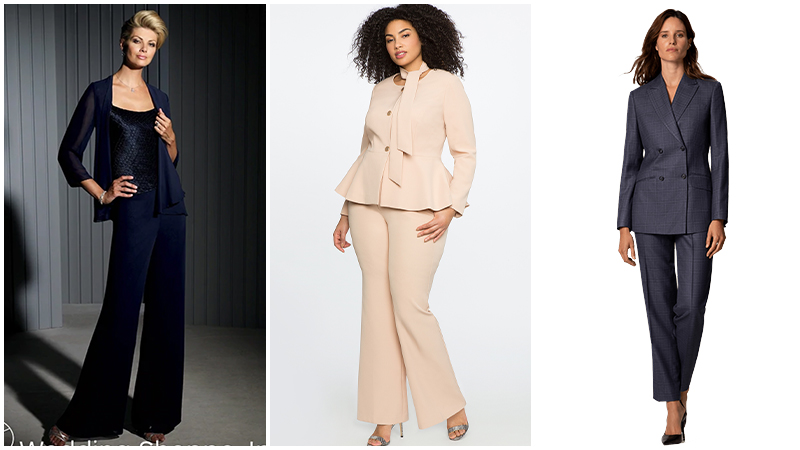 Get the Look
Mother of The Bride Pant Suits For Winter Wedding
Even in the coldest conditions, your outfit for a wedding can be sophisticated and timeless. The key to dressing for winter temperatures is layering – opt for a monochrome look for a more cohesive feel. If you prefer a classic silhouette, try a velvet blazer and trouser set, worn with a sparkly rollneck underneath to provide warmth and extra pizzazz. Make sure you bring a coat with you to stay warm in between photos.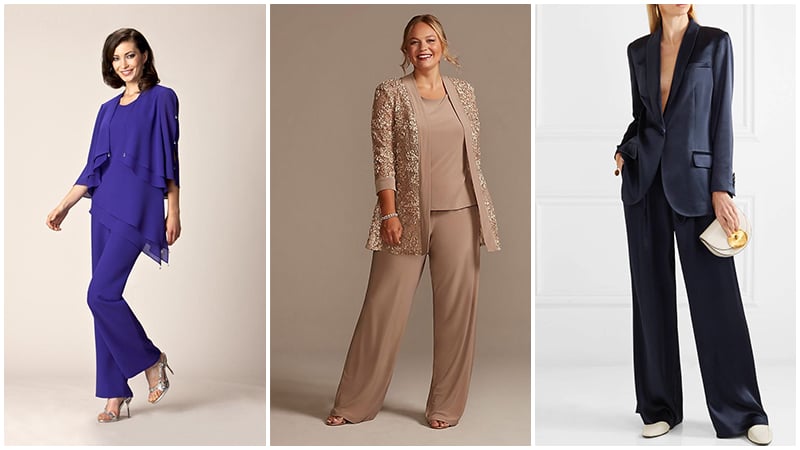 Get the Look
Mother of The Bride Pant Suits Black
There's a reason why black is one of the most popular color choices for clothing – it's flattering, timeless, and sophisticated, making it the perfect option for a mother-of-the-bride. While some may find this shade non-traditional, it exudes elegance and can instantly enhance an event. Opt for different textures throughout the ensemble, such as sequins, chiffon, or satin – this will create depth and dimension without needing to introduce another color. Wide-leg pants give the appearance of longer legs, and a sweeping cape adds drama. Find what style suits you best, and go from there.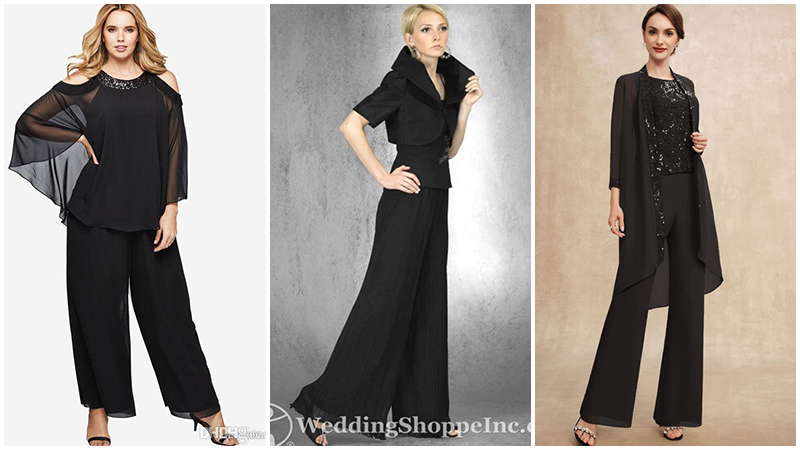 Get the Look
Petite Pant Suits For Mother of The Bride
Flatter your silhouette perfectly with these petite pantsuits. Perfect for smaller frames, they accentuate your silhouette without overpowering the wearer. Opt for subtle colors such as lavender, coral, or champagne for a sophisticated touch – shades such as black or navy may swallow you up. Create depth with dangly earrings and heels for extra height, and try to find trousers that hit the floor or your ankle to elongate your limbs. Be sure to keep all patterns on the top half of the body to create the illusion of a taller frame.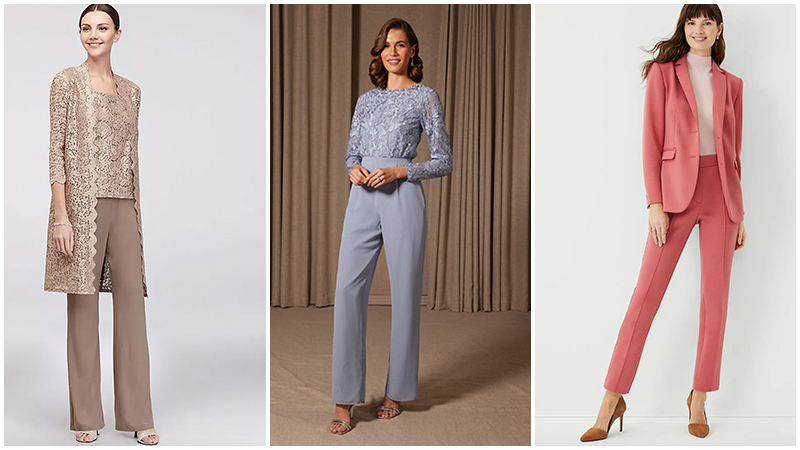 Get the Look
Mother of The Bride Pant Suits Nordstrom
There are many places you can find pantsuits for a mother-of-the-bride, but one of the most popular choices is Nordstrom. With many variations of the two or three-piece ensembles available, you can find something to suit your taste and budget. Sweeping capes and cardigans are available in many shades, such as purple, blue or white – they're an excellent choice for transitional seasons with fluctuating temperatures. This website caters to all preferences in style and silhouette – want something classic or more modern? They're all available in one place.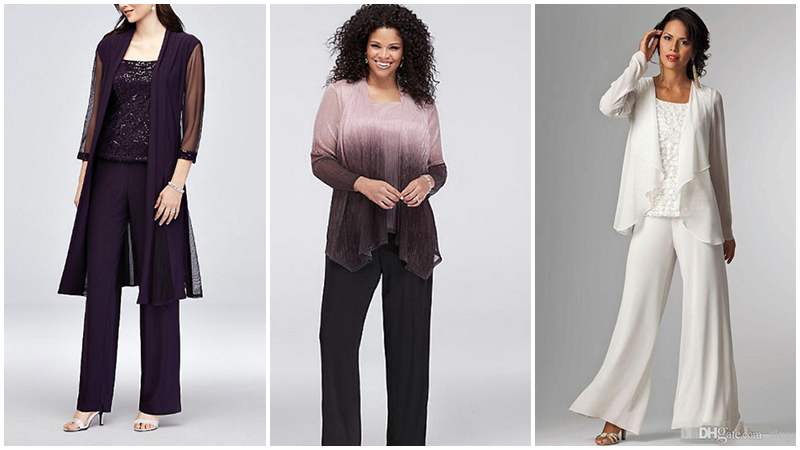 Get the Look
JCPenney Mother Of The Bride Pant Suits
JCPenney is the perfect choice for those looking for a classic silhouette to celebrate their child's wedding. Ideal for a smaller event or space, they provide a sophisticated touch without stealing the spotlight. Here you will find well-tailored suits that flatter all sorts of body types, and they will suit different budgets. With varying shades such as navy, powder blue, and bridal white, you can stay true to tradition or stray from the status quo. Take a look and see if any of these pantsuits tickle your fancy for the big day.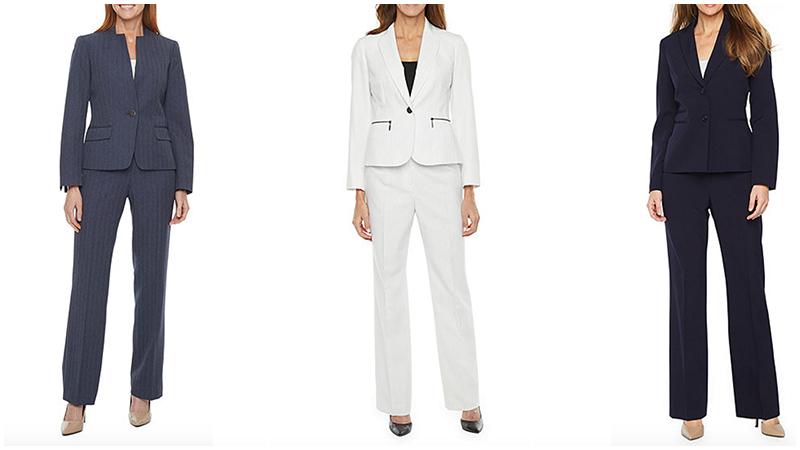 Get the Look
Kohl's Mother Of The Bride Pant Suits
From a church to the town hall, every mother-of-the-bride is sorted with a pantsuit from Kohl's. This retailer offers a wide range of styles for everyone's taste – plus size, petite, and everyone in between can find the perfect outfit. Celebrate in style with the latest trends, or stay true to tradition with a three-piece monochrome ensemble. Mixing textures such as chiffon, lace, and sequins will create a memorable and elegant combination that will look beautiful for years to come.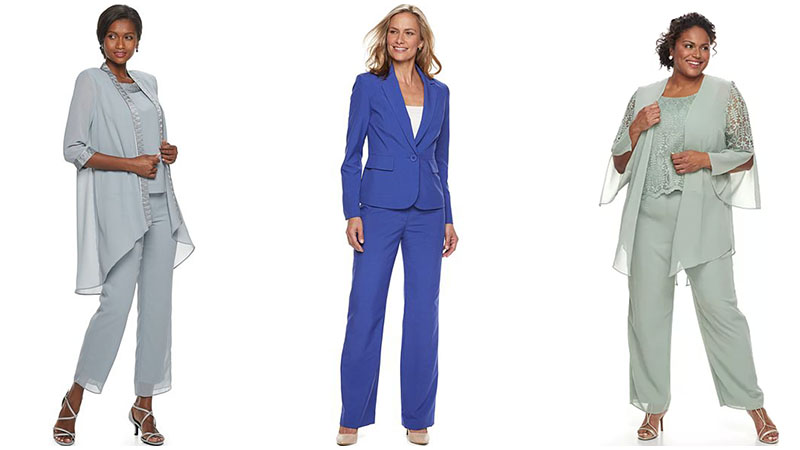 Get the Look
Mother of The Bride Pant Suits Macy's
For the best choices for your daughter's wedding, Macy's is the way to go. As the intersection of the latest styles and affordable prices, you can achieve a designer aesthetic without breaking the bank. Belted pantsuits, asymmetrical silhouettes, and statement designs will help you stand out but still blend effortlessly with the bridal party. This is a great choice if you are hosting the event at a modern location or in a garden – the bright hues will elevate the occasion to the next level!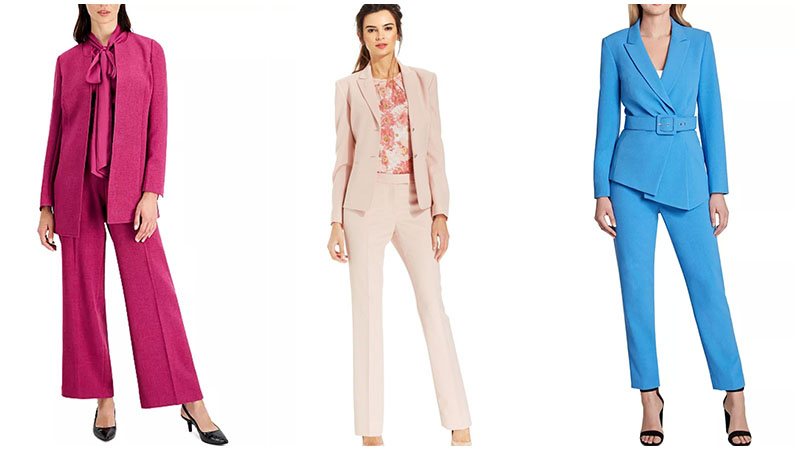 Get the Look
FAQs
Can Mother Of The Bride Wear A Pantsuit?
Absolutely! A pantsuit is a very elegant option for a mother-of-the-bride. There are so many styles to choose from, so you can find something that suits you. Depending on the design, you can flatter the theme and enhance the overall palette worn by the bridal party. Plus, it provides comfort for all-day wear, meaning you can dance all night long.
Is It OK For Mother Of The Groom To Wear A Trouser Suit?
The mother-of-the-groom can definitely wear a trouser suit to the wedding. While many prefer to wear dresses on the big day, a trouser suit is a modern and flattering choice that many enjoy wearing. Be sure to determine the theme of the wedding before choosing a style, so it flatters the overall aesthetic.
Can I Wear A Pantsuit To A Formal Wedding?
Yes! While some may find it taboo, the rules for a black-tie or formal event are more relaxed than ever. There are many different variations of pantsuits you can try, so there is definitely a way to wear a pantsuit to a formal wedding. Try a double-breasted blazer in a dark shade - it's an elegant choice that stands the test of time, plus you won't stand out too much.
Can Mother Of Bride Wear Trousers?
Yes, a mother-of-the-bride can certainly wear trousers. For a wedding that takes place in warmer climates, try a soft fabric, such as satin or cotton in lighter shades - think coral, champagne, or light blue. If the event occurs in the colder months, a darker suit with more layers is your best choice. Make sure the ensemble fits perfectly and is tailored to your frame.
SUBSCRIBE TO OUR NEWSLETTER
Subscribe to our mailing list and get interesting stuff and updates to your email inbox.