When winter is upon us, our perceptions of fashion change because not only do we have to dress in an artistic sense, we also have to dress in a practical sense. Winter is the perfect time for colds and flus, and in saying that it is important to know how to layer your clothing in order to stay warm and healthy during this cold season.
In all honesty, layering isn't all that hard. In fact, all you have to do is follow the rule of thin to thick. What we mean by this is to start off with thin clothing first, with every piece of item you wear becoming thicker in size and weight as you progress through your wardrobe. For example, a shirt with a jumper and a winter coat to top it off is just one of the many options in layering.
While the process is rather simple, there are of course other factors you have to think about. The material of your clothing is one of them. Logically speaking, you want to have the lighter cotton closer to your skin so that you receive enough warmth without becoming sweaty and dishevelled due to all the layering. Thicker materials like flannel should be worn as outerwear as it maintains your natural body heat.
After mastering the simple rule above, the next phase is all about what clothing takes your fancy. How can you layer your clothing in the unique and trendy way without making it look boring? Now this is where our layering guide really comes in handy.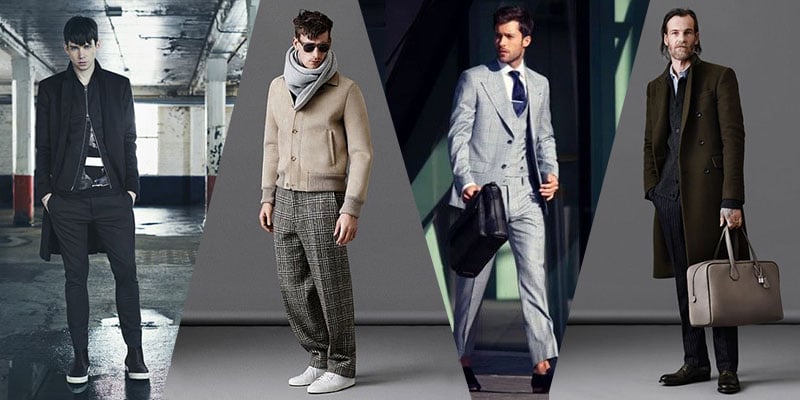 Guide to Winter Layering
Along with cotton and flannel (as mentioned above), other appropriate fabrics to look out for should be tweed, corduroy and cashmere to name a few. If you want something a little in between thin and thick, wool is a good option as well.
For the upper body, remember the master rule of thin to thick, so start off with a simple, well-fitted shirt with a colour that can complement all kinds of combinations (ie: white shirts).
The next layering should be something a little bit thicker. Depending on the occasion, we recommend perhaps a vest or a cashmere V-neck sweater. The design of the V-neck allows you to button or unbutton your inner shirt without looking shabby, making it easy for you to transition from formal to informal should you follow a busy social schedule.
The third layer should be the heaviest and thickest of all your clothing. Typically, a big winter coat is ideal for the winter months. Though as much as we adore winter coats, the combination is just too pedestrian and cliche. Out of all the layering options, the third (or even fourth) layer should be where you let your creativity soar.
Some people hate layering because of the excess weight all of the clothing carries. If you're one of those people, have you ever thought about using denim jackets in winter? Yes, we know that sounds really strange considering the style is mainly reserved for spring, but technically speaking denim jackets can be utilised properly during winter – you just have to know how.
If you want to have a t-shirt as the first layer, then consider using a fully buttoned up denim jacket on top. Because denim is a rather thick material, the next jacket to complete the look doesn't have to be so large in size (as opposed to wearing a massive winter coat). That way you won't feel so weighted down by clothing, but still feel just as warm.
And of course, winter fashion wouldn't be complete without a scarf. Just remember that scarves are more of an accessory than actual clothing. Therefore, they should contrast with the all the layers. For example, if your clothing follows a structure of block colours like grey or dark blue it might be a good idea to invest in a scarf that is patterned with hues of black or red, or even maroon.
SUBSCRIBE TO OUR NEWSLETTER
Subscribe to our mailing list and get interesting stuff and updates to your email inbox.