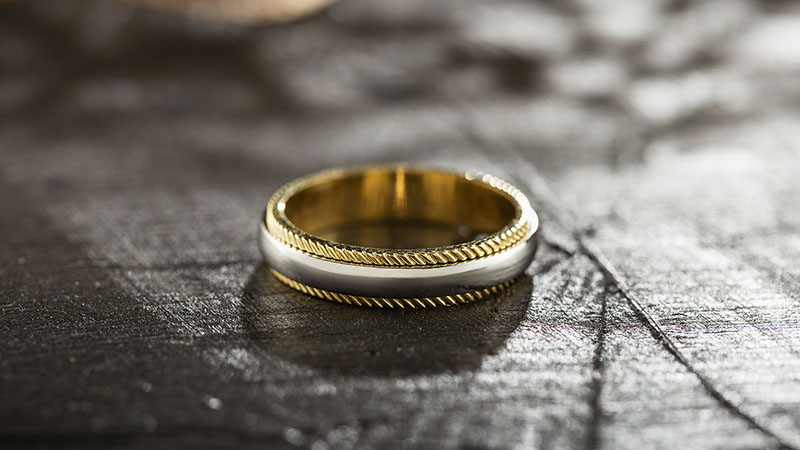 A wedding band is something that a man will wear for the rest of his married life. Therefore, it's best to pick a design that will not only withstand time but will also suit his personality. It's important when choosing a ring, to find one that sparks memories and represents the love and commitment shared between two people. That's why we've selected these unique wedding bands that you will love.
1. Amore Platinum Men's Wedding Band
Amore Platinum's wedding band is a stylish and handsome design. The ring features magnificent lines with Grooved Milgrain edges surrounding seven round diamonds that are channel set. The diamonds are hand-selected to make sure that every one of them is a perfect match, then manufactured to the highest quality possible. This ring is a unique design, fitted for a select handful of personalities.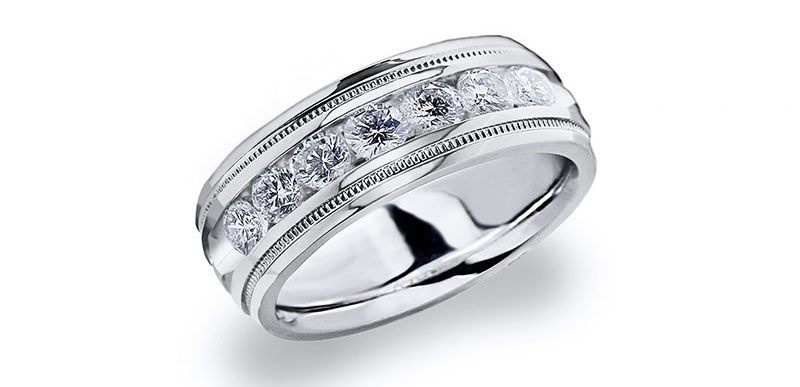 2. Milgrain Wedding Band Ring
This Tiffany and Co. wedding band is suitable for both men and women, so if you're looking to get matching rings, then this is a great choice. This ring is an elegant, timeless design with textured edges that add a modern touch. The band is 6mm wide with a platinum center and is 18-karat gold around the outer band. Engravings are also available for those who wish to leave a lasting message.

3. Triton Wedding Band
This wedding band is the perfect choice when saying 'I do' for a masculine man that doesn't mind a touch of extravagance. It features a row of round diamonds in the center of the ring, with sterling silver accents. The total diamond weight sits at 1 carat, while the 8mm band is crafted of tungsten carbide. The tungsten material is made from a patented formula, best known for its strength and durability. Therefore, you can rest easy knowing this wedding band can withstand the test of time.

4. Vanzi Florentine Gentlemen Wedding Ring
This amazing 18-karat yellow gold Vanzi wedding ring is deeply textured. In fact, it was handmade with antique techniques in Italy. While the ring already features a small engraving inside, the band can be engraved further with a sentimental message or script.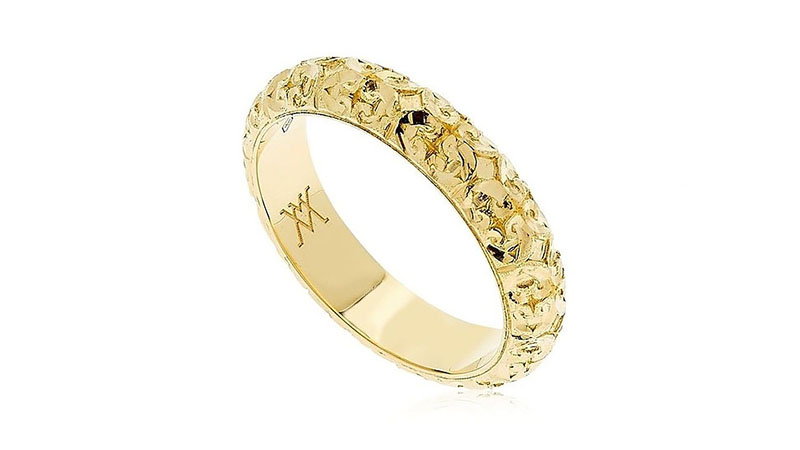 5. TwoBirch White Gold Men's Wedding Ring
The TwoBirch wedding ring is a great choice to show off your style and commitment. This simple yet elegant ring is comprised of a 14-karat white gold band that's between 5-6mm in width, featuring a high polished finish. Within the middle of the band sits five-diamond princess cut stones with a total of one and a half to two carats. This wedding ring will inspire confidence in your relationship every time you glance down at your hand.

6. Le Gramme Le 3 Wedding Ring
Handcrafted in France, this Le Gramme's Le 3 wedding ring is made of polished 18-karat yellow gold. Its unique style is detailed with a pyramidal guilloché pattern around the 1.5mm width of the band, with the Le Gramme logo stamped on the smooth interior of the ring. This wedding band screams luxury and is certainly made for a man who has expensive taste.

7. Amour

Men's Triple Row Wedding Band
Amour has created a simple, yet classy triple row wedding ring that is crafted in 14-karat white gold and weighs 9.5 grams. This unique wedding band has been enhanced with a high polish finish, while still maintaining that scraped metal design with the many tiny lines running through the white gold.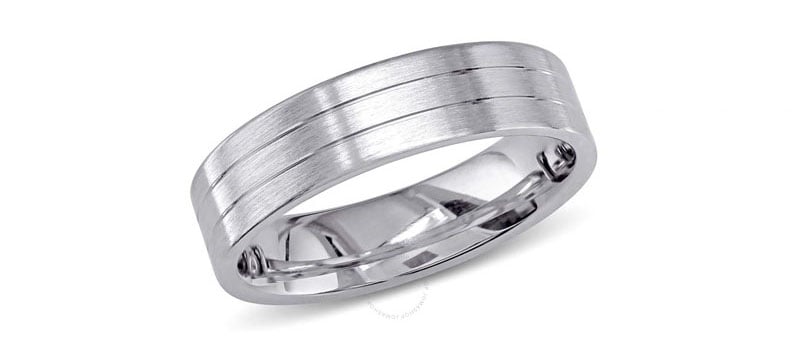 8. Triton Black Tungsten Men's Ring
This Triton wedding band is seriously unique. It quietly says, "I do," while keeping a very manly edge to it. The ring features a grooved design and is crafted in black tungsten with a matrix band of 8mm. This is a great choice for a man's man who doesn't want a traditional wedding ring.

9. Proposition Love Men's Braided Wedding Band
The Proposition Love ring features a delicate braided design in the center while maintaining an overall masculine look. The ring is set in polished 14-karat white gold while maintaining a small amount of texture on the surface.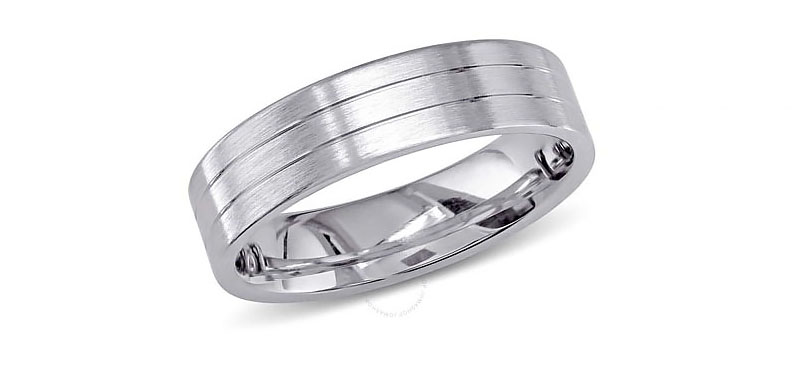 10. BVLGARI

B.Zero1
Bvlgari brings you this unique, unisex design made of 18-karat white gold. This is another band that is perfect if you intend to get matching his and her rings. The design features a single band in the center with two outer attachments that have Bvlgari engraved on each end.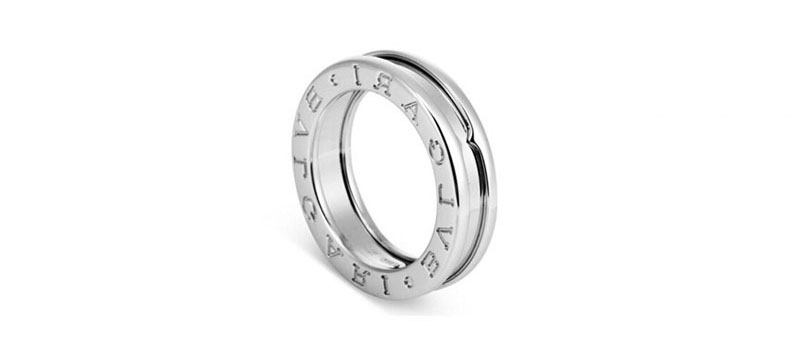 FAQs
How much should you spend on a men's wedding band?
To say how much you should spend on a men's wedding band is hard to do because this is a personal choice based on budget, the material is chosen, and your style preference. That said, the average spend is around $600 USD.
Who is supposed to buy the groom's wedding band?
These days, a bride and groom usually pick out their wedding rings together and often have a budget set out for them. Traditionally, the bride and her family were responsible for the groom's ring, and the groom and/or his family paid for the bride's ring.
What does it mean when a man wears a black wedding band?
A black wedding band may seem like an unusual option, but it is rich in symbolic value. The color is associated with courage and strength, and choosing this option shows the individual's commitment to his partner.
Do guys wear rings when they are engaged?
Females usually wear engagement rings, but that is not to say that men cannot do the same. Men's engagement bands have increased in popularity, becoming options to show their love and devotion for their partner ahead of their marriage.
Why do guys wear two wedding rings?
Many brides wear two rings, an engagement, and later a wedding ring, and men can do the same. It is an option that looks good but also helps to protect the engagement ring from getting damaged.
SUBSCRIBE TO OUR NEWSLETTER
Subscribe to our mailing list and get interesting stuff and updates to your email inbox.