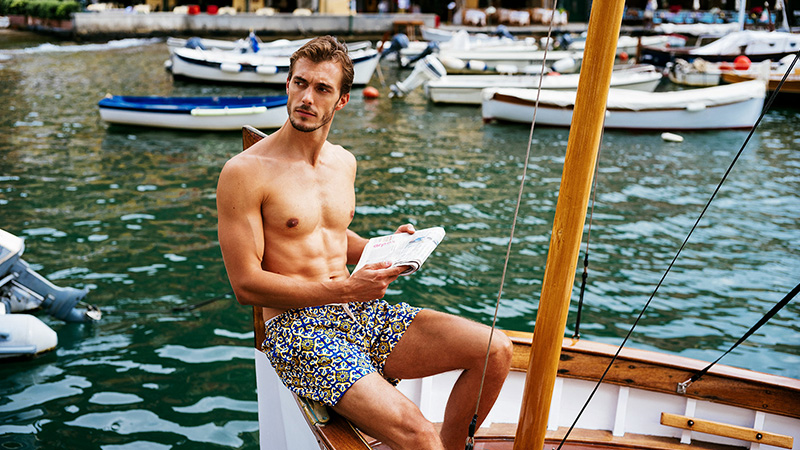 When the weather warms up, and it's time to hit the beach or pool, you'll want to be looking as stylish as possible. Men's swimming trunks are the perfect attire. They're comfortable, designed to get wet, and are more modest than swimming briefs. As such, you can wear them both in, around, and away from the water, fully embracing the coastal lifestyle. However, if your shorts from last season are looking a little worse for wear, it might be time for a new pair. Before you hit the shops, check our list of the best swimming trunk brands to make deciding a little easier.
1. Dolce & Gabbana
Indulge in a taste of the Mediterranean with swimwear from Dolce and Gabbana. The luxury Italian fashion house takes inspiration from its home country, creating lavish prints that incorporate flowers, logos, and the signature maiolica print. Luxury fabrics combine with expert craftsmanship to create quality garments worthy of the most fashion-conscious gentlemen.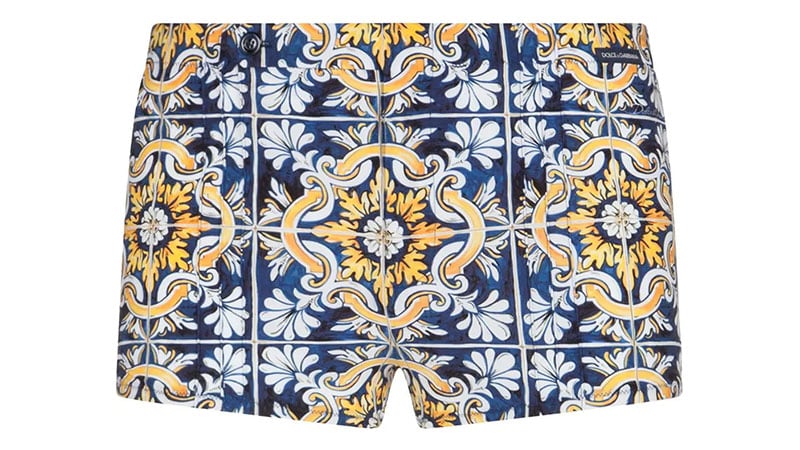 2. Etro
Etro is known for its modern bohemian accents that embrace a passion for travel and universal connection. In addition, exquisite tailoring, elegant design, and innovative craftsmanship also form part of the company's DNA. This is shown through timeless designs and the adoption of both upcycled and eco-friendly textiles that continue the brand's commitment to sustainability. A pair of swimming trunks from Etro is the perfect choice for a modern and worldly man.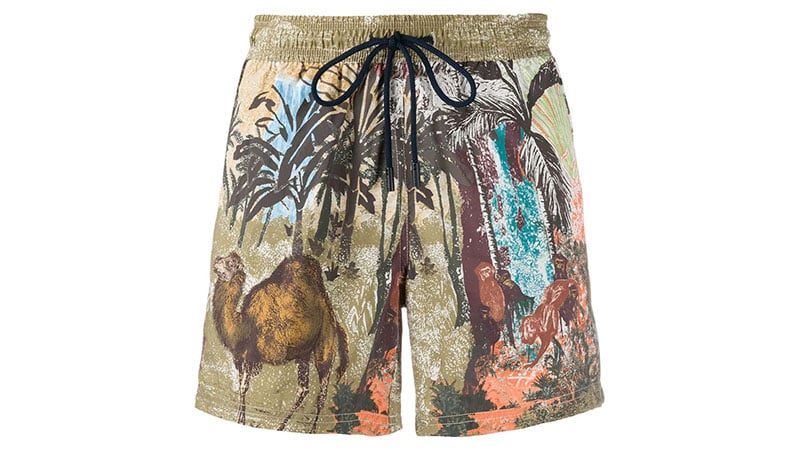 3. Fendi
Hit the waves in style with swimming trunks from Fendi. Founded in Rome in 1925, Fendi has always been about elegance, innovation, and craftsmanship. In the past 90 years, the brand has evolved beyond its iconic furs and baguette bags to channels its rich heritage while looking firmly forward and embracing diversity. Silvia Venturini Fendi is the current creative director of the menswear line and is the only Fendi family member remaining that the historic brand.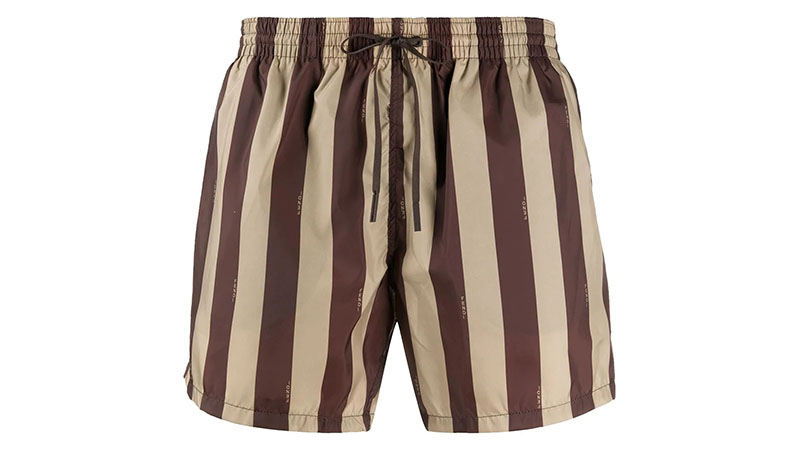 4. BOSS
German brand Hugo Boss is synonymous with quality and the constant pursuit of improvement. The company has adopted sustainability practices, including reducing CO2 emissions and waste. Plus, they've committed to smarter sourcing of sustainable materials to reduce negative impacts on animals, communities, and the environment. Style-wise, BOSS, one of the company's two core brands, is confident and sophisticated, making it perfect for the modern man. A pair of BOSS swimming shorts will ensure you look and feel your best as your toes sink into the sand, and the water cools the sun's rays on your skin.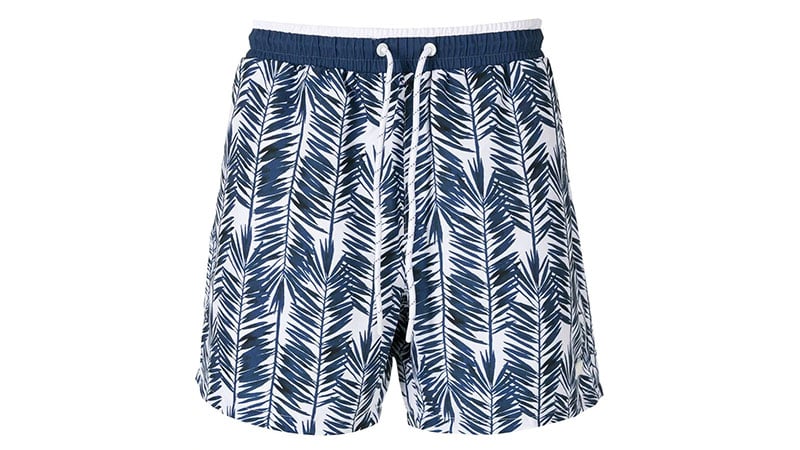 5. Balmain
Enjoy sleek, sophisticated styling with Balmain's range of swimwear for men. The retro silhouettes and colors are a nod to the 1950s, when the brand gain popularity among holidaymakers. Olivier Rousteing is the current creative director for Balmain and brings a fresh feel and ideas to the brand, including increasing the menswear portfolio. His friendship with high-profile, fashion-forward celebrities such as Rihanna, Beyonce, and Kim Kardashian ensures his design and the house of Balmain will always be a leader of the pack.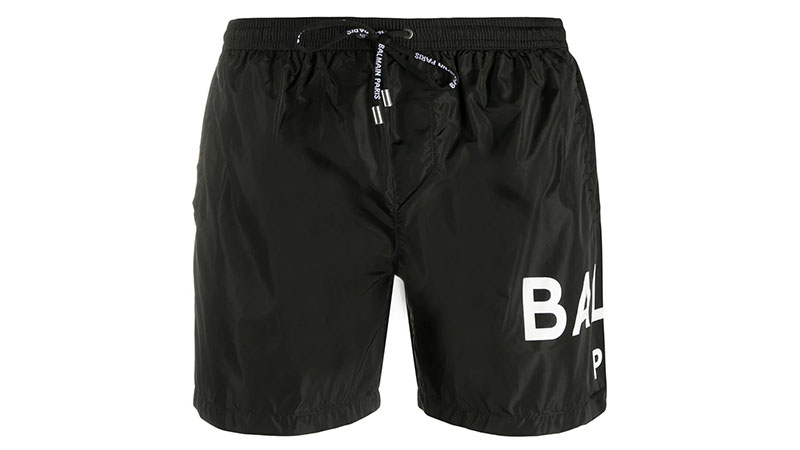 6. Burberry
Burberry's range of swim trunks features the brand's famous check pattern, in varying designs and sizes. It's a vintage classic that's perfect for men who like to keep things original. The luxury British fashion house has been around since 1856, evolving from the iconic gabardine trenchcoats to a full range of stunning men's and women's wear. Its also tackling corporate sustainability and responsible performance through the three pillars of product, company, and community.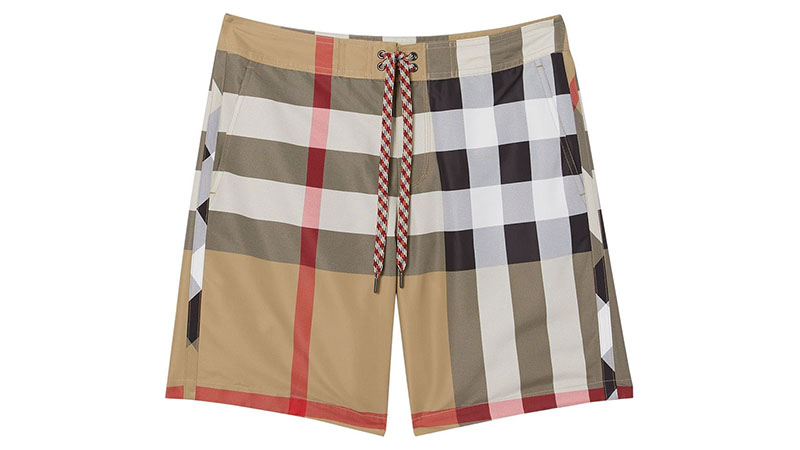 7. Gucci
Gucci brings their usual flair for opulence to the beach with their line of swimming trunks. Of course, all designs exude the opulent Gucci aesthetic, whether it's through bright colors, unique materials, the iconic logo, or motif fabric. Established in 1921 in Florence, Italy, the brand is fast approaching its centenary. Under the Creative Direction of Alessandro Michele, it reflects on the long legacy of luxury while facing the future with the goal of positive change. It's doing this through Gucci Equilibrium, a commitment to reducing the environmental impact and increasing inclusivity and respect across the Gucci community.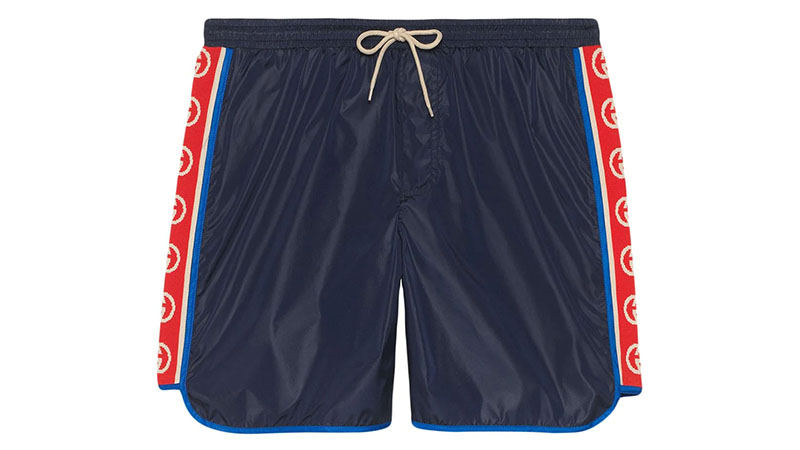 8. Calvin Klein
Clean and contemporary lines are represented well in Calvin Klein's swimming trunks. The brand was founded in 1968 and amassed a popular following thanks to it's provocative and sexy imagery. As the company matured, the focus remained on minimalist and striking designs that change the way you think. Calvin Keling is part of the PVH parent company. Therefore, it falls under the Forward Fashion movement that seeks to redefine how the clothing industry uses and reuses products for a more innovative and sustainable future. Additionally, PVH Corp is into its 15th year of partnering with Save the Children to promote early education and youth employability.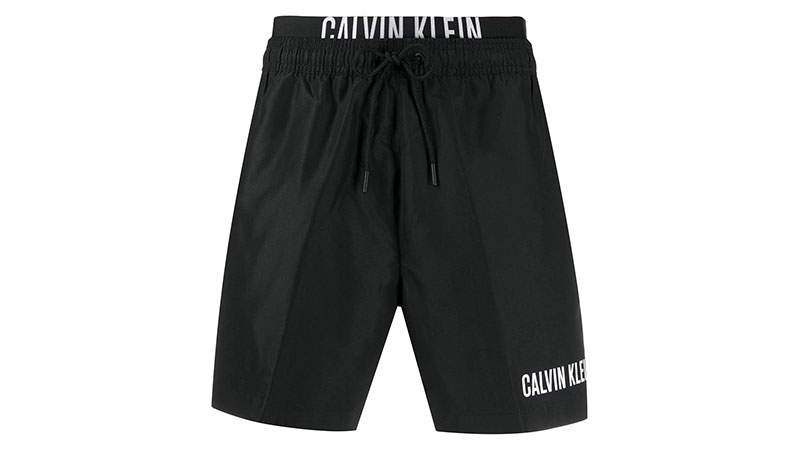 9. Versace
Founded in Milan in 1978 by Gianni Versace, this luxury brand is iconic, producing bold designs in both Haute-couture and ready-to-wear. Expect to find swimming shorts that boast bright colors, metallic accents, and signature motifs. It's the perfect way to showcase your confident and refined style as you relax poolside or under the warm summer sun on a quiet beach. Looking to the future, beyond continuing to produce exceptional quality, luxury clothing, Versace has committed to net zero-emissions and 100% renewable energy by 2025. This move is part of the corporate social responsibility strategy of Capri Holdings, which acquired the Versace brand in 2018.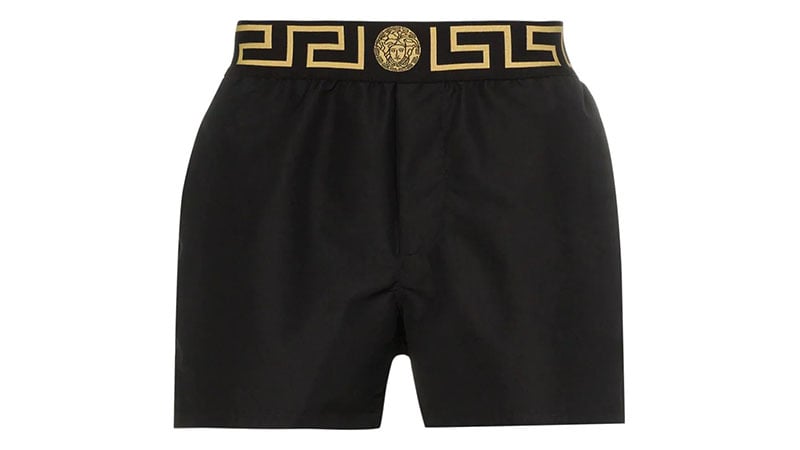 10. Dsquared2
Canadian twins Dean and Dan Caten are the minds behind Italian-based DSQUARED2's mix of street-savvy vibes and contemporary high fashion. Even though the designers look strongly to their homeland of Canada for inspiration, they've still created an excellent swimwear range, despite Canada not being synonymous with summers by the beach. The sports-style aesthetic meets with lavish decoration and bright, bold colors to create a unique look that appeals to a more street-savvy gent.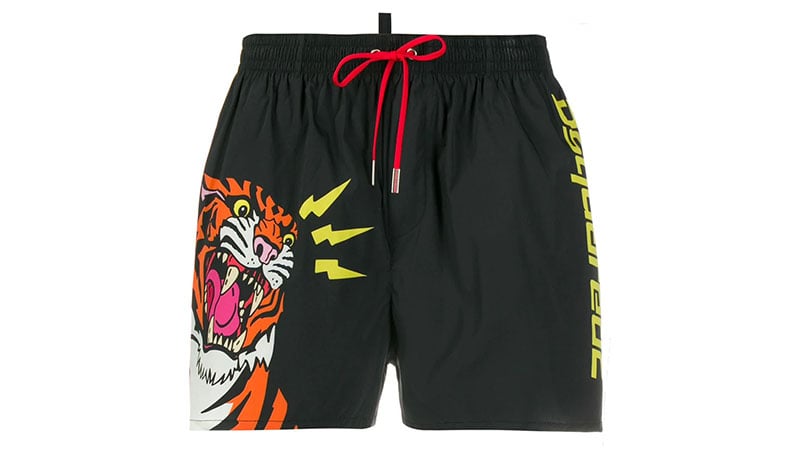 11. Missoni
You'll be feeling the vacation vibes in no time wearing a pair of swimming trunks from Missoni. Founded in Italy in 1953 by Ottavio and Rosita Missoni, the brand is known for its colorful aesthetic, and the swimwear line is no exception. It's inspired by the bright lights and freedom of New York in the 70s. As such, it's effervescent and exciting. Missoni is synonymous with Italian luxury and design excellence, having started with a knitwear line of tracksuits. Soon the brand made its 1967 fashion show debut in Florence with braless models in sheer Lurex dresses. It was scandalous at the time, but it started a catwalk revolution and made a name for the Missoni brand.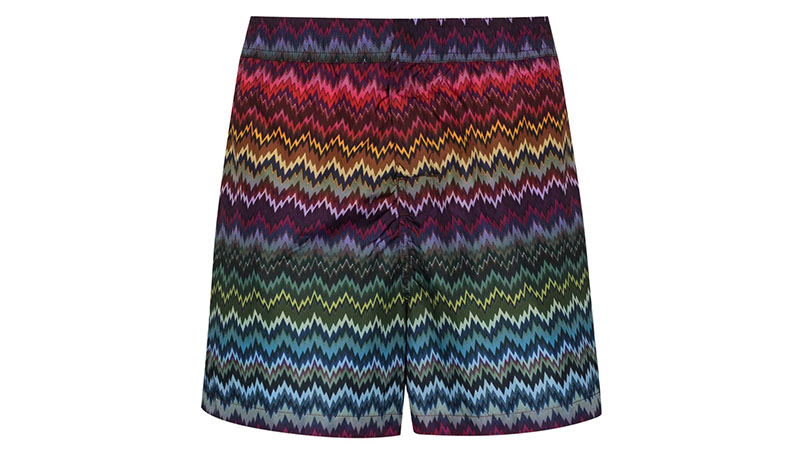 12. Moschino
With fresh designs, striking patterns, bright colors, and a sense of humor, Moschino brings fun to high fashion. It has a tongue-in-cheek approach, making it the ideal choice for guys who don't take life too seriously and enjoy a good laugh. Under the guidance of Creative Director Jeremy Scott, the brand showcases slogan shirts, cartoon characters, and the iconic teddy bear mascot.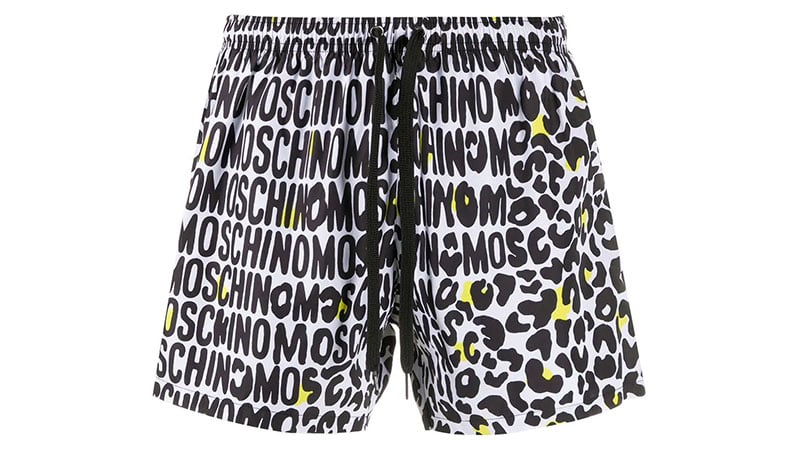 13. Supreme
From a skate shop in New York, with a cult following, to a global fashion brand that sells out instantly, Supreme has come a long way since its inception in 1994. A limited supply strategy and collaborations with designers, artists, and musicians ensure the brand maintains peak demand, making it one for the cool kids. When it comes to beachwear, it doesn't disappoint. The swimming trunk line features graphic logo prints and bright colors, which are sure to be eyecatching, no matter how busy the beach is.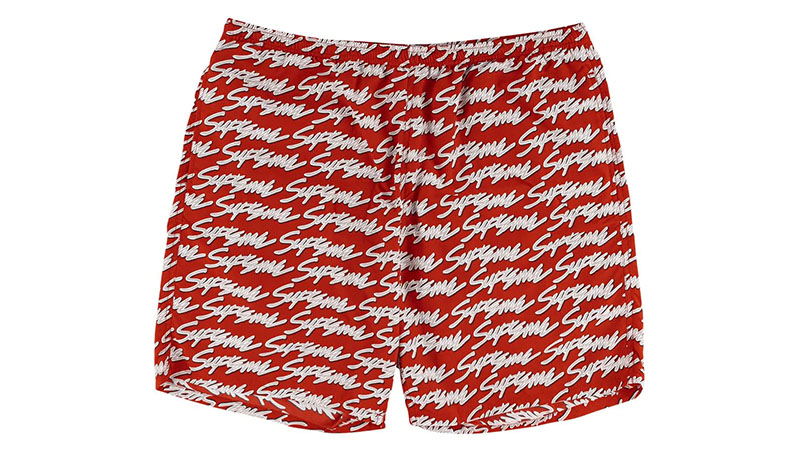 14. Polo Ralph Lauren
Polo Ralph Lauren's preppy style extends to its range of swimming trunks for men. They channel all-American Ivy League style with English tailoring for the perfect combination of form and function. Like other global brands, Polo Ralph Lauren is also examining its impact on society and the environment. The company's Design the Change commitment has a three-pillar approach. These goals are to champion better lives, protect the environment, and create timeless style.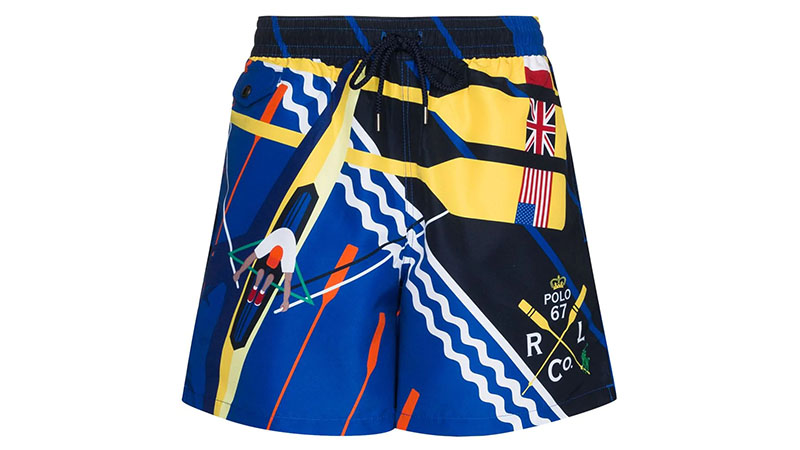 15. Paul Smith
Paul Smith swimming trunks are the ultimate choice for gents who don't take life too seriously. The brand's guiding principle of "classic with a twist" hasn't changed since its inception in the 70s. Consequently, the designs are traditional yet underlined by a dry, British sense of humor and a quirky, vibrant edge. When it comes to the swimwear range, the company's signature stripes feature heavily, as do seasonal prints. Of course, the fabrics are quick-dry, and some are even made using recycled plastic bottles.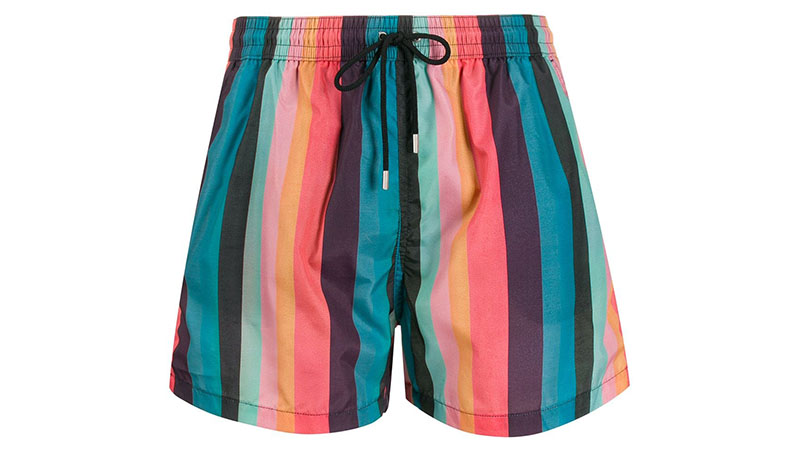 16. PENINSULA SWIMWEAR
Feel good inside and out when jumping into the ocean with a pair of swimming trunks from PENINSULA SWIMWEAR. The designs reflect the Italian coastal lifestyle while supporting the sea for its life, strength, and energy. The brand uses regenerated polyester and sustainably sourced cotton, as well as marine algae-based packaging. Plus, they partnering with select organizations that meet their sustainability criteria, and support the World Wildlife Fund and Marevivo Deep Sea Conservation Coalition. In terms of the actual shorts, each pair is hand-made in Italy from luxurious feeling fabrics. The patterns take inspiration from summer days spent by the Mediterranean Sea.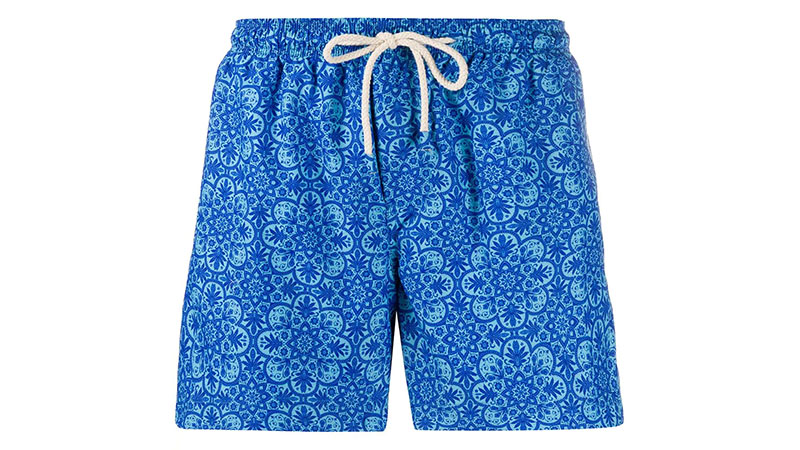 17. Stone Island
Stone Island, which has recently been bought by Moncler, brings their innovative, technical fabrics to the world of coastal fashion. The brand, with its military-inspired streetwear aesthetic, is hugely popular among the football crowd and Britpop scene. The use of fabric treatments, heat reactive materials, and reflective finishes is groundbreaking. Meanwhile, the line of swimming trunks is the perfect use for quick-dry fabrics while maintaining classic cuts for the ultimate wearability.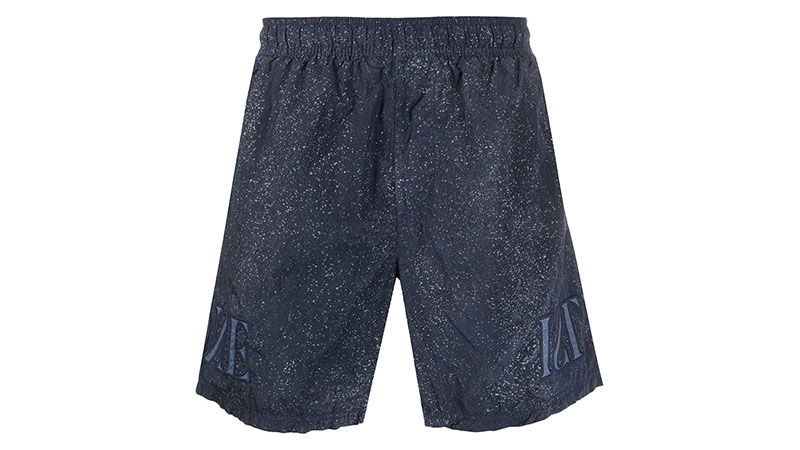 18. Thom Browne
While Thom Browne may be famed for his cropped grey suits and elegant womenswear, the brand also does swimwear with finesse. Technical fabrics combine with conservative silhouettes to have you beach ready in no time. The swimming trunk designs feature the signature Thom Browne stripes. These four, evenly spaced white stripes down the left leg make the brand immediately identifiable. It's the perfect choice for men who prefer a more refined look, even when on vacation.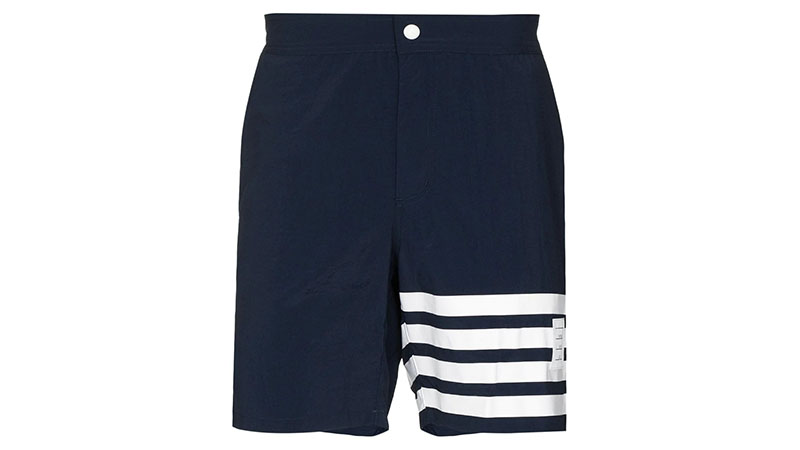 19. Vilebrequin
Vilebrequin is a sweet escape from the ordinary. Each design honors the 1970's St Tropez heritage of the brand, which embodies freedom, joy, and family vacation. Vibrant colors, wild prints, and refined embroidery are the cornerstone of the Vilebrequin look. While all the designs are excellent, the Mistral shorts are the perfect choice for men who like a limited edition, exclusive pieces. These shorts are released in numbered batches of only 299 pairs and feature luxurious fabric and detailed, elegant embroidery. They're the pinnacle of coastal style. Plus, you can feel good purchasing from Vilebrequin. They give charitably to both the Polynesian Te mana o te moana association to rescue sea turtles and the RED associated fighting against AIDS. In 2019, the brand also released a range of swimming trunks made from recycled ocean plastic retrieved from the Mediterranean.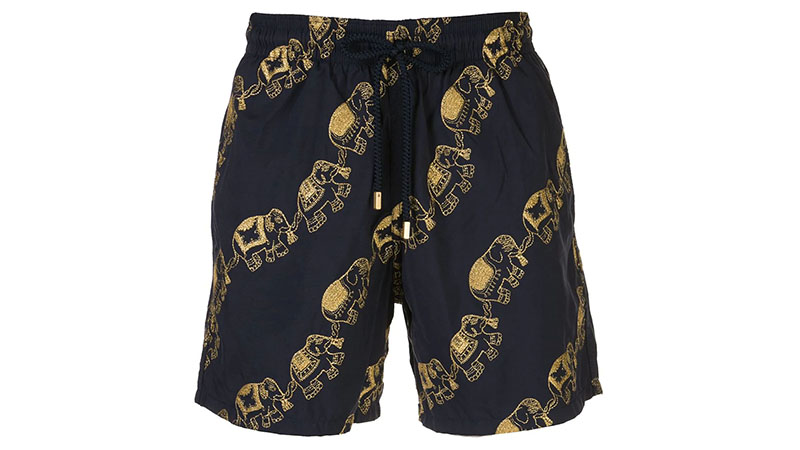 20. Philipp Plein
Bold motif prints and vibrant graphics adorn the range of swimming trunks from Philipp Plein. Despite the edgy and contemporary aesthetic, the designs still maintain a certain timelessness thanks to traditional cuts. Based out of Switzerland, this brand of luxury clothing channels Philipp's passion for rock and roll and joyous, positive spirit. His designs continue to disrupt the industry and make fashion headlines as he's unafraid to challenge the rules and break down barriers.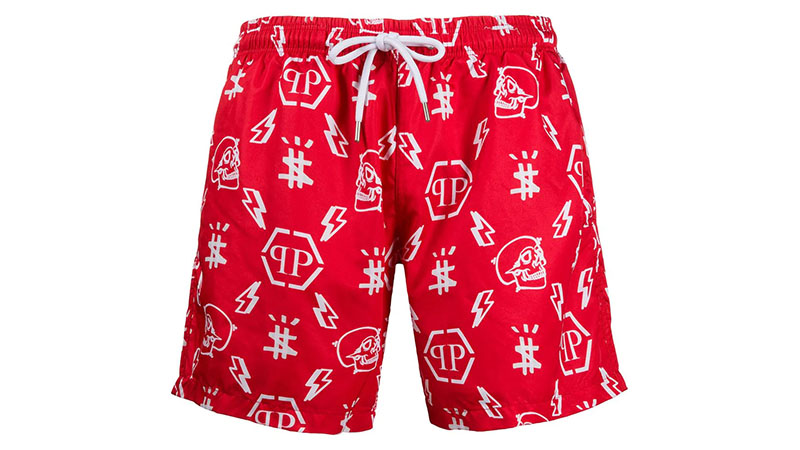 21. Tom Ford
Tom Ford brings his renowned form of masculine tailoring to the world of beachwear. It's the perfect option for dapper gents who are keen to transition smoothly from relaxing poolside to lunching with friends. His resume includes leading Gucci for a decade as the Creative Director, taking it to new heights as a billion-dollar company, before branching off with his eponymous brand in 2005.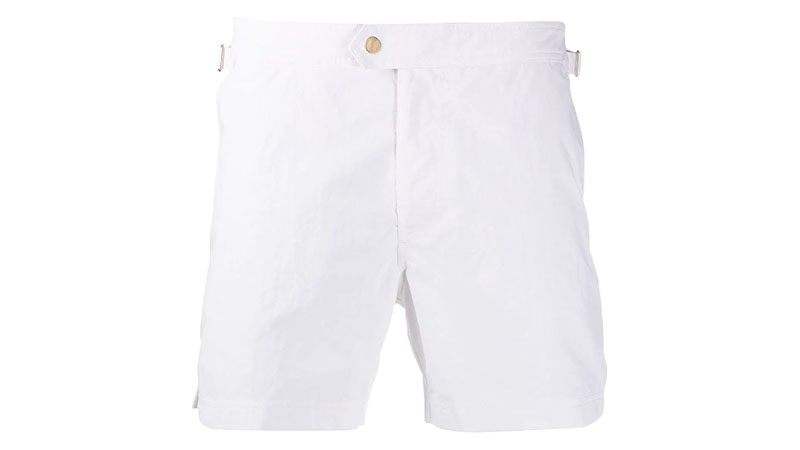 22. Amir Slama
Discover a world of vibrant colors, patterns, and fun with the selection of swim trunks from Brazilian-born fashion designer Amir Slama. The jewel tones and summer shades are perfect for a sunshine getaway. After taking the beachwear brand, Rosa Chá, to international heights, he launched his own line in 2011. The brand's focus is to bring the vibrancy of its heritage to the forefront, with pieces that have a contemporary and urban feel. If you're the kind of man who isn't afraid of a bit of color, then this is the swimming trunk brand for you!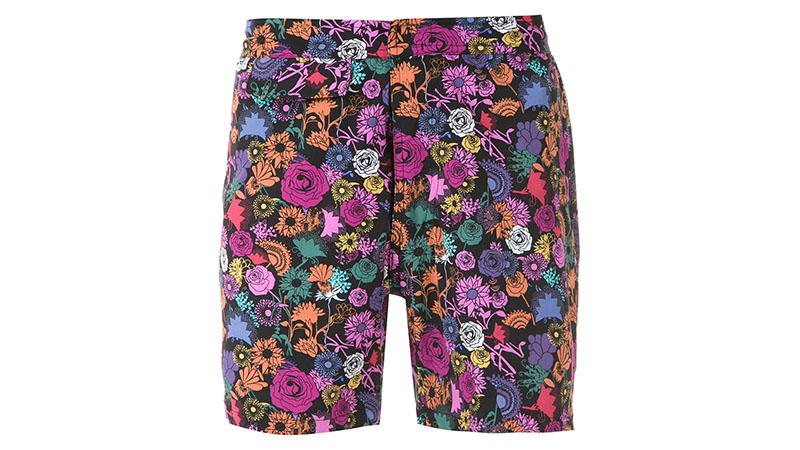 23. Neil Barrett
Fashion runs through Neil Barrett's veins, with both his grandfather and great-grandfather pursuing careers as master tailors. As such, it's no surprise that after working for luxury labels such as Gucci and Prada, he launched his eponymous brand in 1999. All his designs are masculine and timeless, featuring classic lines and streamlined styling. Most of his collection is made in Italy, at the specially designed Tuscan facility that uses fabric from Italian mills, artisan producers, and new technologies. Swimming trunks from Neil Barrett are the perfect selection for modern men, with endorsements from celebrities such as Brad Pitt, Justin Timberlake, and Orlando Bloom, proving the brand's stylishness.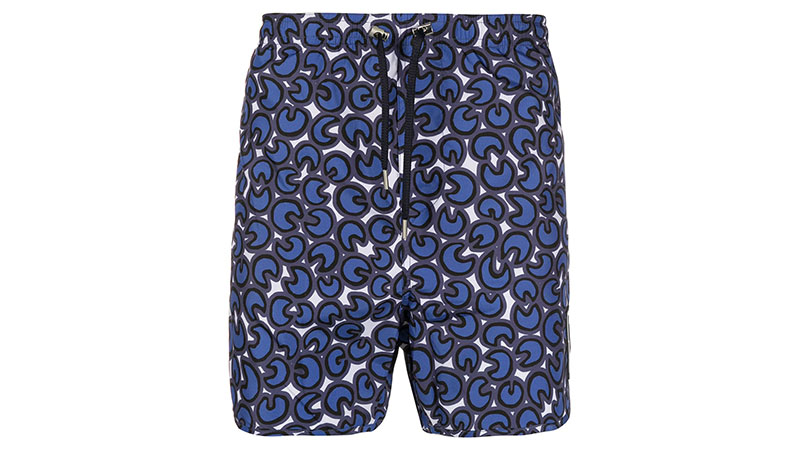 24. Orlebar Brown
If you're looking for a leader in men's' swimming trunks, then Orlebar Brown should be your pick. The brand specializes in tailored men's swim shorts, featuring bright colors and elaborate prints. It's an aesthetic inspired by the ocean and scenic landscapes. Launched in 2007, the London-based company focuses on creating a style that you can not only wear swimming, but that is stylish enough to take you straight from the pool to a bar. The designs include collaborations with various photographers, celebrities, and even EON Productions for an exclusive line of Jame Bond-inspired trunks. Plus, you can even design your own shorts, submitting a photo, drawing, or design to be made into a unique pair of swimmers. Beyond the trunks, the brand also produces a full range of resort wear, including polos, knitwear, and accessories.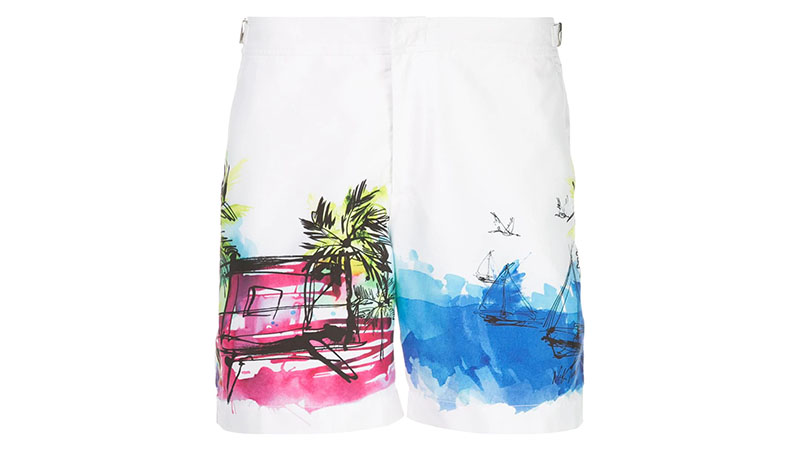 25. Moncler
Just because Moncler's heritage is in the mountains doesn't mean they don't know how to make killer swimming trunks. Their designs combine fun patterns with classic cuts and a longer inseam for gents who prefer a little more thigh coverage. The Italian brand was founded in France in 1952 and initially made sleeping bags. Since then, the company has gone on to merge fashion and high performance both on and off the ski slopes. The use of innovative nylon, exceptional quality down, and other carefully selected materials set Moncler apart from other functional fashion houses.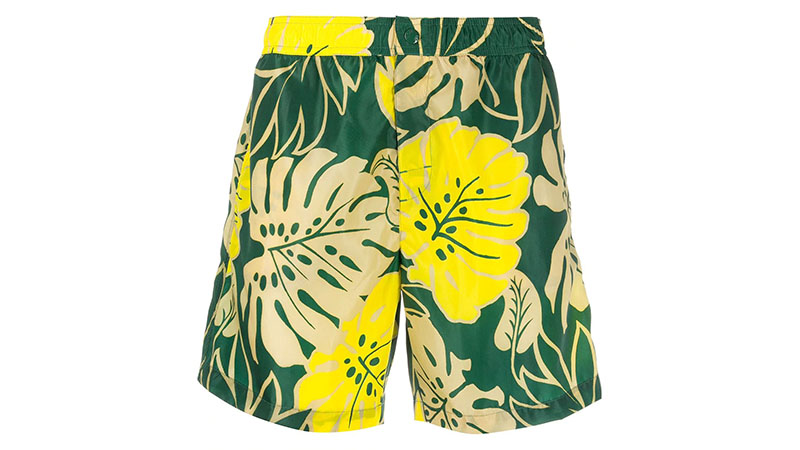 FAQs
What are the best swimming trunks?
Some of the best swimming trunks include styles from Dolce & Gabbana, Orlebar Brown, Amir Slama, Etro, and Vilebrequin.
What color swim trunks should I get?
You can wear any color swim trunks you like, and something that fits with your usual color scheme will make it easy to fit in with the rest of your wardrobe. However, as you're often wearing swimming trunks in the summer, by the sea, or on vacation, it can be the perfect opportunity to embrace some big bold colors and fun patterns to fully embrace the carefree vibe. 
How do you look good in swim trunks?
The best way to rock your swim trunks well is to start with the correct size. Whether you choose an elastic waist or not, you want to make sure it's firm but not tight. When your shorts are wet, they'll be heavier and can pull downwards. Additionally, keep the legs on the shorter side, above the knee (around a five to eight-inch inseam), and a more tailored cut will look sharper. Finally, add some fake tan, get a pedicure, wear sunscreen, and have fun. 
How tight should swim trunks be?
Gone are the days of big, loose, sloppy boardshorts. Fashionable guys will want slightly firmer fitting swimming trunks, as these look better and hold less water. However, you still want to be able to move and swim freely. Ideally, in the leg, you'll want to be able to pinch about an inch of spare fabric on each side. When it comes to the waist, you want it firm, without digging in — you can use the drawstring or tab pulls to adjust the size if needed. 
Why is there a mesh lining in swim trunks?
The mesh lining is to act as a replacement for underwear and give you support. There's not much point in wearing quick-dry swimming trunks that fit well if you're wearing your tighty whities underneath that take forever to dry and bulk things out.  
What do you wear under swim trunks?
Generally, you don't need to wear anything under your swim trunks, as there should be adequate lining. However, if you're a bit unsure or feeling self-conscious, you can pop on a pair of swimming briefs, a jockstrap, or compression shorts.
Is it OK for guys to wear Speedos?
It's absolutely fine for guys to wear Speedos if that's what you're most comfortable wearing. While they may get a bad rap in some circles, they have a lot of benefits. They're really comfortable, flattering, stylish, easy to pack, exude confidence, and are just a bit cheeky!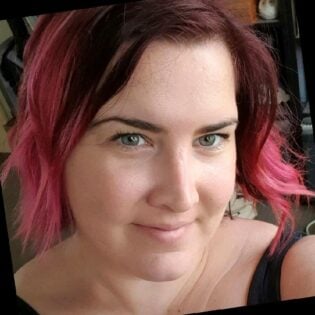 Alexandra Linde is an experienced writer holding a bachelor's degree in Journalism. She is the owner of Alexandra McKiterick Creative and has expertise in travel, fashion, fitness and lifestyle. Alex has previously written for Flightcenter, Travello, and Backpacker Deals.
SUBSCRIBE TO OUR NEWSLETTER
Subscribe to our mailing list and get interesting stuff and updates to your email inbox.