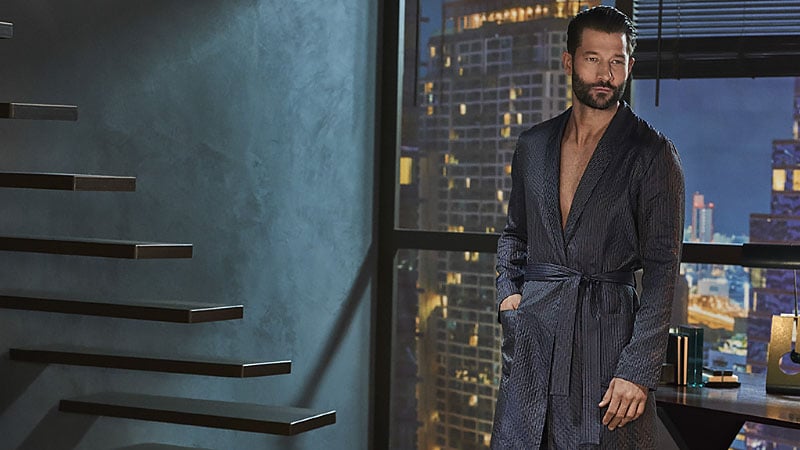 If you're stuck at home in isolation, your regular suit and tie combo may be retired to the wardrobe for a while. However, there's no reason not to look stylish in your loungewear. Fluffy white robes stand to the side; this aesthetic is all about fine lines and luxury fabrics. Check out this selection of men's luxury robes for sophisticated gentlemen.
1. Zimmerli Piped Silk Robe
Zimmerli, from Switzerland, makes some of the world's finest undergarments. This stylish robe is 100% silk, making it wonderfully breathable, lightweight, and smooth. The shawl lapel, cuffs, and pockets feature white piped edging, which contrasts well with the deep navy. The belt is detachable, and the robe features double front pockets, making it practical as well as sophisticated. There's nothing quite as luxurious as wrapping yourself in smooth silk.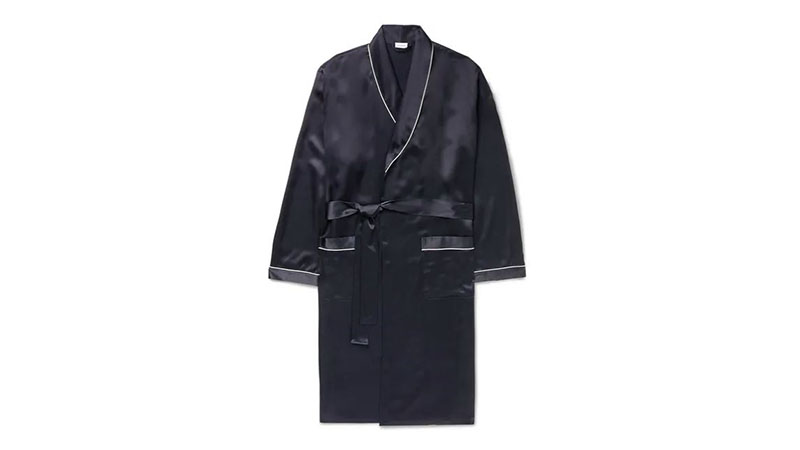 2. Dolce & Gabbana Pendant Print Robe
For a gent with edgier style, this Dolce & Gabbana Pendant Print robe is a bold choice. The Italian fashion powerhouse, known for their fearless designs, produces the ultimate in luxe loungewear. Work in style and comfort with 100% silk outer and lining, plus a loose-cut fit on this luxury robe. The pendant print will ensure you feel like royalty. The motif features crowns, cameo pendants, crosses, religious art, and vintage locks.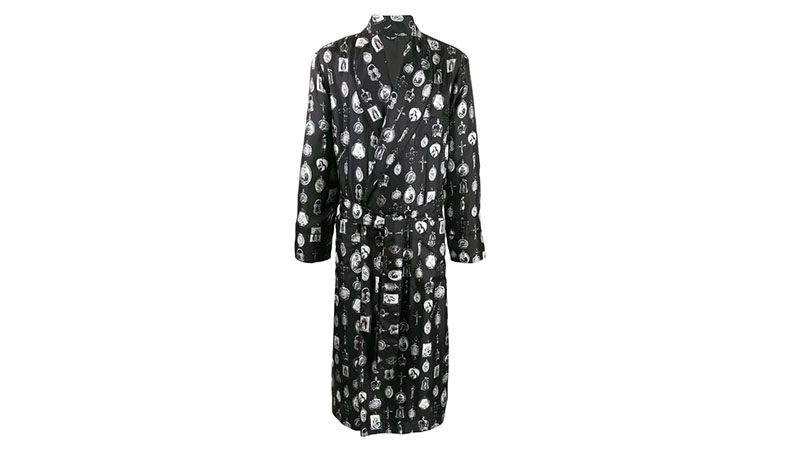 3. Dolce & Gabbana Bandana Print Robe
Another striking option from Dolce & Gabanna, this Bandana Print silk robe, will ensure you stand out. The piece features a plain black shawl collar and cuffs, acting in contrast to the energetic print. There are also double front pockets and a belted waist. The bandana print offers monochromatic sophistication, while the relaxed fit ensures the ultimate in comfort.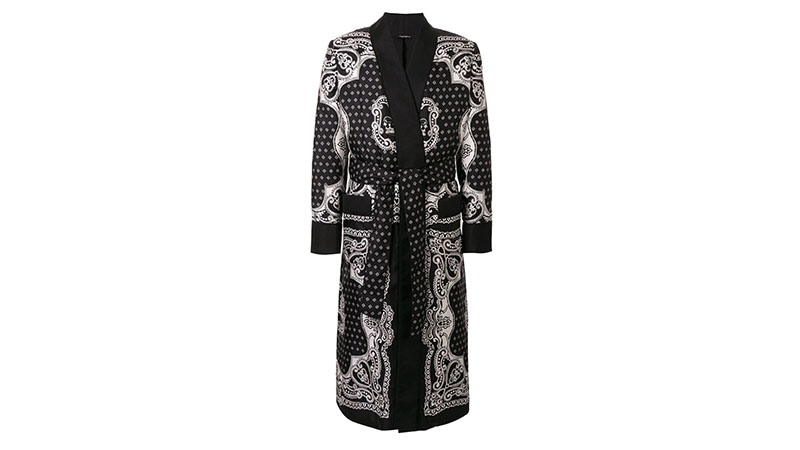 4. DSQUARED2 Logo Print Boxing Robe
Organized sports might be on hold, and the gyms closed for the moment, but this doesn't mean you need to ditch the sports aesthetic altogether. Float like a butterfly and sting like a bee with this boxing-style robe from DSQUARED2. The duo designers at DSQUARED2 mix street-savvy vibes with contemporary high fashion. The robe boasts a striped pattern, belted waist, bold logo, and cropped sleeves, as well as a relaxed fit. As such, it's perfect for comfortably celebrating your work from home wins.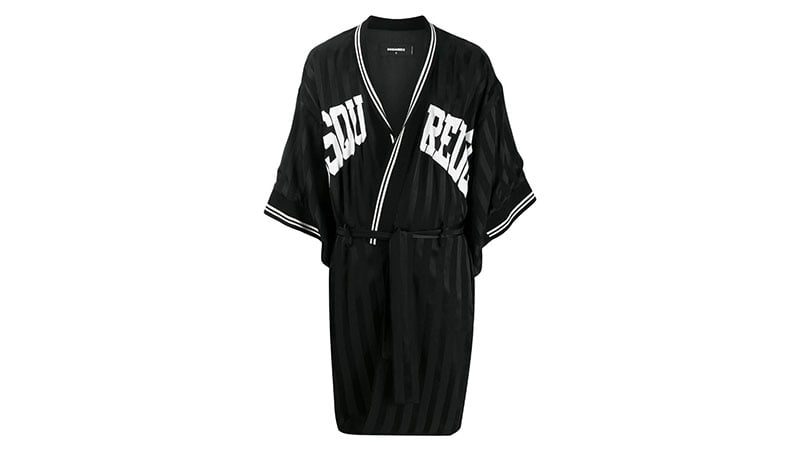 5. Fendi Jacquard FF Logo Robe
Stay warm with this plush luxury robe from another Italian fashion powerhouse — Fendi. Featuring Fendi's iconic double-F logos, the brown and camel jacquard is a more traditional take on the bathrobe, yet is still stylish. Perfect for cooler nights, the warm fabric will keep you safe and snug. Plus, you can hide away from the worries of the world under the cozy hood.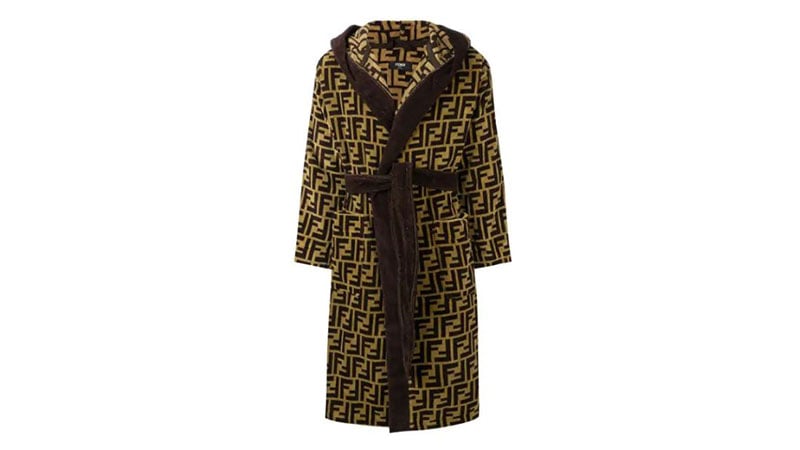 6. Children of the Discordance Bandana Patch Robe Coat
Not only will you look incredible in this luxury robe from Children of the Discordance, but you'll also be contributing to a business that supports fair trade. This Japanese brand, by designer Hideaki Shikama, sources fair-trade materials from local communities such as the Zapatistas in Mexico and the Masai tribesmen in Africa. Feel good physically as well, with 100% breathable cotton embracing you. The bold bandana pattern and wide shawl lapel will have you joining the fashion elite in no time.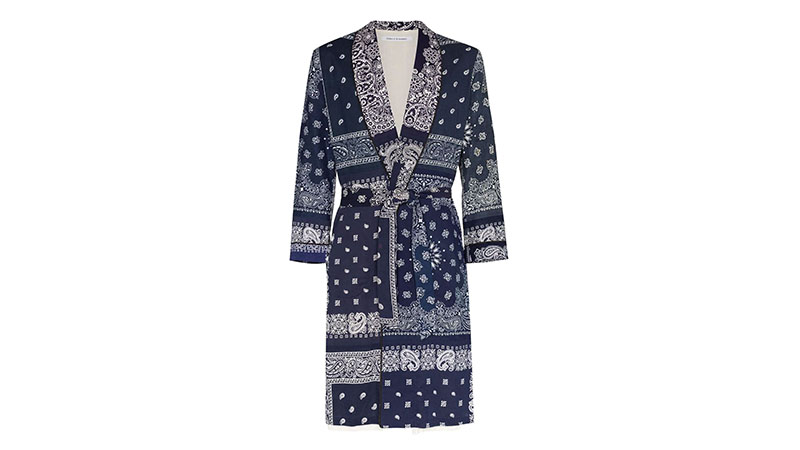 7. Paul Stuart Piped Cashmere Robe in Brown
The warm tones and soft cashmere wool of this robe from Paul Stuart will have you cozy and stylish all at once. Founded in 1938, the Paul Stuart brand has been clothing style-conscious men for over 80 years. The braided piping takes the level of attention to detail up, as does the equestrian-inspired satin lining. This robe is perfect to close out the day with a glass of cognac by the fireplace.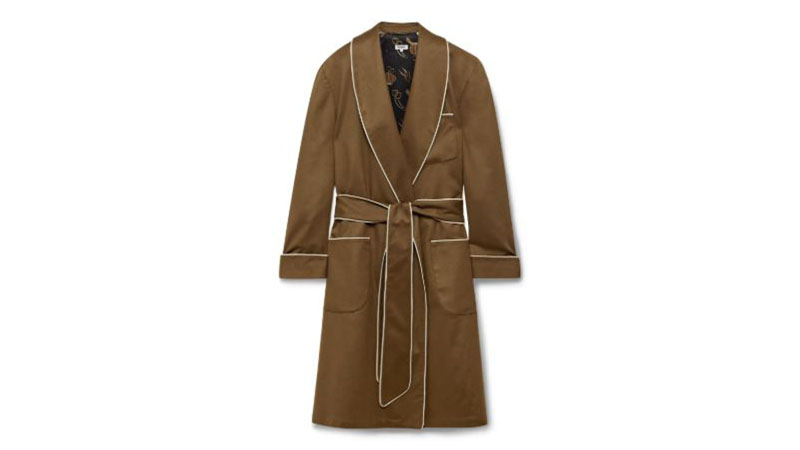 8. Supreme x Everlast Satin Boxing Robe
If a bolt of energy is required to boost you out of an isolation slump, this bright red robe from streetwear experts, Supreme is sure to be the champion of the task. Collaborating with Everlast, the traditional boxing ring vibes with red and white contrast packs a punch. Plus, it boasts a hood, allowing you to make a winner's entrance, even if it's just entering the kitchen for lunch.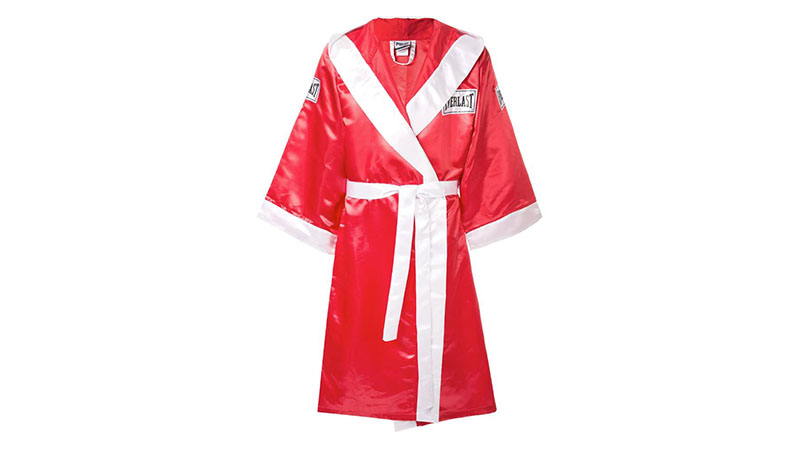 Channel the Golden Age of Hollywood with another classic luxury robe from Paul Stuart. The navy body matched with navy satin piping makes this a sleek look. It's so elegant that you could almost get away wearing this one on a video conference call. Cashmere is both warm and light, as well as exceptionally breathable, making for maximum comfort. The polka-dot lining adds a subtle element of fun.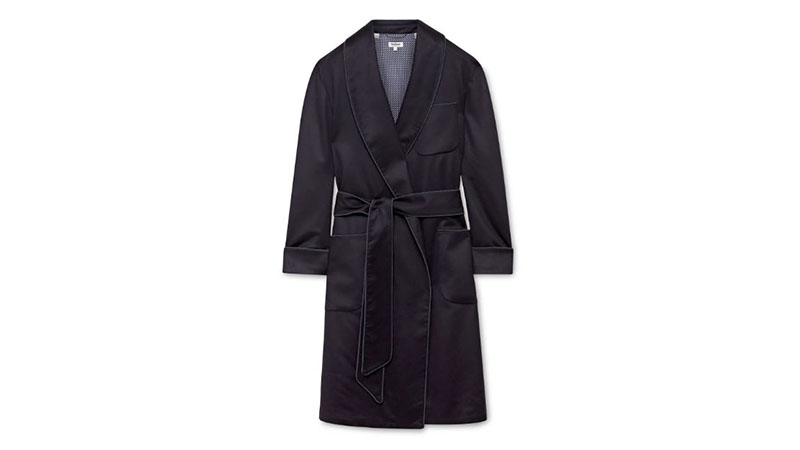 10. Haider Ackermann Long Robe Coat
This robe is as close as you can get to not even getting out of your pajamas, but still looking as stylish as possible. The cotton blend and mid-calf length mean the robe is like wearing a fashionable blanket. Colombian-born, Paris-based designer, Haider Ackermann, is known for using contrast in his designs. The dominant use of white, with black contrast stripes, makes a refreshing change from the dark and moody hues of other luxury robes.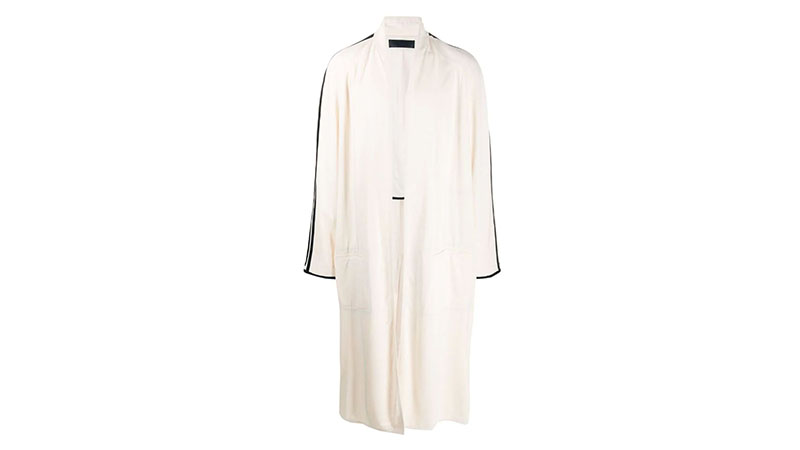 FAQs
What is the best material for a bathrobe?
The best material for a bathrobe is microfiber. Favored by the finest spas, microfiber bathrobes combine a super-soft feel with lightweight breathability and water absorbency. Because of these qualities, 100 percent microfiber robes tend to be expensive. For a more budget-friendly option, a microfiber-cotton terry blend is a good option.
What is the warmest bathrobe?
When the winter cold starts to set in, there's nothing better than stepping out of the shower and into a super-cosy bathrobe. The warmest bathrobes tend to be made from fleece or cotton velour. Soft and thick, cotton velour combines water absorbency with incredible insulating powers. Meanwhile, fleece – which is made from polyester – has a smooth feel and holds heat in well. 
What is the difference between a robe and a bathrobe?
A bathrobe is designed to be worn on bare skin directly after a shower, bath, or steam session. As a result, the fabric needs to have some type of water absorbency. Meanwhile, a robe is a form of loungewear that you can wear any time and layer over your pyjamas. Robes tend to be made from lightweight, silky material or soft, warm, luxurious fabrics such as cashmere.
Can you wear a robe to bed?
Wearing a robe to bed can be a great way to keep warm if you live in a very cold climate. However, it's not necessary in most cases – especially if you already wear pyjamas. 
What do you wear under a robe?
In the privacy of your own home, there are no rules about what you can or cannot wear under your robe. Usually, most men pair their robe with loose boxers or pyjama pants for lounging, but you can also layer your robe over a full pyjama set or go naked – it's up to you. Many robes come with an internal tie as well as a sash, so you can secure the open seam. 
SUBSCRIBE TO OUR NEWSLETTER
Subscribe to our mailing list and get interesting stuff and updates to your email inbox.