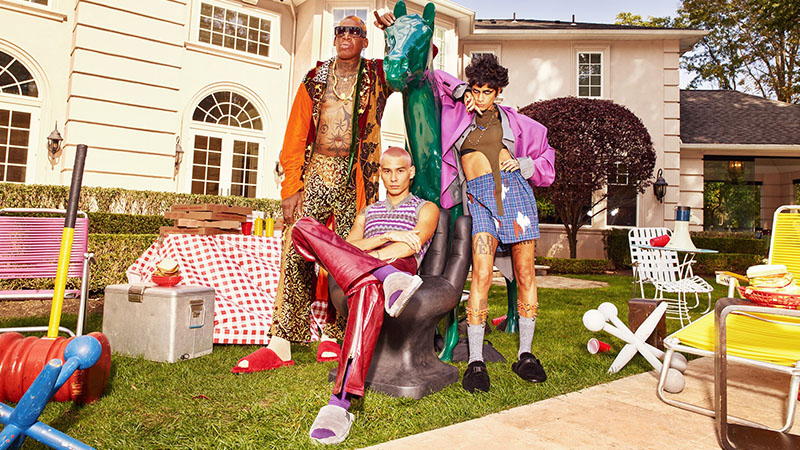 House shoes are the perfect solution for keeping your feet comfortable, warm, and clean around the house. Change into them as soon as you get home, ditching your hard, real-world shoes for the soft embrace of memory foam insoles and warm fuzzy lining. Many designs come with hard soles so you can duck out to the mailbox or corner store without needing to switch, while others are just perfect for curling up on the couch with a good book. Whatever style you choose, they make the ideal addition to any casual home or lounging wardrobe.
1. Versace Home Medusa Terricloth Slippers
Gents with more refined tastes will love these Medusa slippers from Versace. They're a luxury interpretation of home shoes. The soft terry uppers and lining keep your feet extra toasty and feature the Versace logo embossed into the fabric. A gold-toned medusa adorns the top, adding interest to an otherwise minimal design. This means it will look good with your favorite robe, sweat pants, lounging jogger, or even jeans. Finally, the slip-on style makes it easy to take these on and off, so you can slide them on as soon as you get out of bed in the morning.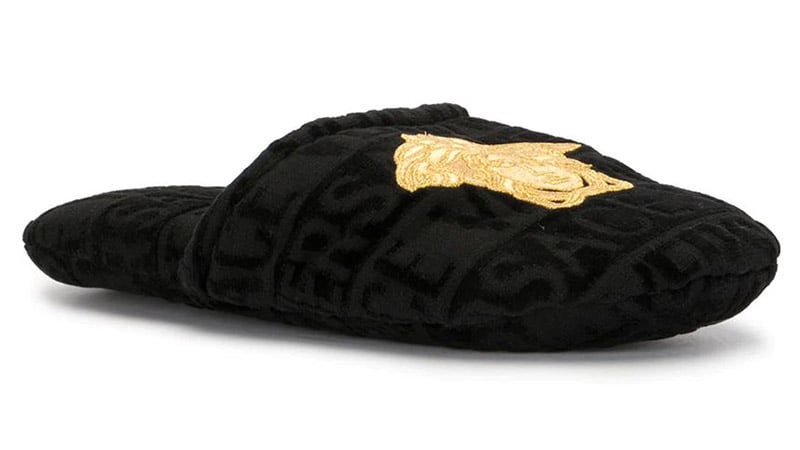 2. shoeslocker Men Slippers
Moccasin-style house shoes are a classic option for stylish men. This design from shoeslocker features comfortable memory foam to reduce stress and fatigue and add an extra level of comfort. The sole is an anti-slip rubber so that you can head outside, even in wet conditions. Meanwhile, the uppers are a breathable microsuede with a soft faux fleece lining. It's perfect for staying warm at home, going for a quick drive, or even walking the dog. Best of all, if they get dirty or smelly, they're machine washable — just put them in a garment wash bag and let them air dry in the shade.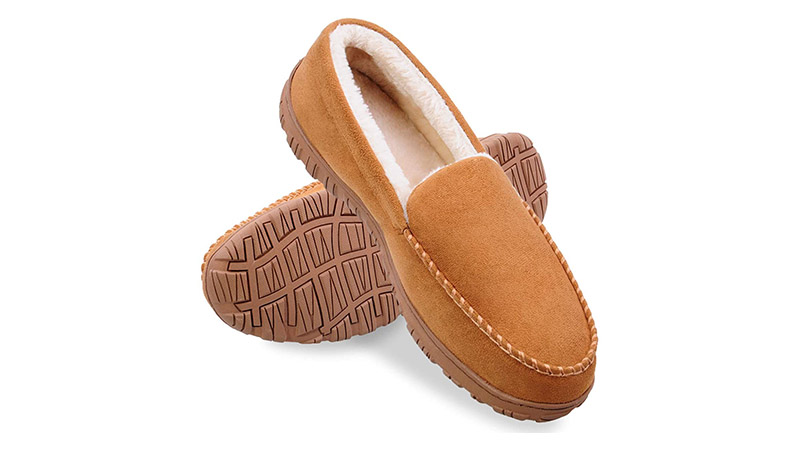 3. MERRIMAC Men's Classic Coral Fleece Memory Foam Slippers
Imagine wearing a cozy sweater but on your feet. That's the feeling you'll get with those coral fleece memory foam slippers from MERRIMAC. Enjoy classic, minimalist styling, so it fits easily in with the rest of your loungewear wardrobe. The high-density cushioned memory foam provides all-day support, while the rubber outsole has plenty of grip. The design is also incredibly lightweight and doesn't have a rigid heel counter, so it's even more comfortable, with a sock-like feel. Plus, you can run them through the washing machine if they need a freshen up.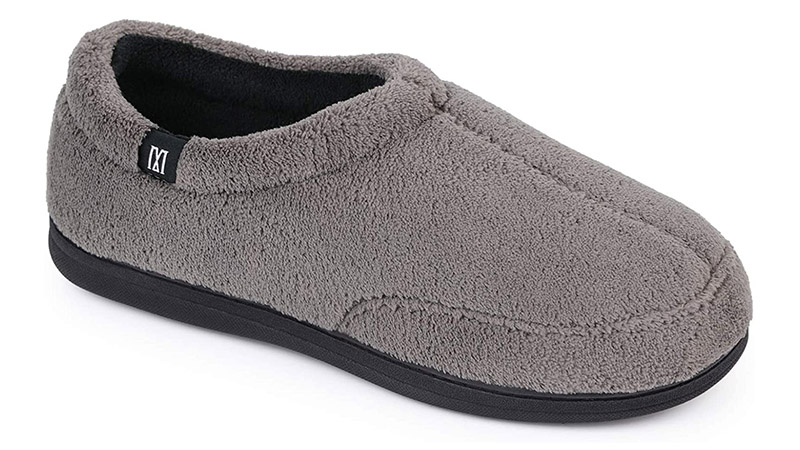 4. VLLY Slippers for Men
Stay stylish and warm with this pared-back design from VLLY. These men's house shoes can be worn both indoors and out, thanks to the durable, slip-resistant, and waterproof outer soles. When it comes to keeping you snuggly, the cozy faux fur lining keeps the heat in and feels terrific on tired, achy feet. The same goes for the thick, high-density memory foam footbed that cushions every step, so you feel like you're walking on clouds. Finally, if you're the classic black option doesn't appeal, there are also options in beige and chocolate too.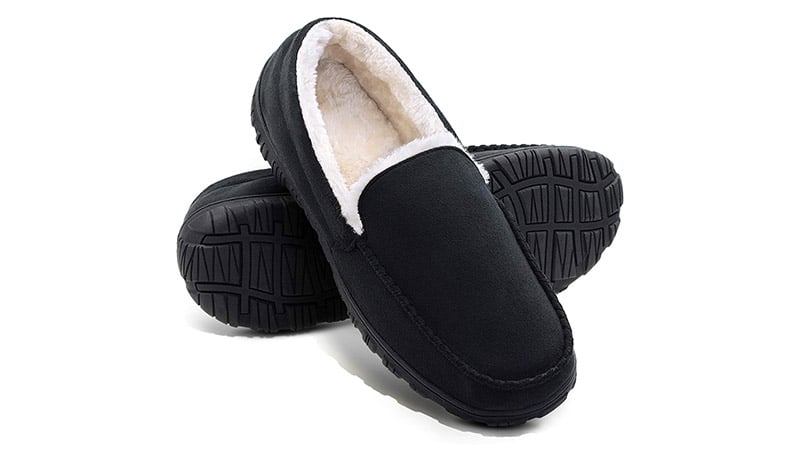 5. CIOR Fantiny Men's Memory Foam Slippers
Keep it simple with these slippers from CIOR Fantiny. The waffle cotton-blend uppers are ideal for seasons or climates where you don't need quite so much warmth for your feet. They breathe well so that you won't feel stuffy and overheated, and it quickly absorbs any sweat. Sink your toes into extra comfort with the deep, high-density memory foam lining, with an additional elastic memory foam piece under the heel to minimize heel strike impact. Plus, the TPR soles are durable and anti-slip, so you can wear them out to the mailbox, collecting the bins, or heading to the neighbors' place for coffee.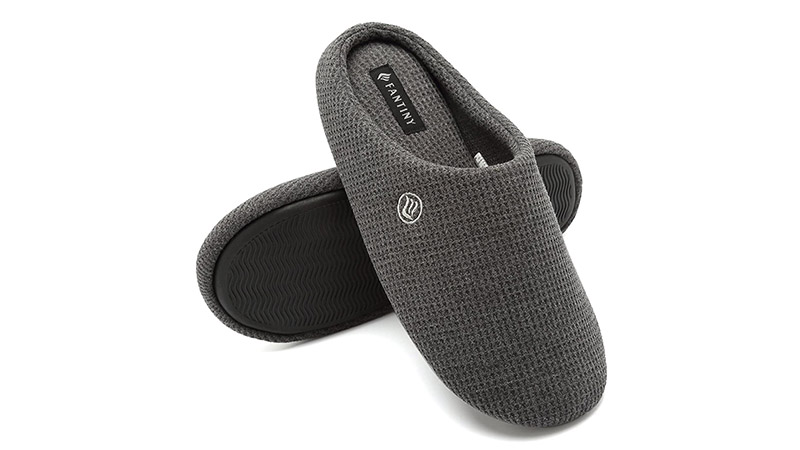 After a long day out in the cold, there's nothing better than slipping your sore, tired feet into a comfortable, toasty pair of men's house shoes. The Nordic design from Deers Stags is perfect for this. It's made with the trademark S.U.P.R.O.® Sock, a thick orthotic with extra heel cushioning. This means your feet enjoy plenty of padding and shock absorption. Plus, the faux sheepskin lining will have you feeling toasty, while the thermoplastic rubber sole is grippy with extra compression nodules for even more comfort in every step.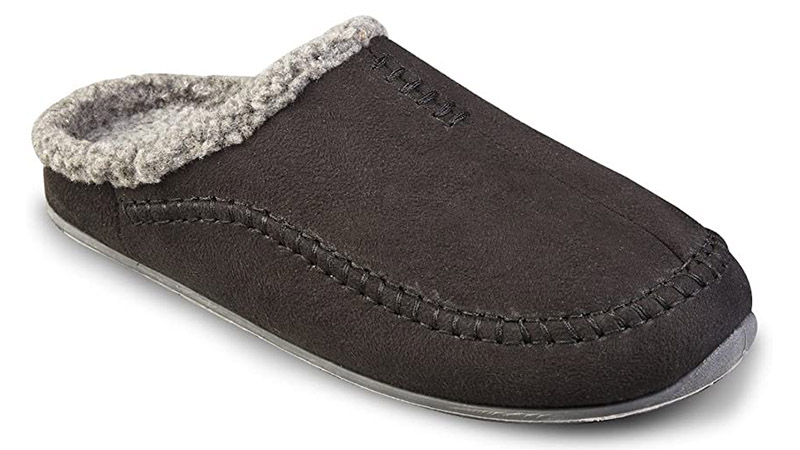 7. UGG Ascot Leather
There's hardly a brand more synonymous with comfy men's house shoes than UGG. The Ascot leather mocassins are so stylish you can get away with wearing them while running errands on the weekends or even on a casual day in the office. They deserve to be shown off. Full-grain leather uppers combine with UGGpure wool lining and sheepskin insoles to make a luxurious feeling shoe. It's soft, flexible, and warm. The footbed is also foam for extra cushioning, while the molded rubber outsole provides grip in the wet.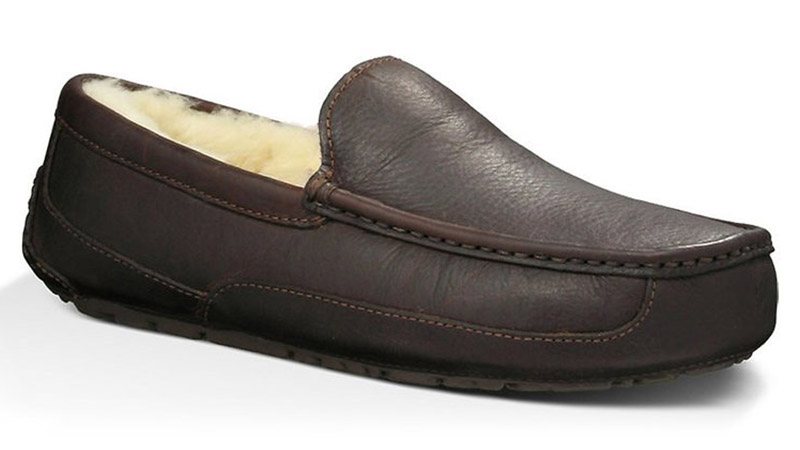 8. ULTRAIDEAS Men's Cozy Memory Foam Slippers
The quintessential styling of these cozy slippers from ULTRAIDEAS makes them an excellent choice for kicking around the house. Pair them with your favorite flannelette pajamas and fleece robe for an iconic loungewear aesthetic. The design of these is excellent. Enjoy the extreme cushioning of memory foam and EVA insoles that feel like walking on pillows. Meanwhile, the soft faux wool lining seals the heat in, and the slide-on style is simple to wear. Plus, you can machine-wash these on a gentle cycle to keep them fresh throughout the chilly winter.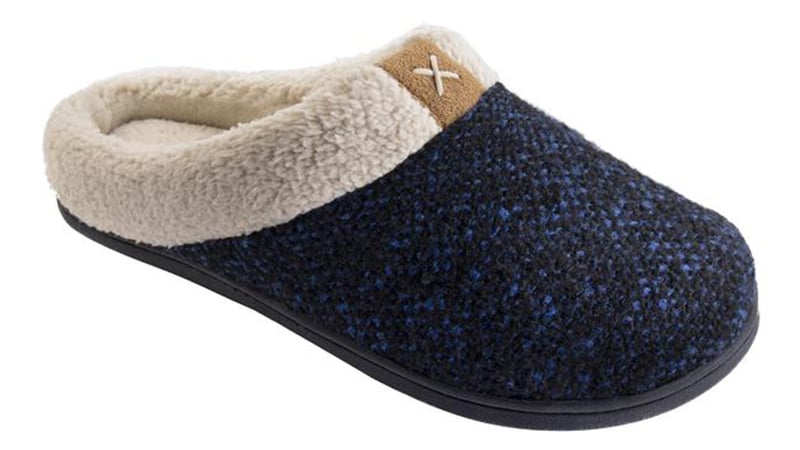 9. RockDove Men's Original Two-Tone Memory Foam Slipper
Your feet will feel like they're having a spa day in the lightweight terry men's house shoes from RockDove. These slippers feature memory foam insoles that mold to every curve of your foot. Meanwhile, the waffle uppers are made from cotton and spandex for the ideal combination of natural breathability and relaxed stretch. You'll also enjoy the benefit of a sturdy rubber sole that withstands daily wear, both inside and outside the house. Best of all, there's a range of colors to select from. It includes classic combinations like blue and grey, grey and white, navy and natural, or black and natural. However, there are also fun colors like black and lime, yellow and blue, and emerald green.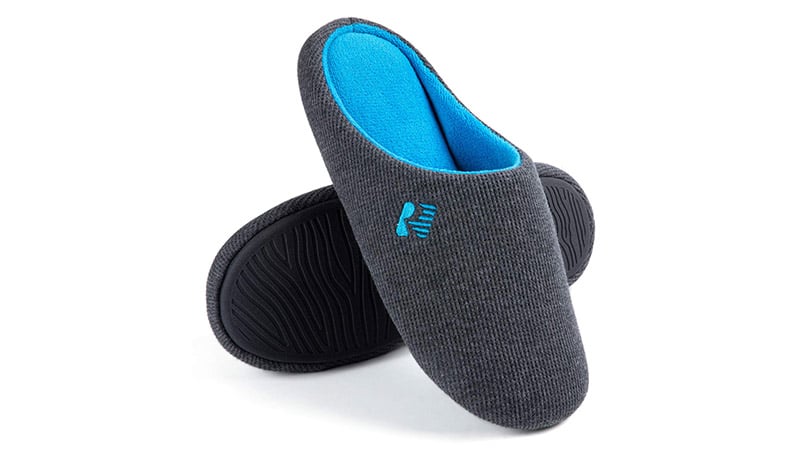 10. Camper Felt Slippers
Camper's felt slippers are the definition of minimalist design. As such, they're perfect for gents who prefer things to be unfussy. Both the uppers and lining of the slipper are genuine wool felt, giving them a luxurious feel. Plus, as a natural material, it breathes really well, so your feet don't overheat and sweat. The soles of these house shoes are also made from rubber, so you can wear them around the house as well as down the driveway to say hi to your neighbors.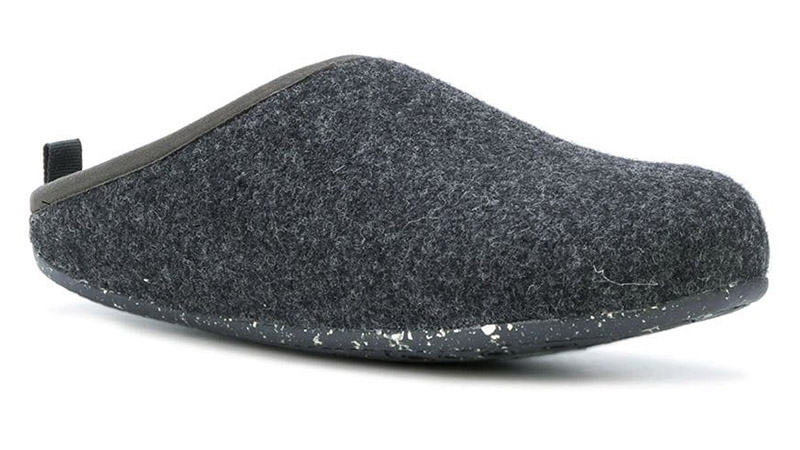 11. Dockers Men's Douglas Ultra-Light Moccasin Premium Slippers
Embrace the rich-retiree vibes of a pair of men's moccasin house shoes. These ones from Dockers are great because they employ proprietary technology to keep them odor-free. You'll also enjoy memory foam cushioning, durable rubber soles, and plush sherpa-fleece lining for extra warmth. Plus, the entire design is incredibly lightweight, so it barely feels like you're wearing shoes at all. Rock these with your favorite robe, best sweat pants, or comfy loungewear.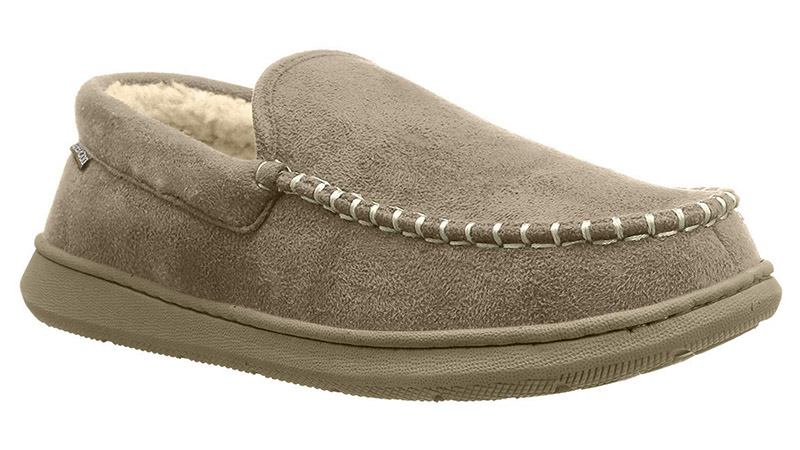 12. Spenco Supreme Slipper
Men's house shoes don't often get described as rugged, yet it's a fitting word for the Supreme Slipper from Spenco. The perforated suede uppers give the shoe an outdoorsy feel, while the insole support mirrors that of a regular shoe. It boasts Spenco's contoured Total Support® Footbed and an EVA outsole for an unmatched level of comfort and shock-absorption. When it comes to warmth, you'll stay toasty with the synthetic shearling lining. Plus, it uses Ultra-Fresh® technology, so you don't need to worry about smells. Finally, it comes in other colors, including beige, charcoal, black, bison, and a red plaid which further enhances the lumber-snack feel of this slipper.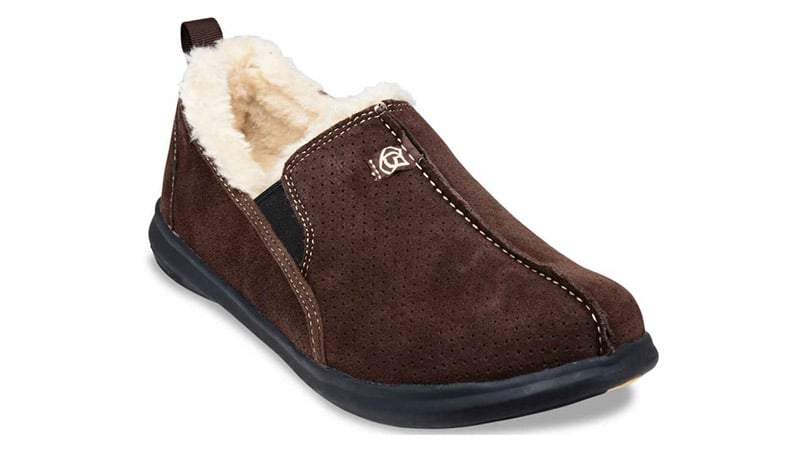 13. isotoner Men's Open Back Slipper
Clog-style house shoes make life simple and easy. These ones from isotoner are uncomplicated, featuring micro terry uppers and a versatile indoor/outdoor sole. Sherpasoft lining adds even more warmth, while the gel-infused memory foam insoles alleviate pressure and fatigue in your feet. You'll be comfortable enjoying quiet evenings at home, taking the dog for a walk around the block, or just checking the mail.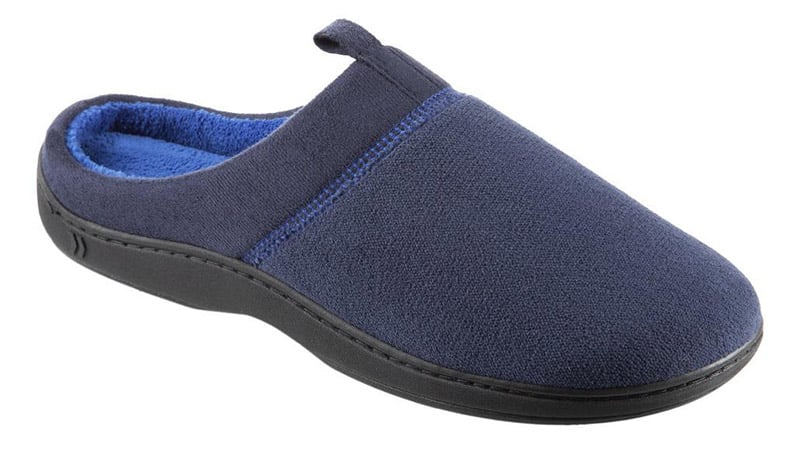 14. ULTRAIDEAS Men's Cozy Memory Foam Moccasin
ULTRAIDEAS brings classic styling to their cozy open-back moccasins. The design features robust rubber outsoles so that you can wear them both inside and outside the house. They also have anti-skid traction, so even if it's been raining or snowing, you'll still walk steadily. Meanwhile, the uppers boast suede outers, a thick collar, and plush faux fur lining to keep you warm. Extra comfort comes from the high-density memory foam footbed with shock-absorption EVA. Black isn't the only color option either. You can also pick from coffee, grey, and charcoal.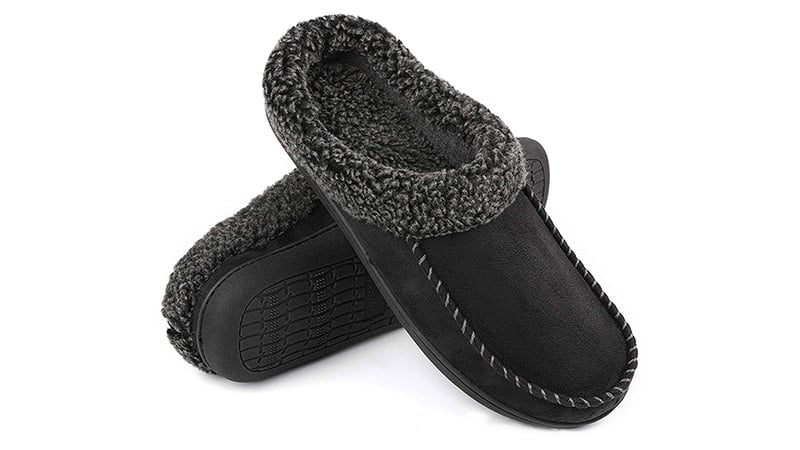 15. Foamtreads Lucas
Run errands, walk the dog, or just relax in style with these Lucas slippers from Foamtreads. Your feet will stay warm no matter what, thanks to the plush lining and thick collar. It stops cold air from getting in and warm air from escaping. The unique distressed leather look adds to the appeal as a masculine alternative to other fuzzier house shoes. You'll also enjoy the comfort of padded insoles and a durable rubber outsole that alleviates pressure from tired feet at the end of a long, hard workday.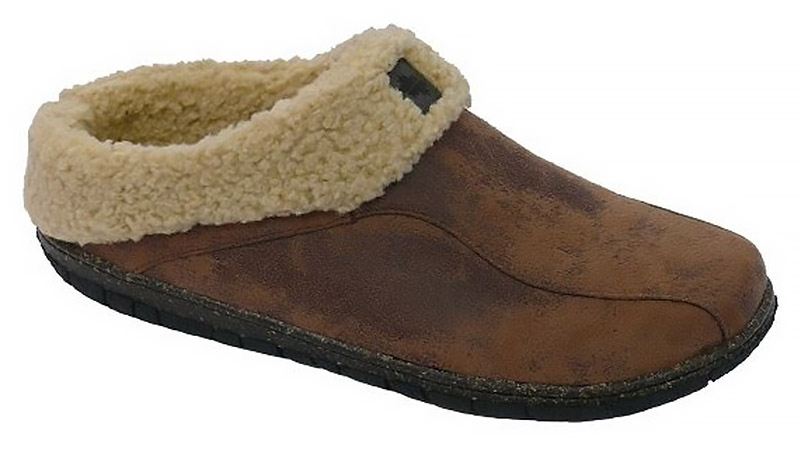 16. L.L. Bean Men's Wicked Good Slippers
Nothing says toasty toes quite like a pair of booties! These Wicked Good Slippers are made from the finest genuine shearling, making them insanely soft, comfortable, and warm. Over four million pairs have been sold in the past five years! They feature a soft leather sole, so they are best suited for indoor use only, but they are ideal for curling up next to a fire with a good book and a glass of red wine.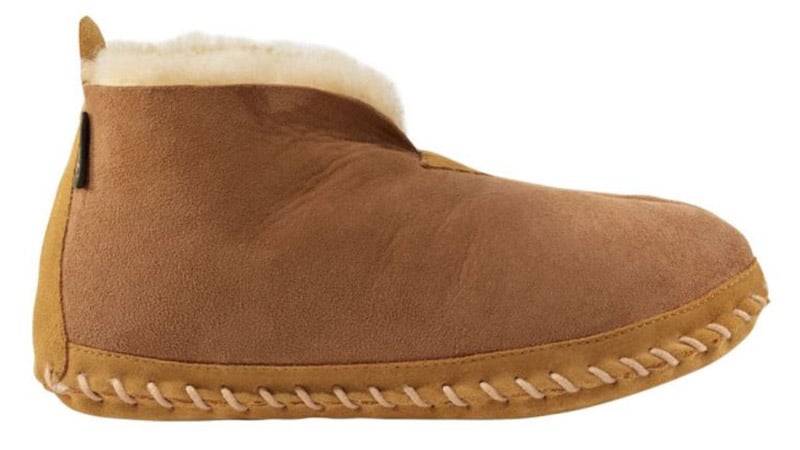 17. Dockers Raymond Quilted Ultra Light Slippers
Choose an ultra-light slipper with the Raymond from Dockers. There's memory foam in the sole that molds so perfectly to your foot you'll want to sleep standing up. The synthetic outsole makes it ideal for both indoor and outdoor wear, so you can easily pop out to the mailbox or enjoy a coffee on the porch. Meanwhile, the uppers are made using odor control technology, so there's no worry about them starting to smell. Finally, there are two color options – a comfy grey and a navy with white sole.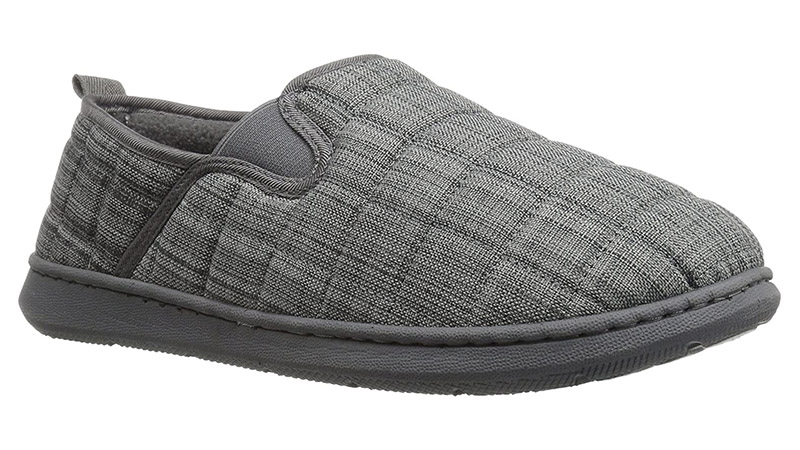 18. Minnetonka Men's Pile Lined Hardsole Slipper
Minnetonka has been crafting quality mocassins and footwear since 1946. This hard sole slipper is the ideal choice for men's house shoes. The thick pile lining keeps your feet warm, even on the frostiest days, while the sole adds versatility that other designs cannot offer. The supple suede and rawhide lacing provides a luxury feel without compromising comfort. Plus, the timeless styling also means that whether you're rocking these with your pajamas, or your favorite chinos and bomber, you'll be looking casually refined.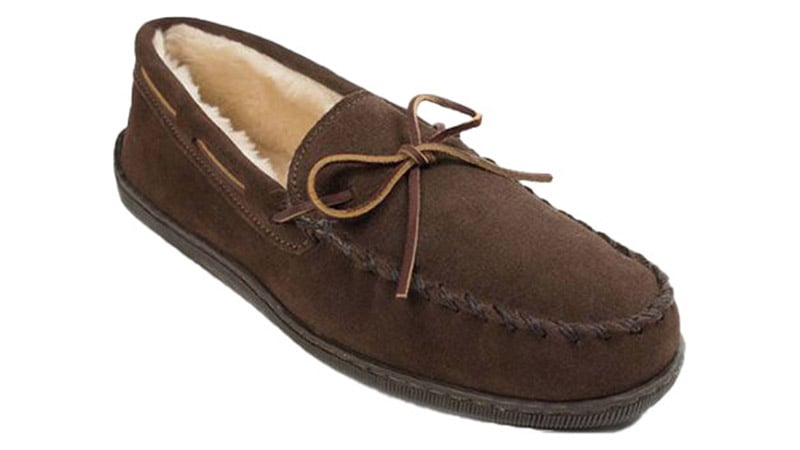 19. Glerups Wool Slip-On Rubber Outsole
Glerups are a stylish alternative to traditionally designed slippers and are meant to be shown off. Rock them around your home, wear them on your next flight, or take them camping — they work everywhere. One of the defining features is the wool felt from Gotland Sheep, which is mixed with quality wool from New Zealand farms. Gotland fleece has a silky and lustrous fiber that's unrivaled by other breeds. It also wicks away sweat and prevents odor build-up, so you'll always feel fresh. The slip-on style is easy to slide into and get on with your day. The rubber soles provide grip and traction, even in the wet, and are durable for daily wear.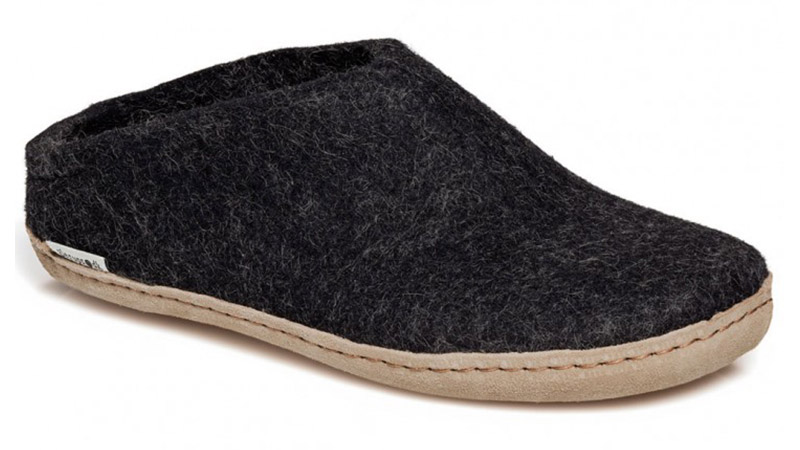 20. Hanes Men's Closed Back Indoor Outdoor Slipper
If you're looking for a choice of colors, then these men's house shoes from Hanes are great. They come in nearly a dozen colors and textures, ranging from grey, brown, and navy to black corduroy and charcoal felt. Inside they have plenty of padding with memory foam and odor protection for the ultimate freshness. There's also insulated lining for extra warmth and a textured outsole ideal for both inside and outdoor wear. If they do get dirty, simply throw them in the washing machine on a gentle cycle and let them air dry.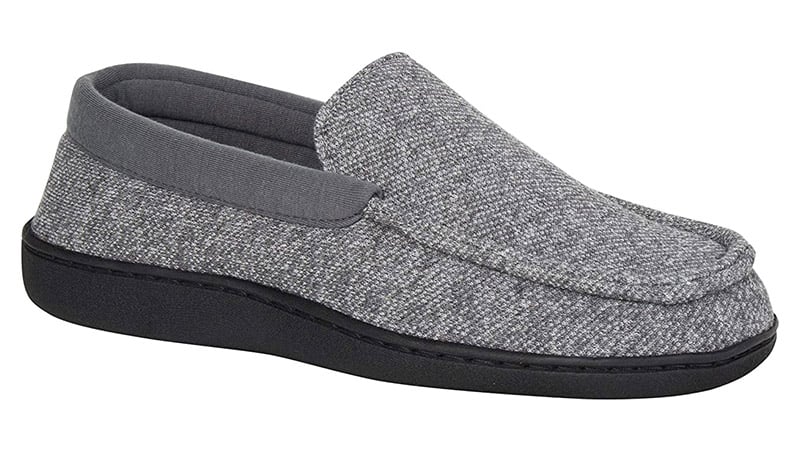 Slip into something more comfortable at the end of a long day with these clog-style house shoes from Deer Stags. The brand has been making shoes since 1929 and is a third-generation family company. As such, they have plenty of experience in producing quality slippers. This one features a durable sole for indoor and outdoor wear, while the S.U.P.R.O.® Sock provides plenty of underfoot cushioning. The uppers will make you feel like you're floating on a cloud, all while keeping your feet warm and snug.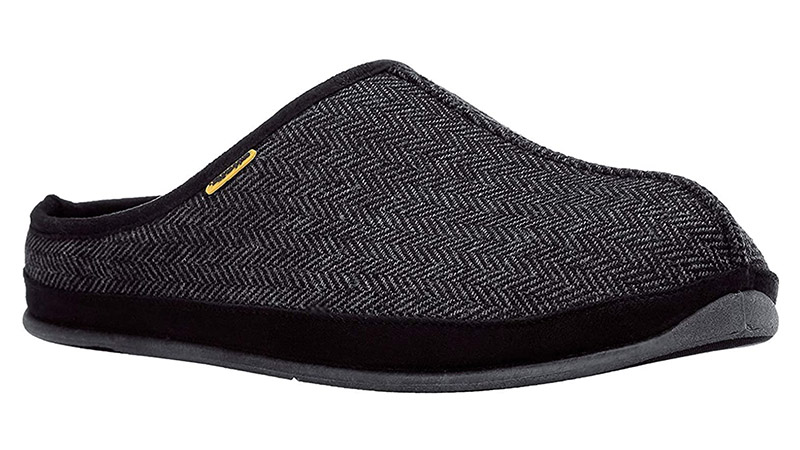 22. Zigzagger Men's Fuzzy House Slippers
Zigzagger's house slippers are like having your feet hugged by a fuzzy stuffed bear. The plush fleece lining will keep your toes warm all through the winter months, while the rubber soles keep you steadfast and sure in every step you take. Its closed-back design gives good support through your whole foot. Then, the high-density memory foam molds to your foot, creating an excellent foundation. If they get a bit odorous or dirty, just throw them on a gentle cycle in the washing machine, let them air-dry, and they'll be good as new. Finally, if brown does remind you too much of your favorite childhood teddy, then opt for the sleek grey and black option instead.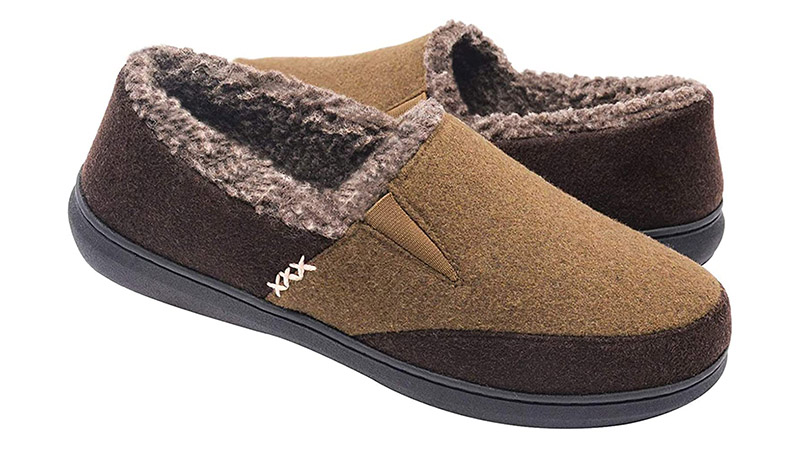 23. Haflinger AS Classic Slipper
Haflinger's AS Classic Slippers are quintessential men's house shoes. Slip them on after a shower, popping out to the mailbox, or generally just lounging around your home. The grey marle uppers consist of boiled wool felt, which, as a natural material, offers superior breathability and exceptional warmth. Meanwhile, every step you take will feel like a massage, thanks to the layers of molded latex and double felt that make up the insole. Finally, felt-covered rubber outsoles provide a reliable grip.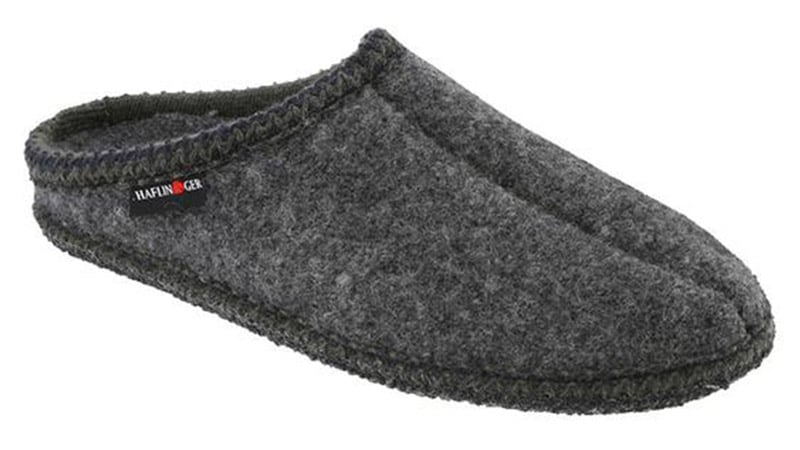 24. Acorn Camden Recycled Slipper
Feel extra good about your purchase of this Camden Recycled Slipper from Acorn. The uppers are all made from recycled apparel yarn, which gives it a distinct dimensional mix of color and texture. Doing this keeps old clothes out of the landfill. Your feet will stay extra warmth with the cozy Berber lining that feels great against your skin. Plus, the multilayer Cloud Cushion™ footbed is ideal for reducing fatigue and pain in your feet. Lastly, the durable skid-resistant sole makes this house shoe perfect for wear both inside and outside your home.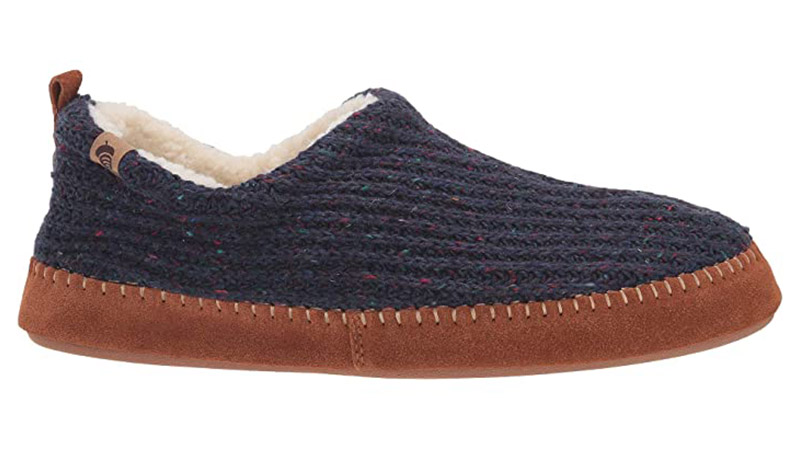 25. Zigzagger Men's Fuzzy Microsuede Moccasin Style Slippers
Slide in and out of these clog-style slippers from Zigzagger with ease. The open-back makes it simple to chuck these on whenever you need them. Pop outside to grab the newspaper or check the mailbox, thanks to durable rubber soles that are ideal for indoor and outdoor wear. Meanwhile, even if it's snowing outside, your feet will say warm. The contrast fleece lining keeps your toes toasty while the microsuede uppers insulate. You'll also benefit from the marshmallow-like cushioning of the memory-foam sole. Finally, you can even wash these house shoes in the washing machine. Just choose a gentle cycle and air dry them in the shade.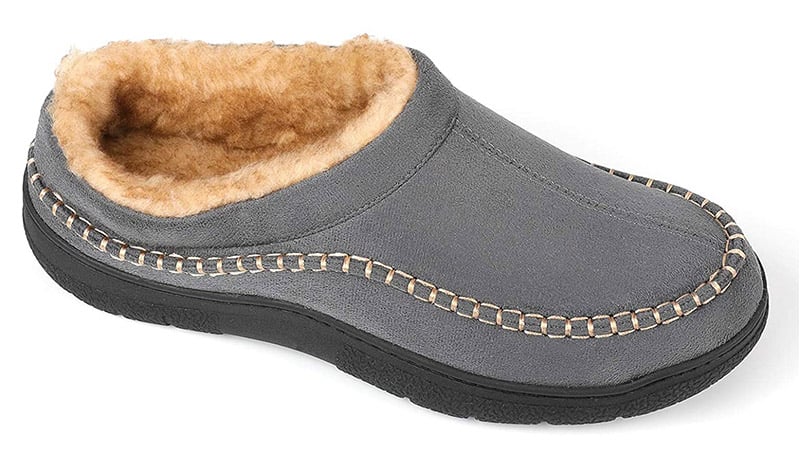 FAQs
What are men's house shoes?
House shoes are a style of a shoe designed to be worn indoors, around the house. They keep your feet clean, warm, and protected. It also means you can take off your dirty, out-in-the-world shoes at the door, keeping your floors cleaner and not tracking mud or water through your home.
What are house shoes called?
House shoes are also commonly called slippers.
What are the most comfortable house shoes?
The most comfortable house shoes will have lots of padding to help relived tired, achy feet. Look for memory foam insoles that mold to the shape of your foot for excellent support. Try styles like Docker's Douglas, MERRIMAC Men's Classic Coral Fleece Memory Foam Slippers, and CIOR Fantiny Men's Memory Foam Slippers.
What are the warmest house shoes?
The warmest house shoes will feature fuzzy lining the keep the heat in. Natural wool is ideal, as it's super warm and breathable, so a style like UGG Ascot Leather is perfect. Other great options include Zigzagger Men's Fuzzy House Slippers, Acorn Camden Recycled Slippers, and L. L. Bean Men's Wicked Good Slippers.
Do men's house shoes come in half sizes?
Generally, men's house shoes don't come in a half size. Many manufacturers recommend sizing up if you're in between, however, do double-check each product's advice. However, in the worst-case scenario, you can always wear a pair of socks, but unlike regular shoes, house shoes can be forgiving if they're not the perfect fit.
SUBSCRIBE TO OUR NEWSLETTER
Subscribe to our mailing list and get interesting stuff and updates to your email inbox.