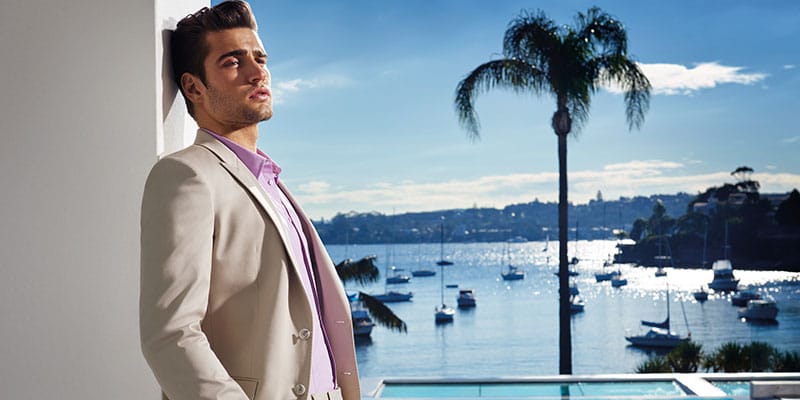 Summer has our social calendars filled with events, most of which require us looking our sharpest, no matter how warm the weather. Between weddings on the beach, rooftop parties, or drinks after work, the need to change out of your summer shorts and short sleeve shirts will arise. While a suit may not be your first thought, these suits will have you feeling cool and looking sharp all season long.
Styling has evolved, making it perfectly acceptable to blur the lines between formal and casual wear when wearing suits. Bring out your white sneakers for those hot summer days, leave your socks at home, and switch the button-down shirt with a crew or V-neck shirt.
However as with all men's suits, fit is the most important aspect. Concentrate on finding a suit that is slim-fitting, yet comfortable. The trouser legs should be slim, with a slight break at the bottom, and the jacket should always be fitted on your shoulders, with the body not restricting movement – which is especially important in the warmer months.
We spoke to Ty Henschke, designer for renowned Australian label Calibre, who shared some tips on what suit to choose when the sun comes out this summer.
Stretch Suits

A wool suit is a workwear staple for any sartorially-mined gent, but many can agree they are not the most comfortable choice of attire to spend the whole day in. Due to the rigid nature of the fibre, wool suits don't have much give, so they can restrict movement and make you feel a little constricted.
However, wool is still a great choice for suiting in the summer months. As it is a natural fibre, it is very breathable, meaning it can regulate your body temperature and allows cool air to pass through it. It is also crinkle-resistant and water resistant, meaning it will keep you looking sharp as you go through your day.
Calibre have released a new range of suiting that combines all the benefits of wool suiting with a fit that is much more comfortable to wear, no matter how long your day is. The finished product is the Stretch Wool Suit, made from Italian wool with a little added elastane for comfort.
Ty, Head Designer of Calibre says it is all about developing the perfect formula for stretch suits by finding the ideal ratio of elastane to wool, meaning a suit that is not ultra-stretchy but is not as rigid as a usual wool suit. This extra elastane allows the suit to be cut a little slimmer, while still being comfortable to wear. There is no need to take your sports coat off to drive, or to feel restrained at your desk, the stretch suit will allow you to move freely all day.
The fabric has been specially developed by Calibre and one of the premier Italian suiting mills, meaning all the fabric is made in Italy. By adding just a small amount of elastane, it means the suit will stretch in the right places but still bounce back to its original shape, meaning no sagging in high movement areas like the knees or the chest.
Get The Look:
Cotton Suits

Suits are an essential component of every gentleman's wardrobe and when it comes to choosing a summer suit, cotton is one of the most popular fabric choices.
A cotton suit is a great way to beat the summer heat, as it is a lightweight, yet quite durable fabric. They give a great, relaxed vibe to any suiting look, and look just as great when dressed up with leather accessories and a tie, as they do with a pair of white sneakers and a tee.
Because cotton will always be a go-to suit for the summer, opt for a colour that is reminiscent of the season. Shades of tan look great when paired with leather loafers and a crisp white shirt, otherwise blues and greens give off an on-trend summery vibe. Don't be scared to wear a cotton suit as separates either – pair the cotton blazer with a pair of tailored shorts or the cotton pants with a short sleeve shirt for a versatile look.
Want the best of both worlds? Calibre will be releasing a stretch cotton Stone Suit in their Resort Collection, meaning a comfortable stretch suit that will be light and easy to wear during the summer months.
Get The Look:
SUBSCRIBE TO OUR NEWSLETTER
Subscribe to our mailing list and get interesting stuff and updates to your email inbox.