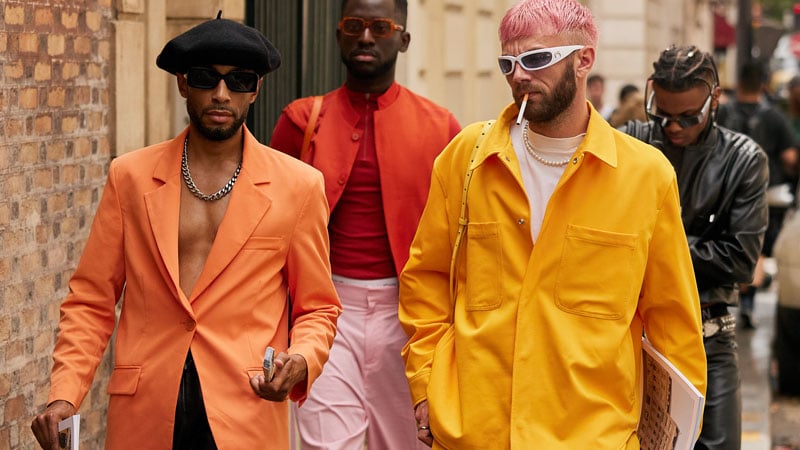 Every year, we're introduced to the latest trends that dominate the fashion world. From the runways to the streets, online, and everywhere in between, there is fashion that engrossed us entirely. From accessories to bags, wide-leg jeans to boldly branded shirts, there are plenty of fun and fresh styles that are perfect for the warmer months. Whether you're looking to experiment with gender-neutral silhouettes or you want to inject some new colors into your everyday ensembles, there's something that is perfect for you. Get inspired and take a look at the hottest S/S23 menswear trends we've seen this year.
1. Bold Branded Shirts
Printed shirts were once some of the most popular choices, made popular with Hawaiian shirts in the '30s. These bold pieces of clothing are a great way to enhance a typical outfit, such as a pair of jeans or trousers. Brands such as Louis Vuitton and Amiri have a plethora of styles to choose from, but you can also find affordable options that provide the desired effect. Depending on the aesthetic you prefer, you can opt for a classic style with palm trees or something a bit more graphic, including color blocking or covered in logos. Keep the rest of your outfit simple to let the branded design really stand out – alternatively, a color story that runs through the ensemble, such as black or blue, can create unity from top to bottom.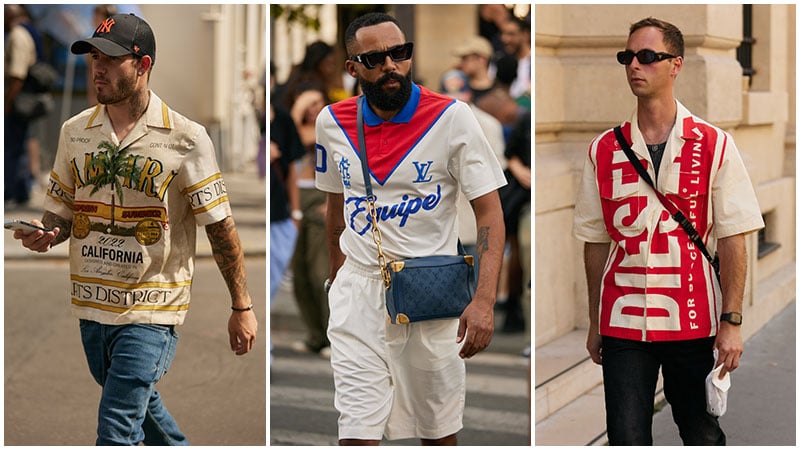 Get the Look
2. Bright and Fun Knits
Who said knits were designed for the cold weather only? With outerwear like this, you'll want to wear them year-round. Deviate from the traditional neutral shades and opt for something fun and bright – they're easy to blend into your existing wardrobe. Of course, you can opt for a snug sweater, or you can always try a light-knit cardigan and pair it with a t-shirt underneath. When choosing shades, go for something that you can tie in with the rest of your go-to outfits – this can be yellow, blue, or green. Experiment with patterns, prints, or color-blocking – the brighter, the better!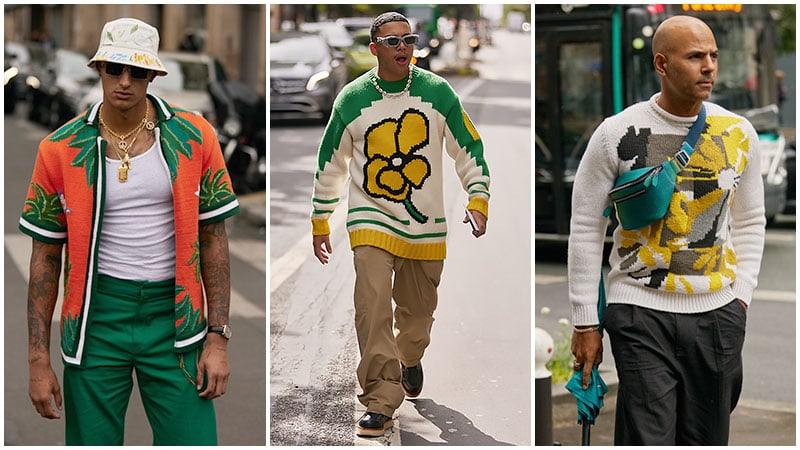 Get the Look
3. Cargo Shorts
Once the biggest faux-pas of the fashion world, today the cargo has reclaimed its spot as one of the biggest trends of the season. Of course, some may still consider these a blunder, so we're here to prove them wrong this year. When styling this polarizing piece of clothing, ensure the rest of your outfit is sophisticated, and wouldn't pass as 'daggy' or 'uncool'. This means whipping out a slick button-down shirt or jacket and adding a fresh pair of sneakers. There are plenty of reasons why these bottoms are the pick of the season – they're comfortable and versatile, plus they're obviously a fantastic choice if you want to carry a few things with you, thanks to its endless pocket options.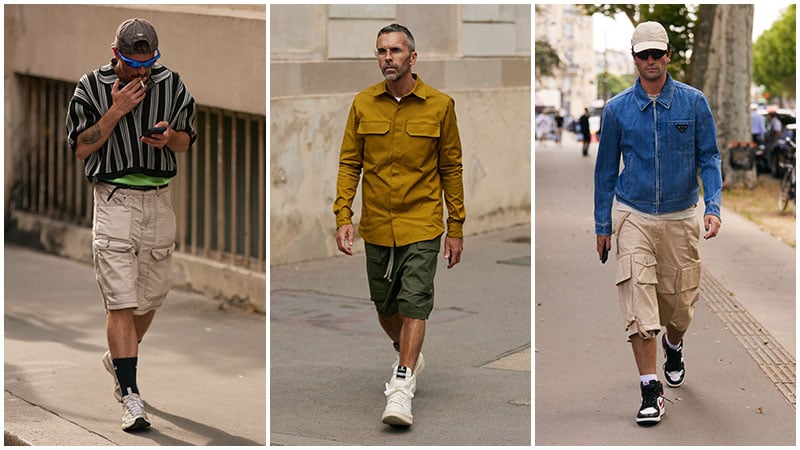 Get the Look
4. Plaids and Checks
Checks never really go out of style, but they're upping the ante this season. From plaid to a houndstooth, this sophisticated design is an easy pattern to blend into your daily outfits, and will instantly enhance your overall aesthetic. There are myriad different types of checks and plaid to choose from, depending on your preferred style. Larger checks such as windowpane, graph, and buffalo are some of the most popular. If tartan or plaid is more your thing, you can opt for argyle, Black Watch or Clan Wallace. These are great options for cooler moths as you can mix and match them with darker shades, such as navy, bottle green, or even denim. Incorporate this pattern into jackets, shirts, or trousers for a funky twist.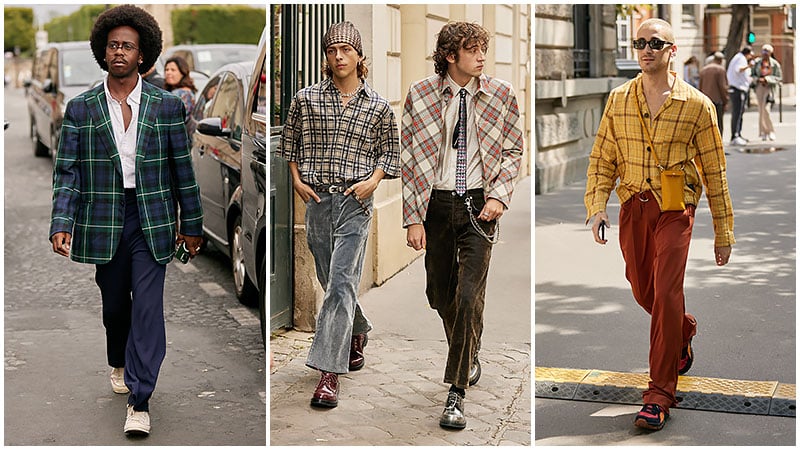 Get the Look
5. Chunky Chains
We've seen chunky chains on the list for women for years now, but it's the guys' turn to take this trend for a spin! This versatile accessory can add a high-fashin or edgy twist to any outfit, and it matches every aesthetic. From a classic t-shirt and blazer to a streetwear getup, it will add depth and complexity to your ensemble, without overdoing it. Opt for a style that has multiple shades such as black and silver, or a cluster of silver entangled in itself. This is a trend that transcends seasons – wear it at any temperature and elevate your look instantly.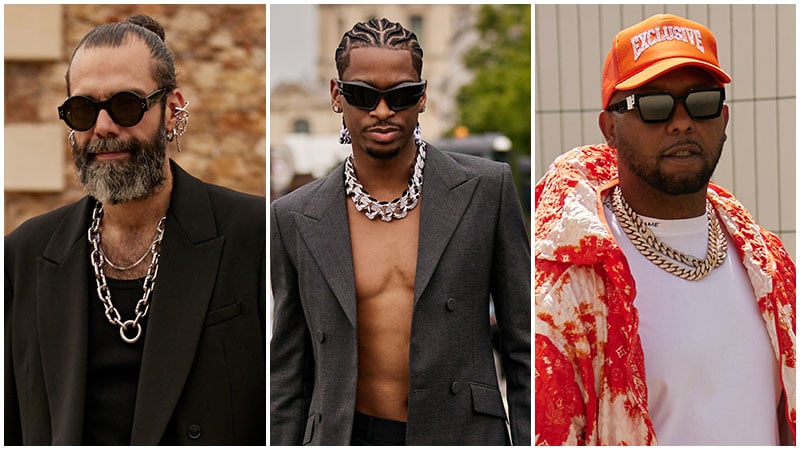 Get the Look
6. Cream Cross Body Bags
Filled with as much style as practicality, the cross-body bag is a great choice for this season. You can dress it up or down, and pair it with almost any other outfit effortlessly. If you want to go to the highest end of the designer spectrum, you can choose the iconic Dior Saddlebag or the Cassette shoulder bag from Bottega Veneta. Other options include up-and-coming designers such as Telfar, or something more affordable online. Match it with a t-shirt and printed shirt over the top, a monochrome suit, or a classic trench coat with colorful trousers. A pair of jeans and a sweater is another great choice that complements this accessory.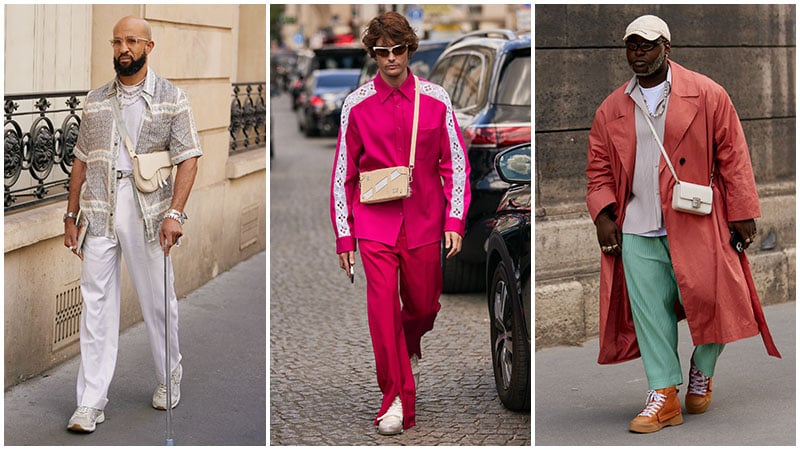 Get the Look
7. Cream Pinstripe Suits
The pinstripe suit is a classic choice for anyone who loves to look sophisticated. But this season, we're taking it one step further with a cream color palette. This summer-approved combination is fresh and exciting, putting a modern spin on traditional tailoring. Pair it with a button-down shirt and complementary tie and boat shoes, or throw a new shade into the mix, such as salmon or baby blue. Alternatively, you can try a simple t-shirt that lets your skin breathe. Finish the look with a slick hat and sunglasses, to help fight the heat and keep yourself looking extra cool.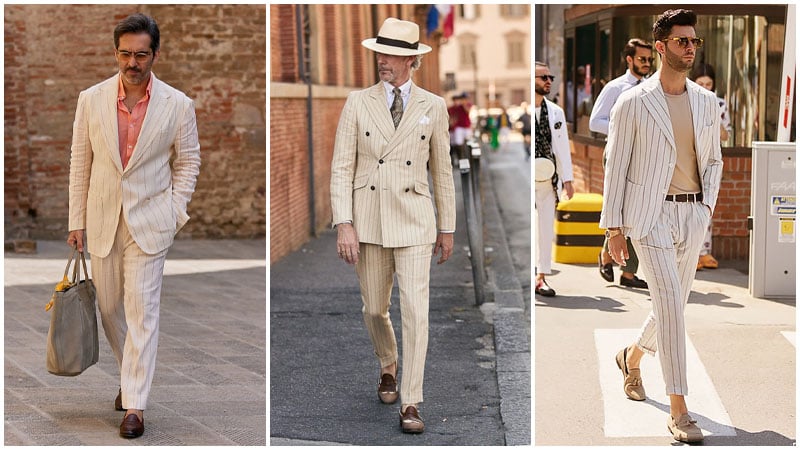 Get the Look
8. Flared Trousers
From the '40s to the '70s and today, flared trousers come and go every few decades. They're easy to style and make anyone look taller, thanks to the illusion created by the pants' shape. For a classic everyday look, you can't go wrong with a pair of black trousers with a leather jacket and t-shirt. However, for a more edgy take on the trend, opt for a plaid or checked pattern, and pair it with a sweater in a similar shade, calling back to an older era. You can play with varying fabrics, too – leather, cotton, or linen are all great choices, as they create depth and complexity to an existing outfit, without going overboard.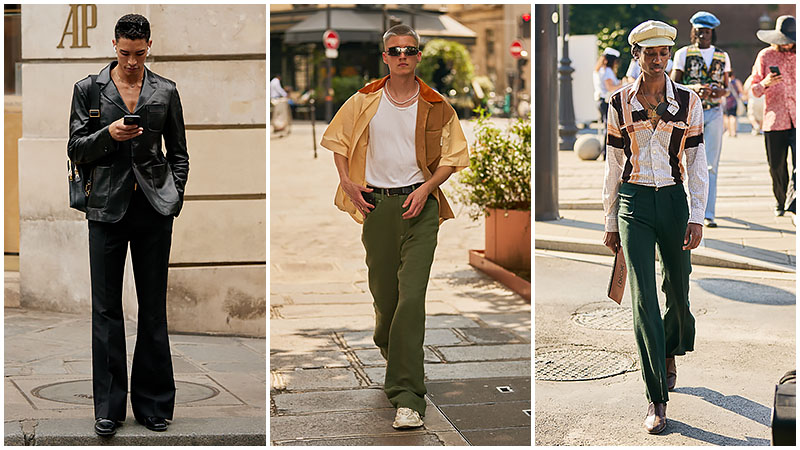 Get the Look
9. Gender Neutral Outfits
Fashion knows no gender. Self-expression is a right that everyone has, and this season it's all about embracing what makes you feel good. We're saying goodbye to gender norms, and encouraging gender-neutral styles to rule supreme. This includes everything from corseted belts, skirts, floral patterns, and everything in between. Experiment with layering, add necklaces and a cross-body bag to your outfit for a punchy yet delicate look. If you want to go one step further, you can try a skirt in the style of Thom Browne or Miu Miu, and a cut-out shirt paired with a leather jacket and chunky boots for a punk twist. Ditch the 'rules' and have fun – isn't that what fashion is all about?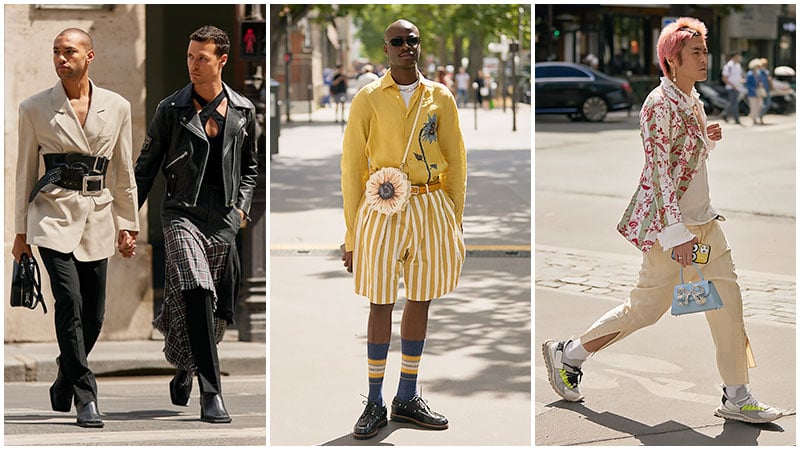 Get the Look
10. Knee Length Skirts
While kilts have been in the vernacular for centuries, it's only recently that they've been thrust into the forefront of men's fashion. Reaching new levels of popularity thanks to designers such as Thom Browne and Burberry, this is one of the hottest looks for guys this year. Try it out with a classic polo, button-down, or a blazer – it's a stylish alternative to trousers, and oh-so-comfortable. The length of these skirts are key – hitting at the knee, they are long enough to cover you up but provide freedom of movement for all-day wear. Finish the look with chunky sneakers or loafers to tie in the aesthetic.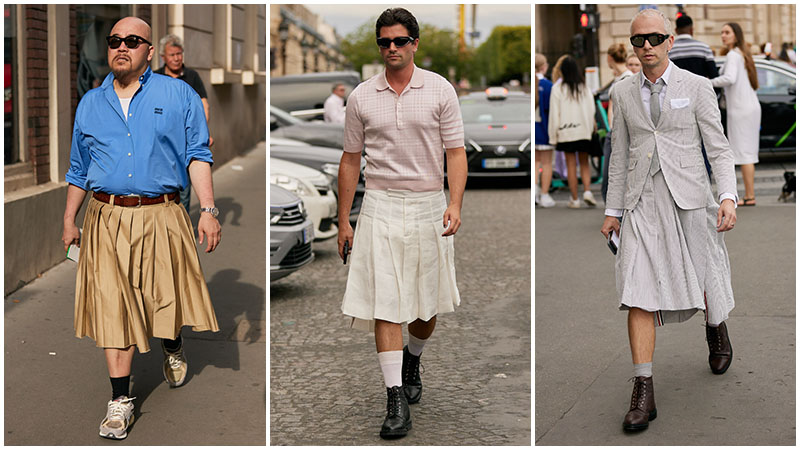 Get the Look
11. Mesh Tops
Mesh tops are an iconic piece of clothing that is making it big this season for menswear. Not only is it super stylish, but it is a great way to keep cool when you're in the blistering heat. These fun and fresh shirts make for amazing layering options and can be worn with myriad different patterns and colors for a complex and interesting aesthetic. If you don't want to show off too much skin, you can find a knit that offers the same effect – it looks great with denim and chinos, or even leather trousers if you want to go one step further.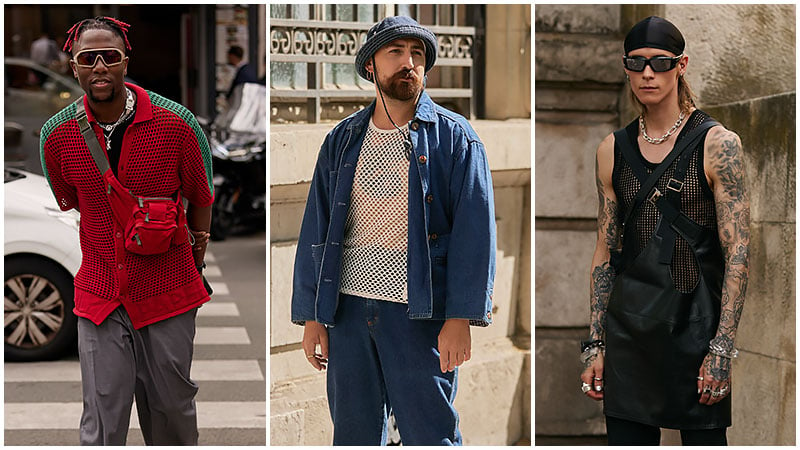 Get the Look
12. Nature Inspired Printed Bombers
Nature motivates everything around us, so it is only fitting that it influences the fashion industry, too. This season we're focusing on nature-inspired bombers. These printed jackets are naturally cool in their silhouette, with knitted cuffs and waistband. Cotton or satin jackets are ideal for this trend. Wear it with denim, a pair of bold trousers, or classic chinos for a sophisticated and laidback feel. Don't be afraid to try it in bright shades, including red, green, or blue – you can always wear black and white for a more minimalistic feel.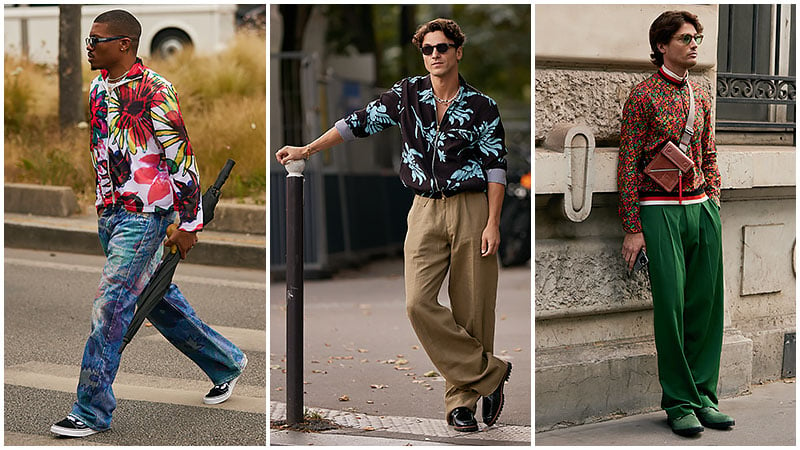 Get the Look
13. Pearl Necklaces
The fashion world has been loving this trend for some time, and we can see why. From Internet personalities to celebrities on red carpets, a classic pearl necklace is an ultimate accessory for guys this season. They're simple and easy to try, enhancing any outfit without too much effort. These classic pieces of jewelry may seem delicate, but they're actually a great way to add a punk element to an outfit. Try it with a t-shirt or button-down and a pair of trousers or tailored shorts. Add a single string or layer several at once – you can find different colors to match your personal aesthetic or stay true to the traditional white.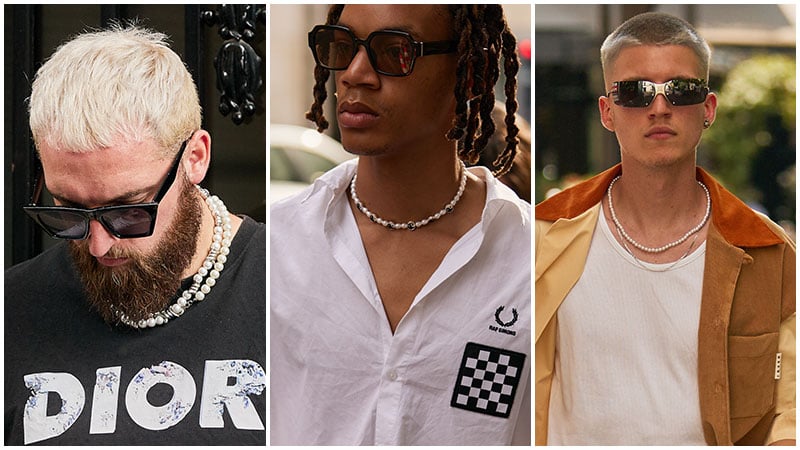 Get the Look
14. Pop Color Plisse
Narrower than traditional pleats, plisse is a finely folded fabric that flows effortlessly with movement. Hyper lightweight and breathable, this fabric is soft and subtle, making for a great choice for this season. You can find t-shirts, trousers and other types of clothing with this fabric. It's available in every shade, but this year, we're giving them an extra pop. Try hues such as blue, red, or yellow to stand out even more. It's an extremely comfortable type of material – you will want to wear it over and over, all year long!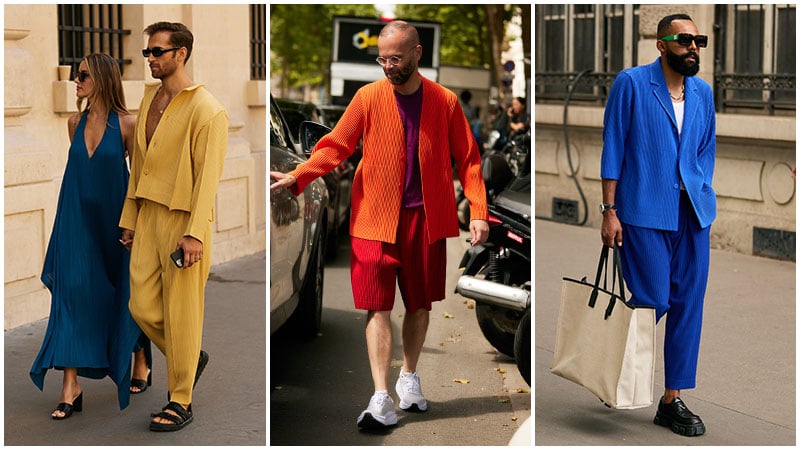 Get the Look
15. Printed Sets
When you want to make a statement, do it with bold prints. From the runway to street style, matching sets have been all the rage, ranging from printed suits to shirts and shorts and everything in between. Patterns such as camo and logo branding are some of the more popular choices, but you can also choose something that's subtle and easy to wear to any event. Opt for a bold monochrome look, or try a classic black and white color palette for a minimalistic and masculine edge. You can mix and match different shades in these outfits for a complex feel, or stick to the color wheel for a holistic and well-rounded feel.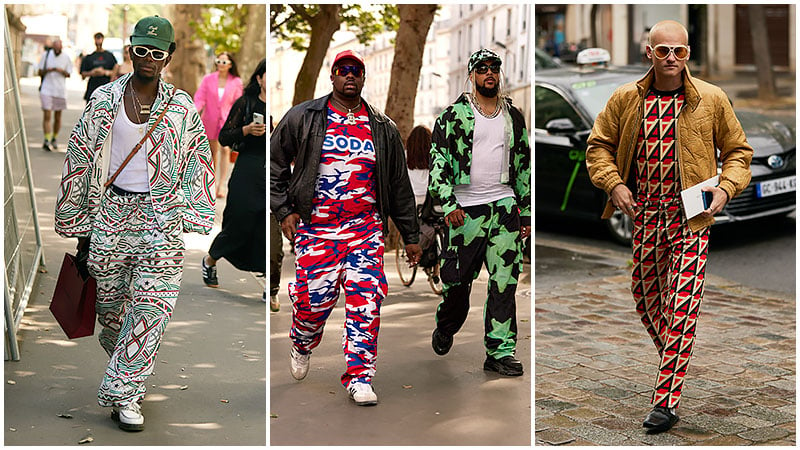 Get the Look
16. Short Shorts
Say hello to mini short shorts this season, making for a great way to dress for the heat without looking drab. Try a pair of shorts with pleats in the front – it's a throwback to the '40s that can be modernized with a t-shirt and a sporty jacket over the top. Other options include a pair made from leather, which you can wear in transitional seasons – just swap out a shirt for a t-shirt with a coat or blazer. Add a pair of sneakers or dress shoes for a more sophisticated spin – boat shoes work well for a more casual look.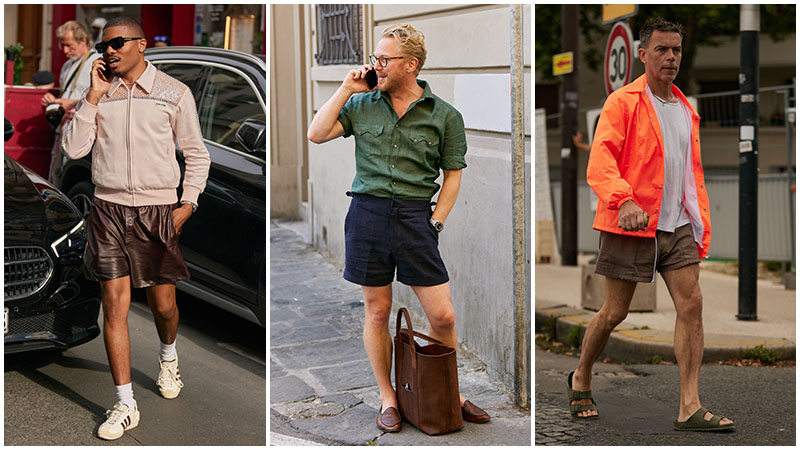 Get the Look
17. Silk Scarves
For the days where you want to upgrade your tie game, swap out the traditional option for a silk scarf. There are endless designs and patterns to choose from, making it an excellent option to enhance an existing outfit, no matter how simple. Green, black, blue, or red – all of these work extremely well with a button-down shirt, t-shirt, or a blazer. Simply fold the scarf in half, and wrap it around your neck. Tie it in a simple knot and let the remaining fabric down your chest – let it hit your sternum, just like a tie. Pro tip: wear neutral shades like gray, black, or white to let the color pop a bit more.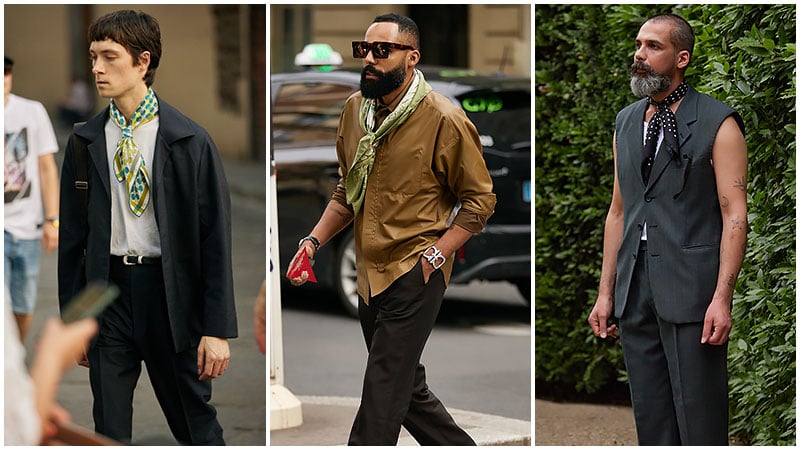 Get the Look
18. Tie Dye and Bleach Dye
Trends come and go, but tie-dye is one that has stayed around forever. It's a vibrant and funky design, with its own unique style that helps you stand out more. From coats to trousers and shirts, there are plenty of ways you can infuse this fashion into your wardrobe. Don't be afraid to mix and match contrasting and clashing colors – pink with red, blue, green, and yellow – they all work so well together with these granite shapes and swirls. If you're after a more subtle feel, opt for shades such as brown or black, blended with cream and white. While it's still bold, you can infuse neutral shades to create a holistic aesthetic.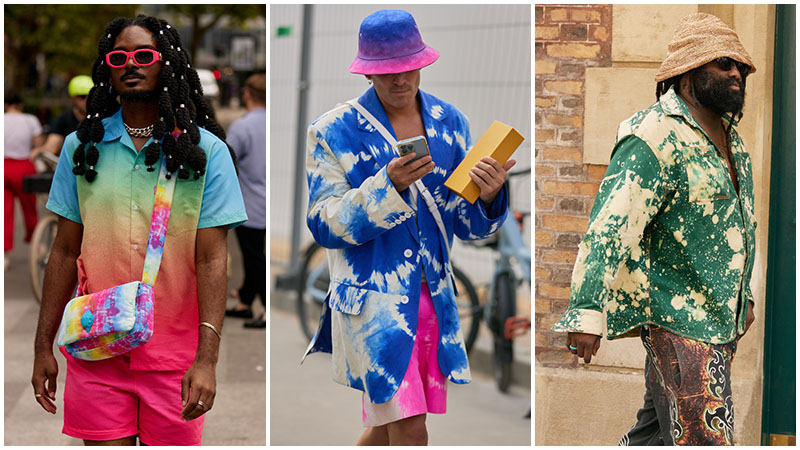 Get the Look
19. Vests Worn as Tops
This season, it's about mixing up the traditional formalwear with a hot summer twist. Let your skin do the talking by wearing a vest as a shirt. Forgo the shirts underneath these waistcoats, and opt instead to wear them against your skin and expose your arms and chest. This is a great opportunity to try out new colors and patterns from your usual style. Soft green hues or something in a cool brown is great for denim and chinos, but if you prefer monochromatic looks, a black vest that hits the knee with trousers will be a knock-out. Complete the look with loafers or dress shoes to tie in the tailoring, and add a chunky chain necklace or some funky headgear for a modern twist.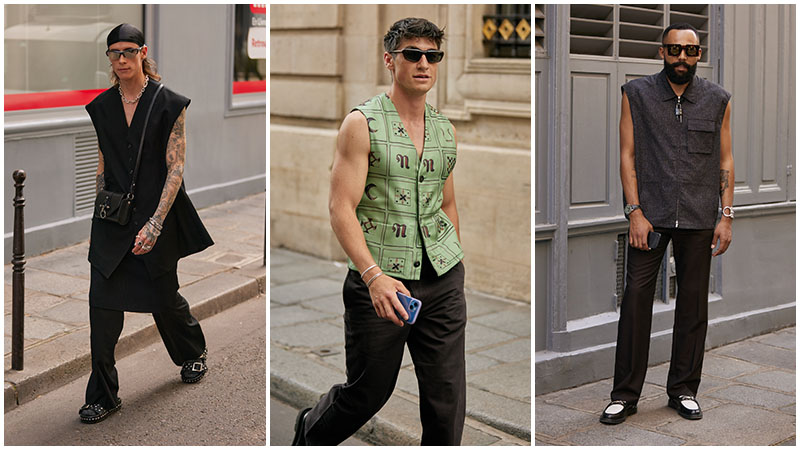 Get the Look
20. Wide Leg Jeans
Nostalgia is the hit of the season, and this can be summed up perfectly with the return of wide-leg jeans. These ultra-flattering and hyper-comfortable trousers can be worn virtually anywhere, and they look great with dress shirts, sweaters, t-shirts, or even a simple hoodie. Let it hang softly on your hips to pay tribute to the '00s, or hike them to the mid-waist for a more '70s feel – add a slim belt and tuck our shirt in for a streamlined look. A pair of white sneakers or brown dress shoes work well with this look. Thanks to the long-line silhouette, they will create the illusion of longer legs, therefore making you appear taller.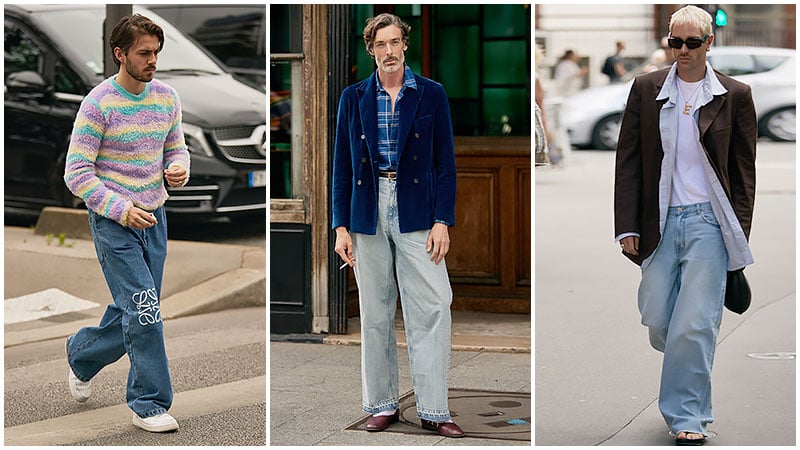 Get the Look