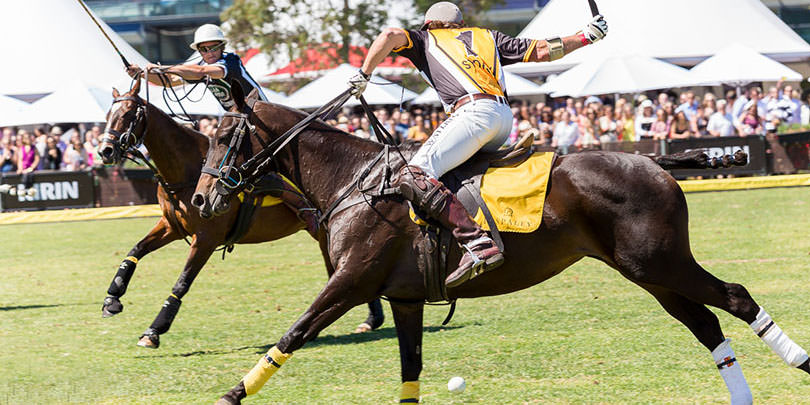 What more perfect matching to guarantee an afternoon of celebrations and mirthful frolics, than the pairing of Polo 'Sport of Kings', fine weather, high glamour and abundant hospitality from some of the most prestigious brands coupled with a throng of the uber fabulous of our dear city, Melbourne.
This was indeed the case at the 2013 rendition of Paspaley Polo in the City. An intimate throng, near 3500, gathered at Albert Park, where just for this special day, the grounds had been transformed into a Polo field.
Whilst brands like naming sponsor Paspaley, Veuve Clicquot, Woodford Reserve, Land Rover, Kirin, Waterford, Twinings and Brown Brothers offered generous hospitality in luxurious pavilions and marquees, we were there to witness two happenings.
First and foremost the execution of the grand sport of Polo, where mighty ponies and their resplendent Polo players, battled out the chukkas in fine form and secondarily for the parade of Summer elegance that would occur off-turf.
In both cases we were not to be disappointed. Team Land Rover triumphed in magnificent fashion winning 9-7 whist the parade of unabated fine fashion on view on both lasses and lads provided a sartorial backdrop to the afternoon.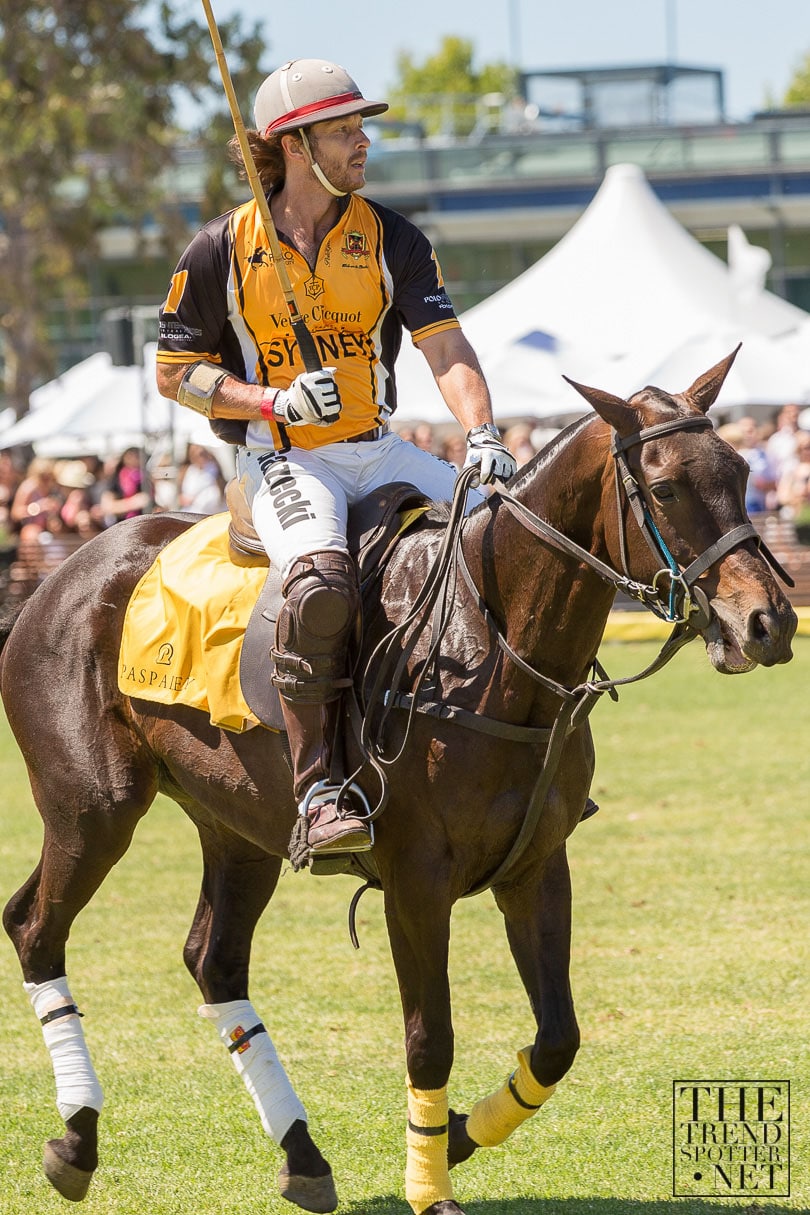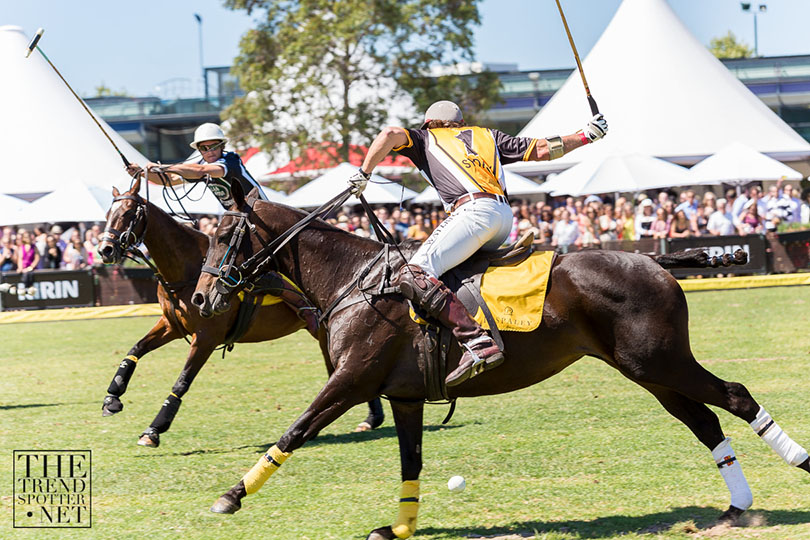 Relaxed glamour was interpreted with colour, pattern, digital print, florals, breezy dresses, light jackets, flitting hemlines, straw hats, understated jewels, wedges and flats on attending ladies. Their male counterparts opted for various hued chinos, jackets in lighter weight fabrics, bright accessories coupled with loafers, driving shoes and for the most part worn sockless. Statement sunglasses also played a huge part in the adorning of attendees with a strong wave of the throng favoring in particular, Ray Ban and Persol renditions.
Our favourites at TheTrenspotter include:
Alex Zabotto-Bentley, director and creative genius at AZB Creative, who had been instrumental in theming the ambience and curating the guest list at the Woodford Reserve Pavilion, looked magnificent in his classic linen, cotton and silk blend navy blazer, Sicilian olive chinos – both by Zimma tailor, United Arrows silk knit tie and custom designed kerchief by friend, Christopher Graf. Zabotto-Bentley also sported a crocheted floral boutonnière, Grenson linen and leather brogues, limited edition Persols and wafted of Chanel Allure Sport.
Victoria Fox, directrice extraordinaire at temple of beauty, Miss Fox, looked alluring in a fitted knee length drees featuring pockets and textured fabrication by label, Willow. Fox chose to accessories with a multi hued scarf by Alexander McQueen, muted gold shoes and bag by Chloe and Gucci, respectively and bold gold jewels by Scott Wilson, Dior and Versace.
Hayden Burbank, popular man about town and owner of Morris Jones, oozed summer elegance in an ensemble of jacket, chinos and loafer in various shades of sky blue. For the most part Burbank had sought components of his attire from his friend Godwin Hili of Label Godwin Charli.
Wine purveyor and generally well liked and respected man about town, Alan Nelson, looked splendid in a monochrome outfit comprised of black linen jacket, white 'grandpa' collared short teamed with linen shoes.
Samantha Dennis, marketing guru at Veuve Clicquot, oozed chic in a sleeveless dress with multi flouro hued digital print by Josh Goot. Her accessories of choice by Alexander McQueen as well.
Graham Lewsey, CEO at newly renamed VAMFF ( Virgin Australia Melbourne Fashion Festival ), chose to display bucolic chic as he interpreted polo style in a prince of wales check grey blazer by Rodd and Gunn with a pink shirt coupled with green and white check bowtie.
Lewsey's partner, Peter Sagar, also trod the bucolic style in Herringbone. His rendition in blues, pink and white.
Our own Dasha Gold, one half  TheTrendspotter, looked vibrant in shocking pink, white and cobalt blue. Gold stood out in a skirt and top by Mossman, Zara jacket and Sheike bag proving the adage that high-end labels and street labels mix well under the curation of a good eye. Other half of 'head honchoism' at TheTrendspotter, Colin Gold, also rode the tidal wave of bucolic glamour. Mr Gold was dressed by Melbourne based label, Clemente Talarico and comprised of a white shirt with blue pinstripes, deconstructed grey and white jacket in cotton jacquard and copper hued chinos.
Herald Sun columnist, Jackie Epstein as usual was seen fishing the hot news and gossip as she popped in and out of several marquees. Epstein looked stylish en mode 'travail' in white and gold top matched with black pants.
Jane Hayes, scion of a leading Melbourne family and well respected fashion consultant in her own right, looked summer ready in a floor skimming orange dress by Michael Kors, She chose to accessories with thin nude and gold studded belt and nude Louboutin flats. Hayes also was seen toting a beige cowhide Dior saddle bag in keeping with the equine mood of the day.
Model, Alice Burdeu, visited from Sydney looking very elegant in her black knee length dress bought off the rack on holidays. Burdeu chose various Mimco prices including bag with which to embellish her outfit.
Gal of the moment, Lauren Philips, looked gamine in orange shorts and nude beaded silk 'T' all by Nicola Finetti. Philips chose to wear nude summer sandals by Innovare and Hermes bangle with which to add flourish to her ensemble.
Sarah Jane Anker who is well known for her understated elegance looked supremely cool (as in warding off the warmth of the day) in a white shift dress and oversized bimmed white straw hat.
Fashion pundit, the highly respected Jan Breen Burns of blog Vox Frock and now also board member of VAMFF, as usual looked glowing. Indeed we don't know how this lady manages to look so relaxed and energetic, given her hectic schedule. Breen Burns wore a black dress and beige jacket. Her outfit, flying the flag for Melbourne based labels, by Country Road and T L Wood.
Dynamic duo Cindy Sargon and Michael Coade, are that kind of supremely good looking couple that make jaws drop whenever seen. They appeared at several marquees in dazzling and colour matched style. Perhaps as a nod to Thanksgiving this couple were seen in blue, white and respd outfits, Sargon wore Scanlan and Theodore teamed with Louboutin shoes whilst Coade wore Balenciaga.
Jess Dempsey, blogger at, What Karl would do, though nearing the birth of her second child, still managed to look effortlessly glamourous and comfortable perched at the Cliquot Marquee in a navy tea length dress by Sheike, Chanel espadrilles and bag with other accessories by Fiorina and Hermes.
Jounalist and social commentator, raven haired beauty, Rachelle Unreich, displayed her ever refined elegance even when having chosen an outfit that was relaxed befitting the mood of the event. Unreich chose a grey Josh Goot T-shirt dress with animal print which she nipped at the waist with a belt.
Grant Smilie, world famous DJ and music meister, always looks dapper and highly groomed when at events. His polo going outfit comprised, ACNE chinos, Dior jacket and stand-out sunglasses by Cutler and Gross all in muted greys and black.
Dapper man about town, social media guru and blogger at D'marge, Luc Wiesman, stood apart from many of his brethren. Wiesman is known for favoring design over ostentation, though his outfit of green plaid pants, neon green belt, white shirt and white and neon sneakers, was bold at best; it had been chosen for its merit of design. Wiesman's plaid trews particularly admired and were from label, dsquared.
It had all been a marvelous day, where we Melbournians had united once again in a bountiful mood of celebration and jubilation. How magnificently attired and splendid had we all looked. Bravo to all involved at Paspaley Polo in the City. We can't wait for next year!
To view all the photos from the Polo click here
SUBSCRIBE TO OUR NEWSLETTER
Subscribe to our mailing list and get interesting stuff and updates to your email inbox.