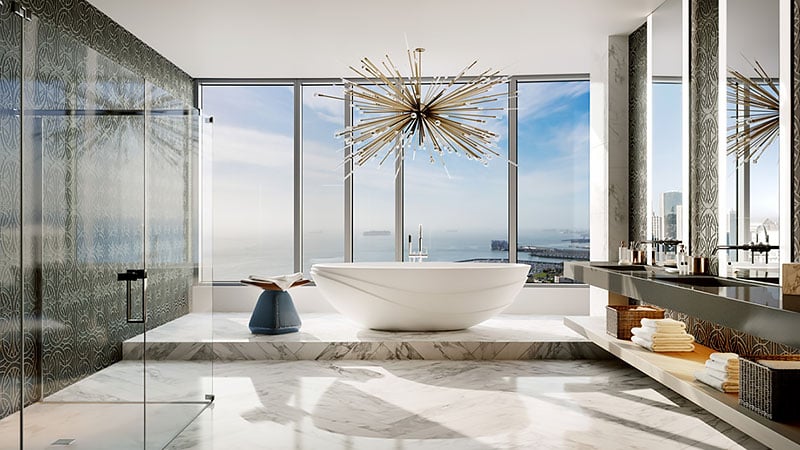 Bathrooms are much more than a place to cleanse and use the toilet. It is an area for relaxation, and the right decor can either make you feel calm and balanced or make a statement and appeal to your fun or energetic side. There are several options to update your space, regardless of its size, from rustic charm to ultra-modern finishes. Experiment with color, fittings, and bathroom furniture, or keep it clean and simple. Your master bathroom is one of the most important rooms in the house, so use these ideas to update it and make it somewhere you want to spend a lot of your time.
1. Clean Design Master Bathroom
The appeal of a clean design is that it feels modern and sophisticated. The limited use of color and details ensures that this is a bathroom that will never feel dated, and the lack of clutter makes it feel neat.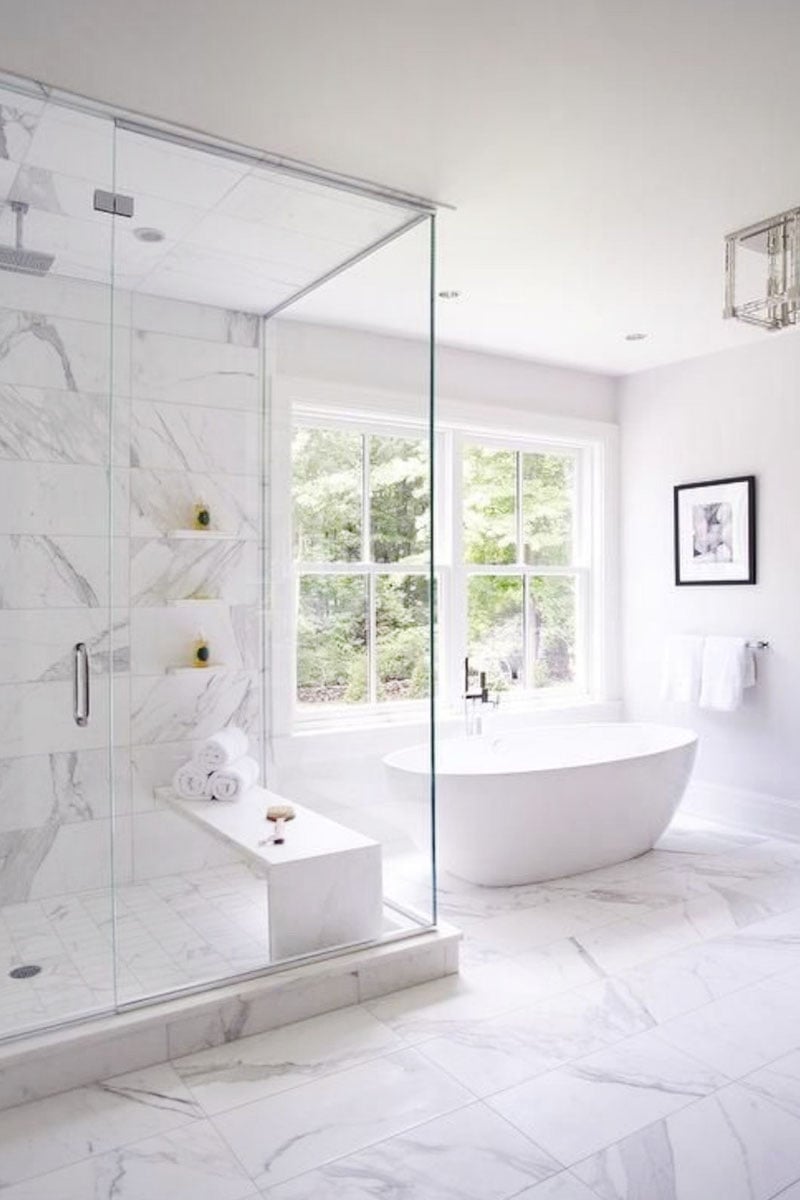 2. Travertine Master Bathroom
Travertine tiles have a natural stone appearance, and they come in several colors, including white, cream, and tan, allowing you to find the hue that best suits your preference. Finish the rest of the bathroom in a neutral shade for a simple and elegant look.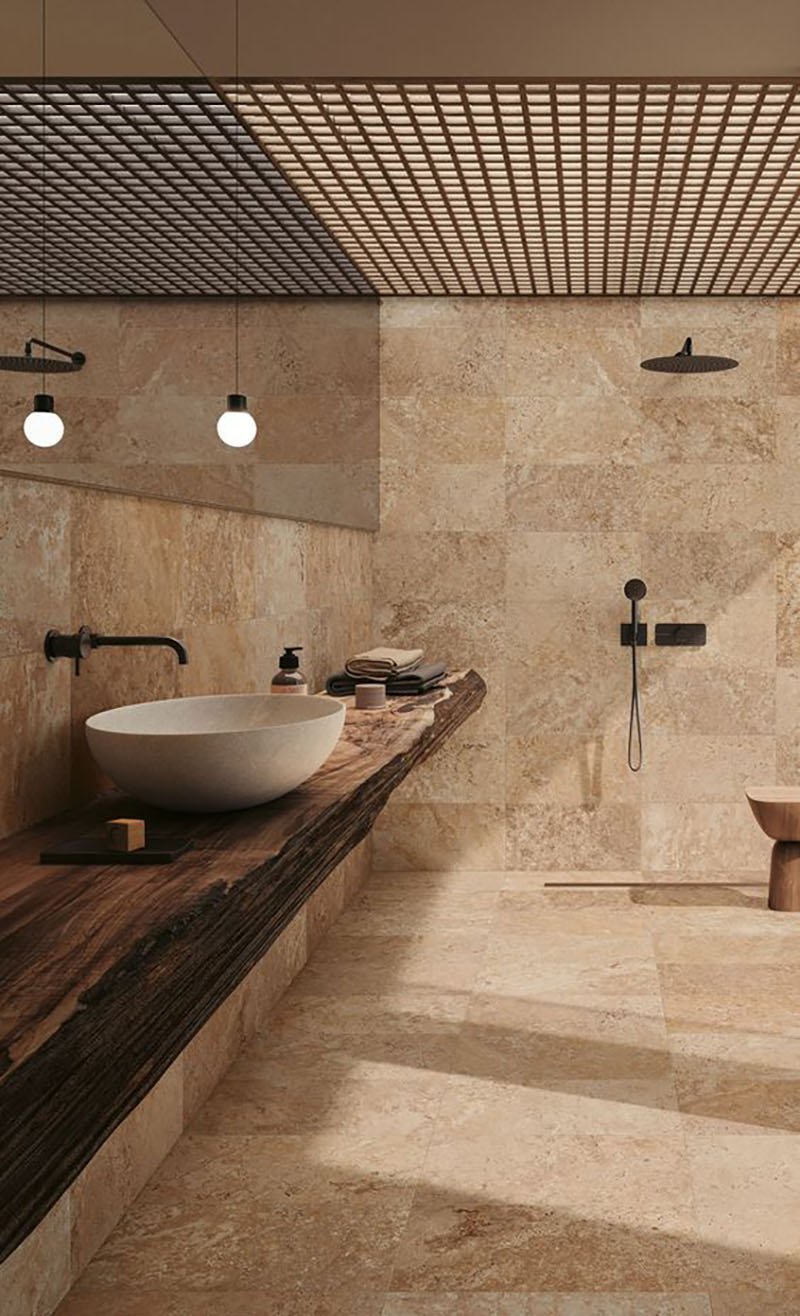 3. Classic Master Bathroom
If you want a bathroom that will withstand the test of time and never be dated, opt for the classic approach. Focusing on muted, neutral colors and simple detailing will create a gorgeous bathroom that will be perfect for years to come.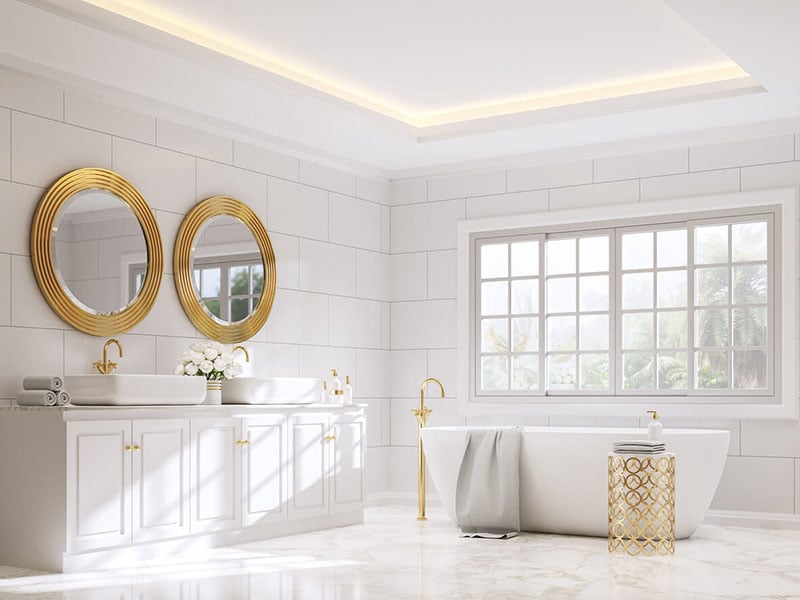 4. Marble Master Bathroom
Marble will be a great addition to any bathroom. It makes it feel luxurious and sophisticated. The stone is also water-resistant and durable, making it the perfect choice.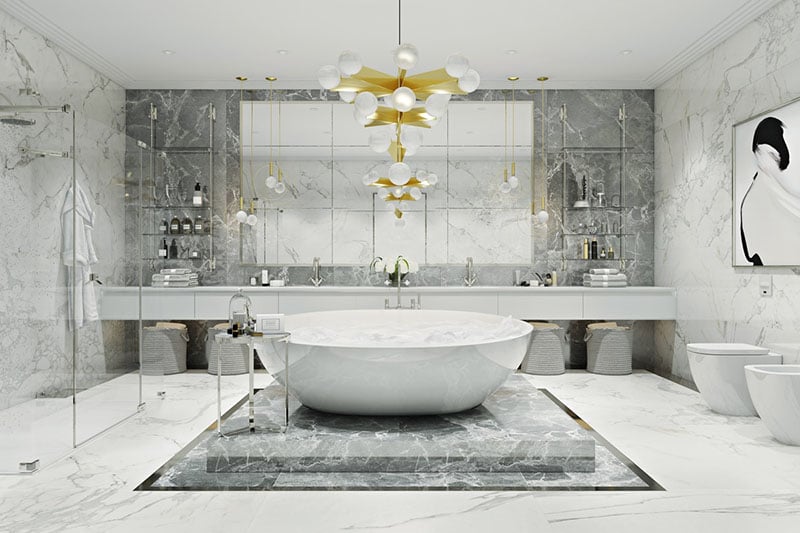 5. Master Bathroom with a Vintage Touch
If you are redoing an older home or want to give a vintage touch to a new one, this is a great way to blend modern with classic details. This can be achieved with the fittings, colors, or tiles that you use. The result is a luxury bathroom full of character.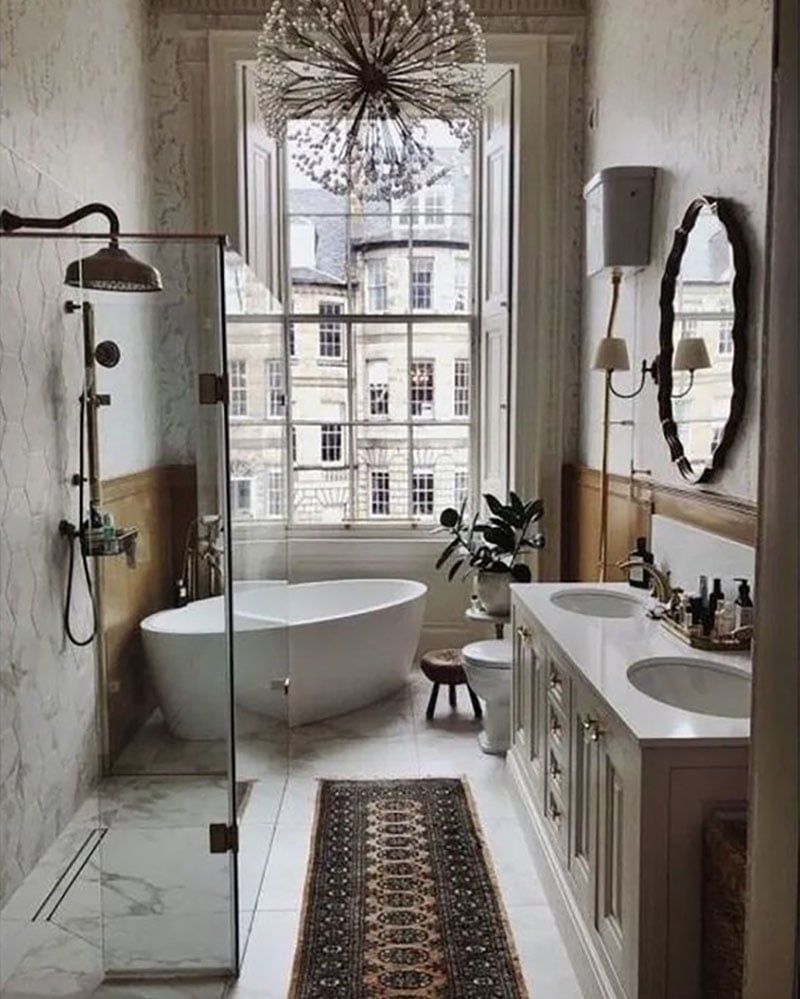 6. Monochrome Master Bath
Monochromatic color schemes have long been a favorite because they are easy to achieve but can also make a statement. The classic black and white combination is timeless, but the details you choose to add, like the tiles, can also make the bathroom feel modern.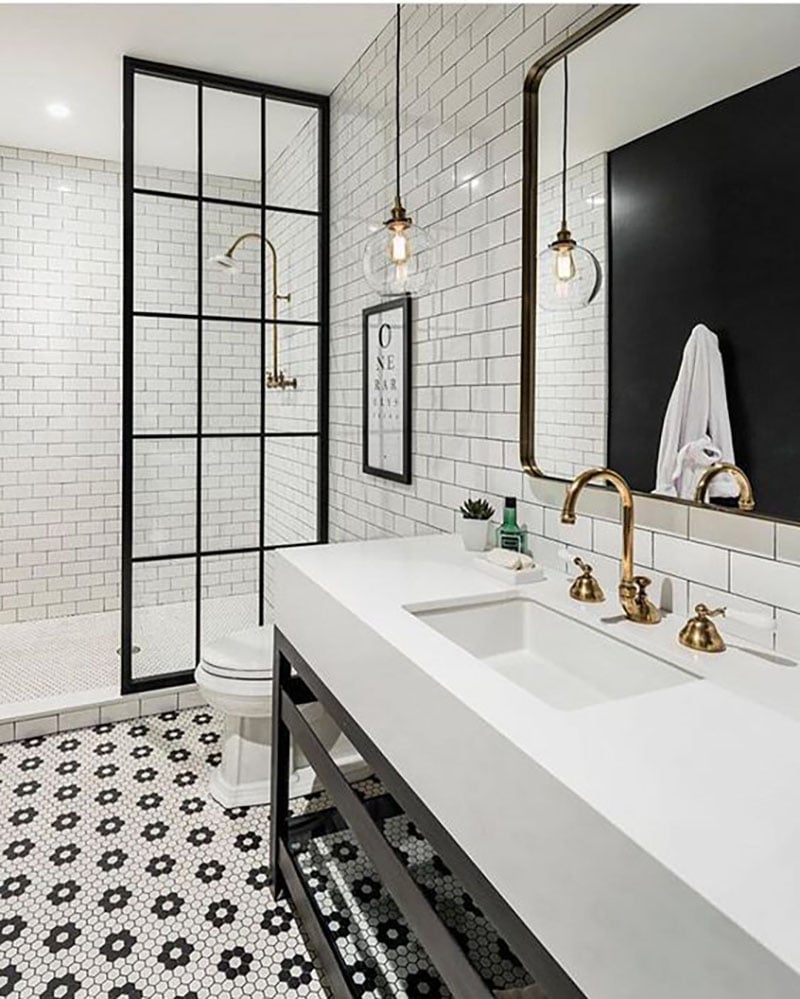 7. Beachside Master Bathroom
Beachside homes often have a classic off-white and blue color scheme, which is gorgeous to look at but also feels laidback and simple. Keep the blue or any other detailing to a minimum to create only a slight contrast.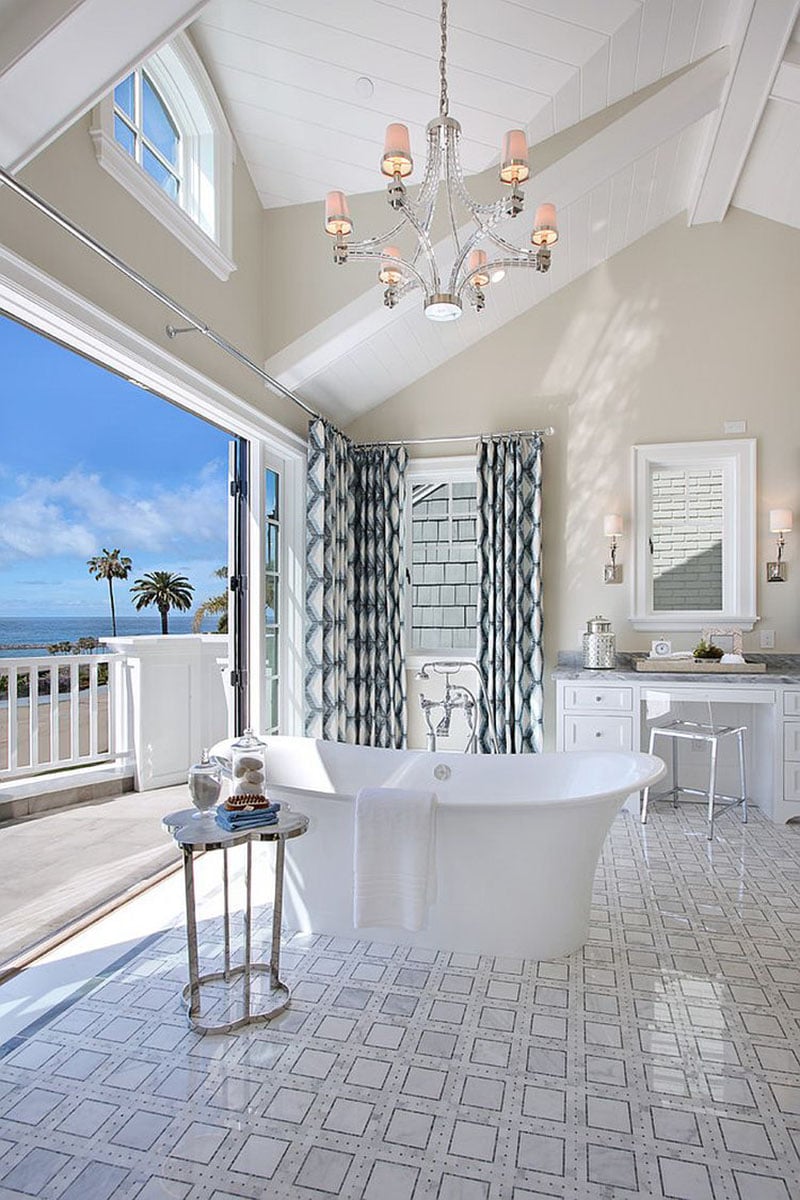 8. Statement Master Bathroom Design
If you want your bathroom to be bold and expressive, just like you are, opt for a statement design. This could be anything from bright colors, unique tiling, unusual shapes, and modern fixtures. This is a bathroom that you can have fun with.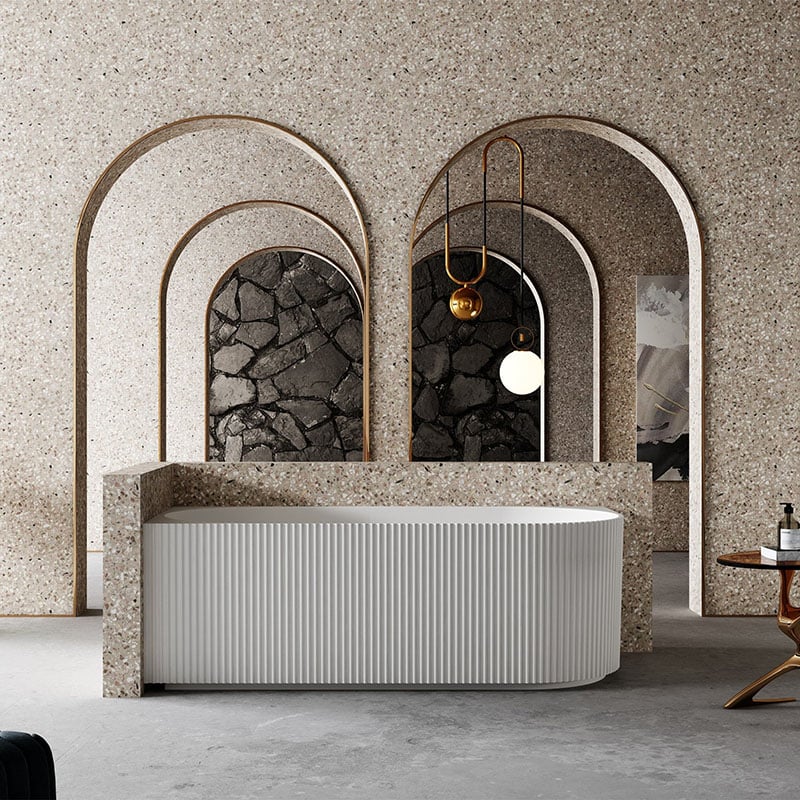 9. Luxe Master Bathroom
There is nothing better than taking a bath in a luxurious setting and creating your bathroom to reflect your love of luxury is a great idea. You want it to feel and look expensive, which can be achieved with attention to detail and great quality items.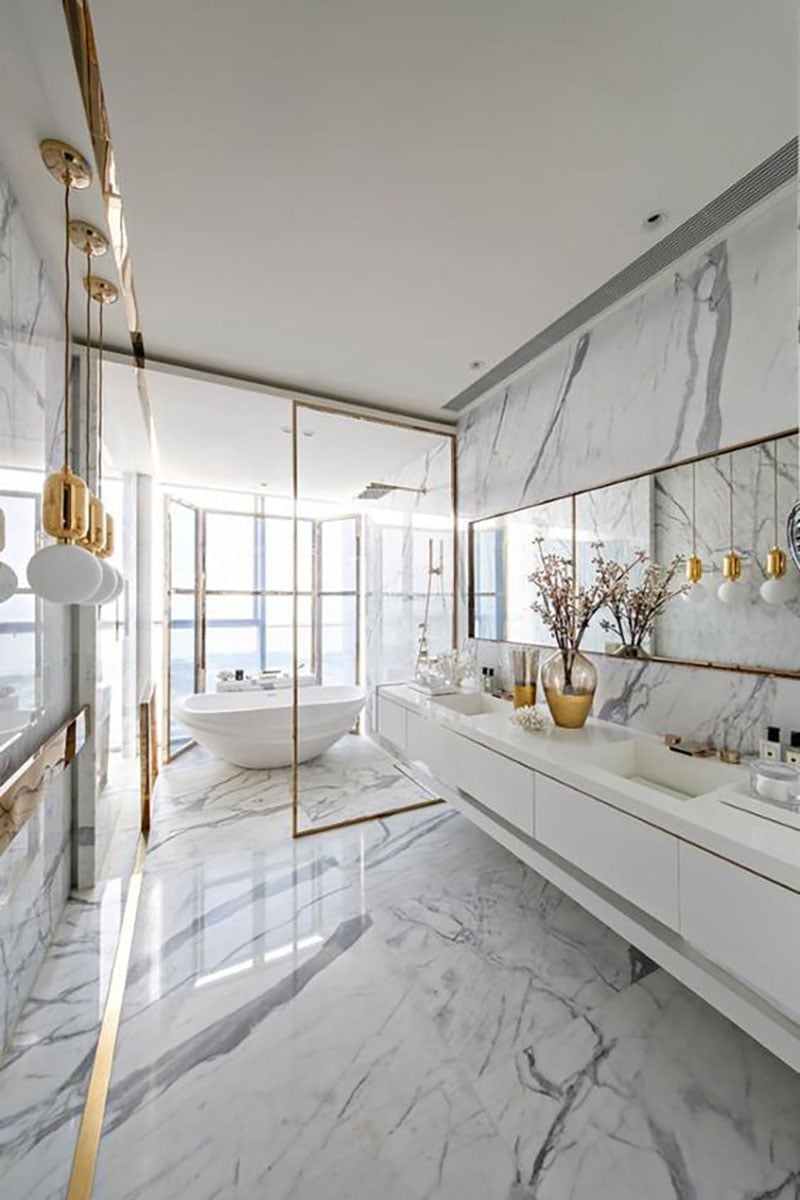 10. Zen Master Bathroom
A zen bathroom is perfect for unwinding after a hard day at work helping you to relax. This is often achieved with wooden details, a minimalistic color scheme, and the addition of plants.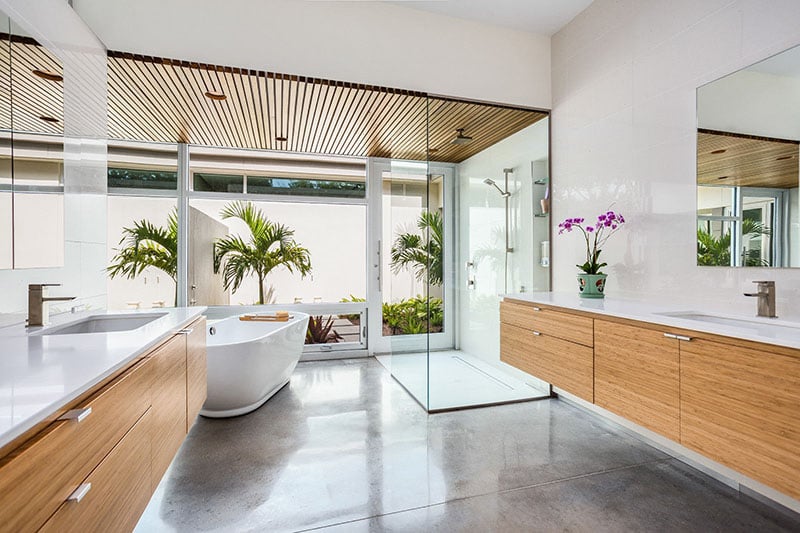 11. Small Master Bathroom
If you have a small space, you want to remove any clutter to make it feel bigger. You can also make the small master bathroom feel more spacious with the clever use of mirrors and a muted color scheme.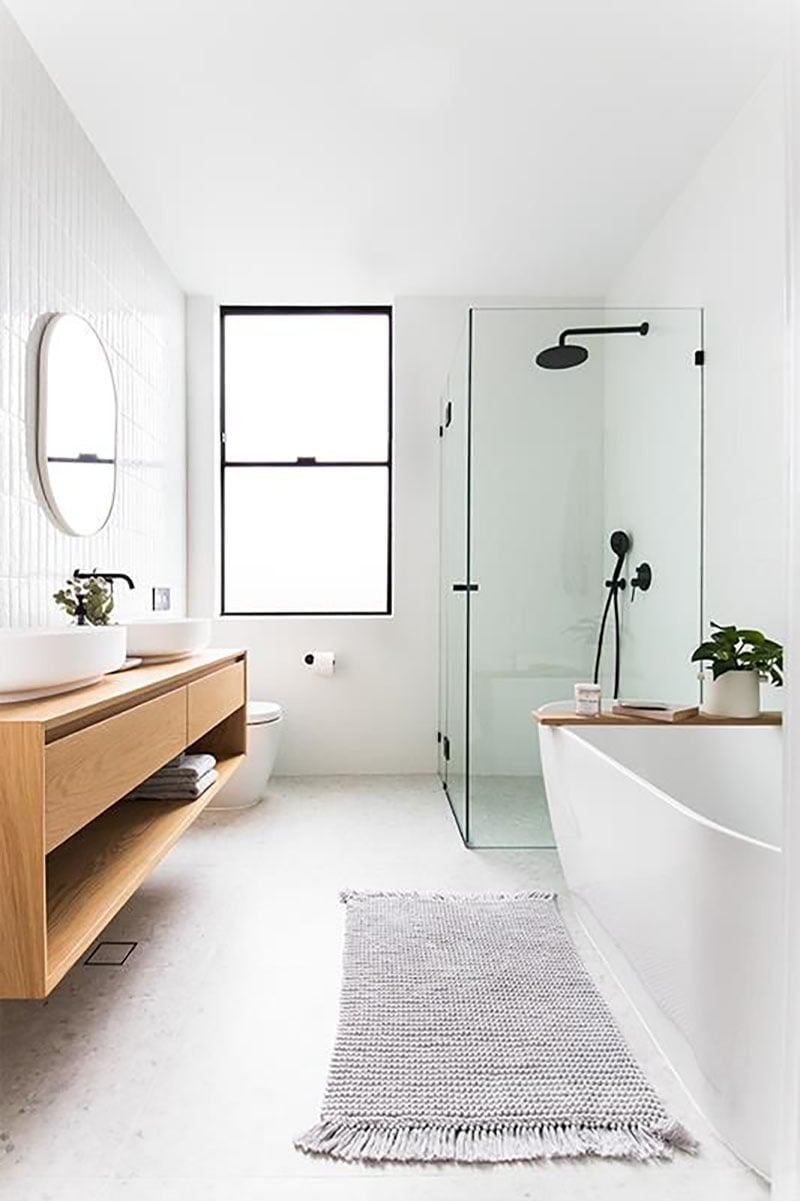 12. Contemporary Minimalist Master Bathroom
If you prefer a more minimalist approach to life and want a bathroom that feels clean and modern, then a contemporary minimalist bathroom design is ideal. Remove the clutter or personal details and keep the focus on solid, muted tones. You will also benefit from a large mirror and light fittings.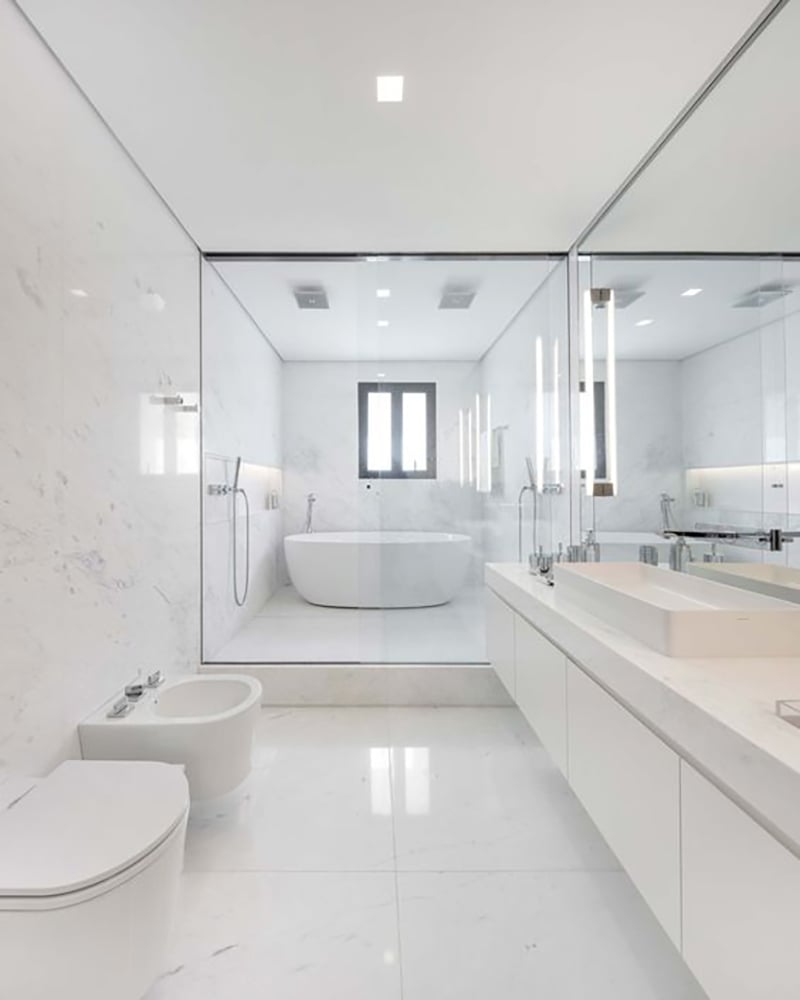 13. Bright Master Bathroom
The clever use of natural lighting and crisp color walls can make your bathroom feel open and bright. Complete the room by adding mirrors, white, grey, or cream tiles, and wooden details to create a simple and timeless bathroom.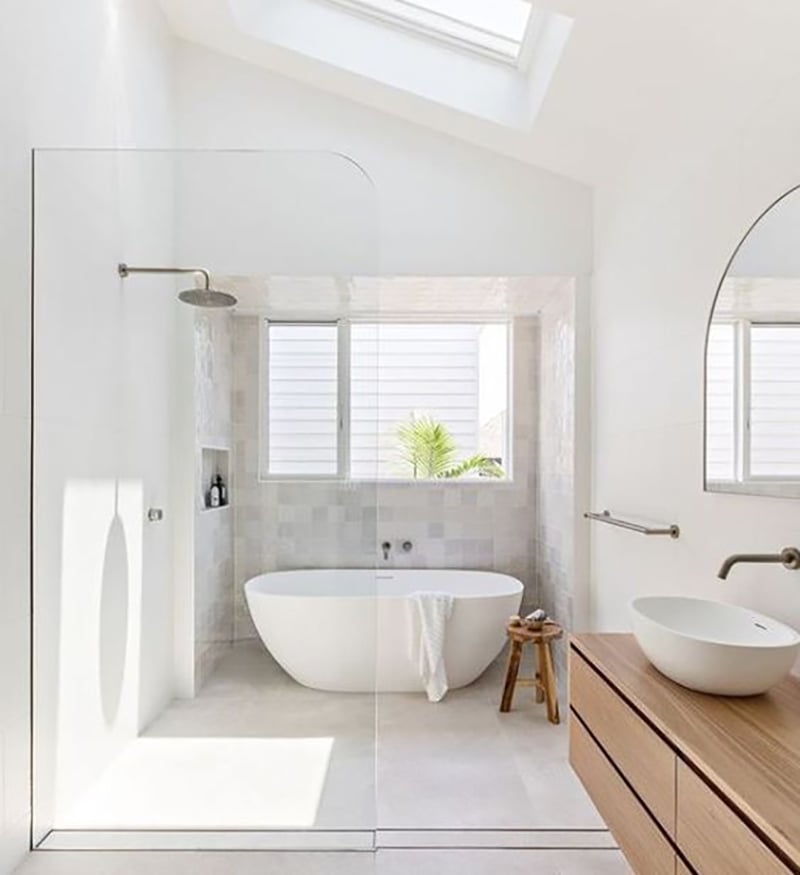 14. Master Bathroom with Wallpaper
Wallpaper is often cheaper and easier to install than tiling and can be an excellent way to add some color to your bathroom. There are many different options to choose from, but a botanical theme is always a winner. Make the wallpaper the bathroom's focus by toning down the rest of the room.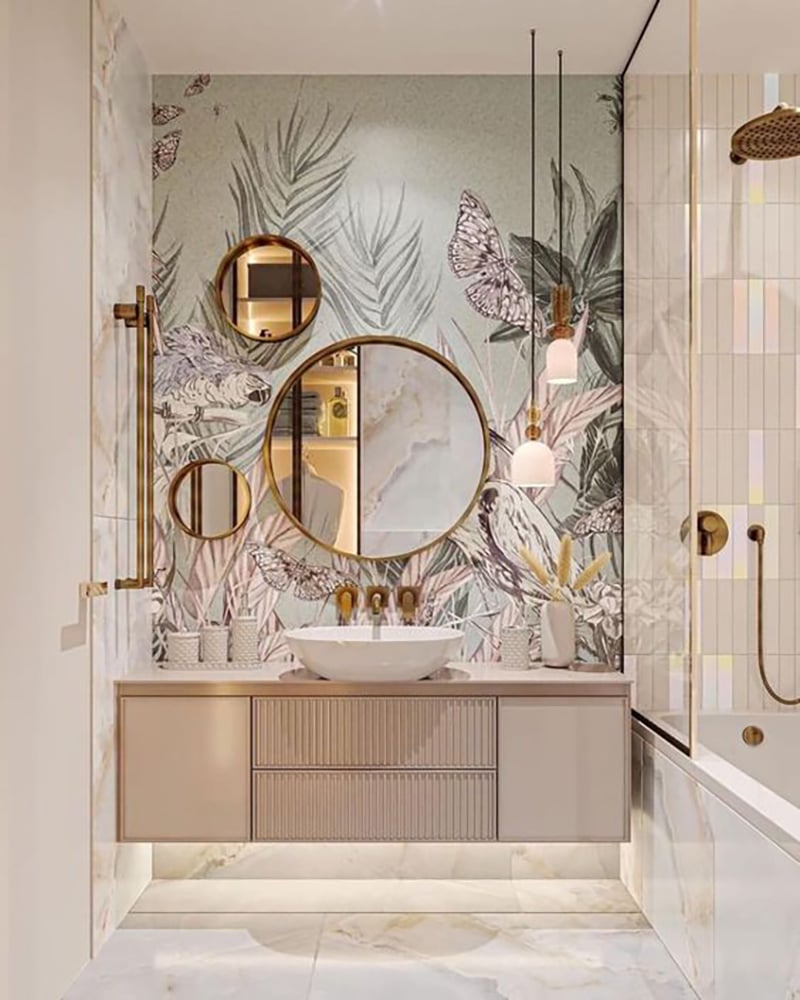 15. Master Bathroom with Wood Ceiling
To create an interesting contrast in your bathroom, finishing it with wood detailings is an excellent choice. A wooden ceiling will have a high impact, making the room feel zen and boosting relaxation as you unwind in your bathtub. It also makes the white and off-white shades feel warmer and more inviting.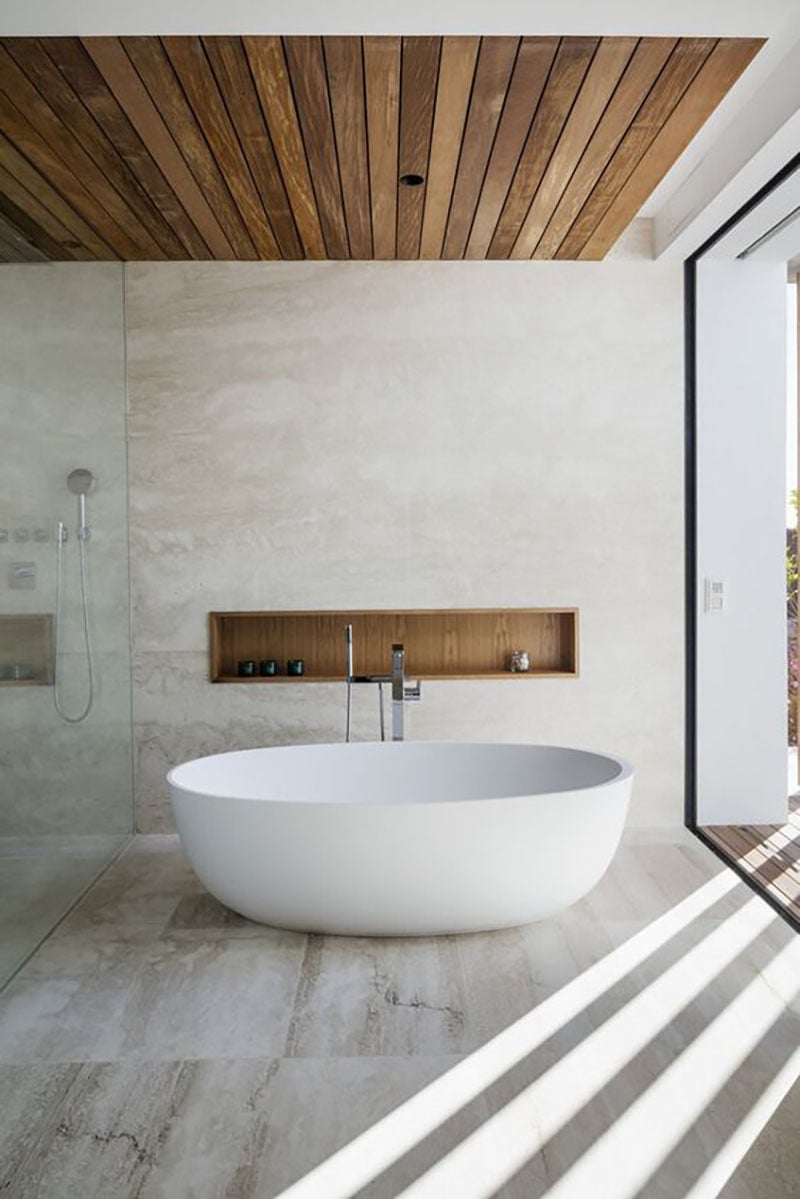 16. Hamptons Inspired Master Bathroom Design
The Hamptons is a summer destination for affluent New York residents, and if you want a bathroom that feels sophisticated and luxurious, this is the one for you. From statement light fittings to large mirrors and polished tiles, this bathroom is what dreams are made of.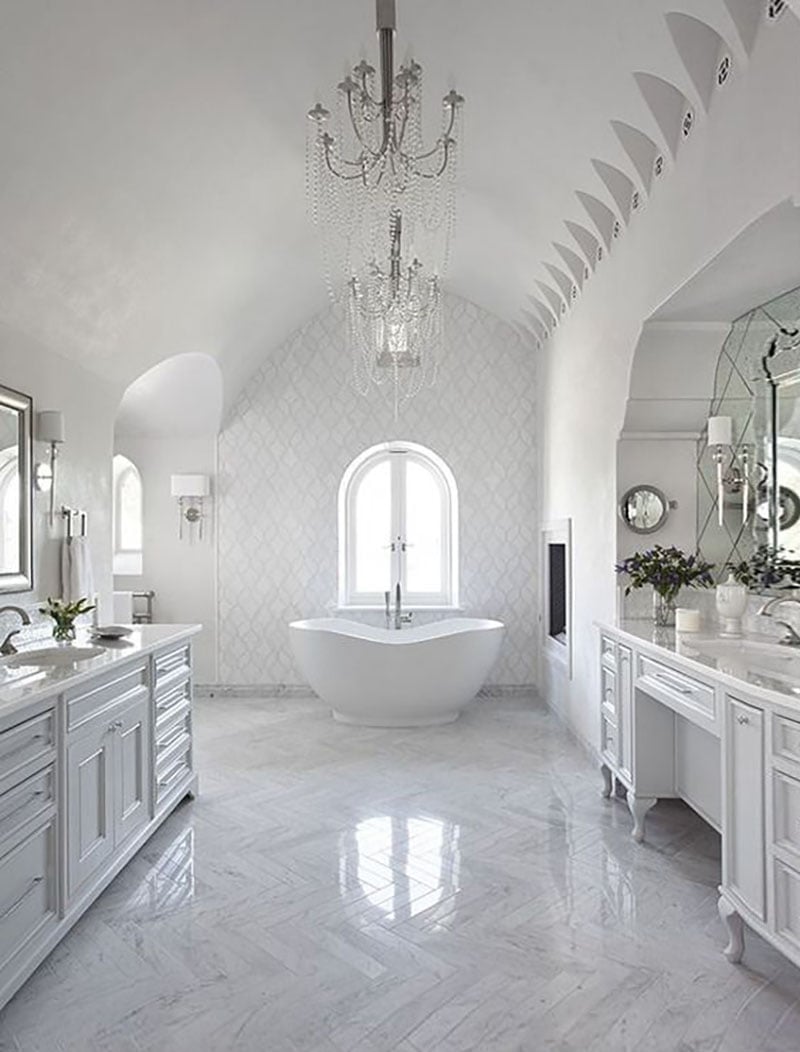 17. Balanced Master Bathroom
Clean details and a subtle blend of white, wood, and bronze fittings will give you a bathroom that feels balanced. Keeping the bathroom decor minimalistic but adding a few personal touches like plants or a carpet will create balance and give the room personality.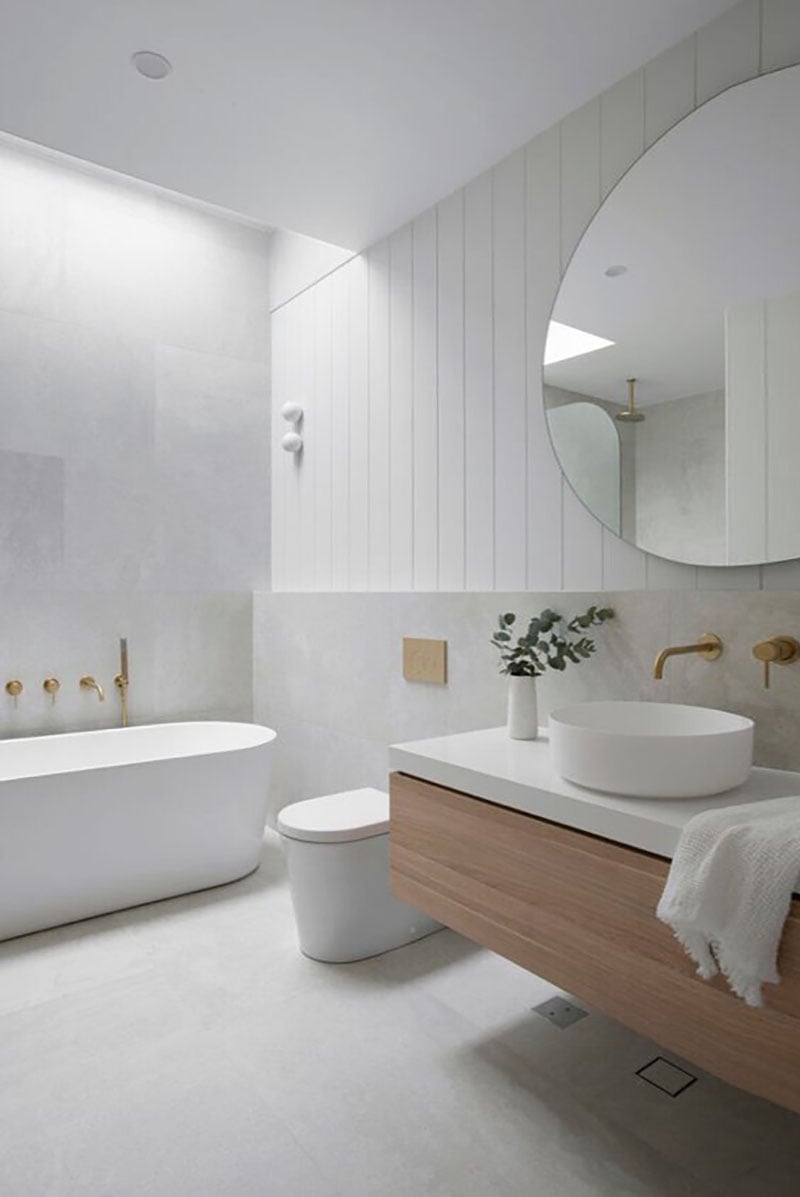 18. Double Sink Master Bathroom
A double vanity bathroom is a room that contains two sinks. This is ideal for a couple so that each person has their own space when getting ready, and there is space for individual beauty and grooming products. In addition to being practical, this bathroom also looks great.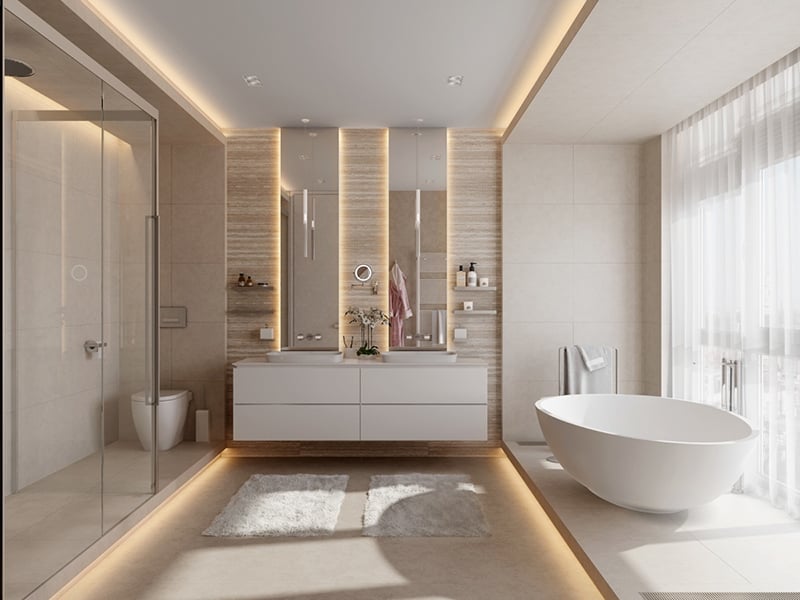 19. Master Bathroom with Window Seat
If you want your bathroom to feel warm and inviting, you could include a seat by the window. This will allow friends or a loved one to speak to you and relax while getting ready. Or it could be a place to escape and read a good book.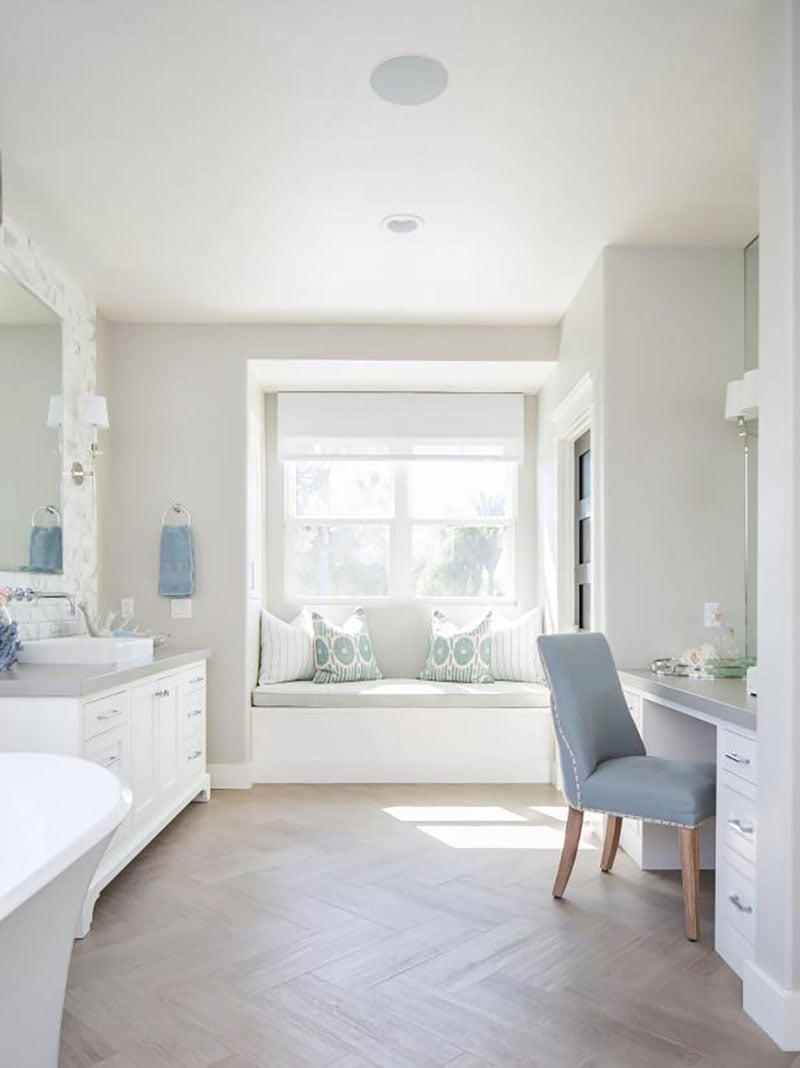 20. Master Bathroom with Dark Ceiling
Painting the ceiling of your bathroom dark will make a statement. It also feels edgy and cool and is a great way to finish an otherwise minimalistic room. Adding stone floors and counters and pairing them with wooden details will give the room more warmth and create a texturally interesting finish.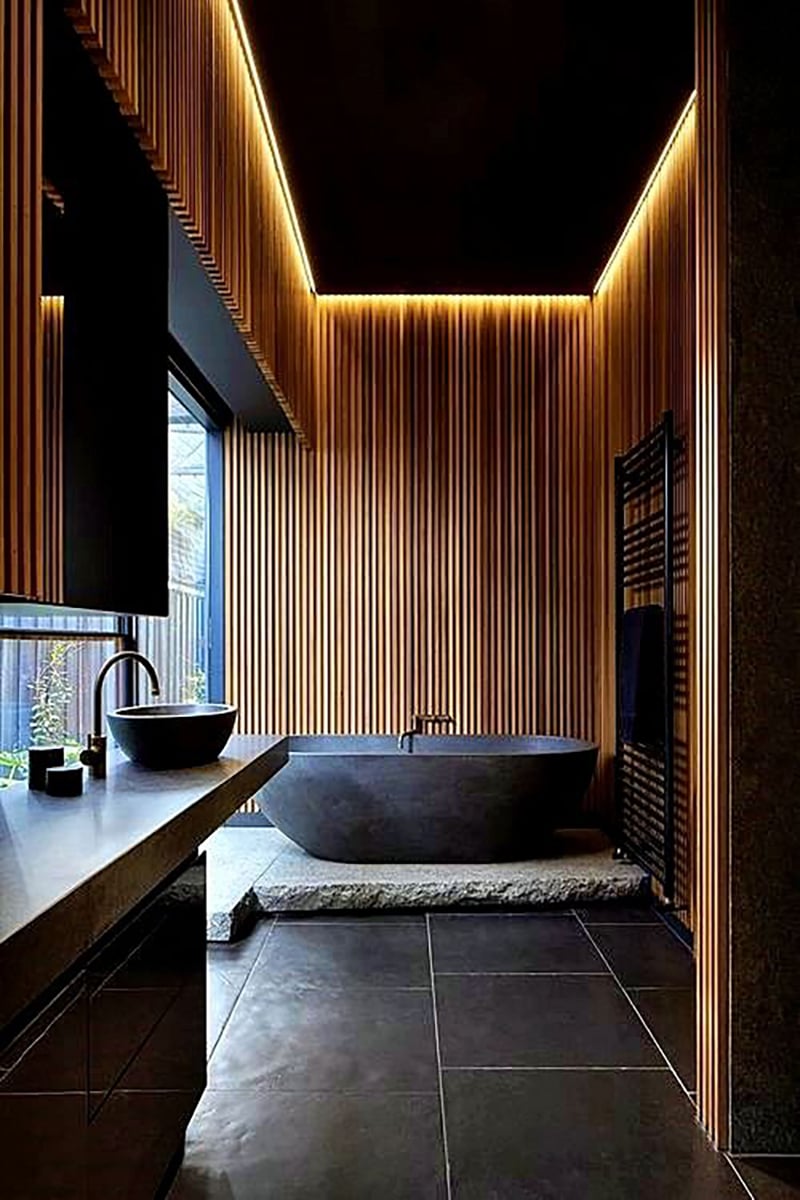 21. Manhattan Penthouse Master Bathroom
A penthouse bathroom is a room with a view, and to make the most of it, you want to position the bath so that you can see out of the window. You also want to benefit from as much natural lighting as possible to make the bathroom feel warm.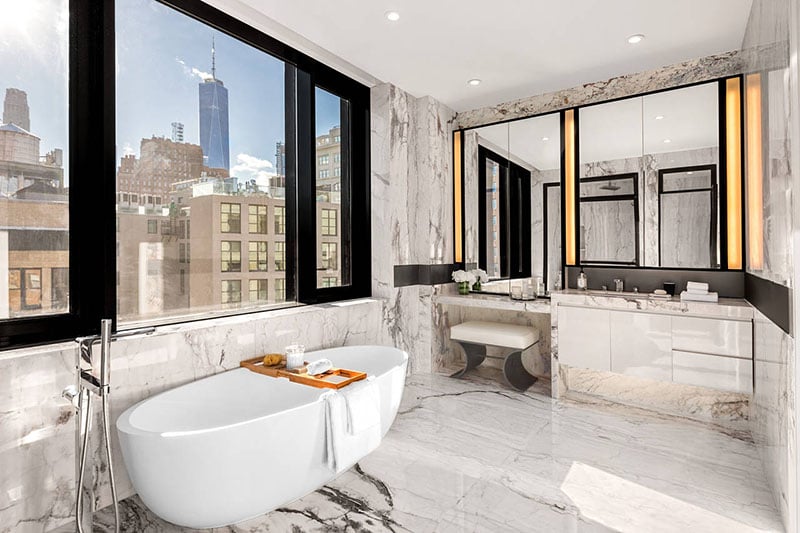 22. Spa-Inspired Master Bathroom
Having a bathroom that feels like it belongs in a spa will help you unwind after a long day. You can include a spa bathtub if you have a large room or focus on a standalone tub. Wooden details and a mix of warm, neutral colors will complete the look.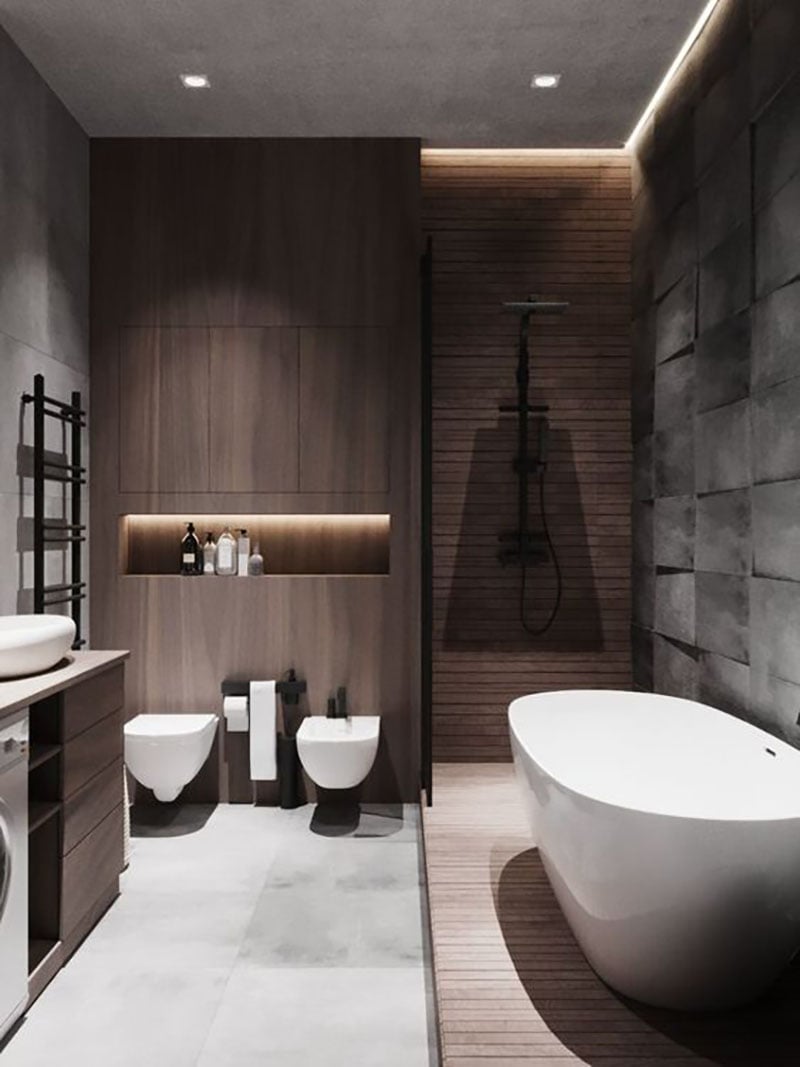 23. Victorian Style Master Bathroom
There is something luxurious and old-fashioned about a Victorian-style bathroom. It is also a room with a lot of character, which can be achieved with statement light fittings, wallpaper, and a rug. To add to the feel of the room, you can include vintage photos of loved ones.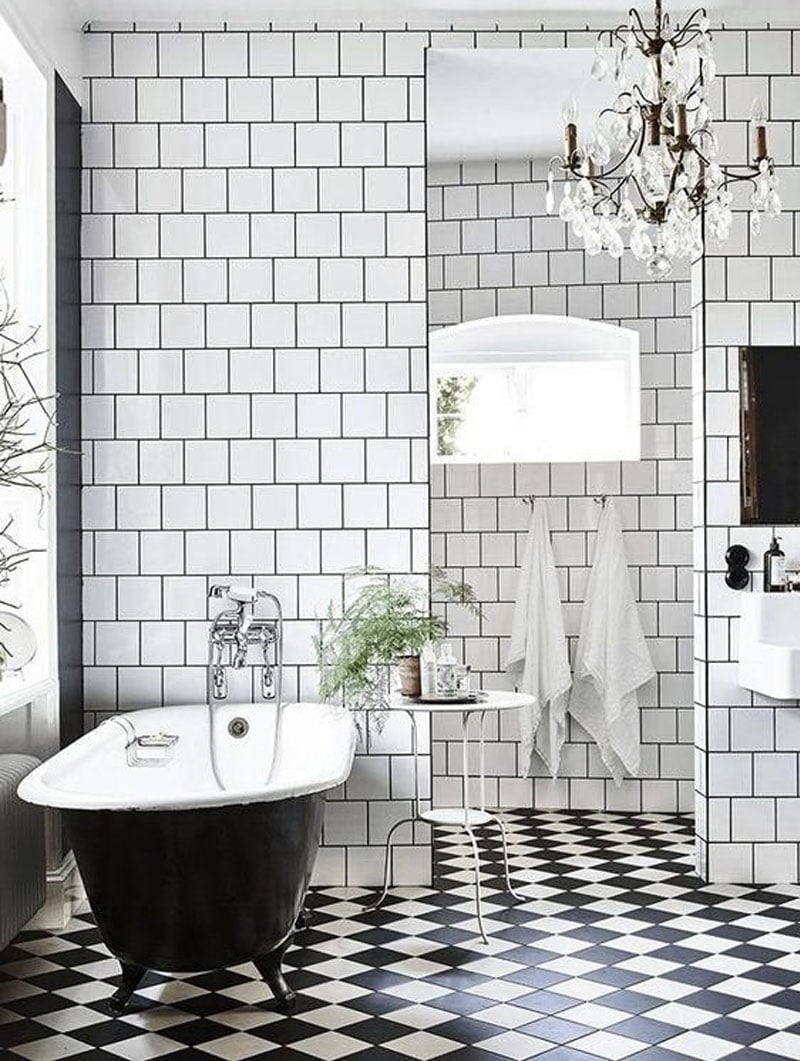 24. Simple Master Bathroom
Sometimes the simplest bathrooms are the most appealing because they look clean and neat. This is the ideal bathroom for someone who prefers the simpler things in life and doesn't want to add too much clutter. Focus on one or two details that stand out, like a wicker basket or brightly colored hand towels.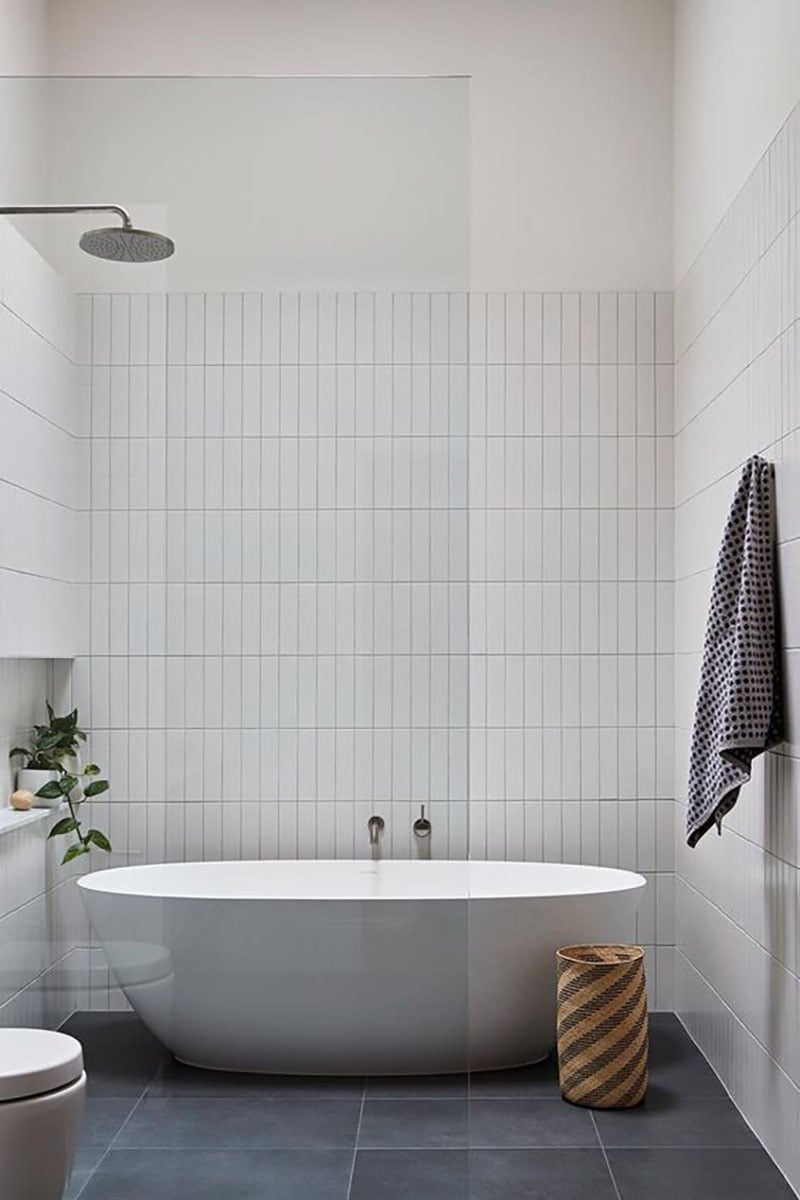 25. Romantic Resort Master Bathroom
If you are looking for a bathroom that sets the mood for romance, this is it. The key to achieving this room is keeping it looking as natural as possible with stone finishes and clever use of natural light. You can also add your favorite plants.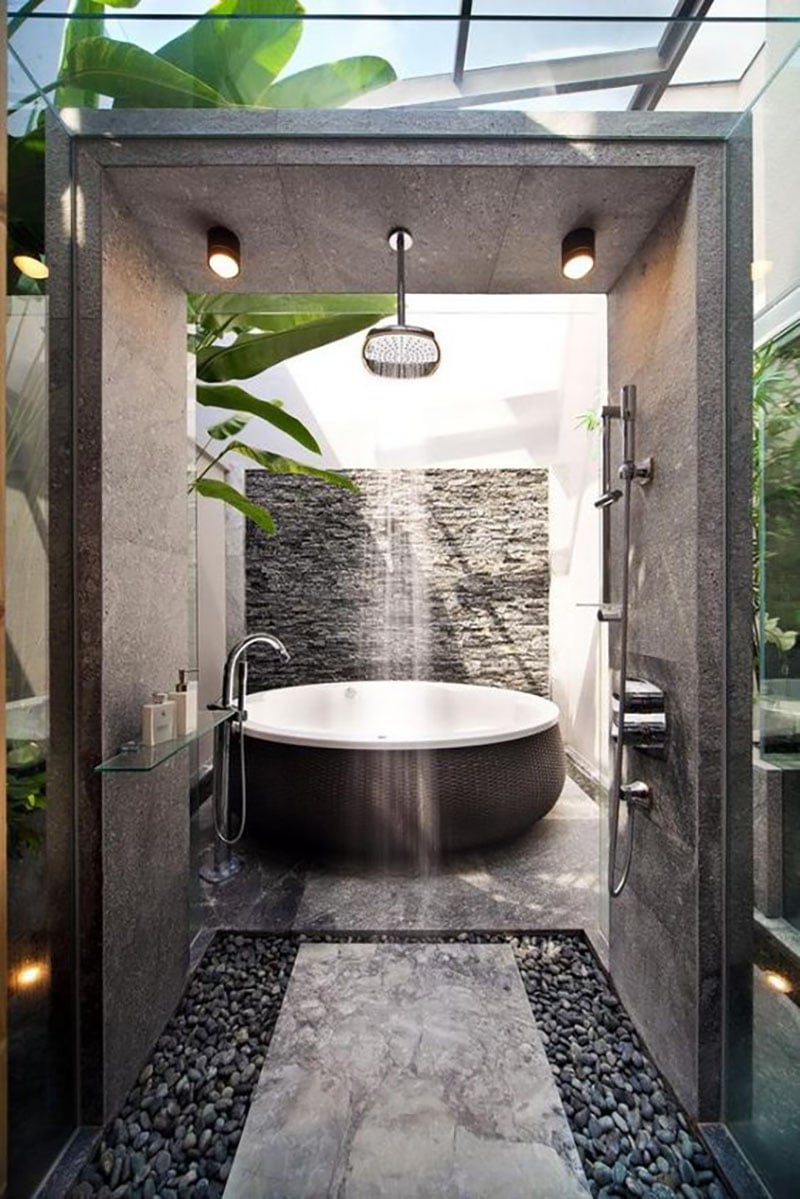 26. Parisian Inspired Master Bathroom
Paris is a city celebrated for its sophistication and style, which can be reflected in your bathroom. A stand-alone tub will become the statement feature of the room, complemented with artwork, interesting tile detailing, and a gorgeous chandelier. You can complete the room with candles or a vase of fresh flowers.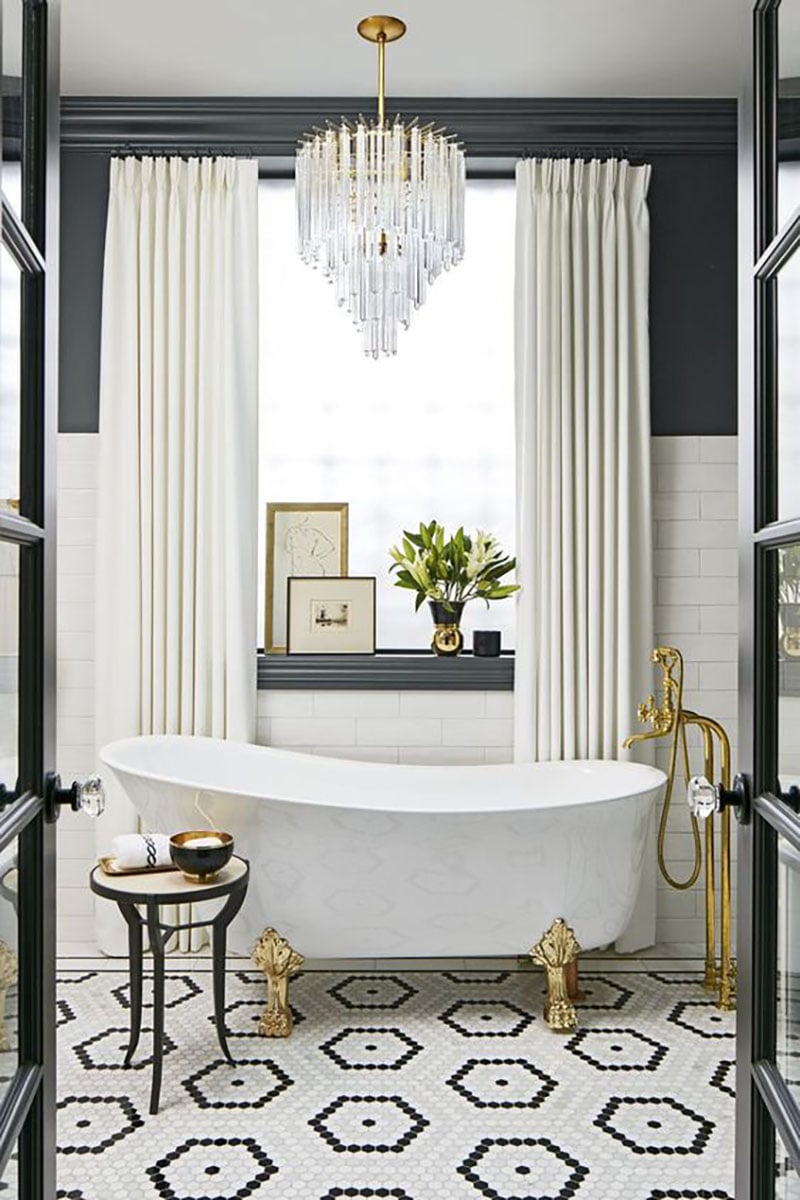 27. Grand Master Bathroom Design
You do not get more luxurious than a grand bathroom design. It is not about the decor but the finishes, which look great in stone or marble. Stick to a muted color scheme, and for darker colors, you can counteract this with light fittings and candles to add warmth to the room.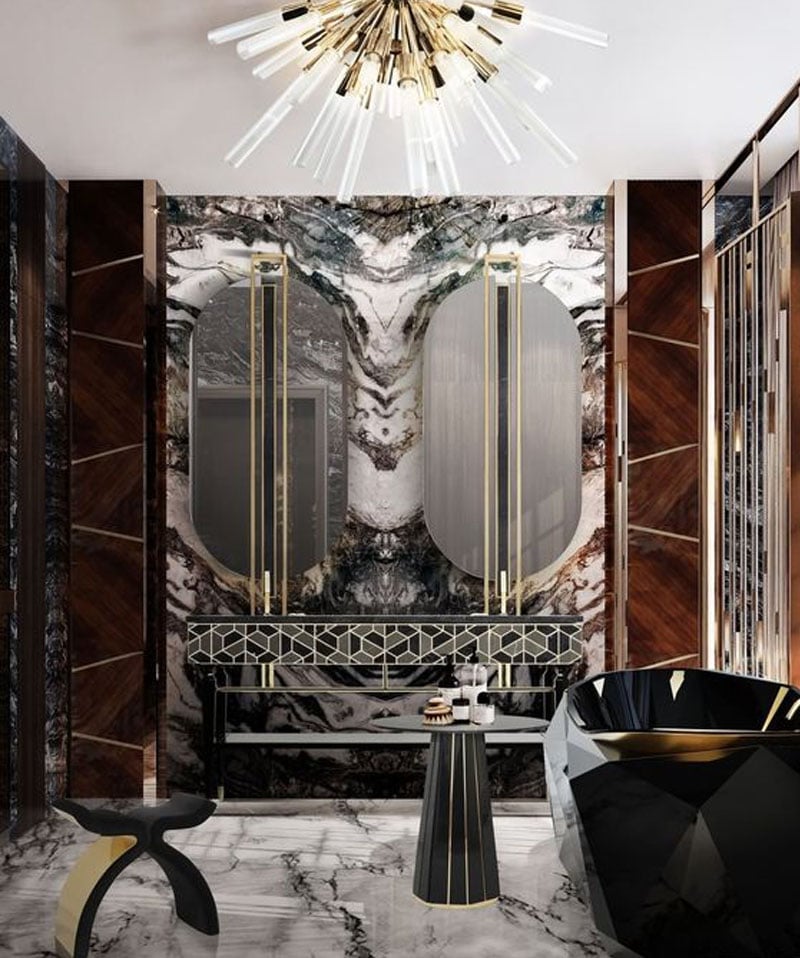 28. Modern Master Bathroom
Modern bathrooms are often defined by their lack of clutter, clever use of color, and attention to detail like clean lines. This room is neat and clean but also expressive, making it the ideal choice for someone who prefers a minimalistic approach.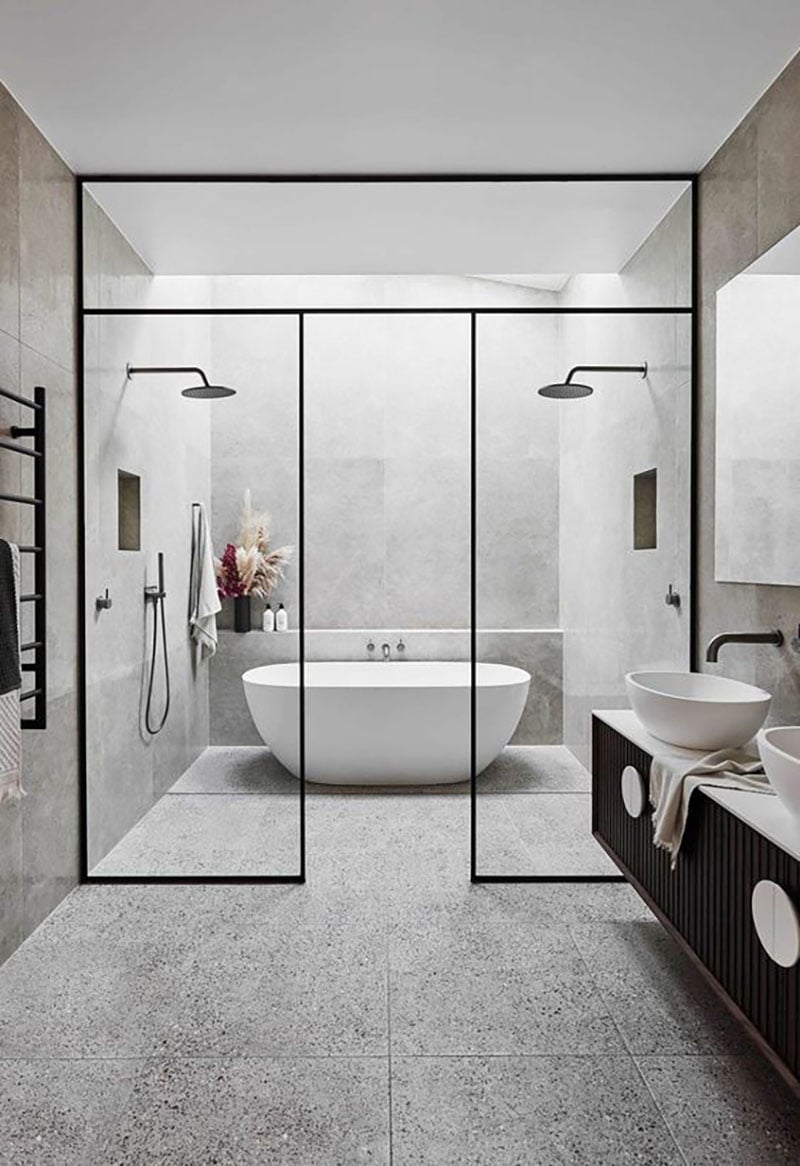 29. English Master Bathroom
The inspiration for an English bathroom often comes from the countryside. This can include warm neutral colors and floral details. You can create a traditional room or focus on a more modern interpretation of the decor, creating a space you will love spending time in.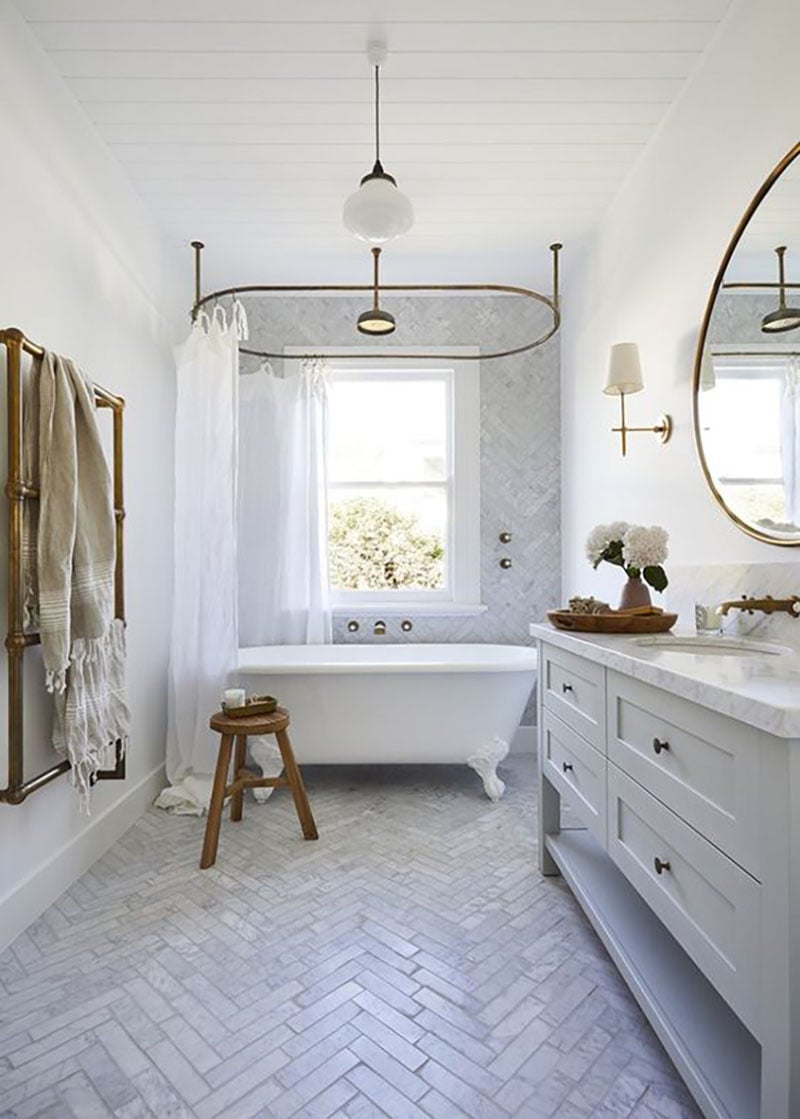 30. Master Bathroom with Powder Room
The powder room is a place for a woman to retouch her makeup, and this can be added in several ways, including a chair and a large mirror or vanity. You can let this be the focus of the room or a complementary addition. Keeping the room a mixture of wood and light-colored walls will create a gorgeous finish.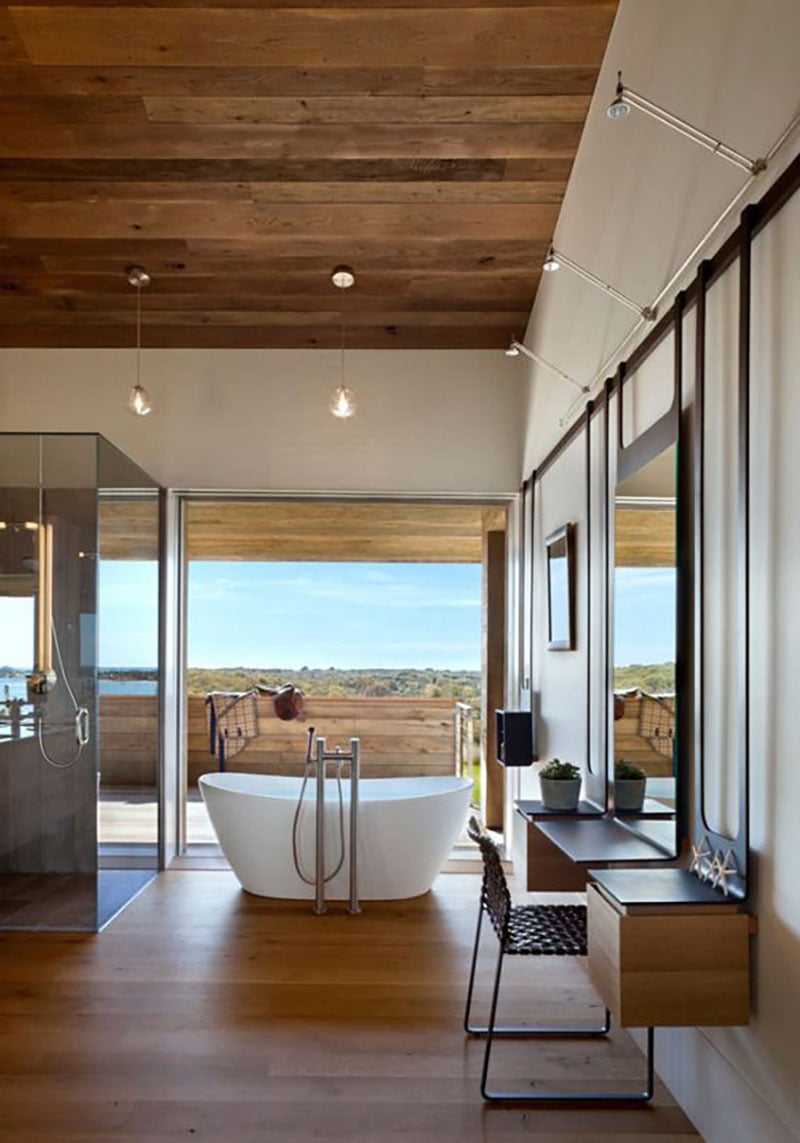 31. Master Bathroom with Brass Fittings
Brass fittings can look great because of their color, especially when they are paired with white or off-white decor. The choice of fittings is also practical as brass is durable, has good tolerance to temperatures, and it is resistant to corrosion.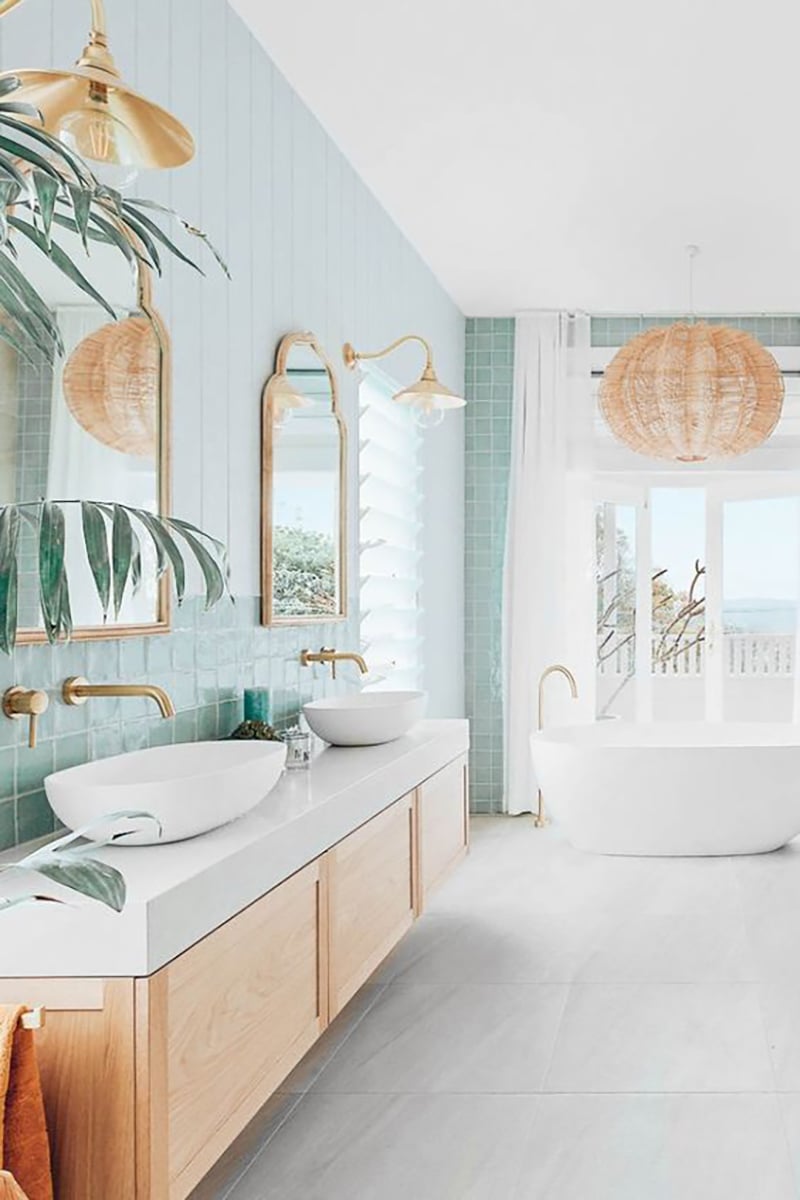 32. Grey Master Bathroom
Grey is a wonderful alternative to white shades, and you can try out a blend of dark and light hues for an earthy feel. It is a calming color that creates balance. These can be complemented by stone finishes and silver or black fittings.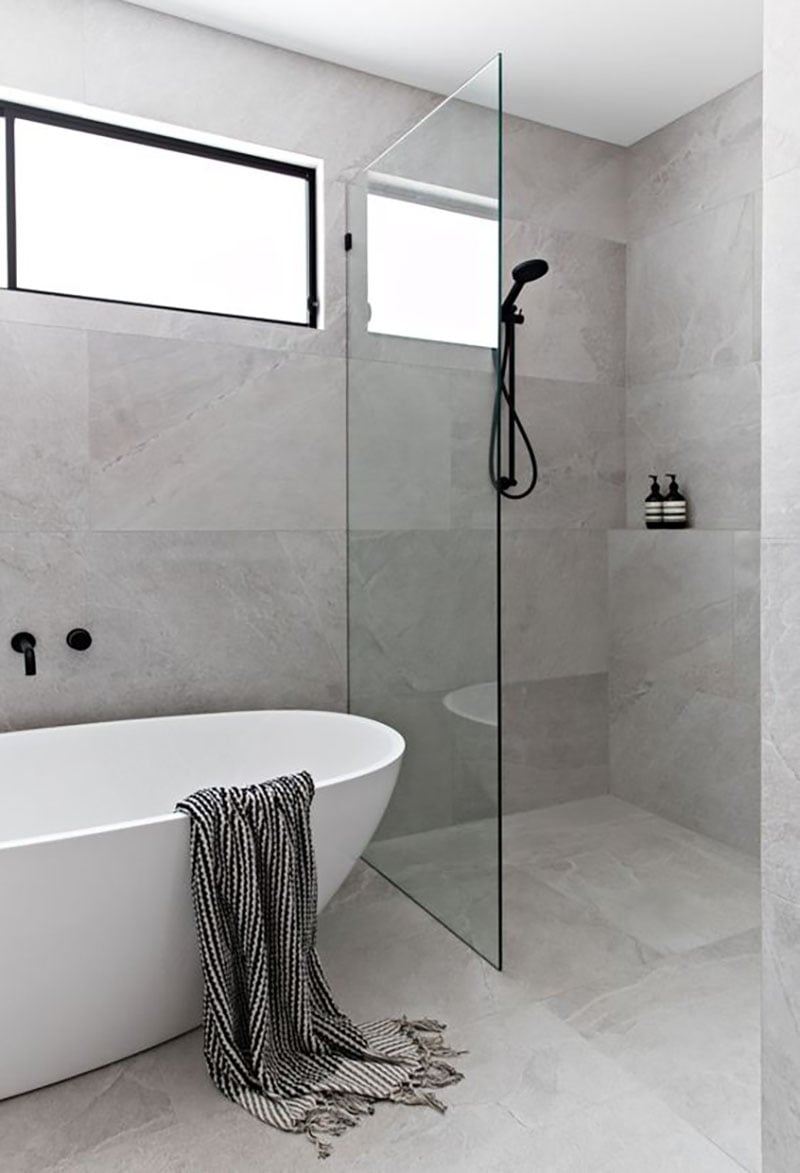 33. Master Bathroom with Mixed Metals
Combining light-colored walls with wooden cabinets and gold or brass fittings creates a balanced and welcoming bathroom. The wood details also give the room a natural and warm feel; just be sure that you have installed proper ventilation.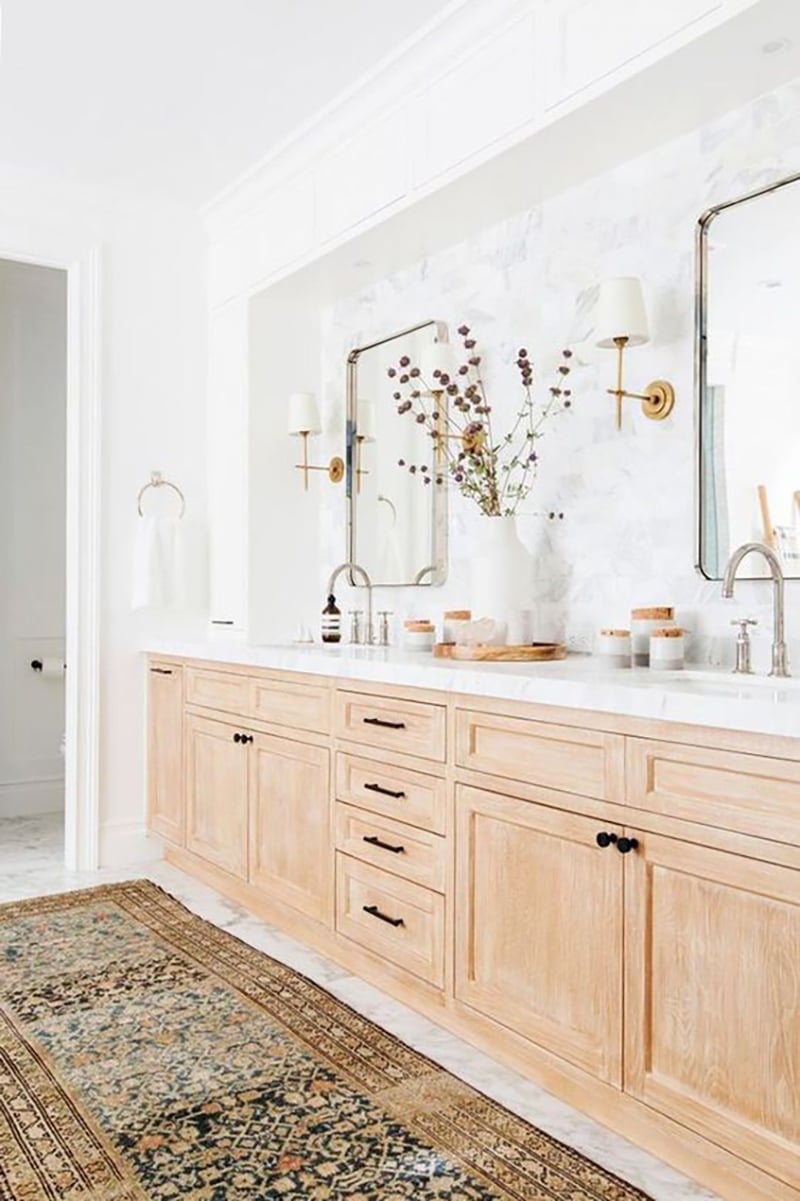 34. Traditional Master Bathroom
A traditional bathroom refers to decor that is traditional, but this can also be adapted to suit your preference with the color scheme and finishings. The key is to choose something classic and timeless.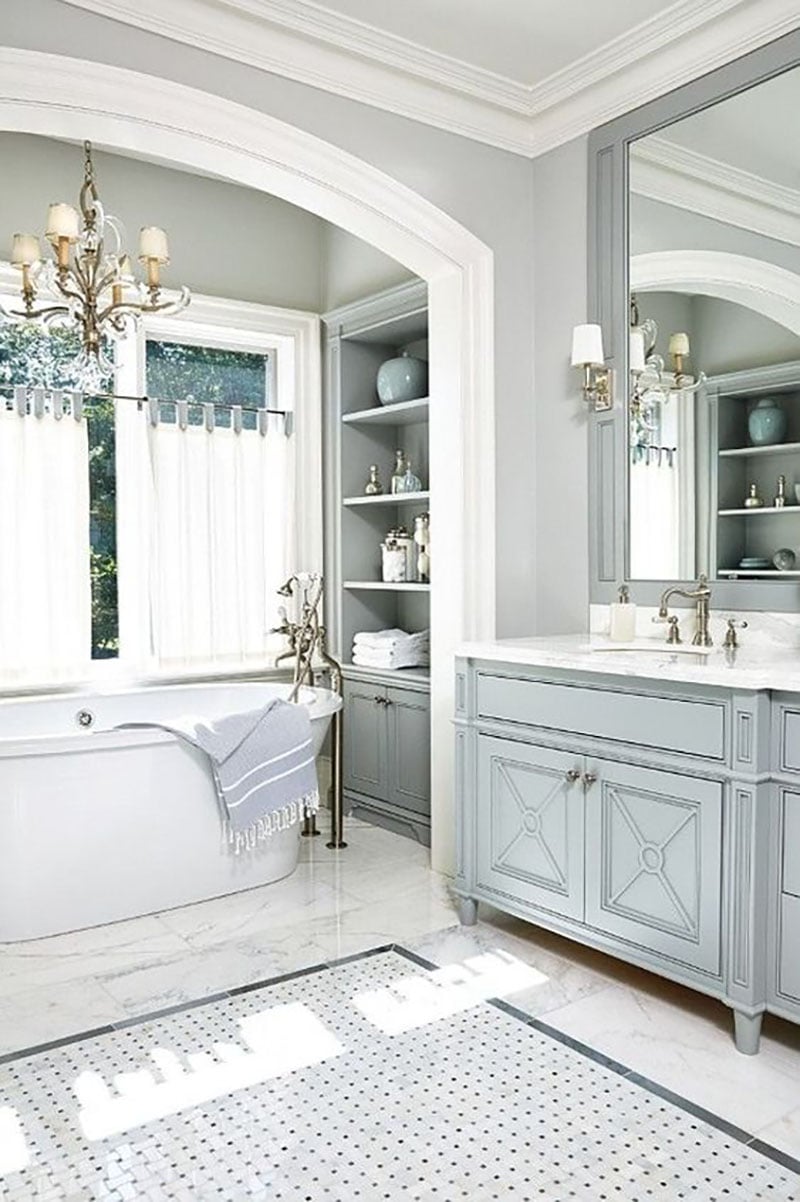 35. Master Bathroom and Dressing Room
Having a dressing room in your bathroom is very practical and will make it easier for you to get ready. You also do not have to exit the warmth of the bathroom and can easily look at yourself in the mirror. In addition, the dressing room combined with the bathroom feels extravagant and luxurious.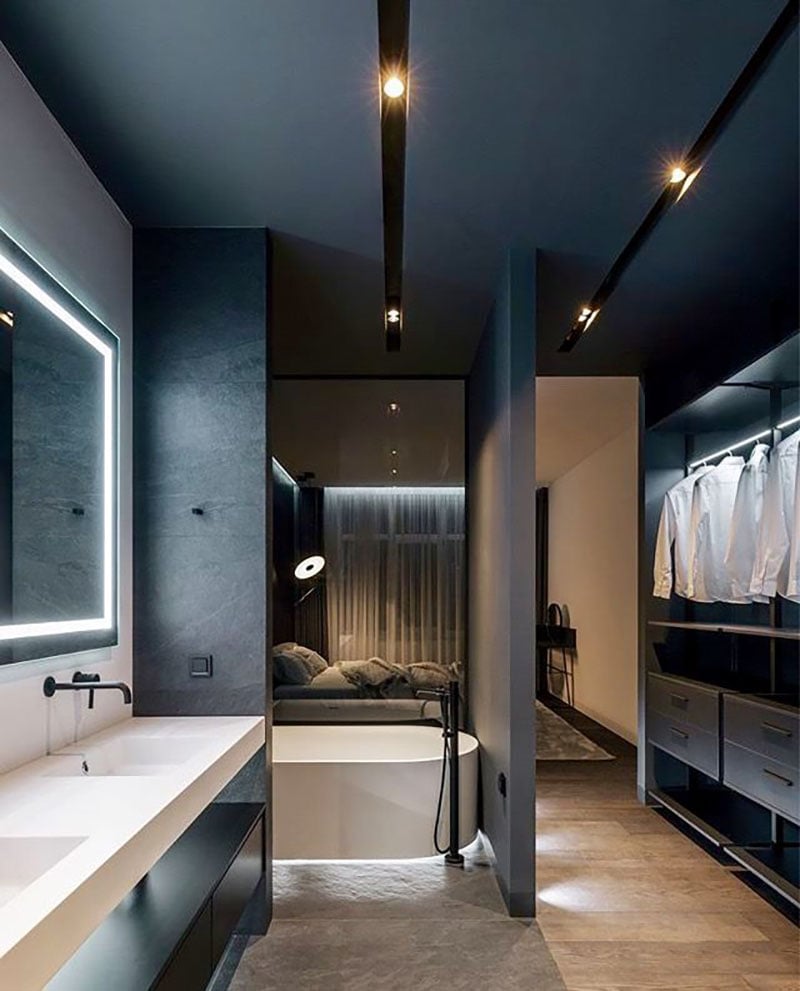 36. Indoor-Outdoor Master Bathroom
Consider an indoor-outdoor bathroom if you live in a warm climate or want to feel at one with nature. Looking out onto a private garden can make you feel relaxed and at peace. The room can be left open or separated with a piece of glass, depending on your preference.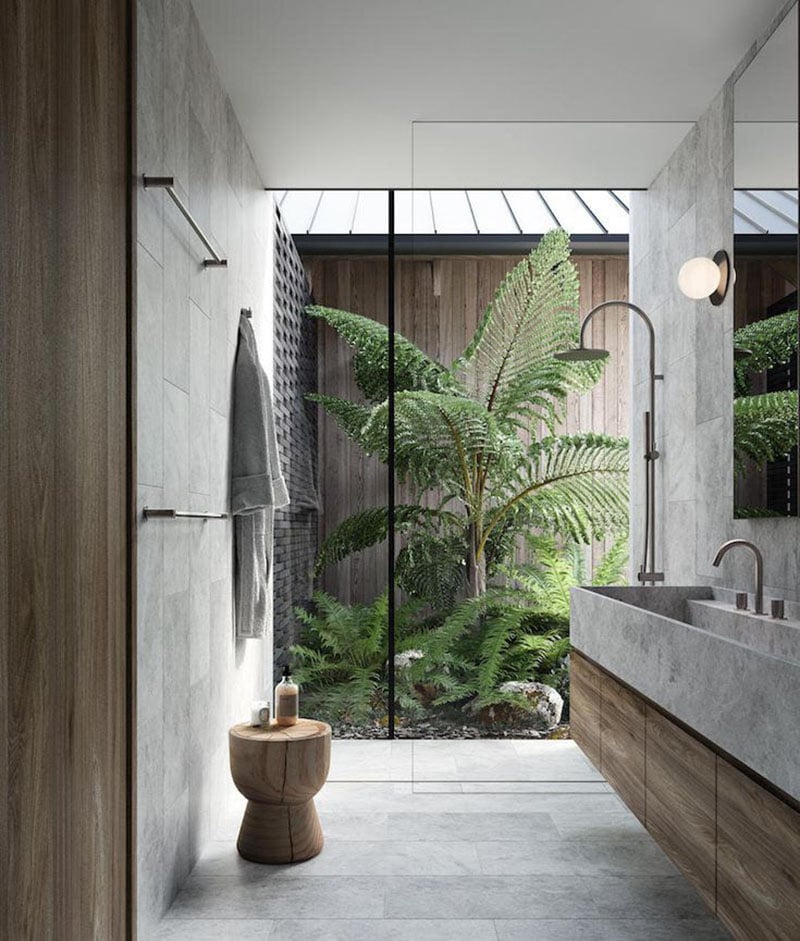 37. Master Bathroom with the View
Most people reserve an excellent view for their bedroom, but being able to look out the bathroom and see the wonders of nature or admire the skyline is definitely appealing. It will make your bathroom trips more enjoyable and help you refocus and unwind.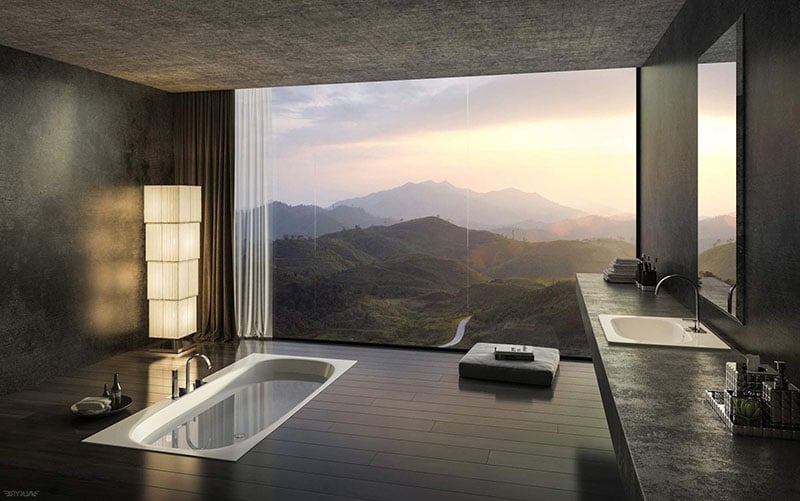 38. Boho Inspired Master Bathroom
Boho refers to a specific style often favored by nature lovers who want to feel at one with the earth and it has a relaxed and carefree vibe. Having a boho-inspired bathroom is gorgeous and brings a little bit of the outdoors into your room.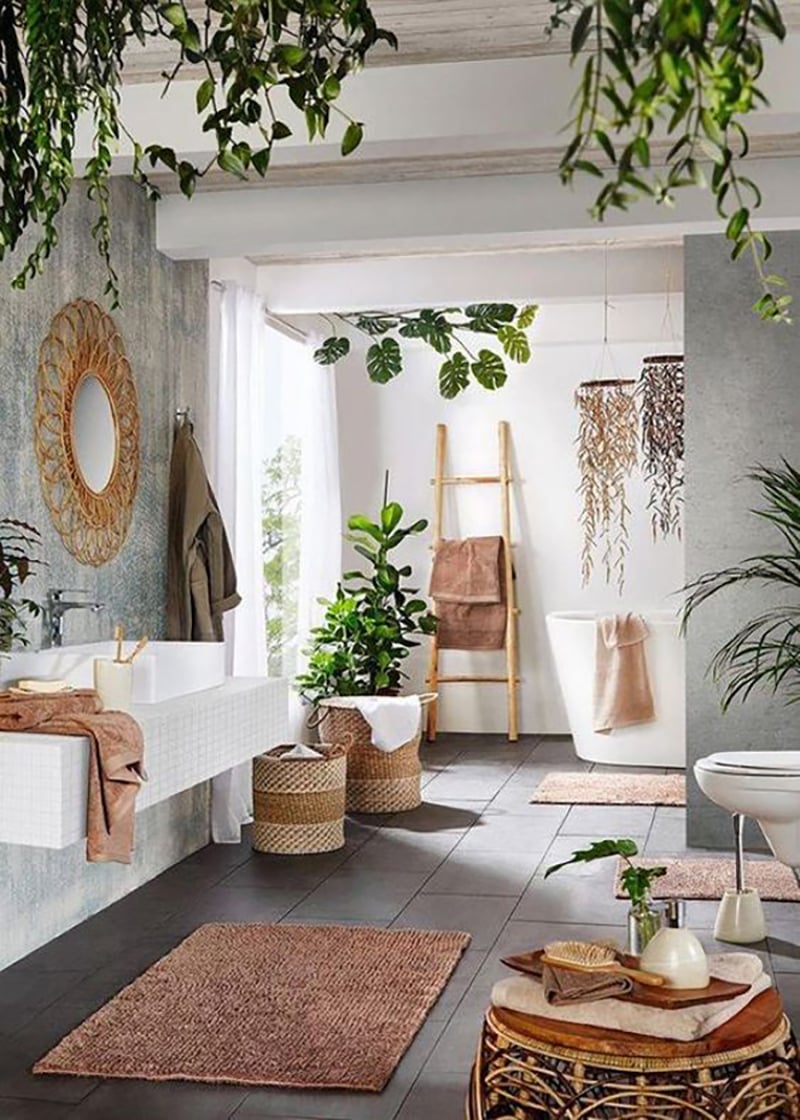 39. Black and Brown Master Bathroom
Black and brown is a trendy combination that works great for a bathroom. The color scheme can be achieved in various ways, including black walls with brown wooden details, black and brown tiles, or a unique mixture of black and brown fittings. The look you want to achieve will determine how you pair these hues.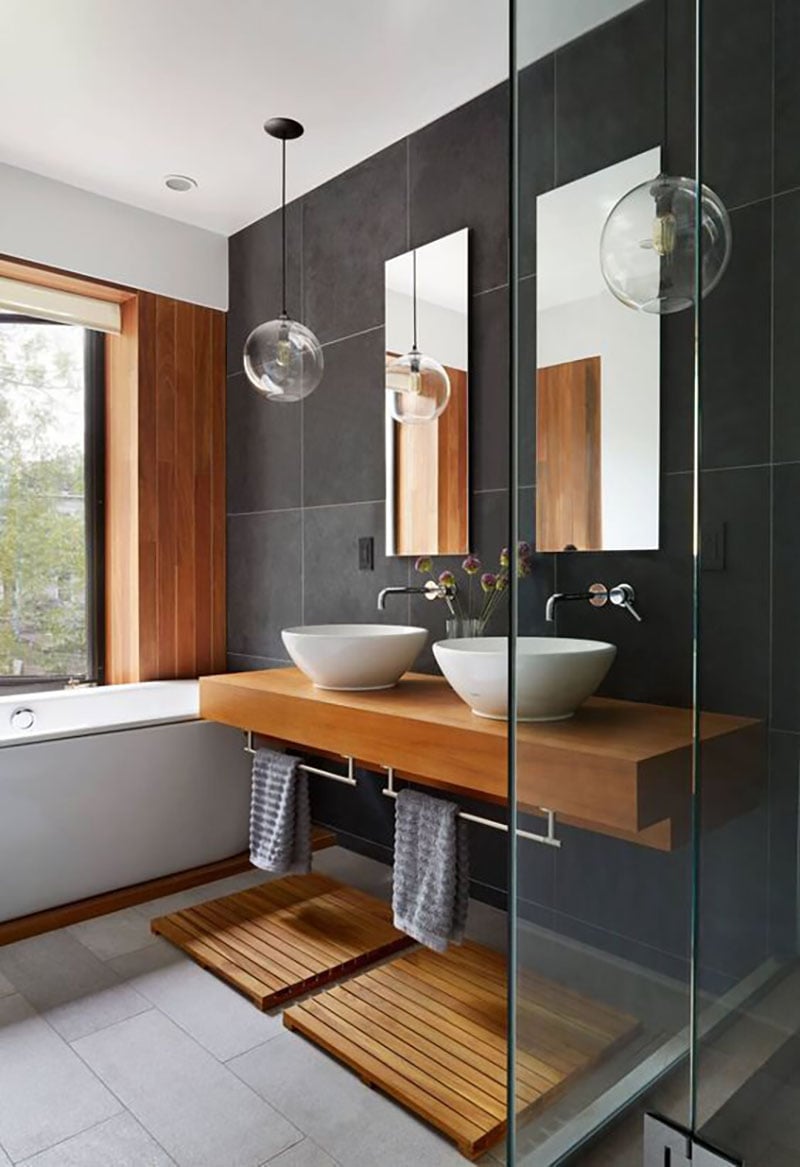 40. Open Master Bathroom
There is something incredibly appealing about an open-plan bathroom, with the tub sitting in the middle of the room. Freestanding tubs look great and are also very social, letting you chat with your loved one while unwinding.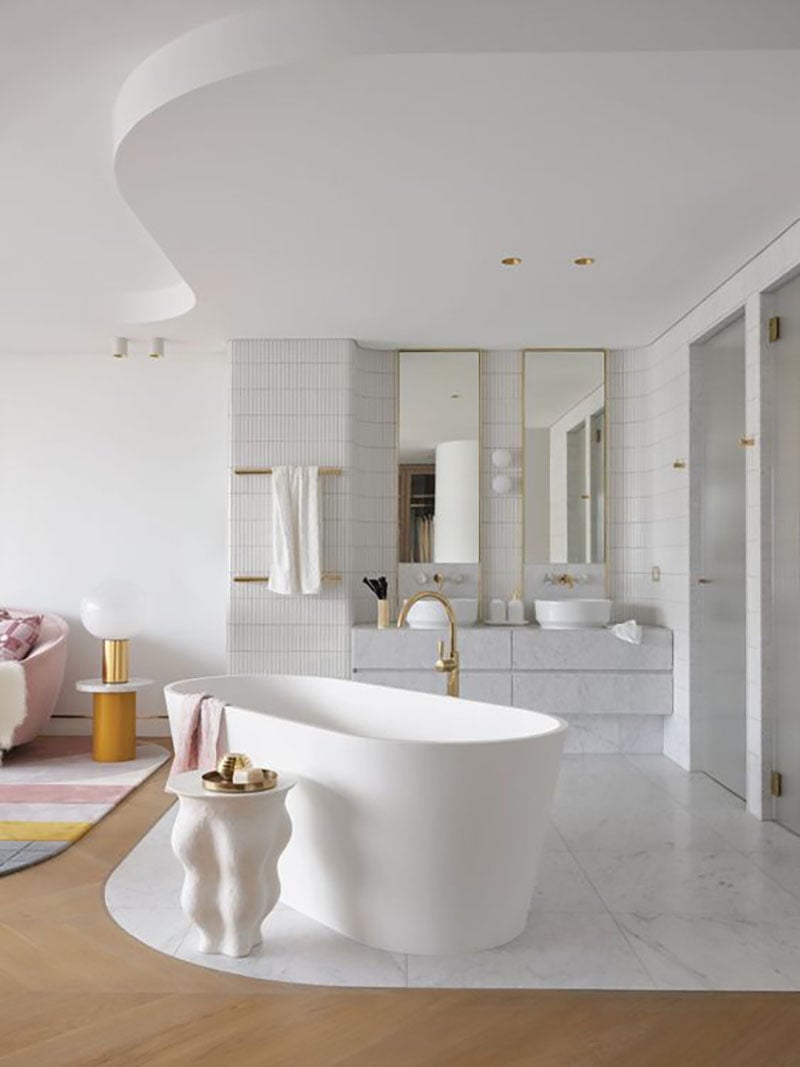 41. Master Bathroom with a Skylight
A bathroom with a view is appealing, but if you want to avoid staring out at a window, maybe you can look up instead? You can position the skylight over the bath, shower, toilet, or simply in the center of the room, whatever works best for you.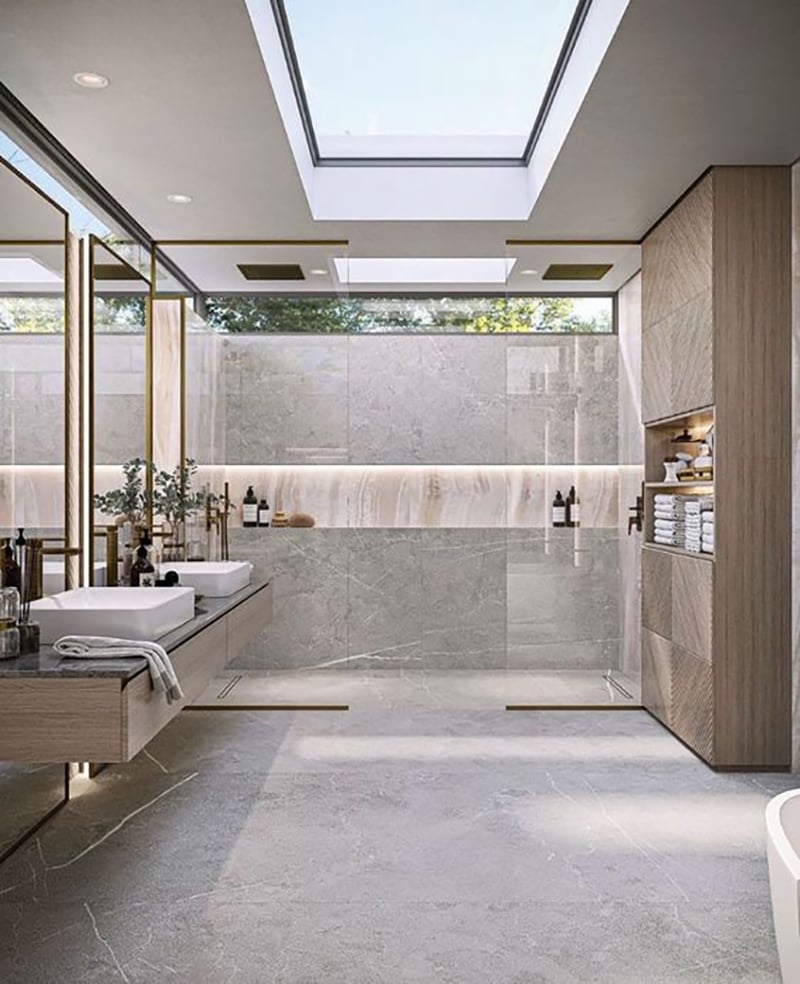 42. Green Master Bathroom
Green is a color of growth and renewal. There are multiple shades of green to choose from, from soft, muted tones to deep, emerald hues. You can include the color in various ways, from wallpaper to tiling; how you do so depends on your preference and the look you wish to achieve.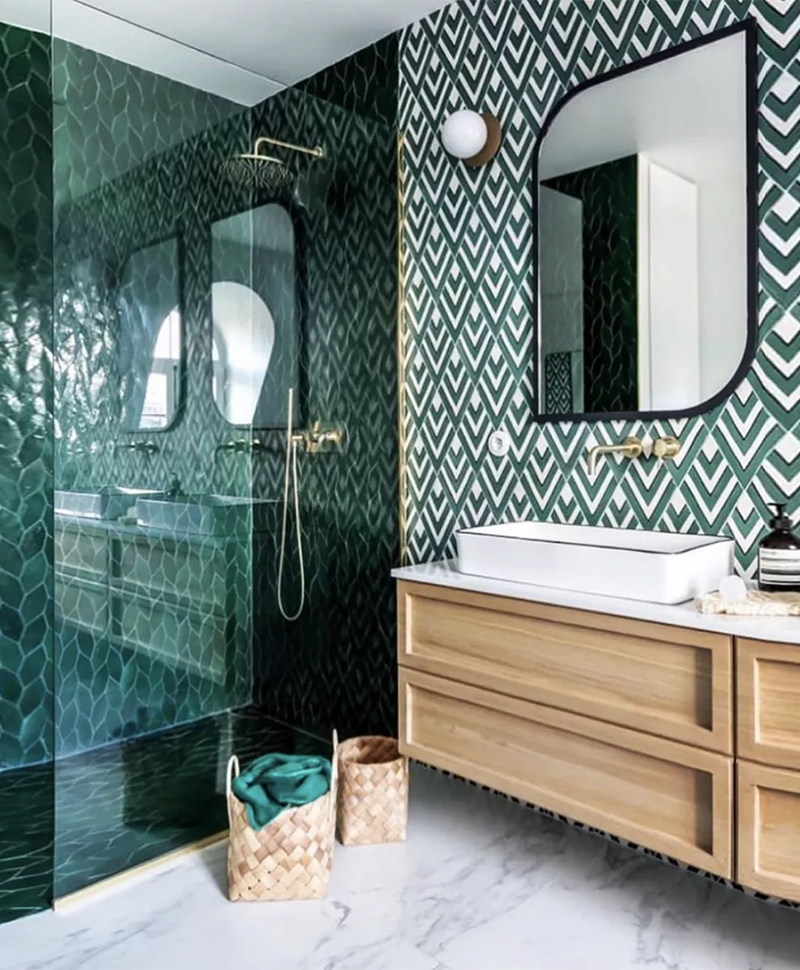 43. Retro Master Bathroom
Retro bathrooms have a lot of character and are a great way to express yourself and show your fun side. This can be achieved with interesting color combinations, unique tiles, and decorations, or the fittings and furniture you use.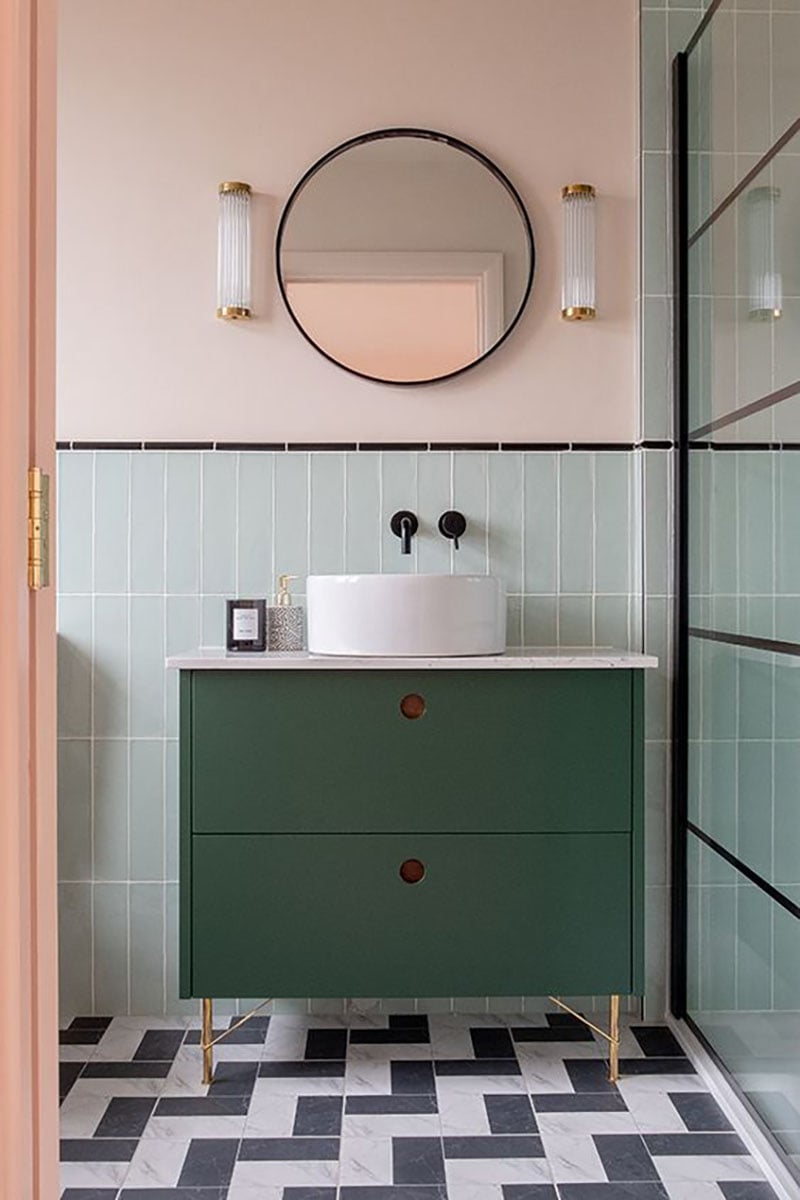 44. Matching Wall and Floor Master Bathroom
Matching your bathroom wall and floor can have a very streamlined effect, and with the right mirrors and lighting, it may even create the illusion of a bigger room. Stick to simple, neutral colors for the best results.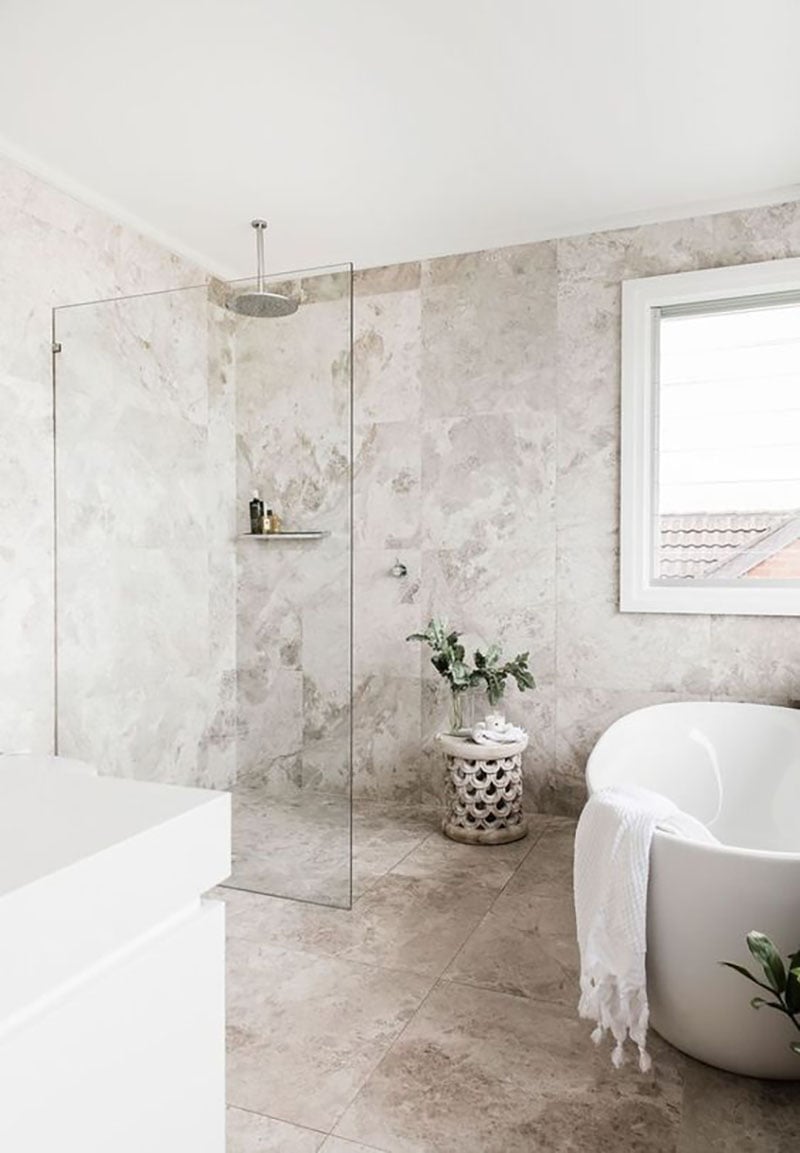 45. Timber Master Bathroom
A bathroom with timber wood frames will be a great addition and create a texturally interesting finish. Pair it with solid, neutral colors for a relaxed and carefree finish that feels sophisticated and timeless.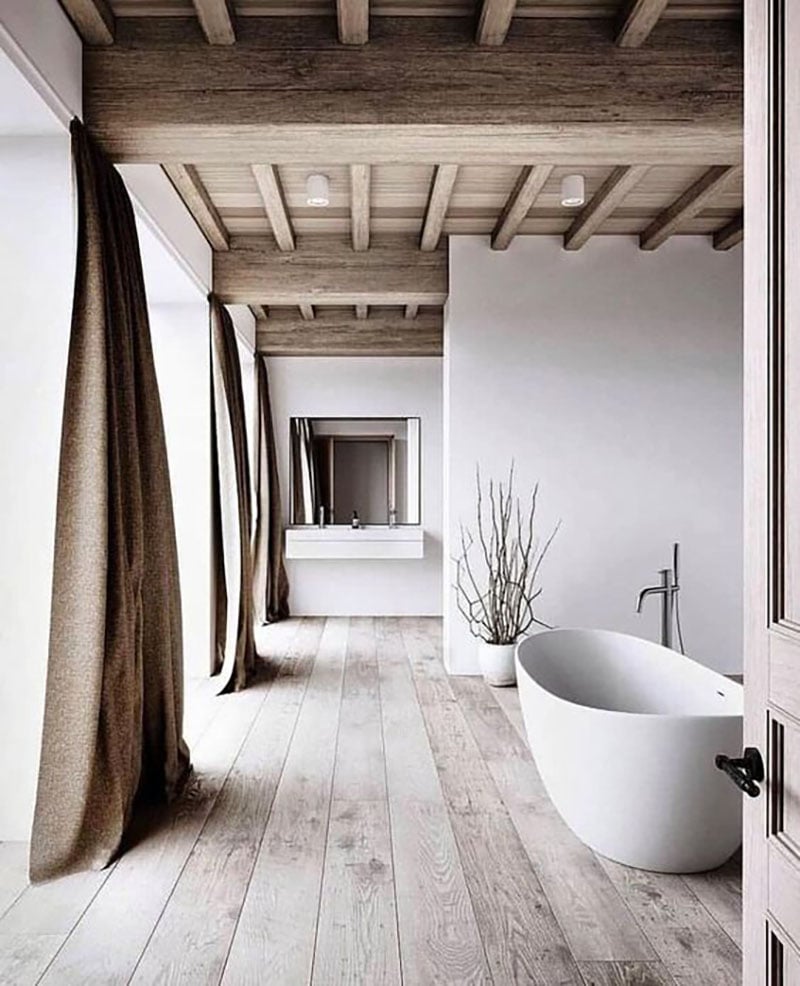 46. Master Bathroom Art
If you want a bathroom that feels modern and also reflects your style, you can add art. A few frames of your favorite drawings on a side table, or a large statement piece on the wall, are an interesting addition to any room and make it feel more personal.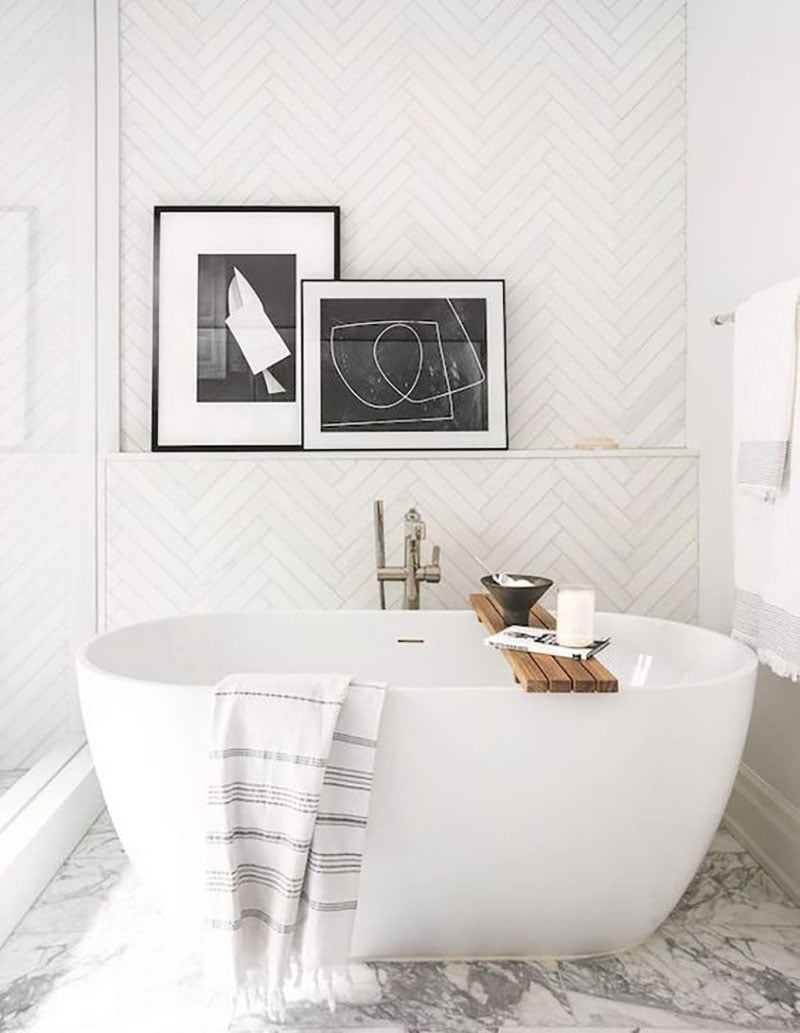 47. Barn Door Master Bathroom
Some bathrooms are open plan, others have a solid wood door, or you can opt for a barn door which gives you the best of both worlds. Keep it open or closed; when it is open, the room feels bigger, but you can close it for privacy.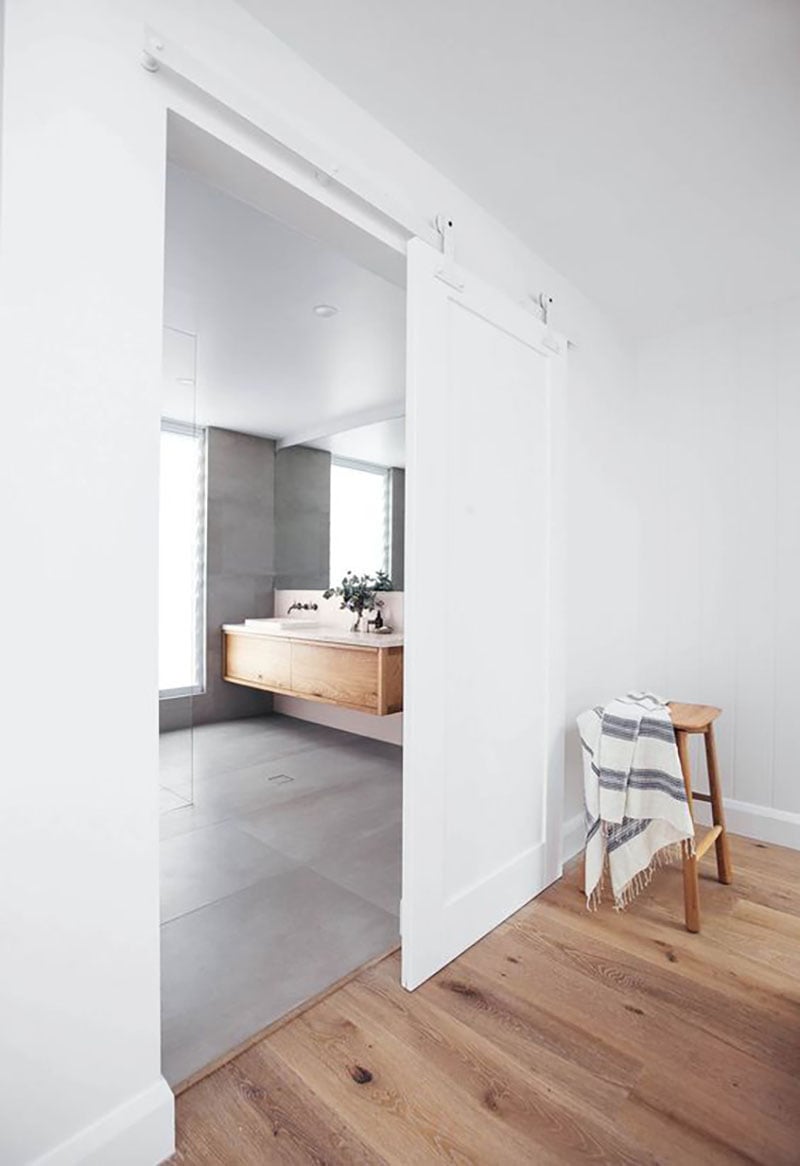 48. Dark and Moody Master Bathroom
Light colors are often favored for bathrooms, but it is not the only option, and darker hues can make the room feel moody. It is also modern and expressive and is the perfect option for someone who wants a room that has a "wow" factor. Stick to two colors to create a more cohesive finish.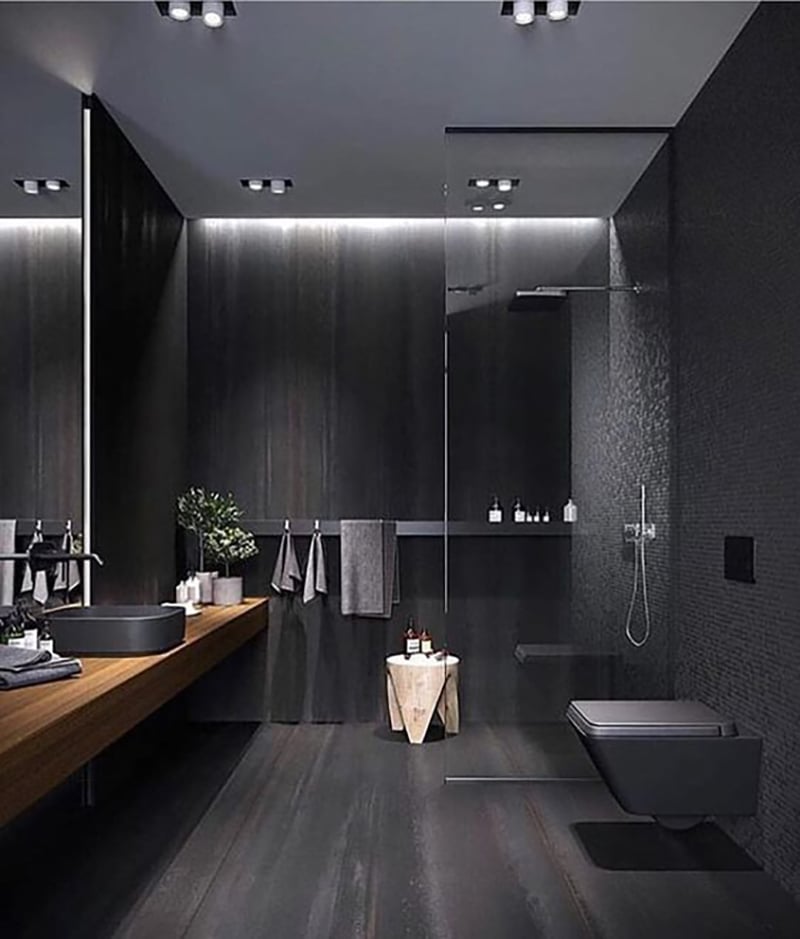 49. Villa Inspired Master Bathroom
Utilize the beautiful land your villa is on by creating a bathroom that lets you witness nature and its beauty. This can be achieved in several ways, including opting for an indoor-outdoor bathroom or a large glass window. Combine wood details with classic colors for a timeless finish.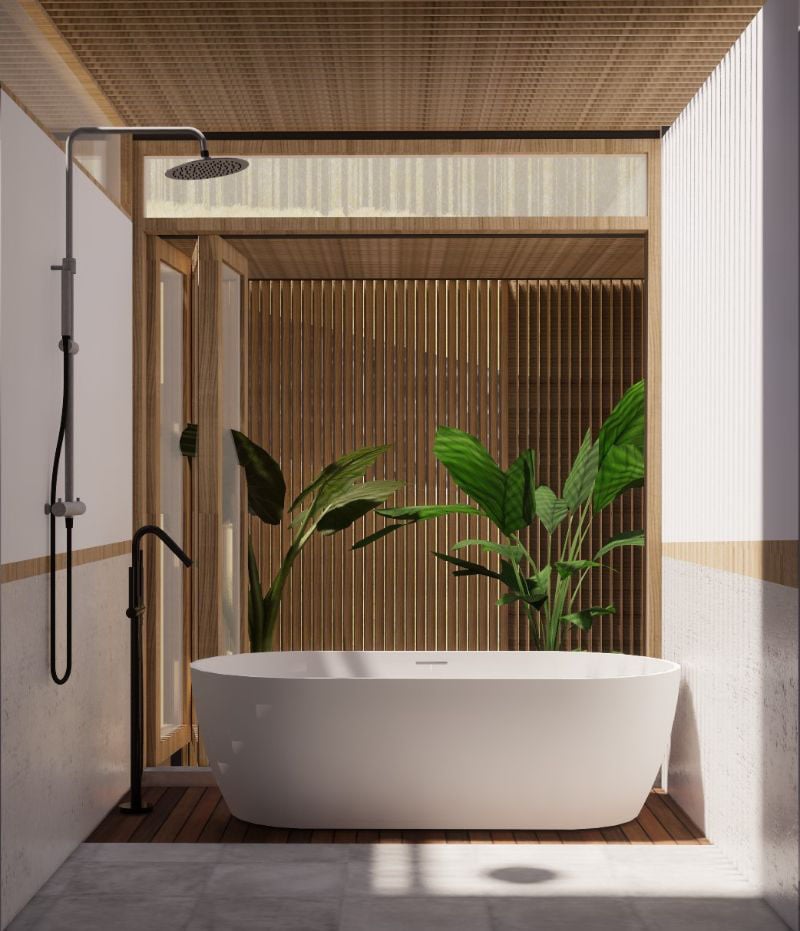 50. Master Bathroom with Pink Elements
If you are someone who prefers bright and bold colors and wants a bathroom that reflects their energy, then this bathroom is for you. Choose your favorite shades, like blush or pastel pink, and creatively add them; this could be paint on the walls, detailings, fixtures, or tiles.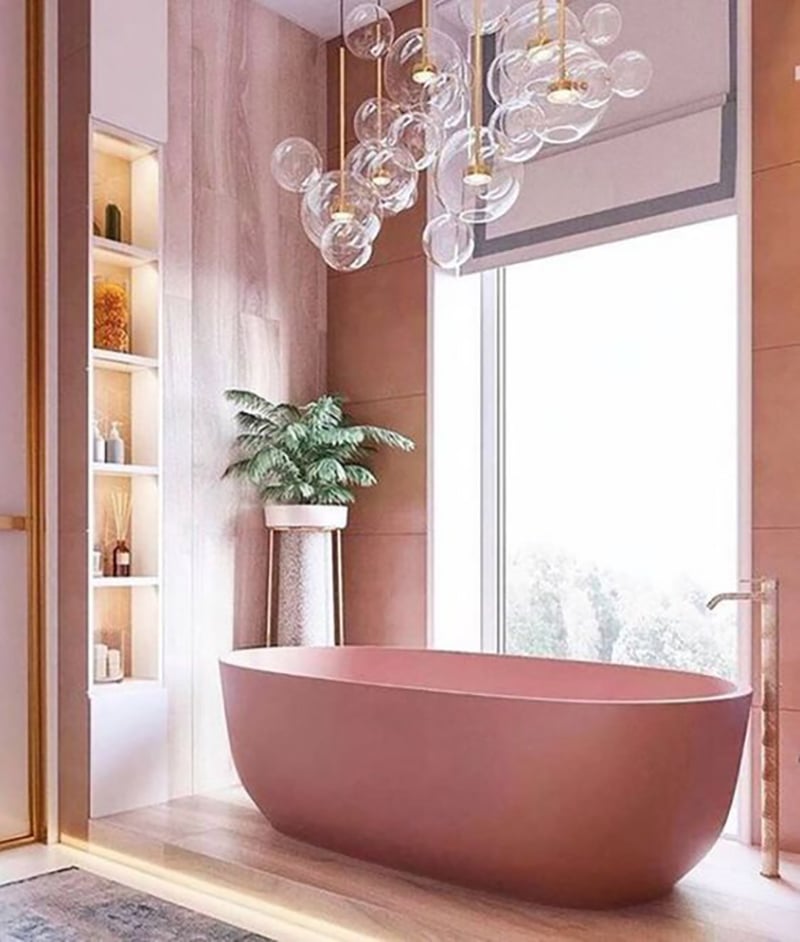 51. Farmhouse Master Bathroom
The appeal of the farmhouse bathroom is that it feels simple and rustic. There is something incredibly beautiful about this decor, and it will help you relax and unwind after a long day. This is also an excellent opportunity for personal touches to the room, including a rug or an interesting lamp shade.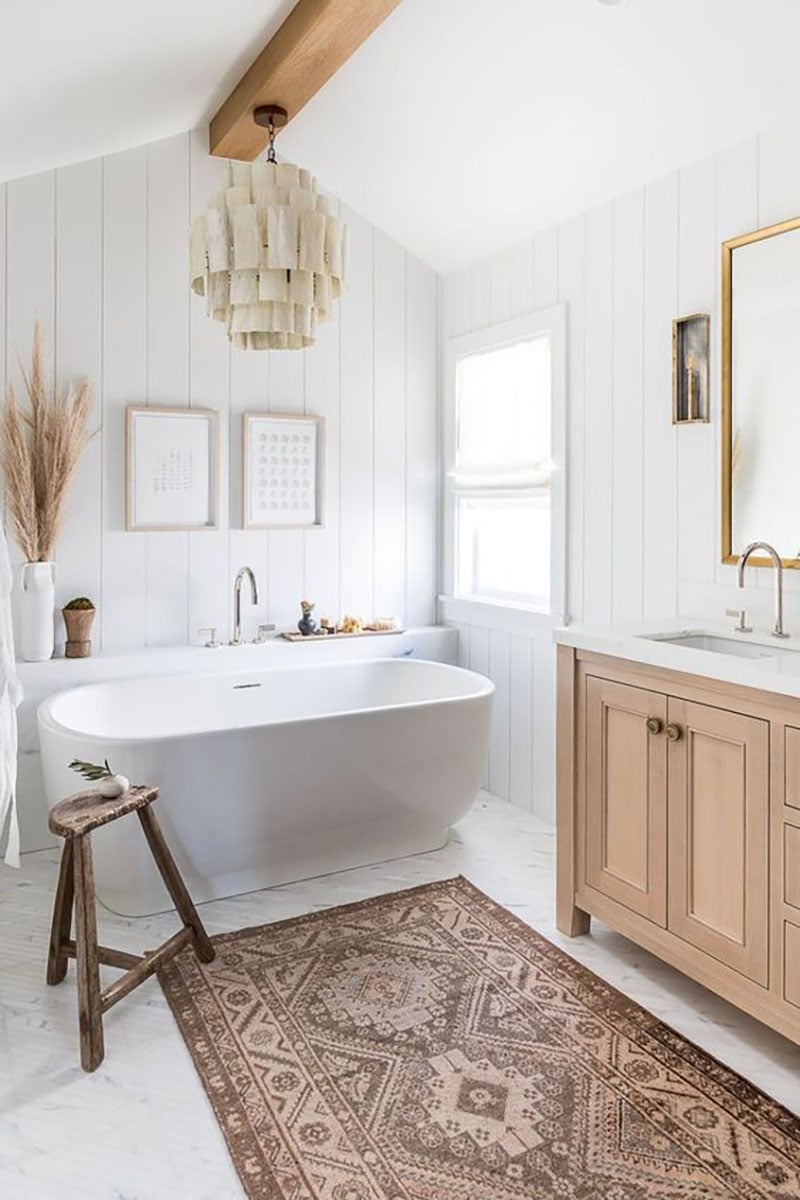 52. Royal Inspired Master Bathroom
If you want to feel like royalty, you need an opulent bathroom with great attention to detail. This room will have ornate decorations and finishings and be complemented by a large chandelier to make the space feel bright.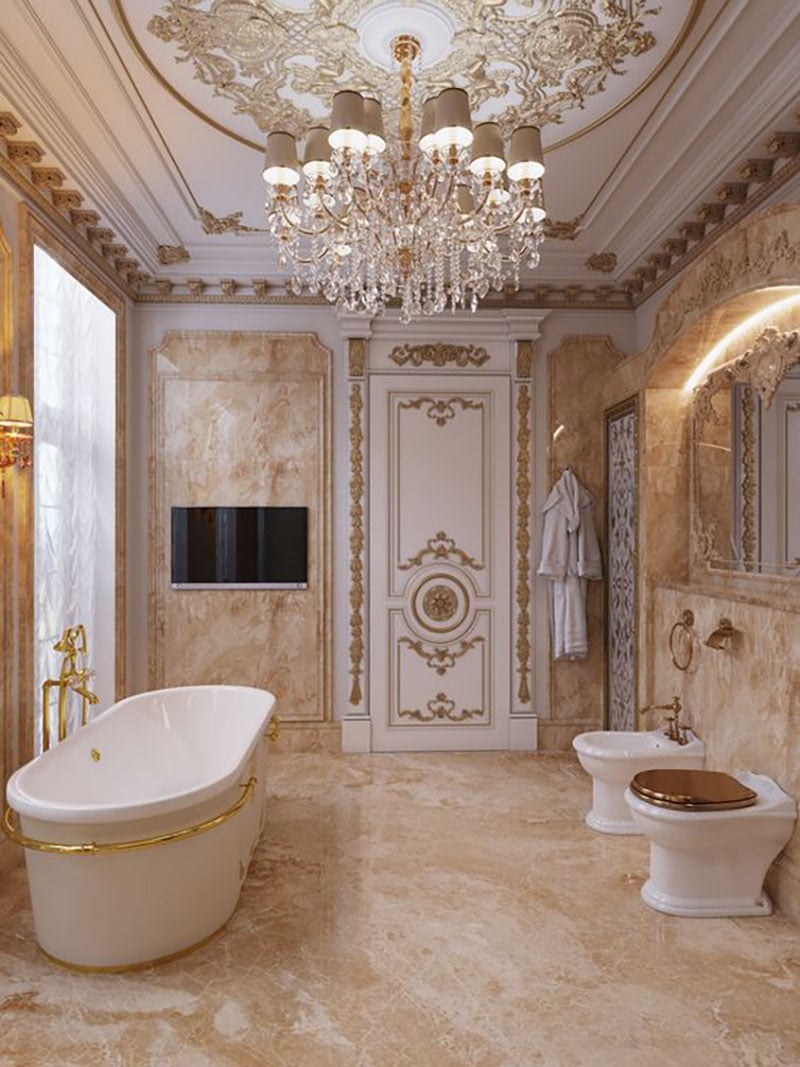 53. Old-Fashioned Master Bathroom
The old-fashioned bathroom decor looks like your room has been transported back in time. But it also feels luxurious and has a lot of character. Finishes like stools, a window seat, and the lights let you show off your style.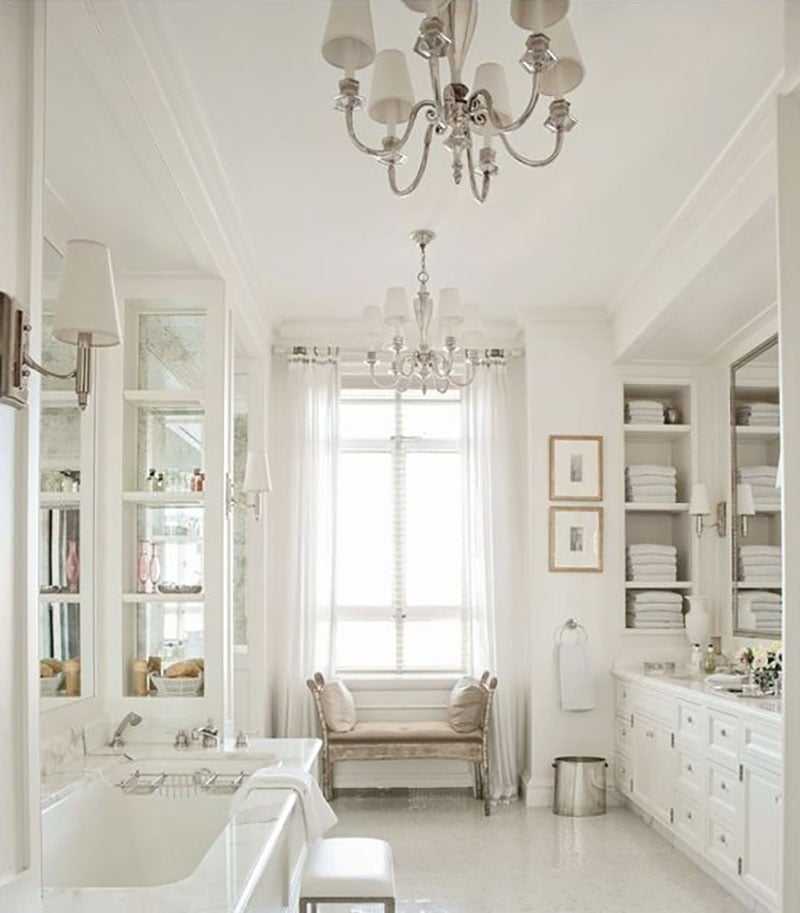 54. Elevated Master Bath
Baths are fantastic for helping you relax your muscles and unwind, and opting for an elevated bath, especially one with a view, will add to the overall experience. You can make the tub the focal point of the room, keeping the rest of the bathroom simple and minimalist.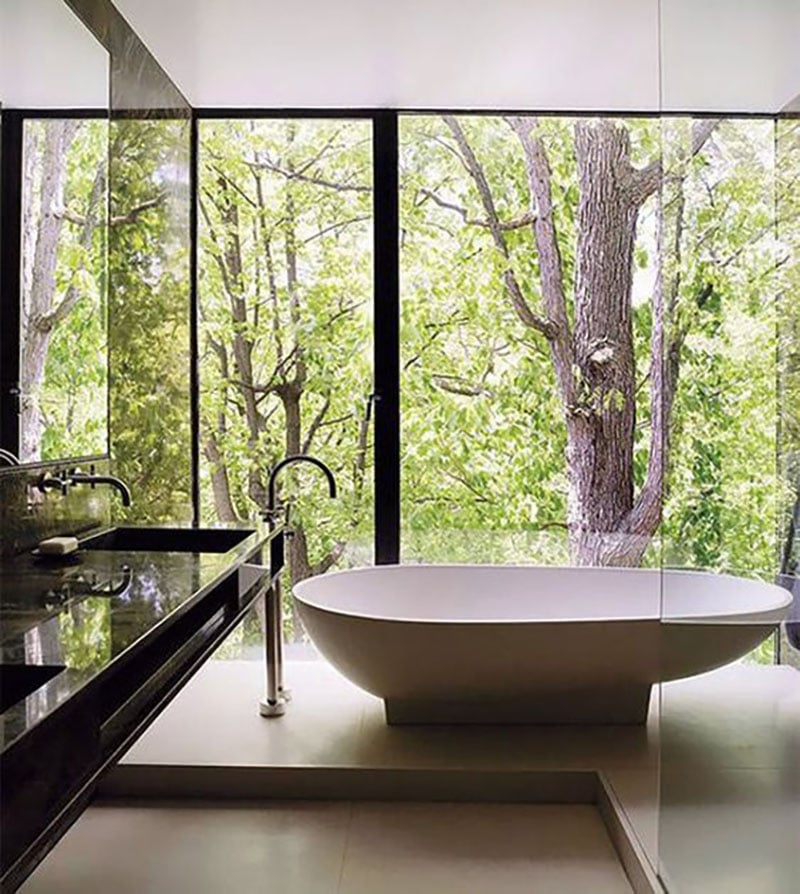 55. Master Bathroom with Windows
Having large windows in a bathroom is a fantastic way to add natural light to the room. It is also appealing because you can gaze out and look at your view. In addition, the windows can make the room feel more open and bigger.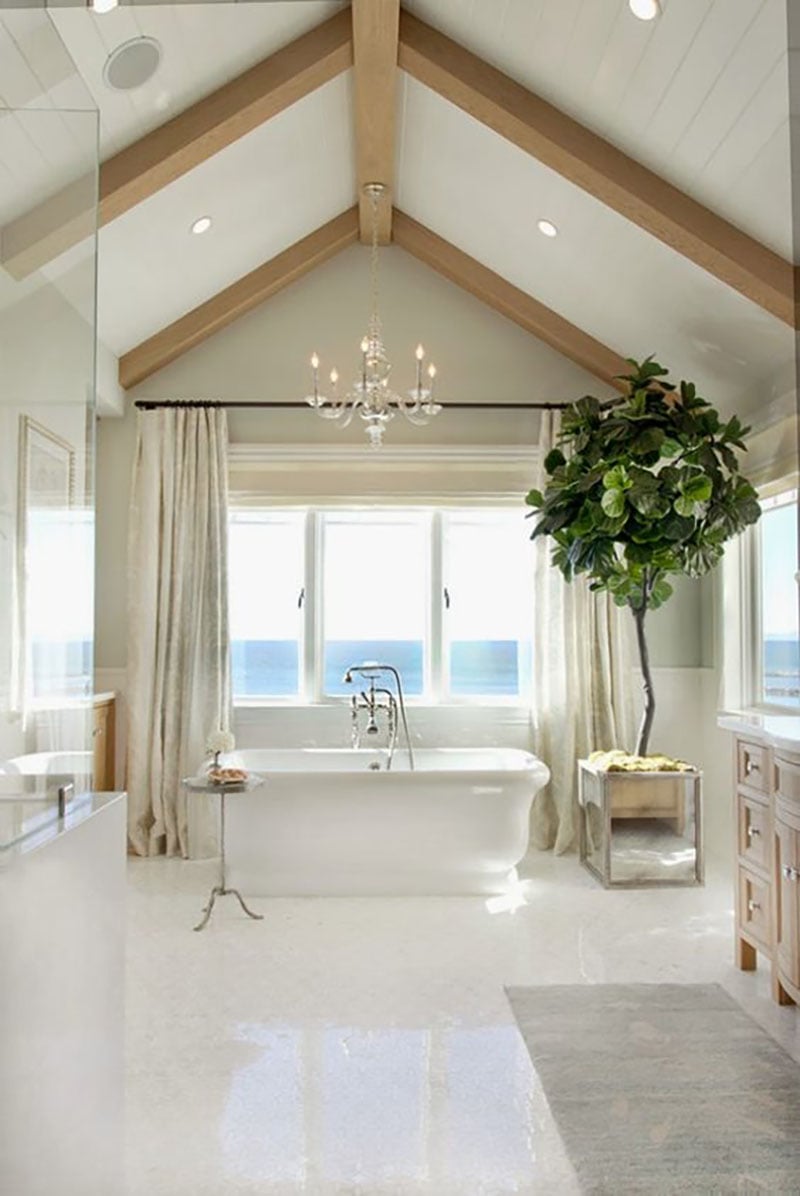 56. Eclectic Master Bathroom
The eclectic decor blends several styles, including modern and vintage, creating an expressive, fun, and unique look. The finishing touches, which can be unique color combinations, interesting tiles, or furniture and art, make a room that feels special.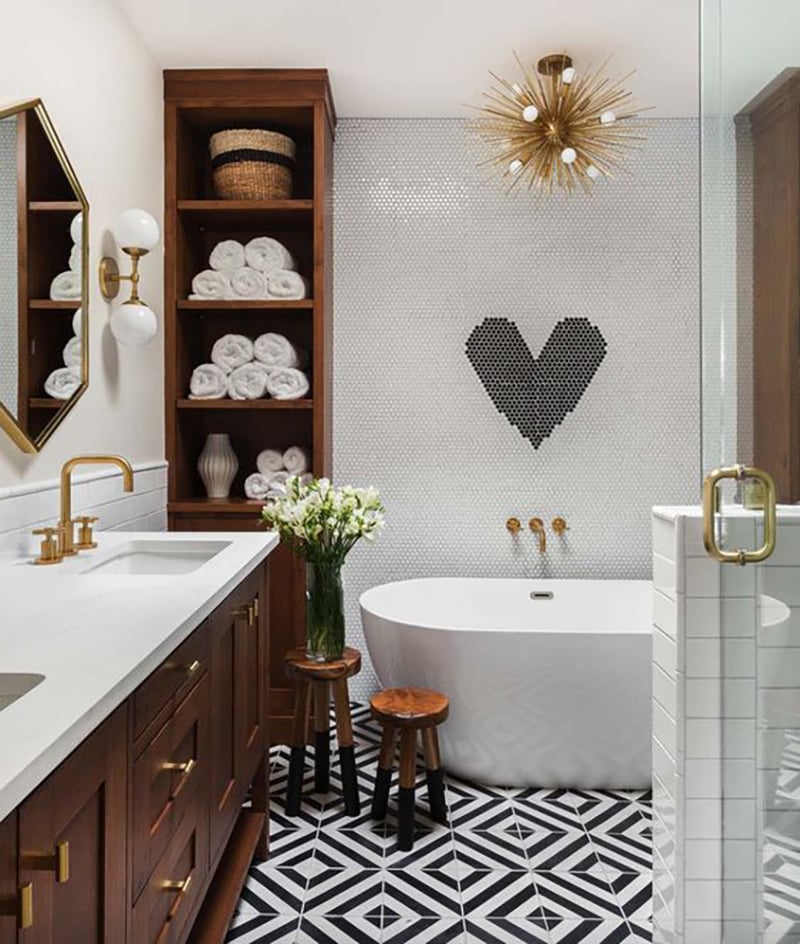 57. Rustic Master Bathroom
Rustic decor is rugged, in natural colors, and feels casual. The unpolished appearance of the wood and stone creates a more texturally interesting finish. Rustic decor appeals to those who want a laid-back aesthetic and is also an excellent way to focus on the simpler things in life.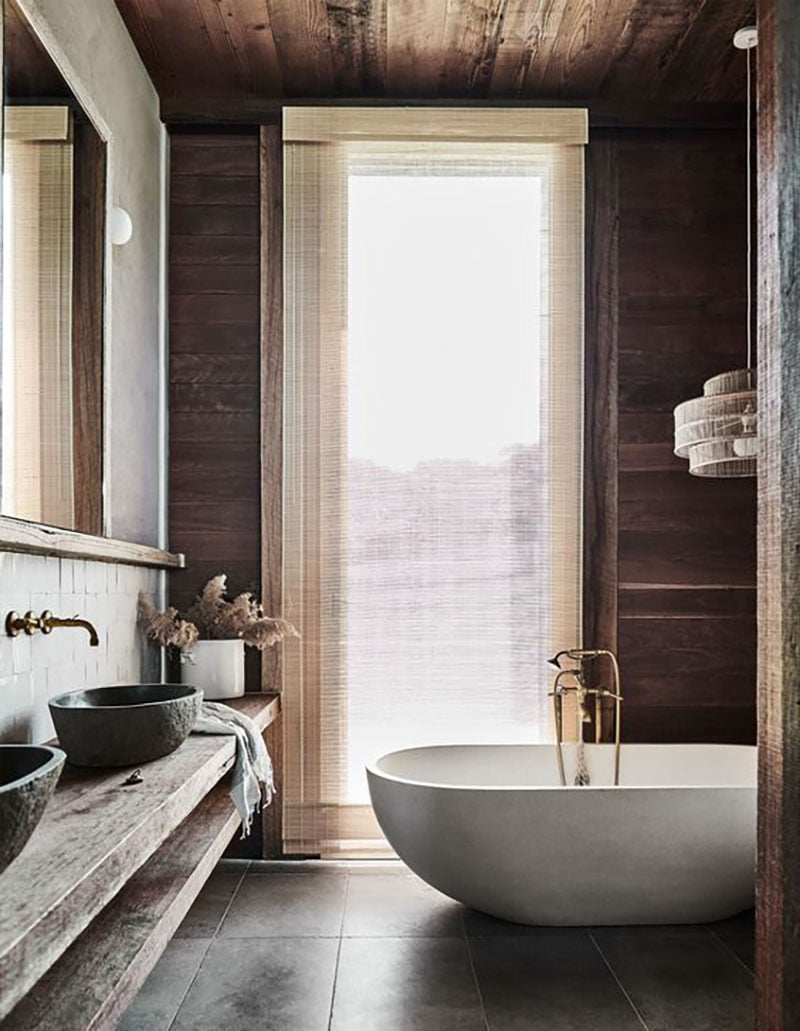 58. Master Bathroom with a Fireplace
For an extra cozy finish, a bathroom with a fireplace is ideal. This is a wonderful choice for colder climates, but it can also be incredibly relaxing as you lie in the tub and watch the flames flicker. In addition, the fireplace is a statement feature in the room.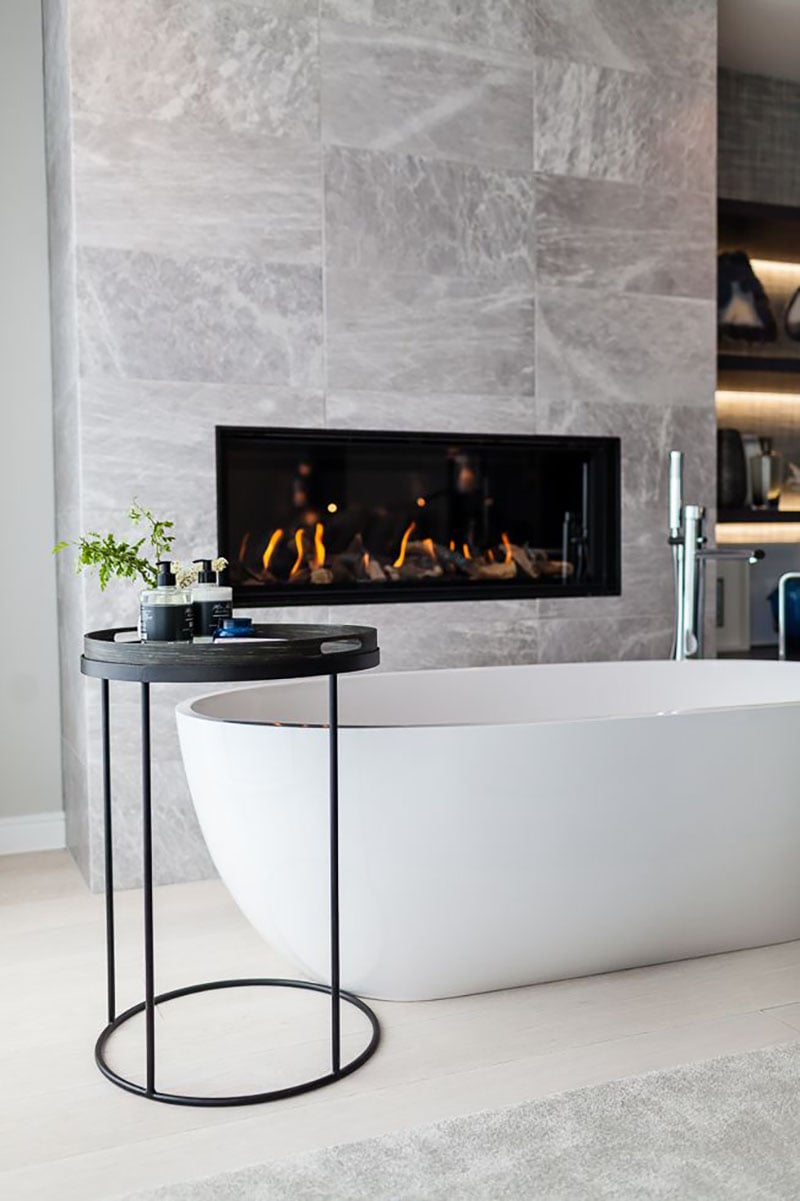 59. Experimental Master Bathroom
Your bathroom is a place where you can have some fun and express yourself. Maybe the rest of your house has a clean design, and this is the one room you can experiment with unusual finishings and color combinations. Let this room have character and reflect your style.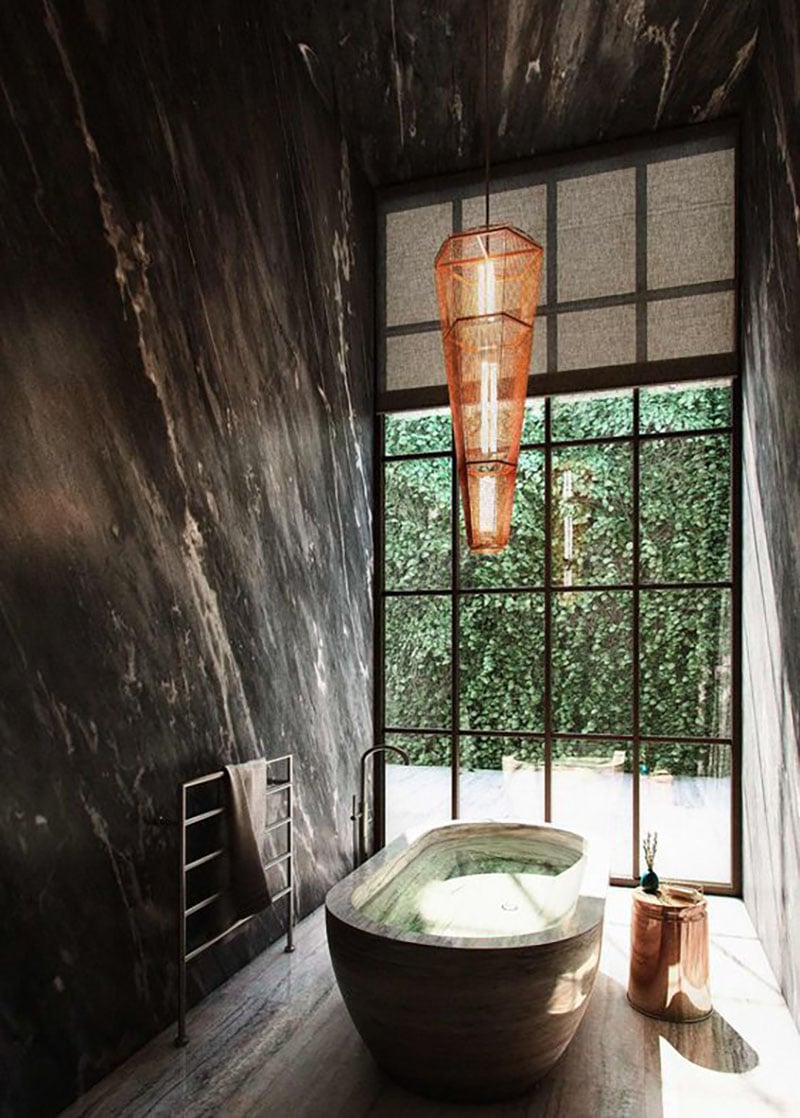 60. Ombre Master Bathroom
The black and white monochromatic color scheme can feel retro or modern, depending on how you incorporate it. A unique approach would be with an ombre blending of the colors. These hues complement each other and create a contrast, making for a visually interesting bathroom that you will want to spend time in.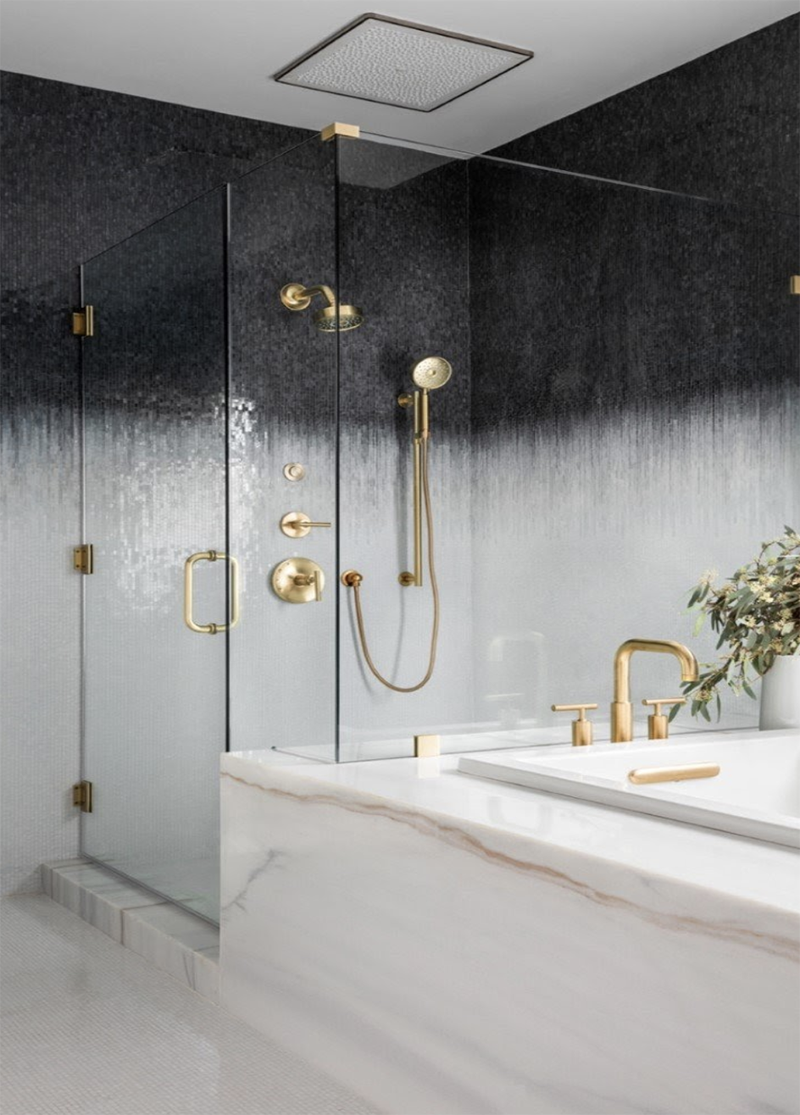 61. Cool Tone Master Bathroom
A cool tone bathroom is a room without any warm colors. This can be an excellent choice for a bathroom where you want to feel clean, sophisticated, and minimalist. The colors can be introduced in various ways, and you can opt for two or three, with different color countertops, floors, and detailings.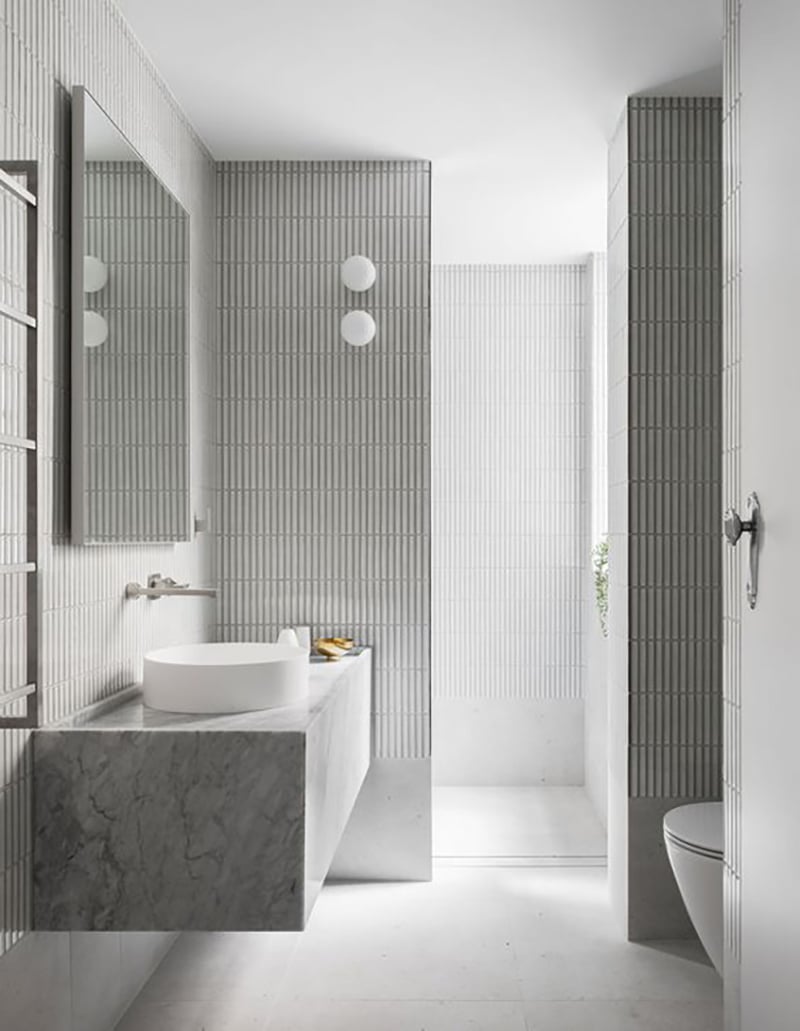 62. Master Bathroom with a Sauna
Saunas increase the body temperature to detoxify, boost blood flow and can make you feel relaxed afterward. If you have a large space, create a sauna bathroom. Try to bring out the wooden details of the sauna in the room to complement it; this can be done with wooden countertops or drawers.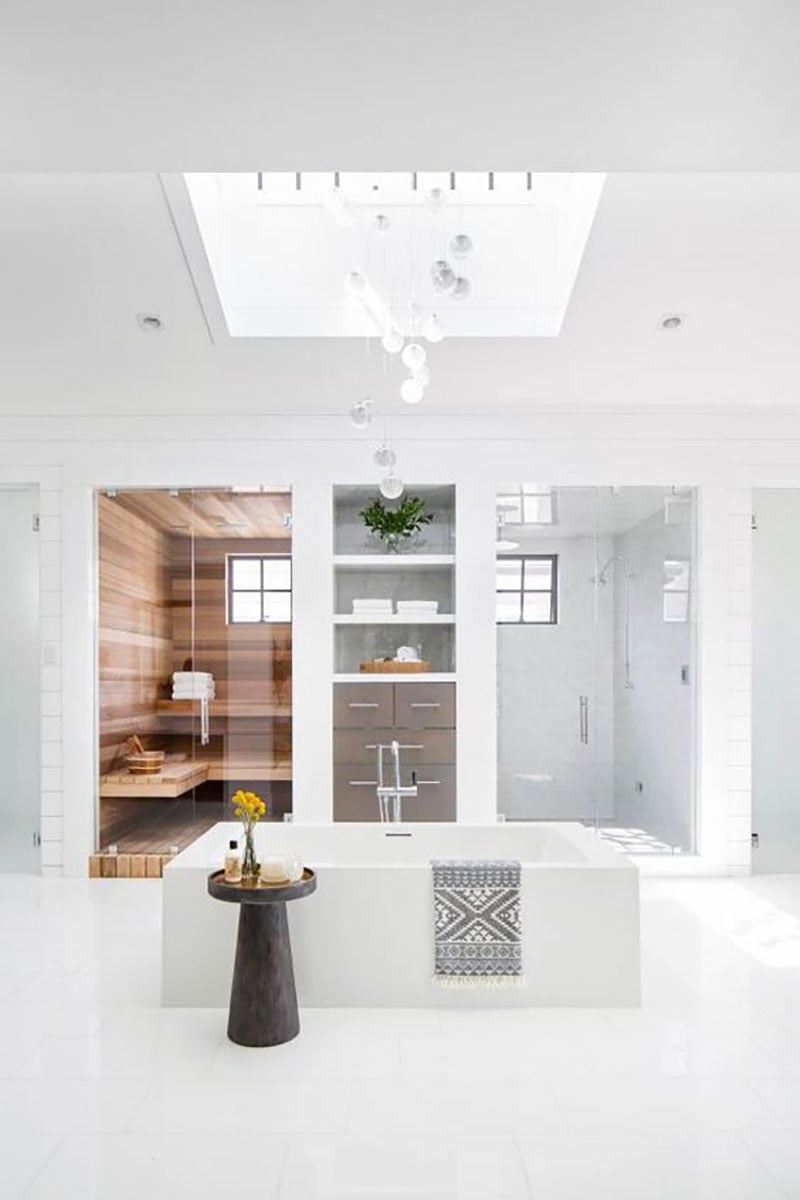 63. All White Master Bathroom
An all-white bathroom is a clean design that also feels modern and sophisticated. The lack of color makes the room feel light and bright. It works exceptionally well with rooms with great natural lighting and large mirrors.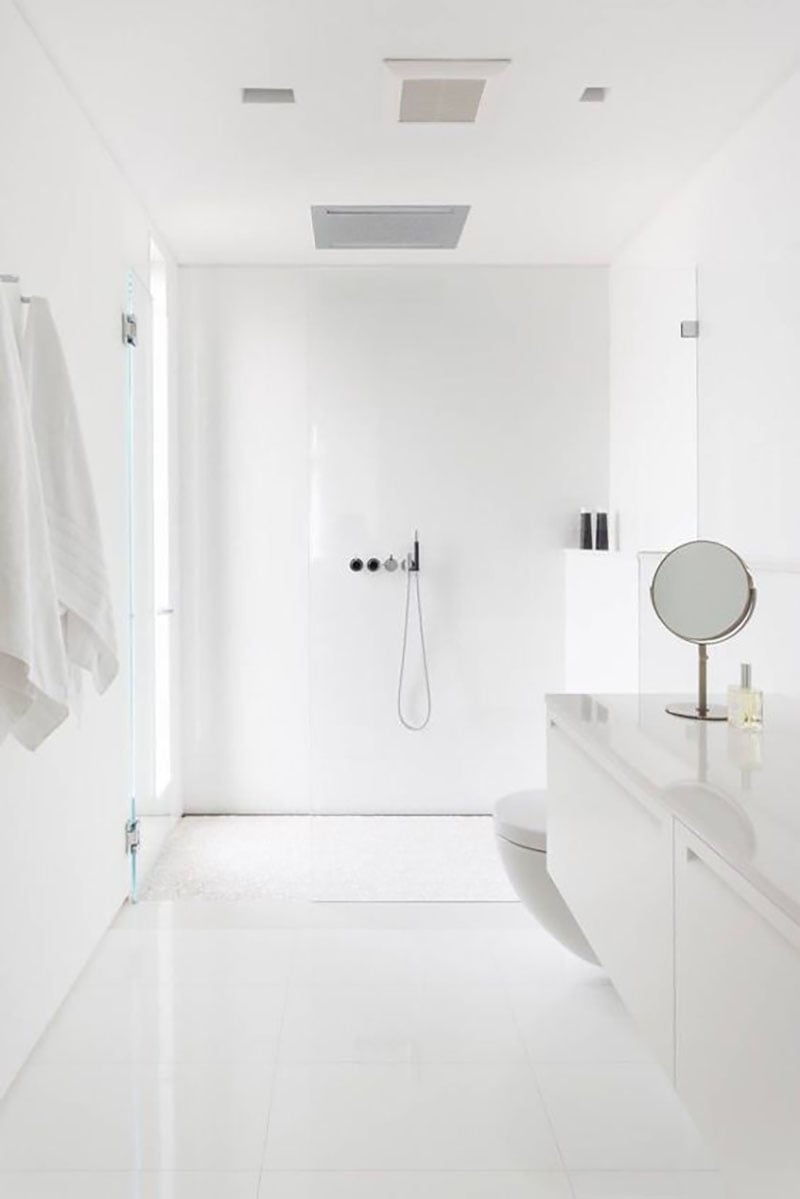 64. Textured Tiles Master Bathroom
If you want a texturally interesting bathroom, consider tiling the walls. In addition to serving a decorative purpose, the tiles also waterproof the walls, making this a practical and stylish option.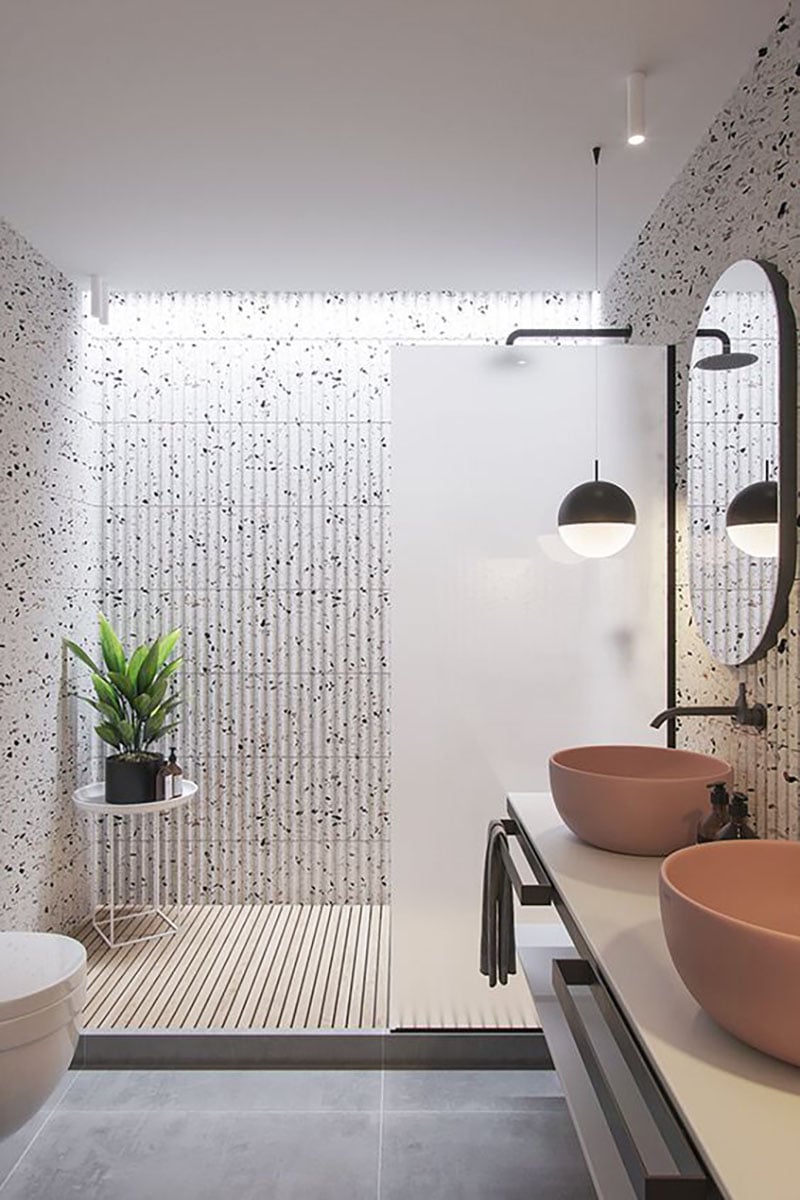 65. Italian Inspired Master Bathroom
A bathroom that has been inspired by an Italian villa is a fantastic option. It is a combination of luxury meets rustic charm, with wicker details, a great rug, wooden details on the ceiling, and wooden furniture. You can also paint the room with soft, muted colors.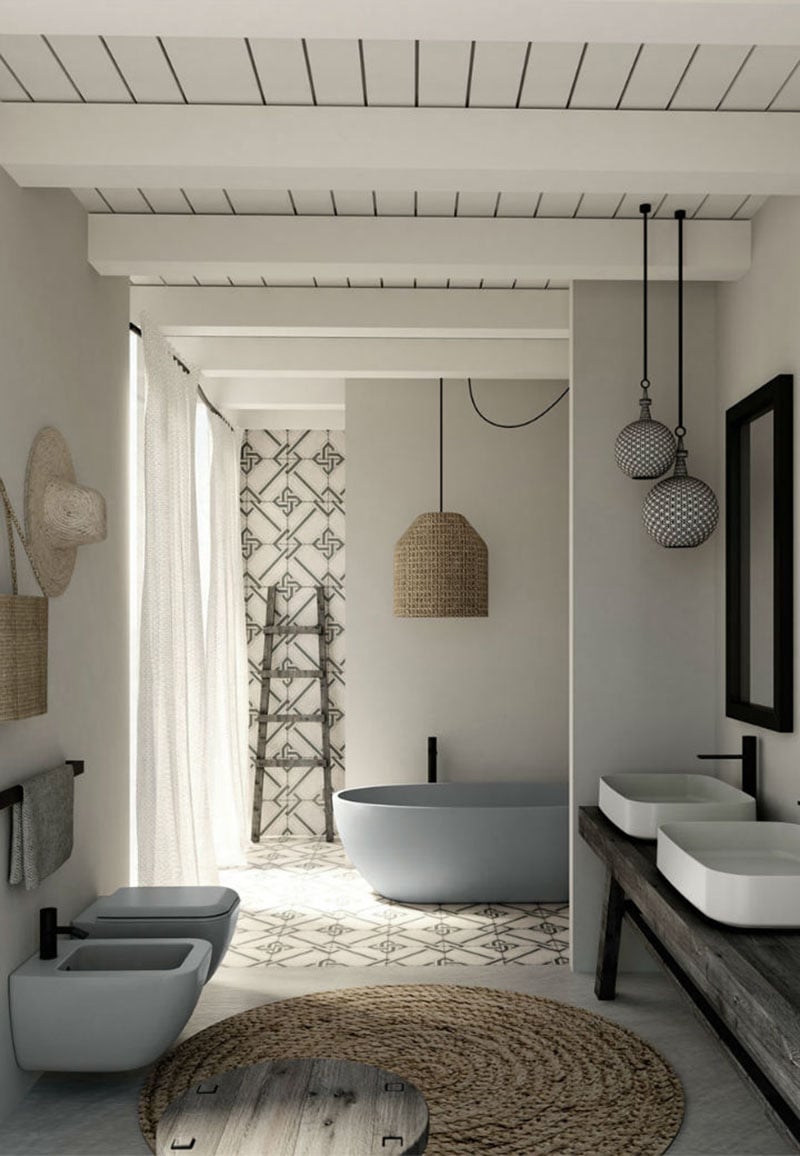 66. Porcelain Master Bathroom
Porcelain is a popular addition to any bathroom because it looks luxurious and it is extremely durable. It is strong and heat-resistant and will withstand the test of time. Opt for a mix of white and cool grey with wooden furniture to complement the finish, creating an interesting and stunning balance.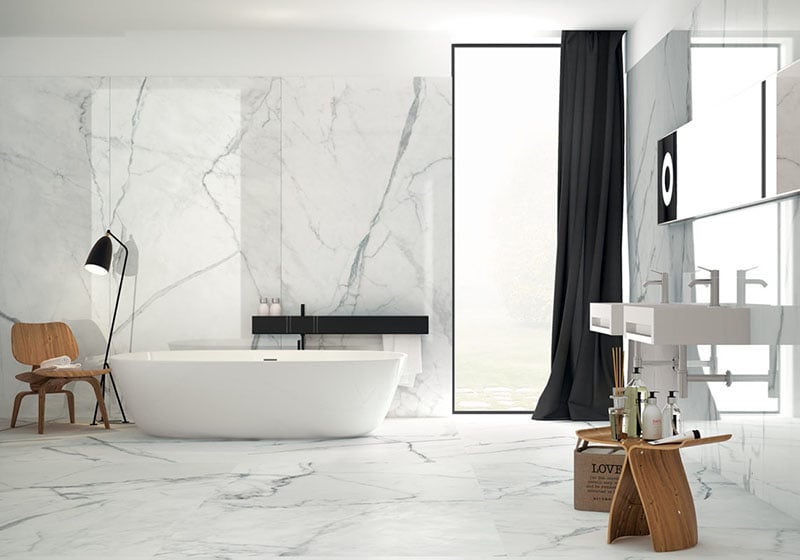 67. Modern Artistic Master Bathroom
Modern bathrooms are created in various ways, including experimenting with different colors, shapes, and decor. Combining several elements to create a modern meets artistic room can be done by adding unique flooring, furniture, and lights. Let this room be an expression of your personality and have fun with it.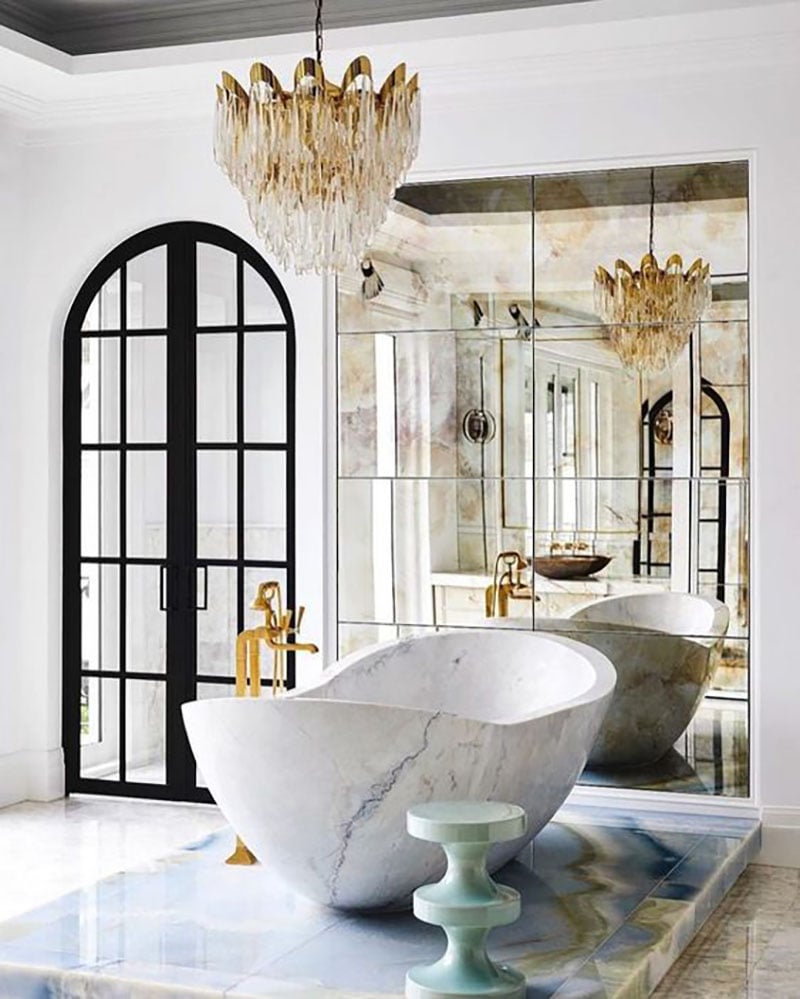 68. Industrial Earthy Master Bathroom
Earthy bathrooms feel natural and have a laid-back aesthetic. This can be achieved by painting the walls in earthy shades like brown, green, and turmeric. You can also add wooden details to create a more rustic charm. Finish the room with geometric shapes and clean lines for those who want something modern.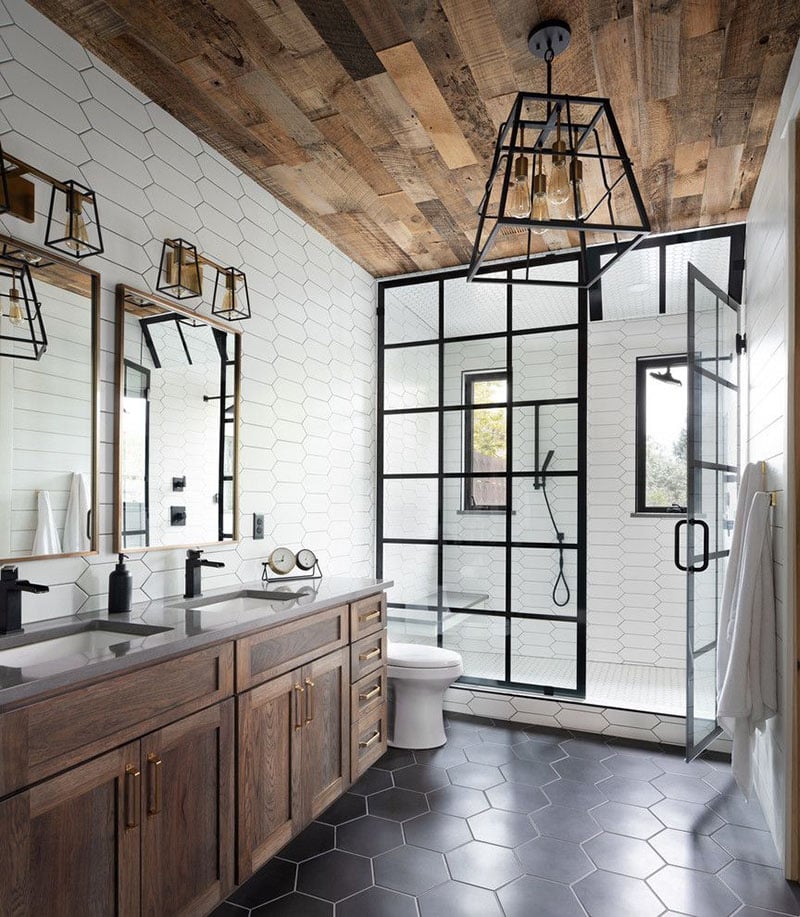 69. Double Shower Master Bathroom
If you live with a partner, you may want to create an extra-large shower. Showering together is more than a bonding experience; it is also a practical solution if you both need to get ready for something. The large shower is the standout feature of the bathroom.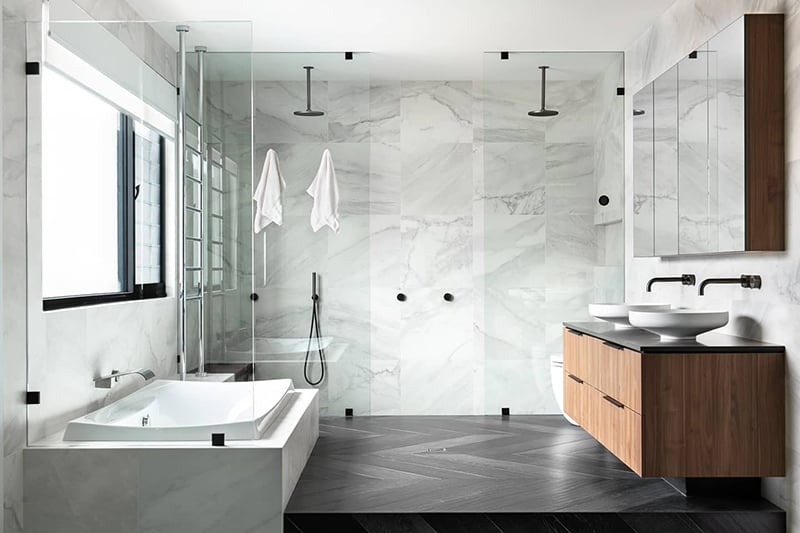 70. Blue LED Master Bathroom
Blue is one of the best colors for a bathroom because it is a calming hue. It also represents stability and balance. Bathrooms are one of the best rooms for experimenting, and you can introduce blue in several ways, including with LED light strips for a futuristic and ultramodern finish.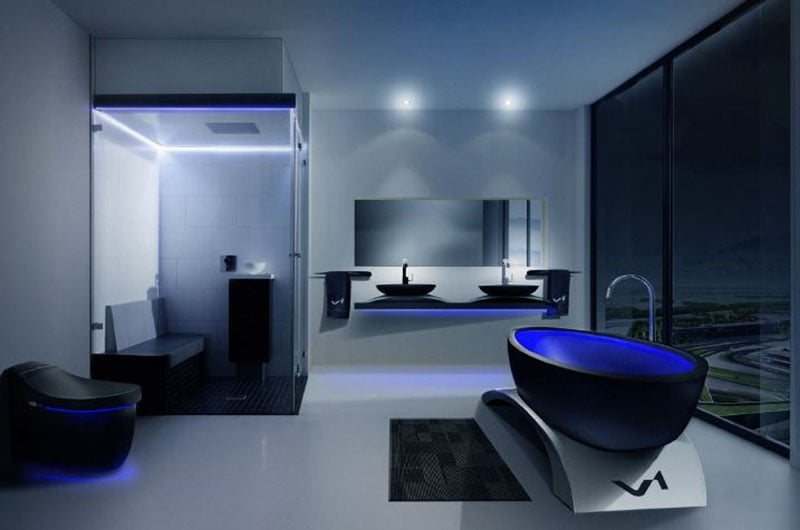 71. Master Bathroom with Wooden Elements
Wooden elements in a bathroom give it a natural and laidback finish. Wood is also practical and feels warmer than stones and porcelains. Consider adding a rug, wicker baskets, and modern light fittings for extra warmth.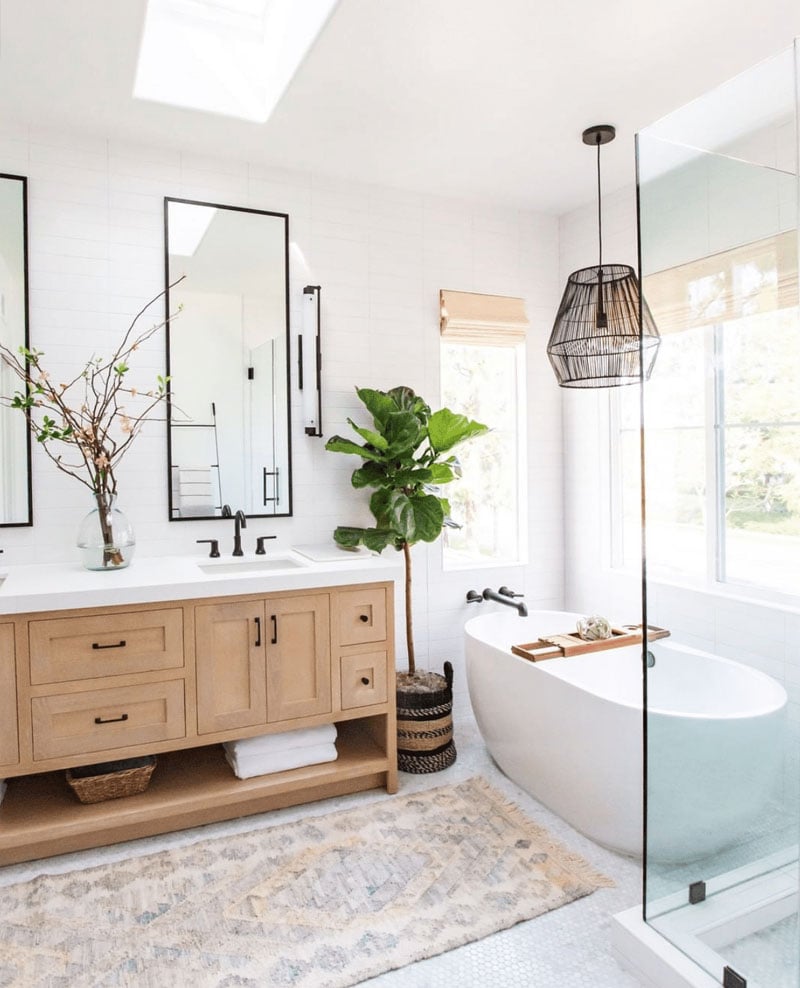 72. Master Bathroom with Floating Vanity
A floating vanity is anchored to the wall and does not touch the floor; this creates a very interesting effect, making the room feel modern and stylish. If you want this bathroom cabinet to be the focus of your room, choose a different color from the rest of the bathroom to create contrast.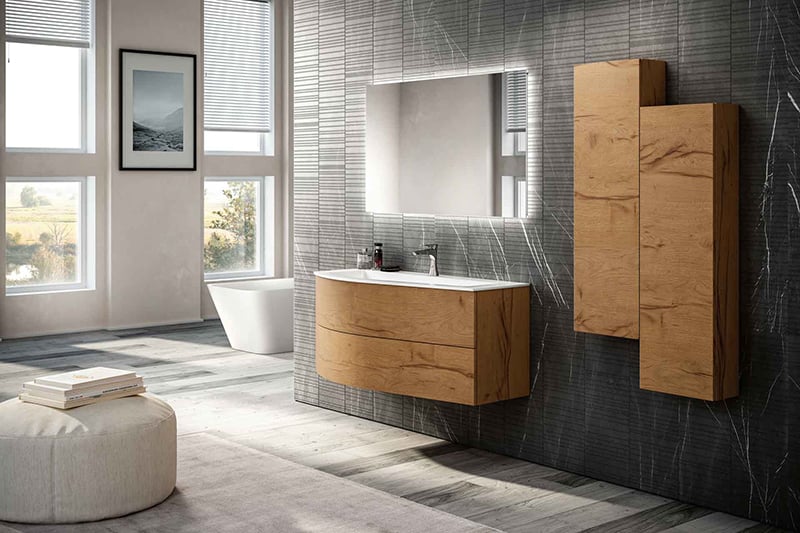 73. Master Bathroom with Double Doors
Double doors for your bathroom are a fantastic choice because it looks good, but they can also make the room feel bigger. Leaving the doors open when the bathroom is not in use can create an open-plan finish.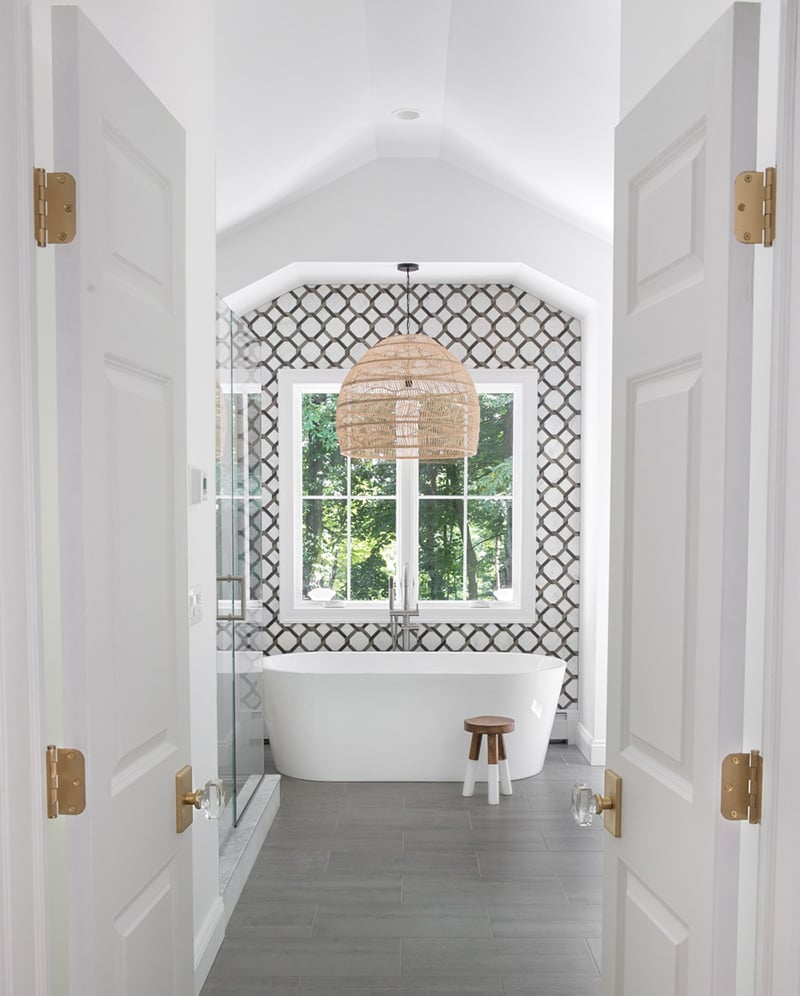 74. Moroccan Master Bathroom
A Moroccan-inspired bathroom will be bright and detailed and is a way to have fun with the room. Blue washed walls, mosaics, bold tiling, or rugs; there are a lot of opportunities to have fun with this space and mix and match your favorite items.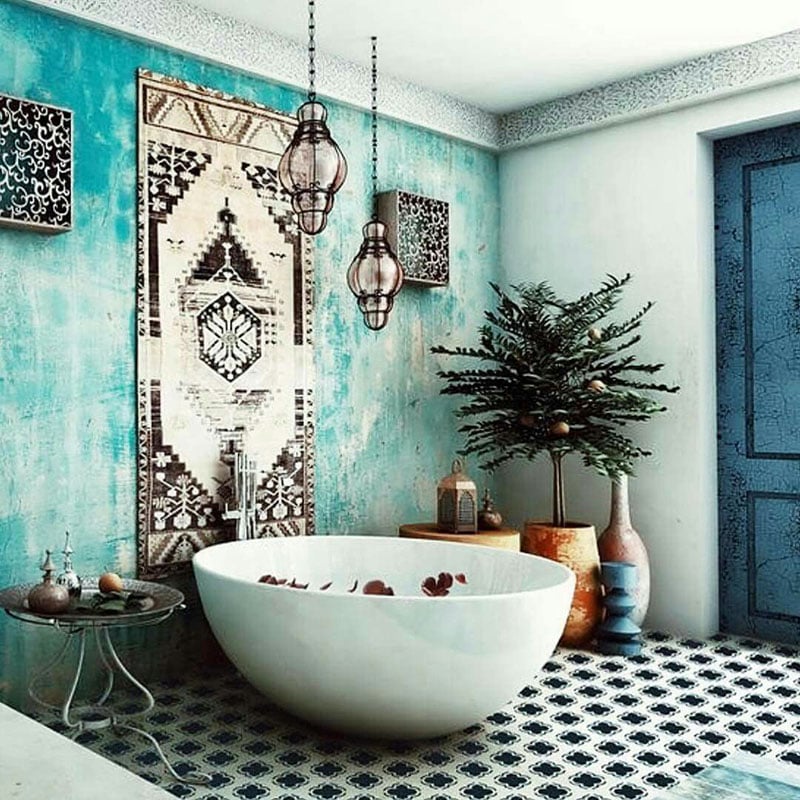 75. Master Bathroom with a Sitting Area
Large bathrooms are fantastic, but they can feel empty and cold. A way to counteract this would be to include a sitting area, either with a sofa by the window or vanity and a stool. Keep the colors muted to give the room a modern and luxurious finish.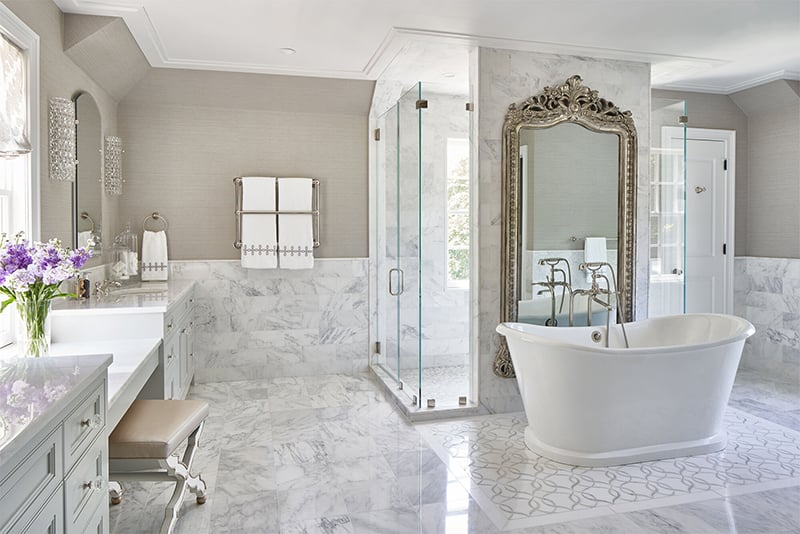 76. Fun Floor Tiles Master Bathroom
Bathrooms do not have to be simple and minimalistic, and those who want something different and fun can create this with their floor tiles. Interesting geometric patterns or contrasting color combinations will give your floor a statement finish.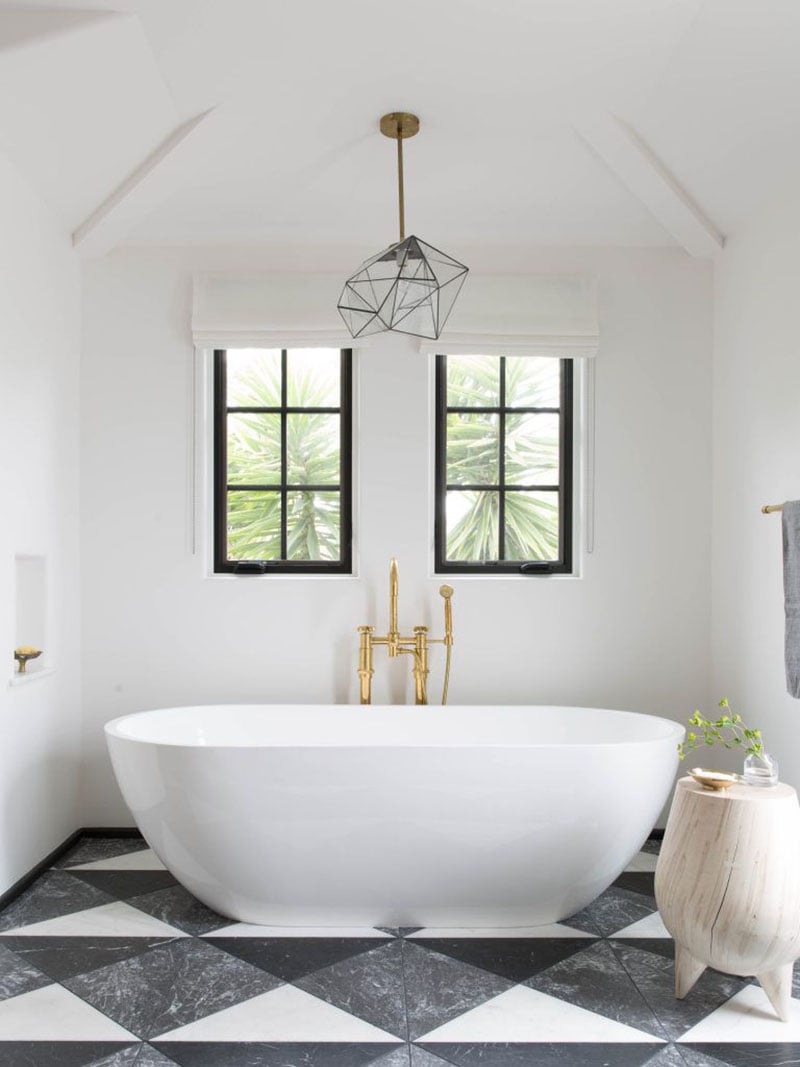 77. Skylight Shower Master Bathroom
Having a skylight over the shower is a wonderful way to introduce natural light to the room, but it also gives you a view. Looking up at the sky can help you clear your thoughts and refocus. Opting for wooden details in the shower and including plants can add to the room's natural feel.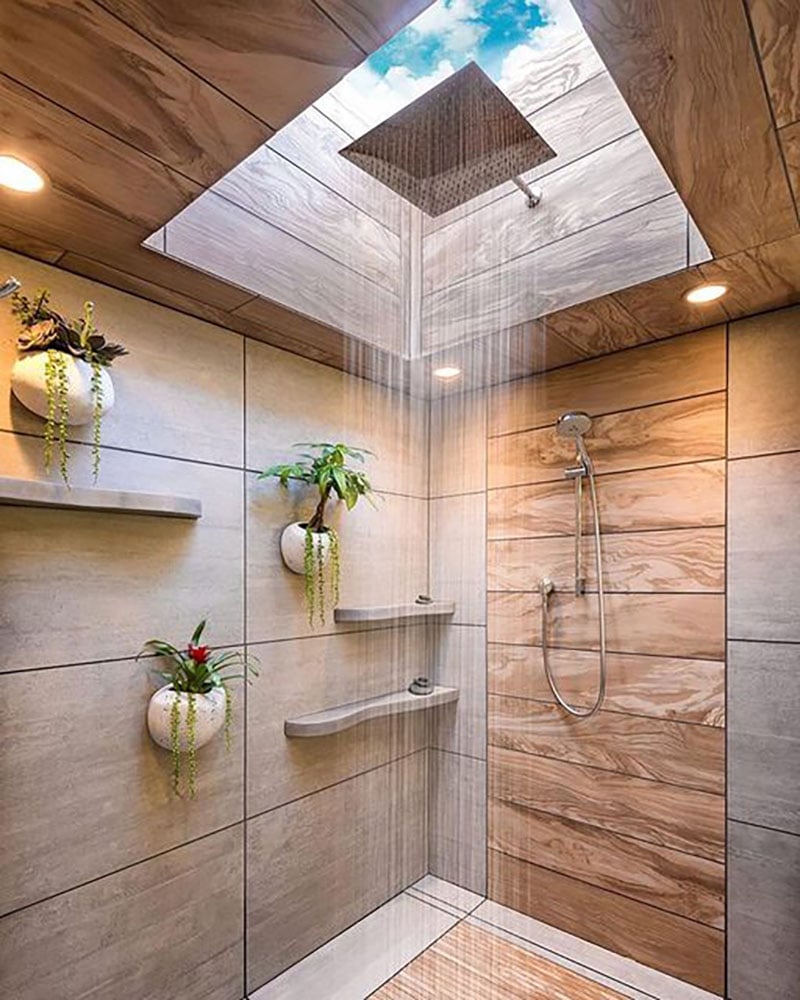 78. Peaceful Master Bathroom
Having a bathroom that feels peaceful can boost your rest and relaxation. This can be achieved with the colors you use, and soft, muted tones are ideal. Natural lighting, light fabrics, and wooden floors will add to the calming effect.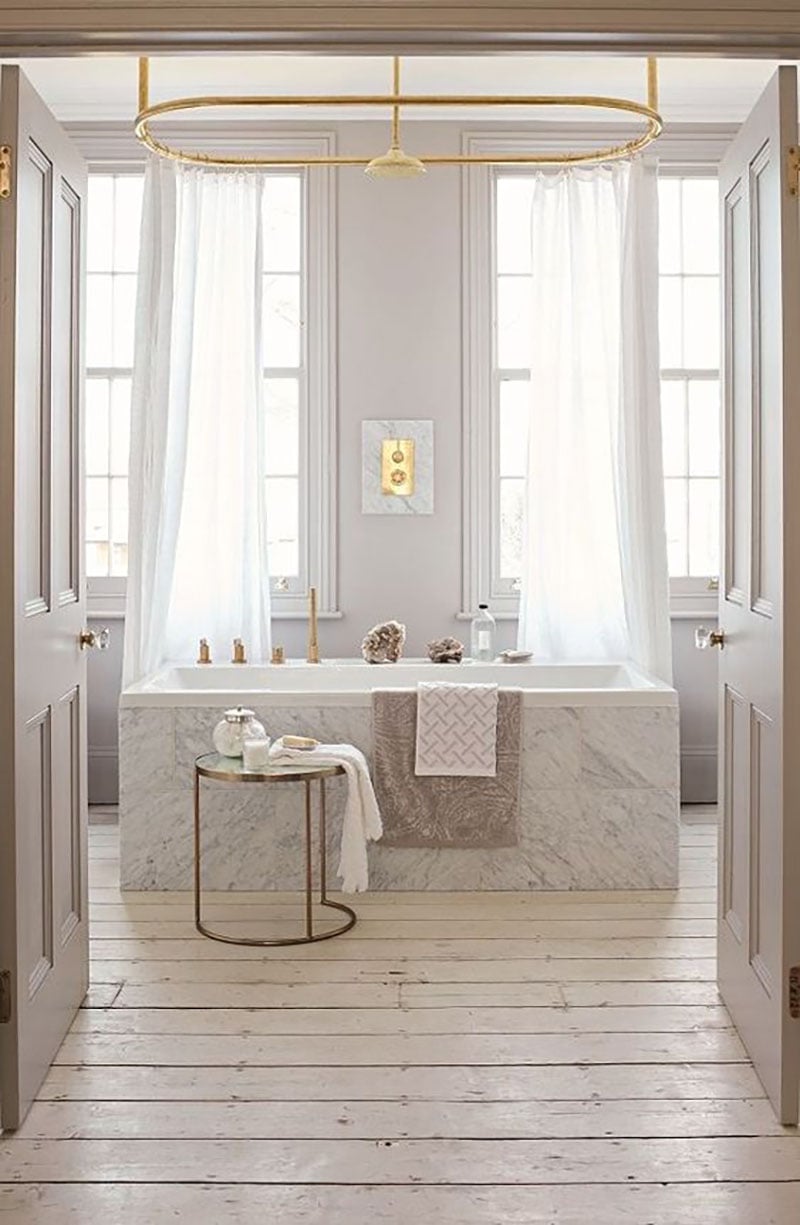 79. Natural Stone Master Bathroom
Natural stone is an excellent option for a bathroom and can be used for the bathroom floor or the walls and countertops. There are several options for stone including marble, granite, travertine, and slate. It is an expensive option, and in turn can feel luxurious.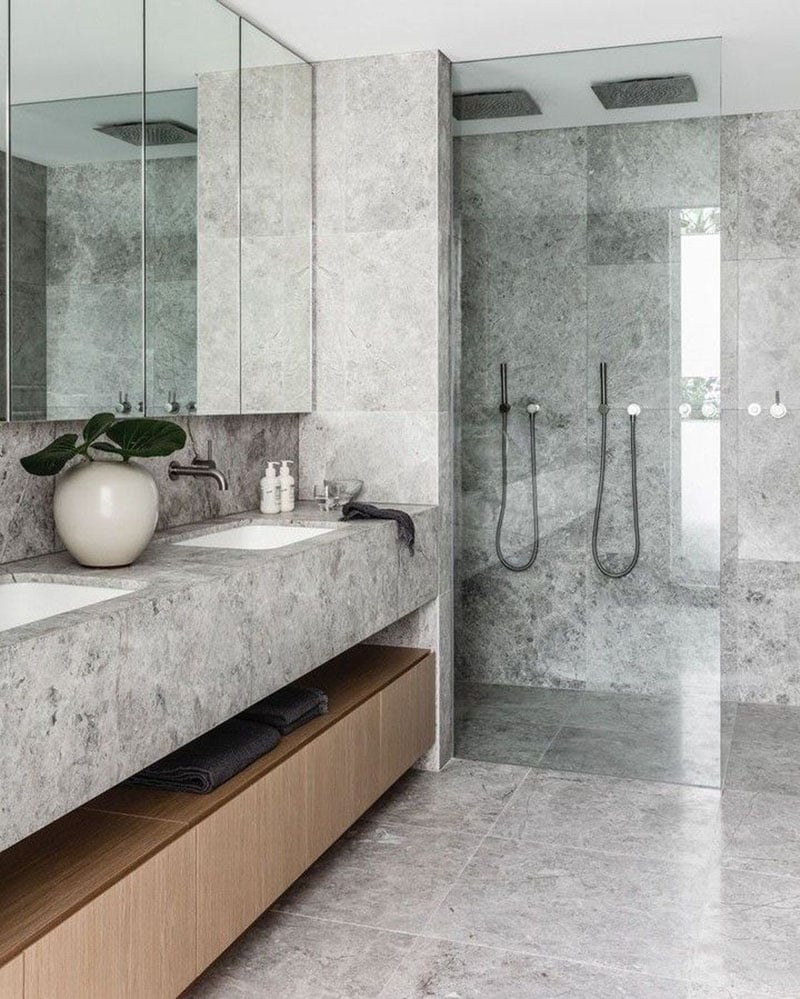 80. Spacious Master Bathroom
Large, spacious bathrooms are great for creating a relaxing environment. Consider the layout before adding any fittings or furniture so that you can best utilize the space. Mirrors and natural lighting will also make the room feel bigger.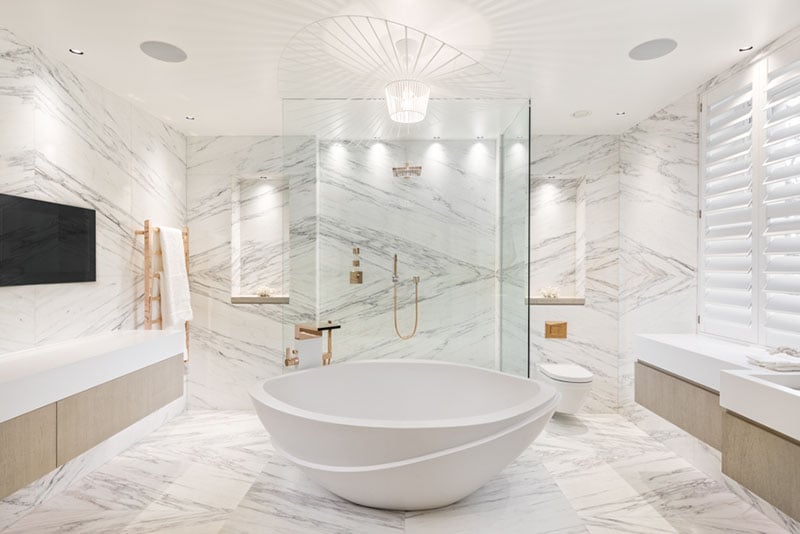 FAQs
How do you style a master bathroom?
There are several ways to style a master bathroom depending on the space, your budget, and your preference. Popular ideas include natural stone floors and countertops, wooden detailing, and a calming color scheme of earthy tones. Add personal touches with wicker baskets, plants, mirrors, and bathroom furniture.
What should I put in my master bathroom?
What you put in your master bathroom depends on the budget and the size of the room. The basics would include a toilet, sink, and shower or bath. A vanity, seating area, or a double sink is excellent for bigger spaces. You can also make the room feel bigger with natural or artificial lighting and the use of large mirrors.
How can I make my master bathroom more attractive?
Updating your bathroom to reflect your personal style will make it attractive to you. This could be with tiling or stone details, warm hues painted on the walls, and wooden details. Natural lighting can make the room feel bigger, and mirrors are a great finishing touch. Try to keep the room uncluttered, but you can add personal touches like art or plants.
How do you design a bathroom layout?
You want to consider the space in your bathroom when determining the layout and avoid making it feel cramped and small, or too empty. For smaller rooms, limit the clutter and find ways to utilize the space cleverly; this could be with a floating cabinet or opting for a shower instead of a tub.
SUBSCRIBE TO OUR NEWSLETTER
Subscribe to our mailing list and get interesting stuff and updates to your email inbox.