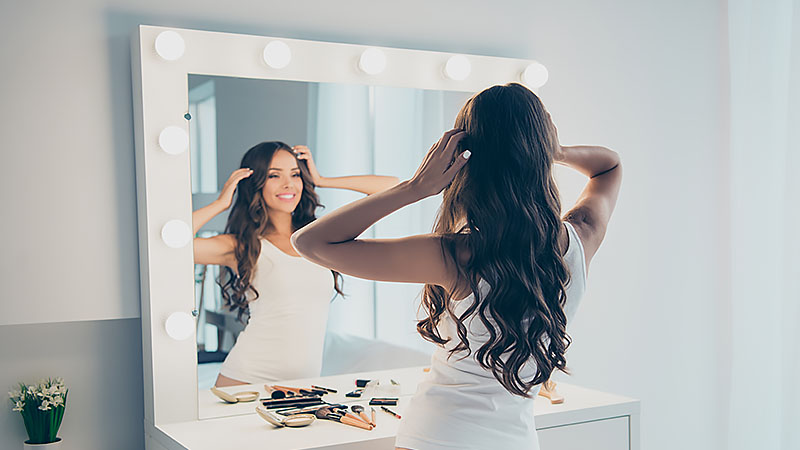 When it comes to applying the perfect makeup, you always need an abundance of natural light. However, by investing in a makeup mirror with lights, your problem is solved. Whether you want to shape your brows or create flawless eyeliner, you can upgrade your beauty routine with one of these fantastic makeup mirrors on the market today.
Best Vanity Mirrors With Lights
1. Conair Double-Sided Lighted Makeup Mirror
Get your makeup perfect every time with this Conair double-sided mirror. Round in design with a chrome finish, it's perfect for any household. With extra bright lighting, you can observe your reflection with an accurate representation of natural light, illuminating your face to perfection. This classic mirror gives you a soft, halo glow and is an essential tool for any beauty lover.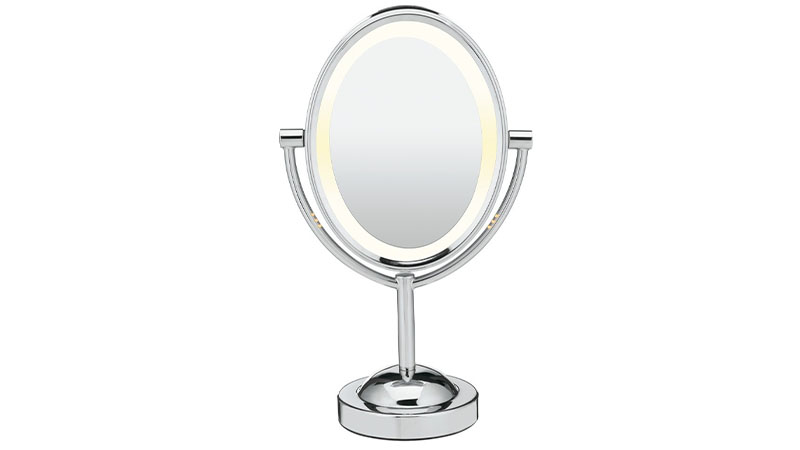 2. simplehuman 5″ Round Mini Travel Sensor Makeup Mirror
This travel makeup mirror is simple, elegant, and compact. As such, it's ideal for taking on your next vacation, so no matter where you are in the world, you'll be looking flawless. There's a sensor light that automatically turns on when it senses your face and shines bright with the TRU-LUX lighting system, which emulates natural sunlight. The bulbs are also LEDs that have a lifespan of 40,000 hours. Enjoy up to five weeks of wireless use on a single charge, which, again, is perfect for travel. Finally, make the most of 10-times magnification for detailed beauty tasks like plucking your brows or getting that winged liner just right.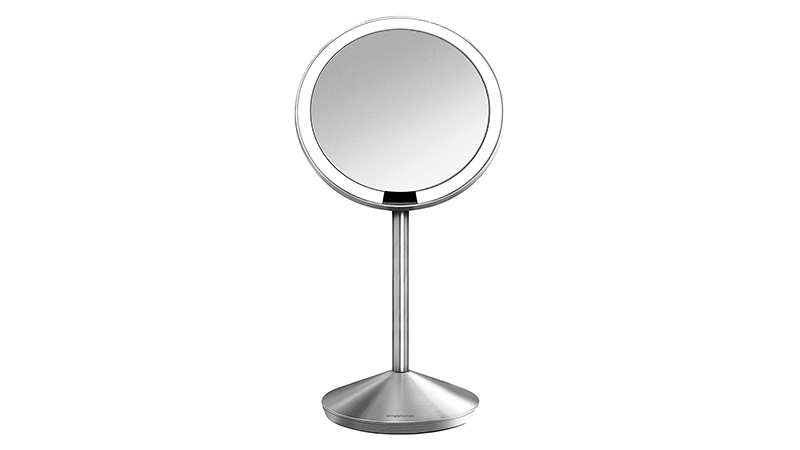 3. Jerdon Tri-Fold Two-Sided Lighted Makeup Mirror
Make life simple with this tri-fold makeup mirror. It features four pre-programmed adjustable settings, including one for the day, evening, home, and office environments, so you'll have the perfect lighting for every occasion. The clean, white frame folds closed when not in use to help prevent dust from gathering on the mirror's surface and make for easy storage. Plus, it allows you to transport the mirror more safely – no seven years of bad luck here! Switch between one-times and five times magnification, so you can see every detail when required. Best of all, there's also a built-in power outlet on the front, so you don't need to worry about finding a second power source for your curler or straightening irons!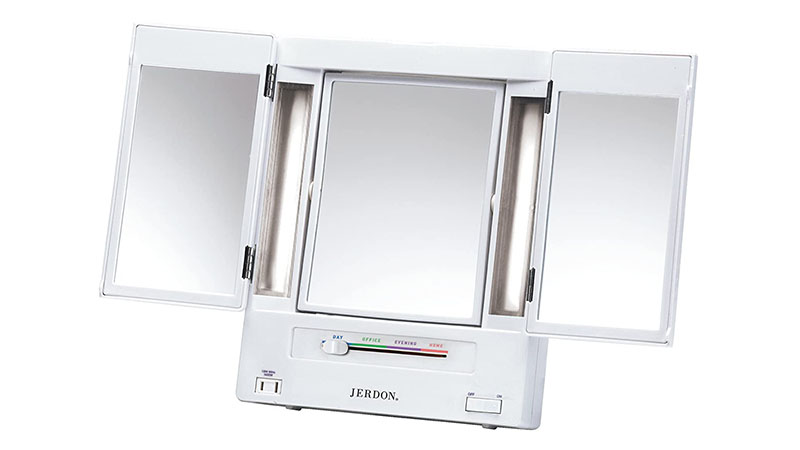 4. WEILY Lighted Makeup Mirror
Add some extra shine to your life with the WEILY Lighted Makeup Mirror. It comes in a selection of great colors, such as rose gold, black, pink, white, and soft yellow gold, so it ties in well with your existing decor. Illuminate every detail of your face with panels featuring different magnification levels, from one, two, and three times. You'll be able to tweeze, blend, and brush with no worries. The light comes from 21 LEDs, with adjustable brightness via the switch sensor. It also uses a dual power supply, so you'll have light no matter where you are. Choose to use USB charging or four AAA batteries. Finally, the base storage has room for hair ties, lipstick, or jewelry, and the mirror can tilt up and down 180-degrees, letting you get the perfect angle.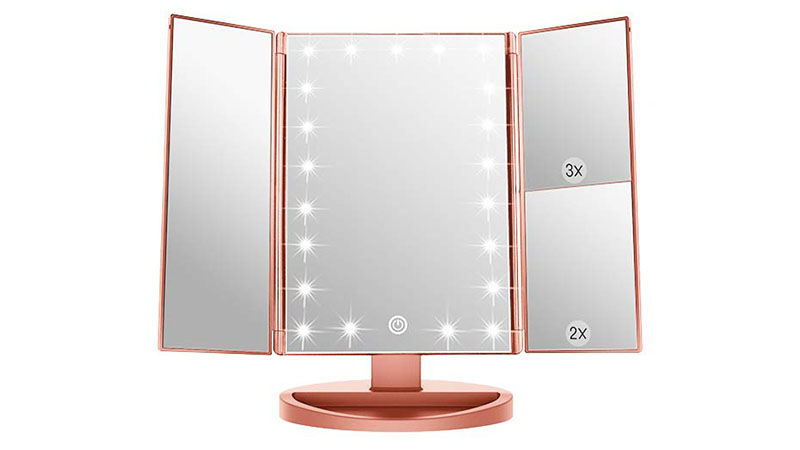 5. Jerdon HL65N 8-Inch Lighted Wall Mount Makeup Mirror
If you don't have a lot of counter space in your bathroom or makeup area, then a wall-mounted mirror is the ideal solution. This design screws in securely and has a 14-inch extension. That means you don't need to do your beauty routine standing right on the wall, but it also tucks back out of the way. Fog-free technology means no matter how hot your shower was; you'll still be able to see. When it's time to start your makeup, select from one or five-times magnification, depending on your requirements. You can also angle it up and down for the perfect view. Lastly, choose from one of four stylish colors – nickel, chrome, bronze, and bright brass.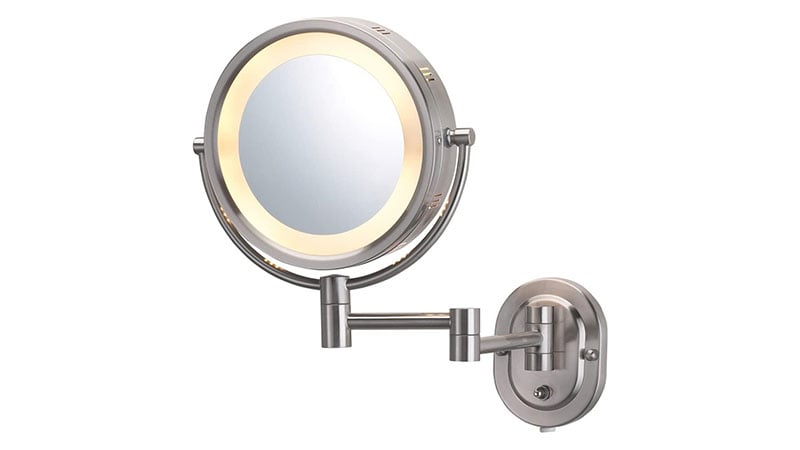 6. Waneway Lighted Vanity Mirror
Channel some old-school Hollywood glam into your morning beauty and makeup routine with this lighted mirror. It features 12 LED bulbs around the outer, reminiscent of a glamourous dressing room. The light emitting from them is warm, natural, and bright so that you can get the perfect finish. It turns on and off with smart-touch buttons, has adjustable brightness, and a memory function that stores your last setting. The large dimensions and solid metal frame make it perfect for setting on a dressing table. You can also tilt the mirror 360-degrees, so you'll get the ideal angle no matter where you're positioned.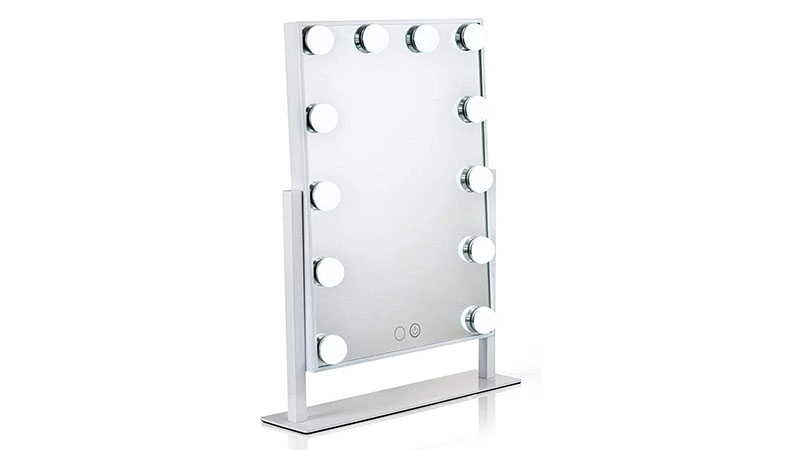 7. 7x Magnifying Lighted Makeup Mirror
Need to add further depth to your morning routine, but don't have an option to install a wall-mounted mirror? Stress no more, as this mirror attaches to your existing mirror, or sits on the benchtop of any surface. This mirror offers 360° rotation and emits a touch-sensitive natural light so that you can capture your flawless application at any angle, in the perfect light setting. Take this mirror with you anywhere you go; it is compact and perfect for the beauty guru on the go!

8. Makeup Mirror Vanity Mirror with Lights
Upgrade your morning routine with this fold-out vanity mirror. With 3x magnification, you can make sure your lipstick is applied perfectly, and brows exquisitely sculpted. Adjust the brightness with the touch display, allowing you to see your face in different lighting settings. With the three-fold and 90° rotation, you can freely inspect all angles of your face, and create a perfect makeup application every time.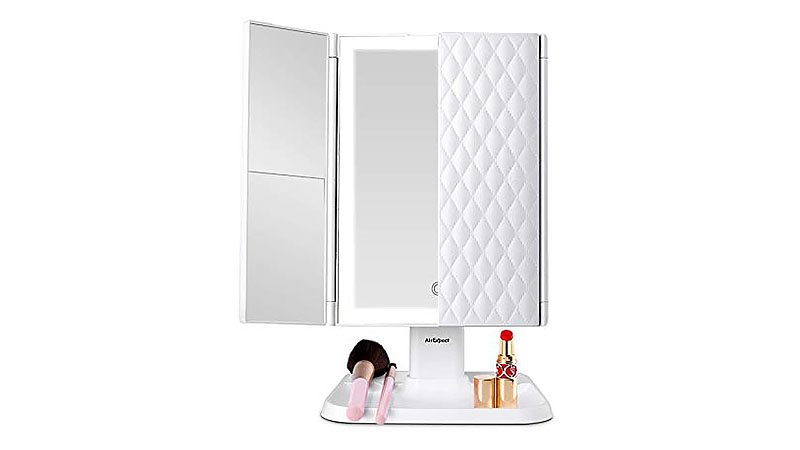 9. Estala Hollywood Vanity Mirror with Lights
Blend classic Hollywood with modern technology, and you've got yourself the perfect makeup mirror. This touch-sensitive mirror ticks every box; touch to adjust the light intensity, 360° tilt, digital clock, and classic Hollywood light bulbs, what more could you want? This mirror is large enough to capture every angle of your face while you get ready, and the LED bulbs emit natural light, offering a realistic view of your makeup application. This vanity mirror will make you feel like a Hollywood actress in an instant, just add red lipstick!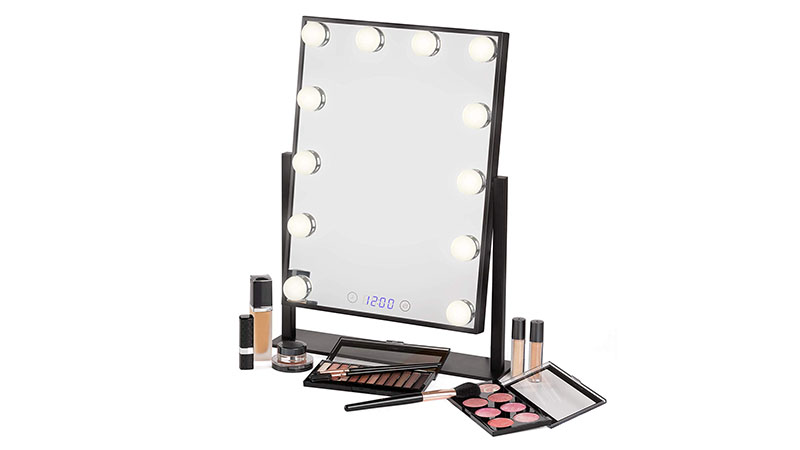 10. Ovente Wall Mount LED Lighted Makeup Mirror
For those who get ready in the bathroom, make sure your beauty regime is on point with this wall-mounted mirror. Classic in design, this mirror has distortion-free 10x magnification so that you can create sharp winged eyeliner, and a precise cut crease easily. Avoid harsh lighting with these LED bulbs, emitting a cool, natural light; flattering you in every way. This mirror is perfect for those who are short on space, as it is compact and yet so functional. For a faultless application every time, this is the mirror for you.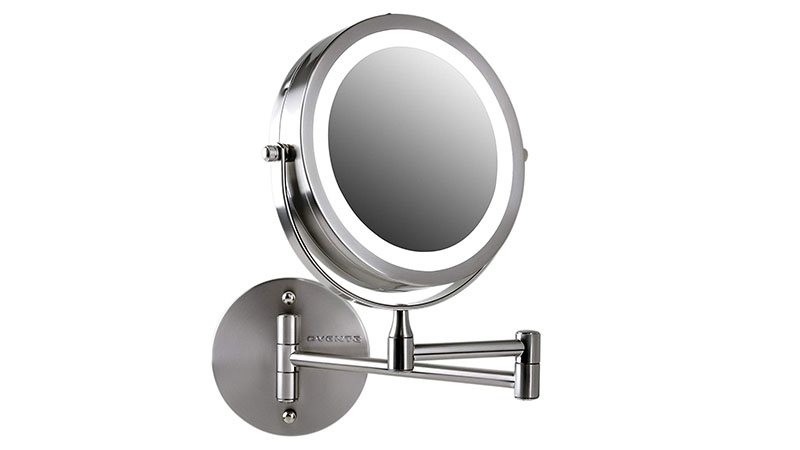 11. Zadro Dual-Sided Glamour Vanity Mirror
Get your glamour on with the help of this vanity mirror. Timeless in design, it offers an infinity dimmer, with a customizable, even light dispersion at any angle, leaving a glare-free reflection. Flip it using the 270° rotation and see yourself with 5x magnification in the extra-large 12″ mirror face. It creates a radiant glow for you, and the stylish design will make you want to show it off.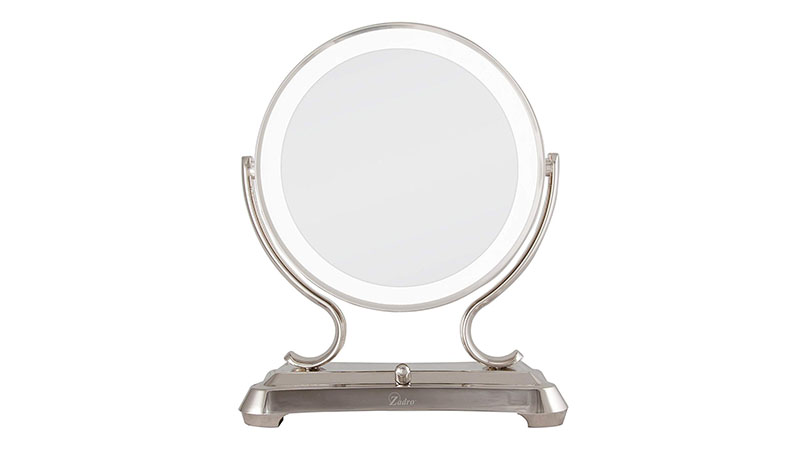 12. Flexible Magnifying LED Lighted Makeup Mirror
Bend and twist this mirror to see yourself at every angle with this adjustable mirror. With 10x zoom, you can blend your eyeshadow to perfection and apply the blinding highlighter easily, without having to move in closer to the mirror. Ideal for those who are detail-orientated, this mirror attaches to any surface, and the gooseneck allows extreme flexibility. With natural LED lighting, you can see yourself in the best light.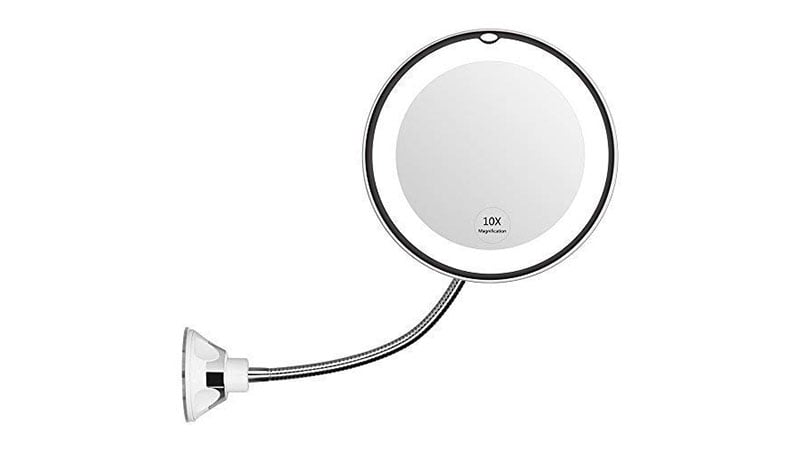 13. Waneway 12-Inch Screen Makeup Mirror with 24 LED Lights
Why have one mirror when you can have two? This innovative product creates the perfect reflective base for your beauty routine; with lights 30% brighter than a regular mirror. Rather than flicking a switch, simply touch the mirror to activate and adjust the lights, remembering your favorite setting for your next use. This state of the art mirror comes with a movable spot mirror, complete with 10x magnification. This is far more than just a mirror; it's an essential tool needed for a flawless makeup application.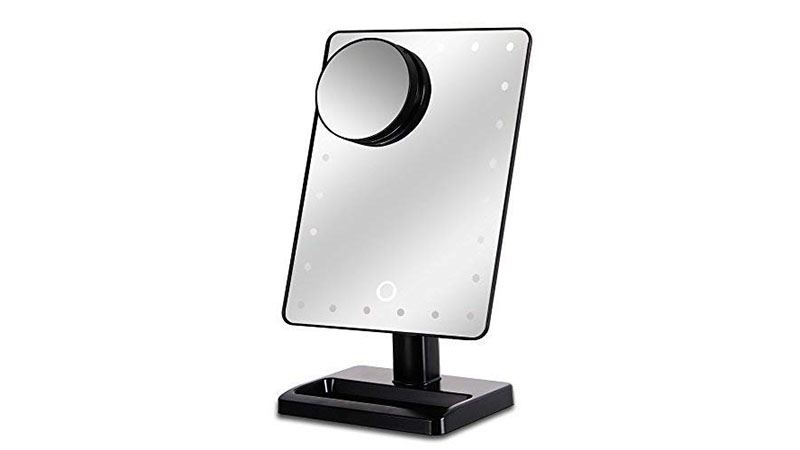 14. Easehold Led Lighted Vanity Mirror
For the days where you need to see every detail, this mirror can help you. With 21 built-in LED lights, you can capture every angle of your face even in the darkest surroundings. This product has everything you need; five overall mirrors, with up to 10x magnification and 180° rotation. It is better than anything ever seen before!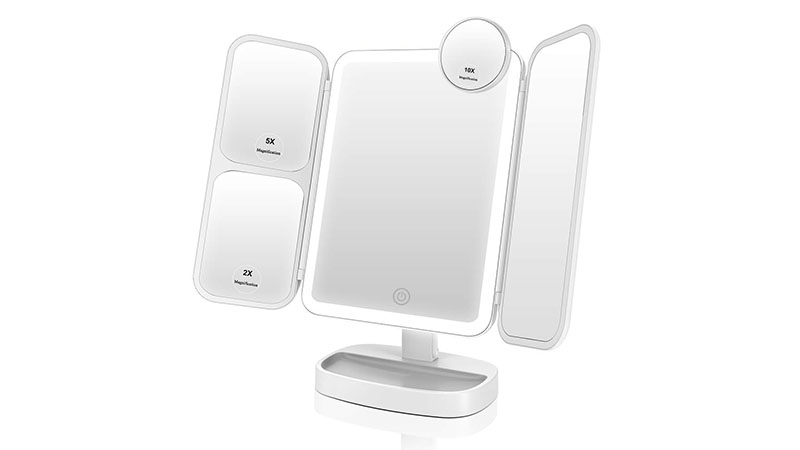 15. Lighted Travel Makeup Mirror
Whether you're checking your eyeliner or keeping your teeth clean, this mirror is the answer to everyone's wishes. Small in size, it certainly packs a punch; with three magnification levels, and rechargeable LED lights, this mirror brightens up any location, and captures every detail, so you get the precision you need. Small enough to hide in a clutch bag, this mirror will let you see yourself in a new light, and you're looking good.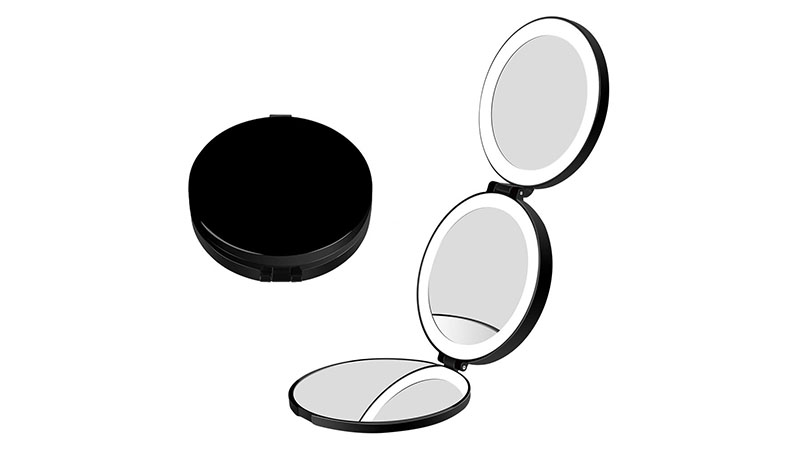 16. Ovonni LED Makeup Train Case
Made for those who take their beauty routine seriously, this freestanding makeup case and mirror combo is the one-stop for you and all your needs. Not only is this case super cute, but it's complete with four trays, a large storage compartment, a telescopic handle for hairstyling needs, and a Hollywood style mirror. Perfect makeup easily thanks to the vanity mirror; the six white glow LED lights to provide a soft, non-dazzling glow.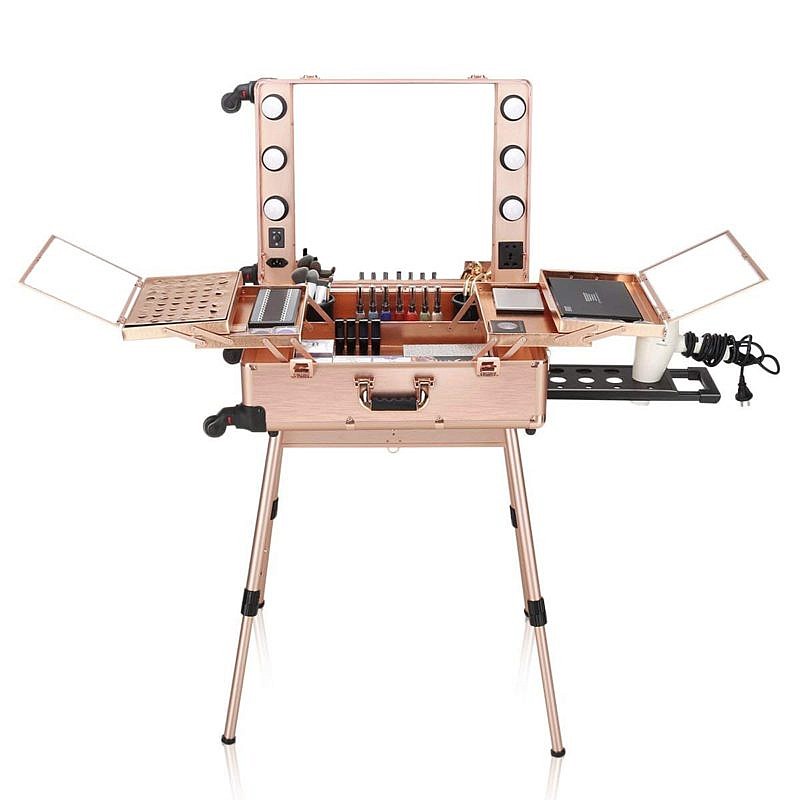 17. Tribesigns Vanity Set with Lighted Mirror
Hollywood is calling with this lighted mirror and vanity set. Stylish, modern, and practical, this vanity and mirror are perfect for anyone who knows they're secretly a star. With a massive mirror and warm LEDs, you can paint every cut crease and contour with precision. The large desktop gives you enough space to keep your brushes at your fingertips. This beautiful vanity lights up any area it's in, and is a great way to get ready in the morning.

18. Studio To Go Makeup Case with Light Pro Makeup Station
Feel and look like a pro with this carry case makeup station. Ideal for beauty pros and special effect artists, this case is the best way to take your cosmetics and tools with you, without the hassle of trying to find a mirror. Featuring a Hollywood-style mirror, the six 40 Watt lights create the perfect atmosphere for cosmetic application, anywhere and any time. The case has sturdy aluminum legs, allowing you to stand it up and comfortably apply makeup like the professional you are. This carry case will have you prepared for anything at all times.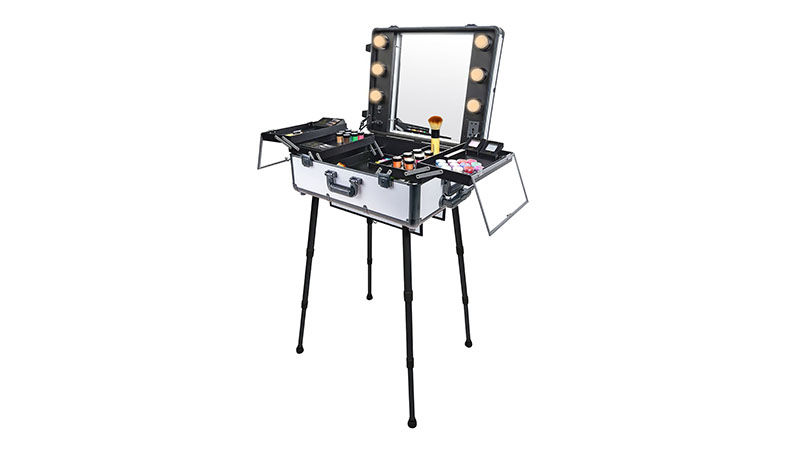 19. Vanity Set with Mirror & Cushioned Stool Dressing Table
Why have a mirror when you can have a vanity set? This dressing table and chair offer a perfectly elegant design and functionality for daily use and are an excellent option for those who like to take their time getting ready. With five drawers, three compartments, and two dividers, you can keep all of your cosmetics and jewelry tucked away, leaving space for your brushes, perfumes, and other items on the desk. The mirror has 360° pivoting capabilities, so you can create a flawless application from every angle, every time. This vanity table is so cute and functional you'll never want to leave it.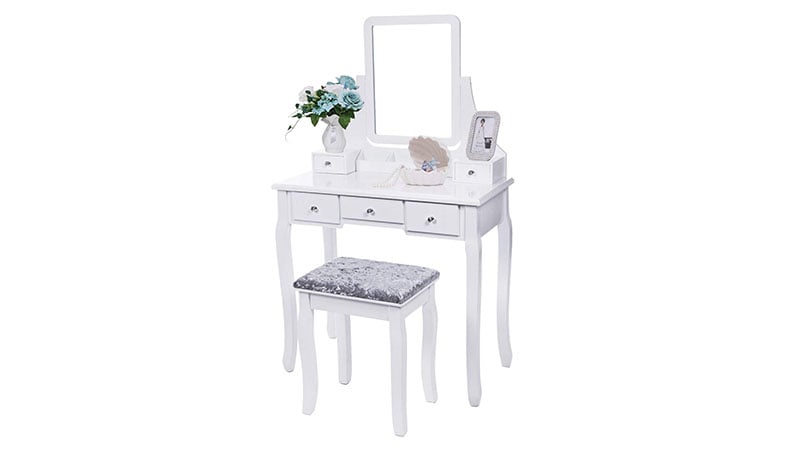 How to Choose a Makeup Mirror
Make getting ready much easier and more enjoyable with the perfect light-up makeup mirror. There are many options out there, so before you add the first one you see to your cart, there are a few considerations to be made. This includes the style and design, material, size, mounting, location, lighting, and magnification.
Mirror Styles and Designs
Circles and rectangles are the two main mirror styles you can choose. What you pick comes down to personal preference and the aesthetic of the space you're keeping it in. Rectangles are good because it shows more of your face; however, circular mirrors are a more classic option, especially in the bathroom. Then, you can select from a range of materials. Plastic is a brilliant, lightweight option that's ideal for traveling, can be battery-powered, and comes in various colors. However, there's a certain elegance to metal-framed mirrors, which can be more sturdy and durable, although heavier.
Size and Mounting
Another decision to make is the size and mounting. Smaller, more compact mirrors are perfect for traveling, though they may not have enough coverage, so you'll still want one that shows your whole face. They're also great for moving around the house if you like to have flexibility on where you apply your makeup. Meanwhile, large mirrors, especially tabletop ones, look glamorous and are very practical but will take up more room. Alternatively, wall-mounted options can be excellent. You'll often find these in the bathroom on a folding arm so that you can tuck them out of the way. Installing one of these is a good option if you're not renting; just make sure to set it at the right height and choose one with fog-free technology.
Lighting and Magnification
When choosing the lighting, you'll need to consider what you're using the mirror for most. If it's for makeup, then lighting that emulates natural sunlight is the best, such as LEDs or fluorescent. While these can be a little confronting, they are the best for covering imperfections and ensuring adequate and even application. In terms of magnification, the typical range is two to ten times. The more magnification, the better it will be for detailed work, such as intricate makeup or plucking your brows. However, the higher number also means slightly more distortion. Three to five times magnification is sufficient for most uses.
FAQs
What lighting is best for a makeup mirror?
LED and fluorescent lights are the best lighting options for your makeup mirror as they most closely emulate natural light. While it can be confronting looking at your face with that kind of light, it gives you the best opportunity for even, flawless makeup application. The best shape for lighting is a round light surrounding the mirror, so none of your face falls in shadow.
What is the best magnification for a makeup mirror?
The ideal magnification is between five and ten times. A five is a popular option that balances price with function and is perfectly adequate for daily makeup. Meanwhile, seven and above gives you better, closer access to your face, so applying intricate and detailed makeup is much easier. It's also great for spotting blemishes and plucking your eyebrows.
Are vanity mirrors worth it?
Most people can do an adequate job on their makeup and beauty routine in the regular bathroom mirror. A vanity mirror is worth it if you want to level up your game. It gives better lighting and better access to your face, so your application is more even, blended, and flawless. Plus, it provides greater flexibility on where you do your makeup, which is perfect if you're always waiting for your roommate to get out of the shared bathroom. Plus, it's ideal for nighttime, when you won't have any natural light to help out.
Is warm white or cool white better for makeup?
Daylight is the ideal choice but isn't always available. With artificial light, warm white lighting is much more flattering, but cool white is better when it comes to applying makeup. It tends to be brighter, illuminating your face better to achieve more even application and coverage. Just make sure not to go too cool with blue undertones — stay as neutral as possible.
Is LED lighting good for applying makeup?
LED lights are great for applying makeup. They're bright, even, energy-efficient, have better color options, and can be dimmable with some mirrors.
SUBSCRIBE TO OUR NEWSLETTER
Subscribe to our mailing list and get interesting stuff and updates to your email inbox.