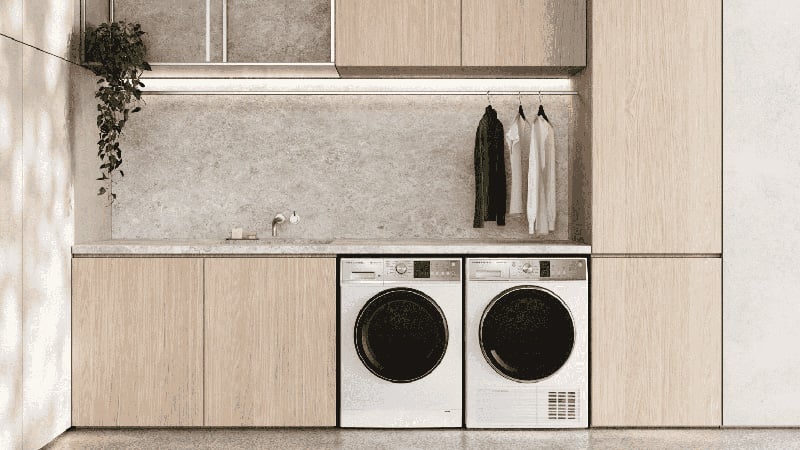 Your laundry is the room used for cleaning and storage and is not a place that you typically spend a lot of time in. However, the right use of space and decor will make you excited to enter this room instead of dreading it. Clever storage and adding personal touches to your decor lets your laundry reflect your style. For those with smaller homes, you can create your laundry room under the stairs, use raised appliances or cupboards, or even combine it with other rooms like your study or kitchen. Experiment with natural lighting, colors, and modern or rustic elements, or keep it simple. Your laundry room can be practical, functional, and beautiful, and these are great ideas to update it.
1. Add Some Plants
Adding plants to your laundry room can really transform it into a beautiful and zen space. You can add wooden details and minimalistic decor to achieve a clean design that is perfect for the area dedicated to washing your clothing.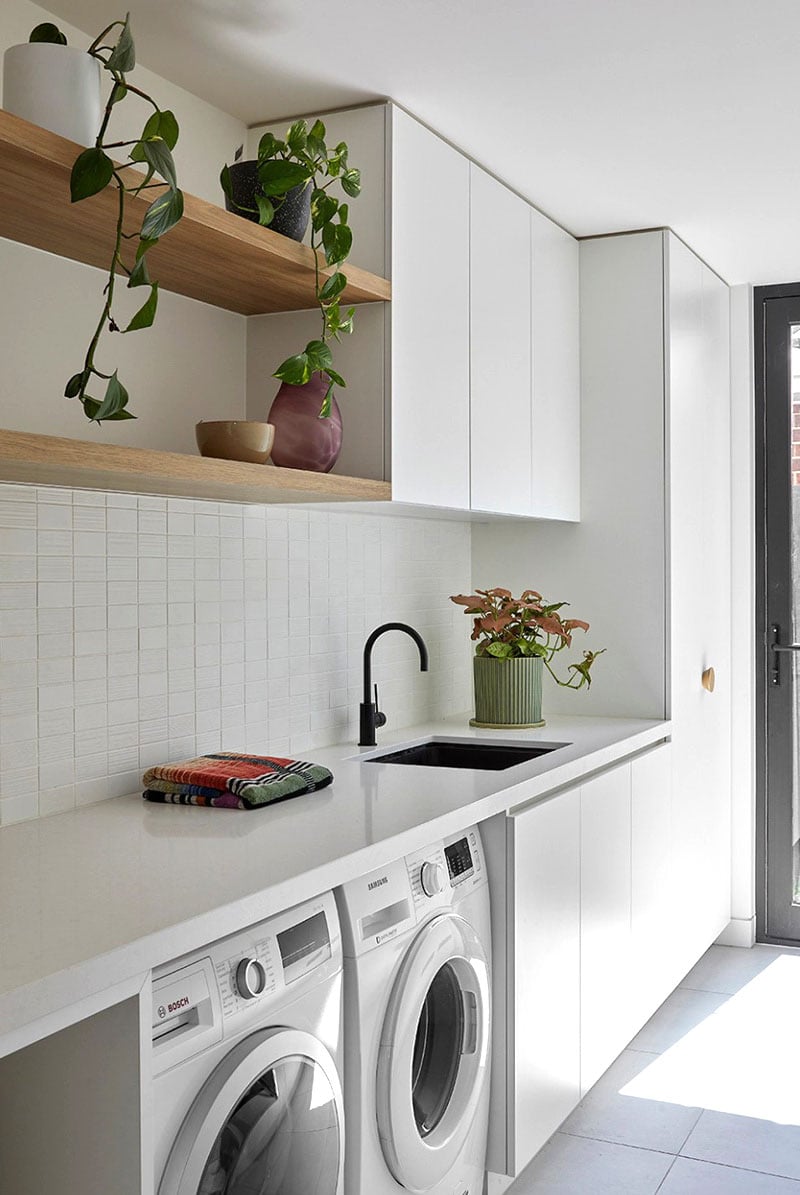 2. Luxe Touches
For a laundry room that looks and feels expensive, you can achieve this with luxe touches. This is done by purchasing high-quality fittings and furnishings and mixing materials like marble and wood for a stylish finish. There is no better way to reflect your love of luxury and the finer things in life.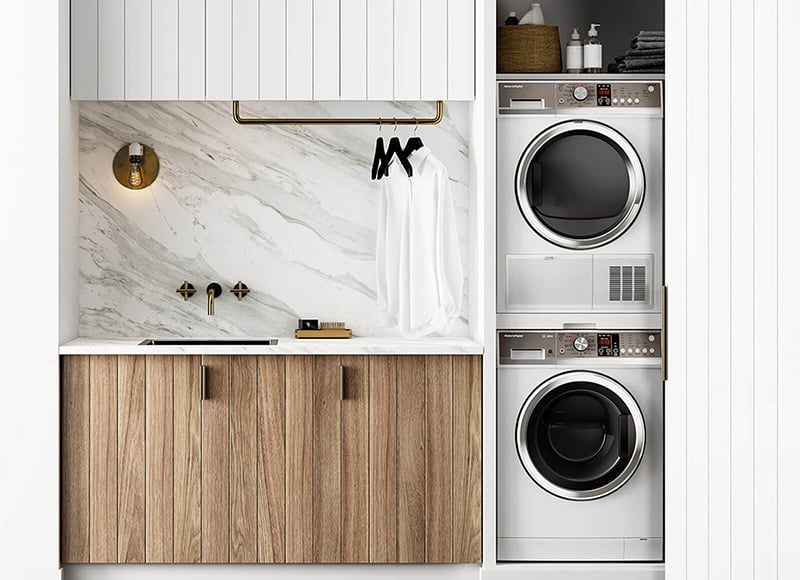 3. Barn Doors
Barn doors are an excellent choice for a laundry room, making it easy to enter and exit when you have a basket full of clothing in your hands. In addition to their practicality, barn doors can also create a stylish finish and make the room appear bigger when left open.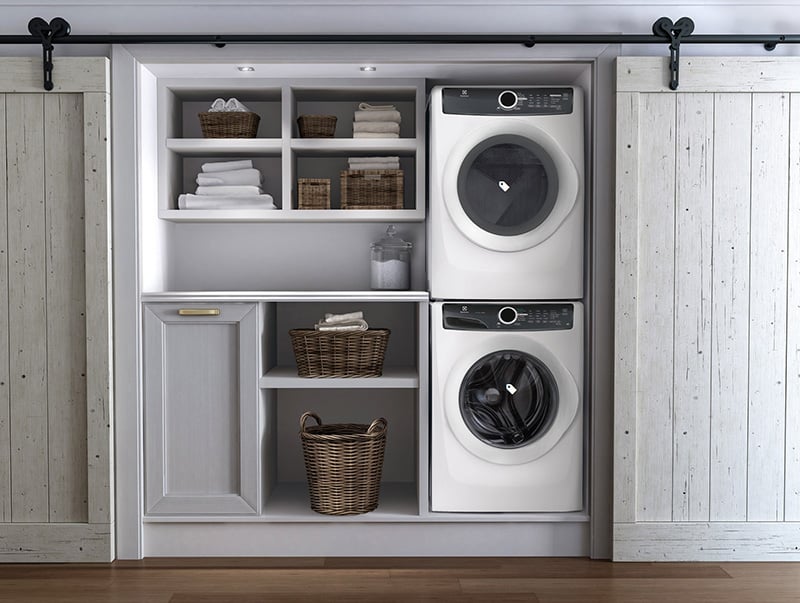 4. Monochrome Design
The monochromatic color scheme is a popular one because it is incredibly versatile and makes a statement. How you include the colors is up to you, giving you plenty of options to get creative; this could be with the laundry room tiles, the paint on the wall, or even the artwork in the room.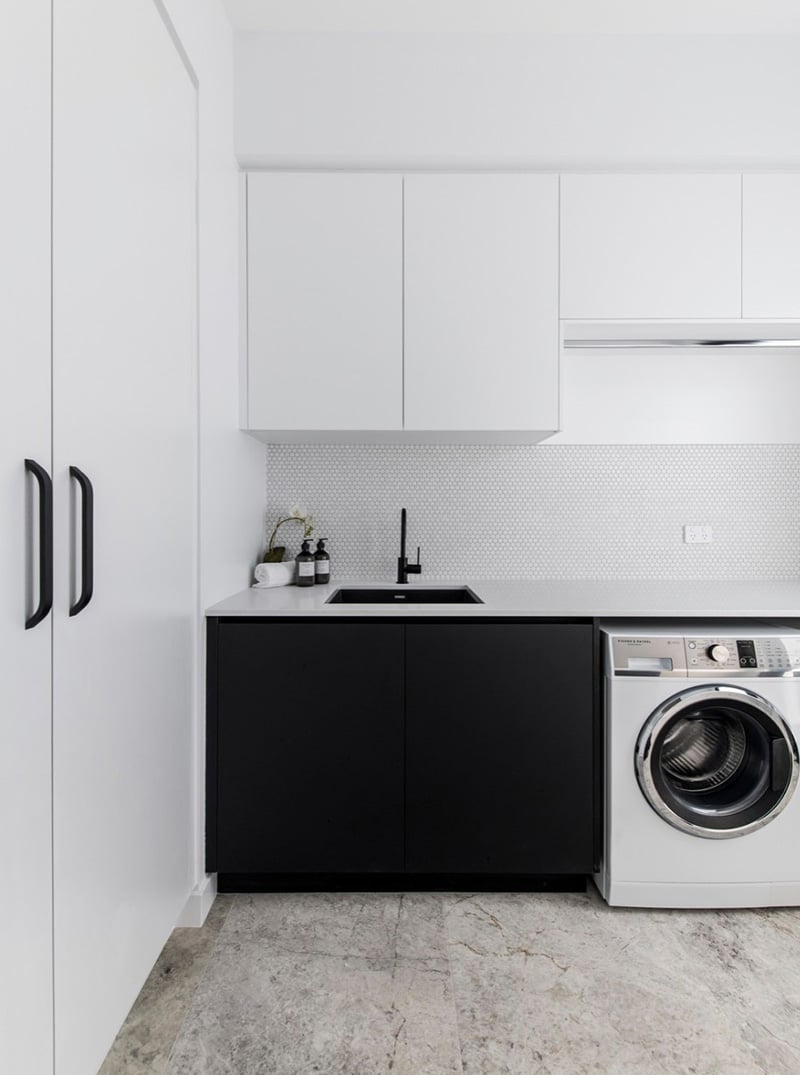 5. Brushed Brass Fittings
Brass fittings are trending and are a fantastic choice for a laundry room because it is durable and resistant to corrosion. Brass also has good tolerance to temperatures. Not only this, but brass can also give your laundry room a pop of color.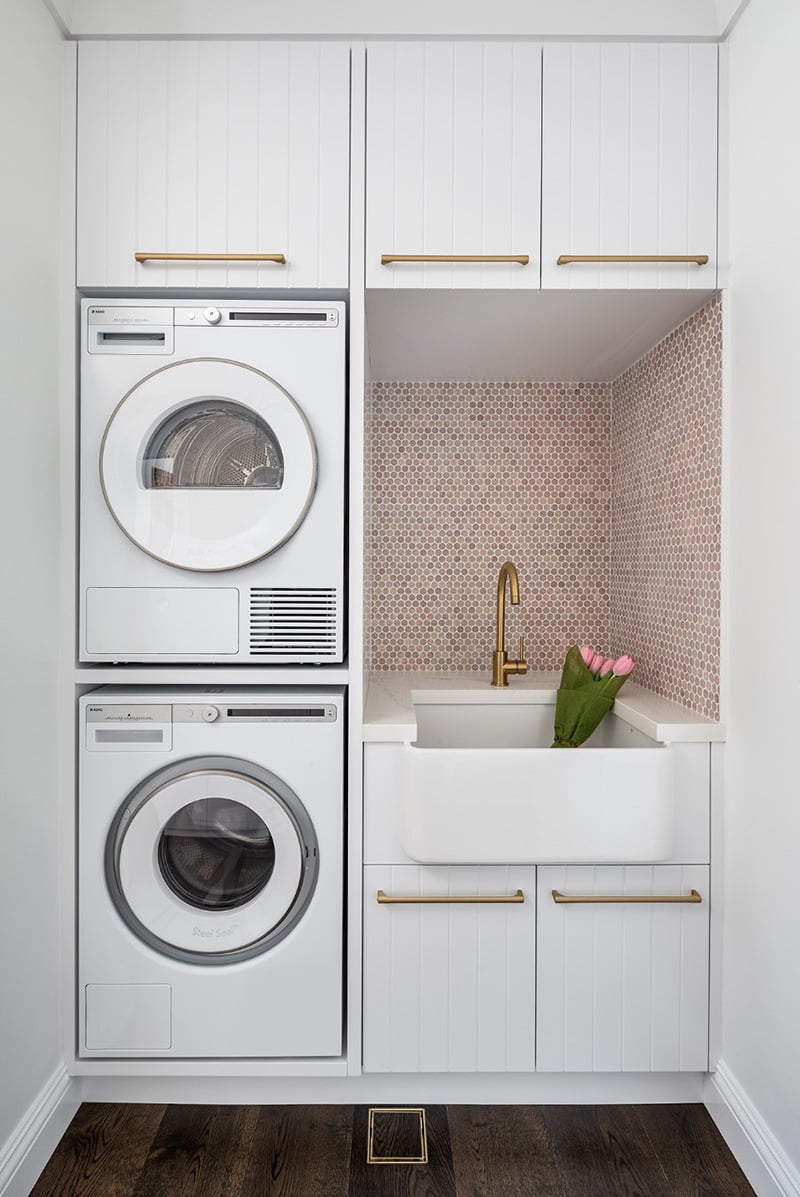 6. Choose the Right Appliances
Choosing the right appliances is essential when it comes to your laundry room. You want to focus on brands that come with a warranty. However, you can take this one step further, choosing appliances that fit your home's aesthetic such as the color and if they are front or top loader.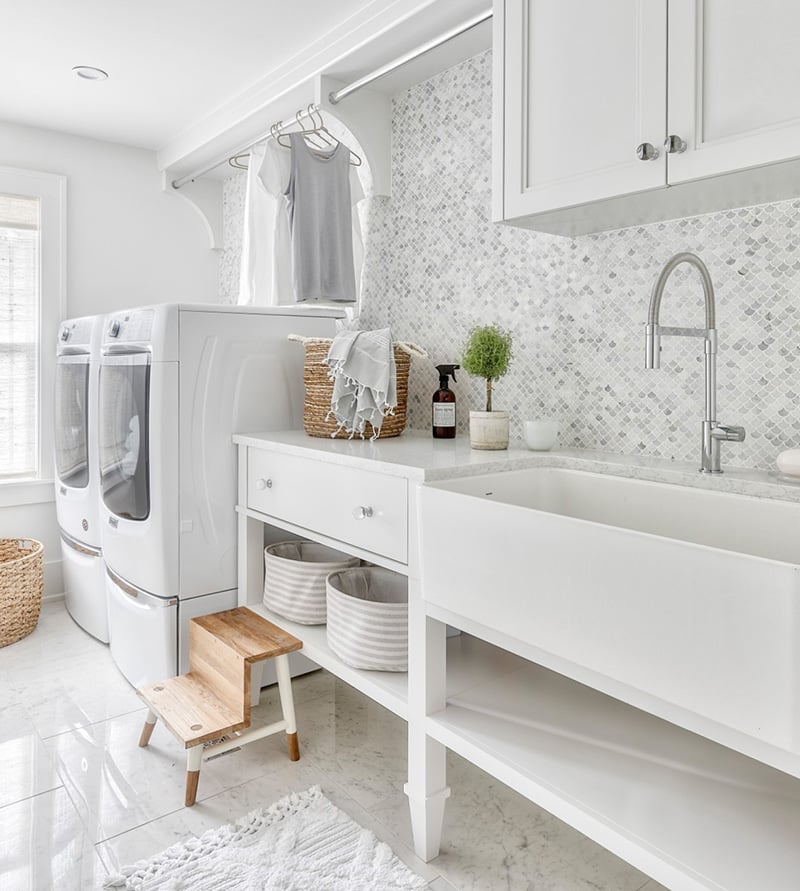 7. L Shape Laundry
An L-shaped laundry room allows you to utilize the space in a clever way and can make the room feel bigger and brighter. Opting for a clean design and a neutral color scheme will create a modern room that you will enjoy spending time in. You will also benefit from having wall shelving, giving you more space for storage.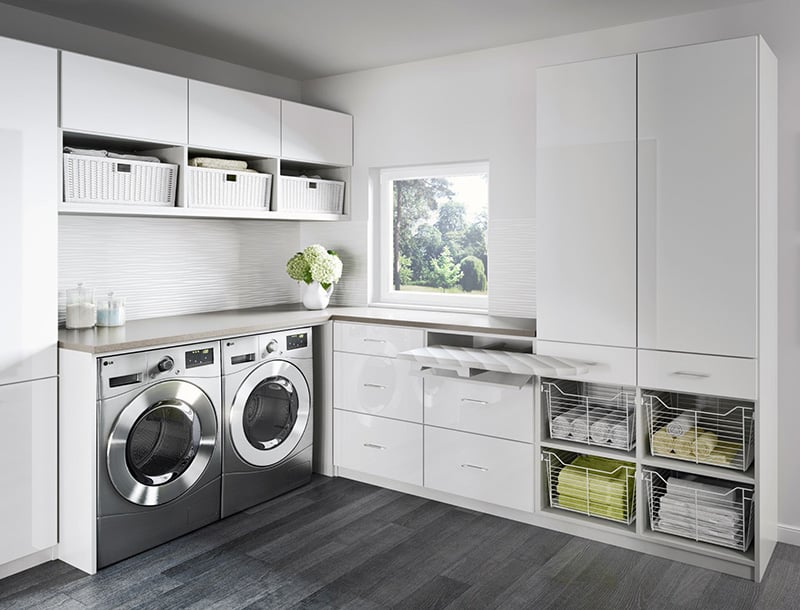 8. Plenty of Storage
Having a laundry room that has enough storage space is essential. This is a place where you keep your washing softener, bleach, and any other detergents, and storing them safely is important. Wall shelves and hangers let you hang up your clothes and pack them away as soon as they are clean. Consider the layout of the room and use it wisely.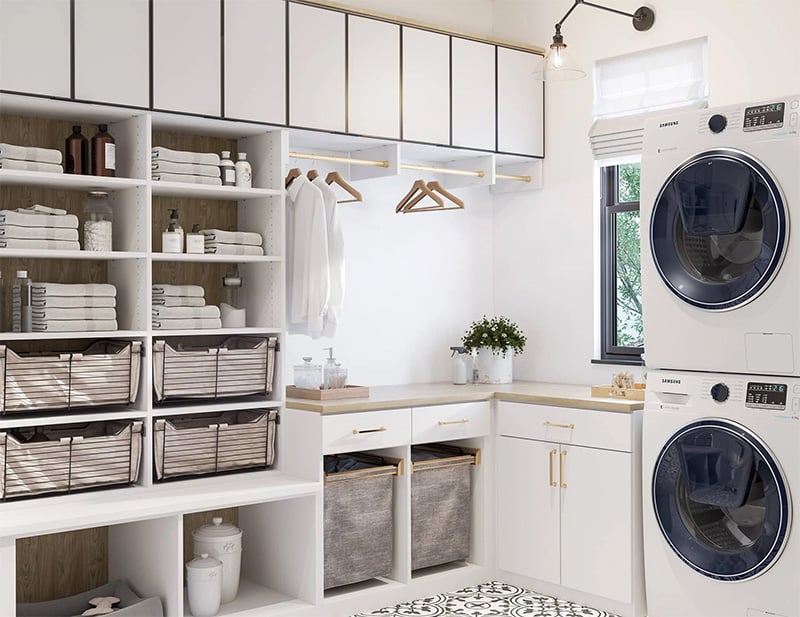 9. Creative Use of Space
If you have a small laundry room and want it to feel bigger, or if you need a lot of storage space, you need to come up with a creative solution. This could include placing shelves above your appliances and using coat hangers or racks along the wall.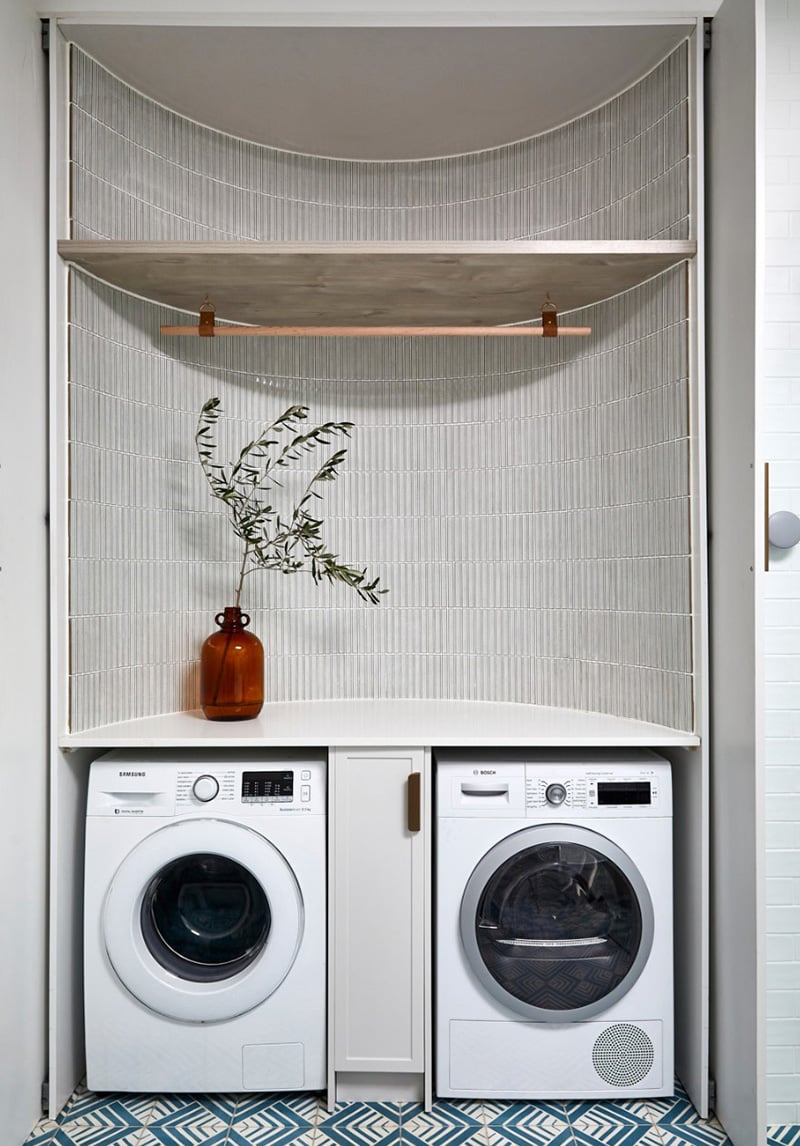 10. Feature Art
You can add personal touches to your laundry room like artwork to keep it the same style as the rest of your home. Hanging art on the walls can turn this room from drab to fab and make you more likely to spend time in it.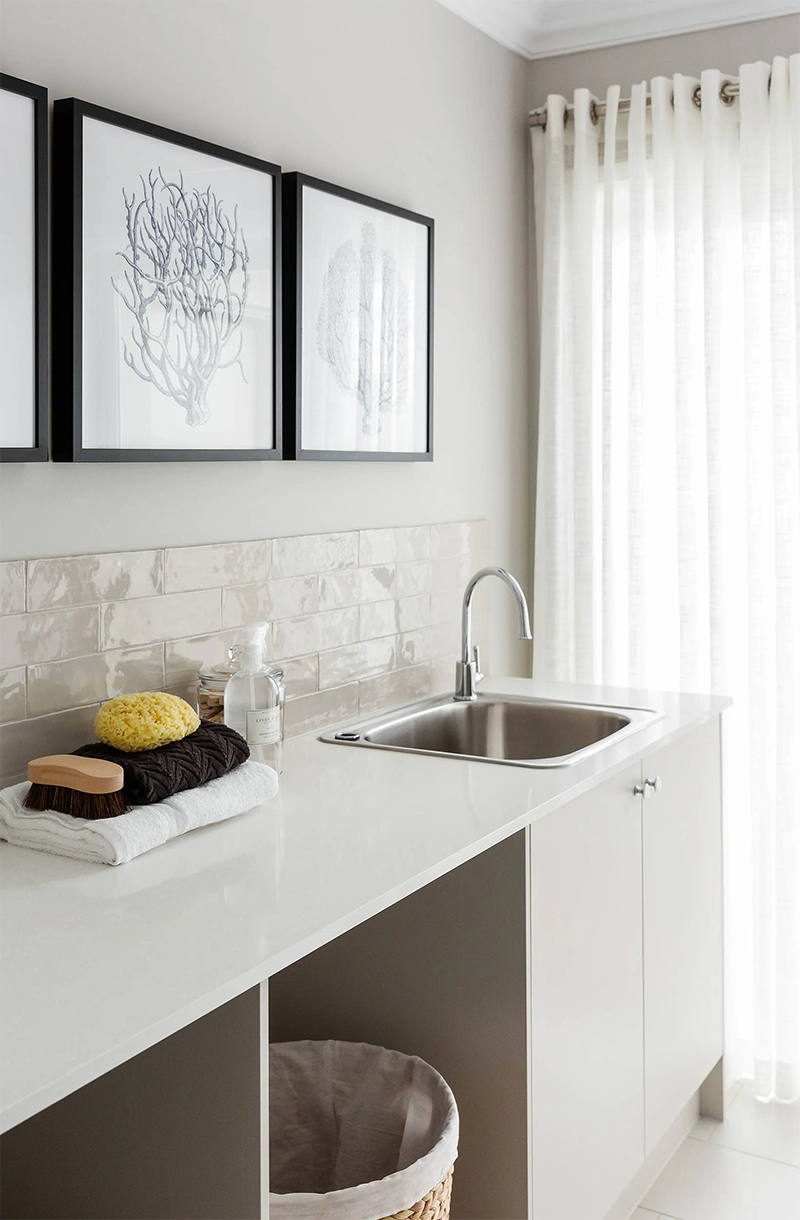 11. Cool Splashback
Creating a statement wall in your laundry room is an excellent way to show off your style and make the room feel more modern. This can be achieved in several ways, including a feature splashback created with tiles. The contrast in the materials from the standard wall to this piece will make it stand out.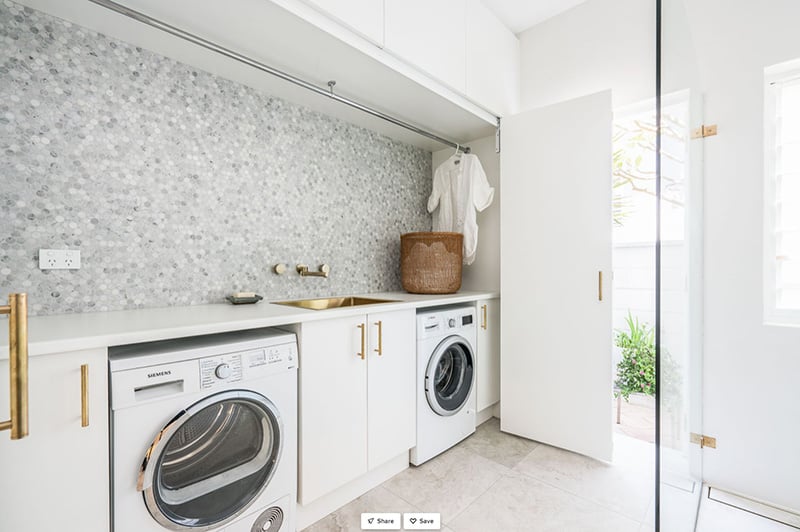 12. Door to Clothesline
If your laundry room opens out onto the garden, you can make the most of this by hanging a clothesline to dry your garments. This is a practical and functional option. You will also benefit from adding a door with a lot of glass to maximize the natural lighting.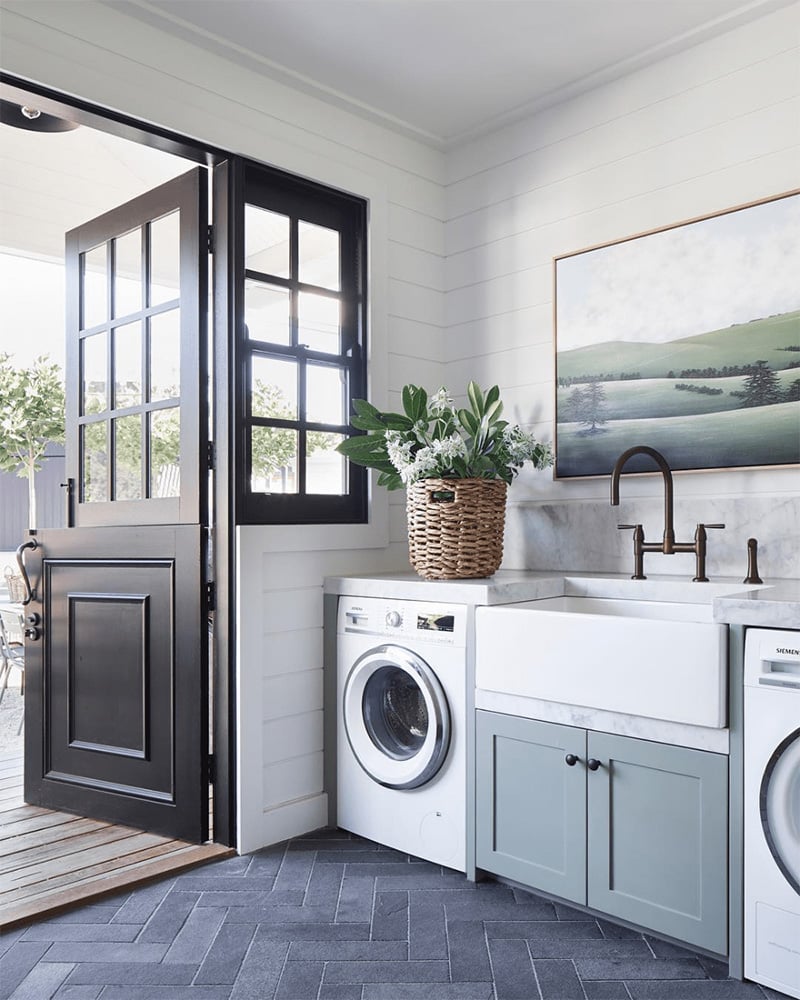 13. Farmhouse Laundry
The farmhouse design is simple, rustic, and chic. The decor makes the room feel warm and inviting, which can also be achieved with a cream or off-white shade of paint, and it has a relaxed aesthetic. Consider adding personal touches like interesting light shades, unusual shelving, or a statement rug.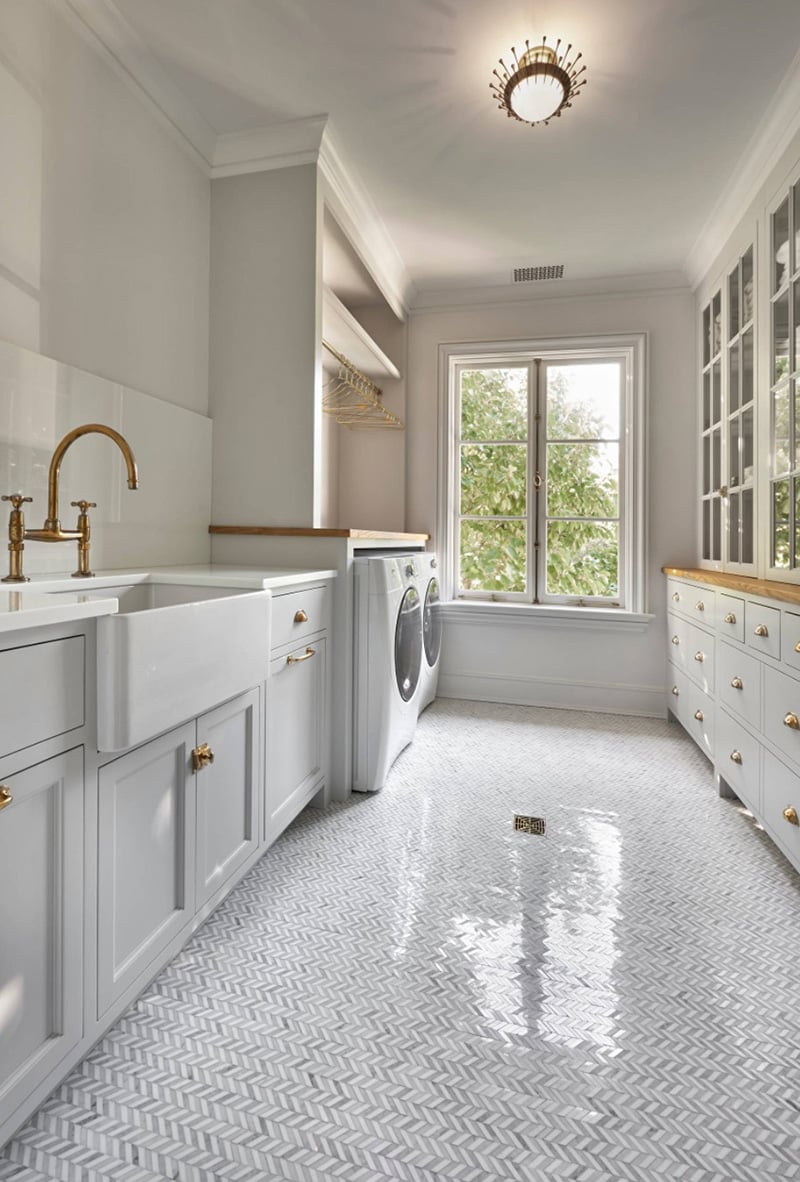 14. Drying Rail
Hanging rails are functional, but they can also be a statement in the room. You can choose a fitting that lets you show off your love for the finer things in life, or it could be created from wood for a rustic finish. Use this as an opportunity to let the room reflect your style.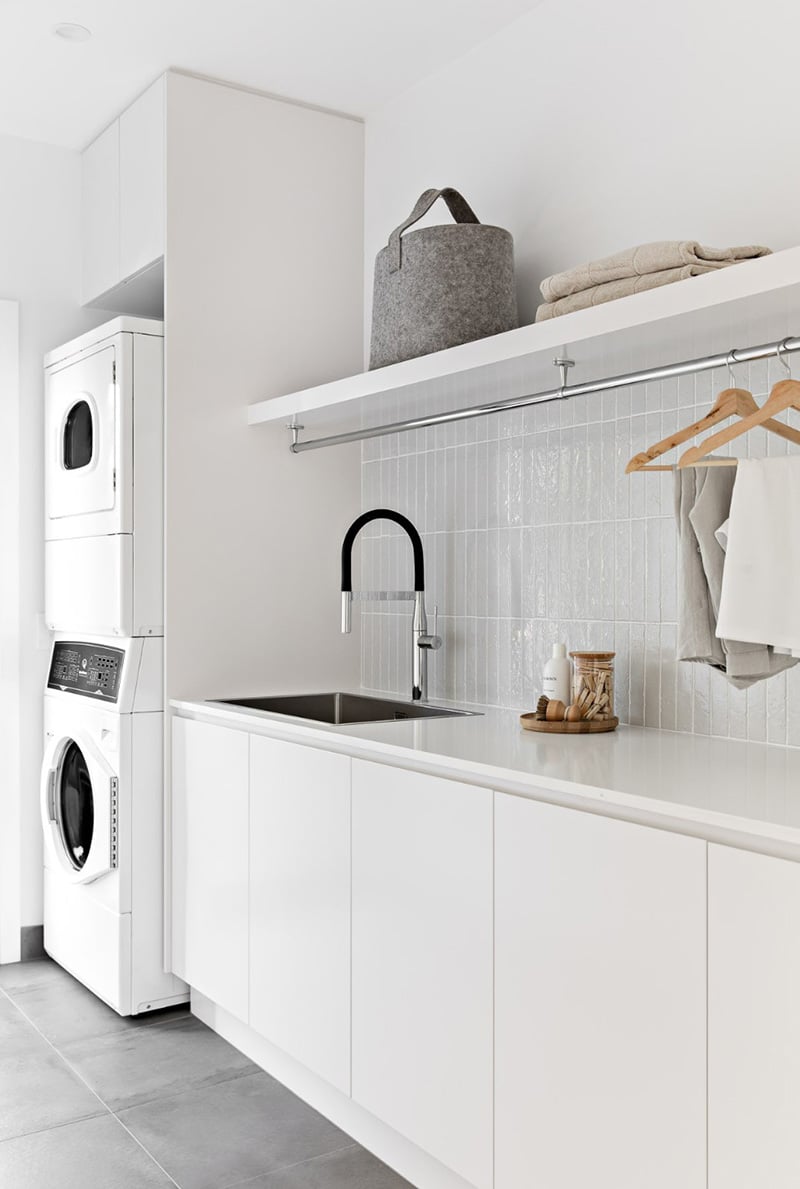 15. Concealed Ironing Board
To avoid having your laundry room look cluttered and feel smaller, you need to have a clever use of space. This can be achieved in several ways, including hanging shelves and storage for appliances, including a concealed ironing board. This will make the room feel bigger and give you more space to do your laundry.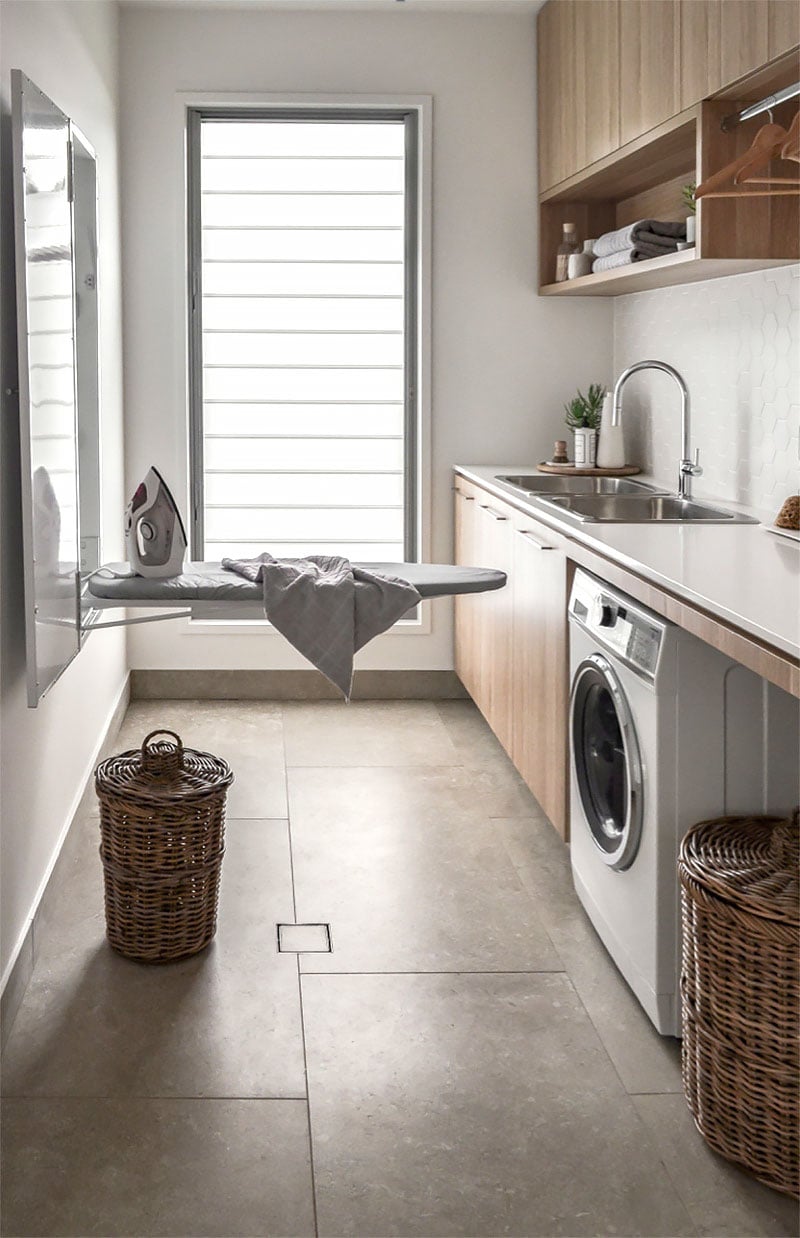 16. Laundry in Bedroom
Undoubtedly one of the most important aspects of any laundry room is the space. If you have a spacious bedroom, you can add shelving or even closets and let your laundry room double as a dressing room. It also makes it easy to pack away your clothing as soon as it is clean and dry.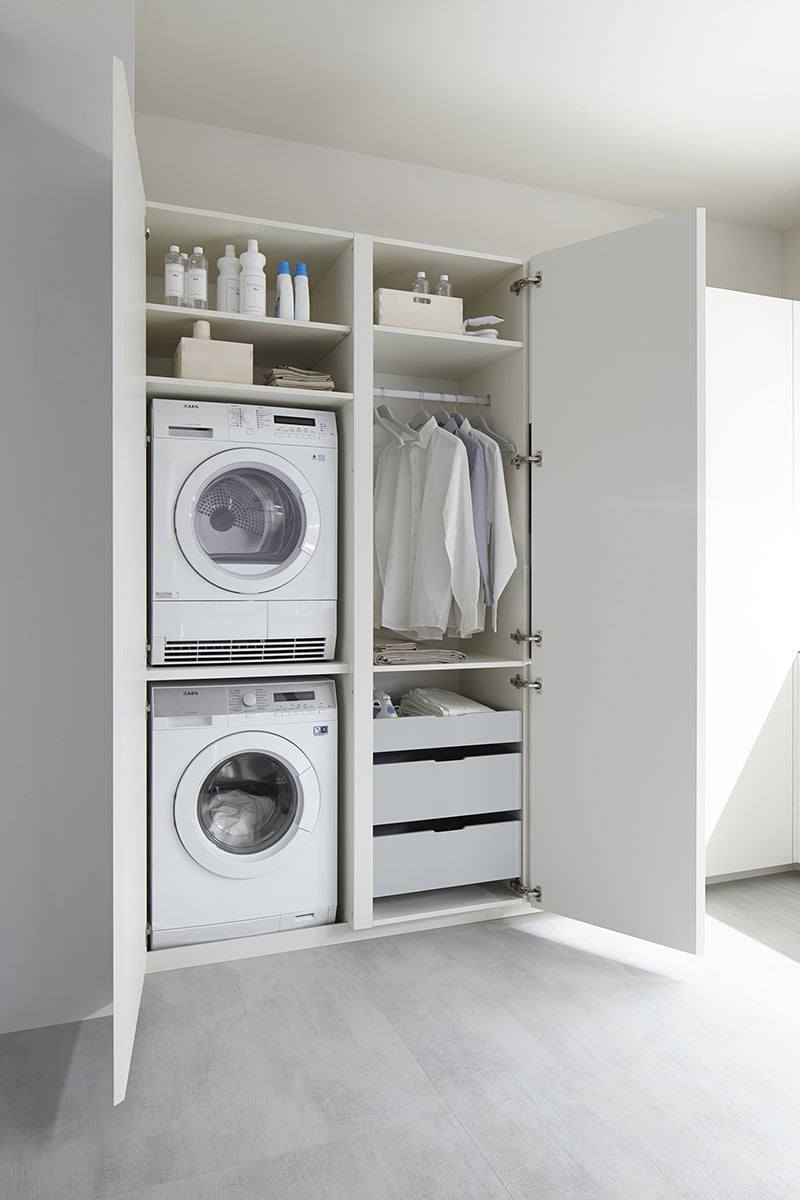 17. Feature Light
Having good lighting in any room is essential, and lighting can make the space feel bigger. A feature light can be the focal point in your laundry room, letting you add your personal touch to the room without wasting space.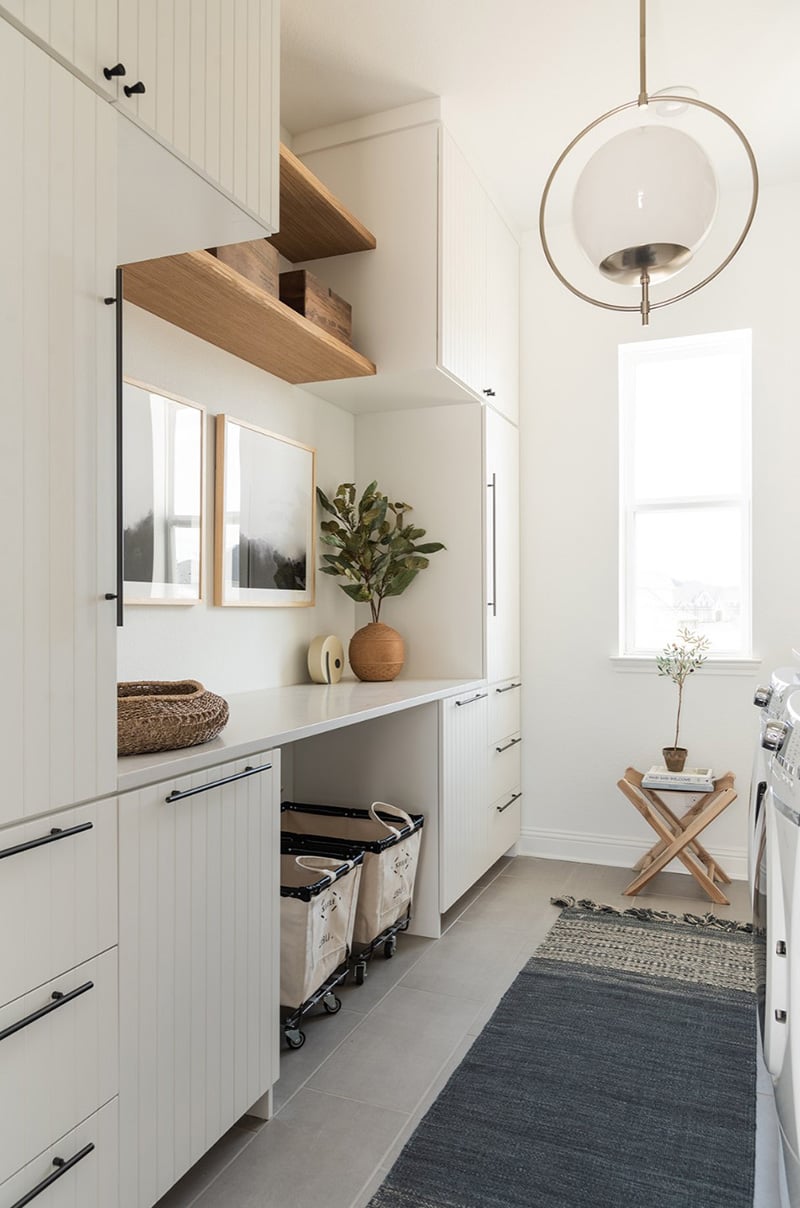 18. Laundry Chute
A laundry chute is one of the most practical additions to any laundry, letting you drop clothing from the higher floors into the room. This vertical shoot is less popular in modern houses but can add character to the room.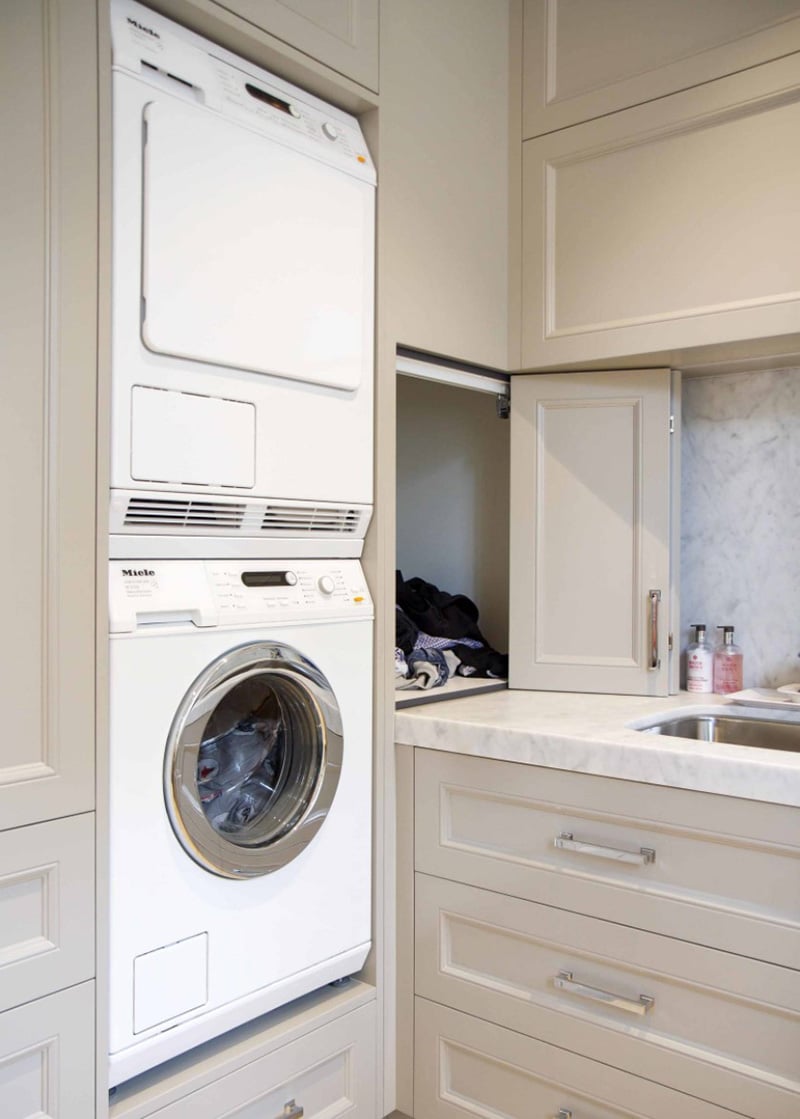 19. Incorporate a Mudroom
The mudroom is a practical addition to any home, allowing you to remove your dirty shoes and outer garments before entering the home. This lets you keep the rest of the house clean. Incorporating a mudroom into your laundry will make life easier for you, as you can throw your items straight into the washing machine.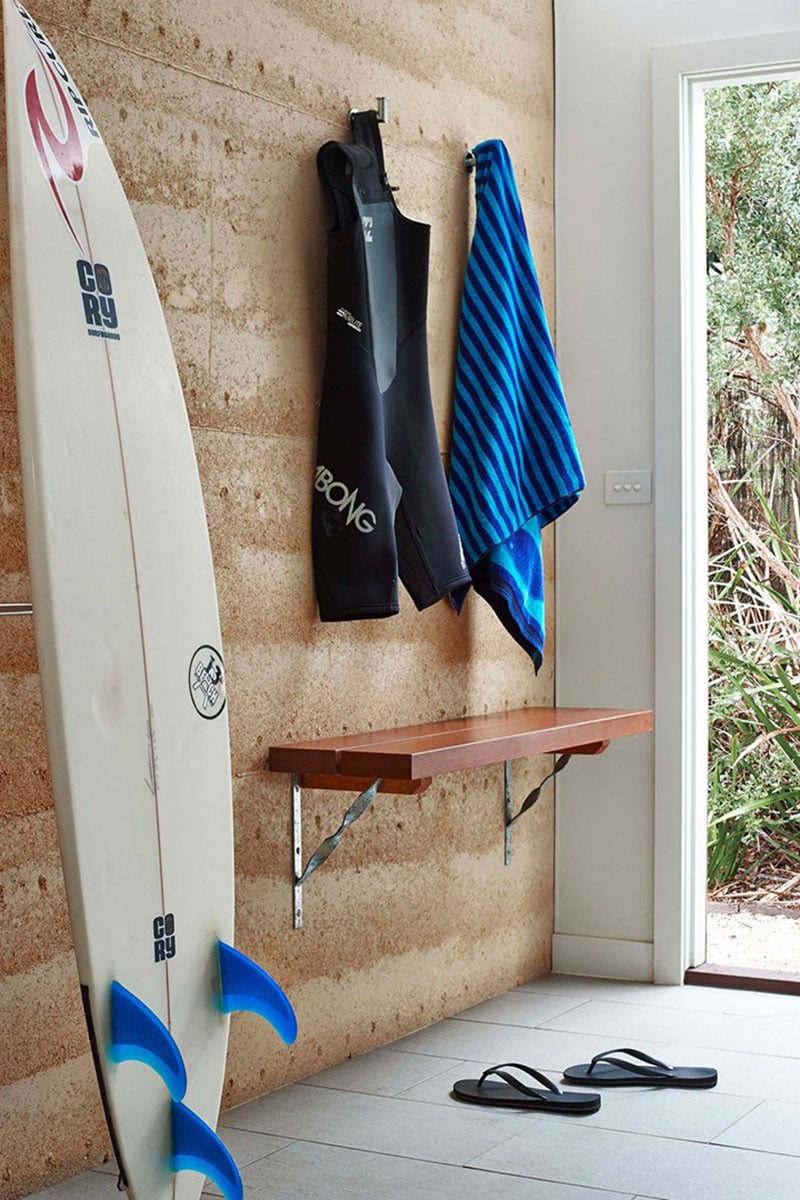 20. Glass Splashback
Glass is a wonderful addition to any room because it can look modern and stylish. It also serves the practical purpose of letting in light, or you could use it as a splashback in your laundry, featuring behind your appliances for a statement finish that is easy to clean.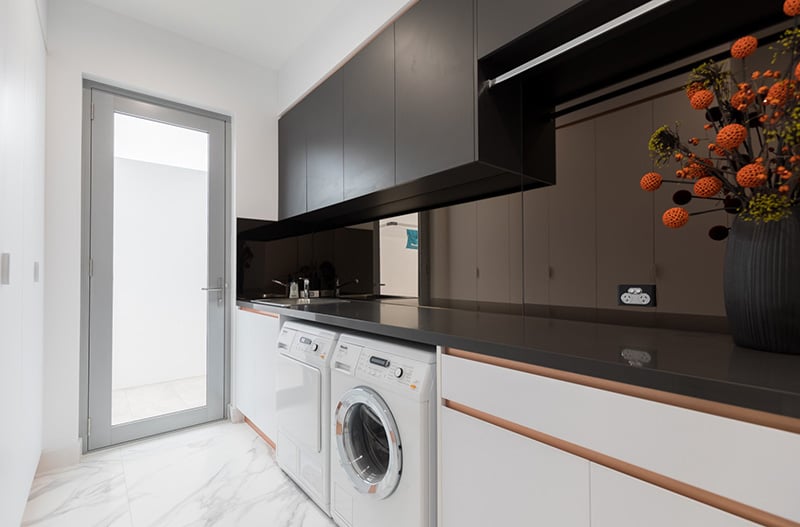 21. Laundry in Kitchen
Open-plan rooms can combine the laundry and the kitchen. This is an excellent option if you want to save space, not having a designated washing room. Stack the appliances on top of each other to utilize your space and keep the design clean and simple to avoid making the room feel cluttered.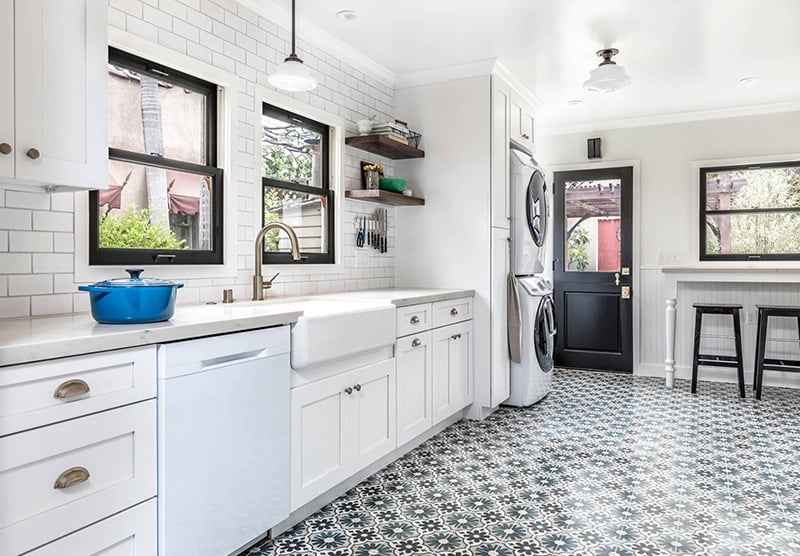 22. Large Countertop for Folding Clothes
The laundry is where you wash and fold clothes, and you want to make this process as simple as possible. This can be achieved with a large countertop, where you can fold and stack your clothing. The countertop can be in a different material, for example, wood, if you want it to be the standout feature of the room.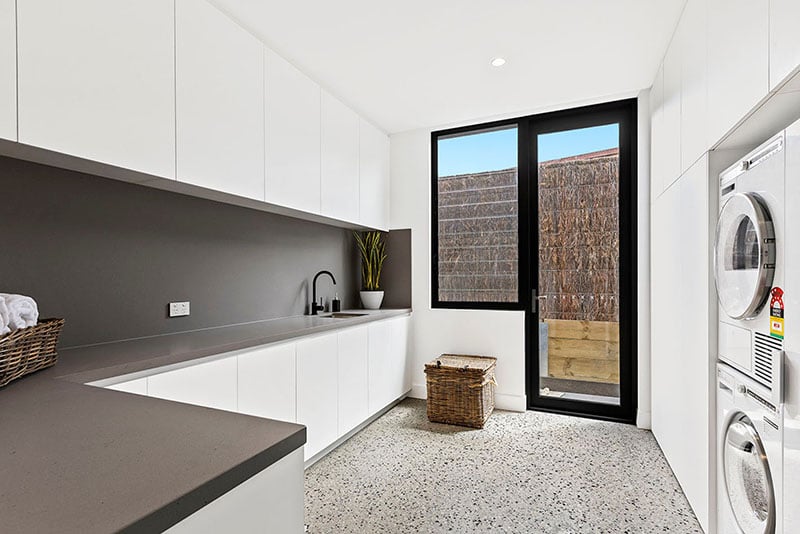 23. Laundry in the Cupboard
What better way to utilize your space than having a large cupboard to store all of your laundry appliances? Cupboards are complete with stacking shelves, allowing you to fold your clean clothes and keep your detergents.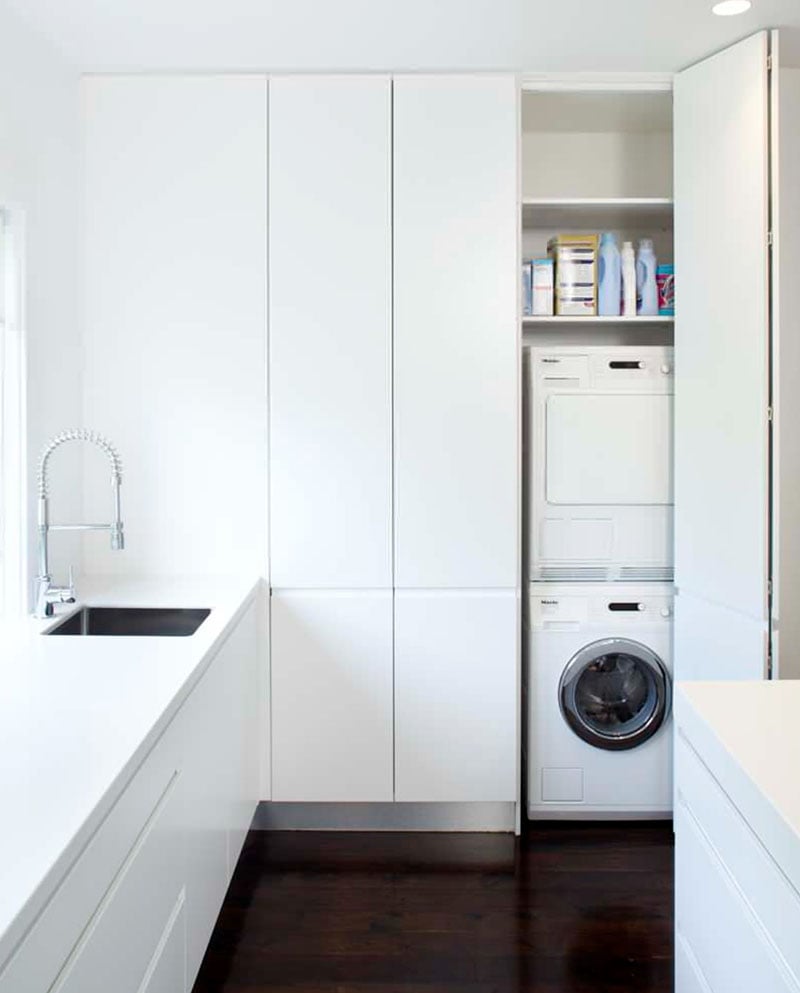 24. Stacking Doors
The stacking door design helps you get more open space and is practical and functional; you can let in air and light, and the room will feel bigger and brighter. Choose a muted color scheme for a modern finish.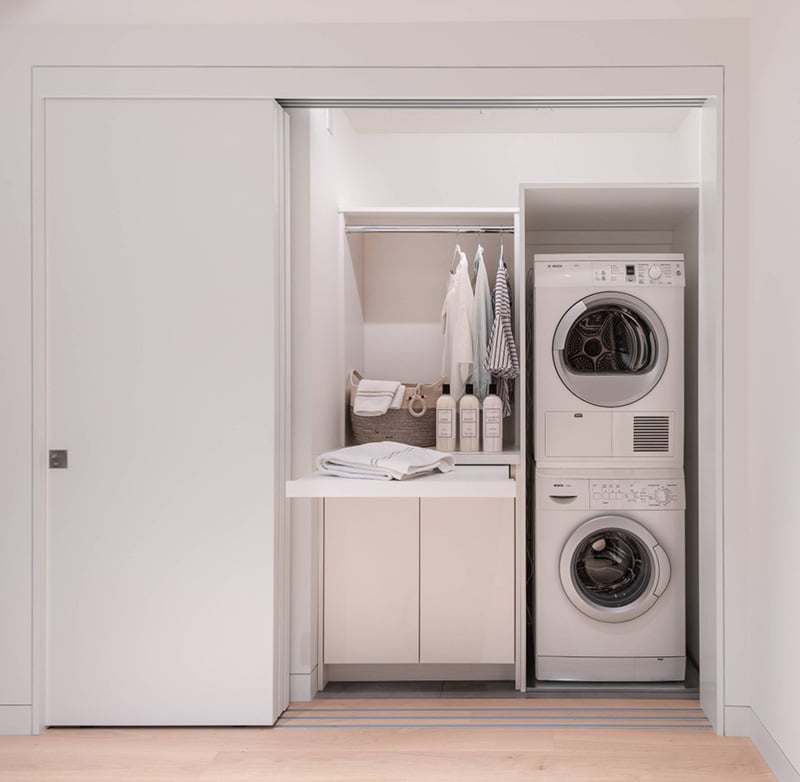 25. Wood Elements
Having wooden elements in your laundry room is a great idea and will make the room feel warmer and more inviting. It will also create a contrast in texture between the wood and the smoothness of the walls. Wooden details with white walls are a gorgeous combination.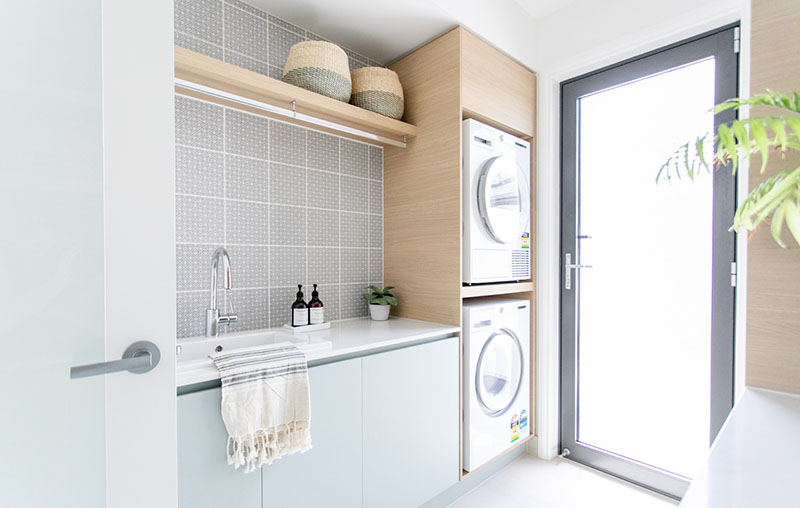 26. Minimalist Laundry
Minimalist decor is appealing to those who want a room that is beautiful, functional, and devoid of clutter. It focuses on clean details and removes personal details, but you can experiment with different finishes, including wooden shelves and tiled floors; the combination lets you create an interesting contrast.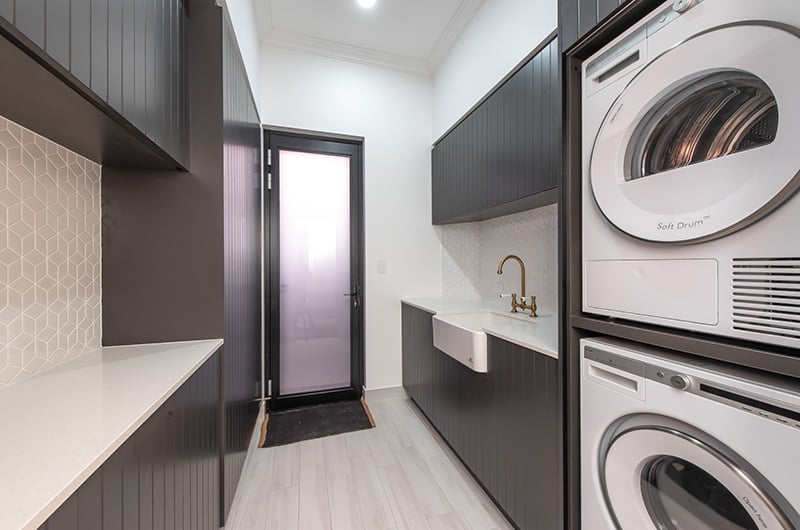 27. Window with Garden View
If your laundry opens onto the garden, you want to take advantage of this and create a space that looks out onto it. This can be achieved with a door with wooden glass panels and a large window. This is also practical, as it can make the space feel bigger and brighter by having lots of natural light.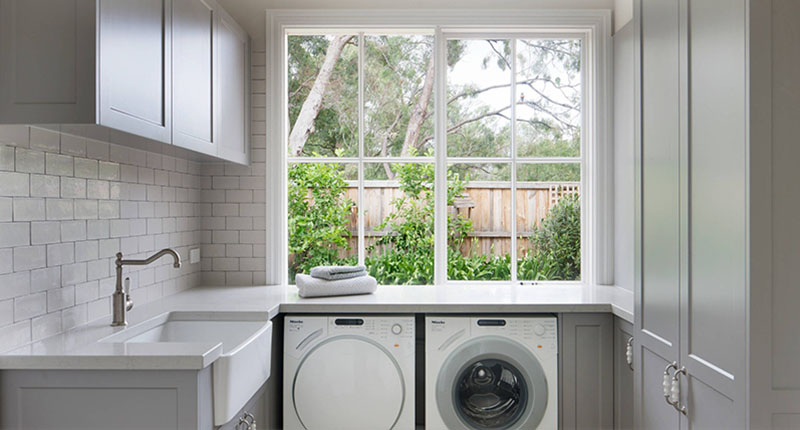 28. Round Sink
A sink in your laundry room is excellent for handwashing items or cleaning your hands after touching detergent or dirty clothes. A round sink looks great, giving the room character and creating a classic finish. They are also practical and easier to clean.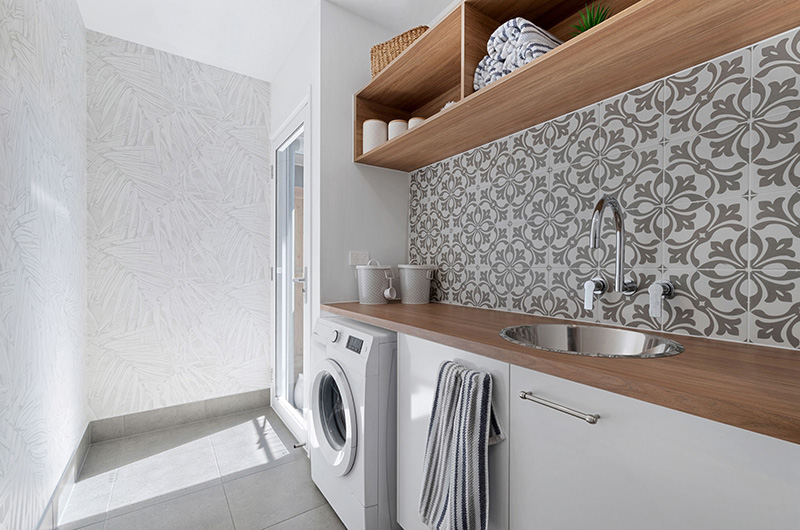 Scandinavian design is a brilliant blend of practicality and minimalism, creating a stylish and modern room that maximizes its use of space. The beauty is also in the functionality, and this will be a room that works well while also looking great.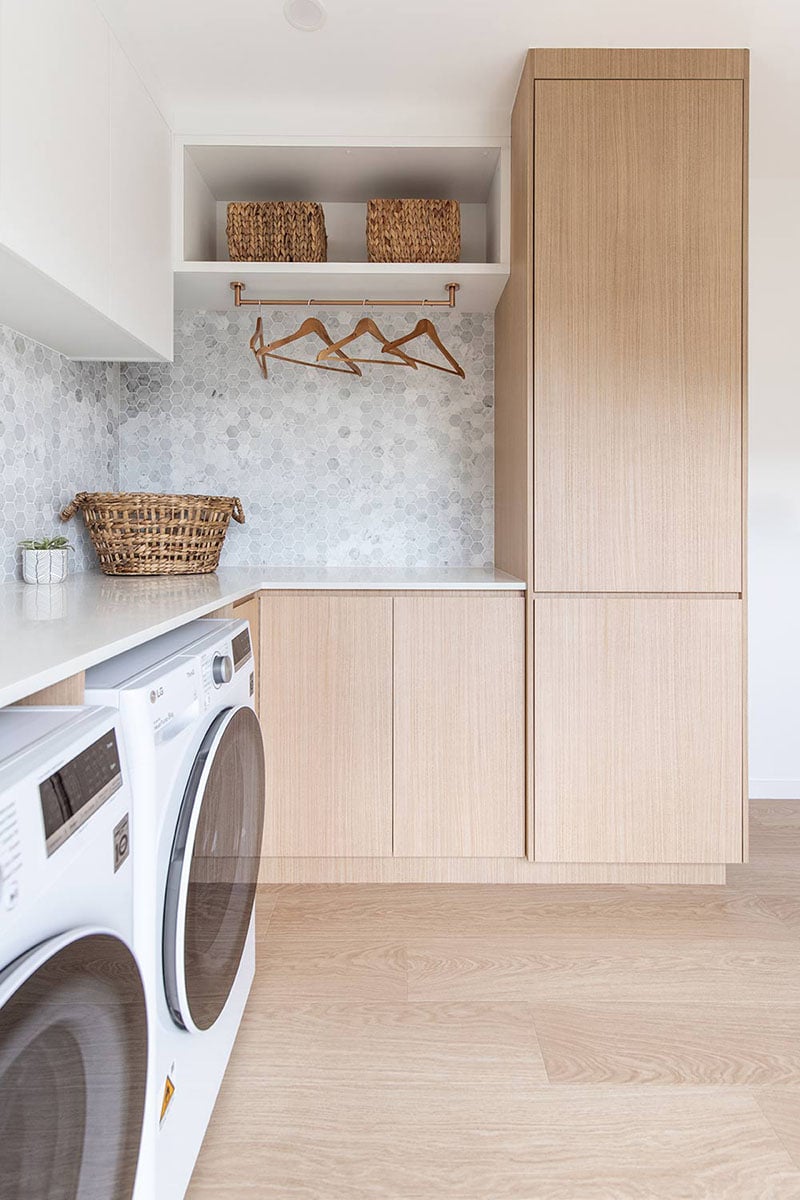 30. Bifold Doors
Bi-fold doors are stylish and practical for a laundry room. They work particularly well in a large open space, where a single door won't cut it. They can be a bit cumbersome to operate but they won't be in your way or flap around once they are open.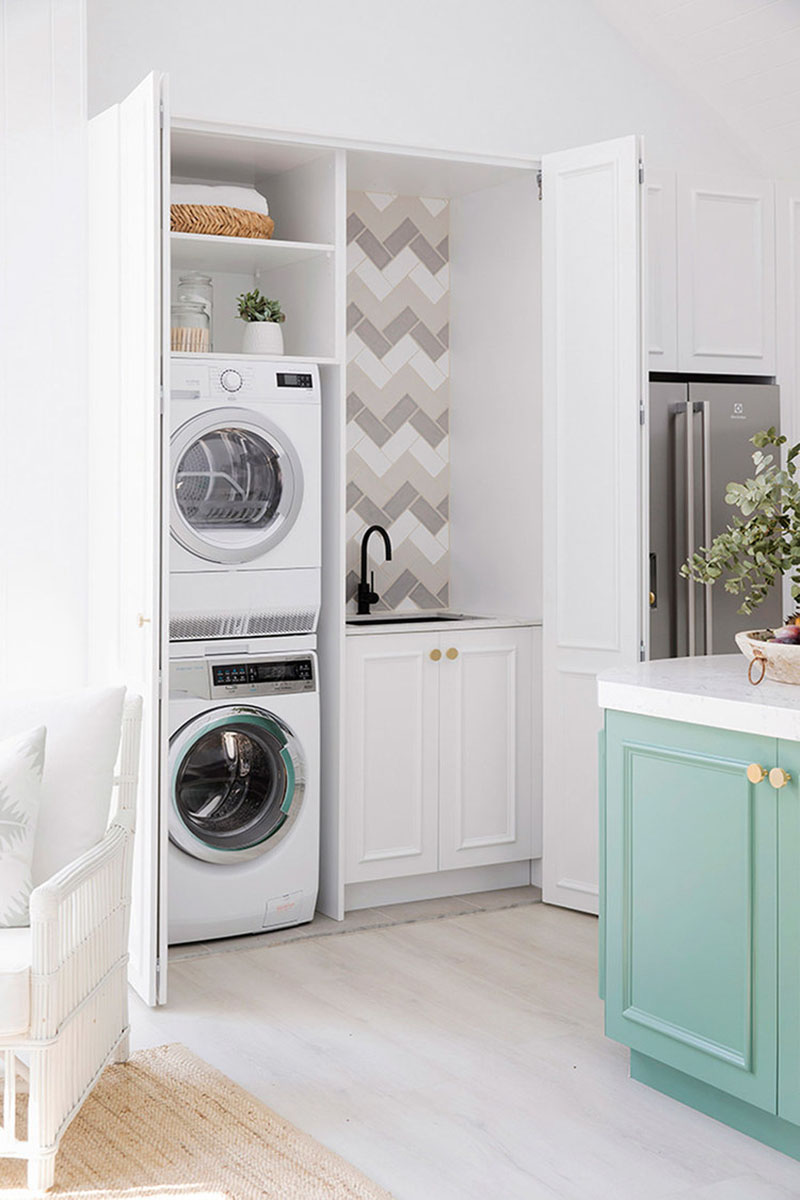 31. Add Curtains
Curtains are a great way to add some personality to the room. You can choose bright and bold shades and interesting patterns or keep it simple with classic white or cream hues. Curtains are easy to operate, however, they will not conceal the noice of the appliances as much as a fixed door.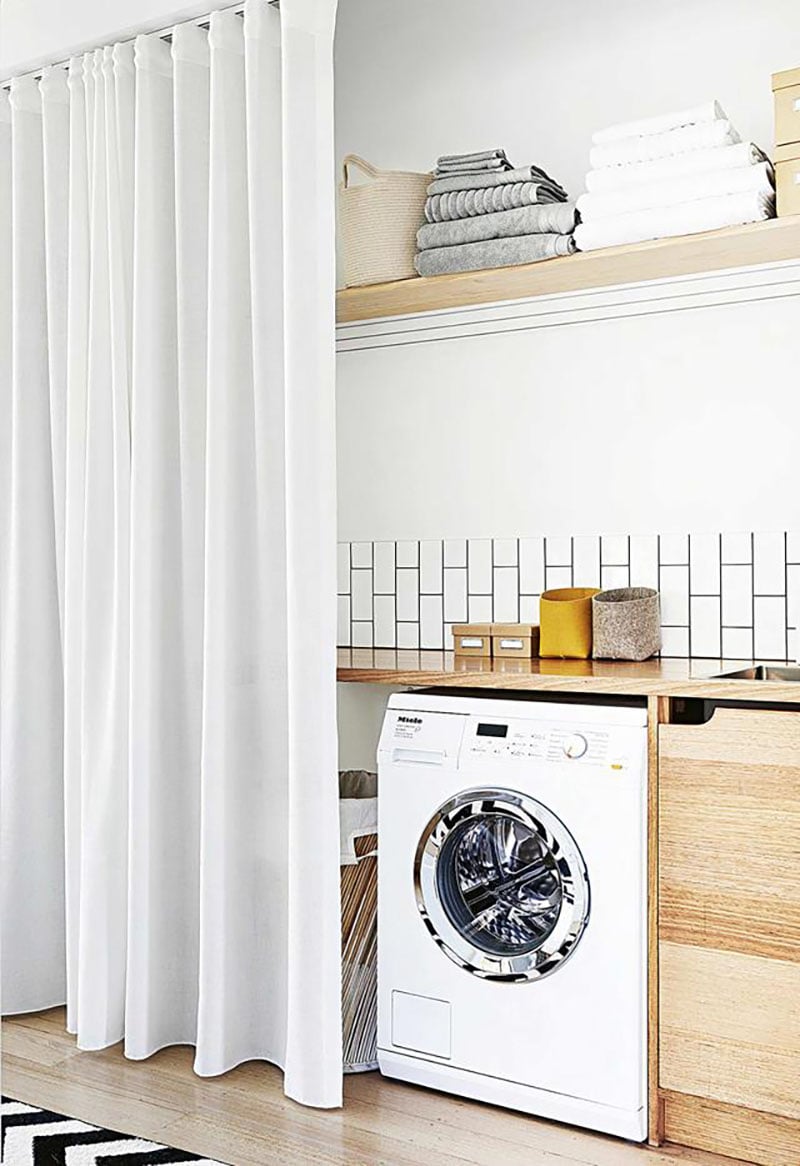 32. Laundry Under Stairs
What better way to utilize the space under the stairs than to turn it into your laundry room? Stacking your appliances and adding shelving or a folding table is an excellent use of space that may have otherwise gone unused.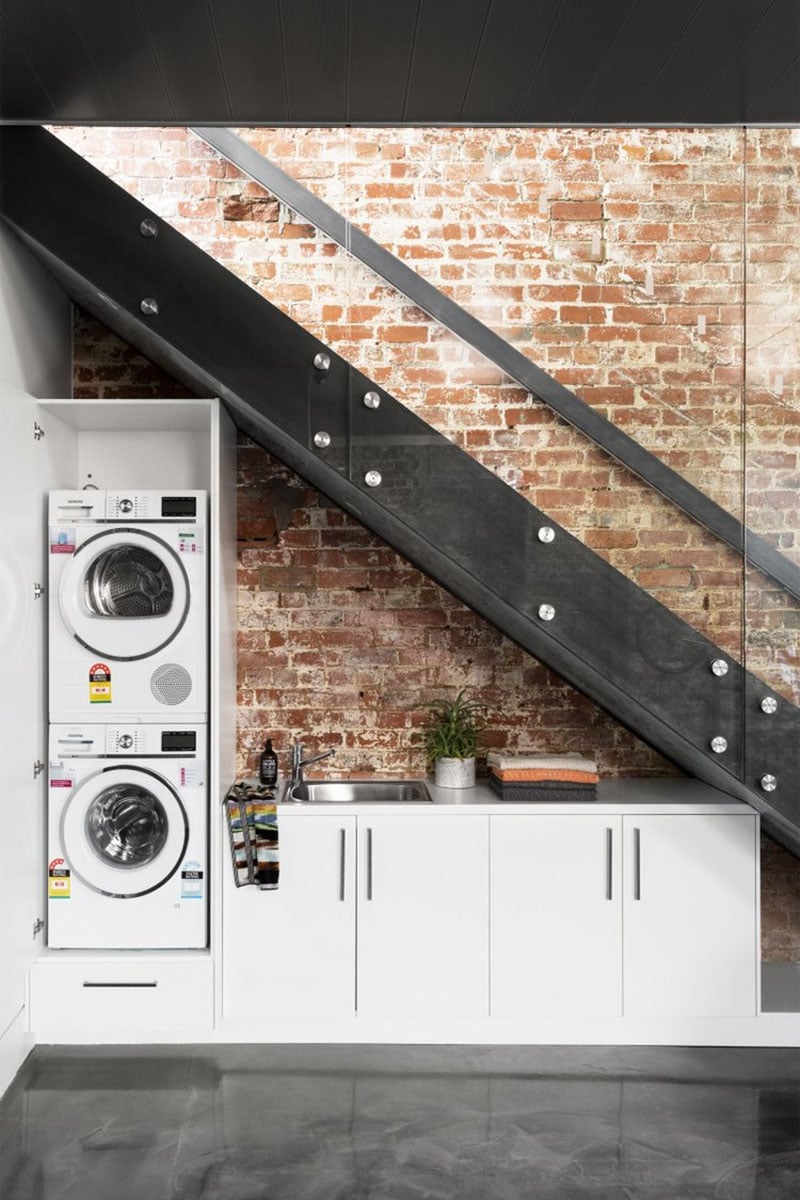 33. Laundry in the Bathroom
Letting your bathroom double as your laundry is a popular choice for those who do not have space for a laundry room. You can make the room feel more spacious with mirrors and lighting and keep it in a muted color scheme. You also want to consider the layout to utilize the space best.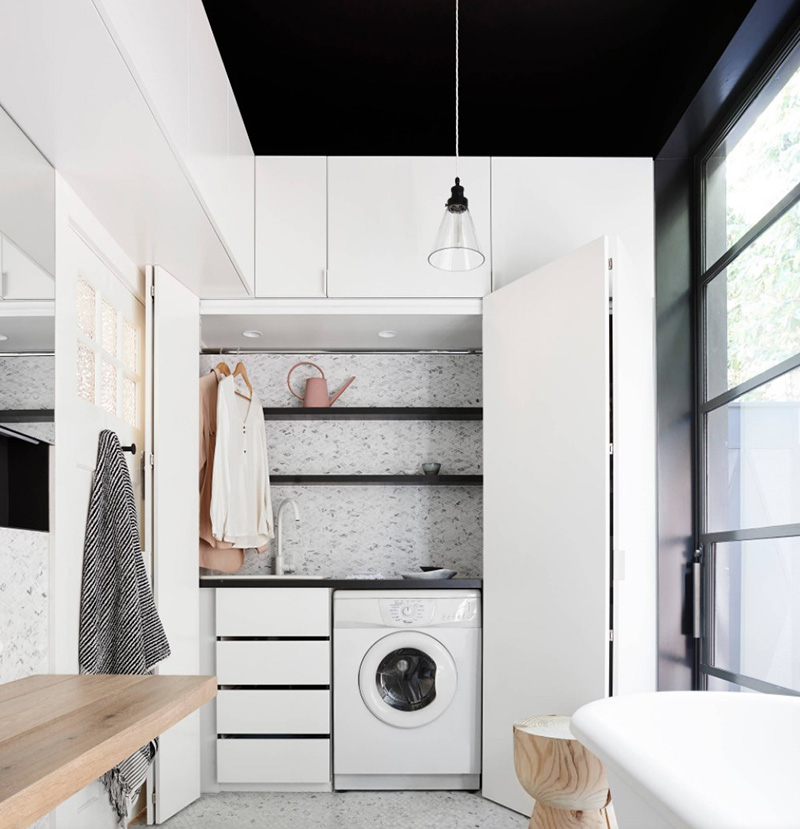 34. Artificial Lighting
Having good lighting in your laundry is essential. If the room does not have a window, you will need to use artificial lighting, which can be added to the room in several ways, including a feature light or modern light fittings like LED strips.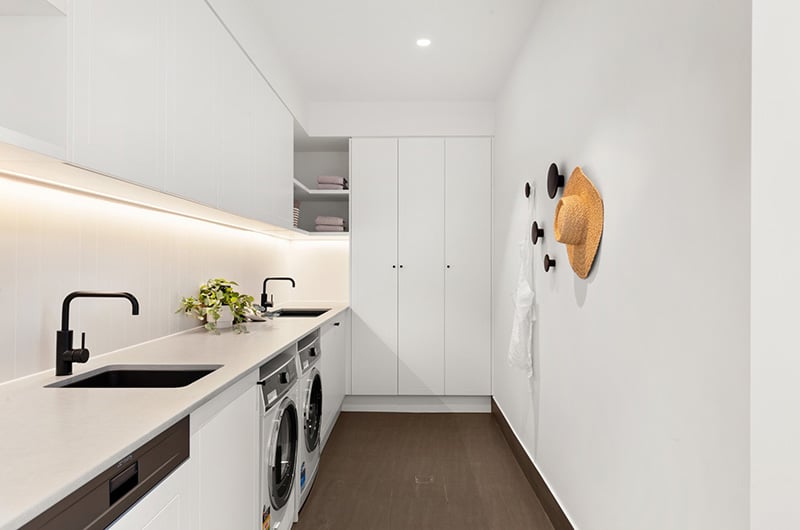 35. Laundry in Study
A laundry and a study combined may seem like unusual use of space, but it is clever. If you have a small home or a lack of rooms, doubling up on a laundry and study lets, you get the best of both worlds. Take care to avoid any water near electronics by keeping the laundry and the study on opposite ends of the room.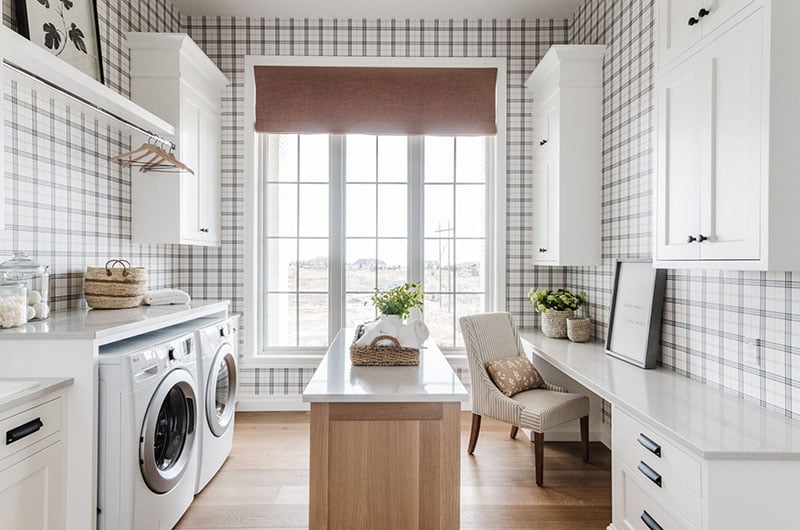 36. Pull Out Cloth Bins
Cloth bins are great for storing dirty clothes and make it easy to transport them to your washing machine. Instead of keeping them at the end of the room, you can keep them in a pull-out cupboard. This makes the room feel less cluttered and more modern.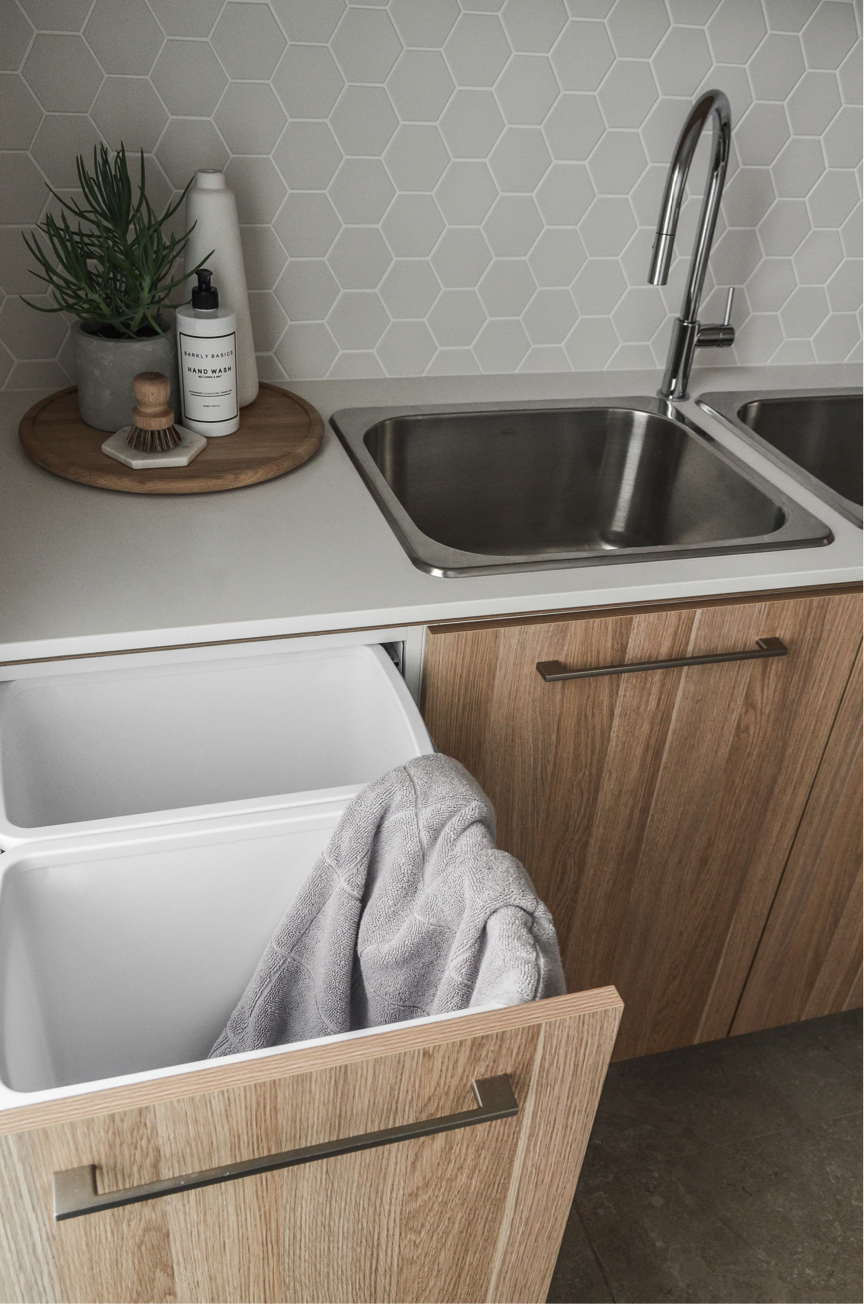 37. Natural Light
Using natural light is a great idea and is a way to let in the fresh air. The light can also make your laundry room feel bigger and brighter. You can do this with a large window or a glass door. Add wooden details and plants to create a more zen space.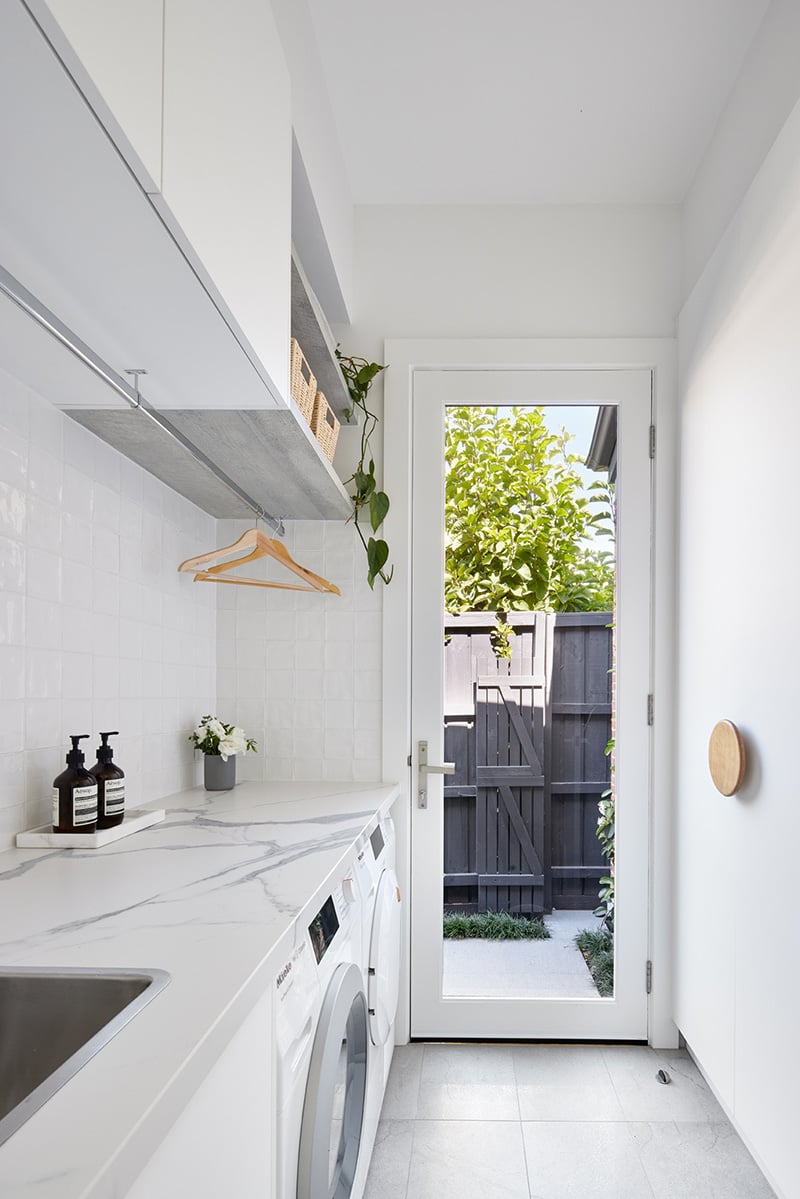 38. Personal Touches
The appeal of decor is that it can be of anything, letting you design a room to suit your style and preference. Adding personal touches is a way to reflect your personality within your laundry. This can be achieved with artwork, photo frames, an interesting rug, a cool lampshade, or feature light fitting. You can also experiment with colors.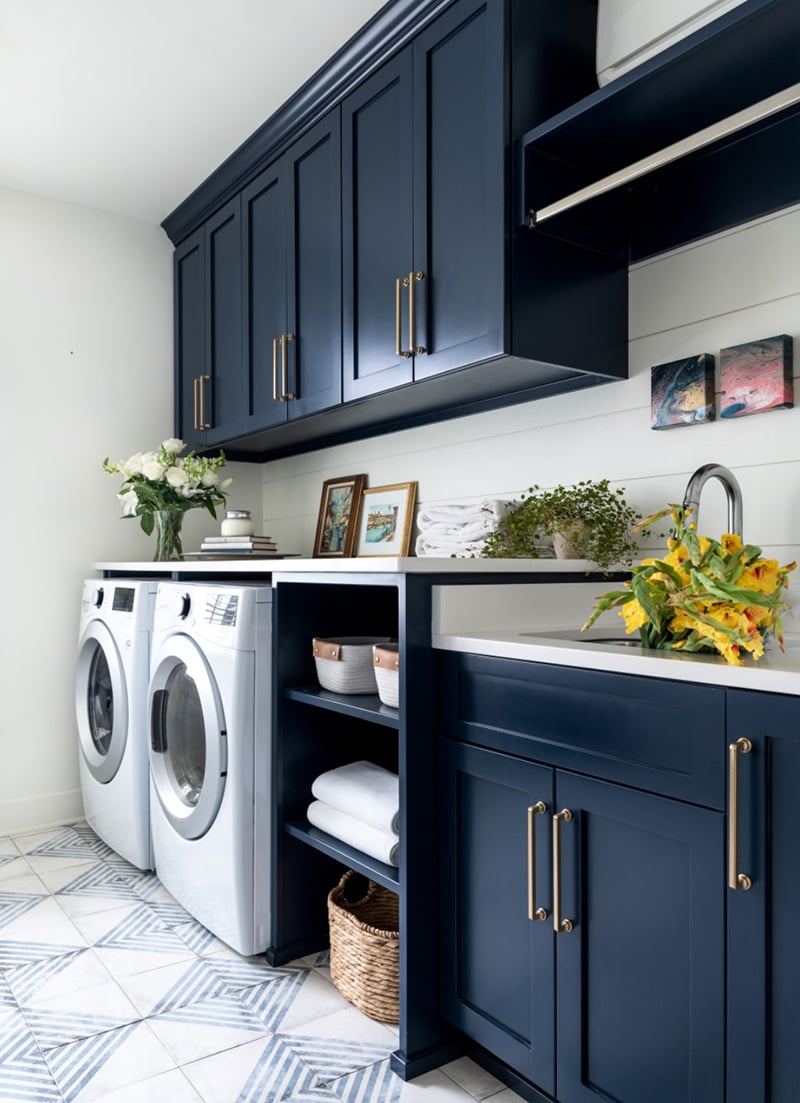 39. Sitting Area
For a large, open-plan space, you can incorporate a sitting area in your laundry. This is a great way to make the room more sociable, letting friends or family join you while you clean. The seating area could include a sofa placed against the wall or several wooden stools. You can also personalize the finish with throws and cushions.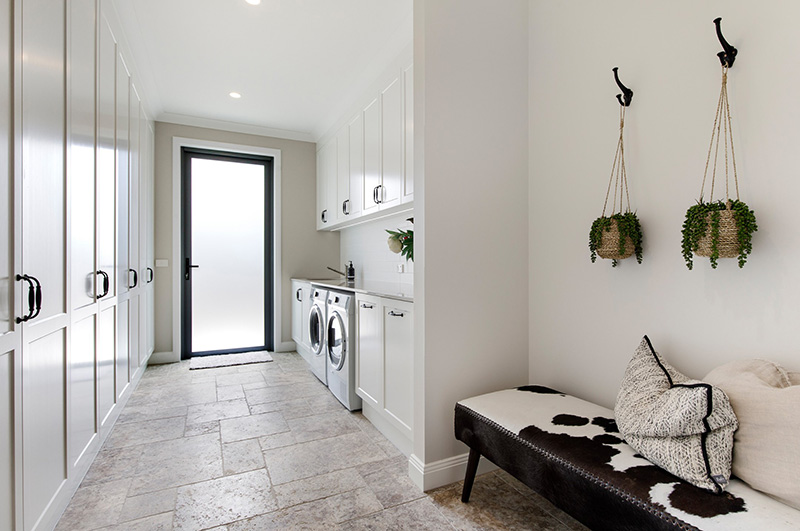 40. Modern Laundry
Modern designs focus on limited color schemes, clean finishes, a lack of clutter, and great attention to detail. To create a modern laundry, you can experiment with mirrors, good lighting, and mixing and matching materials like wood and steel.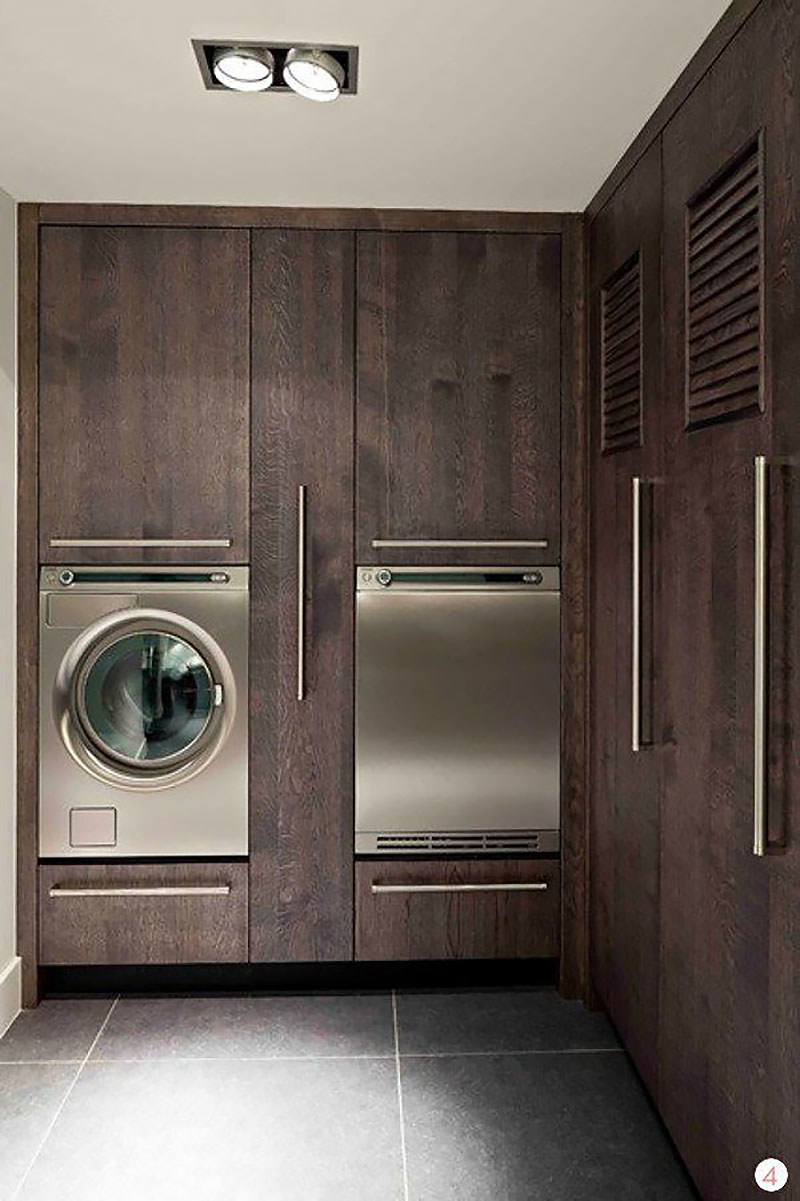 41. All White
An all-white color scheme is incredibly stylish and versatile. It helps achieve a clean design and looks modern, light, and bright. This room will be complemented by natural lighting or a large mirror. You can also add a slight pop of color with the fittings or opt for a stone or wooden floor to contrast the all-white walls and furnishings.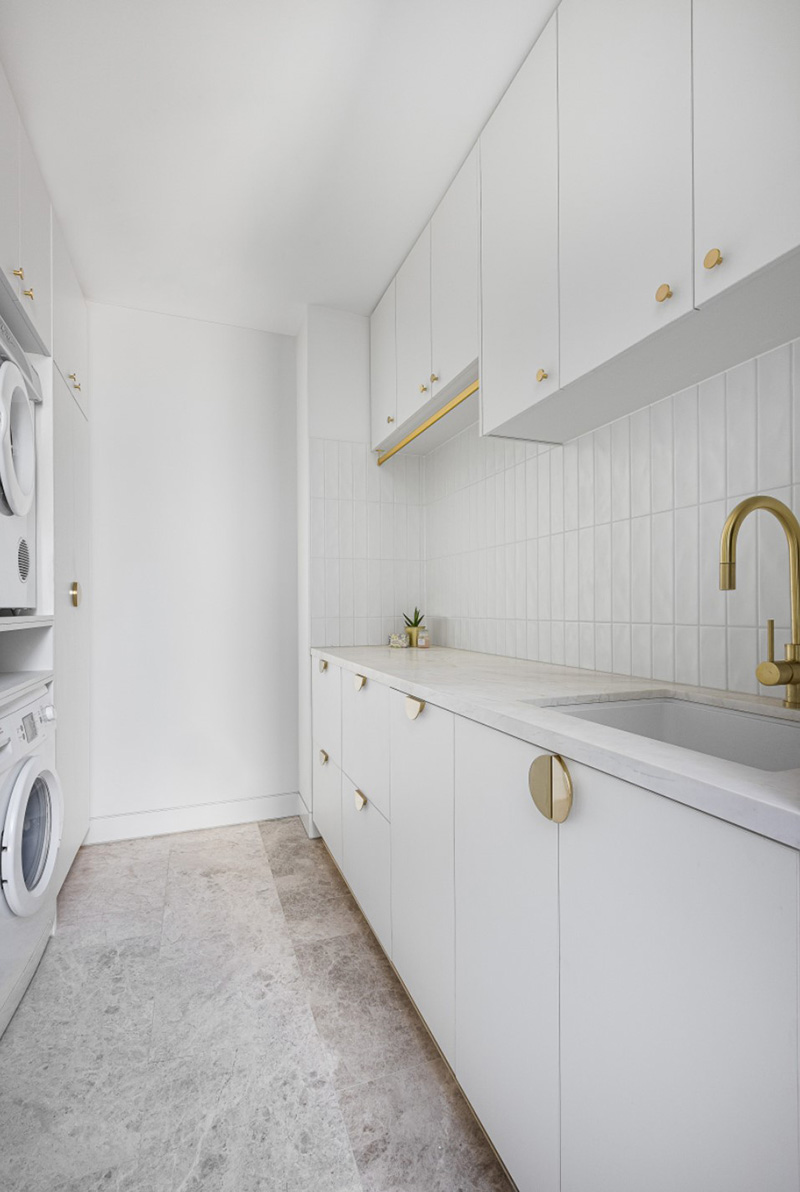 42. Laundry in Living Room
If you intend to combine your laundry and your living room, you need to do this stylishly. This can be achieved with cupboards to store your clean linen, towels, and other clothes and keep your detergent away. It is also a great idea to get your appliances fitted into cupboards for a more streamlined finish.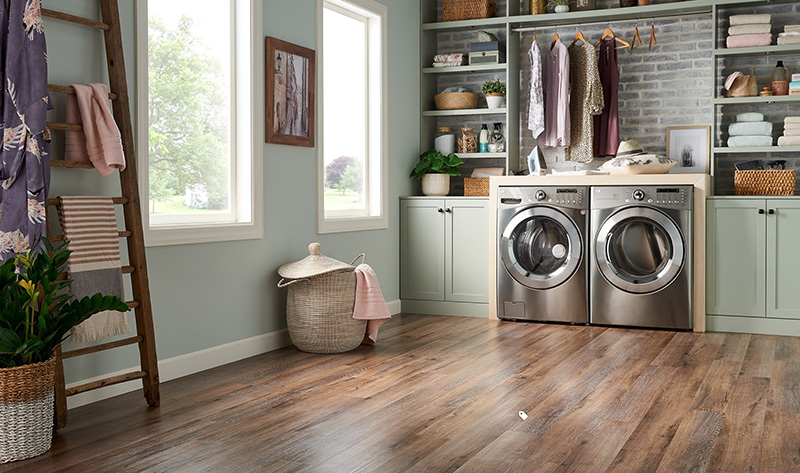 43. Laundry in Butler Pantry
The Butler Pantry refers to the space between the kitchen and dining room. It is a way to separate these two rooms and is used for storage. It can be seen as a waste of space for some, which is why transforming it into your laundry is a fantastic idea and lets you fully utilize the space.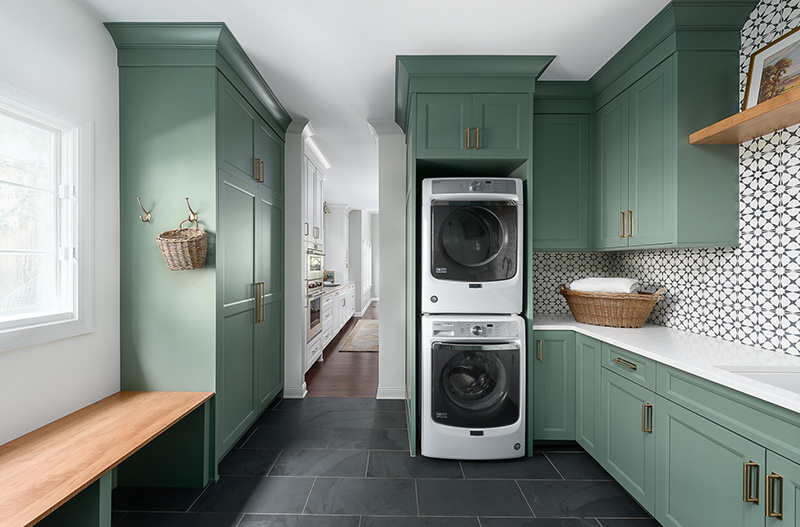 44. Raised Appliances
Raised appliances are a smart way to utilize your space, letting you store things above and below them. It also creates a very modern finish to the room and means you don't have to bend down. You also want to choose appliances that match your decor as they will be integrated with the joinery.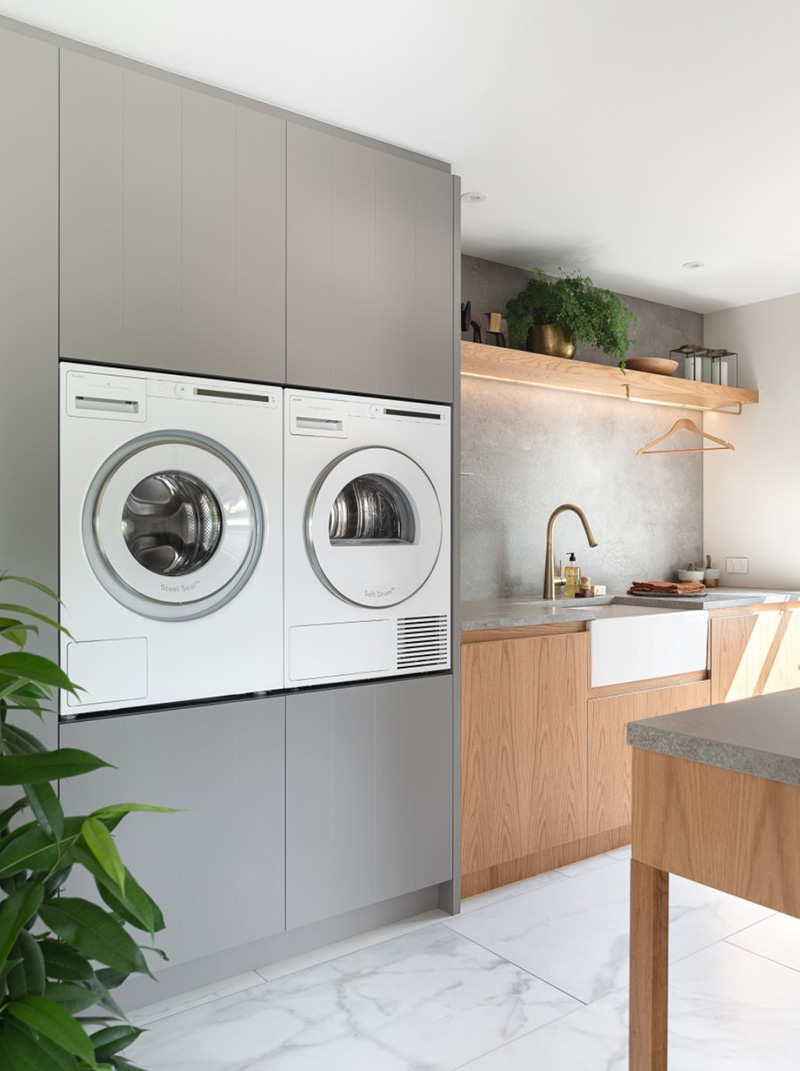 45. Interesting Floor Tiles
The laundry is not usually a room that people spend a lot of time in, but you can create yours to reflect your style so that you want to be in it. This can be achieved in several ways, including experimenting with colors, furnishings, and fittings or opting for interesting floor tiles that give the room character.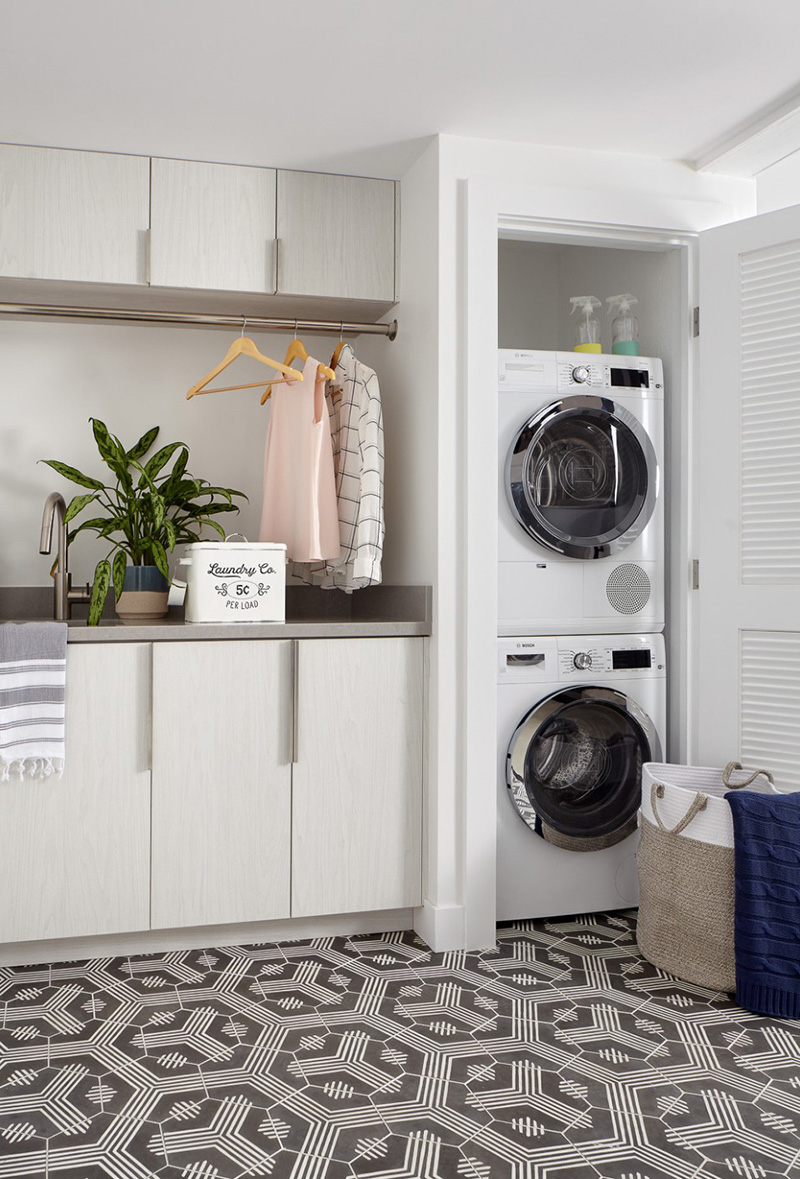 46. Space for Vacuum
The right layout and storage space are essential for a practical and modern laundry room. Having cupboards or shelving is a fantastic way to store everything you need in the room, including cleaning supplies and an iron. You can also make space for the vacuum on the side of your counter or inside a cupboard.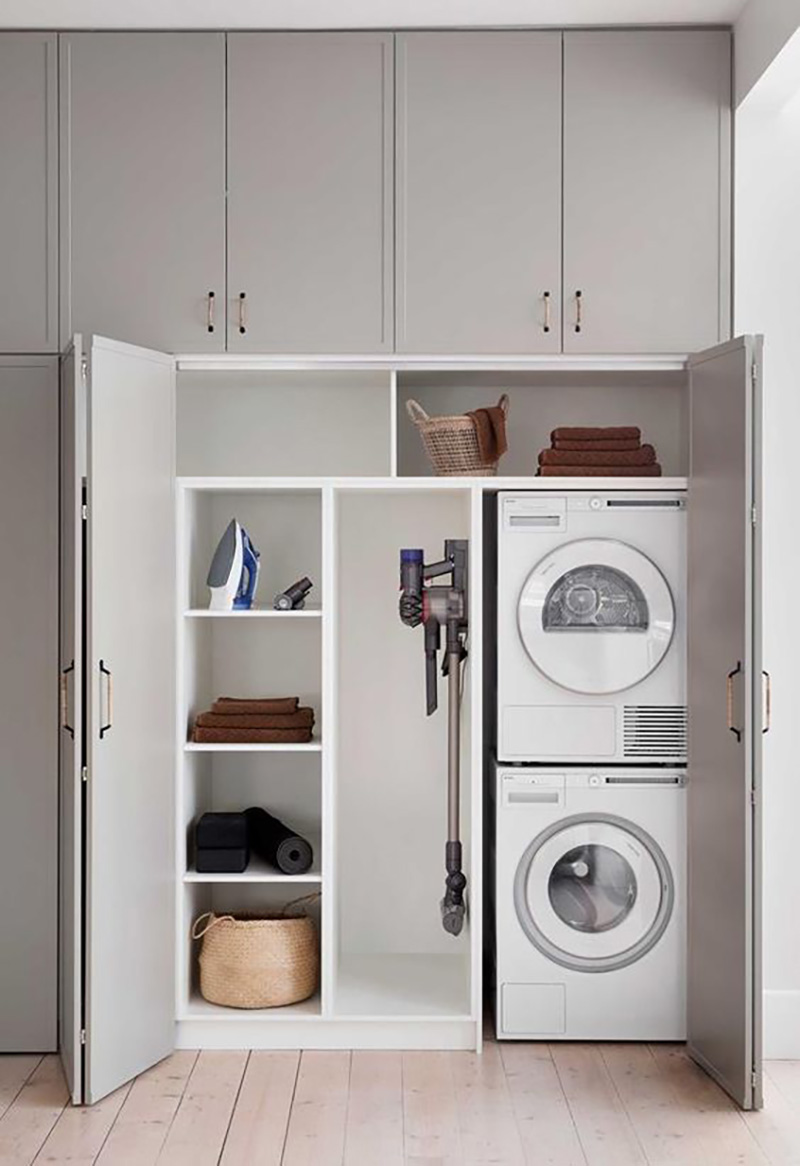 47. Grey Theme
Grey is a wonderful color for a laundry room because it is associated with calmness and balance. It is modern but versatile and looks great with stone finishes or black or silver fittings. There are several shades of grey to choose from, including light hues or darker, moody options, depending on your preference.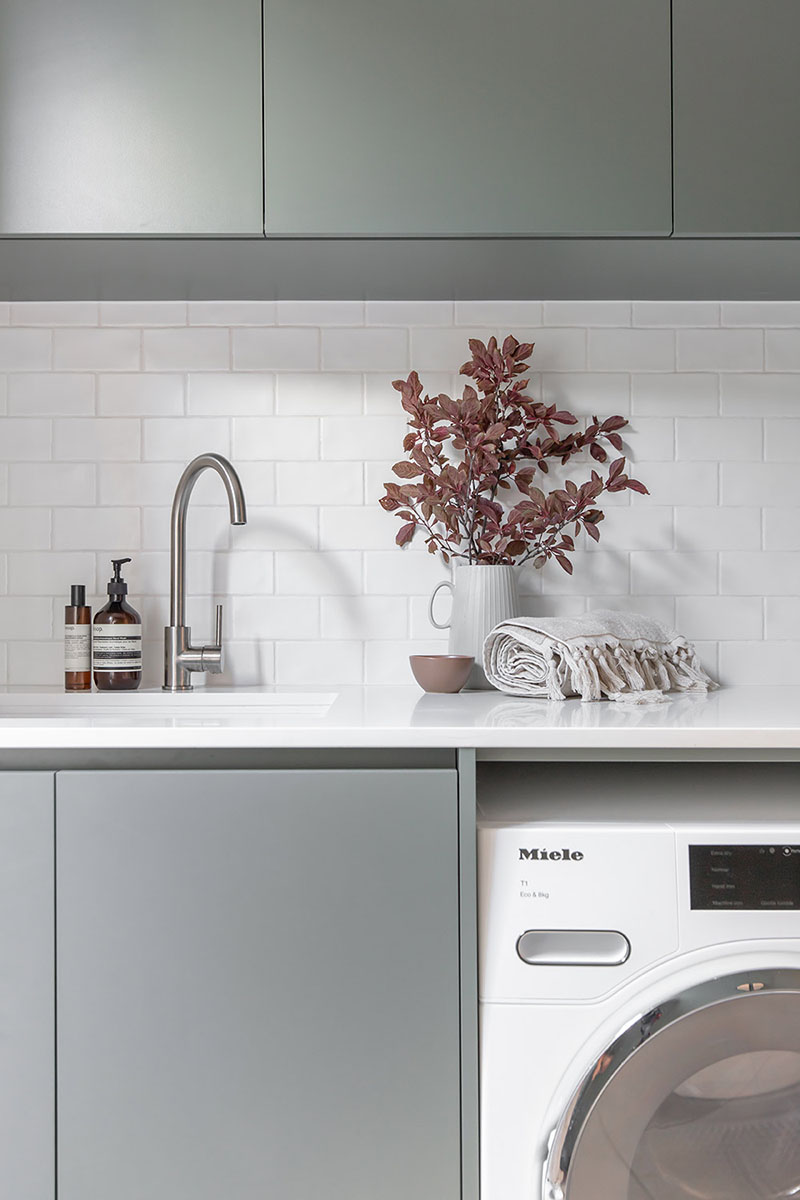 48. Timber Countertop
Adding wooden details to your laundry, like a timber countertop, is a great idea. In addition to being practical, this countertop will be a standout feature in the room and create an interesting contrast with the rest of the details. You want to choose a moisture-resistant wood for the best results.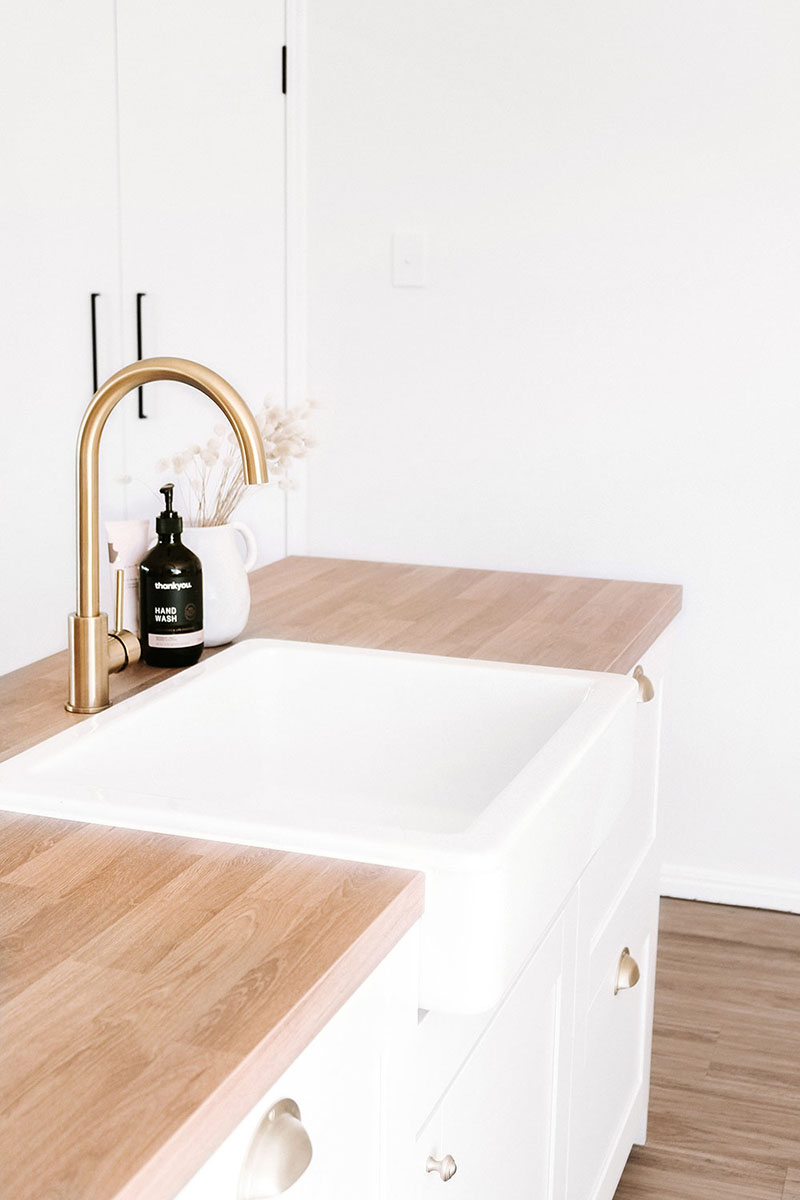 49. Open Shelving
Open shelving makes it easier to find your supplies, but it can also save space. These shelves are often more affordable, and you can create or design them yourself, giving you the perfect option to get creative. You may also wish to add hangers to increase the storage space and make the room feel more open.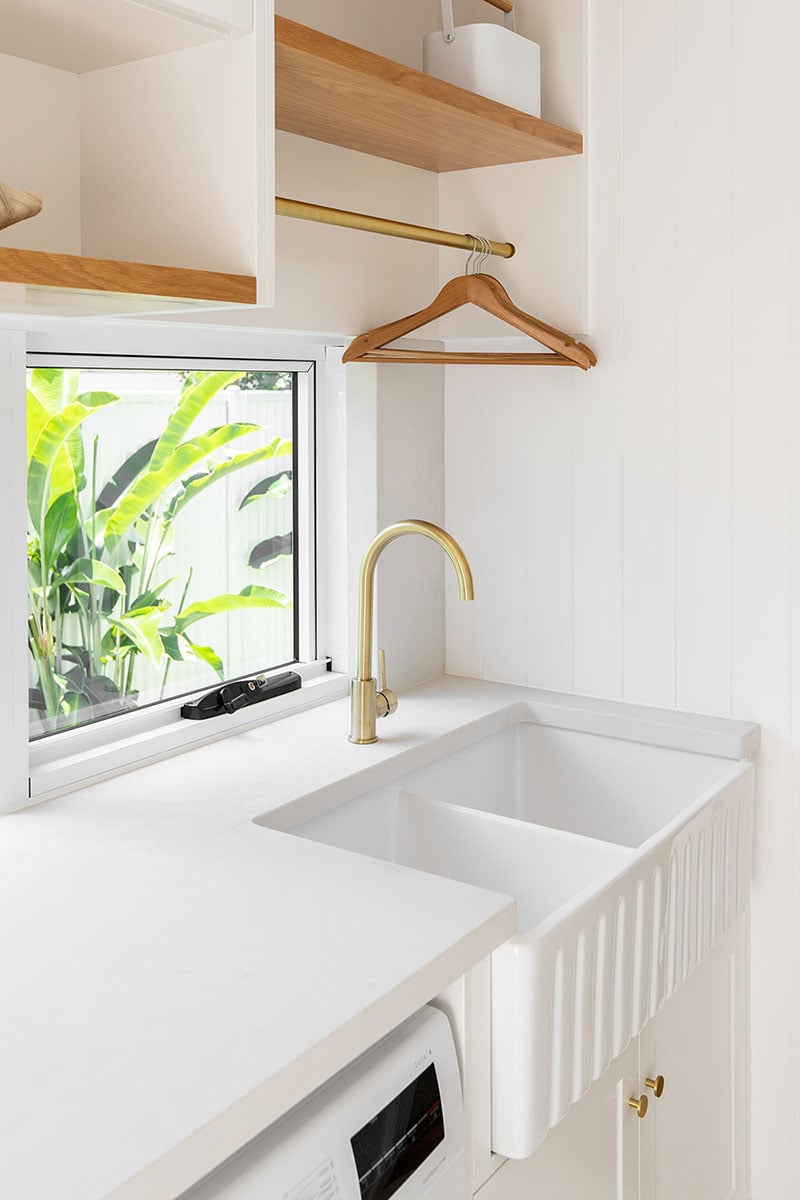 50. Wood Batten Sliding Doors
Wooden batten sliding doors will be a wonderful feature of your laundry room. The wooden details are an excellent choice and will have a high impact on the room, especially when paired with muted colored walls. Having sliding doors can make the space feel bigger and more open and let in more air and natural lighting.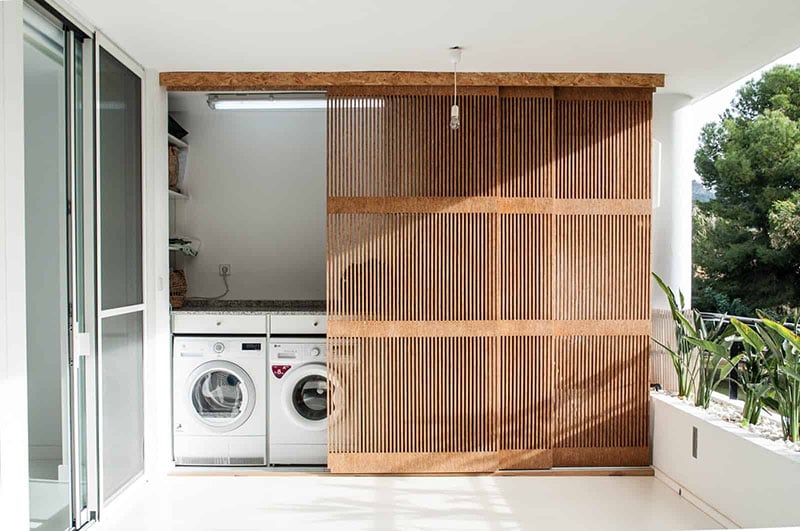 Laundry Room Ideas FAQs
How do I make my laundry look good?
Depending on your preference, there are many ways to make your laundry look good. The clever use of space is essential and will help make the room look less cluttered and bigger. You can also add personal touches or keep it simple and minimalist. Add plants or wooden elements for a rustic feel, or use a muted color scheme and clean design for a modern finish.
What should every laundry room have?
Every laundry room should have a space to clean clothes; this could be a sink but ideally a washing machine. You can also benefit from a dryer. Your laundry room will also need to include all your detergents and cleaning supplies. You will benefit from having storage space and a folding table.
What do you put on a shelf in a laundry room?
A shelf in your laundry room can be a place to keep your clean towels and linen or even as added storage space for your clothing. It can also have your cleaning supplies and an iron. You can add personal details to the shelves if you have a large room, including a potted plant or photo frames.
How deep is a laundry room cabinet?
The dimensions of your laundry room cabinet can differ, but in general, they are considered around 24 inches by 12 inches. It is essential will need to check the dimensions of your own space.
Is a mudroom a laundry room?
A mudroom is not typically part of a laundry room, but combining the two can be a good idea. This will allow you to remove your dirty clothes and put them straight into the washing machine.
How can I maximize my small laundry room?
The clever use of storage space and the right layout will help you maximize your small laundry room. You can use raised appliances, add cupboards for extra storage space and install hanging shelves. Keep the clutter and decor to a minimum. You can also use lighting to your advantage and doors like a bifold or barn door, making the room feel more open and bigger.
SUBSCRIBE TO OUR NEWSLETTER
Subscribe to our mailing list and get interesting stuff and updates to your email inbox.