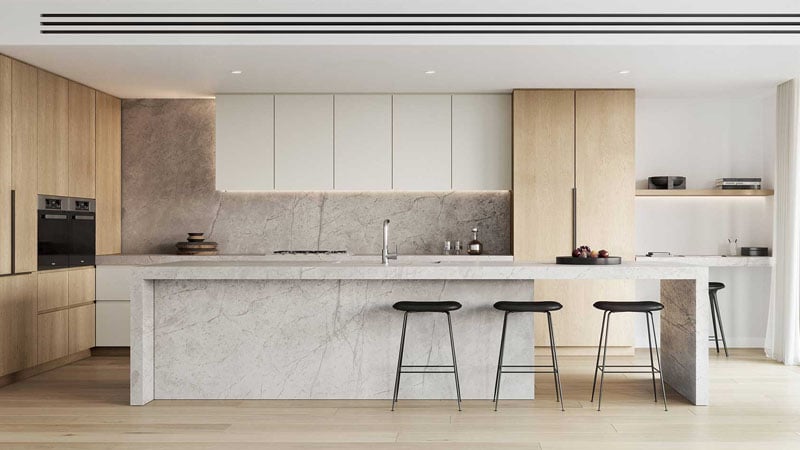 The kitchen is one of the most important rooms in a home because it is where you spend time preparing the food and, often, socializing. Having a space that you enjoy spending time in is important, and the right design and furnishings can help reflect your style, whether you want a room that is industrial or luxurious and modern. You can experiment with different materials for a polished or matte finish, try out clever options for storage like open shelving, and update the hardware and appliances. Keep it simple with a neutral color scheme, or go all out with a bright, bold hue. There are many ways to turn this space into the kitchen of your dreams, and these ideas will inspire you to update and renovate.
1. Beach House Kitchen
The decor of a beach house kitchen is often simple and minimalist. The combination of light-colored walls and tabletops helps achieve a laid-back aesthetic that can boost your rest and relaxation. Use natural lighting and create an open-plan room to make it feel big and bright.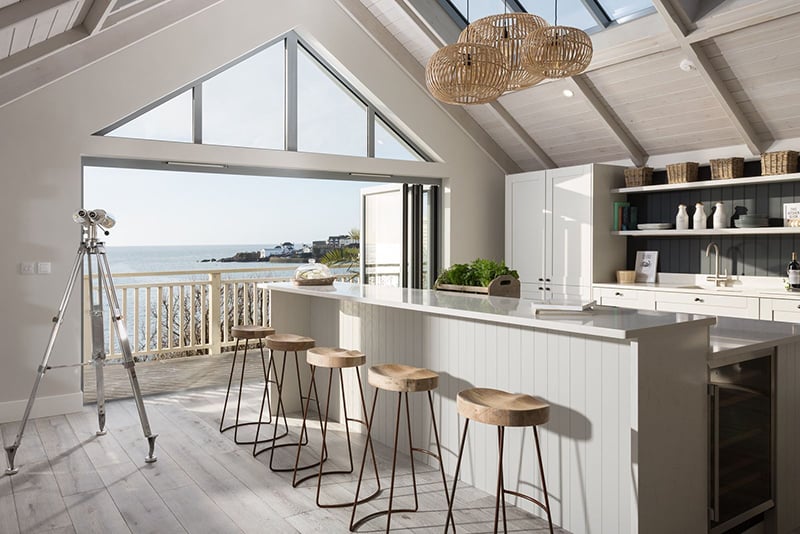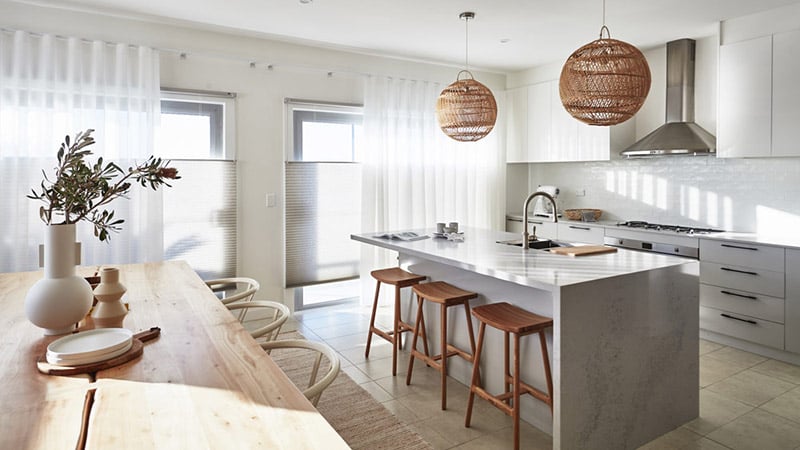 2. Kitchen with Brass Fittings
Brass fittings in a kitchen are excellent because it is durable, corrosion-resistant, and can withstand high temperatures. It can also be used as the standout feature in a room that is otherwise light, neutral color, creating a contrast.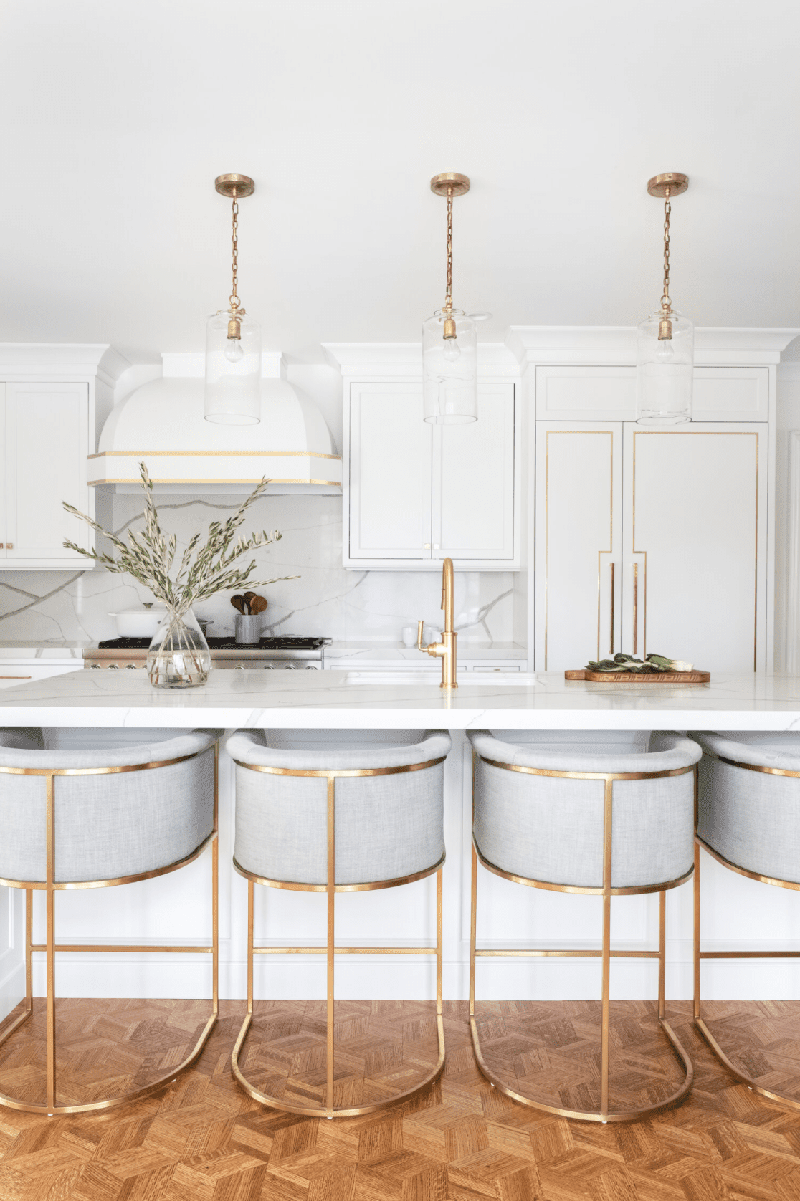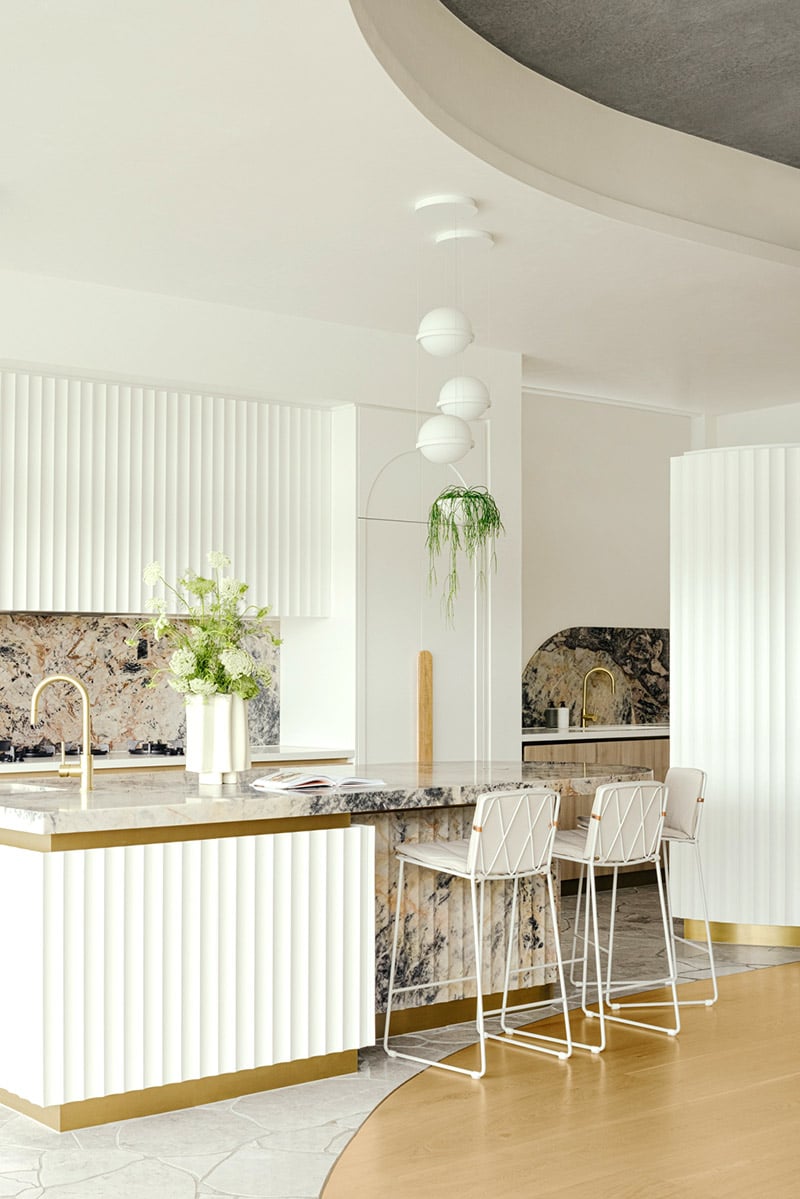 3. Elegant Minimalist Kitchen
The minimalistic decor is appealing because it feels clean and sophisticated. Removing the clutter from the room and focusing on the basic elements creates a kitchen that feels fresh and modern. Experiment with interesting light fittings, natural lighting, and solid, neutral shades to achieve the desired effect.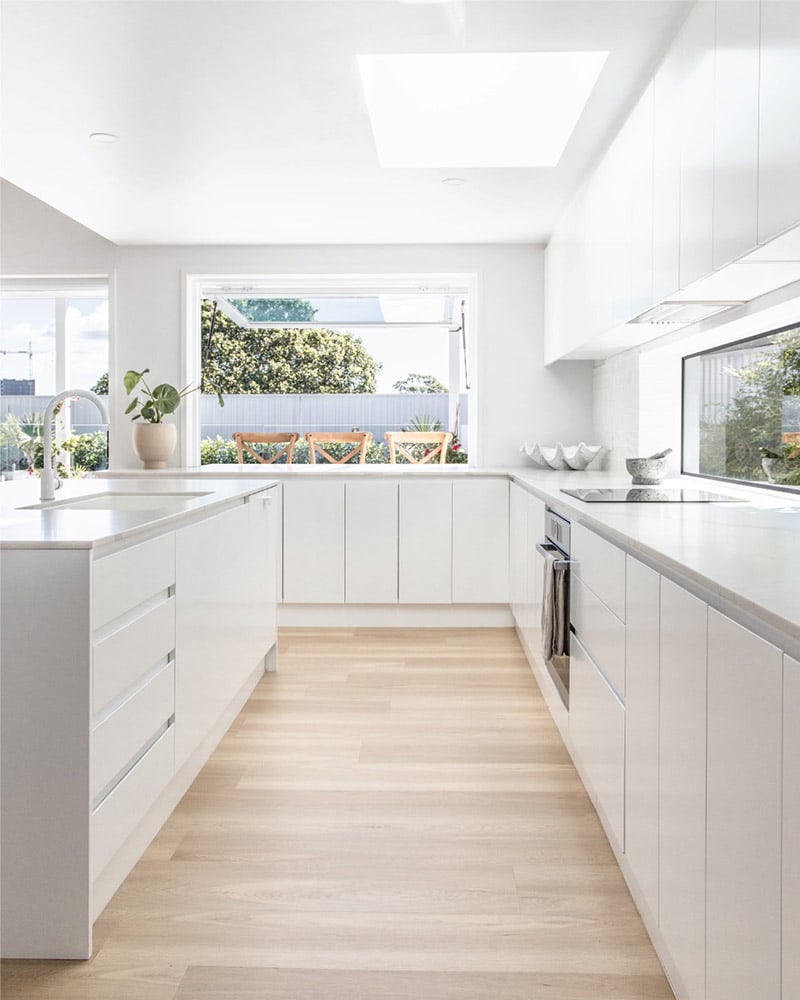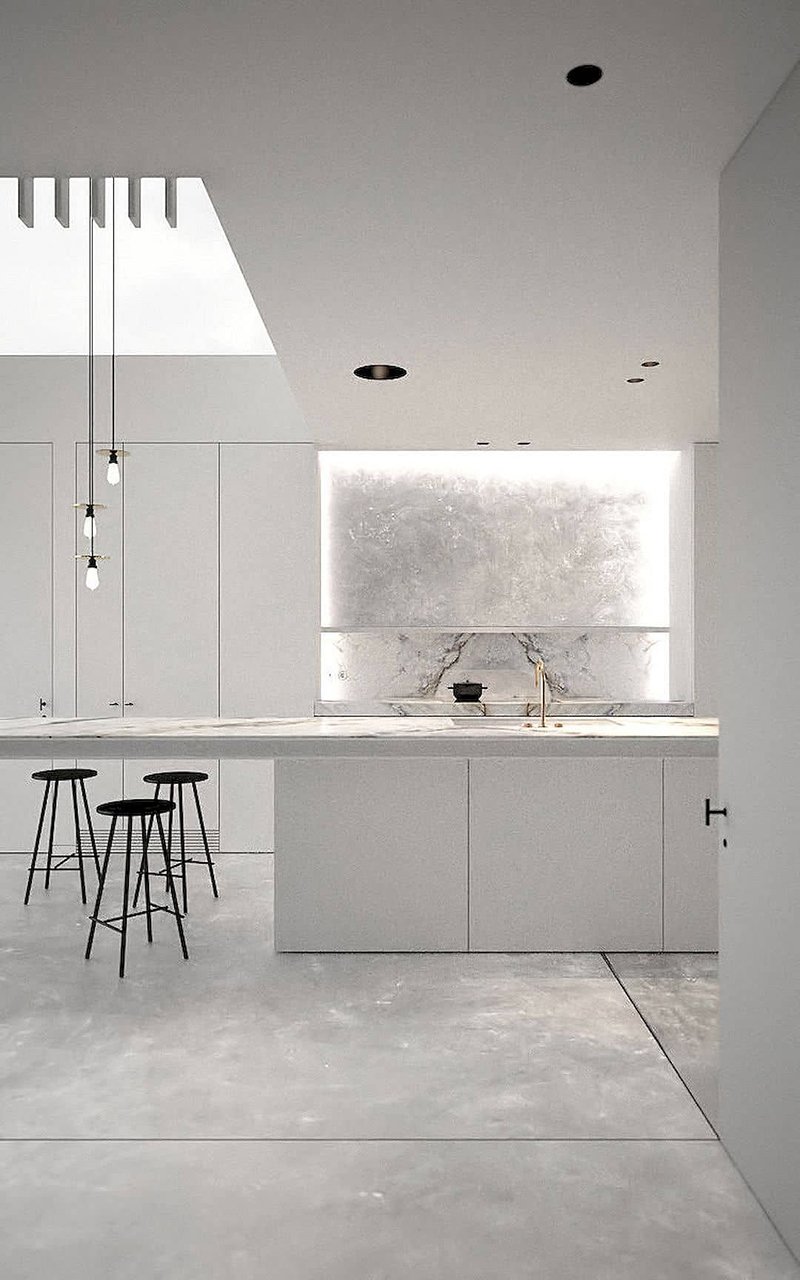 4. Rounded Island Kitchen Bench
Island benches are interactive and social but are also a feature element of the decor. There are several shapes and styles to choose from, including rounded corners. The rounded bench is more practical and less sharp on the corners, but it is also a better use of space.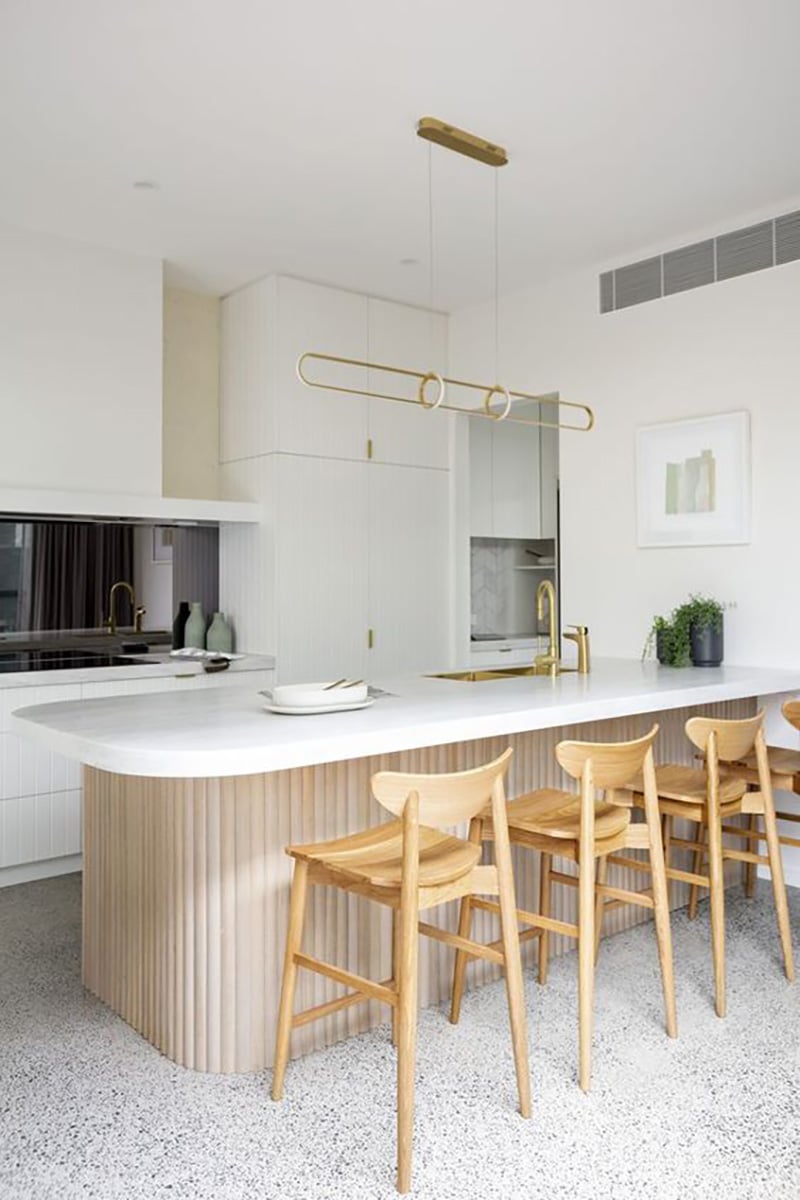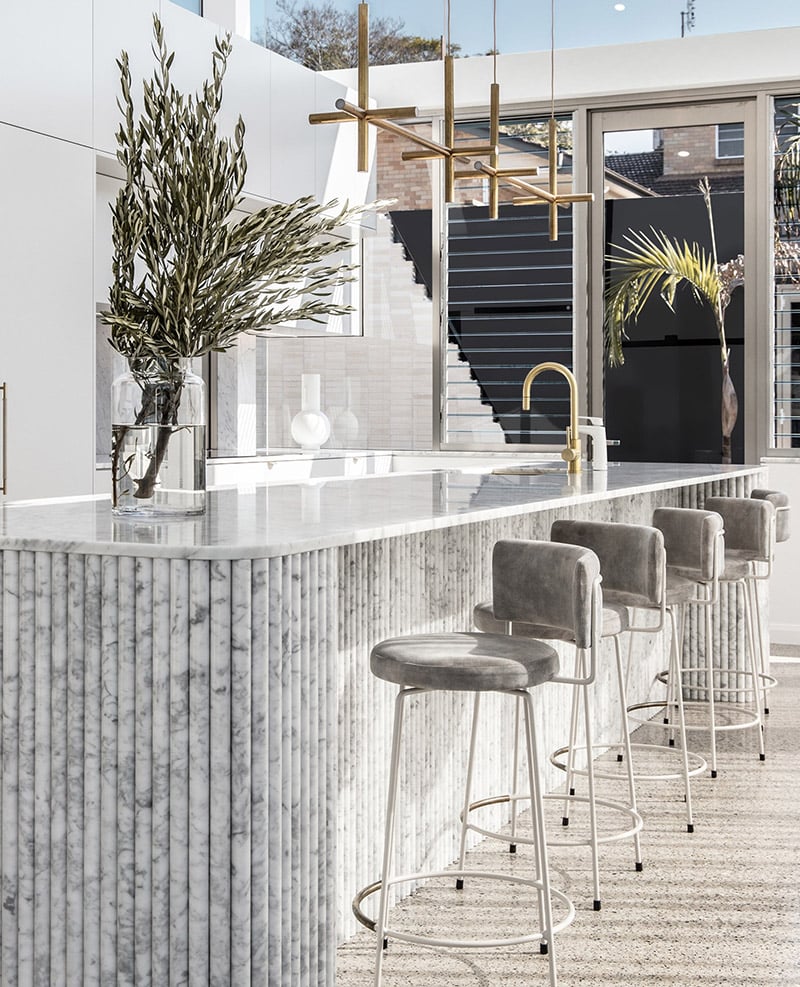 Scandinavian design is sought-after worldwide because of its clean and simplistic aesthetic. A Scandinavian kitchen will focus on minimalism and functionality, stripping the room to the basics and getting rid of the clutter. It feels modern and zen at the same time.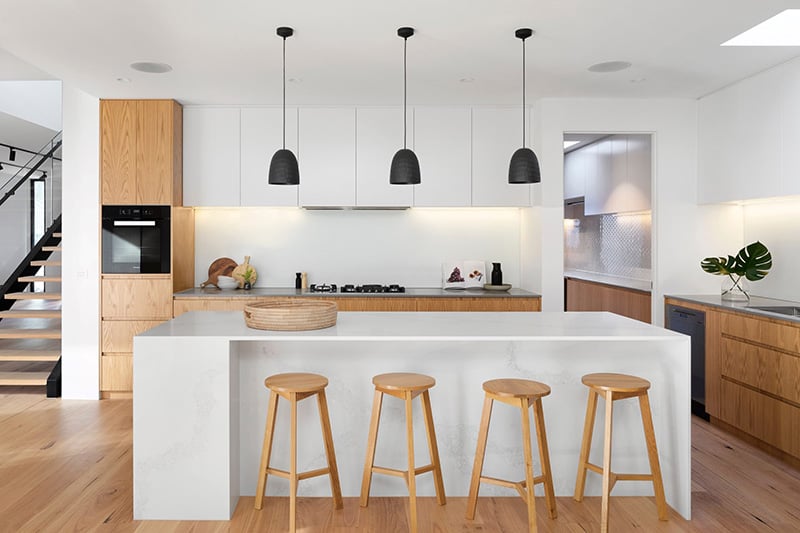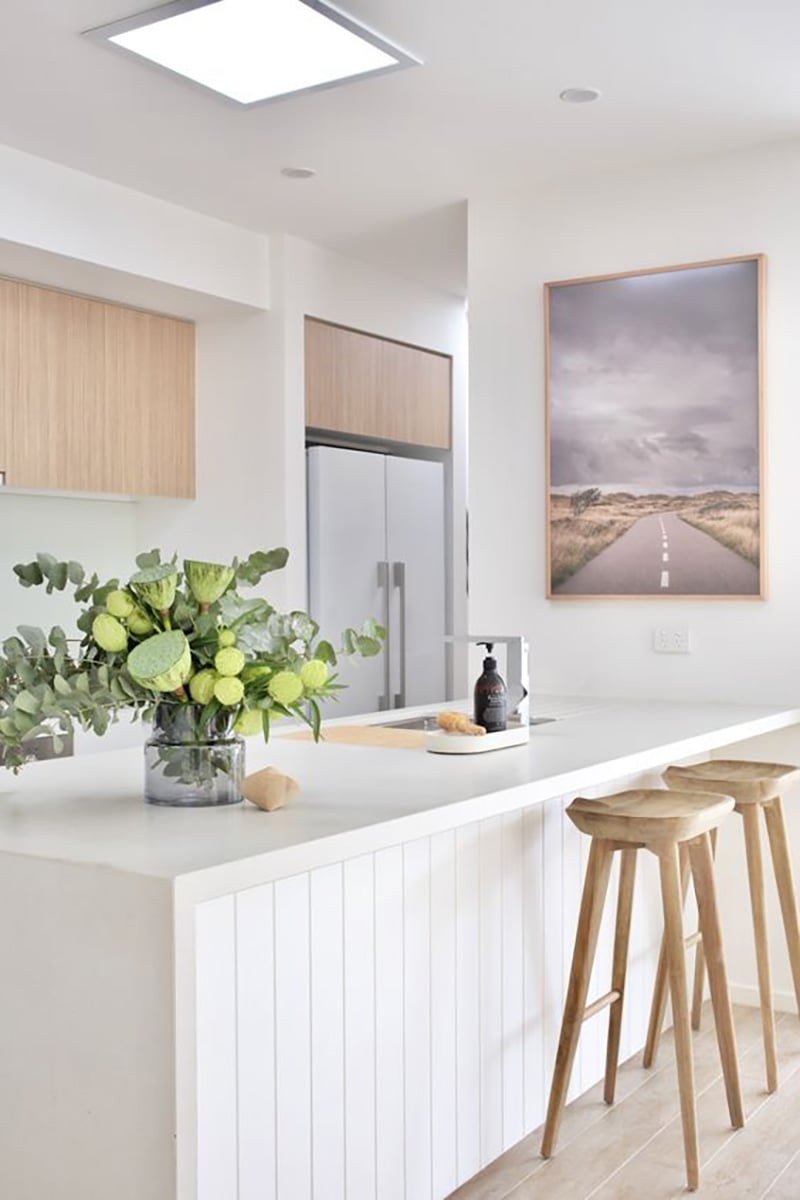 6. Bohemian Kitchen
Bohemian style is inspired by nature and has a relaxed and carefree aesthetic; this can be incorporated into your kitchen in several ways, including wooden details, plants, macrame decor, and wicker baskets. It is also best to use earthy colors for the walls and countertops and make use of natural lighting.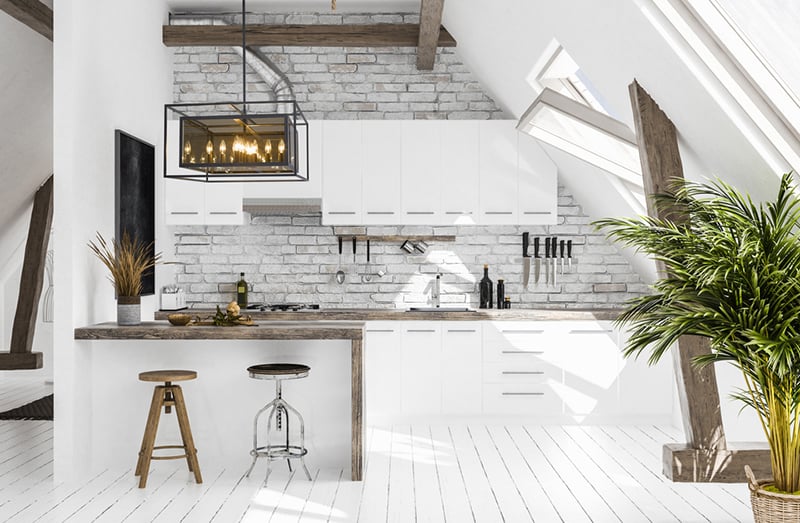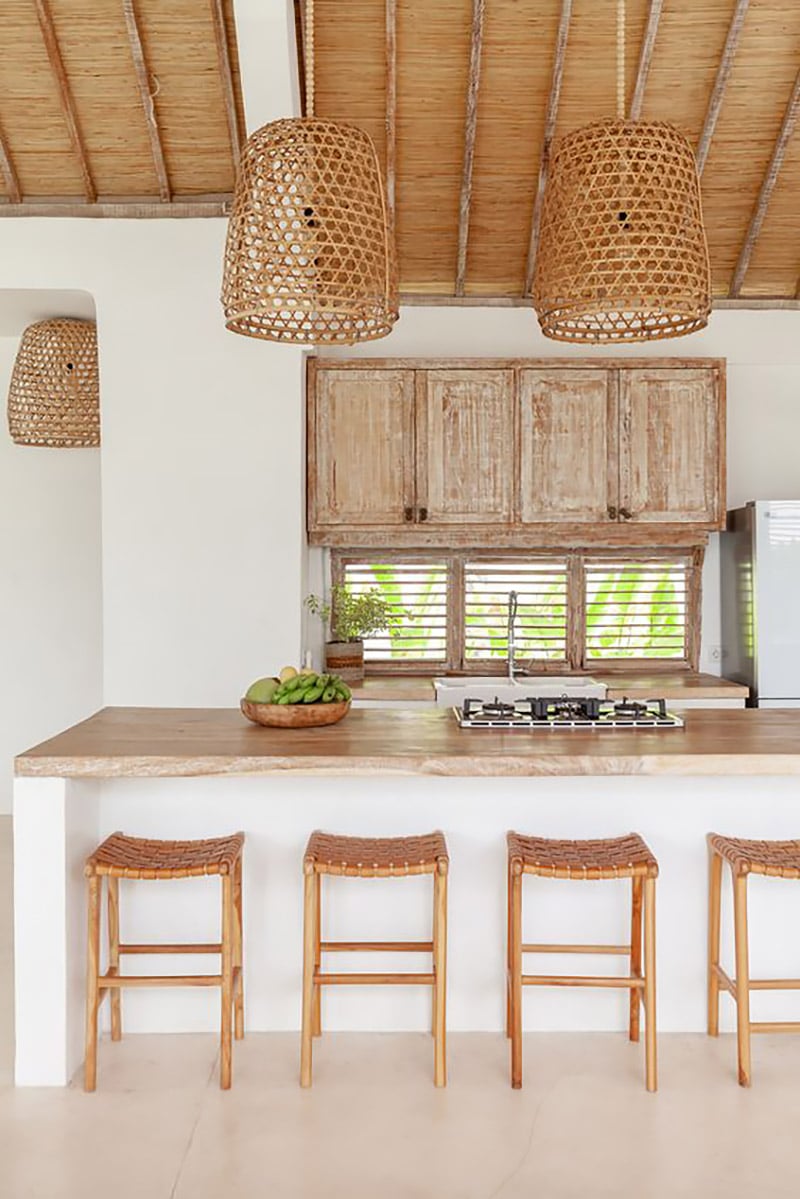 7. Farmhouse Kitchen
A farmhouse kitchen has a rustic charm, which is achieved with wooden or stone detailing. Opting for natural, unpolished, and recycled materials will add to the kitchen's character and create a texturally interesting finish. Let this be a space that feels homely and warm.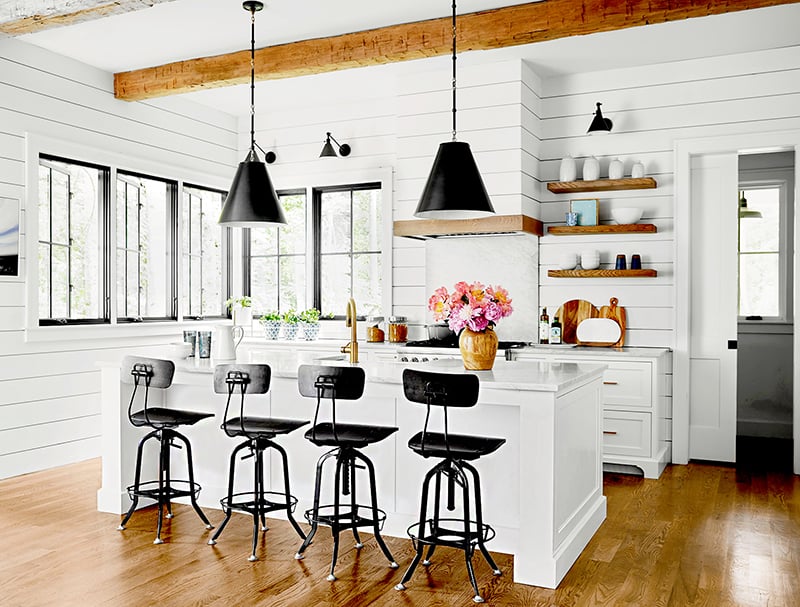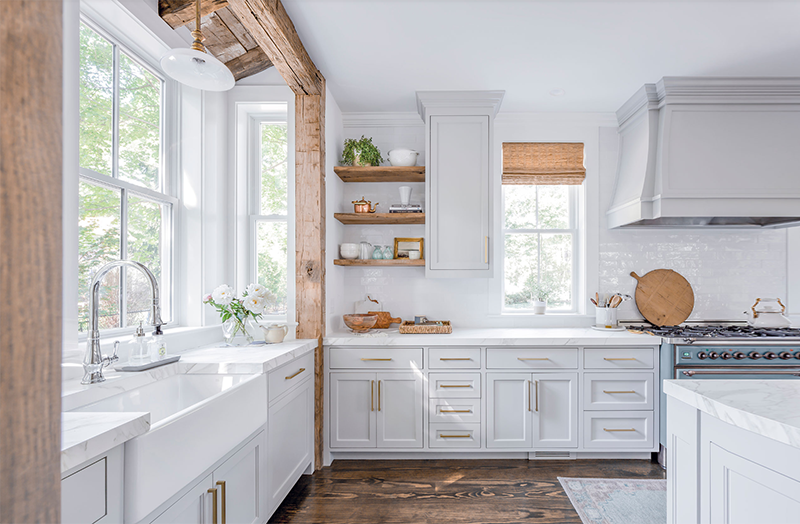 8. Black and White Kitchen
Black and white is a classic color scheme and can create a brilliant contrast. There are many ways to do this, and it can be subtle and modern with black finishes and fittings, or the hues could be combined to create a retro aesthetic with interesting tiles and kitsch decor.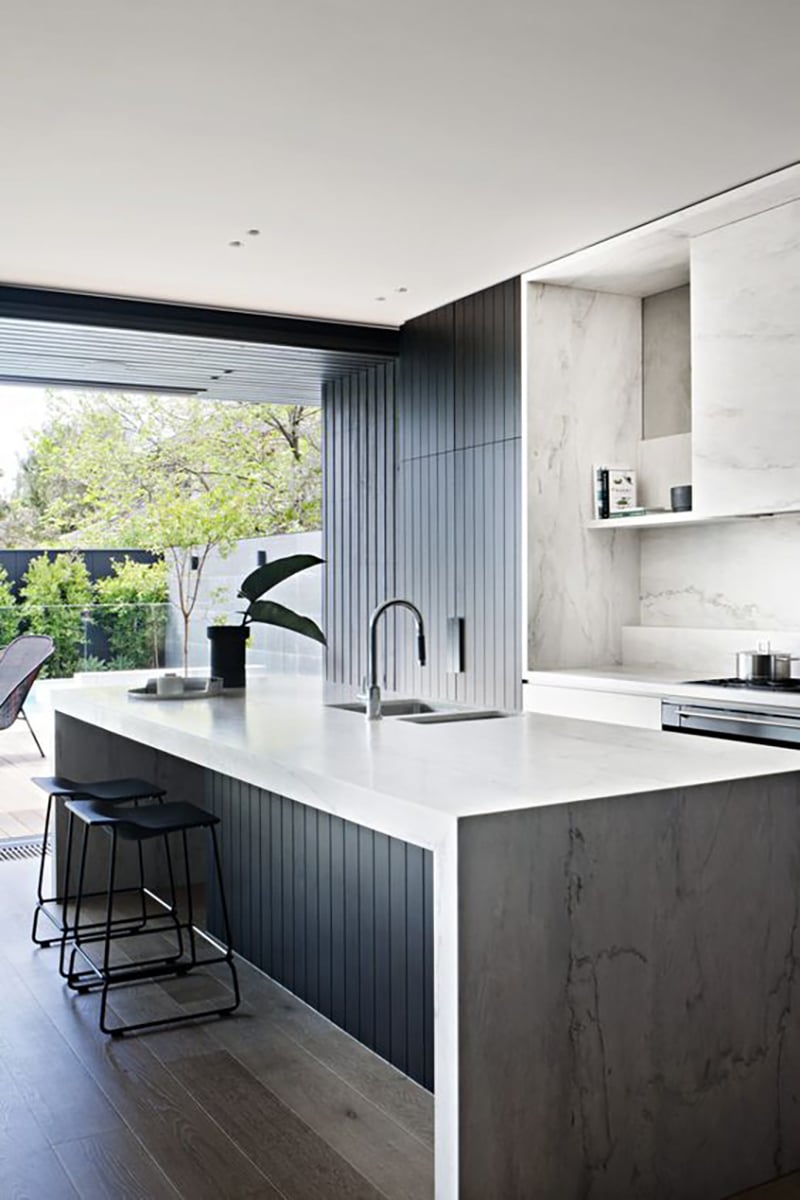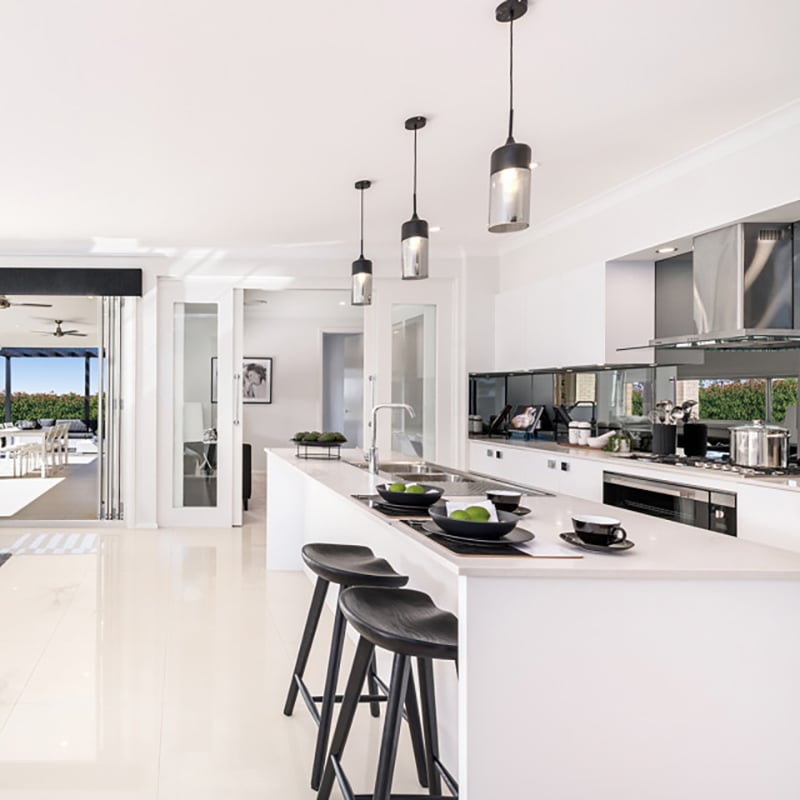 9. Antique Inspired Kitchen
The antique decor has something special about it because each piece has a rich history. The collectible items are often very valuable, but more than that will add character to your kitchen, making it unique and expressive. You can also add modern pieces to it to give it a more contemporary feel.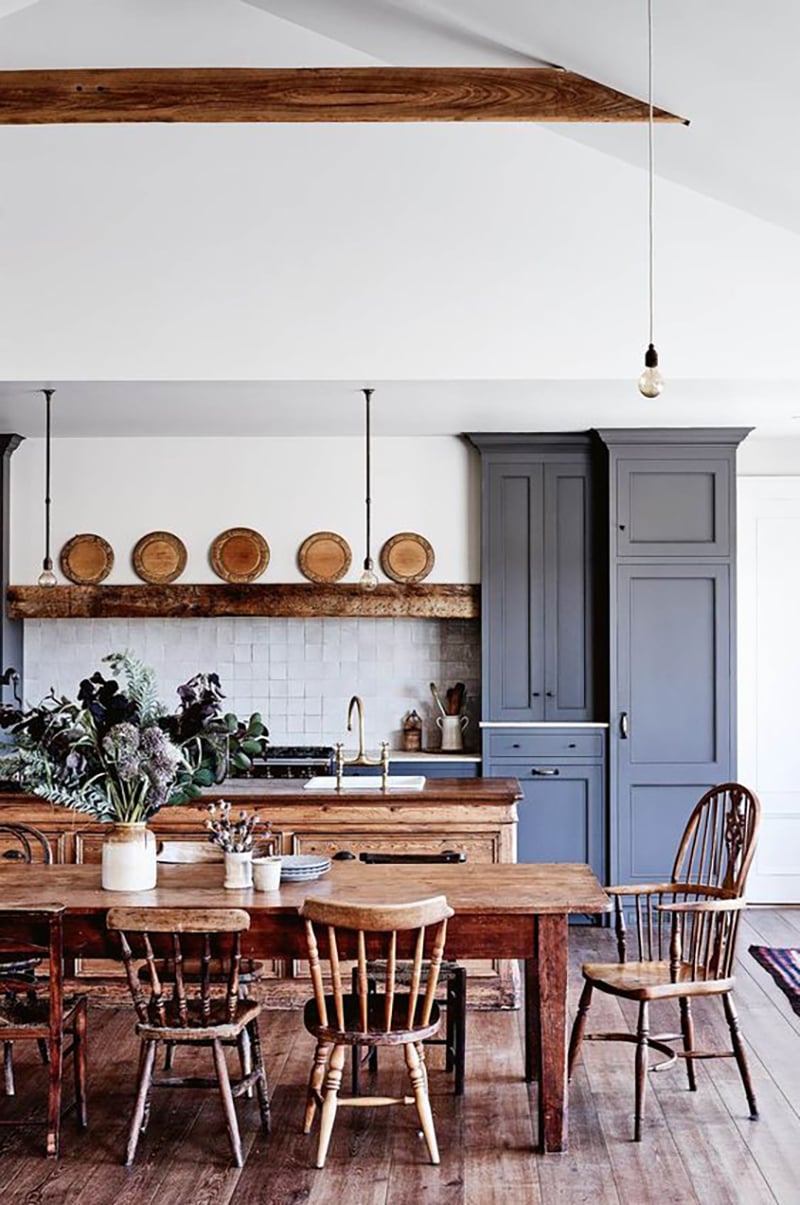 10. Hamptons Kitchen
Blue is a color that evokes feelings of calmness and serenity and is a wonderful addition to any kitchen. Depending on how intense you want the finish to be, there are various shades to choose from. Try blue details and fittings with neutral-colored walls and countertops for a more subtle approach.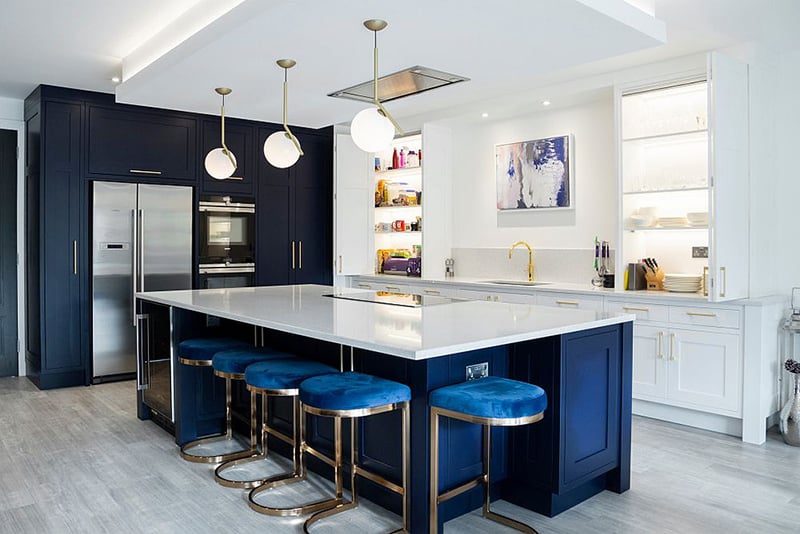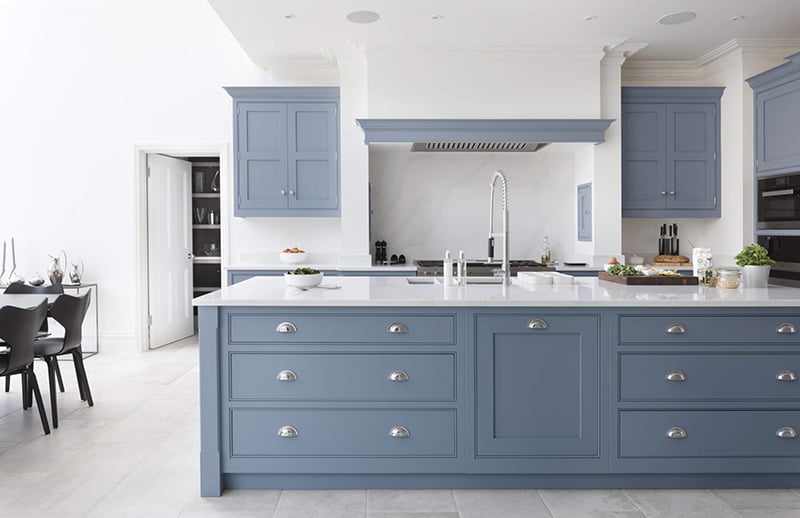 11. Kitchen Bench Table
A kitchen bench table is a wonderful addition to your decor and a sociable way of eating your meals; conversations can be more interactive. The bench can work in smaller rooms and larger ones and is incredibly versatile. Add it to the middle of the room as a statement piece of furniture.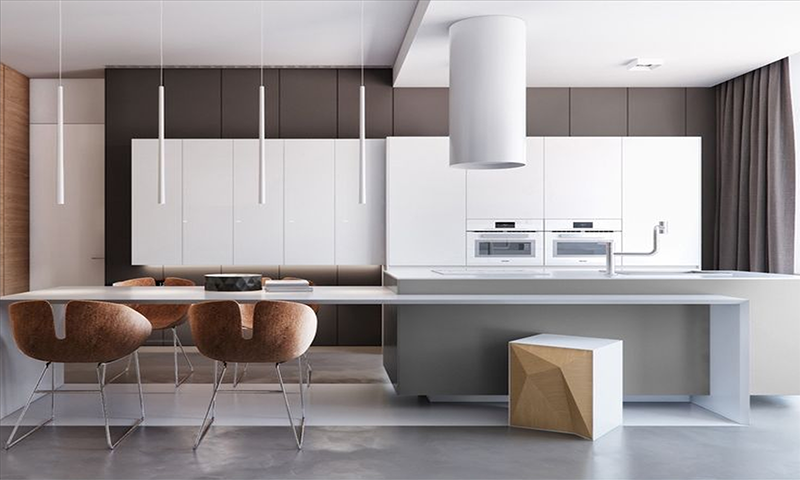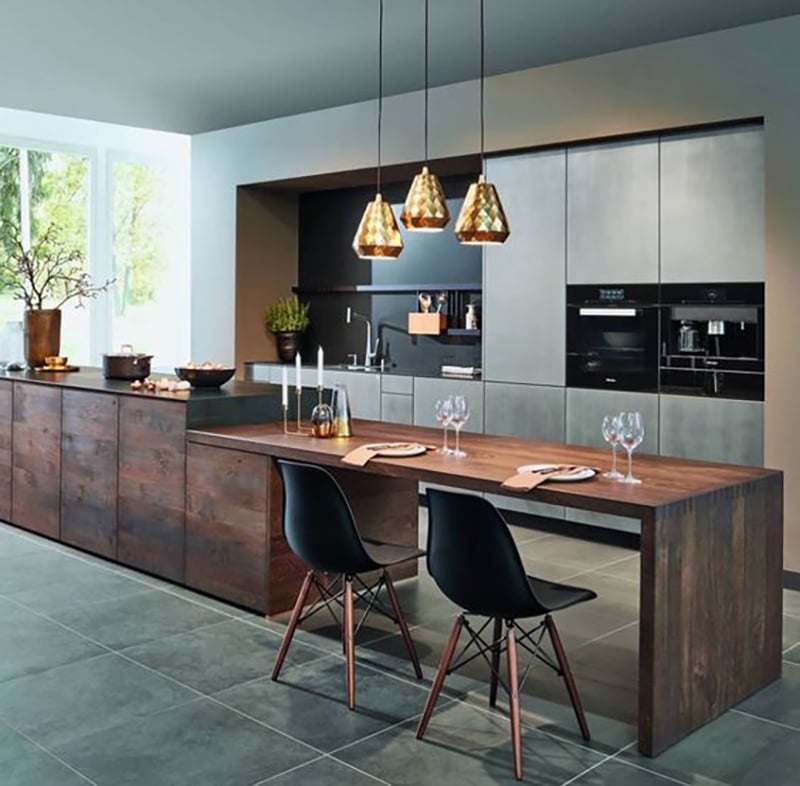 12. Chandeliers Over the Kitchen Bench
For a luxurious and sophisticated kitchen, adding chandeliers will create the room of your dreams. Chandeliers are ornate and will become the focus of the room and will be complemented by expensive finishes like marble countertops. It is also a fantastic way to ensure a light and bright kitchen.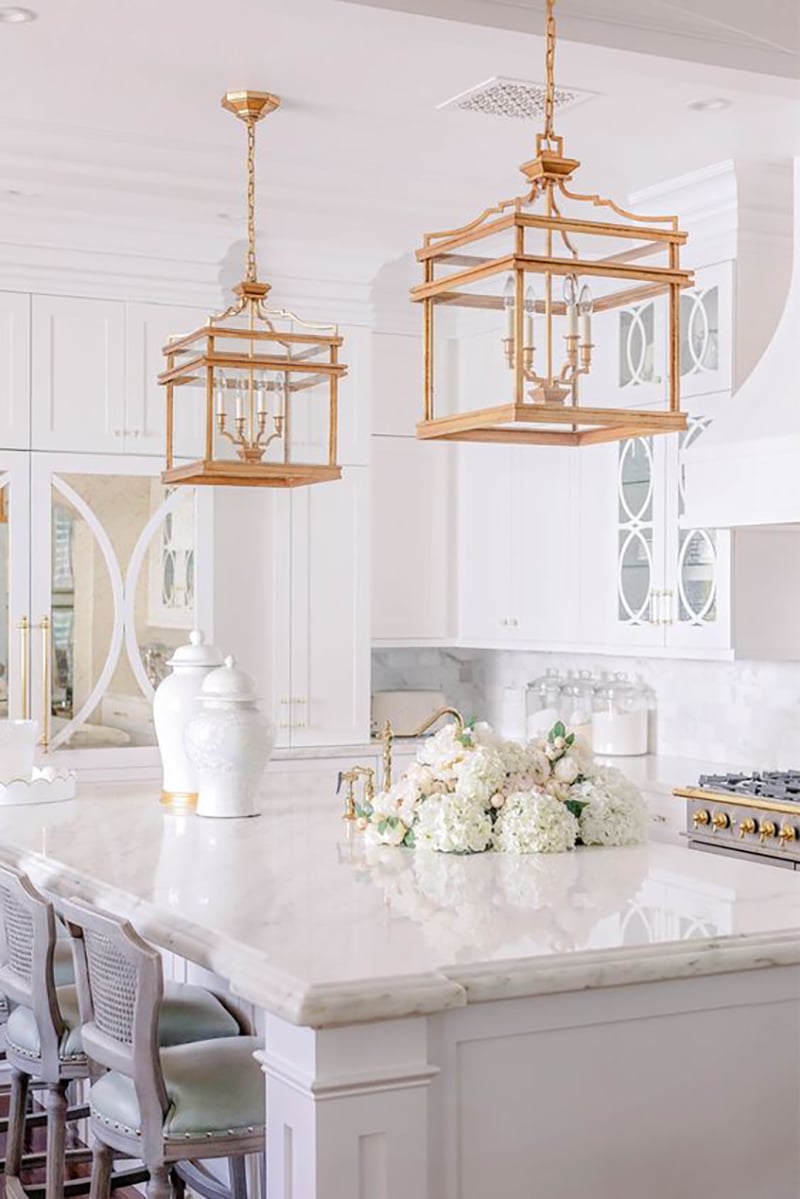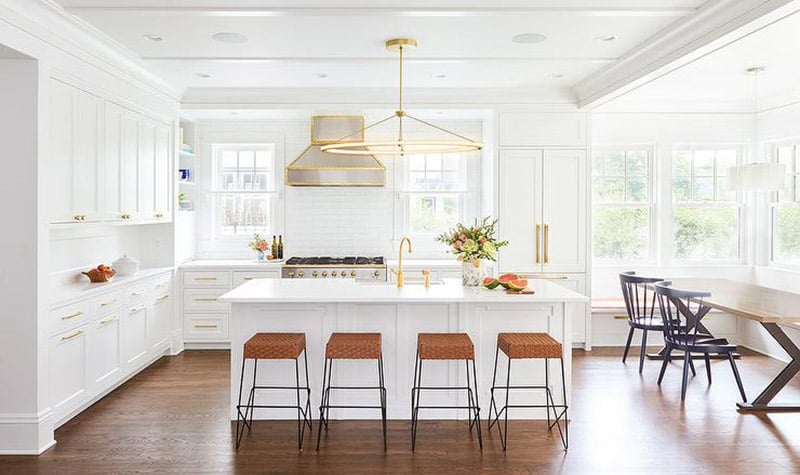 13. Colourful Kitchen
Bright colors make a kitchen feel fun and expressive. Depending on the finish you wish to achieve, you can pick clashing hues or complementary ones. Alternatively, pairing a color like yellow or blue with an otherwise neutral room will give a welcome pop and energy.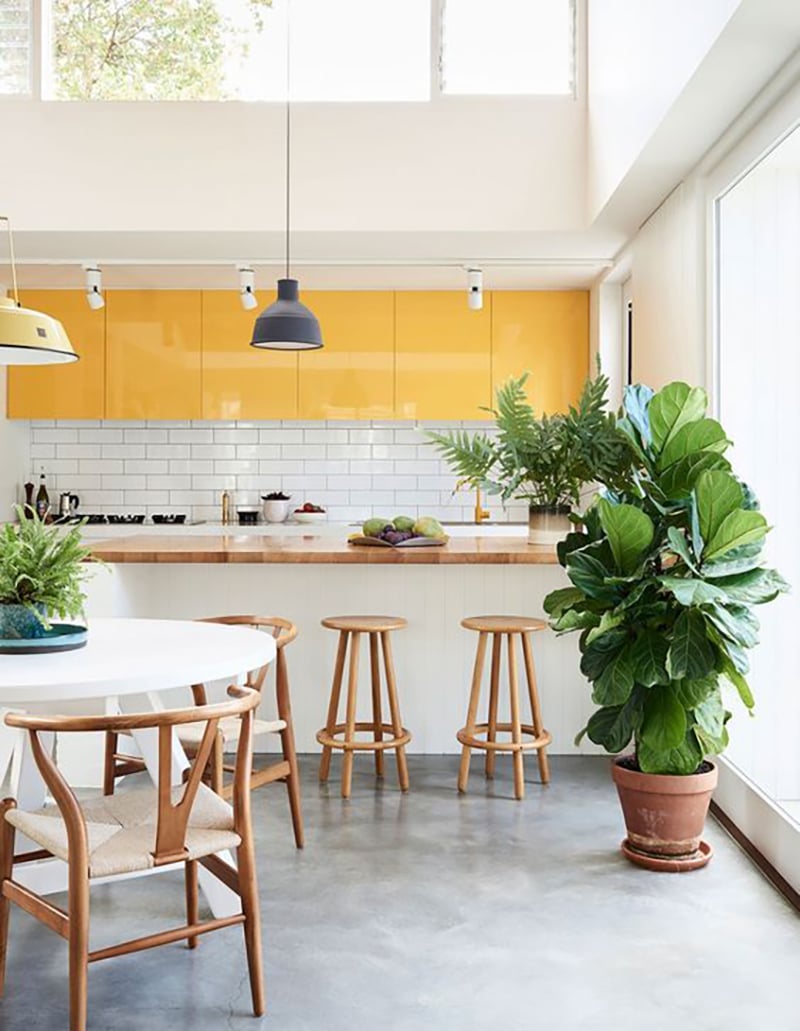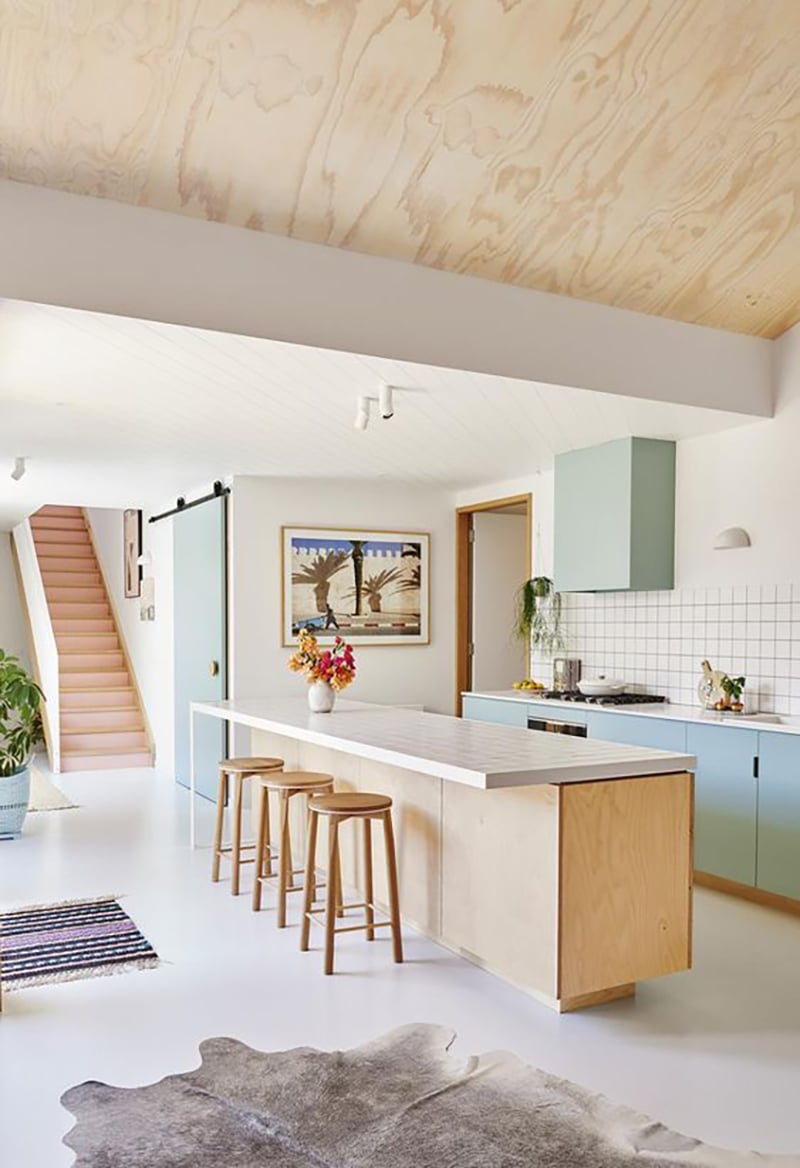 14. Designer Kitchen Bar Stools
Bar stools are great for kitchen counters and give you a versatile and space-saving eating area. There are several stool designs to choose from, including classic wooden shapes to modern designs that make the room feel arty and cool.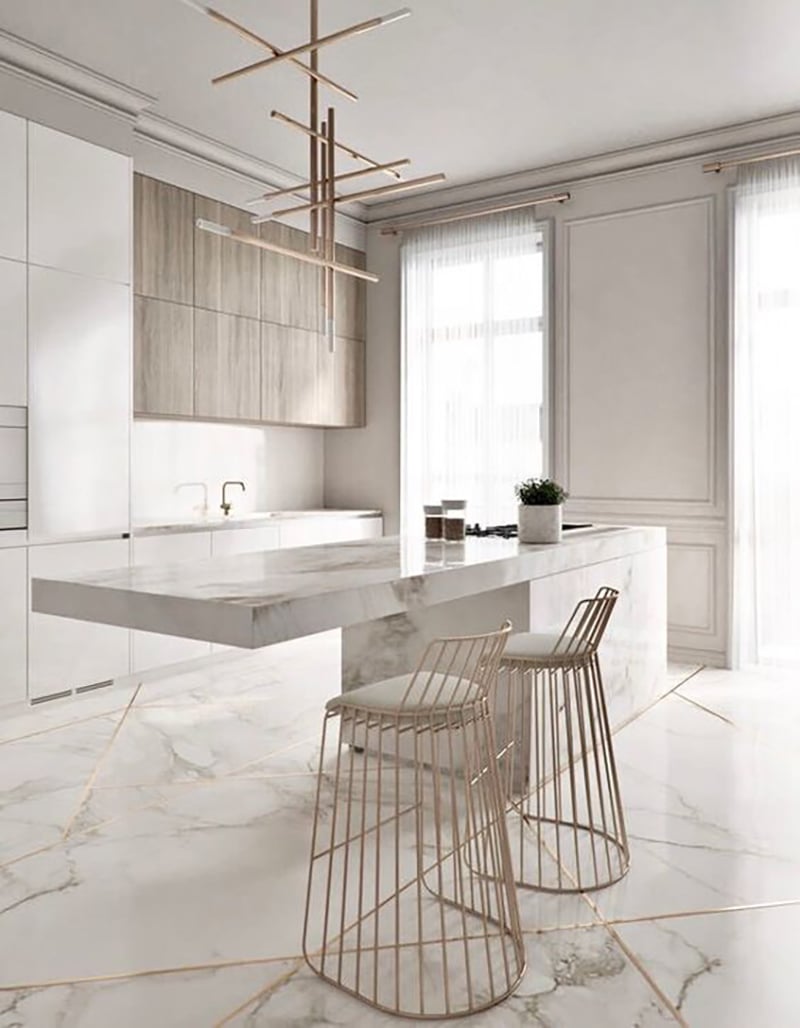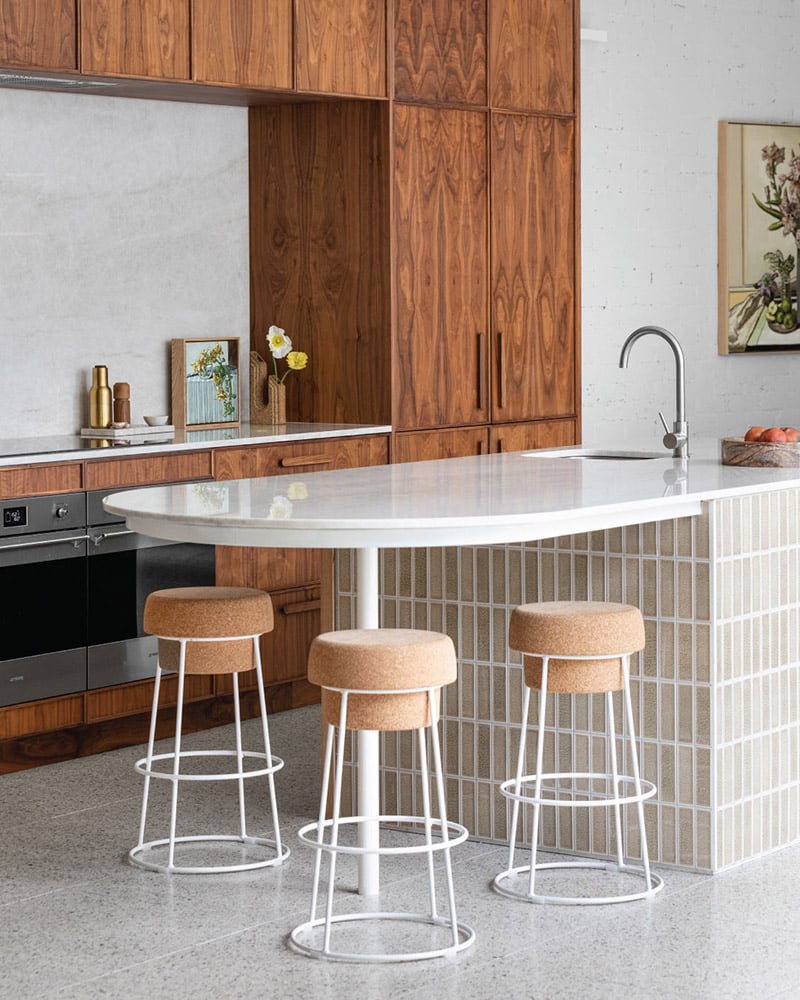 15. Kitchen Art
One of the easiest ways to achieve a room that expresses your style is with art. The art can be anything, from a large statement piece that demands attention to smaller pieces that add to the room. Art is also a way to add color to a neutral room and helps you achieve your desired aesthetic.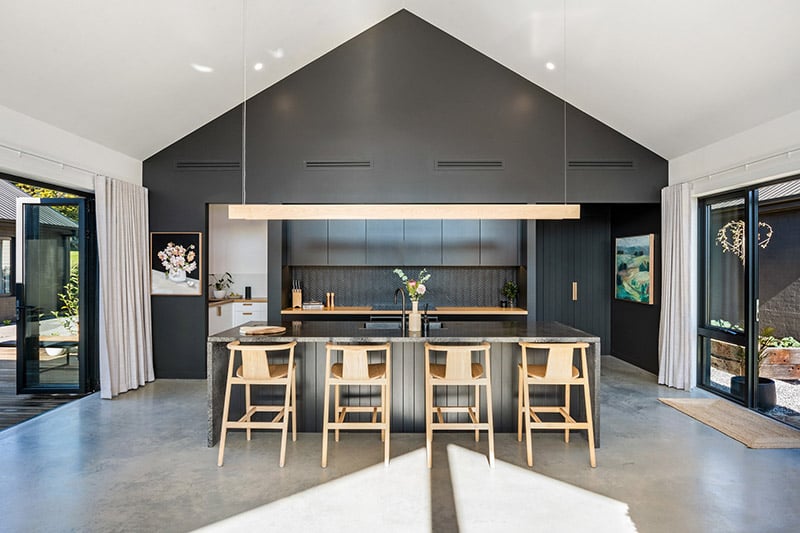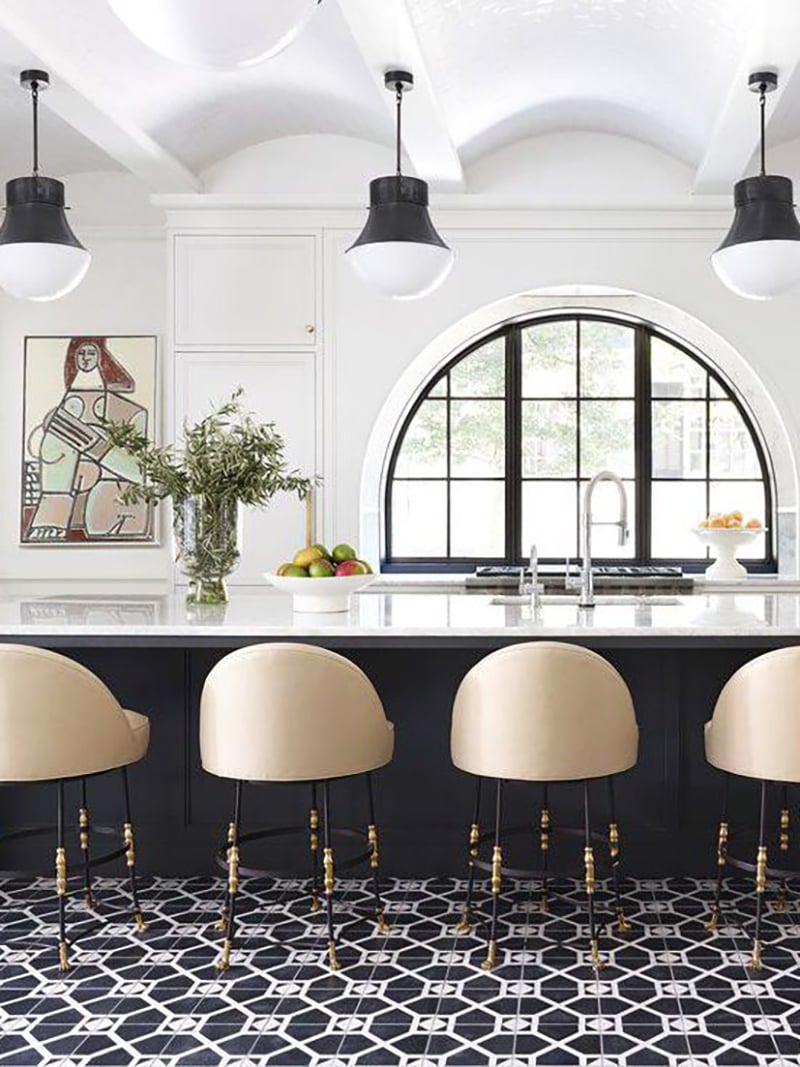 16. Copper Fittings Kitchen
Copper is a reddish-brown hue, and copper fittings are a great way to add a pop of color to your kitchen and it can be paired with all colors. Create contrast with copper details against light walls and furniture. Use it for drawer handles, and so much more, to create a modern kitchen that you will want to show off.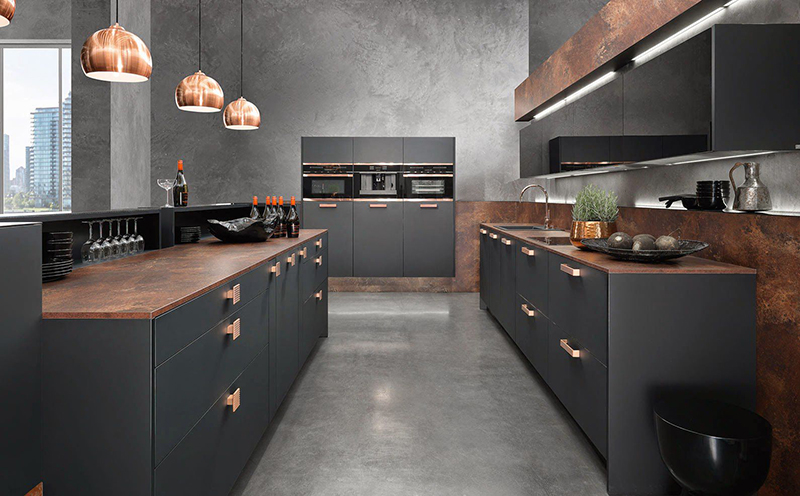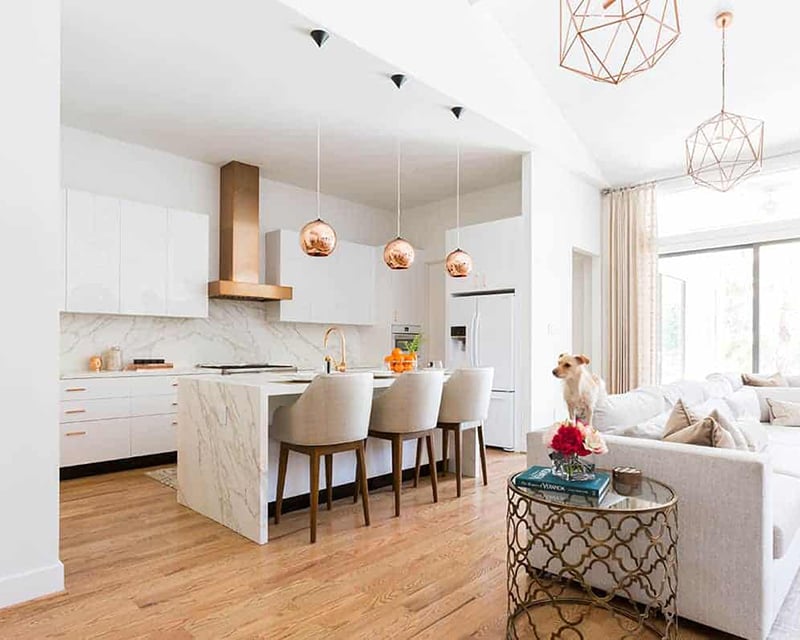 17. Decorative Stone Wall Kitchen
Stone walls are a perfect addition to a kitchen and will make a statement. Natural stone can give the room a rustic appearance, and the natural, unpolished finish also gives the wall texture. You can also contrast the look and feel of the stone by using modern finishes.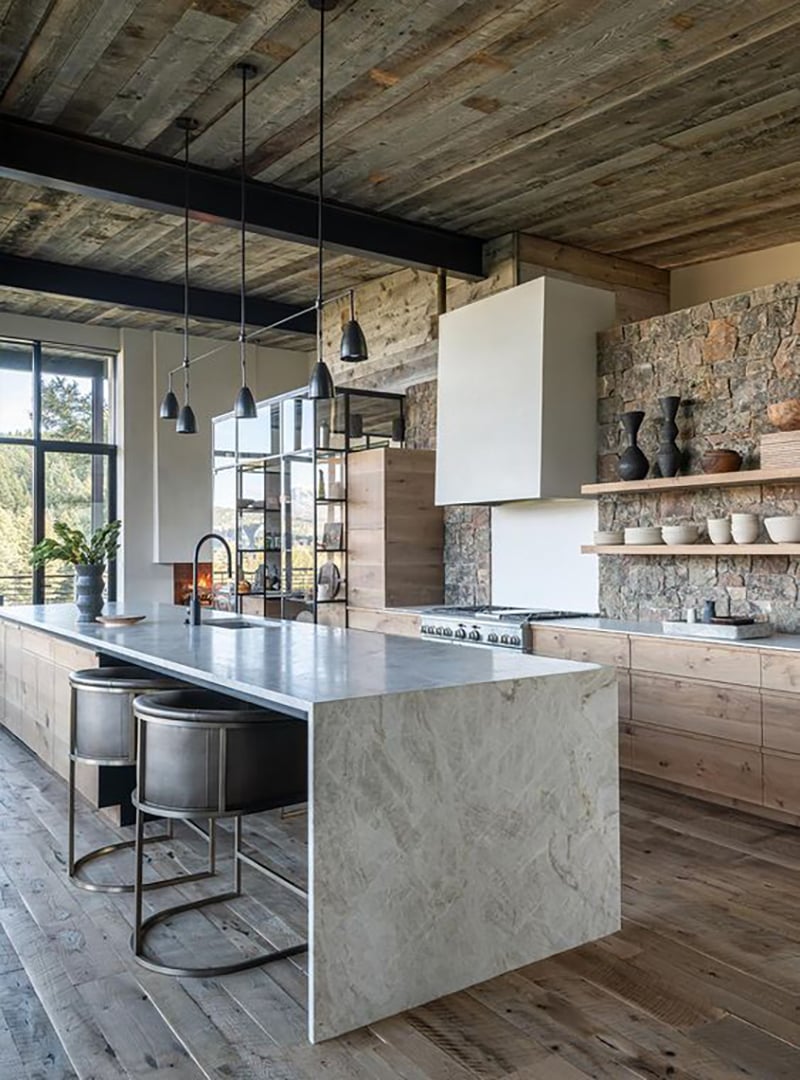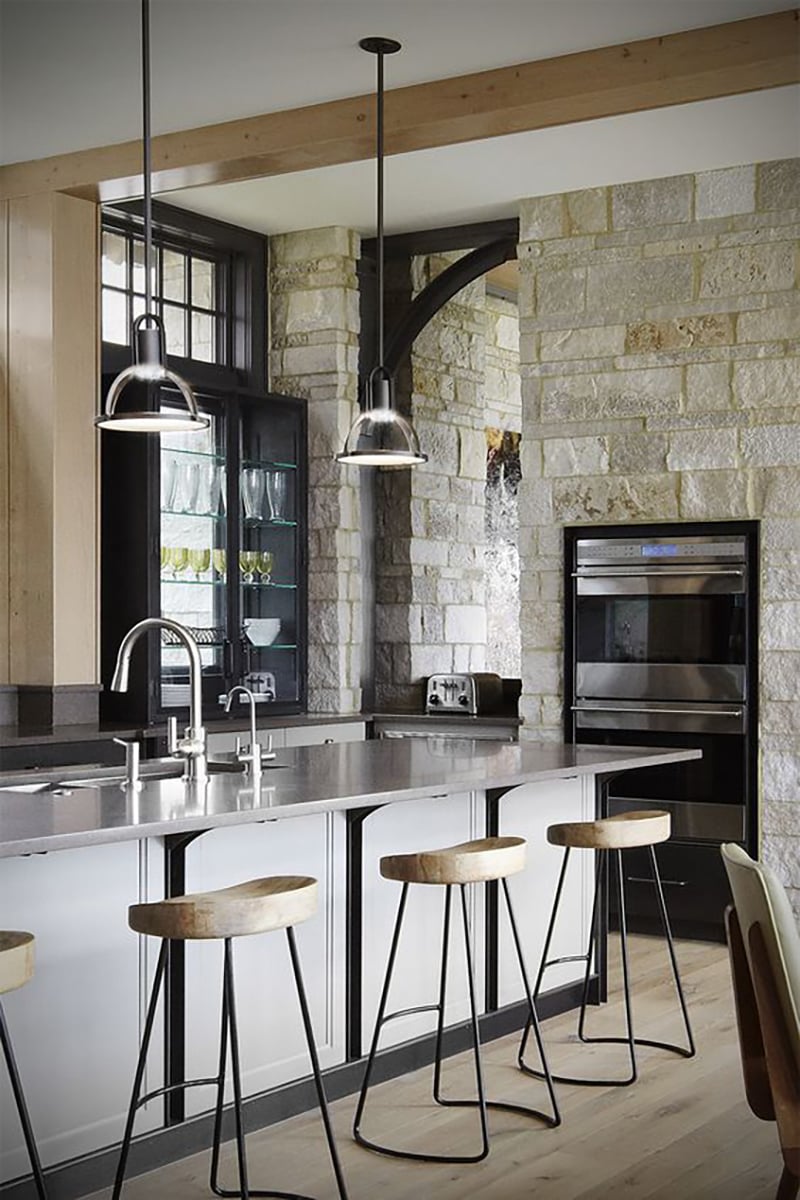 18. Futuristic Island Bench Kitchen
For a modern and edgy kitchen, you can add unique details and furniture with unusual shapes, like a futuristic island bench. This is a statement piece that will be the focus of the room, so you can tone down the rest of the space to create balance.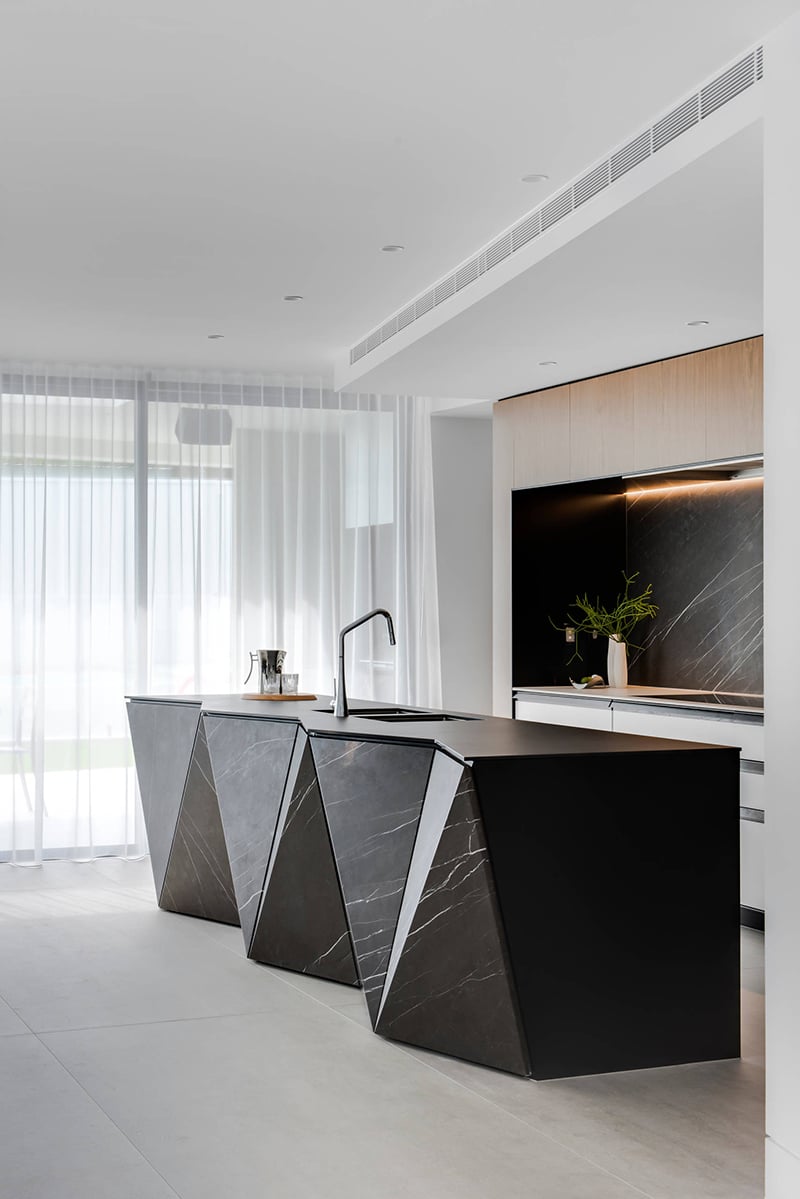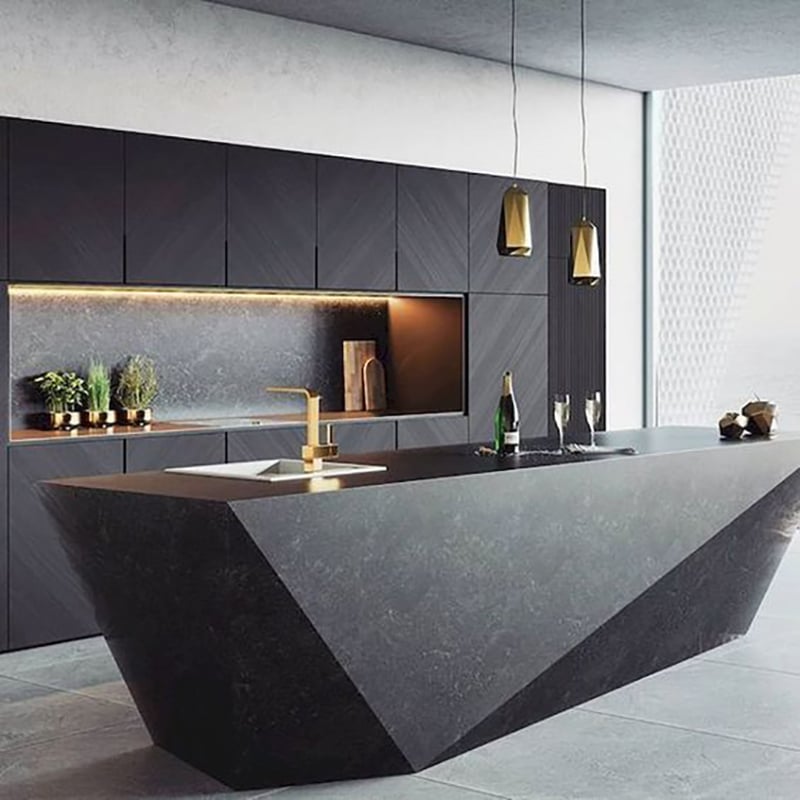 19. Grey Kitchen
Grey is a versatile color that feels modern and is a wonderful alternative to classic hues like white or cream. There are various shades to choose from, from dark, moody grey hues to lighter tones that have an earthy feel. Or you can mix and match light and dark shades for a contrasting effect.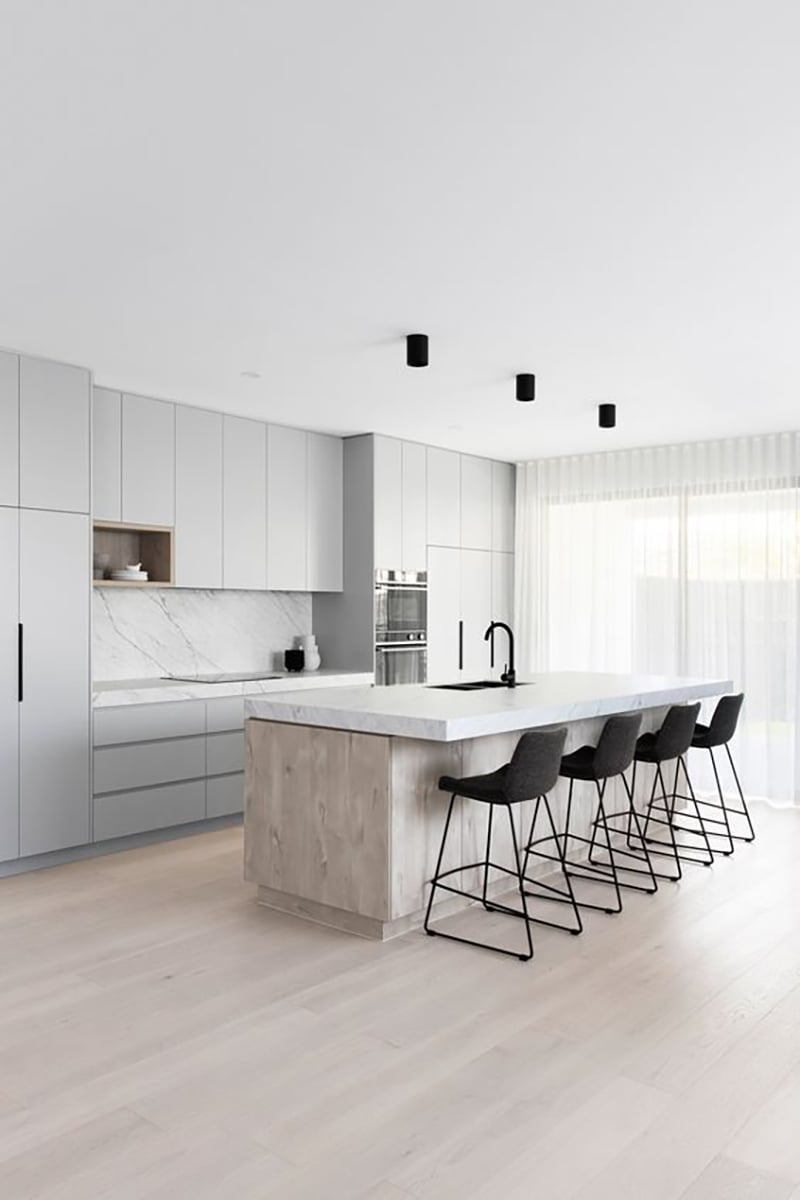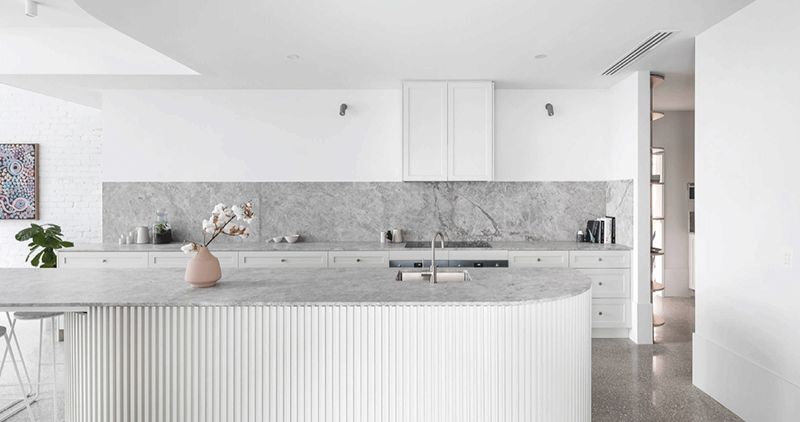 20. Hanging Shelves Over Island Bench Kitchen
Hanging shelves are a clever way to utilize the space, providing you with extra storage while also creating a minimalistic and modern look. They can be made in various materials, allowing you to find the option that best complements the room; from rustic to contemporary, the choice is yours.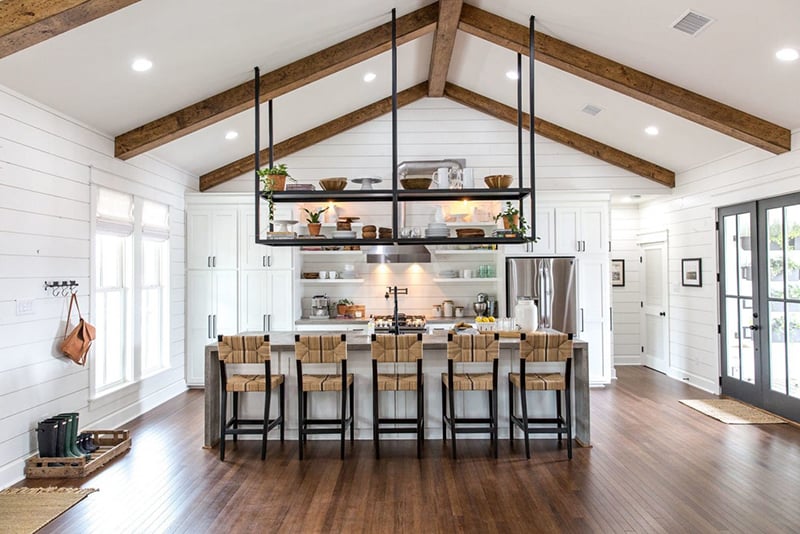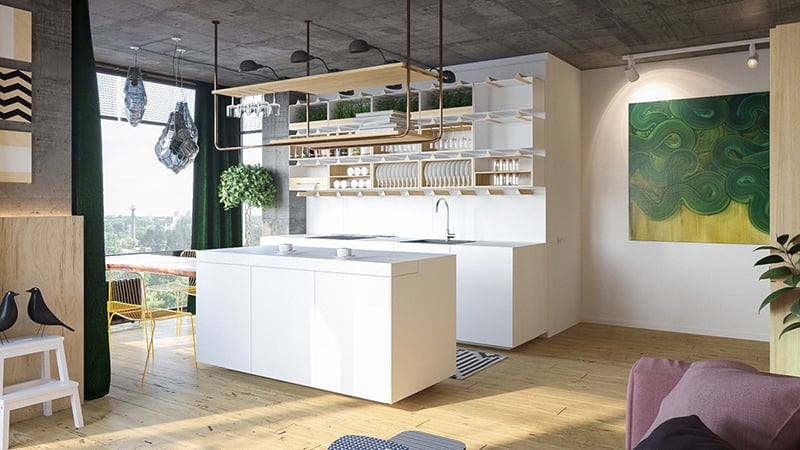 21. Modern Cottage Style
Cottage style is often described as a mixture of rustic charm and shabby chic, and this is decor that has a lot of character. Make use of natural lighting, wooden details, and soft, pale colors for the walls and countertops to create a pretty room with a laid-back aesthetic.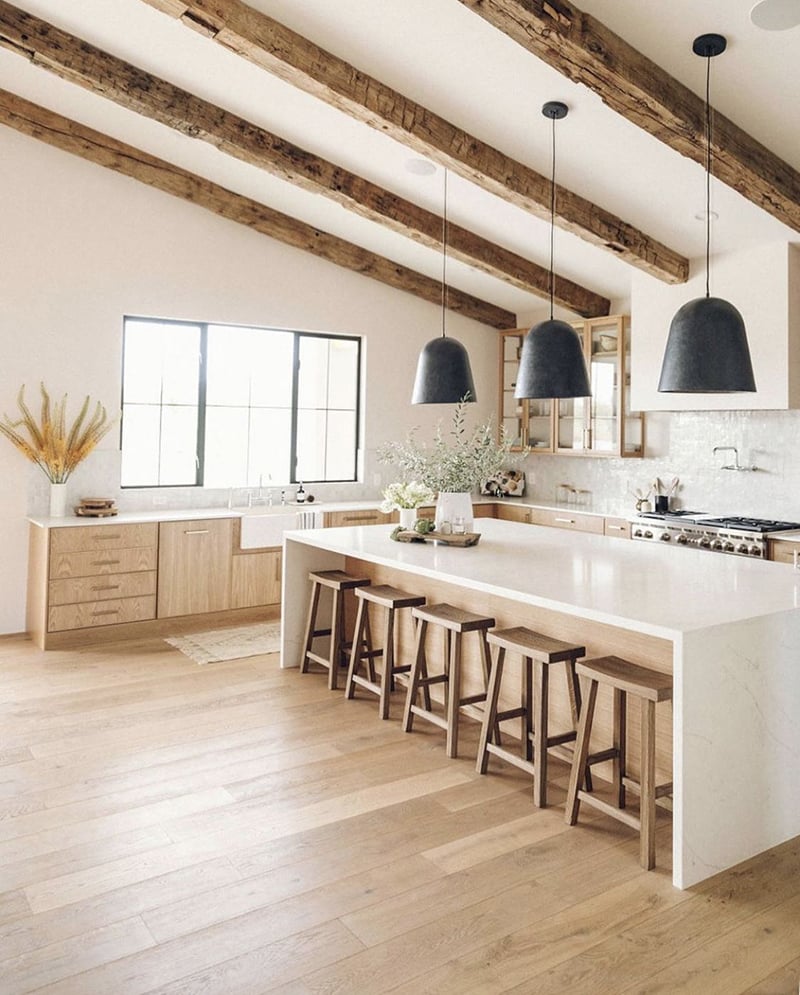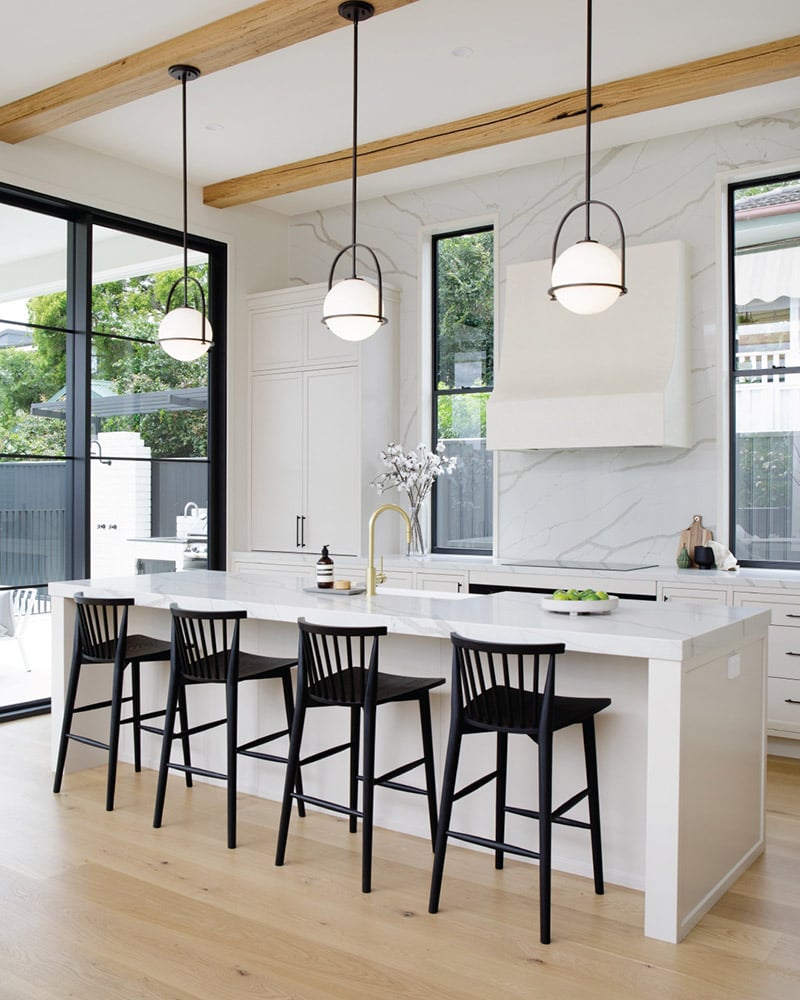 22. Indoor Herb Garden Kitchen
For those who love to cook with fresh ingredients, you can find a way to combine your herbs with your kitchen decor by creating an indoor herb garden. The natural lighting and the appearance of the plants create a rustic charm and a room that looks and smells amazing.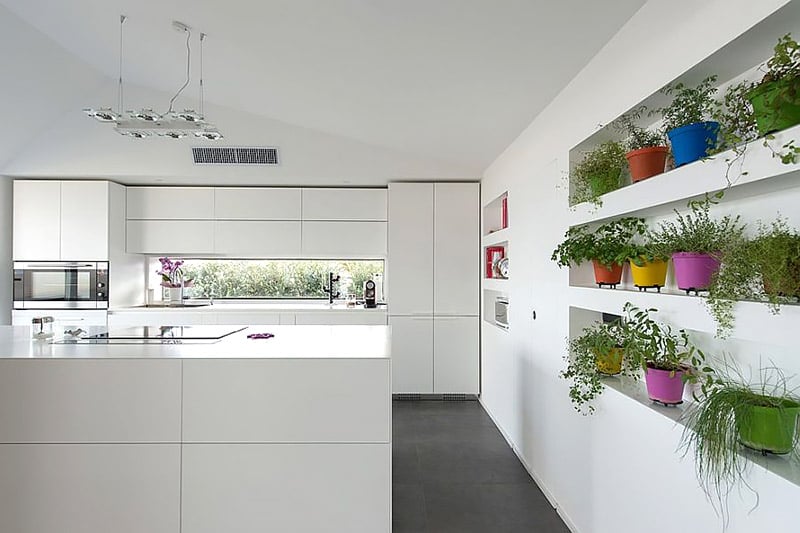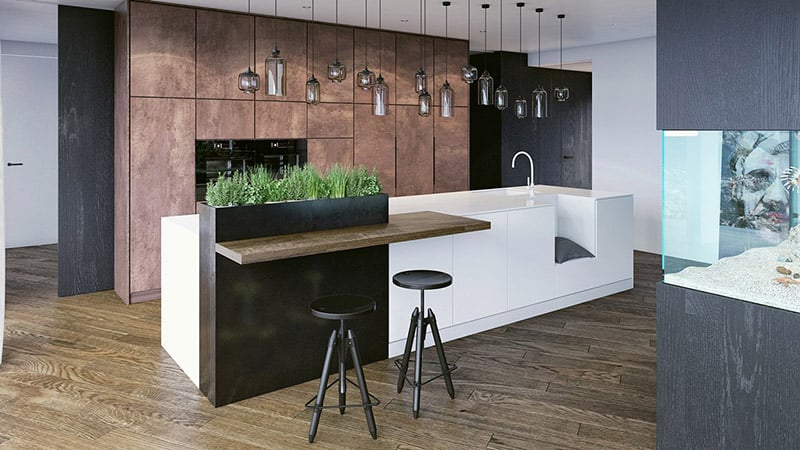 23. Industrial Kitchen
Industrial decor focuses on a style that feels unfinished, for example, with exposed brick walls and a combination of recycled materials. It is interesting to look at and a smart and creative way to design your kitchen. It is often kinder to the environment with sustainably sourced materials.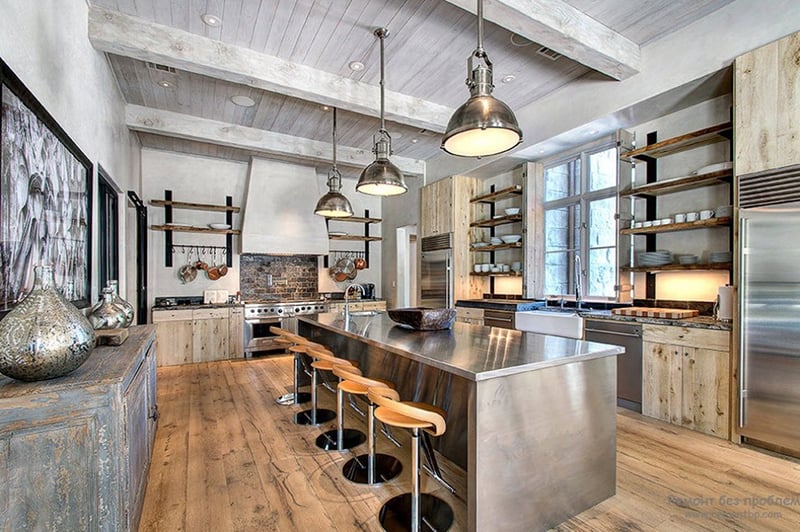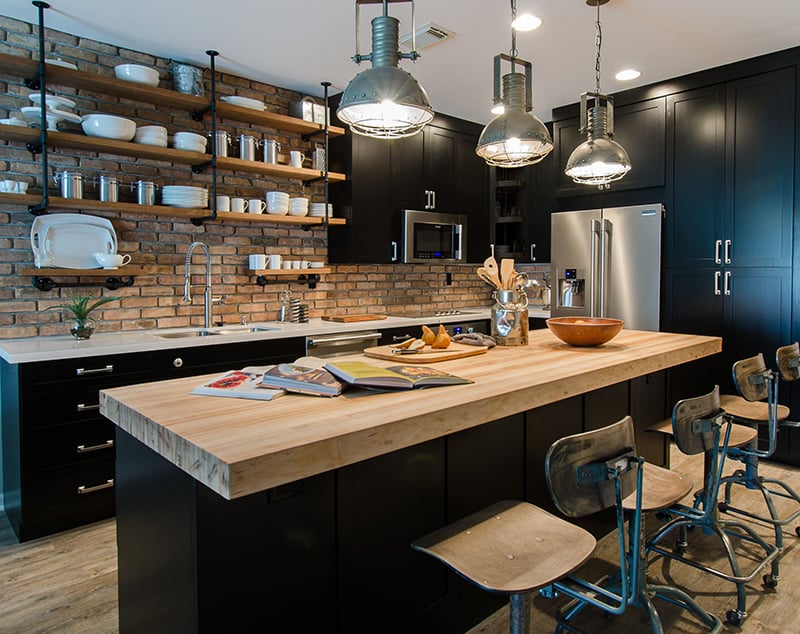 24. Island Bench Kitchen Cooktop
Island benches with cooktops are practical and stylish. It is an excellent addition to a kitchen, making it easy to plate up the food and encouraging interaction between members of the household. It will help you create a room that looks modern and cool that you will want to spend time in.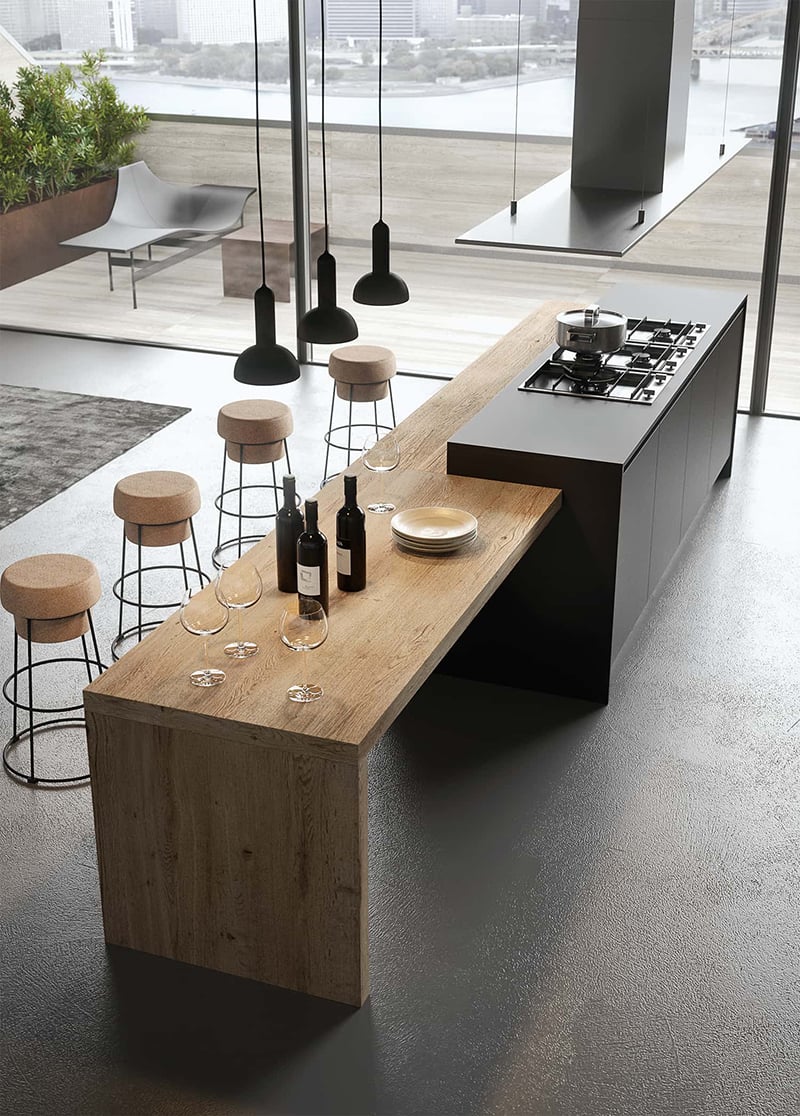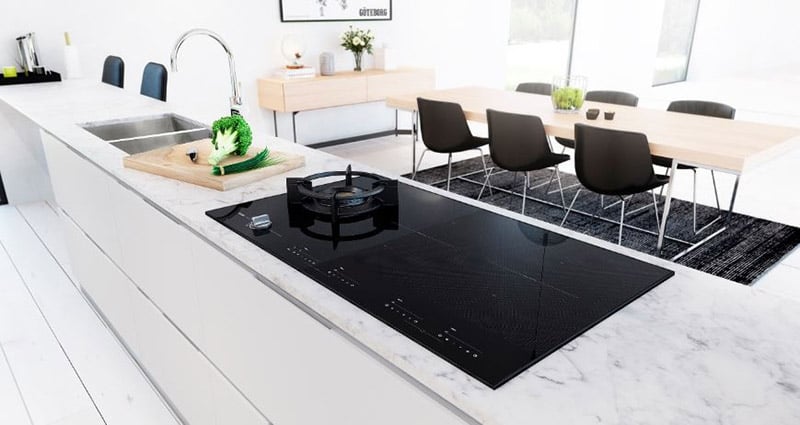 25. Black Kitchen
If you want a room that feels edgy, modern, and moody, this can be achieved with a coat of black paint. A kitchen with black walls and finishings will demand attention, and it will work best when the details are kept to a minimum. Remove the clutter and focus on a clean design that complements the boldness of the color.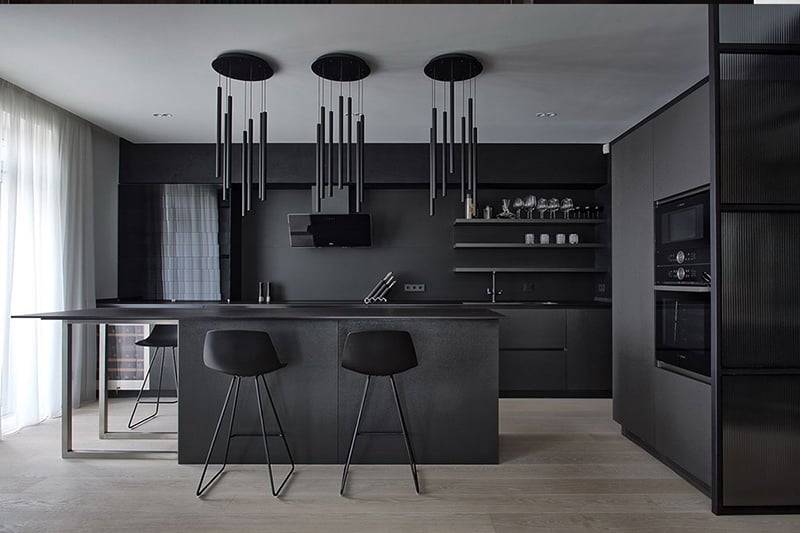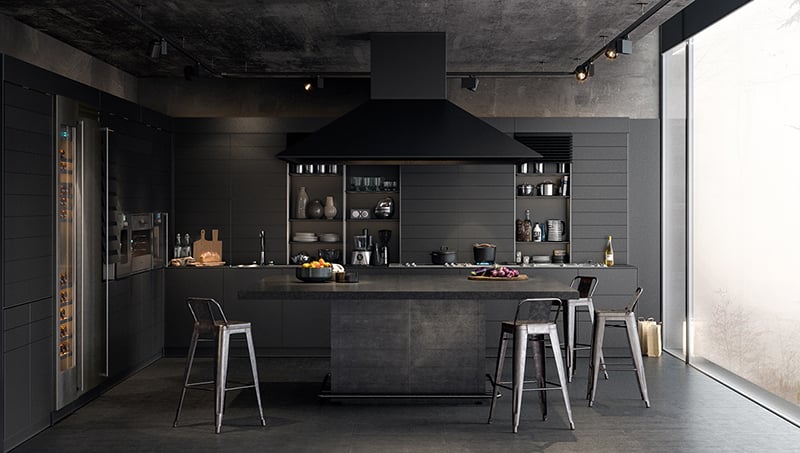 26. Kitchen with Patterned Floor Tiles
Patterned floor tiles are a way to add character to your kitchen. The tiles can be a color combination of your choosing, from clashing hues that demand attention and create a retro vibe or a monochromatic color scheme that feels simple and modern. Let the focus be on the tiles and tone down the rest of the decor.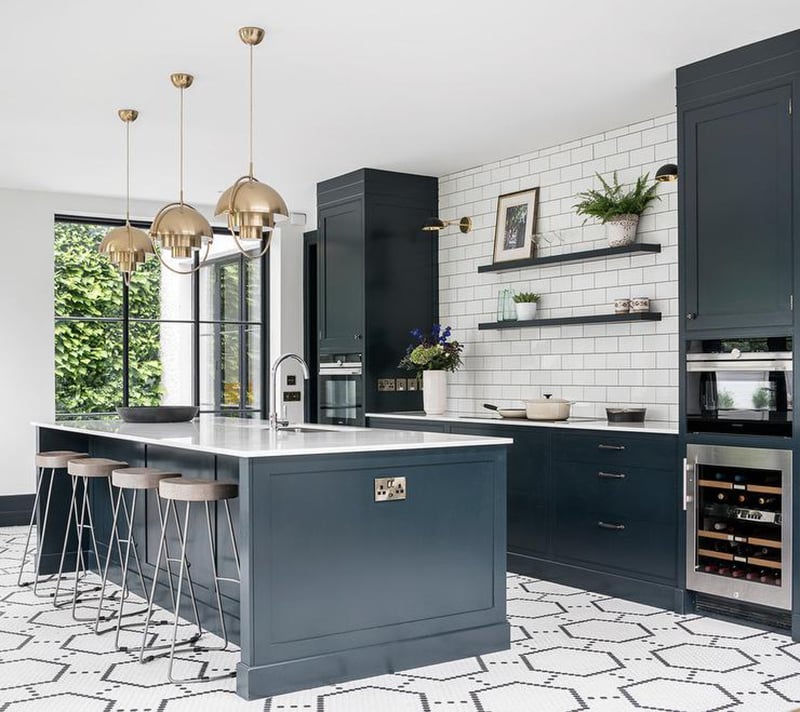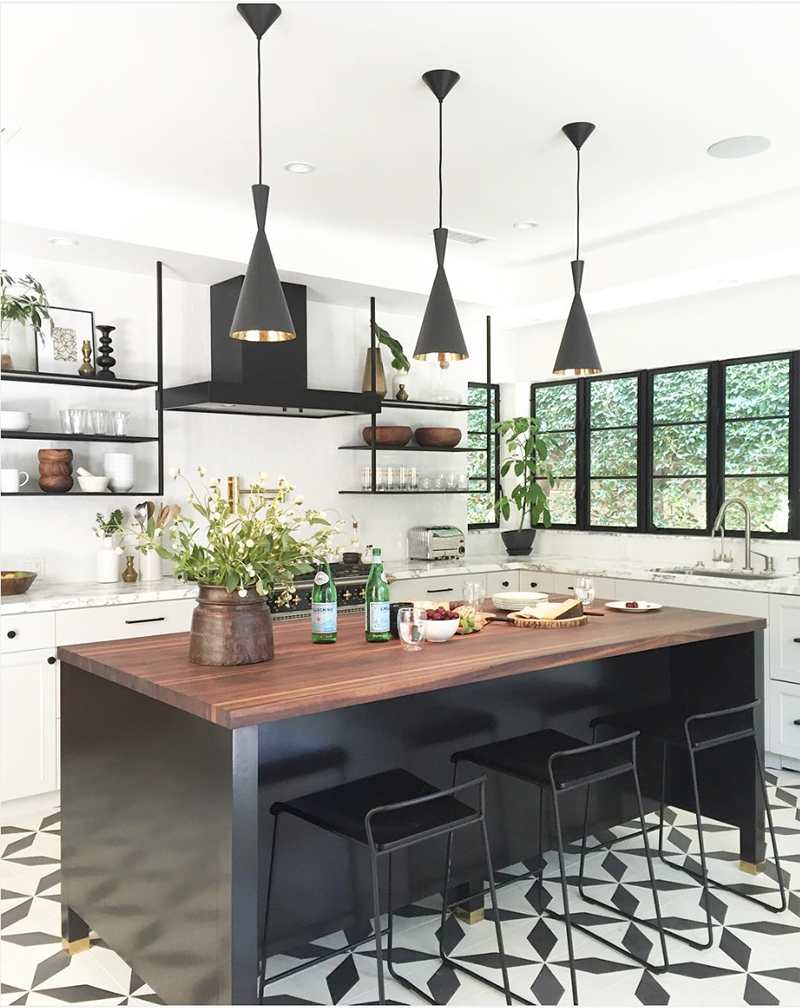 27. Marble Kitchen
Marble details like a countertop or wall will give your room a luxurious finish. The stone is also a practical choice and is water-resistant and durable. There are varying shades of marble, but the most common choice for a kitchen is the white and bluish-grey coloring which is versatile and stylish.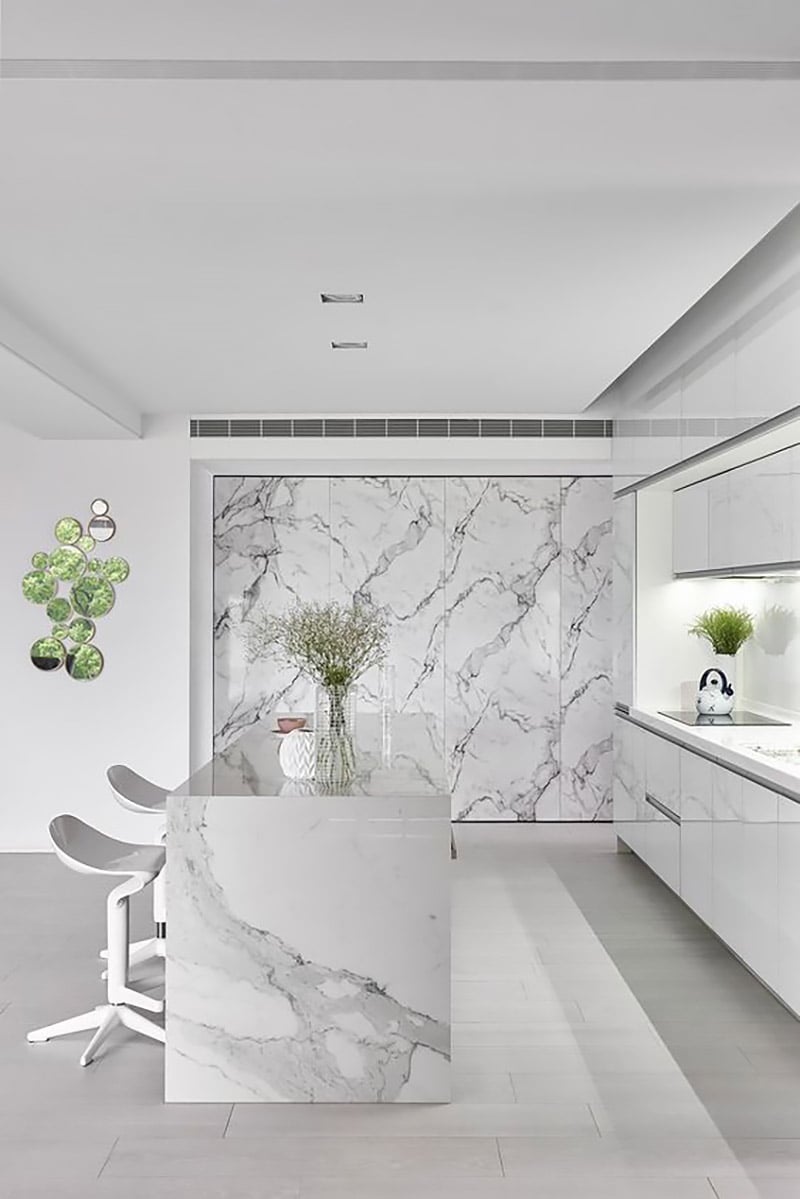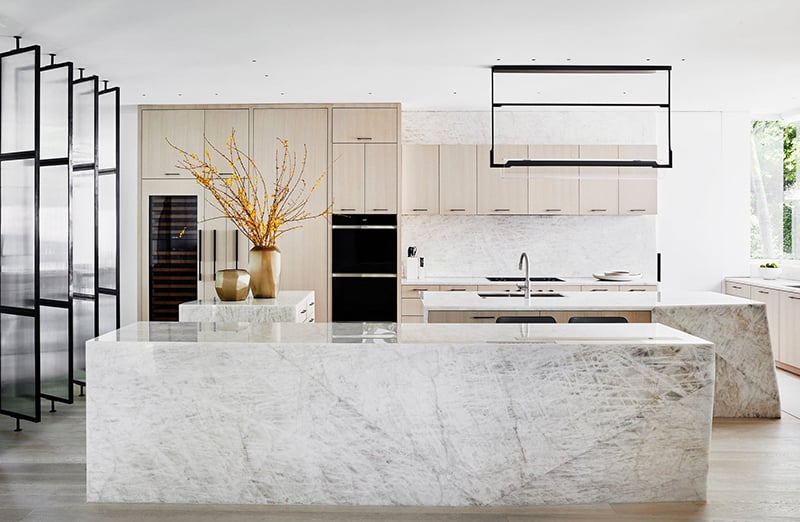 28. Modernized Mid Century Kitchen
Mid Century decor has a retro, vintage appearance and often uses bright colors for an interesting and eye-catching look. You can combine this with modern details to create a more updated finish. The modernized approach gives you a room with character, but it feels less dated.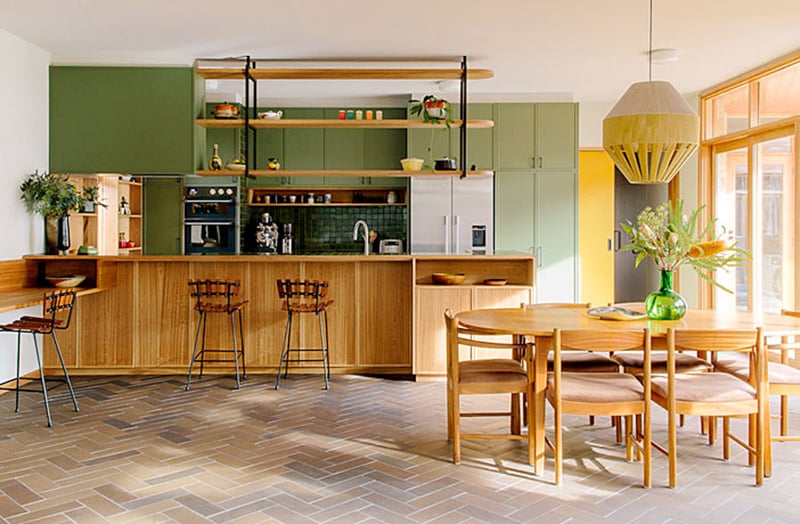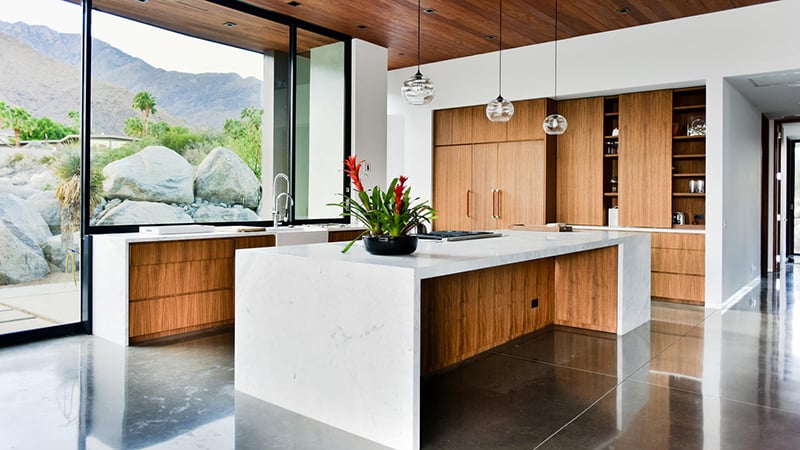 29. Open Kitchen Shelving
Open shelves are great if you want easy access to your spices or cups, but it also lets you display them. This is also a clever use of space and can make the room feel more open and bigger. In addition to being practical, the shelving also has a decorative purpose.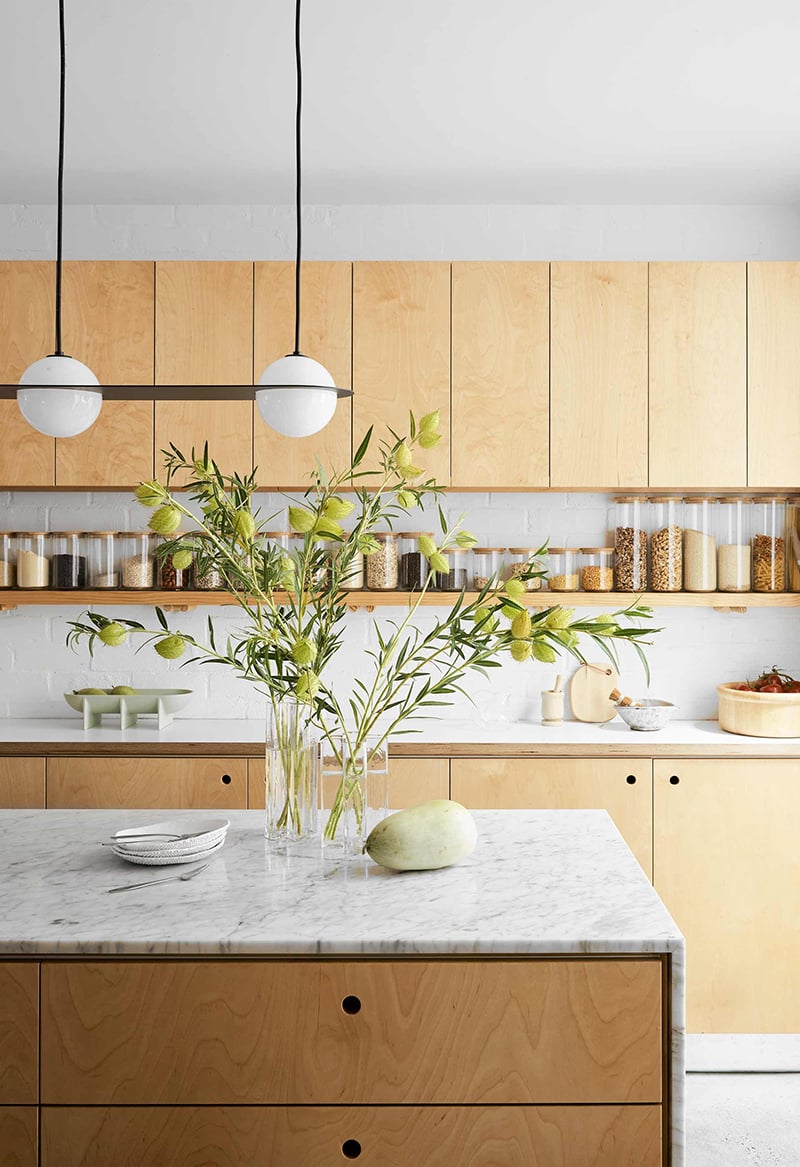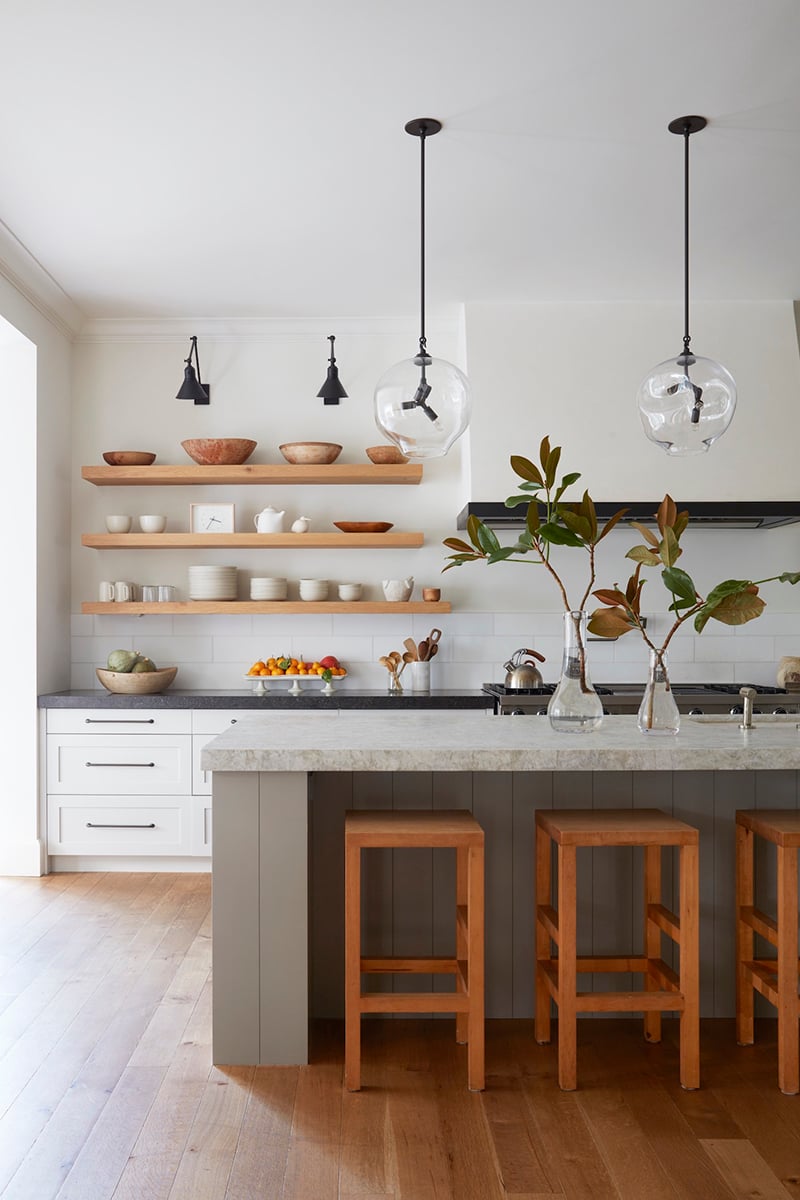 30. Kitchen with Skylight
A skylight is an excellent feature for your kitchen and will make the room feel lighter and brighter by letting in natural light. It can also be used for ventilation and can make the space feel bigger and more open. In addition, it is great to be able to gaze upward at the blue skies.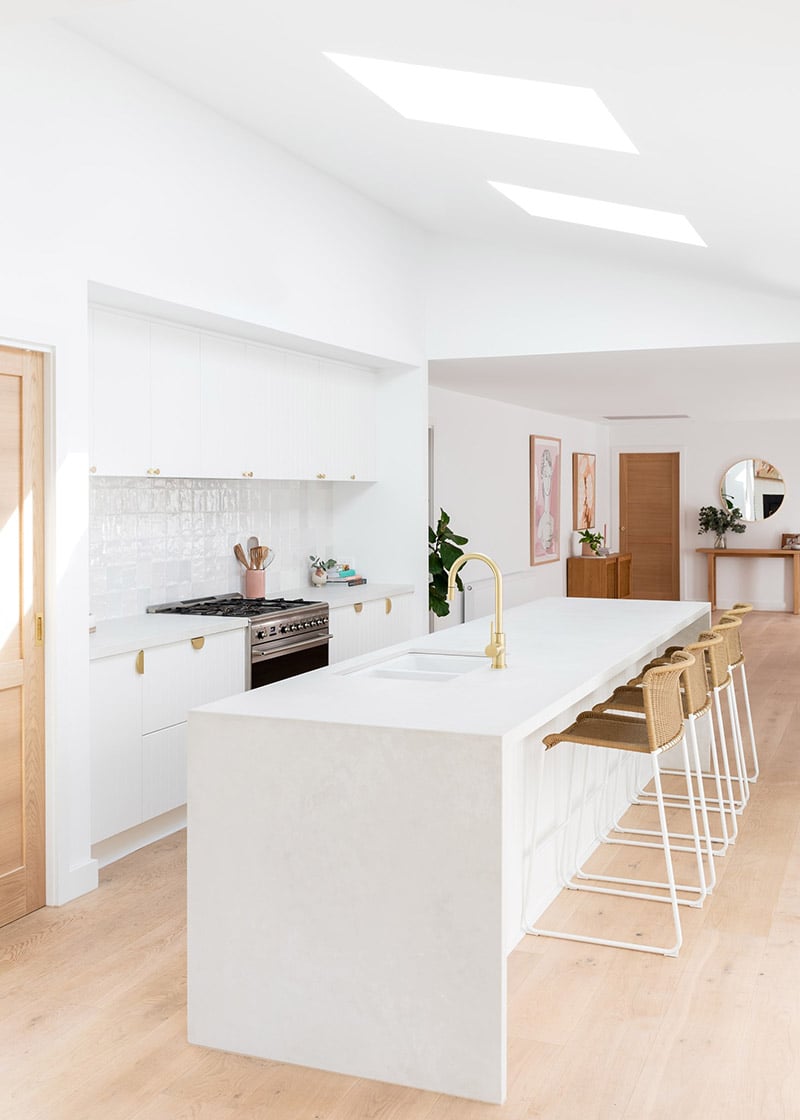 31. Parisian Kitchen
Parisian style decor has a distinct appearance and often feels opulent and extravagant. Features include high ceilings and long windows, which will give your kitchen plenty of natural lighting. The room will feel spacious and stylish and be devoid of clutter.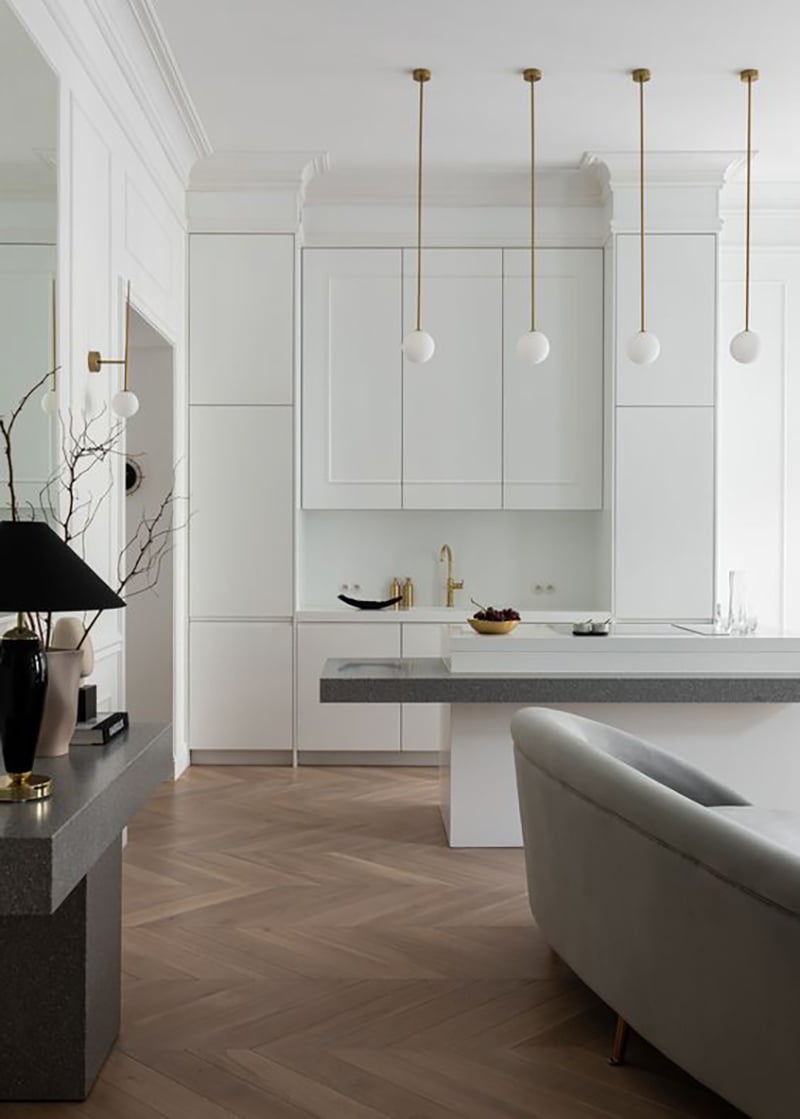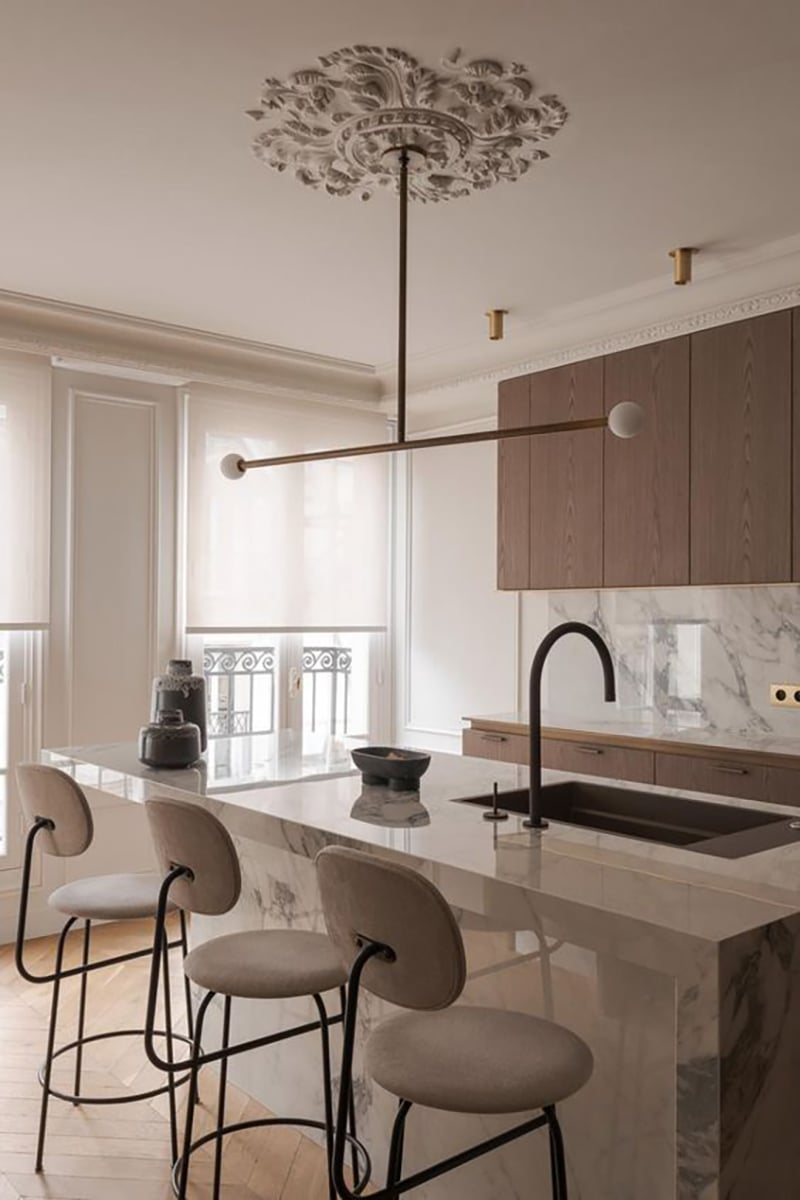 32. Pink Kitchen
Pink is a pretty, feminine color, and adding pink finishes to your kitchen will create a bright and energetic space. There is a wide variety of shades to choose from, but softer, lighter pink is more versatile and can be added to the room in various ways, including the walls and furniture.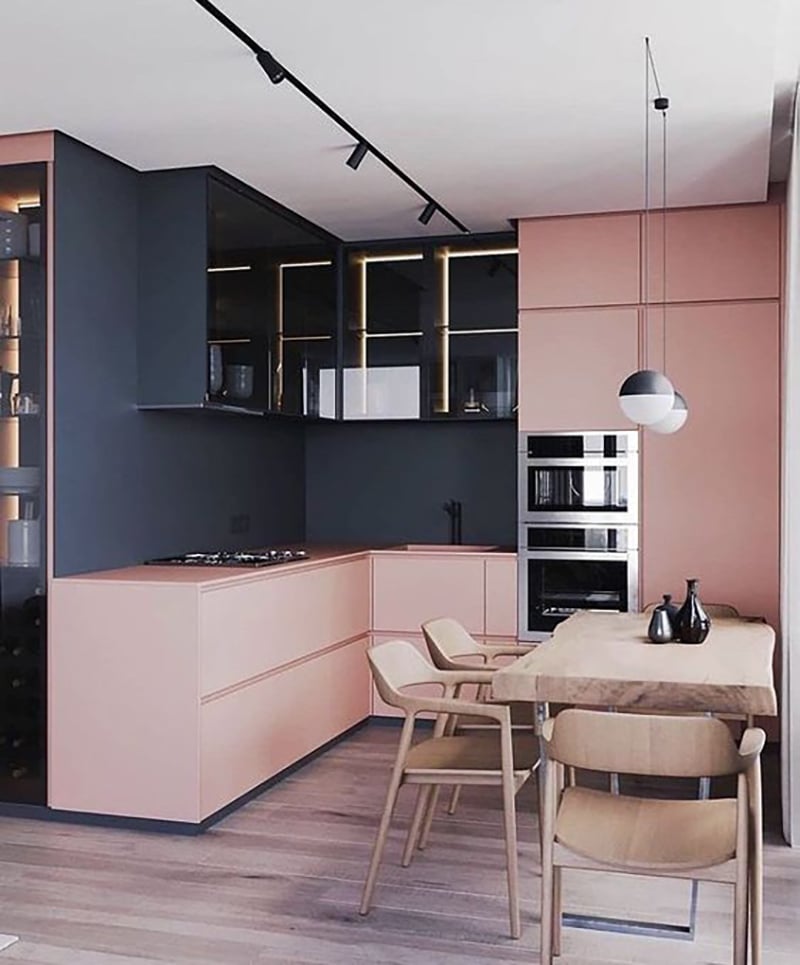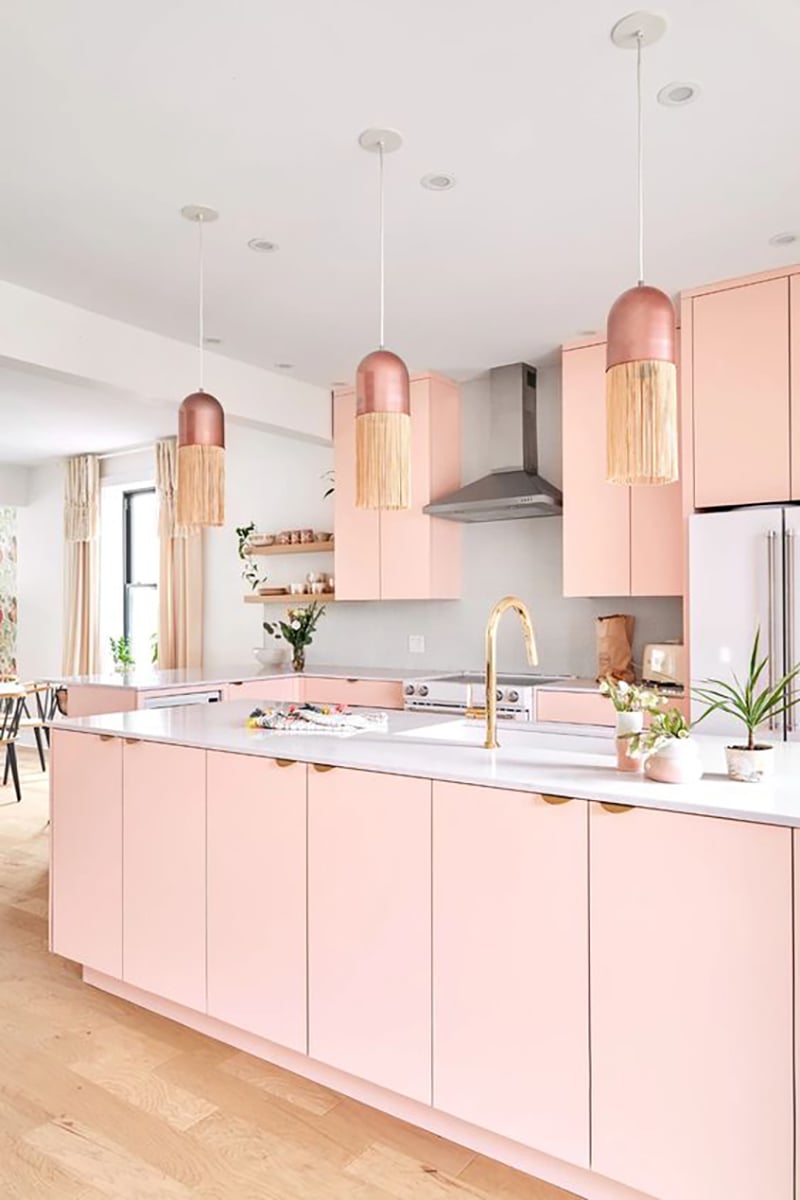 33. Pop Colour and Compact Kitchen
Adding bold or bright colors to your kitchen will create a fun and expressive space. While some opt to paint everything in their favorite hue, you can also keep it simple, opting for a standout feature, like one wall or a piece of furniture, and toning down the rest of the room.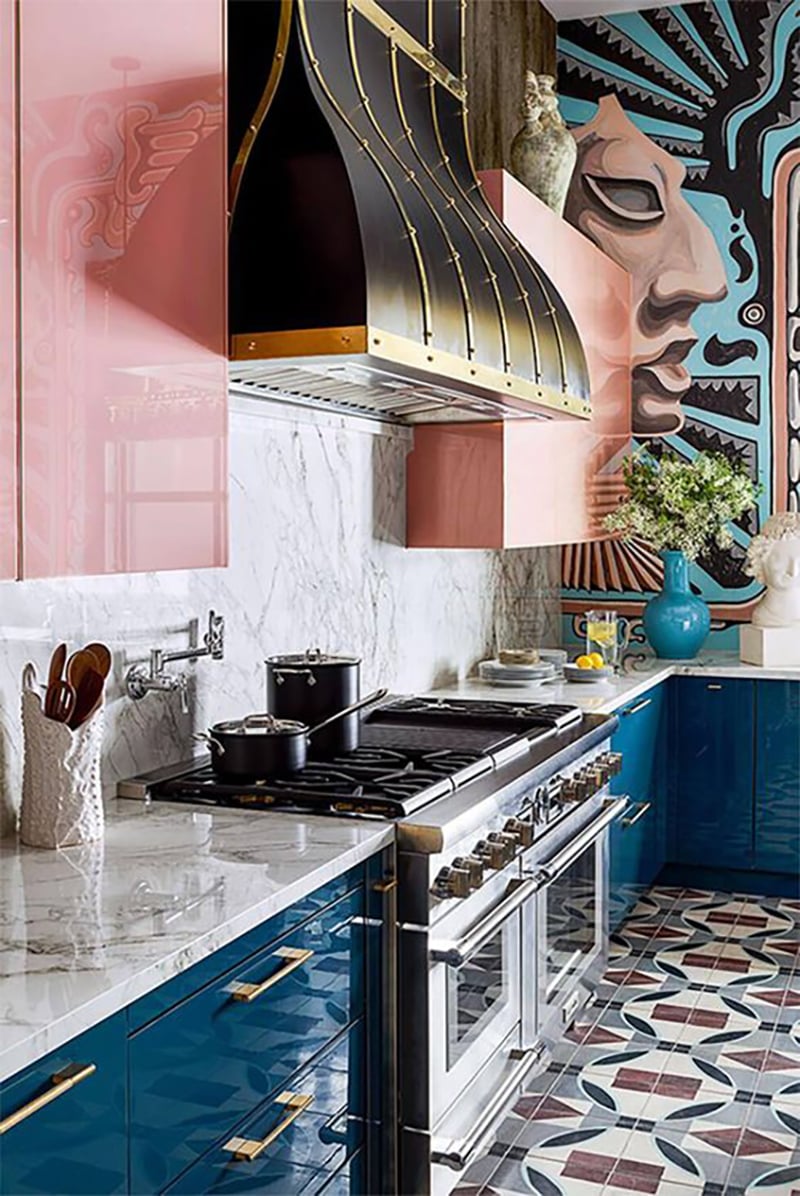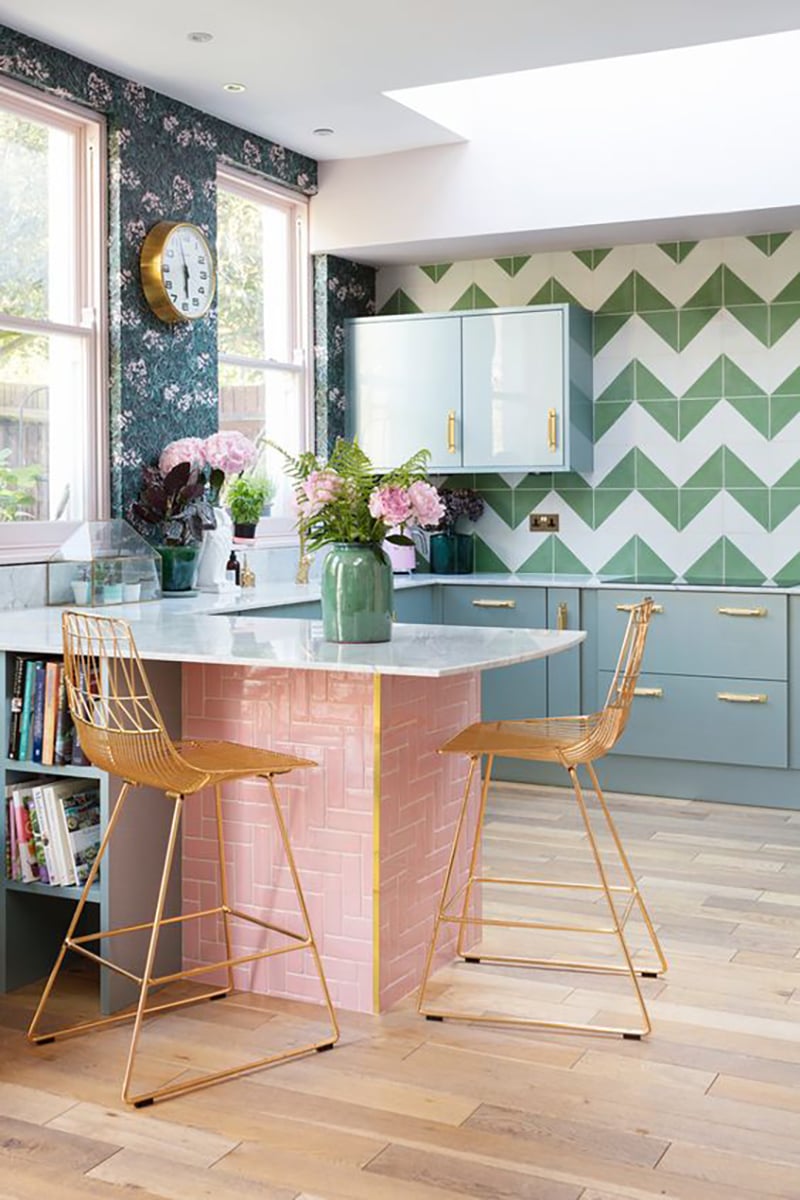 34. Modern Luxe Kitchen
A modern luxe kitchen looks expensive, with attention to detailing and high-quality finishes. This can be achieved with marble countertops, statement light fittings, and an expertly laid out and uncluttered space.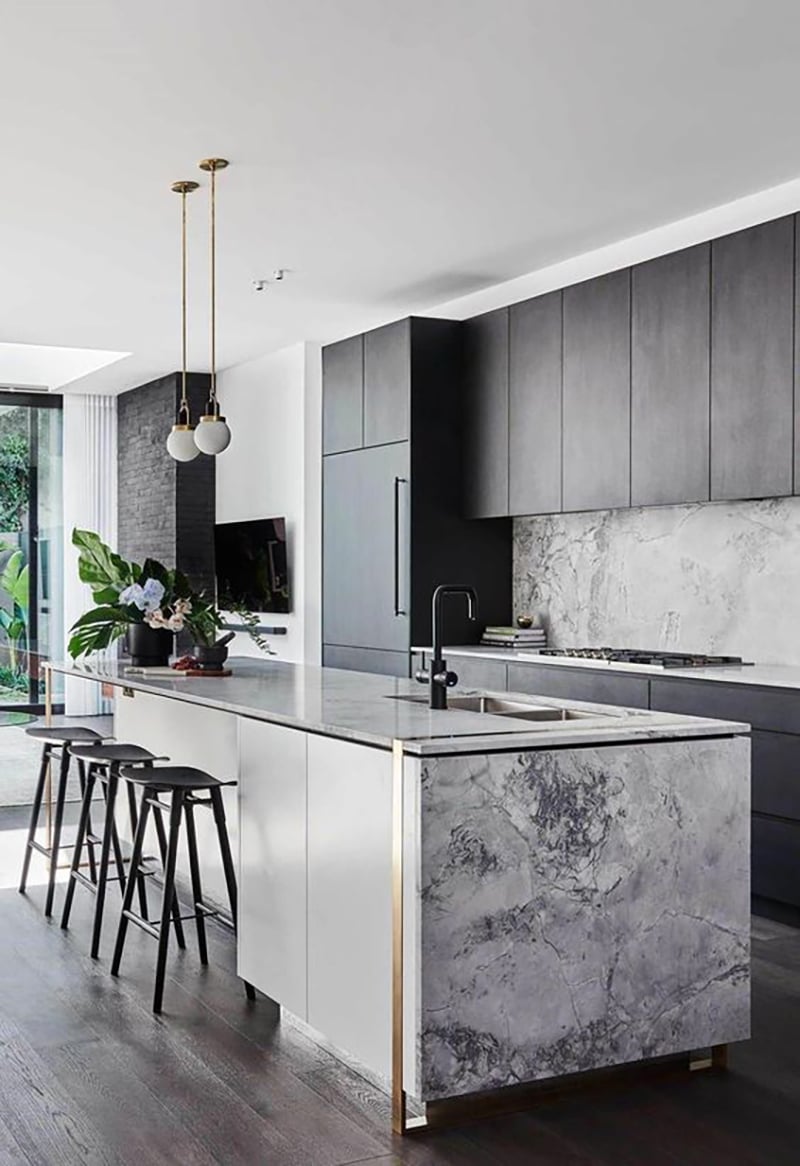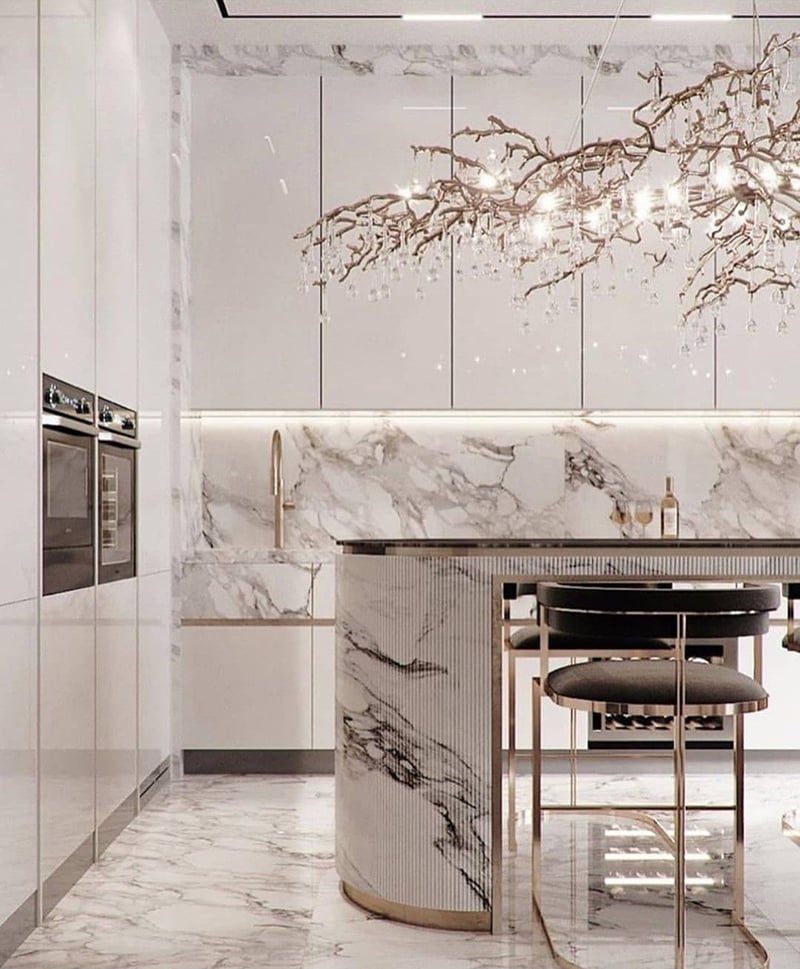 35. Kitchen with Metallic Finishes
Metallic finishes in a kitchen can give it a pop of color and look best when paired with an otherwise neutral room, making it feel warm and inviting. The metallic hues pair well with wooden details.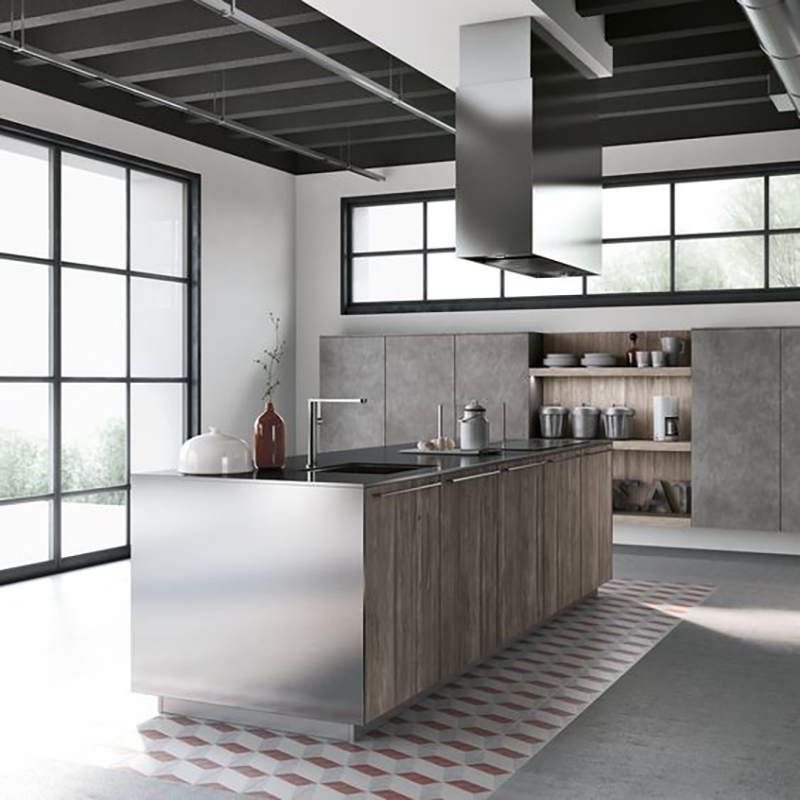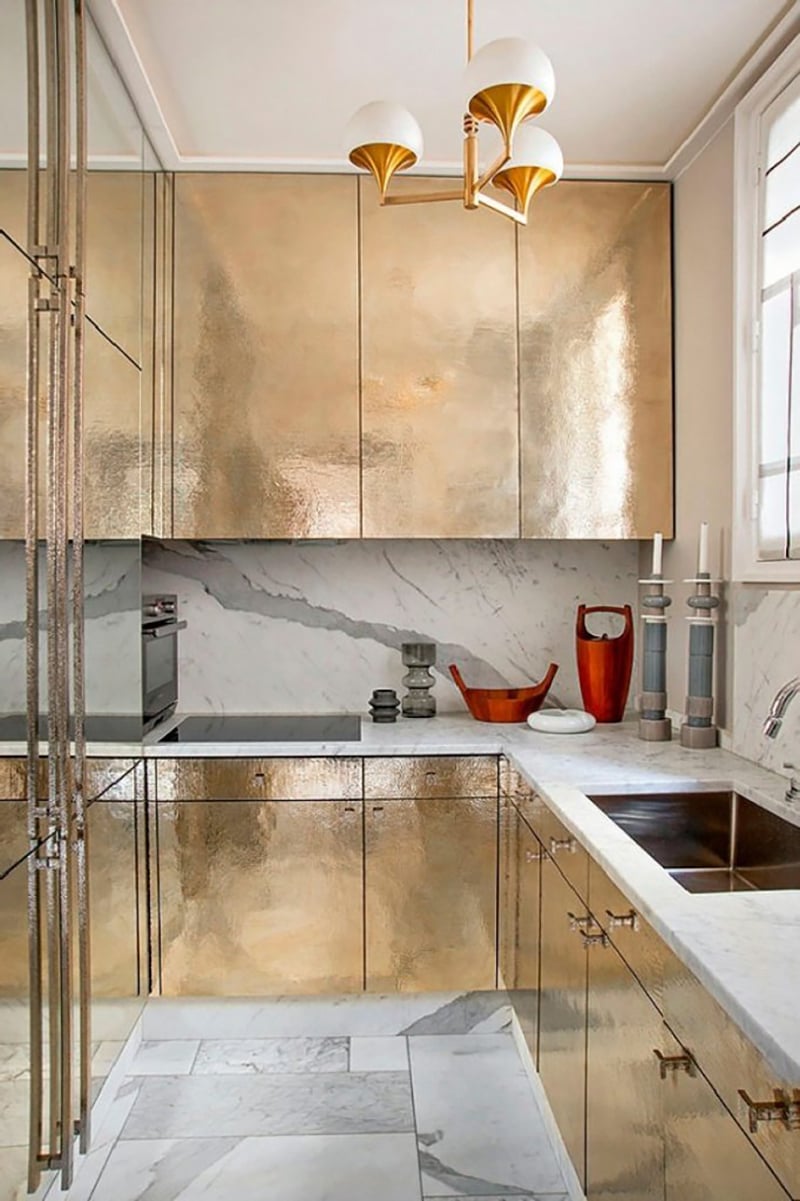 36. Red Kitchen
Red is a color that demands attention and is a way to spice up any room. The color is associated with passion and fierceness, and creating a red kitchen is ideal for someone who values these qualities or wants a space that feels energetic and modern.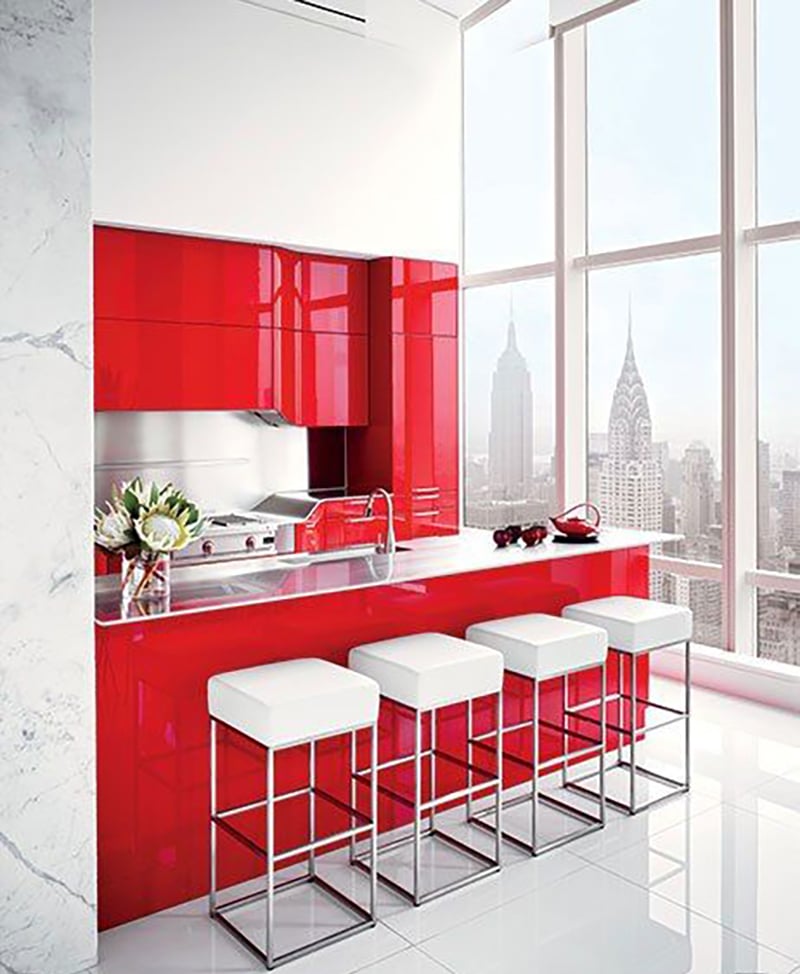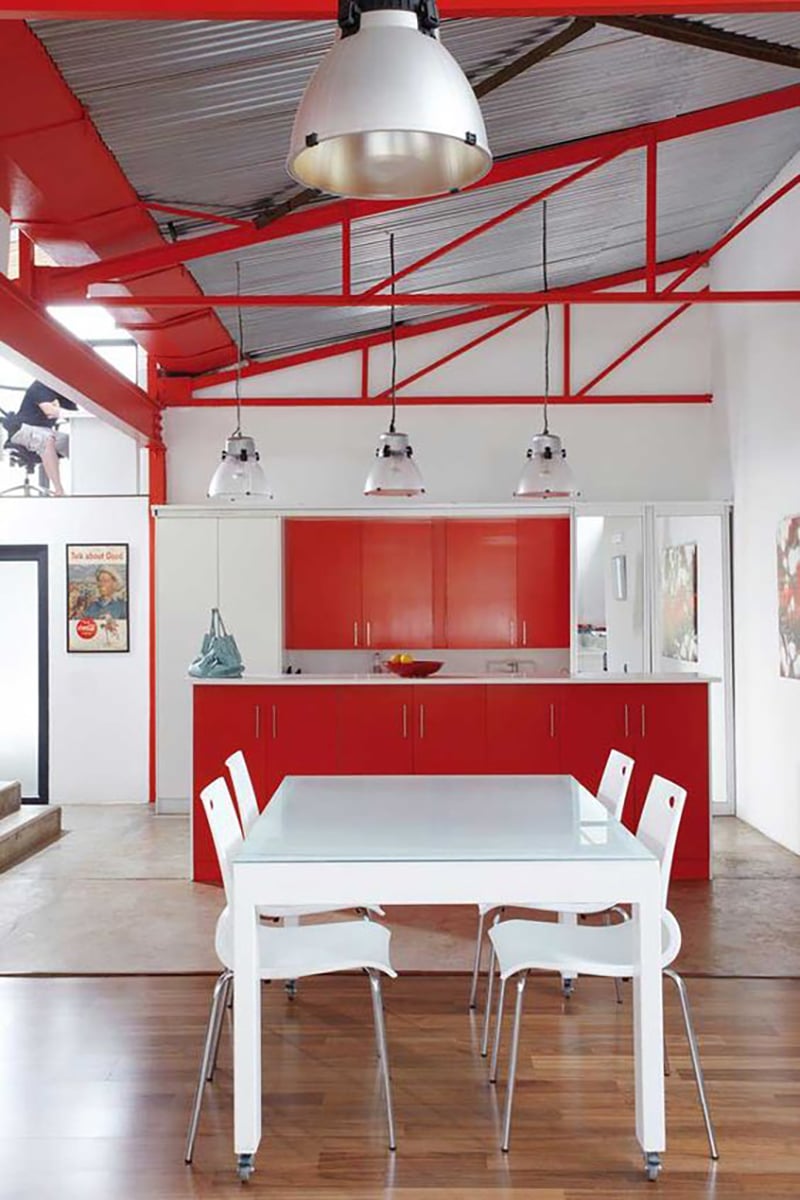 37. Kitchen with Matte Splashback
It is a great idea to combine polished pieces with a matte element for a texturally interesting room. The dull finish will create a contrast with smoother finishes and will become the focus of the room. You can opt for matte paint on your island bench or furniture or focus on matte wall tiles.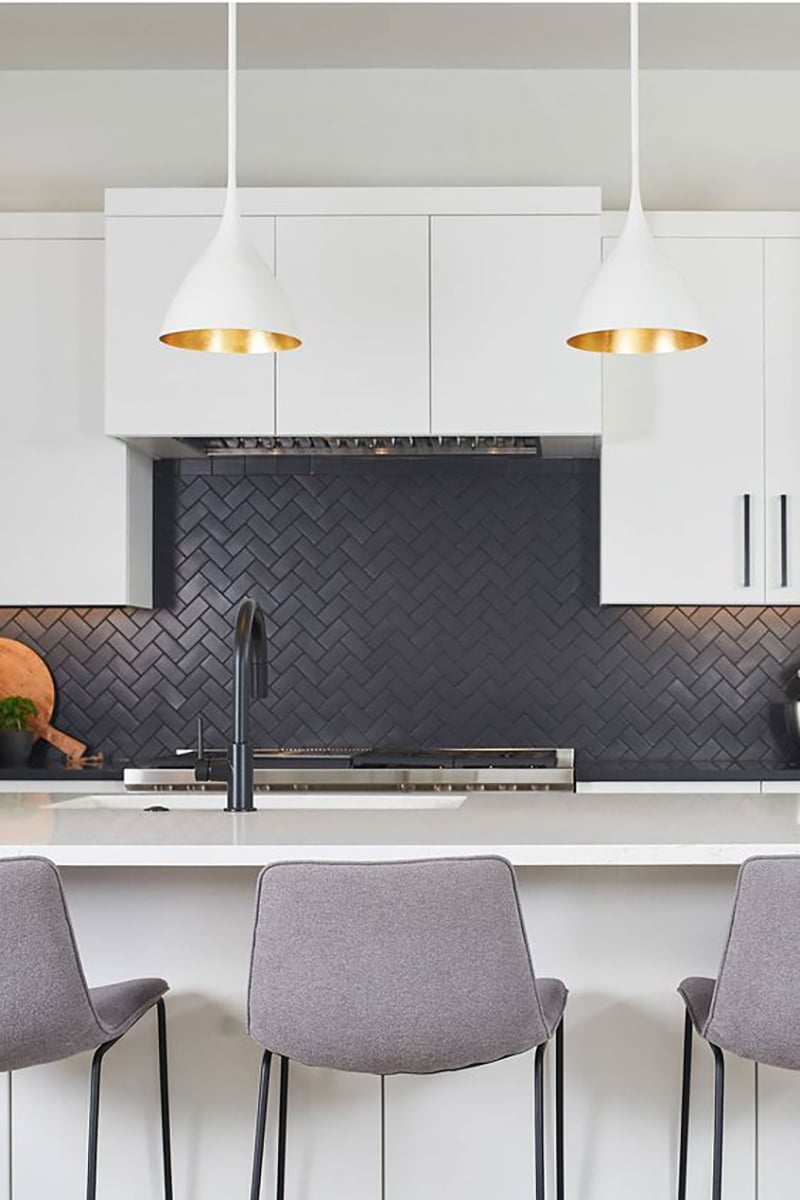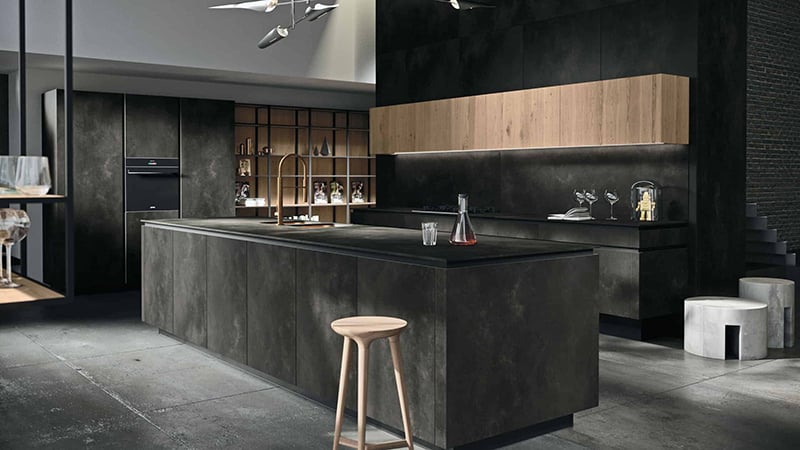 38. Rustic Modern Kitchen
Rustic decor is created in natural, earthy colors and has an unfinished, natural appearance. This can be achieved with exposed stone or brick, unpolished wood, and interesting textures. This is a great look for those who prefer a simple, laidback appearance.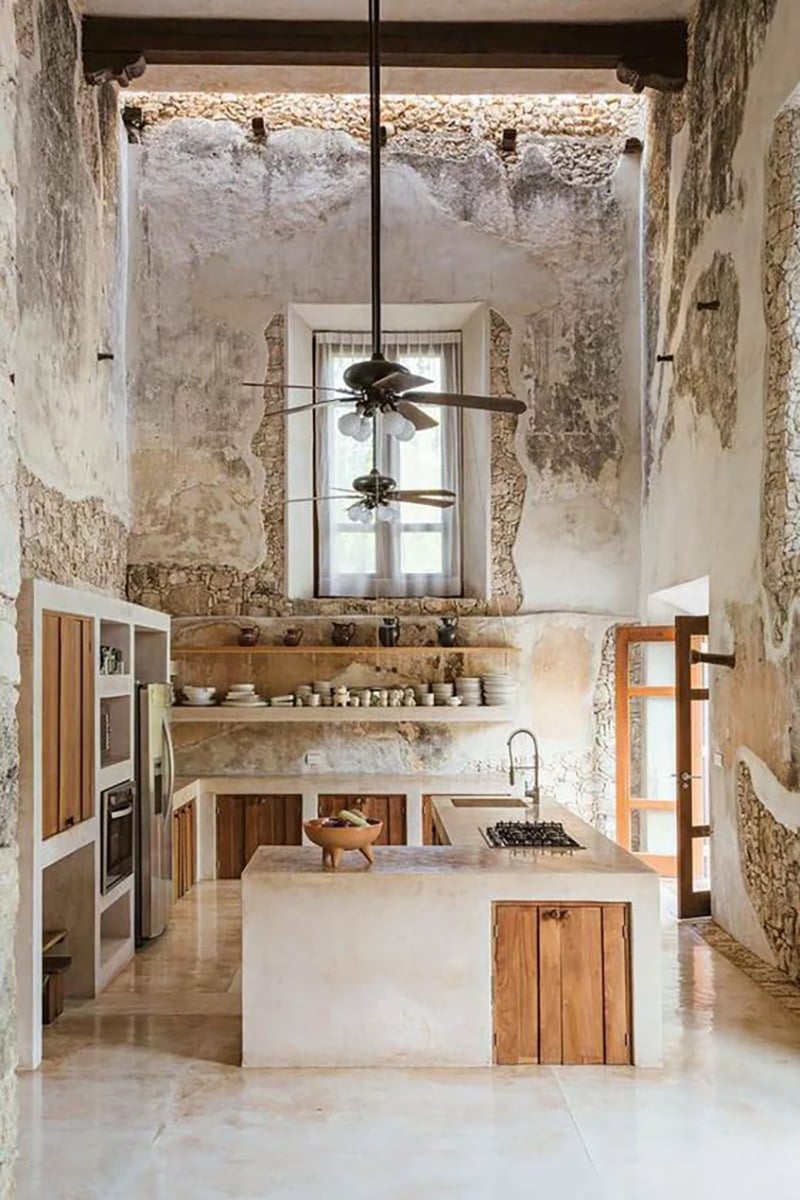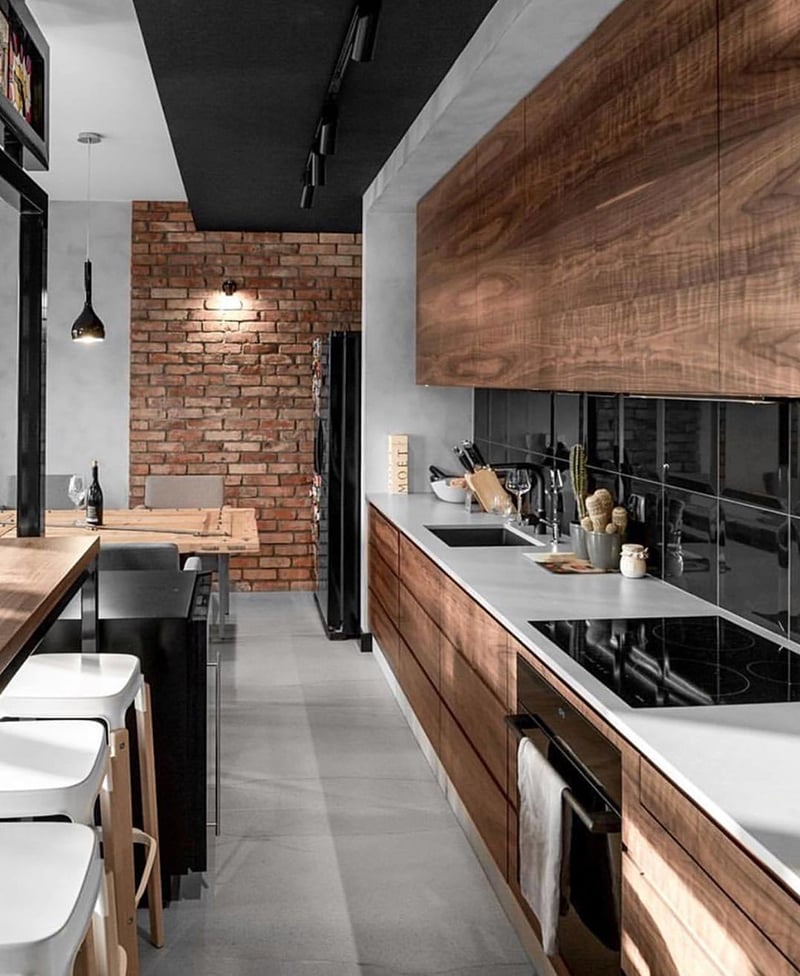 39. Sliding Pantry
A sliding pantry is a practical addition to any kitchen and will allow you to access your food and spices easily. The sliding door is also a practical addition and can make the room feel more open-plan and bigger.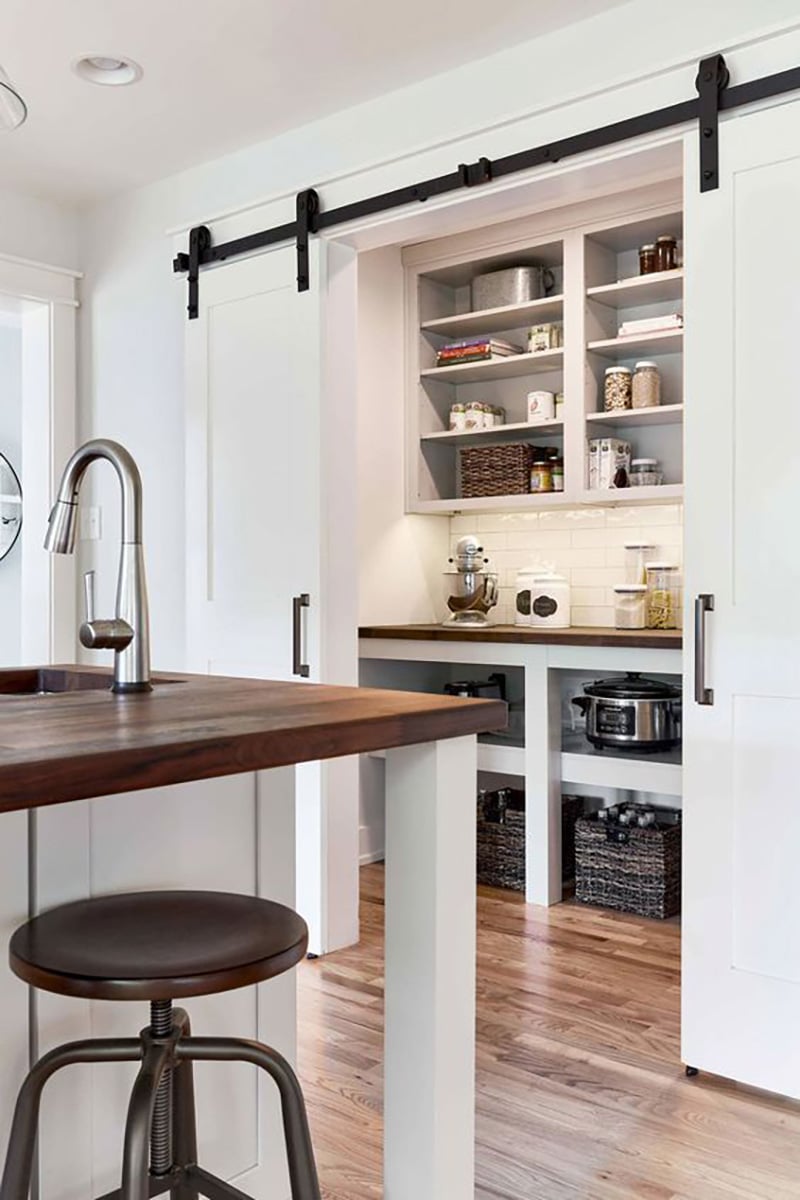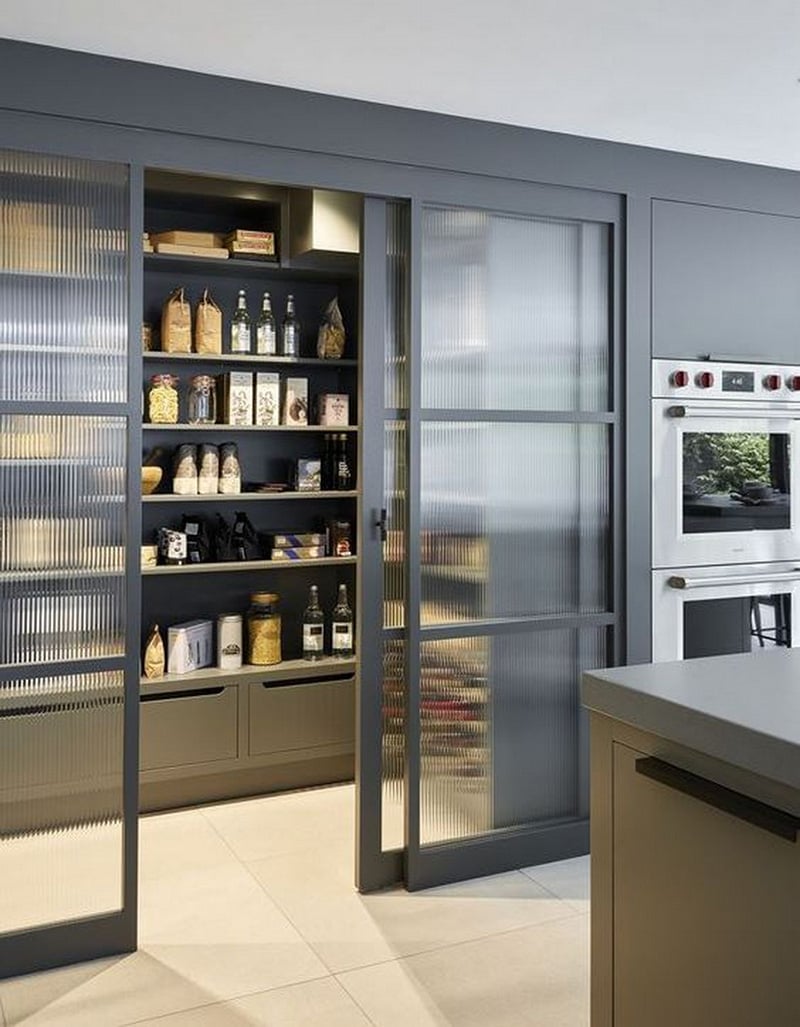 40. Kitchen Bar
A kitchen bar is an excellent use of space and is ideal for smaller rooms. It can be joined to a kitchen counter or added to another part of the room, like the wall. You can add your personal touch with the seating you choose, including wooden bar stools.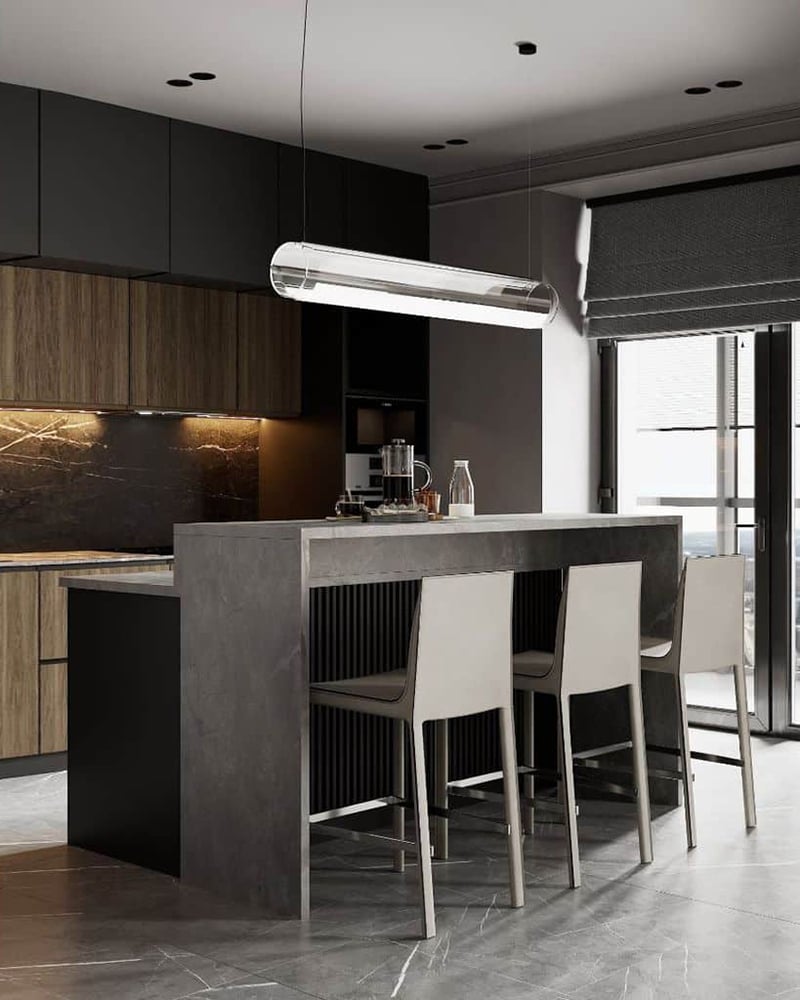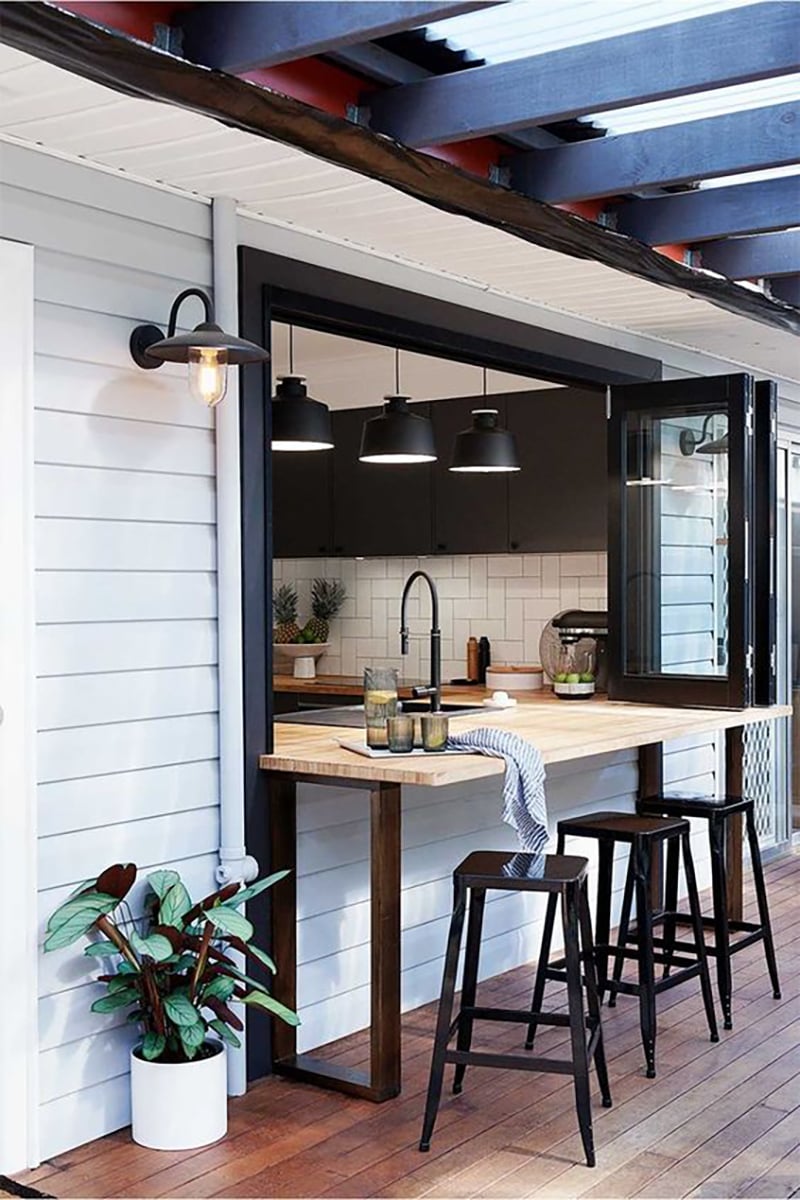 41. Small Kitchen
Small kitchen spaces can feel bigger with attention to the layout and keeping the clutter to a minimum. Clean designs, clever utilization of space, an open-plan design, and a lot of natural lighting or mirrors can make the kitchen feel bigger and brighter.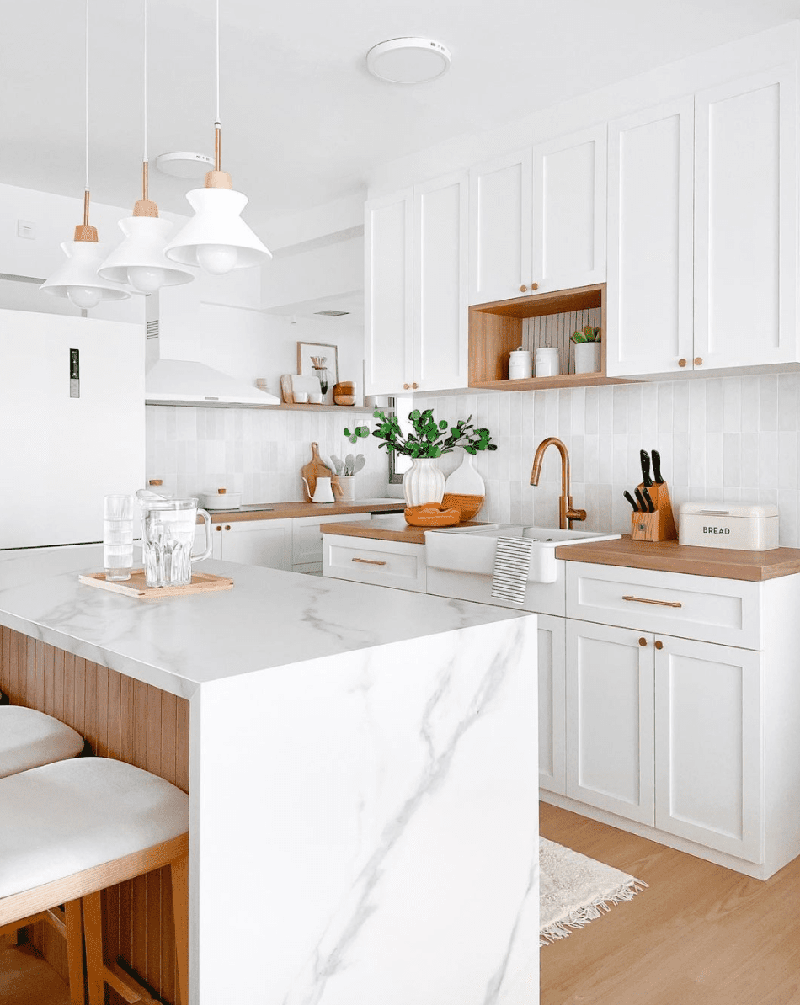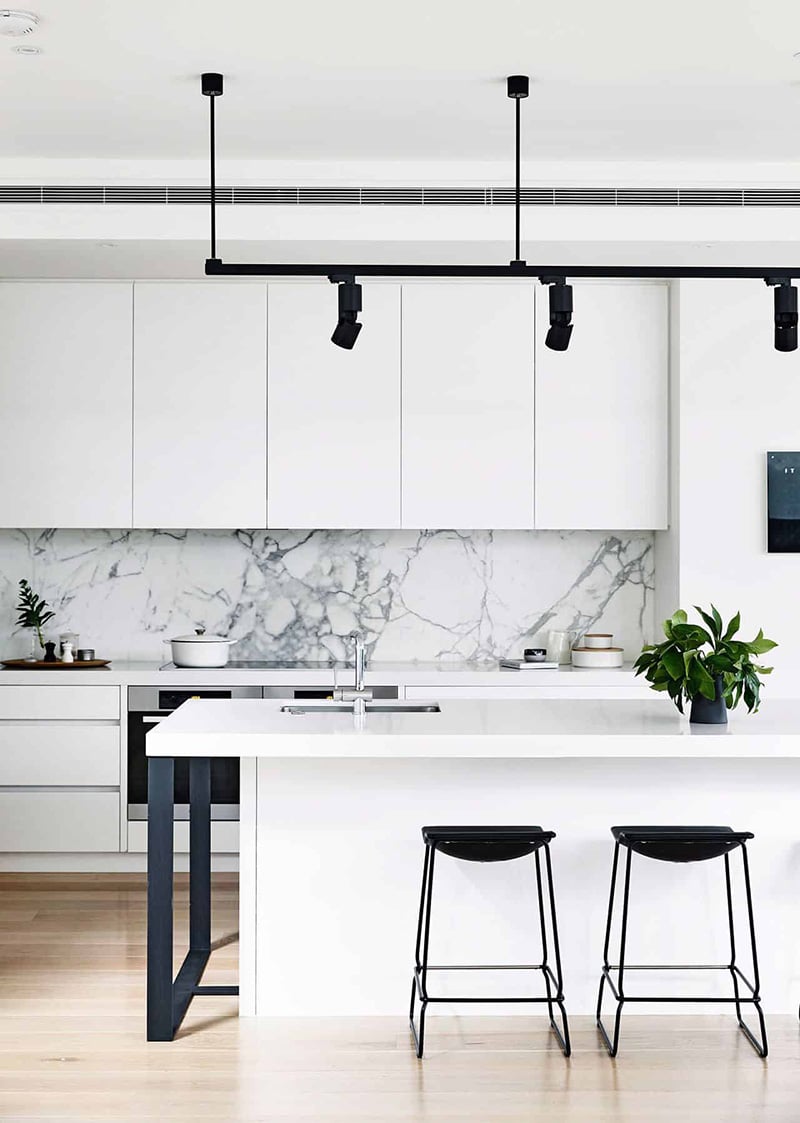 42. Smart Kitchen Cabinetry
Cabinets are ideal for storage and can be created in various ways, letting you personalize them to suit your budget and desired aesthetic. They can be added to the walls as a smart way to maximize the space in the room or be beneath a kitchen island or bar.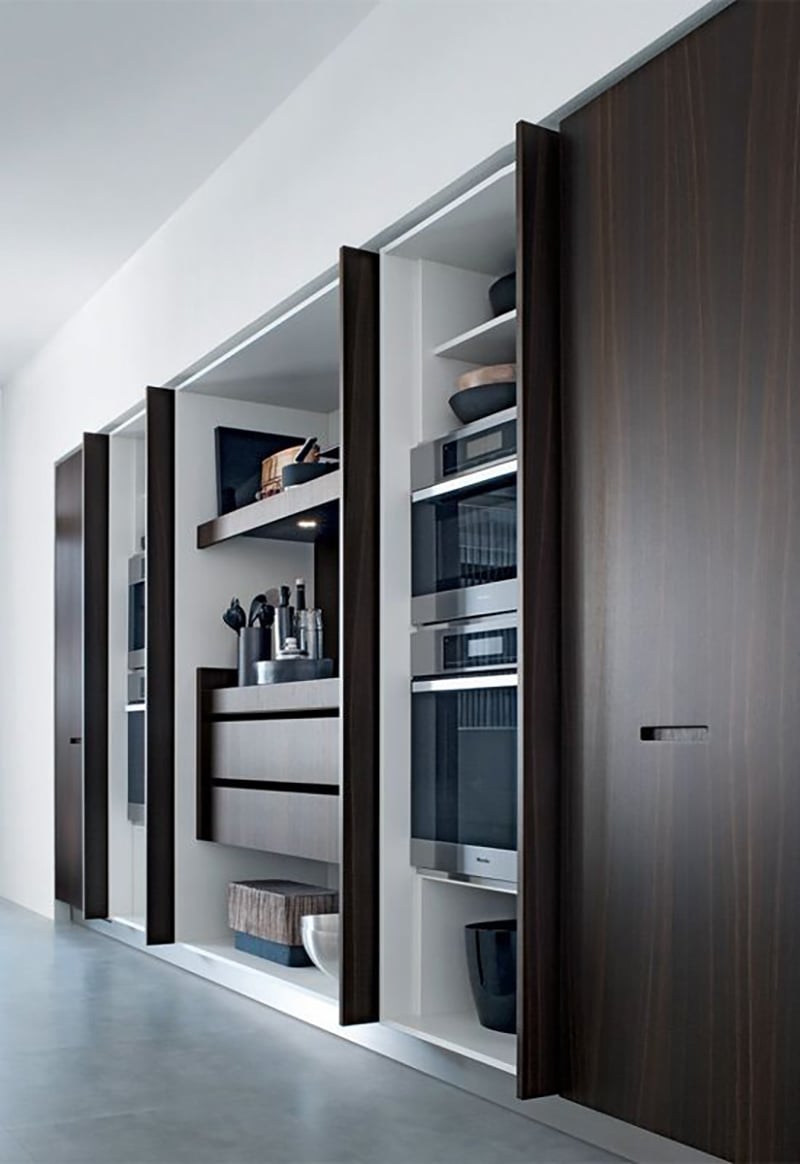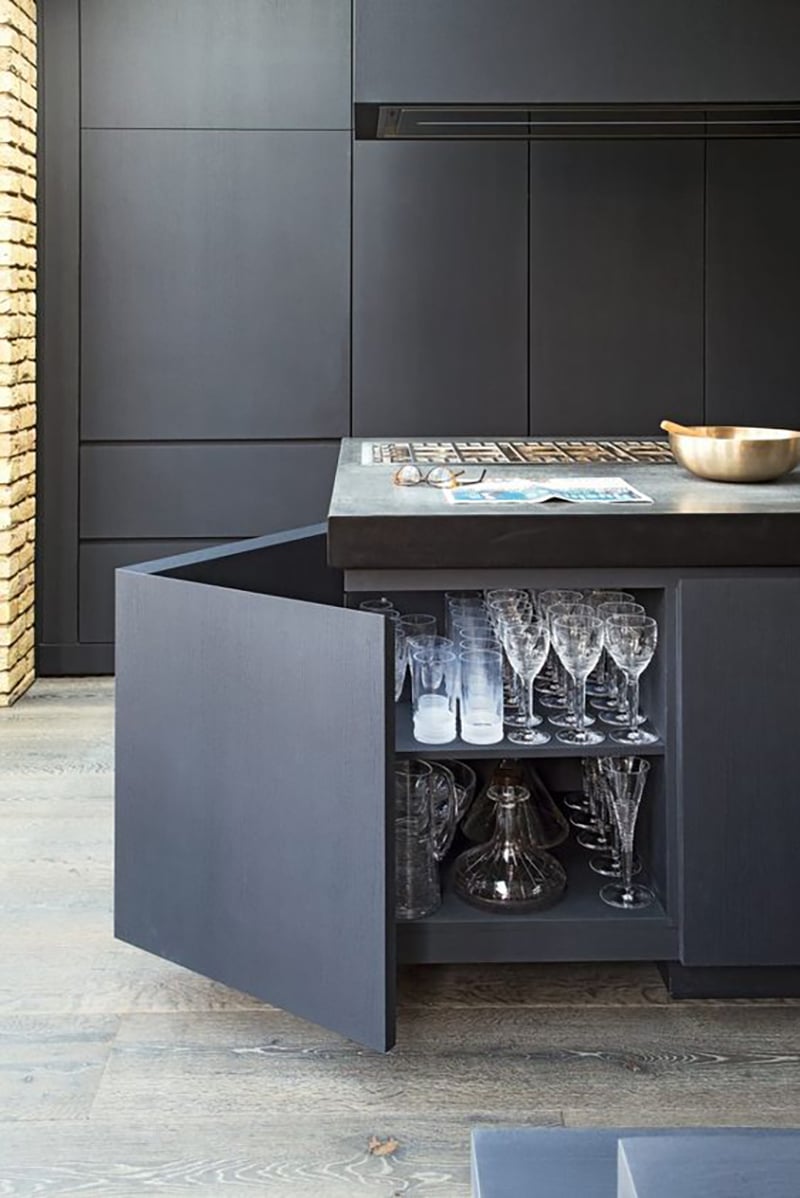 43. Spacious Kitchen Design
Having enough space in your kitchen to cook and socialize is important, but even smaller rooms can feel more open with clever design. The key is to focus on storage, smart utilization of space, natural and artificial lighting, and an open-plan layout. You will also benefit from minimal clutter.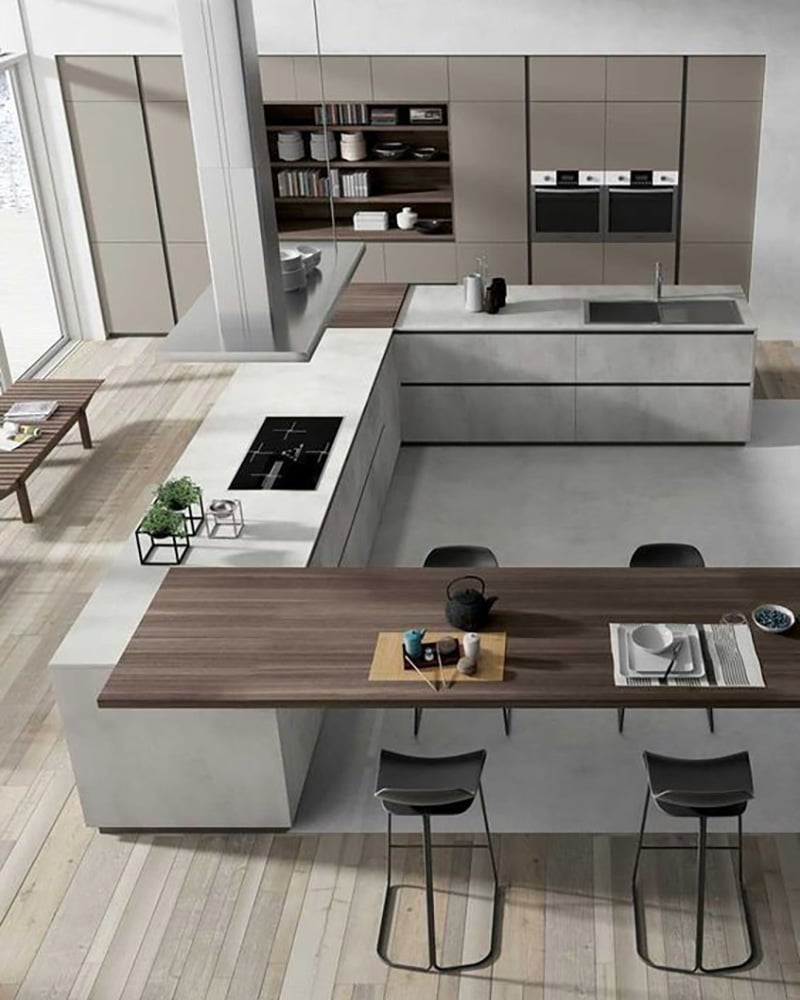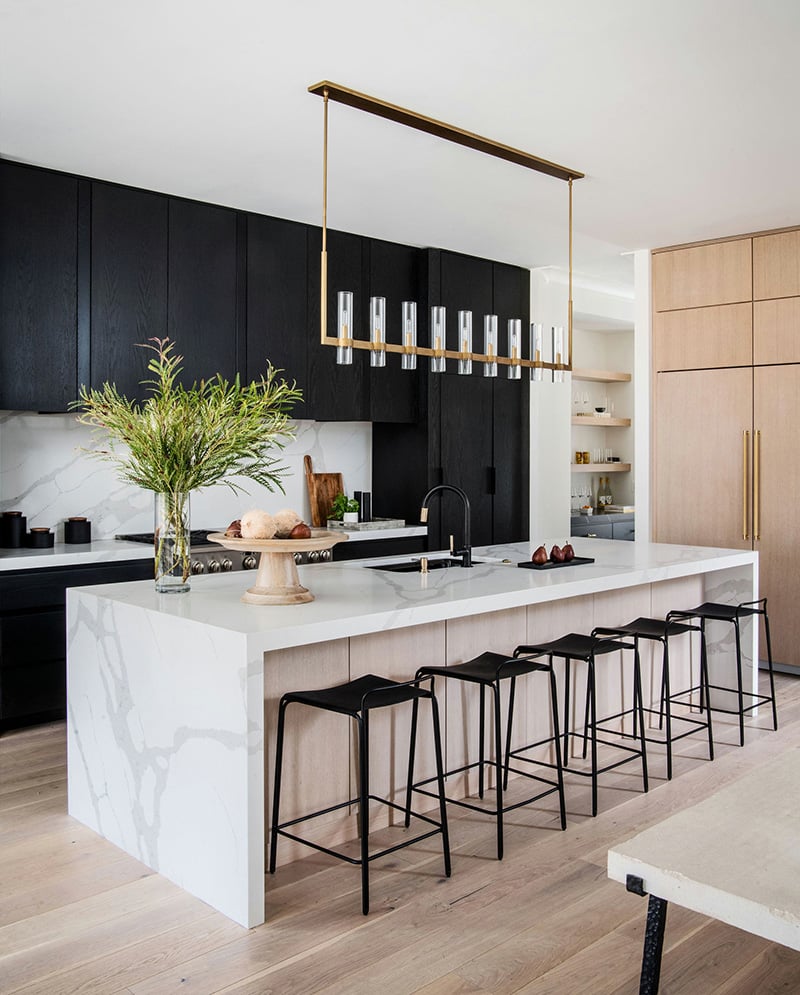 44. Spectacular Coastal Kitchen
If you live on the coast and have an impressive view, creating a room that enhances this is important. Large windows and natural lighting are key. Opt for a combination of light, natural colored walls, and wooden details for a laidback but sophisticated finish.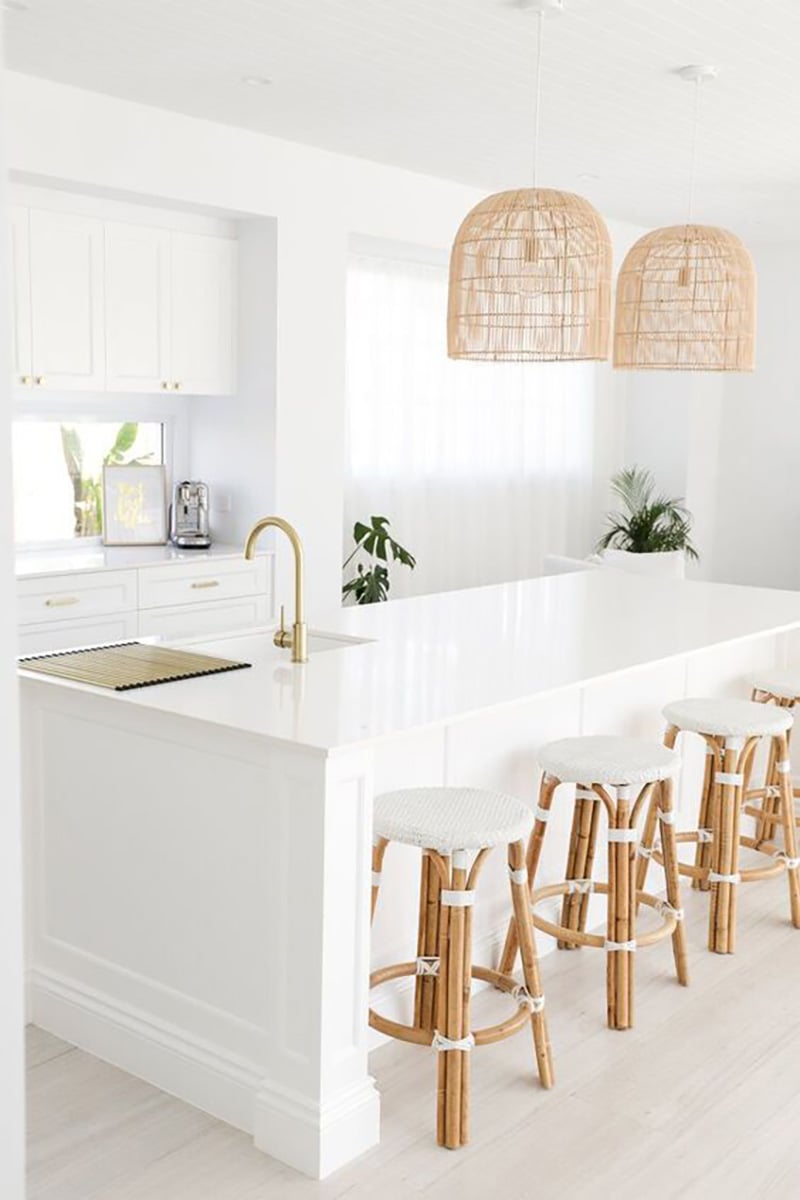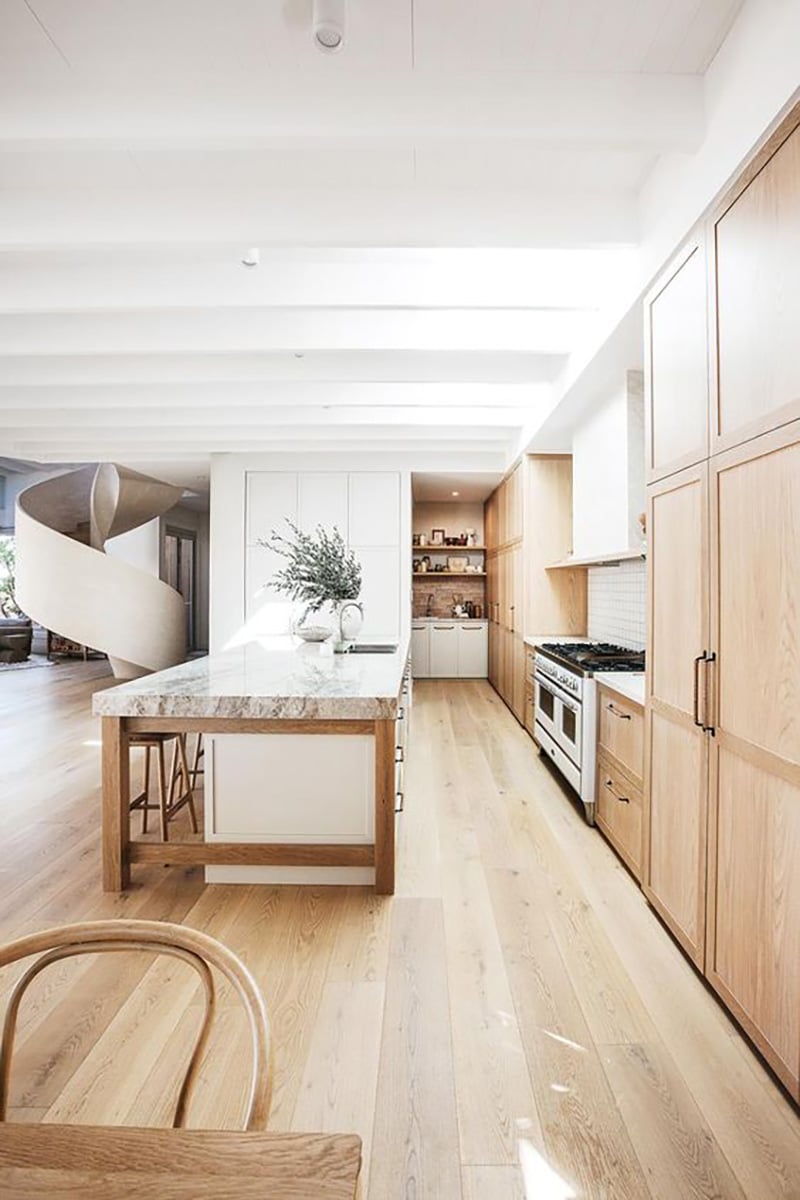 45. Subway Tiles Splashback
Subway tiles are made of ceramic and are durable and versatile. They get their name from the New York City subway and come in a range of sizes and colors, with the defining characteristic of their rectangular shape and horizontal layout. This is an excellent addition to any kitchen floor!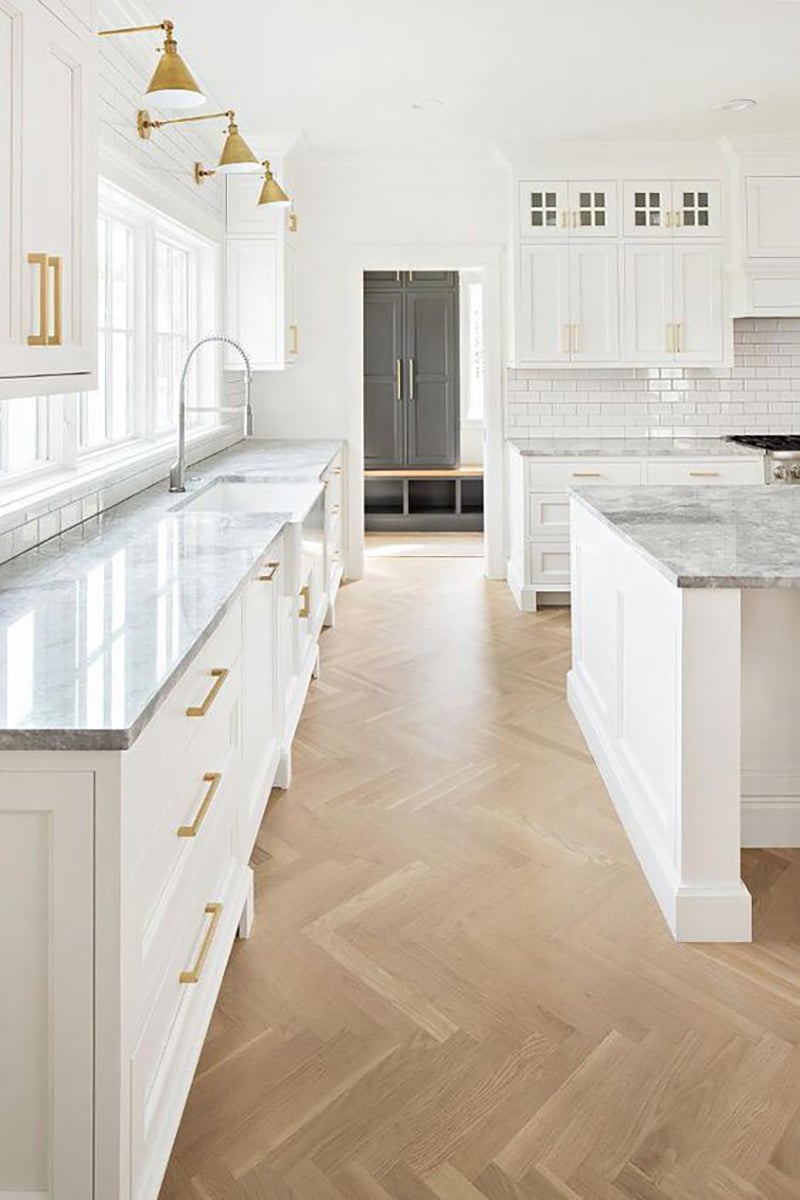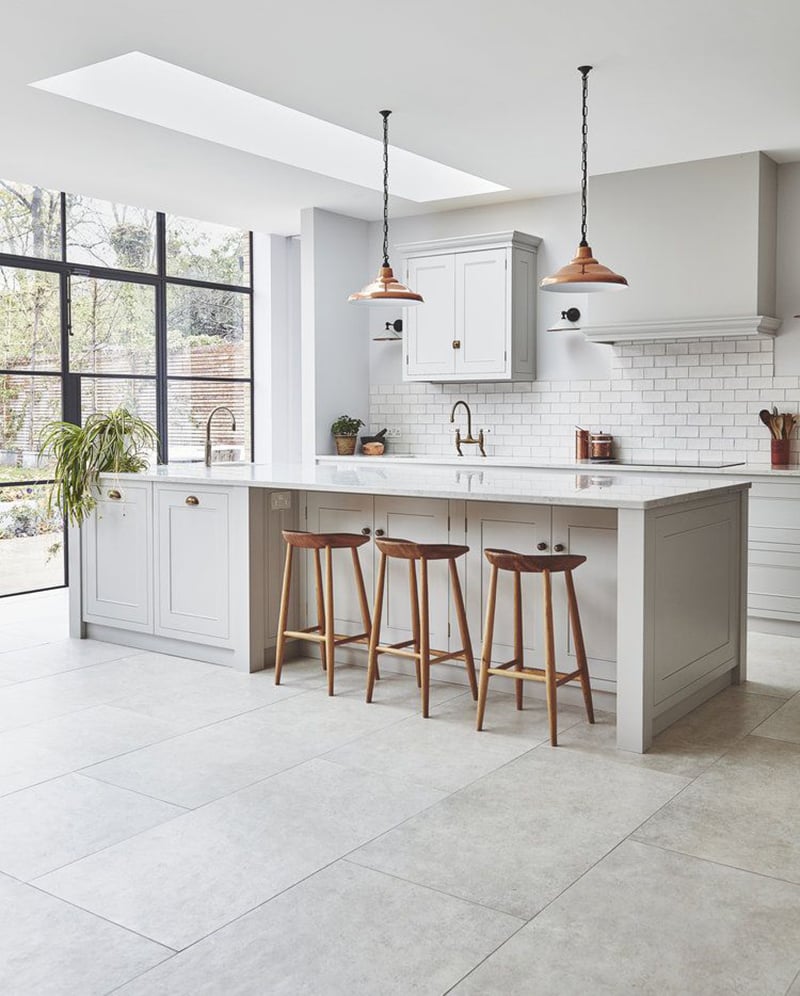 46. Unusual Kitchen Lighting
Lighting is an important element of any room, and while standard light fittings do the job, you can also opt for a statement finish with lights that have unusual shapes and varying lengths and angles.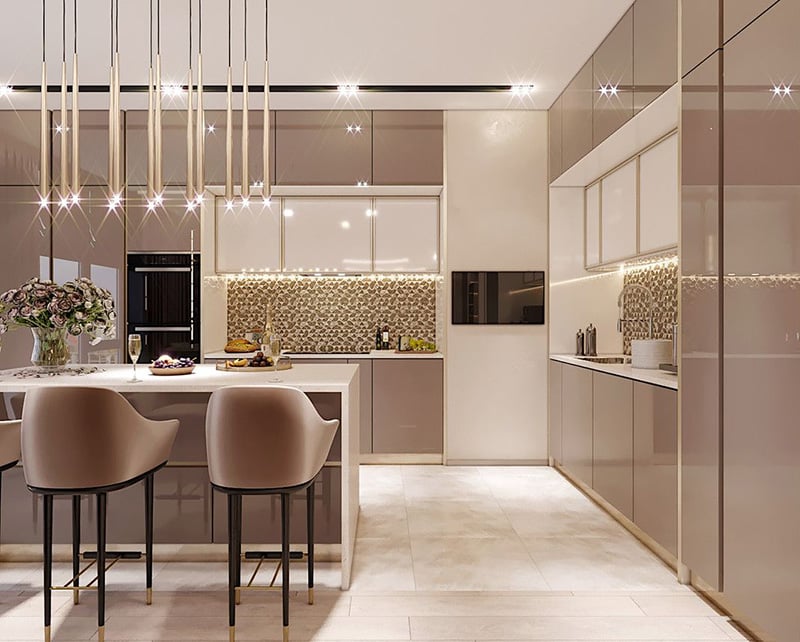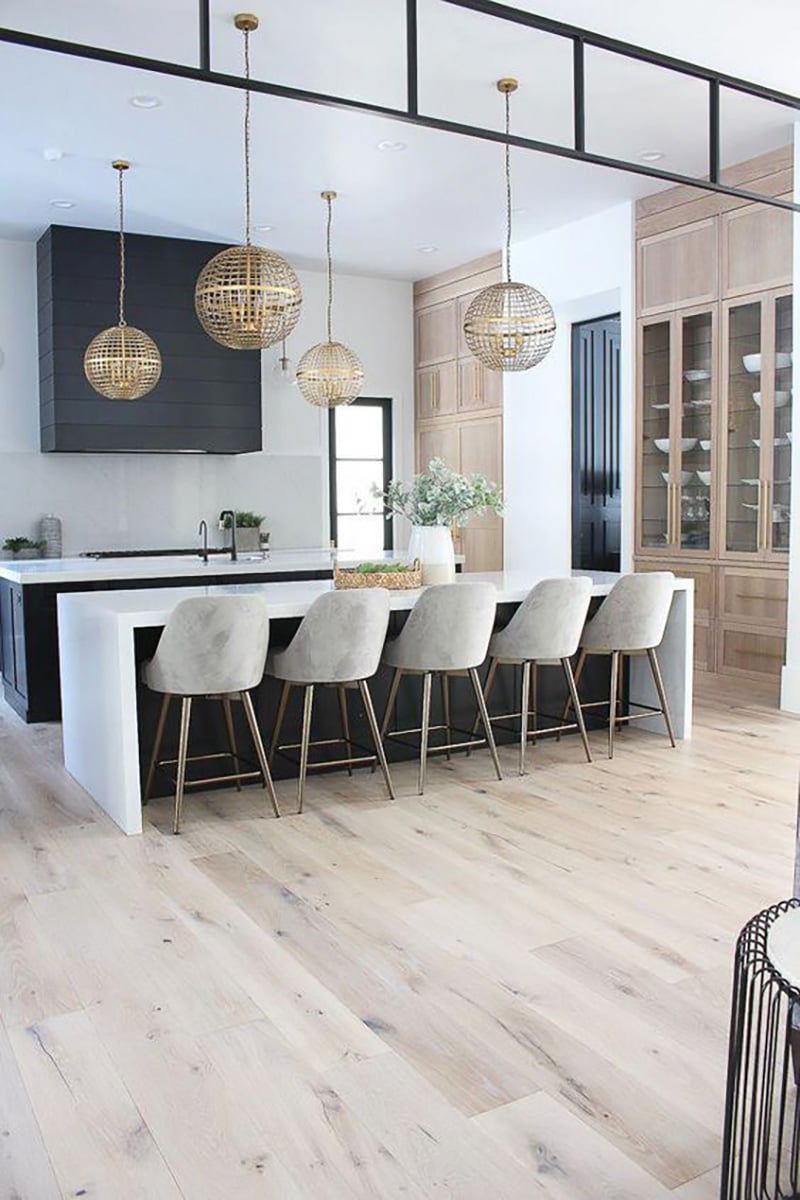 47. Kitchen Glass Splashback
Rooms that feature large glass splashback are fantastic for natural lighting. This, in turn, will make the room feel bigger and brighter. It also provides an excellent opportunity to be able to look outside and experience the beauty of nature. Complement the windows with decor that includes plants and wooden details.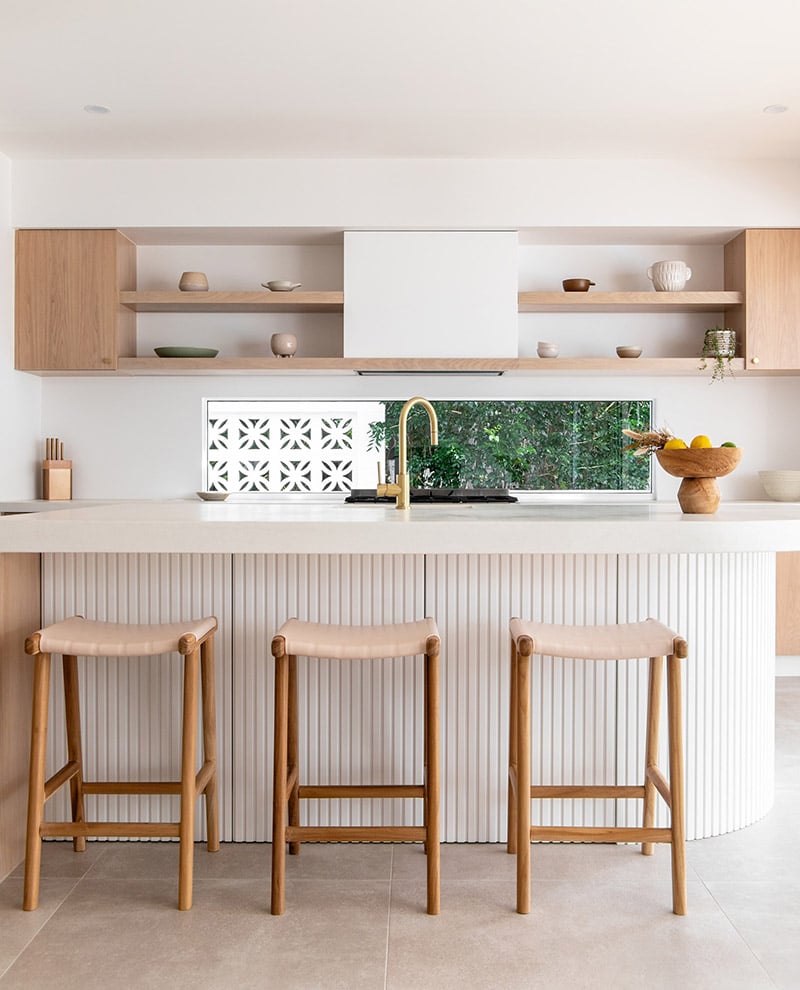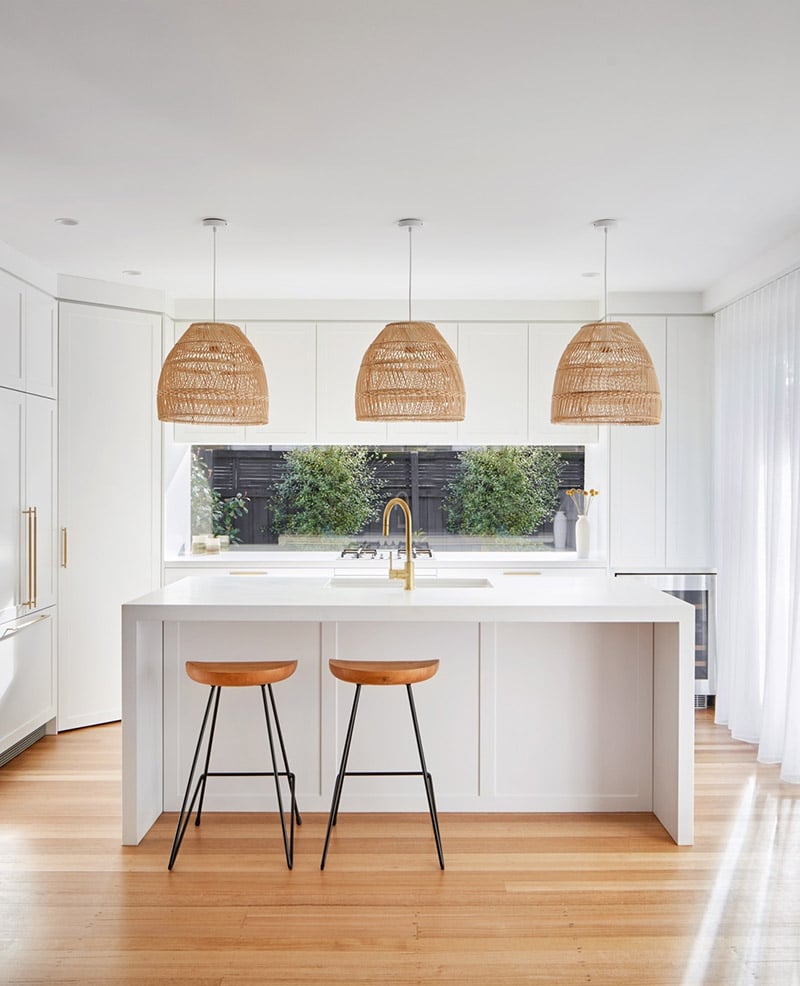 48. Wood and Concrete Kitchen
The combination of wood and concrete details makes for a charming and texturally interesting industrial appearance. The concrete can be the feature of the room, as an island bench, and complemented by wooden cabinets or floors. However you incorporate these materials, it will create a space with a lot of character.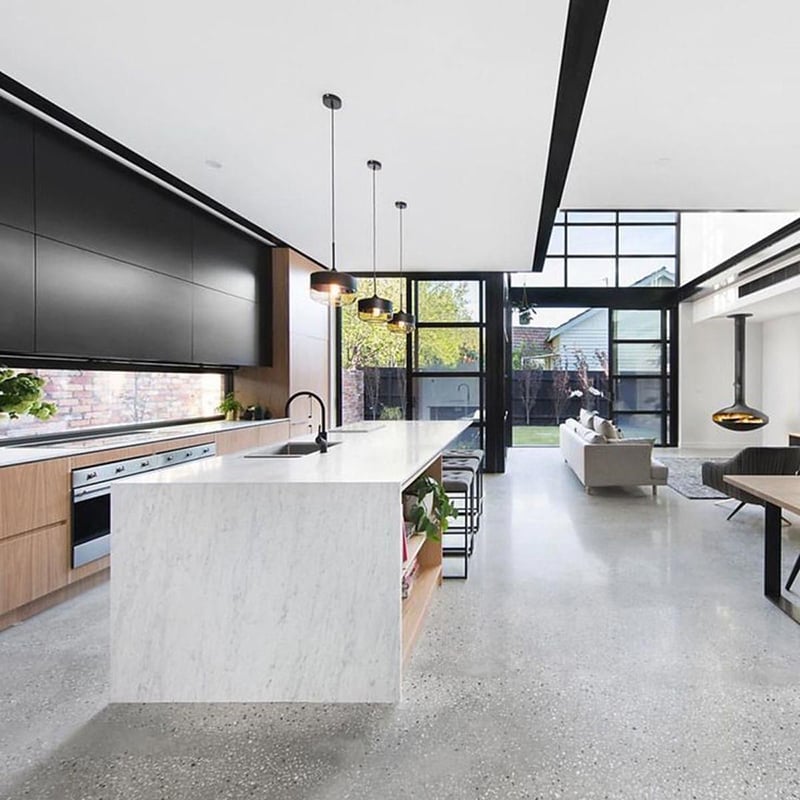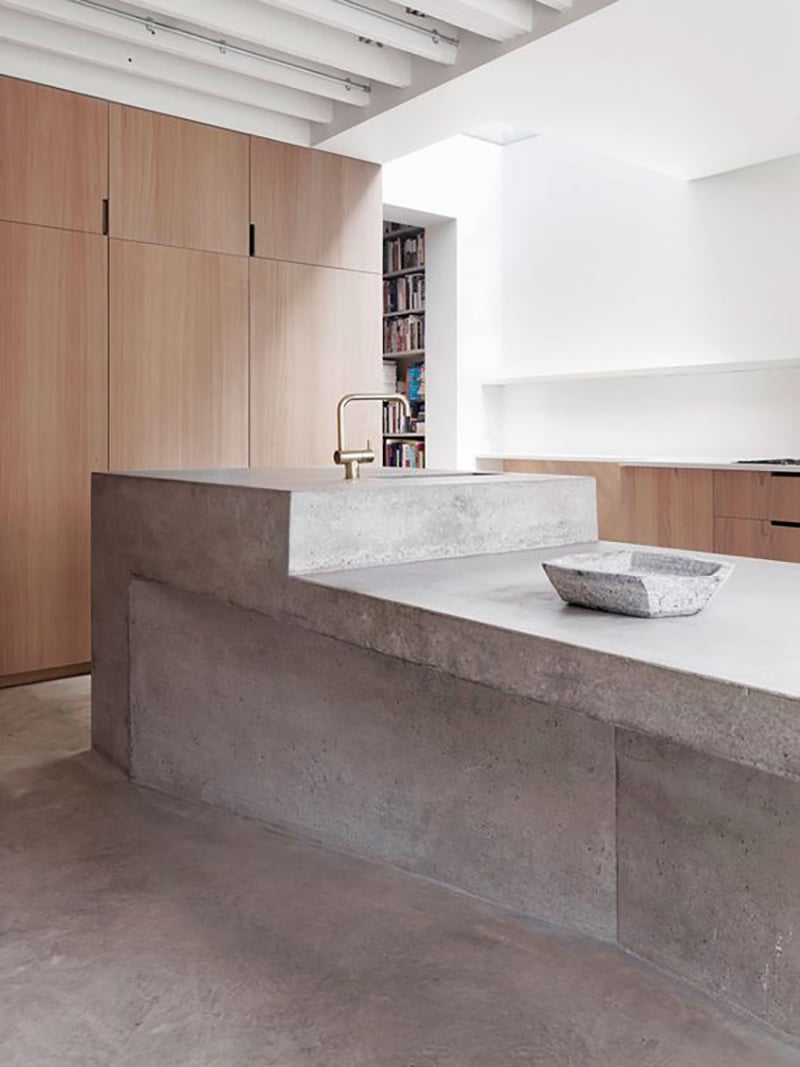 49. Wooden Kitchen Ceiling
A kitchen with a wooden ceiling can feel warm and inviting. The contrast between the wood and the polished walls will have a high impact and draw the eye upward. This can make the room feel bigger. The wood will complement light colors like white and create a contrast.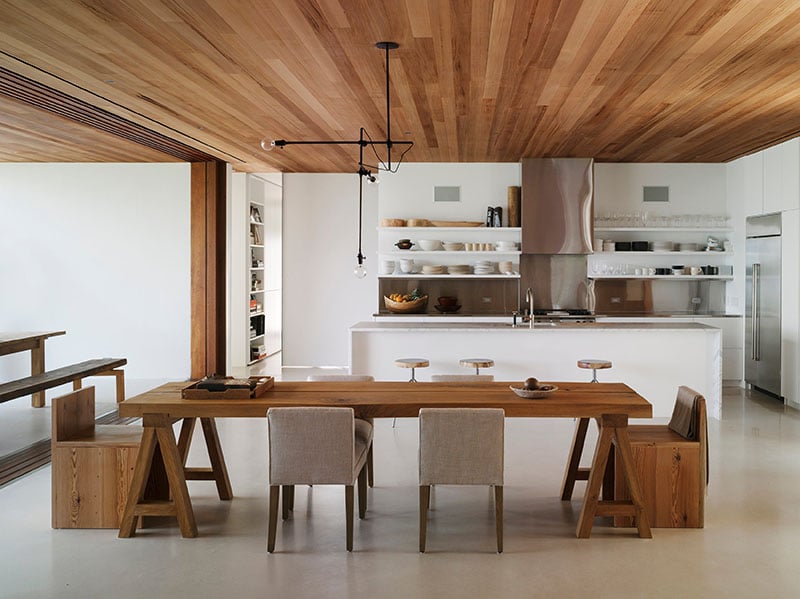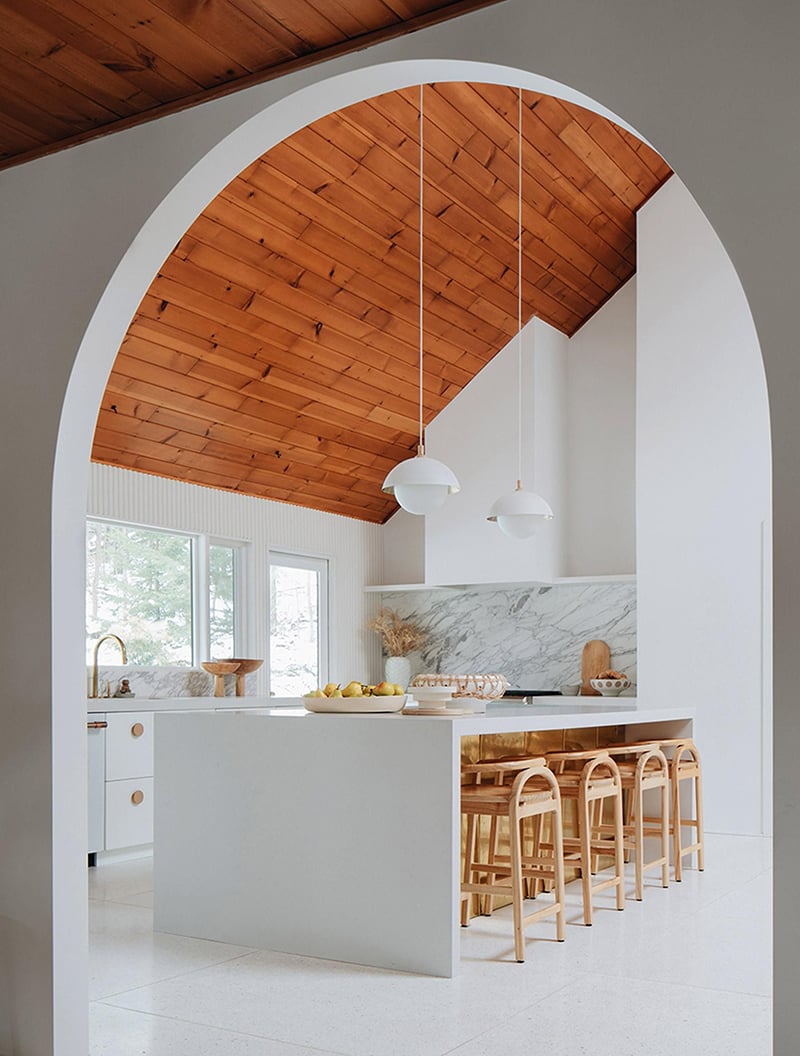 50. Round Kitchen Cabinet Handles
Sometimes, the simple details make all the difference to the design of a room. Unusual and unique additions, like round cabinet handles with a metallic finish, will give your kitchen a modern update.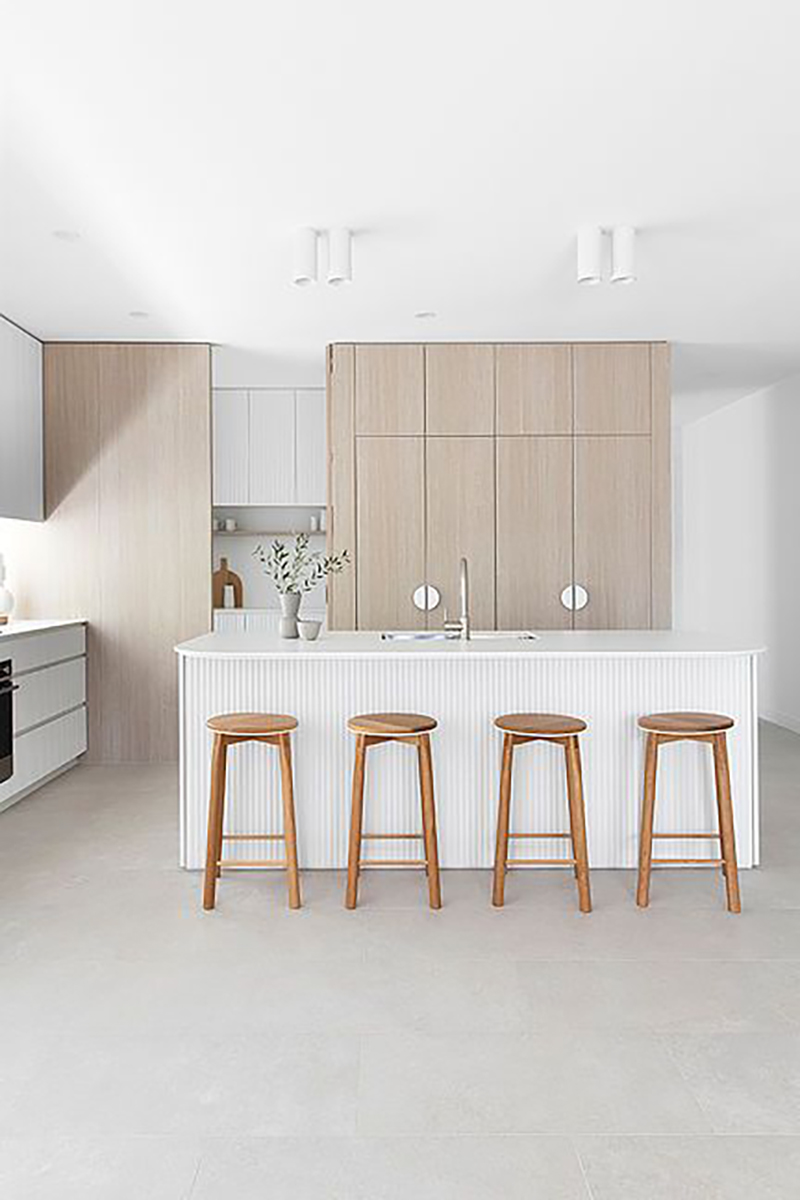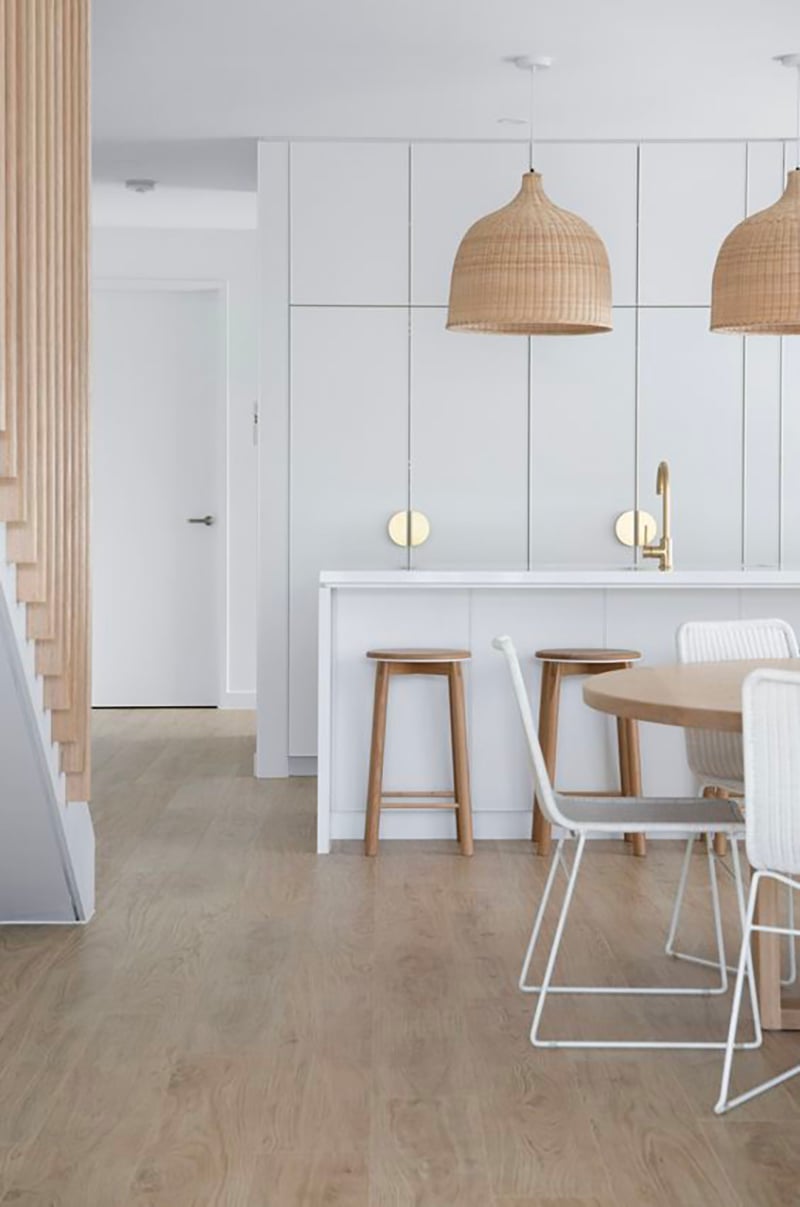 Kitchen Ideas FAQs
What are the new colours for kitchens?
Kitchens always benefit from light and earthy colors, but for those that are more adventurous or want a change, you can also try adding nature-inspired greens, cobalt blues, and sunny yellows. Bold and bright colors give the room energy and are a way to express yourself.
How can I make my kitchen beautiful?
If you want a beautiful kitchen, it can be completely renovated, or you can focus on updating aspects of it, including the lighting, colors, hardware, and appliances. Light-colored walls and rooms with a lot of natural lighting will make the room feel bigger and brighter, and wooden finishes can give it a modern update.
What is the latest look in kitchens?
There are several styles for kitchens, including rustic charm, clean and modern, industrial finishes, Scandinavian design, Hamptons, monochromatic color schemes, and bold colors. Clever utilization of space with cabinets, kitchen islands, bars, and open shelves can also help update your kitchen.
What are 6 types of kitchens?
The most popular kitchen layouts include the Island, U-Shaped, L-Shaped, Galley, Peninsula, and Straight Line.
SUBSCRIBE TO OUR NEWSLETTER
Subscribe to our mailing list and get interesting stuff and updates to your email inbox.