It only takes one encounter with Toni Maticevski's label to fall in love with his designs' beauty and intricate details. Toni is one of the most talented designers, and his calm and soft-spoken voice, artistic approach, endless creativity, and passion for fashion are truly captivating. Toni Maticevski's runway shows are a magical bouquet of melancholy, romance, and sensuality that touch the hearts of many.
Toni, your designs are the choice of fashionistas and celebrities at the Melbourne Spring Racing Carnival. Tell us about some of your favourite fashion highlights from the races and the exciting events you attended
This year's Racing Carnival was probably the busiest I have been involved in. It's always a treat to dress my clients and even new ones too. Apart from seeing some clients, the highlights were seeing women who were wearing my pieces that they had invested in themselves. It was a real treat to see how they like to wear things and made the pies independently.
Your designs are breathtaking, and every one of your garments has a story to tell. What is the planning process that inspires you to create such incredible pieces?
Thank you. That's very flattering. I don't know if there is a clear process. It all starts with a feeling that is set off by colours and fabrics and textures and a subtle guide in my head that starts processing a 'look' together. It's quite amazing how fabric can change the look and feel of the design, I like playing around with that.
How did your Macedonian heritage and growing up in Australia influence your designs?
I can't say it did directly. Indirectly there is this poem I remember about Macedonian culture; it stuck with me and brings to life how I see some things in relation to the culture. It goes something like this, "With free and boundless joy, they still live in melancholy that is the blood of all their passion and happiness." I see this tainted joy and happiness in them and me.
What challenges did you face when you started up your own label, and what advice would you give young aspiring designers?
It's never-ending. You always have to prove yourself, and at the same time, you have to do things your way. I think it's probably harder these days as everything is so much more referenced. I've only had my brand for thirteen years, but it feels like such a different time from when I first started. It's really exciting, and I love that about fashion.
Last year you worked on the costume design for the Aviary "Suite for the Bird" ballet project and received the Best Costume Design Award. Do you see yourself doing more costume designs in the future?
Yeah, I'd love to. I love working in the arts. Working with creative people with a shared vision of creating things and adding to modern culture and inspiration is exciting.
Does art in all its forms play a major part in your life?
I do a lot of drawing and painting when I get the chance. However, sometimes I don't get time to sketch new collections. I'm always refreshing my visual appetite for art of all sorts. Due to my partner's influence, I've been heavily excited about contemporary art. I always had more sensitivity towards the old masters, and it's kind of nice to see things in a new light. I am drawn to performing arts even more. I feel passionate about supporting and being part of this arena.
You always choose unusual and beautiful music for your shows; what are your favorite bands/musicians/DJs?
It constantly changes, I don't have a favourite. I love music. It paints a picture and heightens everything I try to tell with the clothes. I love a sense of nostalgia with music. I love a beautiful voice. I love intelligent compositions and layering music. At the moment I'm enjoying listening to pop radio music. I love soundtracks too. I've been totally immersed in Mark Snow for the X-files.
What was your dream job when you were a kid, and what would you be if you were not a fashion designer?
I have my dream job! I always wanted to do something with my hands, make, and create. Once fashion entered the field, there was nothing else.
If you could have three of your wishes come true, what would they be?
I struggle with this question; some things I'd like to change, some things I'd like to forget. It's all part of being here now and making that matter.
What are some of the plans and directions for your label, and what countries are you planning to conquer? Do we expect to see any menswear and childrenswear collections?
A big part is focused on RTW and growing the brand internationally. That's pretty much it for the moment. It is always important to keep enjoying my work. I'd love to do menswear, but womenswear is such a big part right now on so many levels.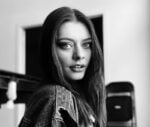 Alexandra Feiam is an experienced fashion writer who holds a degree in journalism. She has an impressive portfolio and expertise working as the Editor at Power Retail and Commercial Content Editor at Newscorp. Ally has been writing for The TrendSpotter since 2018, and her work has been featured in notable publications such as The Herald Sun, Arirang TV South Korea, Kidspot, The House of Wellness, and The Daily Telegraph.
SUBSCRIBE TO OUR NEWSLETTER
Subscribe to our mailing list and get interesting stuff and updates to your email inbox.