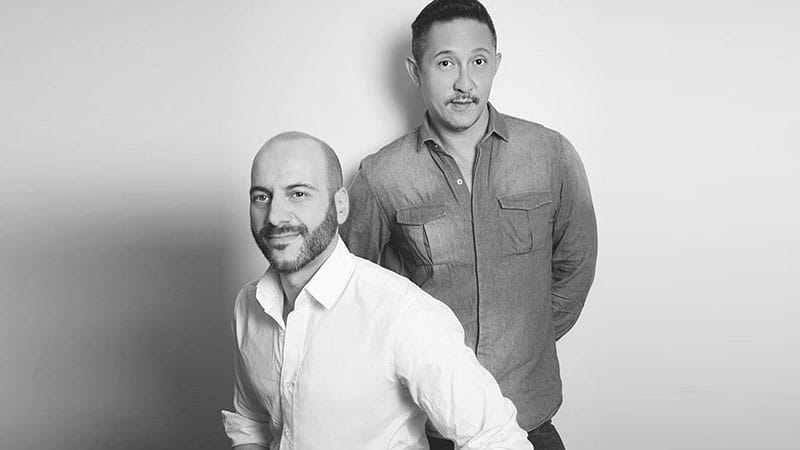 Clemente Talarico is an exciting boutique menswear label which was founded by Paul Talarico and Clement Chuah in 2006. The brand occupies a unique place in the landscape of Australian menswear fashion and abides by a "cool" and effortless approach to urban dressing.
After discovering Clemente Talarico, we were captivated by the unique style, colourful prints, playful designs and quality fabrics. If you are visiting Melbourne and looking for unique men's clothing, then Clemente Talarico should definitively be added to your shopping itinerary.
Today we sat down with Paul and Clem to hear about their journey, inspirations and the future of the label.
What inspired you to start your label?
It was a number of different things. Both Clem and I were both at a crossroads professionally and we had discussed doing something professionally together. Clem had been self-employed and contracted his merchandising skills out to some major women's fashion labels, and I was working for a well known and established men's wear brand. I felt ready after my ten years of experience to start my own and Clem felt the need to start a new venture. Initially, it was going to be something to do with interiors as that is also Clems professional background but we ended up doing menswear.
Tell us about the journey from starting the label to setting up the store.
We began as a wholesale business with a few wholesale accounts, but both Clem and I felt that the label is better presented in its entirety with its very own platform. We opened our first store in Gertrude Street back in 2007 with a rather tight but comprehensive collection to test our target market's response. Growth followed, and we began the roll out of our second store on the other side of the river; Chapel Street the following year.
Tell us about the creative process behind designing your ranges
We start with a concept that inspires both of us then translate it into a colour pallet and start to source fabrics and design pieces. Sometimes the concept can evolve into something slightly different to what we have initially planned, but the great thing about design is the way it can evolve and grow into something better. Throughout the design development process, product styles are sampled and re-sampled to arrive at the overall standard and quality our label is reputable for. From these samples we then select the best pieces that tell the story we want and hence, they make the final collection.
Do you plan to expand into womenswear one day?
Never say never, but we are all about doing one thing well. In the six years of running our brand we have grown and matured so much, and we are getting better at what we do. For us, we still see Clemente Talarico menswear with so much more potential, so we need to stay focused. We have been asked countless times by the partners of our loyal customer to do a women's wear range, but for now, they just have to share!
What are the main themes of this season's range?
Staying true to our signature, this season's primary focus is on sheer masculinity. Autumn/winter 2013 is a composition of classic looks, with a modern and urban update. Rhetorically looking towards the golden age of Hollywood's leading men, we have been greatly inspired by the strong, rugged looks; and in contradiction, the nerdy, ivy league looks often portrayed by actors such as Newman, Brando, Jimmy Dean…and the list goes on. Classic, no-fuss design lines of the 50's are brought into the 21st century with sumptuously textured textiles and deep masculine tones, highlighted with 50's inspired prints and patterns. Part of our signature and appeal for the last seven years has been our independent approach towards men's style. The Autumn/Winter 2013 collection maintains our direction of cool and easy dressing. Though our comprehensive collection will range from casual to dressy, the overall look is generally softer and relaxed; introducing a fresh and dynamic way of dressing without the mainstream's glossy appeal. We are excited by the coming Autumn/Winter 2013 collection and can't wait to drop it in store mid-end February 2013.
If you could work with a famous designer, who would it be?
Our attention is mostly grabbed by the younger, independent designers of today. We find much more creativity and individuality within such designers as they have not yet been influenced by the mass markets. We believe in that as well and can form partnerships with these guys. While we admire the major fashion houses, we don't look to them for inspiration.
What are the future plans for the label and are you looking to expand into the international market?
Our primary objective is to enhance and grow, whist maintaining the integrity of our brand. The future is always something we focus on and moving forward we hope that Clemente Talarico will be not just a Melbourne based brand. We can talk about this in our next "The Trend Spotter" interview ;-)
Website: Clement Talarico
SUBSCRIBE TO OUR NEWSLETTER
Subscribe to our mailing list and get interesting stuff and updates to your email inbox.