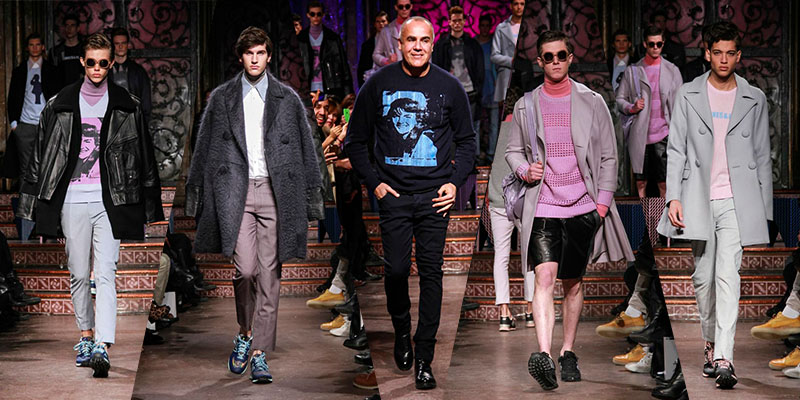 A proud Mexican and one of the country's most influential designers, Ricardo Borrego Seco is internationally recognised for his individualism, sophisticated styles and true design passion.
Seco's dedication and skill have allowed him to create a truly unforgettable Autumn/Winter 14-15 men's collections entitled FOREVER. Fresh off the runway of New York Fashion Week, FOREVER is both modern and timeless. TheTrendSpotter team is fortunate enough to interview the design genius behind the creations.
What was your inspiration behind your Fall/Winter 2014-15 men's collection titled "FOREVER"?
"I was heavily inspired by the 60's and creating a combination of the modern man and timeless style icons like Jacqueline and John John."
You managed to successfully infuse pastels with punk, what is it about the Kennedy era of the 60's that inspires you?
"Jacqueline always wore pastels, so I got to thinking, why can't men pull this off? I wanted a way to make that happen and to make pastels attractive to everyone, not just women."
Tell us about the design process of your collection, the idea, and what happened in 60/s
"There hasn't been a couple more popular who shared more power than Jacqueline and John John. I wanted to create a collection that was both modern and timeless. Like Jacqueline and John John I wanted a collection that people will never forget, that will live forever."
If you could choose any model to work with, who would they be and why?
"When I work with a model I always look for attitude more than anything else. I love working with new talent that have a good energy and make the whole team feel enthusiastic and excited."
We loved the varying textures and fabrics that you used in "Forever". What are your favourite fabrics to work with?
"I love working with cashmere and leather. In this collection, I featured multiple pieces of my collaboration with the recycled cashmere company TRASH- À-PORTER by GGrippo in my runway show."
Your work has been described as unique, sophisticated and detailed. In your own words, how would you describe your work?
"My work is all that I feel."
What are some of your favourite clothing stores/catalogues/websites?
"I love Open Ceremony, Barney's, and Bergdorf Goodman's amongst others."
You were a businessman for more than twelve years before you decided to pursue a career in fashion. Was it hard to give up a life you knew for the unexpected?
"When you follow your instincts you never consider no as an option. I followed fashion with absolute certainty."
You have had some very interesting creative partnerships, what is the one brand that you would love to work with?
"I would love to partner up with Louis Vuitton, Gucci, and Kenzo."
Is there a question you wish you got asked in interviews, but never did before?
"What my whole name is, Ricardo Borrego Seco. People also never ask me what I am passionate about besides fashion. I love my family and friends and I love Mexico, I feel like I am Mexico."
What are the future plans for your brand?
"I hope for success and more opportunities for collaborations. I will continue to be relentless!"
SUBSCRIBE TO OUR NEWSLETTER
Subscribe to our mailing list and get interesting stuff and updates to your email inbox.