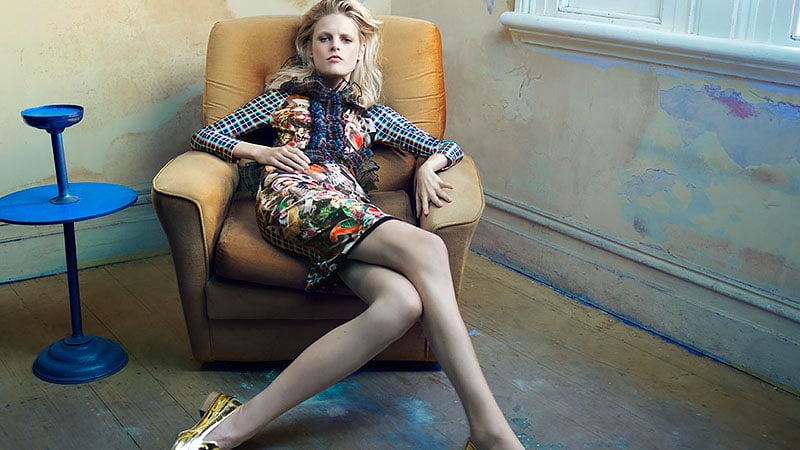 From Mansur Gavriel's new ready-to-wear range to Hanne Gaby Odiele's empowering confession, these are the top international fashion news of the week.
Mansur Gavriel is Launching Ready-to-Wear
Cult accessory label, Mansur Gavriel has announced a new ready-to-wear line launching this September. The range, which is still somewhat of a mystery, will debut during the brand's Fall 2017 presentation and will mark a shift to a new see-now-buy-now schedule.
"We want to create a full world for our consumers and are thrilled to grow our product offering to include ready-to-wear," co-designers Rachel Mansur and Floriana Gavriel in a statement. "Our decision to simultaneously switch to a consumer-focused calendar is also exciting. We're looking forward to offering our customers such immediacy."
Due to the brand's transition to a see-no-buy-now timetable, it has opted not to show at the upcoming New York Fashion Week. Instead, Mansur Gavriel will run an open to the public, pop-up shop featuring a unique installation beginning February 15.
Fashion Industry Members Support Women's March
Last weekend's Women's March shone the spotlight on equality and women's rights. Unsurprisingly many fashion industry members have come out in support of the history-making rally which coincided with the beginning of Donald Trump's presidency. Designers, models, brands and many others from all over the world voiced their support for the March either in person or via social media.
Using their influence to support women and bring to light gender issues, these industry heavyweights put aside any industry competition and stood together.
Rodarte and Coach Set to Collaborate
It has been revealed that a new collaboration between Rodarte and Coach is in the works. Although the partnership between the bold fashion label and American leather goods brand seems unlikely, reports that the two businesses have joined forces to create a capsule collection are prominent.
Expected to drop in stores sometime in April, the range is said to feature 15 pieces. While reports state that most of the pieces will be apparel, there will apparently also be one handbag in the collection.
In other news for Rodarte, the brand announced this week that it would skip New York Fashion Week. Instead, the label will relocate the presentation of its next collection to Paris with a debut via private appointments.
Taylor Hill Designs Denim Range with Joe's Jeans
Taylor Hill is the latest model to try her hand at designing. The 20-year-old was announced this week as Joe's Jeans' new collaborator and campaign star. Hill will work with the American company on four capsule collections, the first of which will be released this autumn (US springtime).
"I really loved it," said Hill of her work with Joe's Jeans. "I thought it was something different. As a model, you don't really get to see this part, and I thought it was really cool to be a part of the process, and have an input, and make it my own."
The range will consist of around 20 styles and include jeans, shorts, overalls, T-shirts, and jackets. Prices of the collaboration will reportedly sit between US$44 and $350. Once released, the capsule collection will be available for purchase at top-tier department and speciality stores, Joe's Jeans freestanding stores, and online at Shopbop.
Raf Simons Introduces Calvin Klein By Appointment
The new Calvin Klein under the reign of Raf Simons was revealed this week as the brand took to social media to unveil its latest campaign. The debut for the brand's new chief creative officer not only provided an insight into his aesthetic vision for the American label but also his business strategy. Dubbed Calvin Klein by Appointment the range represents a new made-to-measure service offering handcrafted pieces out of the New York City atelier.
This new, bespoke-for-all concept is a first for Calvin Klien, which had previously only held a celebrity by-appointment service. With new appointments available from April 2017 for anyone, customers can make enquiries by emailing ByAppointment@ck.com.
As well as its new bespoke concept, the Americana style campaign has also received plenty of excitement for its cast. As well as starring Abbey Lee, Julia Nobis, Natalie Westling, Jamie Bochert, the campaign also features Stranger Things actress, Millie Bobby Brown.
Hanne Gaby Odiele Reveals She's Intersex
In a bid to break down stigma, Hanne Gaby Odiele has revealed that she is intersex. The model has spoken out about the fact that she was born with an intersex trait known as Androgen Insensitivity Syndrome to break its taboo.
"It is very important to me in my life right now to break the taboo," said the Belgian model in an interview USA Today. "At this point, in this day and age, it should be perfectly all right to talk about this."
According to statistics, intersex people make up almost 2% of the world's population, which is roughly similar to the number of redheads. These individuals possess and are born with characteristics, either genital or chromosomal, which do not fit the general definitions of male or female, often resulting in unwelcome surgeries on children.
The issue is close to heart for Odiele who was born with internal, undescended testes and underwent surgery at 10 to have them removed. Odiele is now unable to have children and still troubled by the event.
SUBSCRIBE TO OUR NEWSLETTER
Subscribe to our mailing list and get interesting stuff and updates to your email inbox.