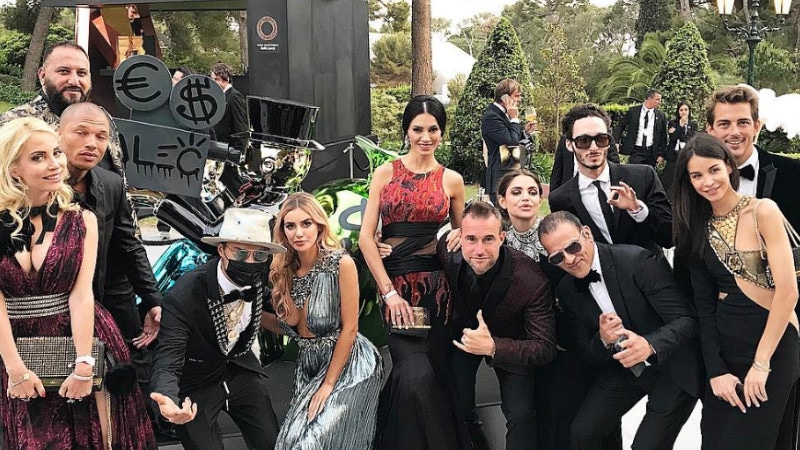 From the Rihanna meme that inspired a movie to Chopard's sustainable new fragrances, these are the top international fashion news stories of the week. 
Chopard Unveils Sustainable Fragrance Line
This year has been undeniably busy for the Swiss luxury watch and jewellery brand Chopard. Following a collaboration with Rihanna on an ethical jewellery line and their creation of this year's Cannes Film Festival Palme d'Or trophy, Chopard has now unveiled their latest exciting project. The brand's co-president and artistic director, Caroline Scheufele and Eco-Age's founder, Livia Firth announced an upcoming Chopard sustainable fragrance line. The range will feature four scents, each based around a fair trade ingredient.
The first, Néroli, is based upon an essential oil produced from the blossoms of orange trees, creating a sweet and spicy scent. Next, there is Vétiver, which derives from a species of tropical grass often found in men's woody, aromatic fragrances. Finally, there is the floral Magnolia scent and the delicate, sweet Vanille. The perfumes will be available on May 29 at Russia's luxury department store Tsum. After this, Chopard will release them to retailers across the globe.
Phillip Plein Throws A Fashion Show At His Jungle Themed Private Villa 
In the hills of French coastal gem Cannes rests fashion designer Phillip Plein's exotic, private villa. While the city's annual Film Festival reeled in the stars, Plein opened the doors to his 'La Jungle du Roi' (King's Jungle). Hosting a fashion show titled 'Dynasty', the designer threw the ultimate rebellious, cool kid party. The event was one that every teenager dreams of, and every parent dreads. The ornate fountains of his jungle home overflowed with bottles of shimmering champagne. Pink flower bouquets nestled amongst the abundance of liquor, matching the hot pink, carpeted runway.
Artist Alec Monopoly decked out Plein's house with a range of artwork, before graffitiing model Winnie Harlow's outfit live during the show. On the catwalk, Jeremy Meeks, the criminal whose smouldering mug shot went viral in 2014, walked with beauties Daphne Groeneveld, Sofia Richie, and millennial party girl Paris Hilton.
Rihanna And Lupita Nyong'O Meme Inspires Netflix Movie
When you're an A-list celebrity sitting front row at a fashion show, you can expect to have your picture taken. Usually, however, you don't expect those photos to inspire an entire movie. This is exactly what has happened to Rihanna and Lupita Nyong'O. In 2014, photographers snapped the pair at a Miu Miu fashion show. A few months later, one creative Tumblr user commented that in these photos, "they look like they're in a heist movie with Rihanna as the tough-as-nails leader/master thief and Lupita as the genius computer hacker." This year in April, another fan revived the idea on Twitter and quickly caught the attention of the two stars. Nyong'O replied to the tweet "I'm down if you are @Rihanna", to which the singer replied, "I'm in Pit'z."
After discussions at this year's Cannes Film Festival, Netflix has won the bid to produce a show based on this premise. Prompted by fans on Twitter to take part in the project, 'Insecure's' Issa Rae is in talks to write the screenplay, and Ava DuVernay is set to direct. It looks like it's time to renew that Netflix subscription.
Topshop Australia Attempts To Save Company With Voluntary Administration
In 2011, fashion-loving Melbournians camped out overnight to gain exclusive entry into Australia's first Topshop store. Now, merely six years later, Topshop Australia has gone into voluntary administration. This process occurs when control over an insolvent company (that is unable to pay its debts) is placed into the hands of administrators. The administrators assess any options available to achieve the best outcomes for the business owners and creditors. Essentially, they attempt to save the company so it may continue operating.
In Australia's current retail climate, it appears that Topshop's high-turnover, low-cost fashion business model has not been enough to keep the company afloat. However, as a wave of brands has recently perished under crushing debts, it is unclear what business formula is successful. For now, Topshop's doors will remain open and staff will continue to receive pay during this troubling period. It is unclear however how long this will last, as the future of the company and employee's jobs are at serious risk.
Cartier Takes Flight With New Exhibition
Hundred and seventy years ago, a man by the name of Louis Cartier founded a company that became one of the world's top luxury brands for jewellery and watches. Now, London is honouring the brand with an exhibition that explores its early roots, inspirations, and evolution.
Leading into the 20th century, the city of Paris was subject to a dramatic remodelling, which resulted in a new era of innovation and experimentation. Gustave Eiffel built his famous tower, while the aviation pioneer Alberto Santos-Dumont created hot air balloons and airships. It was during this period of invention that Cartier moved to the city of lights. Consequently, the geometric structures and mechanical advancements of Paris inspired his designs. In 1904, Dumont asked Cartier to design him a watch that could be used easily during flying. At this point, men traditionally only used pocket watches. These, however, were not suitable for aviation. This request sparked Cartier's creation of the modern wristwatch, named the Santos-Dumont. Before this, there had only been one wristwatch designed by Patek Phillipe for the Countess of Hungary in 1868. This women's timepiece, however, was primarily seen as jewellery. Additionally, Girard-Perregaux had created wristwatches for the German military in the 1880's. The difference with Cartier's design was its appeal to the mainstream. This led to the popularity of the wristwatch that still continues today.
The current exhibition, 'Cartier in Motion', holds over 170 pieces, including the original Santos watch design, as well as one of Santos' Demoiselle aeroplanes. It will be running from the 25 May to the 28 July at the Design Museum, London. 
Mulberry Adopts See Now Buy Now Model
As technology advances, the concept of waiting for something is receding into the past. Consequently, the fashion world has recently created a new model of business, commonly referred to as 'see now, buy now'. Garments are spotted on the catwalk one day and desired by thousands of consumers the next. A direct-to-consumer model, therefore, gives the people what they want, immediately.
The CEO of Mulberry, Thierry Andretta, has announced that the company will also now be adopting this approach. As London Fashion Week kicks off in September, the brand will take a season off from the catwalk schedule. Instead, it will promote its Spring/Summer 2018 collection with private appointments for press and buyers. In February 2018, however, Mulberry will show the same collection on the catwalk, as a direct-to-consumer brand. The key reason for this change is simple. As Andretta puts it, "we have to remain relevant."
SUBSCRIBE TO OUR NEWSLETTER
Subscribe to our mailing list and get interesting stuff and updates to your email inbox.