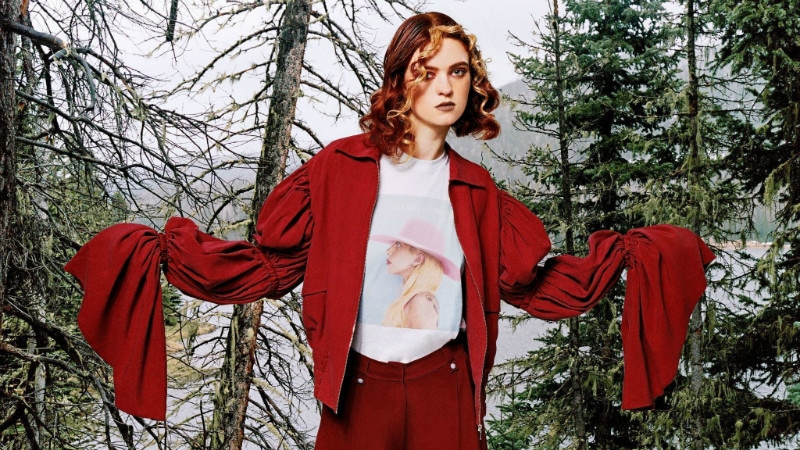 From Vivienne Westwood's Mad Max inspired party to Christopher Kane's capsule collection that was sent orbiting into space, these are the top international fashion news stories of the week.
Christopher Kane launches intergalactic new accessories range
As science and technology evolve at rapid speed, fashion designers around the world strive to push the boundaries of fashion. This week, Christopher Kane extended the parameters beyond Earth's atmosphere, as he revealed that his Autumn/Winter 2017 "Space" accessories were sent into outer space before their runway appearance at London Fashion Week. Pieces sent into orbit include Kane's new Safety Buckle "Devine" shoulder bags which are available for purchase in a range of six galactic inspired colours at €895, as well as his Safety buckle high-top sneakers (€395).
A promotional video released by the fashion house shows the bag and sneakers journey into space, finishing with the luxury items comically crashing back to Earth and into a grassy paddock. According to the company, the accessories reached altitudes of up to 38km (24 miles) above the Earth, and sustained temperatures of minus 64 degrees Celsius (minus -147 degrees Fahrenheit)
From the depths of the Earth to the outer reaches of space, Kane's intergalactic fashion experiment is not the first time a designer has sent their creations into unknown territory. Nearly fifteen years ago, Hussein Chalayan presented his Central Saint Martins graduate collection "The Tangent Flows" and brought to life a new approach to fashion creation. On the runway, models swathed in decomposing silk gowns stunned audiences. The evident decaying of the dresses revealed the aftermath of Chalayan having buried the luxury garments in a friend's garden for several months.
Christopher Kane's 'Space' accessories are now available online at www.christopherkane.com
Emma Watson promotes sustainable fashion with new Instagram
With an Ivy League college degree to prove her brains, a premiere movie title to highlight her beauty, and a new Instagram displaying her role as an eco-warrior, Emma Watson has cemented her trifecta of perfection. As the press tour for her new movie 'Beauty and the Beast' kicked off in Paris this week, Emma launched a new Instagram, @the_press-tour, dedicated to showcasing her eco-friendly tour looks, created with the help of her stylist, Sarah Slutsky. Alongside images of the stunning garments, Emma posts original design sketches, as well as detailed captions crediting the designers and describing their ethical process. Featured looks include a Louis Vuitton cobalt dress made from recycled polyester created from used plastic bottles, an organic silk sash, satin bustier, and woollen trousers from Oscar de la Renta's Fall 2017 collection and faux leather jacket by Stella McCartney.
Each of the outfits featured has been verified as 'green' by Eco-Age, a company that promotes sustainability within the fashion industry. For a business to be eligible for this green status, they must adhere to Eco-Age's core principles including no child labour; fair work; preservation of resources and environment; contribution to the development of communities affected by their operations; recycling and reusing; pollution minimisation; animal welfare; and transparency.
It is not the first time Emma has displayed her passion for promoting ethical fashion. In 2015, she joined stars such as Keira Knightley, Michael Fassbender, and Jennifer Lawrence, as she took up the challenge to "go green" on the red carpet, appearing breathtakingly elegant dressed solely in clothing deemed ethically made. While in a distant time a young Ron Weasley remarked that Hermione needed to "sort out her priorities", it is evident that Emma Watson has succeeded in choosing hers.
Saks opens its first men's only store in Manhattan
Men of Manhattan, welcome to your new man cave. This week American luxury department store, Saks Fifth Avenue, opened their first freestanding store designed exclusively for men. Located in Brookfield Place, Lower Manhattan, the 16,000 square foot store is in a prime location as a shopping hot spot, with high-income financial workers and the World Trade Centre Transportation Hub closeby.
Alongside designer brands including Fendi, Lanvin, and Dries Van Noten, the store also features a tech bar, leather and shoe repair services, t-shirt screen printing, sneaker embossing, and Fika coffee shop to lure in the male shoppers. In need of a new haircut? Look no further than the instore Sharps barbershop. Beyond opening day, the Sak's Men's Store has showcased plans to maintain an ongoing element of surprise and excitement, installing a rotating pop-up shop that changes its products monthly. The first few weeks of the stall caters to all male shoe lovers, with over 200 styles of sneakers featured, 40 of which are available exclusively at Saks.
Bringing men's fashion into the future, the store's decor palette of white, black, taupe and silver, with chevron-patterned porcelain flooring emphasises the sleek and sophisticated style of their future customers.
Lady Gaga releases magnificently quirky merchandise lookbook for upcoming tour
After soaring through the sky in Versace at the Super Bowl, and crowd surfing during her performance with Metallica at the Grammy's, Lady Gaga has delighted fans with another spectacular surprise. This week the six-time Grammy award winner revealed an editorial style lookbook, showcasing a capsule collection of merchandise available in connection with her upcoming Joanne World Tour.
Emerging from her recent role as a woodland enchantress on the award-winning television series, 'American Horror Story – Roanoke', Gaga's new lookbook compliments this bewitching character. In the thirteen released images, models are featured wearing exquisitely bizarre outfits, collaged against an eerie forest backdrop. The lookbook, designed in collaboration with London-based creative studio Lobster Eye and merchandising company Bravado, was shot by Synchrodogs in Ukraine's natural landscape. Synchrodogs photographers, Tania Shcheglova and Roman Noven, describe having "a colourful and wild aesthetic in mind" during the creative process of the lookbook. The choice to use Ukraine's wilderness as a backdrop stemmed from the diversity of the landscapes which they explain "can be smooth and structured or vice versa," and much like Lady Gaga herself, "raw… Still, with some perfection in it."
For those unable to wait until the tour begins in August,  the previewed merchandise has been made available on Gaga's website: https://shop.ladygaga.com. Unlike the high-fashion lookbook, garment prices remain in the realm of the everyday, ranging from $40 for a t-shirt or cap, $30 for a golden 'Joanne' necklace, and $60 for a long-sleeve t-shirt.
Celine Dion reveals her new accessories range
When a person achieves two diamond albums, five Grammy awards, donates over a million dollars to charity, and creates a signature perfume before the age of 50, the word 'remarkable' cannot help but spring to mind. This week, Celine Dion added fashion designer to this already dazzling resume of achievements, unveiling her new accessories range "The Celine Dion Collection" at the Project Women's Trade Show in Las Vegas. The collection, designed by Dion in collaboration with the Bugatti Group, includes tote bags, clutches, backpacks, suitcases, small leather goods, and tech accessories. While the Las Vegas event displayed approximately 70 pieces, the entire collection will feature 200 exclusive designs.
Regarding her level of involvement in the collection, Dion was adamant she didn't want to put her name on someone else's designs. Acting as a crucial part of the design process for each piece and remaining true to her musical passion, Dion created each bag to have a visual representation of her voice's sound wave featured on the interior. This sound wave pattern is also featured in the floor design at the Las Vegas collection unveiling.
Catering to a varied range of consumers, from fashion lovers on a budget to those willing to spend top dollars for an iconic new collection, 'The Celine Dion Collection' prices start from an affordable $78 and span to a high-end $1998. Although the collection will not be made fully available until September, four pieces including the Cavatina wallet, Pizzicato shoulder bag, Octavia satchel, and quilted Vibrato bag will be available for pre-sale through Dion's website from February 27th.
Vivienne Westwood fires up about climate change at Max Max inspired party
The original punk rebel, Vivienne Westwood has once again shown her authoritative power, throwing a Mad-Max inspired party at London's 'Fabric' club and commanding the attention of party-goers with a resonating speech addressing climate change. Throughout her career, Westwood has been an active political fighter in the fashion world. In the past, she has released pieces related to the campaign for nuclear disarmament, to climate change, and to civil rights groups. Now, in her 75th year, the fiery designer, businesswoman and activist shows no signs of quietening her influential voice, as this week she challenged those in the fashion industry to join her in making their business more sustainable.
At the event, the designer wore a self-made paper crown embellished with tree branches and plastic cutlery and bearing the word 'Ecotricity' upon it. This label highlights the name of the supplier of green energy Westwood has teamed up with in her environmental mission. Guests at the event, co-hosted by James Jagger, included original bikini bombshell Pamela Anderson, Game of Thrones' Gwendoline Christie, and singer/songwriter Ellie Goulding.
Westwood's non-governmental organisation, Climate Revolution, is also set to team up with the British Fashion Council to work towards these sustainability goals, rebelling against practices of the past and pushing fashion towards a greener, more sustainable future.
SUBSCRIBE TO OUR NEWSLETTER
Subscribe to our mailing list and get interesting stuff and updates to your email inbox.