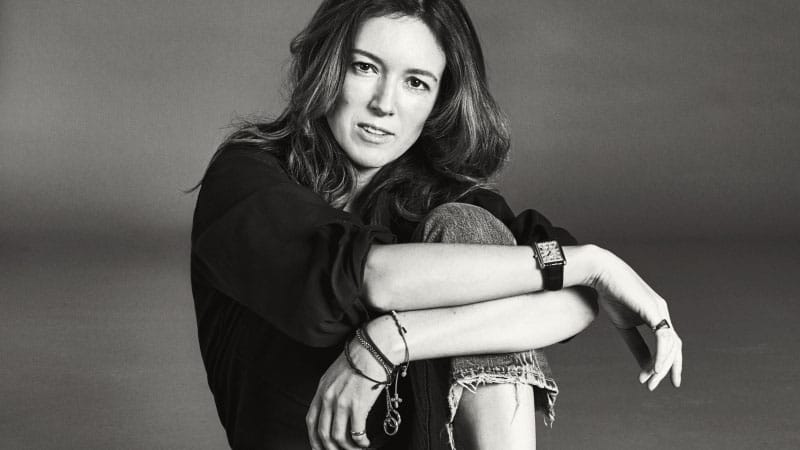 From Vogue Italia's polarising new March cover to Gucci hosting an electronic music event, these are the top international fashion news stories of the week.
Cara Delevingne Writes Her First Novel
For some, reincarnation holds the potential to experience multiple different lives. For English model, Cara Delevingne, this feat has already been achieved in just 24 short years. Amidst the release of a new Chanel 'Gabrielle' campaign video featuring the platinum blonde It-girl, the multi-talented star announced this week that she has written her first novel. The book, which is set to be released in October, is titled 'Mirror Mirror' and is a "twisty coming-of-age story" about friendship, school, and relationships.
Cara, who made her debut into the fashion world at age ten modelling for Vogue Italia, was officially signed to Storm Management in 2009. In 2011, she was propelled into the international spotlight when she became the face of Burberry Prorsum's Spring/Summer collection. Since then, the stunning chameleon has taken on a number of different roles, walking for high fashion houses including Moschino, Oscar De La Renta, and Fendi. Fashion icon Karl Lagerfeld adopted the rebellious model as his muse for Chanel, while 2016's blockbuster film 'Suicide Squad' transformed her into the enigmatic Enchantress. Miss Delevingne has recorded two albums and is a skilled drummer, guitarist and beatboxer. Just in case her resume needed a few extra skills, the candy-striped angel who appeared on Victoria's Secret's 2013 catwalk has also designed collections for DKNY and Mulberry.
With the sole of her left foot bearing a 'Made in England' tattoo, it is easy to identify the origin of this gifted star. Where the future will take her and what talents she will reveal to the world next, however, is anyone's guess.
Gucci Prepares To Host Electronic Music Event In Milan
Italian fashion powerhouse Gucci has come a long way since its inception nearly a century ago in 1921. Flying into the future, the label has announced that its Milan Headquarters, the 'Gucci Hub', will open its doors to the public on March 30, hosting the experimental electronic music event #C2CMLN. The one night only electronic showcase will feature leading international artists including Berlin-based duo Amnesia Scanner, Britain's Gaika, and prominent Stockholm Staycore figure, Toxe. Venezuelan producer and DJ, Arca, who has collaborated with Kanye West, Bjork, and FKA Twigs, will make an appearance, as the Hub pulses with animated visuals created by artist Jesse Kanda.
The Hub, which is an entirely sustainable site in correlation to parent group Kering's environmental, ethical, and social efforts, spans over 378,000 square feet. It is home to the brand's Milan offices, showrooms, and graphic and photo studios. Most notably, the venue acted as the location for Gucci's most recent Fall 2017 catwalk show "The Alchemist's Garden: An anti-modern laboratory". In a first for Gucci, the spectacular show featured both male and female models in one unified show. Visions of the future collided with our ancient past as the models walked inside a space-age plexiglass tunnelled runway, which weaved around a colossal pyramid. The #C2CMLN music event will take place inside the Hub's largest warehouse space, a 41,441 square foot restored aircraft hangar, which shall transform into a nightclub for the event. Access to the event is by invitation only upon registration, with places still available here.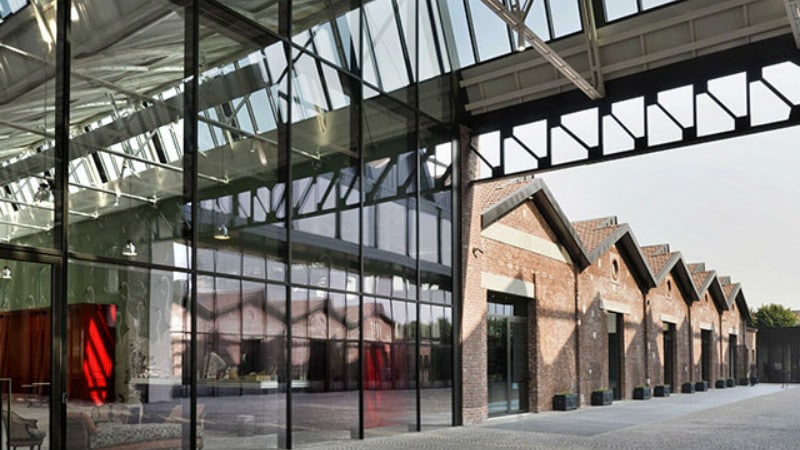 Vogue Italia's New Editor-In-Chief Receives Polarising Responses To His Debut Cover
When you are appointed as the new editor-in-chief of an international fashion magazine, it is safe to say that the world pays attention. This week, after global anticipation, the new head of Vogue Italia, Emanuele Farneti, has released his first cover for the magazine's March edition. Shot by Steven Meisel, the innovative cover blatantly and ironically draws attention to the intertwined worlds of fashion and e-commerce. It features an American model wearing three different Armani outfits, in a layout that playfully mirrors an online shopping site with titles such as "Add to Cart" and "Free Shipping".
Farneti's appointment to the position was revealed in January 2017 by Condé Nast International's chairman and chief executive officer, Jonathon Newhouse. Praising Farneti, he labelled him as "one of the most expert, admired, and talented editors-in-chief we have in Italy," declaring that he has been able to "bring novelties, fresh layouts and high quality to each title he has directed." Following its release, the March e-commerce cover received polarising responses on social media. For some, this "cutting-edge" cover affirms Newhouse's statements regarding Farneti's talent. For others, it is "the worst cover in the history of magazine's". Farneti's cover, however, is not the first time the magazine has challenged the conventional notions of what makes a high-fashion cover. In January 2012, Vogue Italia's cover satirised TV shopping channel QVC, and in January 2005 it mimicked the kitsch layout of a supermarket fashion tabloid.
As it may be said, an editor's work is never done. If this opinion-dividing cover marks the beginning of Farneti's career with Vogue Italia, then we can't wait to see what April's edition has in store for us.
Kerry Washington Designs a Bag To Aid Domestic Violence Victims
As stated by actress, producer, and activist, Kerry Washington, financial abuse is the number one reason why 99% of women in abusive domestic relationships fail to escape. In an effort to reduce this startling statistic, the star of 'Scandal' and 'Django Unchained' has collaborated with Italian Retailer, Aquatalia, to create a limited edition handbag for the Allstate Foundation's 'Purple Purse' Initiative. The initiative focuses on ending domestic violence through financial empowerment, and Aquatalia has pledged to donate 100% of the profits made from the bag to the foundation. This generous donation will significantly aid domestic violence victims and survivors nationwide.
"I've been working to help end gender-based violence for some time, and fashion is something I'm very passionate about, so it was the perfect way to combine two areas of interest," Washington said. This is the third time the inspirational actress has teamed up with the 'Purple Purse' Initiative, with her first purse design raising a life-changing $2.5 million for the cause in 2014. This March, add a mystical splash of purple to your wardrobe with this limited edition bag which shall be sold exclusively for $585 at www.bloomingdales.com and its 59th Street New York Flagship.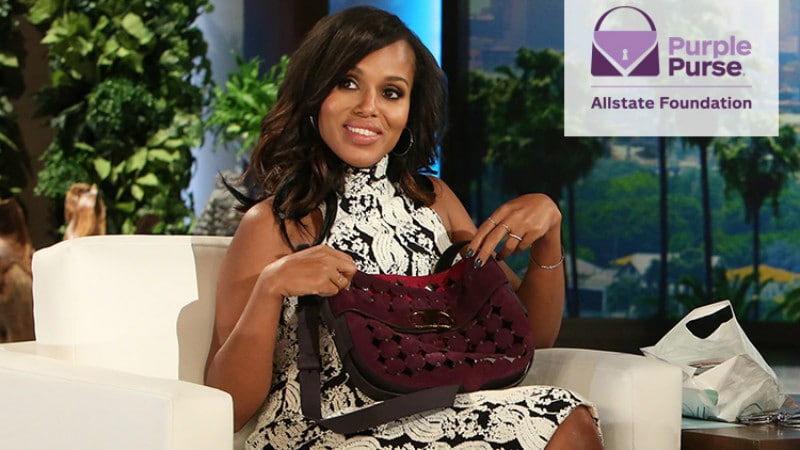 Givenchy Reveals First Female Creative Director: Clare Waight Keller
Following Ricardo Tisci's departure from a twelve-year reign as Givenchy's creative director, fans of the fashion house speculated who would be coronated with his coveted position. One month later, the answer has been revealed, with Givenchy naming Clare Waight Keller as the new creative director. Although she is the first female designer to hold the position, Clare is no stranger to the challenges of leading a brand at the forefront of fashion. In January of this year, Clare, who has designed for Gucci, Ralph Lauren, and Calvin Klein, stepped down from her six-year role as creative director at Chloé.
At Chloé, Clare became known for her romantic and elegant silhouettes and is speculated to present a dramatic change from Tisci's fiery, bold work at Givenchy which featured heavy embellishment, graphic designs, and sportswear-inspired pieces. Chairman and CEO of LVMH, Bernard Arnault, has stated that Clare's "widespread expertise will allow Givenchy to enter the next phase of its unique path". With a talent for creating modern, elegant designs, Clare is expected to draw inspiration from the house's decadent 75-year heritage, which in its earlier years was favoured by women of refined allure, such as Audrey Hepburn, Wallis Simpson, and Jackie Kennedy.
Givenchy's first collection under its new queen shall grace the catwalk in Paris this October with its Spring/Summer 2018 collection.
Coachella Festival Sues Urban Outfitters
The word 'Coachella' evokes images of flower crowns, crocheted crop tops, and all around bohemian vibes. This word is not normally linked to courtrooms, judges, and lawsuits. According to firm statements made by the California-based festival, this world class music event and its name are categorically not associated with Urban Outfitters. On Tuesday of this week, Coachella Music Festival told the Federal Court that Urban Outfitters, through its affiliate Free People, have been infringing upon the festival's famous and long-registered trademarks to sell their products. Alleged to be "trading on the goodwill and fame" of the festival's name, Urban has been using 'Coachella' named apparel as a keyword trigger in online advertising. Garments under attack include Free People's 'Coachella Boot,' 'Coachella Mini Dress,' and 'Coachella Valley Tunic.'
The festival, who has already teamed up with H&M to create a licensed collection called 'H&M Loves Coachella' is seeking damages from Urban Outfitters, as well as demanding that they remove all infringing items and modify product labels so that the Coachella name is not "tarnished" by misbranding. Refusing to let this conflict deter from the planning of their iconic festival, Coachella returns this year in the 2nd and 3rd weeks of April, with crowd-pulling acts including Lady Gaga, Kendrick Lamar, Radiohead, and Lorde. Urban Outfitters are going to be in need of some serious R&R to recover from this legal battle.
SUBSCRIBE TO OUR NEWSLETTER
Subscribe to our mailing list and get interesting stuff and updates to your email inbox.