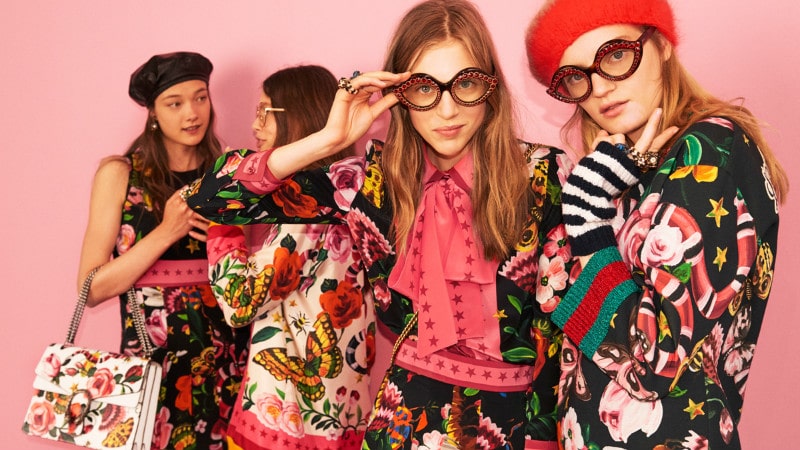 From Louboutin's bike polo tournament to Hermès dip-dyeing pop-up store, these are the top international fashion news of the week.
Hermès Laundromat Dyes to Bring New Life to Old Scarves
Sometimes all it takes is a good wash to make an old garment feel new again. This week, therefore, Hermès has taken this idea in a creative new direction. The fashion house has opened a Laundromat inspired pop-up store, 'Hermèsmatic', to dip-dye Hermès famous silk scarves. The store gives customers the ability to bring their beloved scarves in for a fresh, complementary colour update. Colour options on offer include fuschia, violet, or blue.
Hermès is known across the globe for their high-quality artistry. Each of their stunning patterned scarves is the result of hundreds of hours of work. Consequently, when it came to designing the interior for the luxury laundromat, no detail was overlooked. As a result, Hermès signature orange washing machines sit ready to complete the dip-dye transformation. Additionally, there are matching designer laundry baskets, and walls tattooed with the Hermès logo. As is the case with all good things, the pop-up stores will only last for a limited time. After debuting in New York from the 14th to 18th of June, they will then move on to D.C, Nashville, and finally, L.A.
Louboutin Opens Italy's Pitti Uomo with Bike Polo Tournament
In Florence this week, the 14th-century Basilica of Santa Maria Novella acted as the backdrop for Louboutin's latest fashion show. As event coordinators prepared for the show, however, it was not a catwalk that was set up in this stunning location. Instead, they constructed polo grounds, where teams from across the world would compete in a bike polo tournament. Eight teams, therefore, took part in the fashion, sporting event, which opened the 92nd Pitti Uomo.
The twice-yearly menswear fashion fair is renowned for being the world's biggest and best. Consequently, each team in Louboutin's daylong bike polo wore different coloured sneakers from his new Fall 2017 line. In this creative, unconventional way, Louboutin introduced the world to the Aurelien low-top sneaker. The style comes in three colours, including black, white, or finally, colour blocking. In true Louboutin fashion, the inside of each shoe is also the brand's bright, signature red.
Kim Kardashian West Announces Signature Makeup Line
If imitation is a form of flattery, then it appears Kim Kardashian West and her younger sister Kylie Jenner are very fond of one another. For years, Kylie has been accused of copying Kim's fashion looks. Now, the sibling rivalry has found its way into the business world, with Kim announcing a new signature makeup line. Kim discussed her beauty venture, which she unveiled via social media, at this week's Forbes Women's Conference. The line, named KKW Beauty, will be released on June 21st. While Kylie has focused on lip kits, eye shadows, highlighters, and blushes, her business savvy older sister's first product will be a contouring kit.
The announcement, which also included news of an upcoming Kim K fragrance line, has consequently received mixed social media responses. Many fans are thrilled at the news, which suggests the line will be a sell out success. Others, however, believe that Kim will poach customers from her younger sister's market, resulting in a family feud. With the two richest Kardashian / Jenner sisters now set to conquer the beauty industry, the question remains as to who will end up on top.
Balenciaga Takes Over Colette with Mugs, Sleeping Masks and Manicures
Mugs, sleeping masks, and manicures are not three words usually associated with Balenciaga. Then again, neither was IKEA or Frakta bag, but times change. This week, Balenciaga announced that their luxury label will now be attached to each of these everyday must-haves. The release of these exclusive products correlates with the brand taking over the first floor of Paris' renowned concept store, Colette. From June 19 to August 5, the floor will feature all things Balenciaga. This includes clothing, an art exhibition, themed fragrances, and a modern hourglass installation.
On June 21st, France's annual Fête de la Musique will also be celebrated by the store. They plan to sell limited edition vinyl records of their women's Fall show soundtrack. Additionally, from July 2nd to 6th, their nail artist, Mei Kawajiri will offer free manicures reproducing designs from previous shows. Finally, from June 19 to July 10, Balenciaga is joining the wave of luxury brands offering garment customisation. In this Balenciaga Colette store, customers will be able to select unique graphic designs to print onto t-shirts and hooded sweatshirts. With mugs, masks, manicures, music, and modern art, Balenciaga is ticking all of our boxes. We hear Paris is lovely this time of the year.
L'Oréal Wins Gender Equality Award
The world's leading beauty company, L'Oréal, was founded over 100 years ago. However, while it is an old business, it's way of thinking is entirely modern. Striding ahead of the pack in their promotion of workplace gender equality, they were awarded the number one spot on Equileap's 2017 Global Gender Equality Ranking. L'Oréal received the award in Amsterdam, beating over 3,000 other companies from 23 countries. In determining each company's ranking, Equileap relied on 19 criteria points. These included assessments of remuneration, leadership opportunities, the balance between work and private life, as well as paid parental leave.
At L'Oréal, 62% of executives are women. They make up 33% of the Executive Committee members, and 46% of the Board of Directors. Additionally, women manage 58% of L'Oréal brands.
Gucci's Garden of Snakes, Butterflies, and Florals will be Planted at Harrods
London's famous Harrods has announced that a Gucci garden is set to take root throughout this July and August. The Knightsbridge store will be adorned with the brand's famous snakes, butterflies, and florals. These motifs featured in the creative director Alessandro Michele's first capsule collection for the fashion house, 'Gucci Garden'. In addition to the displays, the store will also sell limited edition bags, shoes and ready-to-wear collections.
In case this wasn't enough to entice Gucci lovers, customers can choose to take part in some high fashion DIY. The store will offer shoppers the option to add a range of unique decorative patches to Gucci's products. The selection includes an exclusive Harrods butterfly patch. Finally, the scent of Alessandro Michele's first fragrance for the brand, Gucci Bloom, will be available for purchase. If you happen to be in London between July 31st and the end of August, take some time out and smell the (Gucci) roses.
SUBSCRIBE TO OUR NEWSLETTER
Subscribe to our mailing list and get interesting stuff and updates to your email inbox.