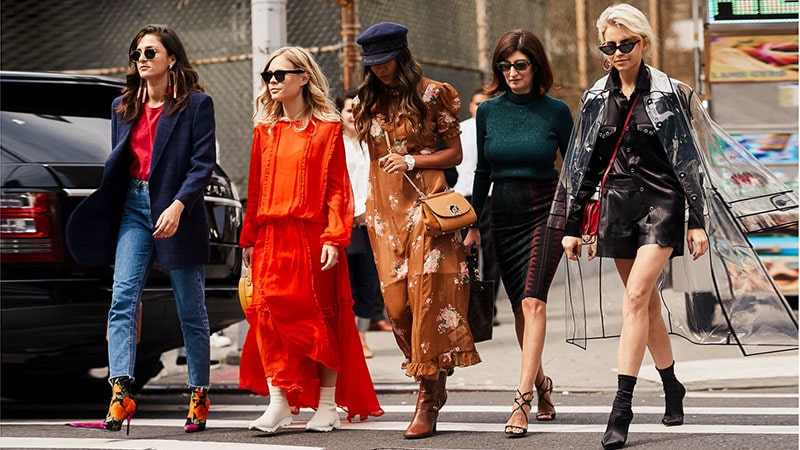 This week, Elle US appointed Nina Garcia as a new editor-in-chief, applications opened to enter H&M's third annual Global Change Award and Prabal Gurung was named new creative director at Tasaki. Discover these stories and more as we reveal this week's top international fashion news.
Elle US Appoints Nina Garcia As New Editor-in-Chief
Nina Garcia, formerly Creative Director of Marie Claire US, has been appointed new editor-in-chief of the American edition of Elle. She will succeed Robbie Myers, who has been heading the magazine for 17 years. In an interview with the New York Times earlier this week, Garcia shared her ambitions to amplify the values that the Elle brand represents. "I understand firsthand what the DNA is […] It's bold, it's provocative, it's inclusive, democratic, it's innovative. I just want to amplify all those things we know about Elle." In the same interview, Joanna Coles, chief content officer at Hearst Magazines, explains why she believes the former Project Runway judge is the right woman for the job. "The Elle woman is sexy, passionate, loves her work, is social. She's someone global millennial women aspire to, and no one represents that more than Nina."
Host to over 4 million Instagram followers, Nina Garcia owes her success to her ability to foresee and embrace the changing nature of fashion. Already back in 2010, when the digitalisation of media was still in its early stages, she knew the fashion editor's role was changing. "Now you have to wear many hats, and whoever tells you differently is wrong. Now you're on TV, whether you want it or not."
Applications Open to Enter H&M's Third Annual Global Change Award
Our favourite Swedish export, H&M, is hosting its third annual Global Change Award. The competition, which attracted more than 2,800 applications from 130 countries last year, aims to promote innovation and sustainability in fashion. Young designers from all over the globe are invited to submit their concepts to win a share of the €1,000,000 (AU$1,5 million) prize money. In addition to this generous cash injection, all winners will receive access to a one-year coaching program courtesy of the H&M Foundation, Accenture and the KTH Royal Institute in Stockholm. "The Global Change Award accelerates progress not only for its recipients but for our industry at large," says Steven Kolb, President & CEO of the CDFA.
The finalists are selected by a panel made up of experts in the fields of fashion, sustainability, circularity and innovation. Then, the global public is asked to cast their vote online. This year's winning innovations included a method for making leather from winemaking residue, a nylon made from water, plant waste and solar energy and a sustainable process of dying denim that doesn't use water. "The Global Change Award has really become a positive force in the fashion industry," says H&M CEO Johann Persson. "It has proven to be a true catalyst for the winners, giving them support and access to a valuable network so they can bring their innovations to the market quicker and better prepared. I'm really curious to see what disruptive innovations we will receive this time." Applications are now open and will close on October 31. For more information visit www.globalchangeaward.com.
Prabal Gurung Named New Creative Director at Tasaki
Designer and red carpet favourite Prabal Gurung has been appointed the new global creative director for the Japanese jewellery house Tasaki. His first line in collaboration with the brand, entitled Tasaki Atelier, was unveiled during his recent spring 2018 presentation in New York last Sunday. Being a true advocate for diversity and sustainability, Gurung said he found the brand's history and commitment to ethical processes especially appealing. "Tasaki sources, develops and designs with couture ideals – utilising sustainable, fair and ethical practices and offers the highest quality pearls, diamonds and gemstones. We are thrilled to continue telling our brand story by celebrating women of beauty and substance, and luxury with soul, through this partnership," says the designer. Toshikazu Tajima, Tasaki's CEO and board director, envisions Gurung leading the brand into the future. "Prabal Gurung continues to produce elegant and sophisticated designs that embody the glamorous world of luxury. I believe that he is the best partner to create new value that symbolises the future of Tasaki. I expect that Prabal will further expand Tasaki's unique world of modern beauty."
Since launching his namesake label in 2009, Prabal Gurung's feminine and eccentric designs have become a favourite amongst celebrities worldwide. His client list includes the likes of Michelle Obama, Sarah Jessica Parker and Anne Hathaway. Tasaki Atelier will be available at the brand's flagship store in Tokyo from February 2017. International locations are to follow later in the year.
Highlights from New York Fashion Week
Once again, New York Fashion Week has come to an end leaving a lasting impression. This year, Alexander Wang earned himself the nickname of 'pariah' by barricading guests to access his show that started an hour late. Rebel queen Rihanna returned to NYFW to debut her last collection in collaboration with Puma. Guests, media and fans of Fenty x Puma collaboration were treated to the unforgettable motocross show set over pink sand mountains. This season would also be a memorable one for our beloved Carrie Bradshaw, as, against her fierce predictions, New Yorkers are indeed wearing scrunchies again. Just like the bucket bag in 2016, this trend comes to us courtesy of NY based cult label Mansur Gabriel.
While models like Gigi and Bella Hadid have already walked their fair share of miles on international runways, this year there was a new generation of celebrity spouses to be inaugurated into the world of NYFW. Kaia Gerber, the 16-year-old daughter of the always fabulous Cindy Crawford, made her runway debut at the highly anticipated Calvin Klein show. Off the runway, TheTrendSpotter captured the best street style looks. Bright hues in red and yellow were combined with subtle, earthy tones, voluminous dresses, flared pants and ruffled tops remained a definite crowd favourite
.
Myer Profits Plunge as Amazon is Expected to Launch Pre-Christmas
Retail giant Myer announced it will be closing stores in Adelaide, Canberra and Sydney following an 80% drop in net profits throughout the 2017 financial year. Myer attributes this development to the write-downs of some of their fashion brands, including Topshop and Sass&Bide. CEO Richard Umbers says restructuring the chain will lead to a more efficient retail model. "In the year ahead we will be rolling out further initiatives particularly in our strongly performing omni-channel business in anticipation of a further wave of change in consumer and competitor behaviour."
The department store reported a total loss of $48.7 million compared to the 2016 financial year, which is the weakest result since their sharemarket float in 2009. The news was published as American online retailer Amazon is about to open its digital doors to the Australian public. "The impending arrival of Amazon will pose a threat to most major retailers and Myer will be no exception," says research analyst Hianyang Chan. "Amazon's closed system allows a consistent and high quality consumer experience that will potentially win over many consumers in Australia and steer them away from traditional bricks and mortar stores."
SUBSCRIBE TO OUR NEWSLETTER
Subscribe to our mailing list and get interesting stuff and updates to your email inbox.