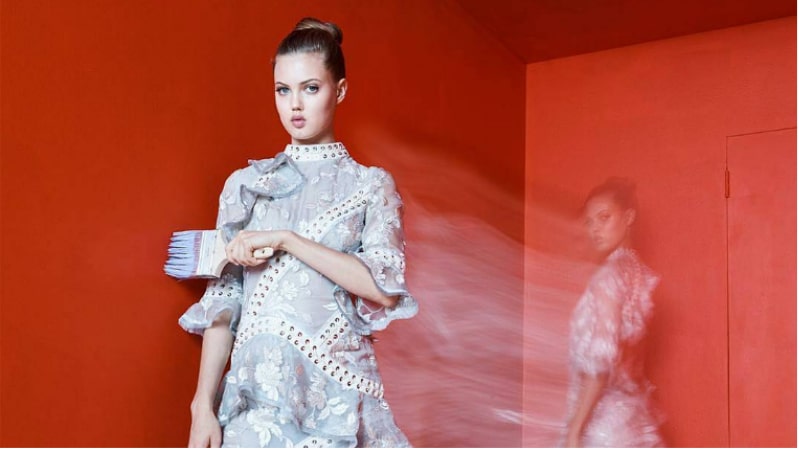 From Louis Vuitton's luxury smartwatches to Gucci's first homewares range, these are the top international fashion news stories of the week.
Gucci's Garden Grows Into its Premier Home Décor Range
Alessandro Michele's Gucci Garden has not only taken over the fashion world; now, its creatures are creeping into the home as well. This week, to the excitement of Gucci lovers worldwide, the fashion house introduced their premier homewares range. Named Gucci Décor, the collection features stunning furniture and decorative pieces for the home.
Gucci's popular motifs, patterns, and prints feature heavily in this whimsical, vibrant and eye-catching collection. Bees, tigers, snakes, and butterflies reign. The creatures are embroidered across decorative cushions as well as forming delicate porcelain figures on pots and incense burners. The collection also features folding tables, candle holders, dining chairs and tableware. We'll take four of everything, please.
First Trailer is Released of the Upcoming Manolo Blahnik Film
Carrie Bradshaw is known for blowing all her savings on a new pair of Manolo's, while Vogue's Anna Wintour admits "I don't look at anyone else's shoes." The coveted shoes are worn and beloved by celebrities across the world. Meanwhile, the brand's client list reads like a fashion show casting list. Now, a biopic film focusing on the man behind it all, Manolo Blahnik, is set for release. The film, whimsically titled, 'Manolo Blahnik: The Boy Who Made Shoes for Lizards', explores the life of the Spanish born designer. It follows his path across the globe, from his time studying in Paris to his foray into fashion as a set designer. In the 1970's, that course changed, as the Vogue editor at that time, Diana Vreeland, encouraged him to focus on shoes. The rest is fashion history.
The film also features a parade of famous faces, who share their personal stories about Manolo. This includes Rihanna, Sofia Coppola, and John Galliano. Director, Michael Roberts, commented that "having known Manolo for over 45 years, I can say he is a multifaceted intellectual and romantic whose engaging mind and ingenious work is made for entertaining cinema." Famous for his revival of the now classic stiletto, Manolo's world is a captivating blend of humour and creativity. Although the film won't hit screens until September 15th, the first trailer can now provide fans with an exciting glimpse of what's to come.
Louis Vuitton Releases Smart Watches for the Luxury Traveller
This week, Louis Vuitton joined brands such as Michael Kors and Hermès, as it released its first smart watch, the Tambour. The watch features all of the usual smart watch functions including notifying the wearer of calls, displaying the weather, scheduling events, and having a digitally customizable watch face. Securing one of these timepieces will set you back between $2450 – $2900.
Parisian Concept Store Colette Plans to Close its Doors
History has often shown that iconic figures are lost to us while they are still young. Now, the same may be said of fashion's most famous concept store, Colette. After twenty successful years, the Parisian store has announced it will close its doors this December 20th. As the store has announced, "all good things must come to an end." The store, which is a favourite of Karl Lagerfeld and fashion lovers worldwide, first opened in 1997. Created by Colette Roussaux, it is renowned for its mastery curating. Essentially, this entails its ability to sell high fashion pieces alongside the everyday. Over the years, the store has featured luxury brands such as Chanel and Balenciaga, alongside McDonald's merchandise, art magazines, dolls and gadgets. Consequently, it is this boundary pushing, quirky way of merchandising that has made Colette famous.
Although Colette Rousseaux's daughter, Sarah Andelman, currently leads the business, Rousseaux still lives above the Rue Saint-Honoré store. Now, Colette is ready to retire, and as the brand explained: "Colette cannot exist without Colette." It is speculated that luxury powerhouse Saint Laurent will take over the coveted retail location. Until December however, Colette will remain. Consequently, there are a few more high fashion collaborations set for the coming months. These include Sacai, Chanel, and ironically, Saint Laurent.
Lindsey Wixson Quits Modelling to Pursue Artistic Endeavours
With her bee-stung lips and gap toothed grin, Lindsey Wixson is an unforgettable face in the modelling world. This week, however, at the young age of 23, Wixson announced her retirement. The news follows an earlier foot injury, which has left the model unable to continue her reign on the catwalk. As a result, she has been forced to make the decision to end her fashion career, announcing via Instagram, "to all my fashion fans, I am sad to inform you that my injury has put me in a position to retire from this high-heel business."
Having featured on the catwalk and in campaigns for fashion houses such as Chanel, Miu Miu, Versace, and Dior, it is not surprising that their creativity has left a lasting impression on Wixson. As a result, she now plans to pursue an artistic future of her own, away from the fashion world. Alongside announcing her retirement, her statement disclosed her future goals. To her fans, she wrote "I ask you for your support on my new endeavours with designing interiors, pottery, sculpting, carving, and inventing for the future" Lindsey is displaying her artistic work on her new Instagram, @wixsondesign.
Nike's Revolutionary Flyknit Technology Features in New Sports Bra
When Nike released their Flyknit technology back in 2012, it revolutionised the way they created their shoes. Now, five years on, that technology has finally found its way into a different category of fitness essentials: the sports bra. The new design is named the Fe/Nom Flyknit bra. Differing from other high-support designs, the incorporation of the Flyknit technology allows Nike to significantly reduce the number of production pieces. Engineers and designers spent over 600 hours conducting biometric testing, to evaluate the best way to implement the Flyknit technology. Testing involved the digital body scanning of female athletes, to assess areas of high heat, sweat, cooling and movement. The Fe/Nom Flyknit Bra is now available online.
SUBSCRIBE TO OUR NEWSLETTER
Subscribe to our mailing list and get interesting stuff and updates to your email inbox.