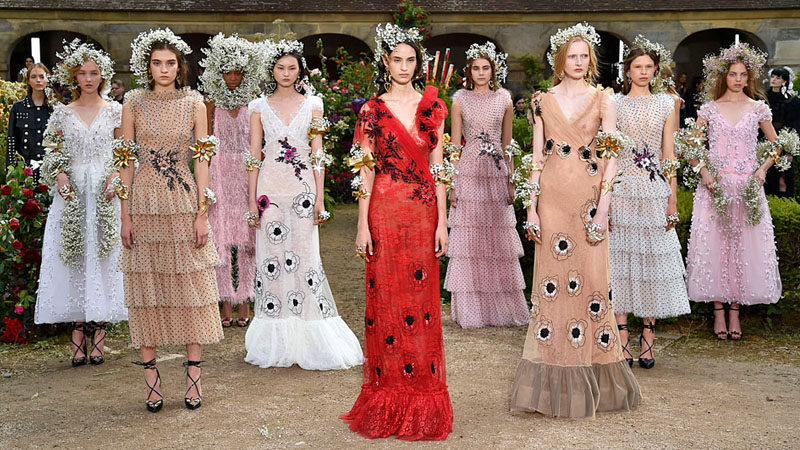 This week, The Weeknd shares the first look from his new H&M collection, fashion giants agree to ban size 0 models, Proenza Schouler launches a new fashion line, Specsavers team up with fashion powerhouse Balmain and Snapchat releases new fashion reality show. Discover these stories and more as we reveal this week's top international fashion news.
The Weeknd Shares First Look At New H&M Collection
The Weeknd has unveiled the first look from his second collaboration with H&M. The Canadian pop and R&B star posted a photo of himself to Instagram dressed head-to-toe in items from the new range. The image shows the 'Starboy' hitmaker wearing a sleek varsity jacket in deep purple and black with shadows of palm trees and power lines in the background. It was also embroidered with a 'W'. He wrote alongside the image: "Announcing the second collab with @HM for the Fall. The collection drops September 28 in store and online. Stay tuned."
The Weeknd's H&M collaboration is his second with the Swedish clothing retailer. In February, he also served as guest stylist for H&M's Spring Icons campaign. In March he performed at the H&M Studio show in Paris. Not to mention, he also recently launched a sneaker boot with Puma and dropped a series of merchandise collections to his 2017 Starboy World Tour. The Weeknd's collection follows the company's successful collaboration with British soccer star David Beckham. It's unknown how many pieces will be available in the collection. But we do know that it hits stores and online on September 28.
Specsavers are Teaming up with Fashion Powerhouse Balmain
Specsavers have teamed up with French fashion powerhouse Balmain for a new stylish yet affordable eyewear range. The collection will feature 15 optical glasses and six prescription sunglasses styles. The styles will range from classic, which is a burgundy framed cat-eye, to 'of the moment', which is a round gold-wired shape. Specsavers' go into more detail about the collection on their website: "Inspired by Balmain's structured and expertly crafted clothing, this collection of frames feature styles and colours that make women feel beautiful, confident and empowered. Balmain is not only a look, but also a feeling. On all of the frames you'll find subtle, Balmain brand details in gold including a signature 'B' on the temple tips, as well as detail on the temples inspired by the Balmain belt chain collection."
Just like Specsavers' other high fashion collaborations, the range will be highly affordable, with prices starting from $299 for two pairs. The collection follows Specsavers' previous collaboration with Kylie Minogue. The Specsavers x Balmain collaboration is available from September 14 online and in-store.
Fashion Giants Agree to Ban Size 0 Models
Two of France's largest luxury retailer conglomerates announced on Wednesday that they would stop working with fashion models who are unhealthily thin. LVMH and Kering, which owns brands such as Dior, Kenzo, Stella McCartney, Saint Laurent, Gucci, Louis Vuitton, Marc Jacobs and others, adopted the agreement. The agreement aims to protect the health of fashion models by making those who are unhealthily thin ineligible to work. The pact comes after a new French law was passed, requiring all models to provide medical certifications proving they are healthy before they can work. The French law, which is slated to take effect on October 1, requires both male and female models to present a health certificate obtained within the previous two years. However, LVMH and Kering both said they would decrease that time frame to six months.
The pact also bans the conglomerates' labels from using female models below a U.S. size 0-2 and a U.K. size 6. The fashion companies said their mutually binding agreement would take full effect this month, just in time for the spring-summer ready-to-wear runway collections. Unlike the French law, the charter also will apply to the international Kering and LVMH brands. The two groups said they hoped to set a new global standard for the fashion industry. "We hope to inspire the entire industry to follow suit, thus making a real difference in the working conditions of fashion models industry-wide," Kering CEO Francois-Henri Pinault said in a statement. The charter also demands each brand have a psychologist available to the models by either phone or in the workplace during work hours.
Proenza Schouler Launches a New Clothing Line
American fashion label Proenza Schouler is reportedly launching a new line of clothing. The secondary collection called 'White Label', will complement their spring womenswear collection. It is not being billed as a diffusion line, but rather a 'sister' collection, comprising of more casual and affordable items like denim, T-shirts and basics. These items have been part of the main line for some time, but are being separated and highlighted in an effort to boost the business with more accessible, affordable options.
This is the third creative change the house of Schouler has seen this year, following the appointment of Elizabeth Giardina to vice president of Design, and moving from showing collections at NYFW to Paris. The 'White Label' range is said to be launching in November.
Snapchat Launches a Reality Show Hosted by a Celebrity Stylist
Snapchat's latest original series is a fashion-based reality show, which will feature aspiring stylists competing against one another to craft the perfect look based on a given theme. Celebrity stylist Sophie Lopez, the stylist for actress Kate Hudson and others, will host the reality series, called 'Nail The Look.' Lopez will critique the stylists' final looks, before offering tips on what styles to buy, as well as how to wear them. 'Nail The Look' premieres on Snapchat Discover on September 7, to coincide with the start of New York Fashion Week. It will air every Thursday for eight weeks, and each week will feature a new theme for the stylists to adhere to.
One of the TV show's producers Rhett Bachner said the decision for the series was ultimately a huge gamble. "Snapchat understood the power of mobile from a programming perspective and was willing to take chances on a variety of content and formats," Bachner told Business Insider. "We're firm believers in the platform. As producers, we go where the eyeballs are. And right now, all eyeballs are on Snapchat." 'Nail The Look' is Snapchat's latest bid to become a destination for exclusive shows, with the company planning to have more than three shows airing per day on the platform by the end of the year.
SUBSCRIBE TO OUR NEWSLETTER
Subscribe to our mailing list and get interesting stuff and updates to your email inbox.