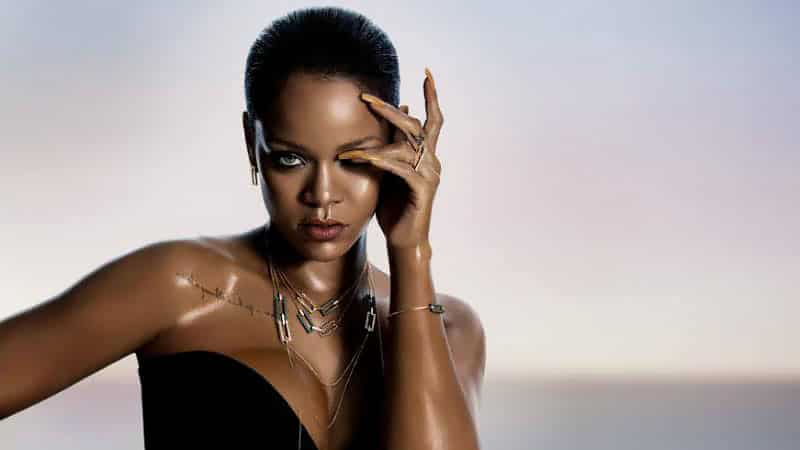 From Rihanna's island inspired jewellery collaboration to Dolce and Gabbana's colourful new kitchen appliances, these are the top international fashion news stories of the week.
Burberry's Travelling Exhibition Lands in New York
This week, the world of Burberry flew into New York with magical elegance, with the arrival of their travelling exhibition, 'The Cape Reimagined'. The exhibition, which features 78 unique, handcrafted designs was inspired by the British sculptural artist Henry Moore. New York's Moda Operandi was awarded the privilege of presenting the stunning collection, which premiered in London and is making its way through a selection of capital cities including Seoul, Paris, Los Angeles and Tokyo. The couture capes were first introduced on Burberry's February 2017 runway and are created with a range of striking materials including feathers, fur, and ceramics. "Each one is a collector's piece incorporating unexpected materials and intricate techniques" explained Burberry's chief creative director, Christopher Bailey. Accordingly, each of these exquisite designs is exclusively one of a kind and made to order.
Rihanna Reveals Jewellery Collaboration with Chopard
This week it was announced that Rihanna and Geneva-based jeweller and watchmaker Chopard have collaborated on a nine piece fine jewellery collection. Set to launch at the 70th Cannes Film Festival this May, the collection takes inspiration from the sprawling gardens and carnival celebrations of Rihanna's native island, Barbados. Chopard's creative director, Caroline Scheufele, has co-designed the pieces with Rihanna and commends the star for her intuitive creativity stating, "with her unique style, she redefines the way people see jewellery". Pieces include a diamond watch, necklaces and bracelets crafted from forest-green ceramics and gold that reinterpret Chopard's signature ice-cube shape, a marquise-cut diamond solitaire ring, and multi-coloured floral chandelier earrings, which Rihanna wore to the Grammy's red carpet in February.
The collection follows Chopard's inspiring approach to creating ethical jewellery, which turned heads in 2013 when the label joined the Green Carpet Challenge and presented pieces made from sustainably sourced gold. In 2015, the brand partnered with French beauty Marion Cotillard to design jewellery using ethically sourced gemstones. Rihanna's collaboration follows this trend as it incorporates ethical 18-karat Fairmined-certified rose gold. To maintain exclusivity, only 2000 of each design will be created. For those wishing to own a jewel from Rihanna's treasure chest, the head-turning collection will enter Chopard boutiques internationally this June.
Dolce & Gabbana Release Range of Vibrant Kitchen Appliances
Dolce & Gabbana have once again shown their mastery for crafting beautiful and vibrant creations with the release of a new collection at Milan Design Week. This collection, however, did not take the usual form of fashion forward dresses, lust-worthy bags, and irresistible shoes. This round, Dolce & Gabbana's artistry presented itself as toasters, juicers, coffee machines, kettles, and blenders. The domestic kitchen range "Sicily My Love" was introduced at the world renowned design and furniture exhibition, 'Salone del Mobil, and marks the couture house's second collaboration with the Italian home appliance giant, SMEG. Last year, the brands teamed up to create 100 limited edition colourful, ornamental fridges, sold at a jaw-dropping price of approximately $45,000.
The new appliances pay homage to the decorative and vivid colours and motifs of Sicily, with vibrant citrus fruits, golden lemons, bright cherries, and purple figs adorning the hand-painted designs. Delicate florals, coastal scenes, and Sicily's Mount Etna also feature, creating stunning pieces that would be a treasured addition to any kitchen. Put this one on your Christmas list as the "Sicily My Love" kitchen couture collection will be made available for purchase later this year.
Vogue Fashion Fund and British Fashion Council Announce Two Winners for Coveted Award
Now in its eighth year, the British Fashion Council in partnership with the Vogue Fashion Fund has announced for the first time ever not one, but two winners of the coveted prize. The award was presented at London's decadent Hotel Café Royal by British Vogue's departing Editor-in-chief, Alexandra Shulman. The recipients, each sharing in the prize of £200,000 (approximately $330,000 AUD), included the sporty and feminine Mother and Pearl, alongside men's and women's shirts label, Palmer Harding. The council hopes that winners will "embrace the impact that hiring experienced talent has had on previous winners" and use the money to hire a full-time or consultant team member to advise on the business aspects of fashion. With this major injection of prestige and funding, the winners are now set to hold a prominent place in the industry.
VLONE Celebrates Tupac with Exclusive Collection
In commemoration of the iconic performer, A$AP Bari, the designer of streetwear brand VLONE, has launched an exclusive collection titled VLONE x Tupac Shakur. VLONE, which rose to prominence in 2011 with ski masks embroidered with golden prison tears and statement patchworked jeans is renowned for its sell-out streetwear. The new 19 piece VLONE x Tupac Shakur collection features minimalist graphic designs and is set to follow the brand's previous staggering success. Fans can expect to find a two-tone colour scheme of red and black, as well as pieces in the brand's signature colour blocking of orange and black. Items on sale include shirts, hoodies, tees, hats, and velour bathrobes, all inspired by Tupac and his personal style.
Kendall Jenner Shows her Support for Female Empowerment
It girl Kendall Jenner posted to Instagram a confident video of herself wearing the original Boob Tee by brand Never Fully Dressed. The designers behind the tee aim to encourage women around the world to free the nipple and join the movement supporting female empowerment in a fun, playful way. Designed and printed in London, the tee is made from 100% organic cotton and is exclusively available from the brand's website. The t-shirt is sold for £29 ($48), with £5 from every sale donated to the Mind Charity, which supports mental health problems.
SUBSCRIBE TO OUR NEWSLETTER
Subscribe to our mailing list and get interesting stuff and updates to your email inbox.