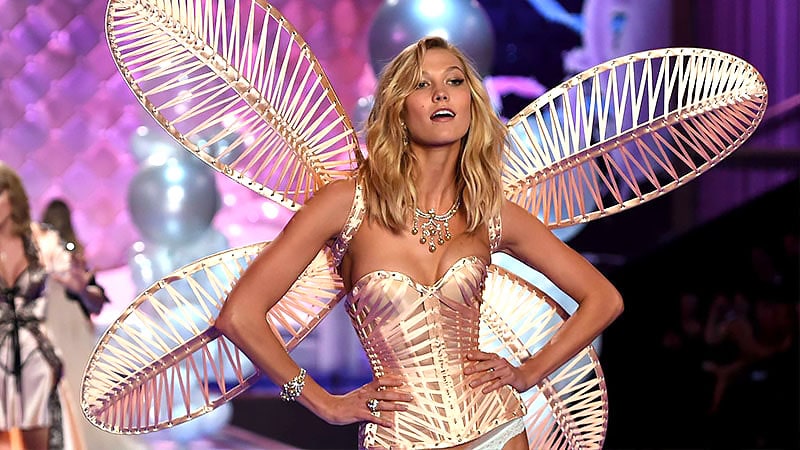 This week, the date and location for the 2017 Victoria's Secret Show were announced, Marc Jacobs unveils a hybrid smartwatch, MatchesFashion sells for $1 billion, Uniqlo teams up with J.W. Anderson for an exciting collaboration and Kendall Jenner honoured as "fashion icon of the decade." Discover these stories and more as we reveal this week's top international fashion news.
The Date and Location for the 2017 Victoria's Secret Show have been Announced
It's like Christmas Day for the fashion world, and now we can finally mark our diaries because the date and location for the 2017 Victoria's Secret Show have been announced. The good news is: we don't have to wait as long for the highly anticipated annual runway extravaganza, with an air date of November 28, that is slightly earlier than previous years. The iconic show, which is usually in New York or Los Angeles but has been held everywhere from Paris to Cannes, will this year be held in Shanghai, China. It signals a big step into the Asian market for the brand. It follows a selection of Angels and models who travelled to China earlier this year for the opening of many new stores in the country.
Recently, the recruits for the world's most famous lingerie show were also confirmed. Former Angel Karlie Kloss will make an unexpected return to the catwalk, donning wings for the first time since announcing her retirement from the VS runway in 2015. She will be sharing the stage with fellow Angels Adriana Lima, Alessandra Ambrosio, Behati Prinsloo, Lily Aldridge, Jasmine Tookes, Martha Hunt and Elsa Hosk.
Luxury Retailer MatchesFashion Sells for $1 Billion
London-based luxury fashion retailer, MatchesFashion has been purchased for a reported $1 billion by private equity firm Apax Partners. Founders of the lifestyle brand Tom and Ruth Chapman, and existing venture capital backers Scottish Equity Partners (SEP) and Highland Europe, will still hold a minority stake in the business. "We are delighted that Apax Partners have taken a majority stake in the business," co-founder Tom Chapman told The Business of Fashion "After 30 years of growing this business Ruth and I are ready to take on new challenges while remaining shareholders and taking on an advisory role. Our world class team led by CEO, Ulric Jerome and CFO, Fiona Greiner will continue to drive MatchesFashion.com to becoming the number one luxury fashion commerce company in the world."
MatchesFashion had humble beginnings as a brick-and-mortar store in London's Wimbledon in 1987. Today the luxury retailer generates 95 per cent of its revenue online. It also has four physical stores and a private shopping townhouse in London, with a multi-level flagship scheduled to open in Mayfair this year.
Kendall Jenner to Receive Fashion Icon of the Decade Award
She only made her foray into the world of high fashion just six years ago. However, Kendall Jenner will be honoured as "fashion icon of the decade." The 21-year-old model will be receiving the Daily Front Row's Fashion Icon Of The Decade award at this season's New York Fashion Week circuit. Fellow winners of the award include legendary photographer Mario Testino, who will be presented with the 'Creative of the Year' award. The award ceremony will take place at The Daily Front Row's Fifth Annual Fashion Media Awards on September 8th.
In light of the announcement, Jenner has copped a barrage of criticism online. Many people have pointed out that she only rose to high fashion prominence a few years ago and only started walking runway shows in 2011. Not to mention, that at the beginning of the decade she would have only been 11 years old. A spokesperson for Daily Front Row explained the decision to name Jenner "fashion icon of the decade" in a statement to HuffPost, pointing out her undeniable influence on the fashion industry thus far. "Kendall has 83 million devoted Instagram followers, many of whom emulate her style. Kendall has also captured the hearts of the leading fashion magazines, photographers, and brands. A fashion icon is someone who influences the look of a generation and Kendall has been making a huge impact on their style."
Uniqlo Teams Up With J.W. Anderson For An Exciting New Collection
Uniqlo has finally released the full lookbook of its eagerly awaited collaboration with designer J.W. Anderson. The 33-piece range is an edit of classic British pieces in collaboration with the Japenese retailer's aesthetic. It contains duffel coats, Aran and Fairisle knits, Mackintosh coats, striped scarves and checked shirts that all pay homage to Anderson's previous collections in some way. An item sure to sell out is the tartan puffer jacket. All pieces are extremely wearable, not to mention, affordable. Prices range from $30 to $150 and will be available to purchase on September 21.
In the past Uniqlo has worked with major fashion names like Jil Sander, Carine Roitfeld, and Inès de la Fressange. However, there has been much hype surrounding their collaboration with Anderson. It's hardly surprising considering Anderson's previous success with his namesake label and overhaul of Spanish house Loewe, and his cult following alone. "Jonathan had a very clear vision – we just had to make it happen," says Yuki Katsuta, global head of research and design at Uniqlo. "For our team it was a very enjoyable process. Our dream is about total clothing and creating a new heritage, and that's why we called him. We wanted this concept with the best designer."
 
Marc Jacobs Unveils Hybrid Smartwatch
Marc Jacobs has made his first foray into wearables with the release of a line of hybrid smartwatches. On Wednesday, the American fashion designer unveiled the Riley hybrid smartwatch collection, which features a classic watch face with a multitude of digital features. The watch can be synced to a smartphone via Bluetooth. It comes with a remote camera button that can play music, track your movements and give you notifications, auto updates, a second time zone, sleep tracking, a find-your-phone ringer, and the best part, take photos. Jacob's new timepieces to be released later this year, are available in four different styles, all in true Marc Jacobs style. Each has a multicolour flash crystal, rubber strap and aluminium nylon case and retails for US$175.
Accompanying the launch is a campaign that features New York-based influencers and professionals like musician Alexis Jaw, YouTuber Amanda Steele, dancer Charisma Glasper, editor and professor Amy Sall and actress Ke'andra Samone.
SUBSCRIBE TO OUR NEWSLETTER
Subscribe to our mailing list and get interesting stuff and updates to your email inbox.