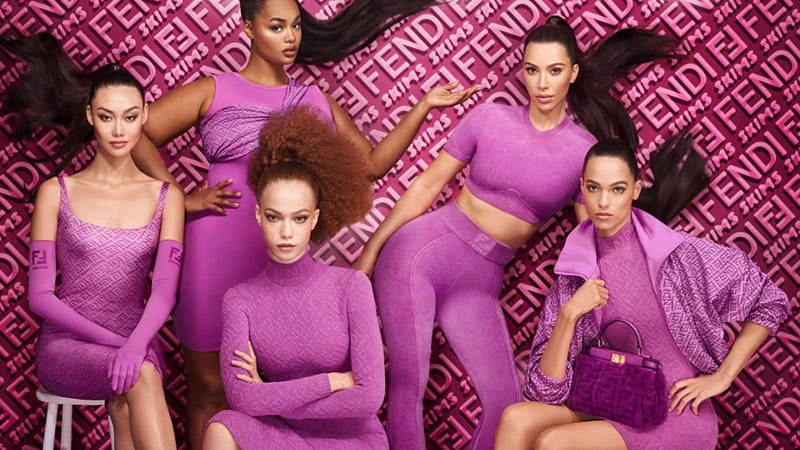 The Fendi x Skims collaboration has finally dropped, and Anya Taylor-Joy is the new face of Dior. Stay up to date with the latest nternational fashion news stories of the week.

Anya Taylor-Joy is Dior's New Global Ambassador
Actress Anya Tylor-Joy is the new Global Ambassador for Dior. She will be the face for its fashion and cosmetics and will "celebrate the House's heritage and showcasing the work of Creative Director of Women's collections," the brand said.
Additionally, 18-year-old British tennis star, Emma Raducanu, is also a new ambassador for the fashion house. "We are thrilled to welcome Emma to the House. She is remarkable, young talent, and an incredible woman. We are so proud to have her represent Dior as International Fashion & Beauty Ambassador!" the brand said in an Instagram post.
View this post on Instagram
The Fendi x Skims Collaboration is Here
Skims and Fendi have launched their anticipated collaboration. The pieces include shapewear, dresses, swimsuits, hosiery, and tops with Skims and Fendi logo. In addition, there are puffer jackets, bags, and shoes in the collection – this is a first for Skims. The capsule collection "unites the aesthetic codes of the respective brands to create a capsule wardrobe for the modern woman," Fendi explained in an Instagram post.
"Both Fendi and Skims have a cultural power very different from each other, but equally as strong. We share a desire to push boundaries, think differently and challenge convention, which is why we found so much common ground collaborating on this collection together," said Kim Kardashian. The capsule collection will be available for purchase on November 1st.
View this post on Instagram
Michael B. Jordan and Blue, the Great Collaborate with Coach
Michael B. Jordan and artist Blue, the Great, are collaborating on a capsule collection with Coach. This is the second time the actor has collaborated with the designer, the first in 2019. This new collection is unisex in design and sustainable in its production, including hoodies, t-shirts, bags, footwear, and backpacks. The collection is "mixed and matched with other things that you want to assemble your outfit with. You can just go head-to-toe from the collection," said the actor on the collection. The full collaboration is available online.
View this post on Instagram
Vogue Paris is Now Vogue France
Vogue Paris has changed its name to Vogue France. Condé Nast confirmed the change on its website early on the week, explaining that the change will come into effect for the magazine's November issue. This comes shortly after Condé Nast announced its new streamlined approach to the entire company. In this new strategy, Edward Enninful will oversee Vogue France, remaining Editorial Director of Vogue Europe and Editor of British Vogue. Anna Wintour stays as Vogue's Global Editorial Director.
The change is to better represent France as a whole, the publication explained in a statement. "Because creativity, culture, art, and fashion are everywhere. They are the greatest vectors of inclusiveness and diversity," they said. "From Paris to Marseille, from Lille to Strasbourg, our identity is not born from a single place, and Vogue represents the best of emerging talents and voices. We'll build on a hundred years of defining cultural history, but meet the moment we're in now and most importantly, reflect the France we live in today."
View this post on Instagram
SUBSCRIBE TO OUR NEWSLETTER
Subscribe to our mailing list and get interesting stuff and updates to your email inbox.