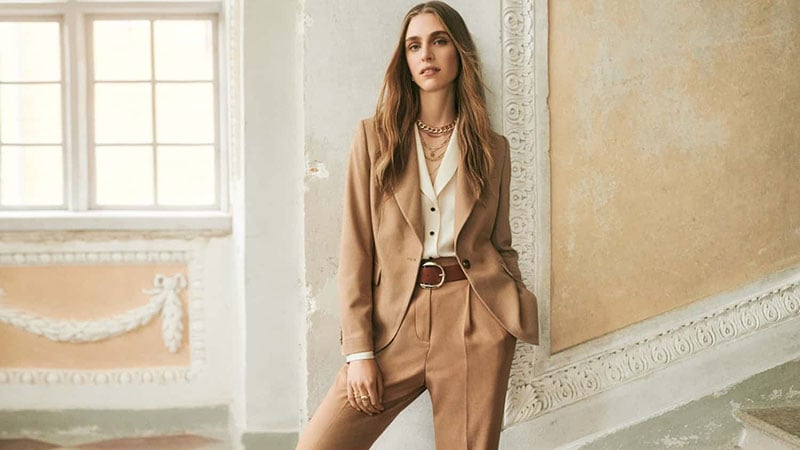 The latest TikTok trend teaches you how to be a Gucci model, and H&M is debuting a new sustainable collaboration. Keep your finger on the pulse and stay in the loop with the latest international fashion news of the week.
H&M Debuts Collaboration with Giuliva Heritage
H&M is debuting a new collaboration with Italian designer duo, Giuliva Heritage. The capsule collection includes double-breasted blazers, blouses, and flowing dresses in neutral shades. The pieces are sustainably sourced, with recycled wool, polyester, and organic wool. The designer duo, Gerardo Cavaliere and Margherita Cardelli, launched their brand three years ago.
"We encourage people to invest in better pieces that will last a long time and to only buy things you truly love that you can pass down through generations," said Margherita Cardelli. "It's why we, as Giuliva Heritage, launched a lifetime guarantee policy on our mainline collections – if any piece needs mending, we'll repair any item free of charge, forever." The collection will debut in stores on September 3rd.

CFDA Releases NYFW Schedule
The CFDA has released its official calendar for NWFW. The Runway360 digital platform will showcase collections via virtual runways, live streams, and lookbooks. Some of the confirmed designers taking part in the event include Anne Klein, Carolina Herrera, Anna Sui, and many others. "The COVID-19 pandemic has upended the global fashion industry and hit New York particularly hard," said CEO of CFDA, Steven Kolb. "Fashion week is a critical time when brands are able to connect with press, retailers, and consumers, and I'm proud of how quickly the CFDA pivoted to support the needs of the industry by creating Runway360." NYFW will showcase 60 designers and commences on September 13th, and runs for three days until September 16th. To finish the event, the CFDA Awards will take place on September 14th.
Vogue Italia Debuts 100 Faces for New Cover
Vogue Italia is sharing its September issue and featuring 100 faces of models, activists, and other inspiring people. This edition aims to unify with other countries, with the overall theme of 'Hope'. Each cover of the Italian edition dissects the stories and lives of each cover model, featured in an array of clean lines and neutral shades. "We want to challenge the quantitative standards that fashion has always used to measure ourselves, express the desire to be reborn, to celebrate diversity and uniqueness by being a collective experience," explained Ferdinando Verderi, Vogue's Creative Director. Some of the featured cover models include supermodels Kaia Gerber and Bella Hadid, as well as activists, including Cameron Russell.
https://www.instagram.com/p/CEbm–kqYiR/
Kenzo Launches Sports Line
Kenzo is releasing a sportswear line for men and women, Kenzo Sport. The collection features T-shirts, sweatshirts, and athleticwear. The apparel features the iconic logo in the shape of an 'X'. According to the fashion label, the line is 'a wardrobe with a strong graphic design, where technical materials are worked to combine elegance and comfort'. The collection is available for purchase online and in-store.
Gucci Model Challenge Takes over TikTok
A new trend is taking over TikTok, featuring the works of a Gucci model and the designer's style. The videos include a voiceover by TikTok star, Watson, who breaks down the critical elements of a classic Gucci ensemble. There are a few pieces that are needed to create the essential campaign image, including a headscarf, heels with socks, and a bright, colorful jacket. The trend has taken over the social media platform, with the hashtag #GucciModelChallenge also trending on Instagram.
SUBSCRIBE TO OUR NEWSLETTER
Subscribe to our mailing list and get interesting stuff and updates to your email inbox.