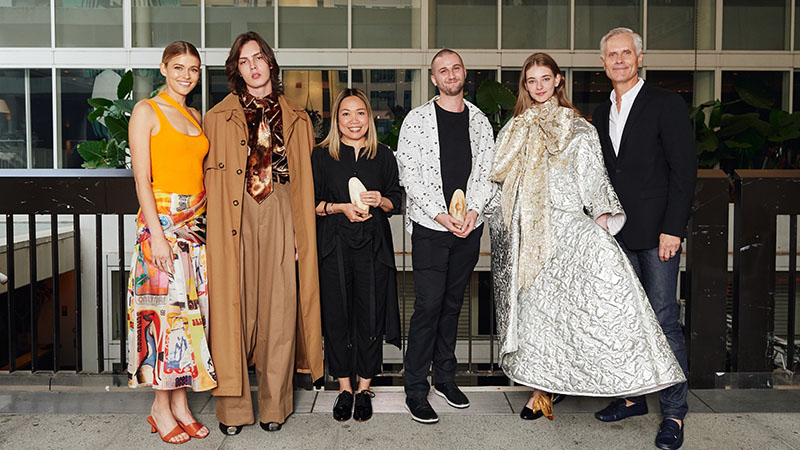 This week in fashion, Emanuel Ungaro dies at 86, and Peggy Gou launches a capsule collection with Yoox. Find these stories and more as we uncover the top international fashion news of the week.
Emanuel Ungaro Dies
Emanuel Ungaro has passed away at the age of 86. The French designer founded his eponymous label, Ungaro, in 1965 and retired it in 2004. His pieces often included polka dots, frills, and bright shades – frequently experimenting with textures. He began his love for fashion at a young age after receiving a sewing machine from his father. "Even if he left his house in 2004, he continued to inspire the label as well as the international fashion world. His work will remain in all memories as synonymous [with] seduction and flamboyance; colorful draping; a mix of prints, and his passion for women and their sensuality," said the Ungaro website in a statement.
In an interview, the designer once said: "Fashion: It's all I can do." "If I could start over, perhaps I'd do something else. I would have loved to have been a conductor. Fashion is not the only thing in life. It's not art. But life is art. Foucault said: 'Everyone can make his life a work of art.' I believe that. That's what I try to do."
H&M Launches Innovation Platform, H&M Lab
H&M is starting to sell its 'tailor-made' shirts via its new online platform, H&M Lab. The digital portal is currently exclusively sold in Germany – it will test and launch new products, as well as search for projects and collaborations. The first collaboration, H&M Yours, is a partnership with ZyseMe that creates customized shirts. "With the H&M Yours pilot project," said Oliver Lange, Director of H&MLab Germany. "we are learning how we can individualize clothing while continuing to make it accessible to a wide range of customers in a sustainable way." The new button-down shirts come in varying styles, with the 'Easy Iron' starting at €34.99 and the Oxford models at €39.99. Further collaborations are currently being planned.
Australian Fashion Foundation Names Scholarship Winners
The Australian Fashion Foundation has named its scholarship winners with an international graduate program in the US. Both of the selected finalists will receive a USD 20,000 cash prize and a six-month internship with a US-based fashion brand. "Every year, we receive hundreds of applications from young Australians with world-class fashion talent who would benefit from international experience and contacts. With the kind support of Bird in Hand and the American Australian Association, we are able to provide two of them with pivotal global mentorship and internship with a top global brand," said Malcolm Carfrae, the Co-Founder of the AFF.
"Since establishing a partnership between the AAA and AUSFF our funding has provided the opportunity for emerging Australian designers to come to New York and learn from global fashion icons, leaders and innovators such as Dion Lee, Wardrobe.NYC and Proenza Schouler" explained John Berry, the President of the American Australian Association. The winners of the scholarship are Kim Clark and Domenic Roylance. Previous finalists of this prize have gone to work with the likes of Louis Vuitton, Alexander McQueen, Diane von Furstenberg and Calvin Klein.
Peggy Gou Launches Collaboration with Yoox
Peggy Gou is launching a capsule collection with Yoox. The South-Korean DJ's line will include a range of 'ready-to-go' pajamas – featuring two pajama styles and a kimono. The designs aim to create a blend between day and night. The musician notes that she enjoys 'wearing and styling in her day and evening outfits', hence the inspiration for the pieces. The first pajama set includes a black cupro shirt and pair of pants with yellow piping details. The second features a shirt and pants in a bright yellow shade a recurring graphic pattern. Every piece in the collection is said to reflect the DJ's personal style. Peggy Gou x YOOX is available for purchase via Yoox.
SUBSCRIBE TO OUR NEWSLETTER
Subscribe to our mailing list and get interesting stuff and updates to your email inbox.