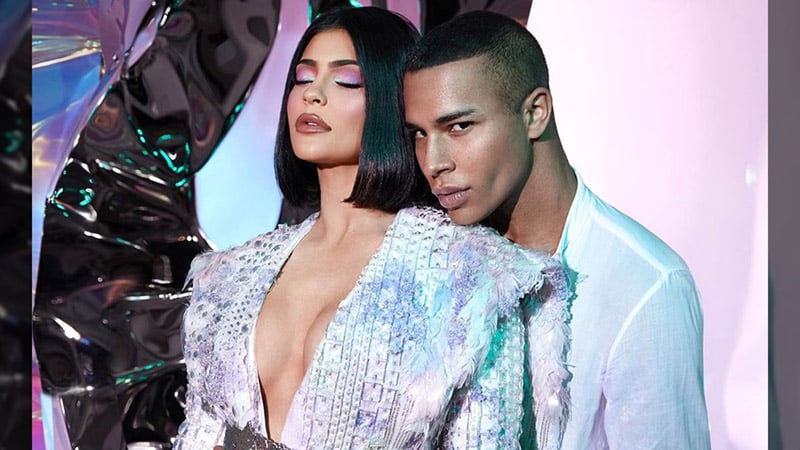 This week Jennifer Lopez released her 25th fragrance and Zac Posen and Anna Sui designed costumes for the NYC Ballet. Find these stories and more as we uncover the top international fashion news of the week.
Kylie Jenner Launches Collaboration with Balmain
Kylie Jenner has been named the Artistic Director of makeup for Balmain's latest collection. As part of the collaboration, the pair will create a capsule collection for Kylie Cosmetics. It will include a lip color, eyeshadow, and accessories. "We really wanted to launch this collection in a big way," said Kylie Jenner. "The inspiration really came from Look 26 (the pastel pink couture jumpsuit she wore to the 61st annual Grammy awards), and we went from there." Although Kylie featured in the collaboration, she was unable to attend the fashion show in Paris due to sickness. Kylie x Balmain launches in September 27th.
JLo Launches 25th Fragrance
Jennifer Lopez is launching a new fragrance called Promise. This is the 25th perfume that the star has released since Glow in 2002. The scent offers notes of jasmine, honeysuckle and pink berry. "Warren Buffet told me something that really resonated with me. He said, 'a brand is a promise," said JLo in a statement.
"I just thought it was a perfect time in my life to name a fragrance Promise, because every time that we create something new, it's a promise to give you something of quality, something that will make your life better, something that will make you feel sexy, something that will make you feel beautiful." The perfume is available for purchase online now and in stores from September 28th.
Zac Posen and Anna Sui Design Costumes for NYC Ballet
Fashion designers, Zac Posen and Anna Sui, have designed costumes for the NYC Ballet. In honor of the Fall Fashion Gala, the pair created pieces for 'The Shaded Line' and 'Lineage' and raised $2.6 million for the New York City Ballet. Some of those in attendance included Sarah Jessica Parker, Laverne Cox, and Kelly Ripa. "This a hometown dream and a career highlight," said Mr Posen.
The Red Carpet at the Emmy's Stuns
Stars celebrated the 71st Emmy Awards by strutting the purple carpet. The cast from Game of Thrones stood out amongst the rest with Gwendoline Christie in a custom Jesus-inspired gown by Gucci, Sophie Turner in Louis Vuitton and Emelia Clarke in Valentino Haute Couture.
One of the big trends spotted on the purple carpet was an array of pink and red combinations, mint shades and plunging necklines. Some of the best-dressed celebrities included Zendaya in Versace, Naomi Watts in Dior Haute Couture and Billy Porter in Michael Kors Collection.
LVMH Launches Raw Alternatives to Leather
Louis Vuitton Moet Hennessy is launching a raw alternative to leather goods. In an effort to fulfill its sustainability pledge, the luxury fashion conglomerate aims to cut further emissions and create sustainable products. In collaboration with Stella McCartney, the luxury house will release a 'raw material sourcing charter', for animal products like fur and leather. "I'm excited to bring the solutions that I've worked on for maybe 23 years now, " Ms McCartney explained to WWD.
SUBSCRIBE TO OUR NEWSLETTER
Subscribe to our mailing list and get interesting stuff and updates to your email inbox.