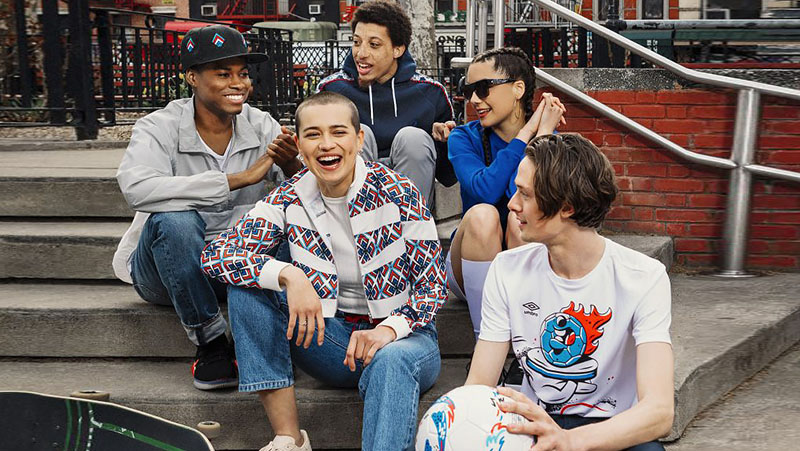 This week in fashion, Pepsi announces new streetwear collection, Fashion Revolution Week kicks off, and Decjuba is under fire. Find these stories and more as we reveal this week's top international fashion news.
Fashion Revolution Week Kicks Off
Fashion Revolution week was born five years ago in the wake of the Rana Plaza Building collapse, which killed 1,134 garment factory workers. One of the world's worst industrial disasters inspired the movement calling for a fairer, safer, cleaner fashion industry. From 23rd-29th April Fashion Revolution asks one question: who made my clothes? The #whomademyclothes campaign asks labels for transparency regarding their supply chain and production policies. The organisation urges people to post an image holding a #whomademyclothes poster tagging the brand they are wearing, post a picture showing their tags, or email the labels directly. A series of events are also held around the world to educate people on the environmental and human impacts of the fashion industry.
In conjunction with Fashion Revolution week, Baptist World Aid Australia also released its 2018 Ethical Fashion Report. This report grades fashion labels on their sustainability and ethical practices. Participating brands received A, B, C, D or F grades based on four criteria including; policies, knowing your suppliers, auditing, supplier relationships and worker empowerment. The Ethical Fashion Guide aims to help people make more ethically conscious purchasing decisions. You can check out how your favourite label measures up here.
Gucci Unveils Gucci Artlab
Gucci unveils Gucci Artlab, a facility which houses and manufactures leather goods and shoes in Florence. The space was built to encourage cohesion of the label's luxury creative direction. It will welcome test laboratories, in-house prototyping and sampling, research and development laboratories, pre-industrialisation areas and an accessories lab.
Gucci president and CEO Marco Bizzarri considers the 37,000 square meter building one of the brand's greatest feats. Stating in a press release, "The unveiling of Gucci Artlab definitely represents one of the most remarkable achievements of Gucci's unprecedented journey of the last three years and one of the most significant industrial investments today in our country."
Pepsi Announces Art of Football Streetwear Capsule Collection
Pepsi is partnering with four major fashion labels from across the globe to bring us The Art of Football capsule collection. Labels include Russian label Anteater, Aussie eyewear brand Le Specs, Boohoo and Umbro from the U.K. and New Era from the U.S. The streetwear collection is an extension of the soft drink giants #loveitliveit campaign, the brand's celebration of soccer.
Senior marketing director of PepsiCo, Natalia Filippociants feels a celebration of the world's game aligns with Pepsi values. "Pop culture acumen — from sport and music to art and culture — is embedded in our Pepsi brand identity," she said in a statement. "Football is the world's game, and that culture and lifestyle goes beyond where and how we watch the game to how we love and live the game," she explained. The collection will be available from May 21st online and at retailers which sell the partner brands. It will include a range of streetwear apparel and accessories, such as shorts, T-shirts, iPhone cases, backpacks and sunglasses.
Decjuba Receives Backlash for Refusing to Participate in Baptist World Aid Australia's 2018 Ethical Fashion Report
Baptist World Aid Australia is asking consumers to send postcards urging Aussie retailer, Decjuba to be transparent about its policies. This follows the Melbourne-based label receiving an F in the 2018 Ethical Fashion Report after they refused to participate in the investigation. Decjuba has spoken out against the research methods used by Baptist World Australia and defended their decisions to abstain from the report. Decjuba feels the rating system relies heavily on participation and that researchers have no real way of verifying details provided by participating companies.
A representative for the label told Ragtrader, "We appreciate the intentions of the Baptist World Aid Guide, but also recognise it as an unregulated survey driven by the Baptist World Organisation's own set of beliefs." In addition, Decjuba also stated they are committed to improving production standards independently from the report. "At Decjuba, we have a very clear mandate around social and ethical compliance, we hold ourselves and our suppliers accountable to clear principles," they told Ragtrader.
SUBSCRIBE TO OUR NEWSLETTER
Subscribe to our mailing list and get interesting stuff and updates to your email inbox.