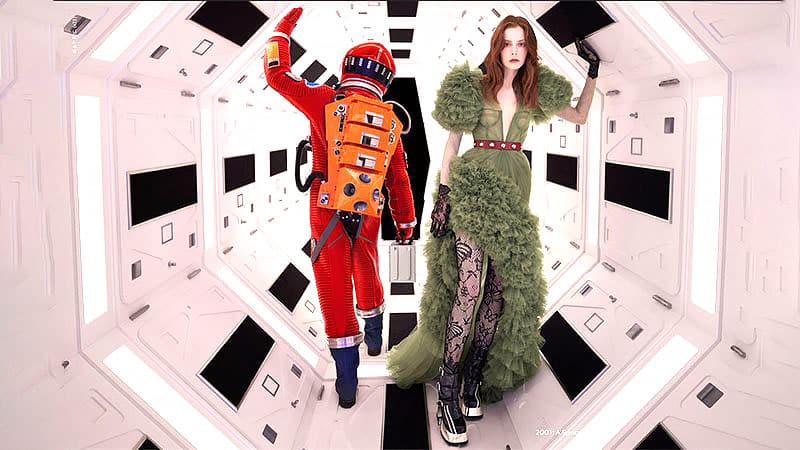 Gucci celebrates the work of Stanley Kubrick, and Cara Delevingne collaborates with the Karl Lagerfeld brand. Check out these stories and more in the top international fashion news of the week.
Gucci Pays Homage to Stanley Kubrick with New Campaign
Gucci has paid homage to some of the most iconic Stanley Kubrick films in its latest campaign. Celebrating its Spotlight collection, the fashion house recreated some of the most famous scenes from Kubrick's films, including A Clockwork Orange, The Shining, 2001: A Space Odyssey, and Eyes Wide Shut, among others. In each adaptation, models take place of key roles in each film, wearing garments from the collection.
Shot by Mert & Marcus, the campaign intertwines Kubrick's most famous scenes while showcasing the pieces from Gucci's FW22 collection, including its collaboration with Adidas. "The 'Exquisite' campaign is my tribute to cinema and to one of its brightest maestros, Stanley Kubrick. A philosophic filmmaker who, better than others, emanated the magic of that inextricable knot through which cinema exudes life and magnifies it," explained Alessandro Michele, Creative Director of Gucci.
View this post on Instagram
Farfetch Acquires 47.5% Stake of Yoox Net-A-Porter
Farfetch is acquiring 47.5% of Yooz Net-A-Porter (YNAP) after a deal with Richemont. The Swiss luxury group will sell its majority stake in the online fashion retailer as part of the long-term deal. It is also selling a 3.2% stake to Mohamed Alabbar. As part of this, Farfetch will acquire the entirety of YNAP in three years' time.
"Farfetch's sophisticated technology will enable Richemont Maisons to benefit from the best route to market and realize their Luxury New Retail vision while implementing a hybrid model at YNAP will greatly enhance its prospects," said Johann Rupert, the Chairman of Richemont. "As a supportive shareholder and a Luxury New Retail partner, we will look to build the perfect platform for the future, enabling the luxury industry to flourish in an increasingly digital economy."
View this post on Instagram
Inside Betsey Johnson's 80th Birthday Bash
Betsey Johnson celebrated her 80th birthday with a huge bash with fashion icons and darlings. The iconic and eclectic fashion designer rang in the milestone by hosting a party at the Lombardi House in Hollywood. In attendance was supermodel Charlotte Mckinney, Carmella Rose, and Euphoria star, Chloe Cherry, among many others. There was also a special performance by RuPaul's Drag Race S12 runner-up and fashion icon, Gottmik.
"This is a huge accomplishment in my life, and I can't believe I made it this far," said Johnson. "I live every day to the fullest and have never felt so beautiful, energetic, and optimistic for the future. Can't wait for another 80 years." In conjunction with her birthday celebrations, Betsey Johnson released a special edition collection, which will be available to purchase in Macy's and on Betsey Jonson's website. Pieces include quirky novelty handbags in the form of telephones, cupcakes and champagne buckets, tutus, chunky boots and heels, dresses, and much more.
View this post on Instagram
Cara Delevingne Collaborates with Karl Lagerfeld Brand
Cara Delevingne is collaborating with the Karl Lagerfeld brand. The genderless collection, dubbed Cara Loves Karl, features ready-to-wear pieces and accessories in neutral shades of black, white, and navy. "I've never understood how we can define clothing with a gender," said Delevigne. "It was important to me that the collection not be just unisex, but genderless."
Delevingne was a muse for Lagerfeld until his death in 2019 – she walked for his shows at Chanel, of which she was immensely nervous. In an interview with Vogue, she remembers Lagerfeld approaching her and saying, "Don't worry, you're meant to be here." The collection will be available to purchase in September online and in pop-up stores in New York, LA, Paris, and Milan.
View this post on Instagram
SUBSCRIBE TO OUR NEWSLETTER
Subscribe to our mailing list and get interesting stuff and updates to your email inbox.