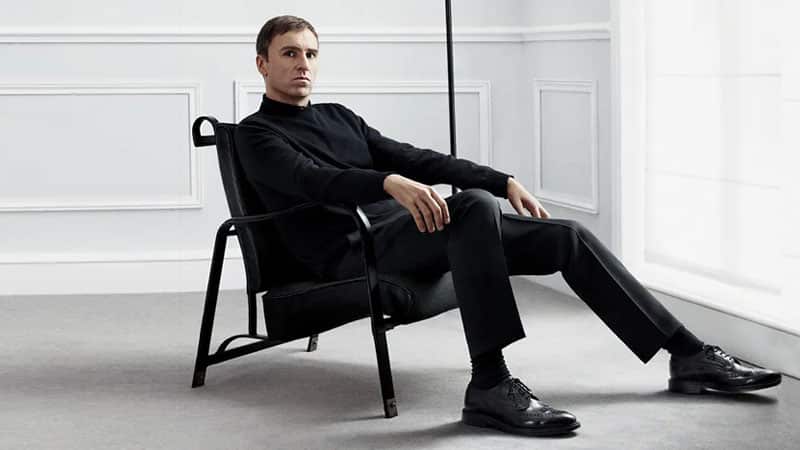 Alessandro Michele is exiting Gucci, and Balenciaga apologizes for its controversial holiday campaign. Stay up to date with the latest international fashion news stories of the week.
Raf Simons Shuts his Label
After nearly three decades, Raf Simons is closing his namesake label. The Belgian designer announced on Instagram, thanking those who have helped him along the way in his fashion journey. Simons opened his label in 1995 with a focus on minimalism and inspirations from his beginnings as a furniture designer. Over the years, Simons has worked with major labels such as Jil Sander, Dior, and Calvin Klein. He joined Prada as co-creative director alongside Miuccia Prada, a role he secured in 2020 following a close relationship with the brand since 2005.
"I lack the words to share how proud I am. I am grateful for the incredible support from my team, from my collaborators, from the press and buyers, from my friends and family, and from our devoted fans and followers," he wrote in a statement. "Thank you all for believing in our vision and for believing in me." Simons' Spring/Summer 2023 will be his final show.
View this post on Instagram
Alessandro Michele to Depart Gucci
Alessandro Michele is exiting Gucci after seven years as creative director. The Italian designer has been with the fashion house for two decades, landing the role of creative director in 2015. Speculations of his departure buzzed throughout the industry in the week, with the designer confirming the news in a statement. "His passion, his imagination, his ingenuity, and his culture put Gucci center stage, where its place is," shared Francois-Henri Pinault, the CEO of Kering.
"Today, an extraordinary journey ends for me, lasting more than twenty years, within a company to which I have tirelessly dedicated all my love and creative passion," Michele wrote on Instagram. Originally the head of accessories for the fashion house, he crafted a new era of clothing for the Italian fashion house. Championing gender-fluid styles, mixed patterns, and colors, Michele is regarded as sparking the re-birth of Gucci. Profits for Gucci almost tripled during his tenure. Michele leaves behind a strong and longstanding legacy with the label, dressing celebrities such as Harry Styles, Jared Leto, and Billie Eilish.
View this post on Instagram
Balenciaga Responds to Campaign Backlash
Balenciaga is apologizing for a controversial series of recently-released campaigns. The first features children surrounded by gifts from its holiday gift collection. However, one child is seen holding a teddy bear bag dressed in BDSM-adjacent accessories. In a second campaign for its Adidas x Balenciaga campaign, documents splayed around the room feature an excerpt from a 2008 Supreme Court case about child pornography.
The immediate backlash online ensued, resulting in a statement from Balenciaga. "We sincerely apologize for any offense our holiday campaign may have caused," read the statement. "Our plush bear bags should not have been featured with children in this campaign. We have immediately removed the campaign from all platforms." The company then condemned child abuse in all forms. "We take this matter very seriously and are taking legal action against the parties responsible for creating the set and including unapproved items for our spring 23 campaign photoshoot."
View this post on Instagram
Adidas Investigates Allegations of Misconduct with Ye
Adidas is investigating allegations of misconduct from Kanye West while working with the fashion label from 2016 to 2022. According to Adidas, an anonymous letter was sent to the brand alleging the inappropriate behavior from West. "It is currently not clear whether the accusations made in an anonymous letter are true," said a spokesperson for the brand to Reuters. "However, we take these allegations very seriously and have taken the decision to launch an independent investigation of the matter immediately to address the allegations."
This follows an expose article published in Rolling Stone of the same circumstances. The piece alleges that West, now known as Ye, mistreated staff at Adidas, played pornographic videos, and showed lewd images of his then-wife Kim Kardashian throughout his partnership with the brand. Adidas recently cut ties with the Yeezy designer following a series of controversial comments that were considered anti-Semitic and dangerous.
View this post on Instagram
SUBSCRIBE TO OUR NEWSLETTER
Subscribe to our mailing list and get interesting stuff and updates to your email inbox.