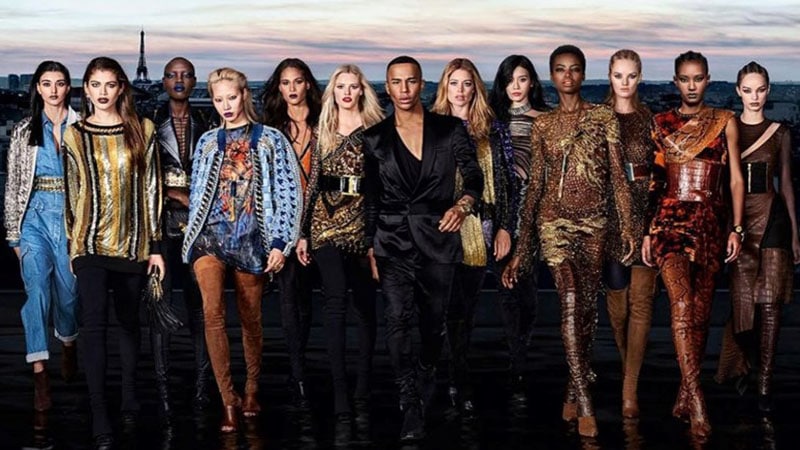 This week, Karl Lagerfeld teamed up with Vans for a sneaker collaboration, Jason Wu made his beauty debut with his first fragrance, Cindy Crawford dropped a new denim line, a diverse gang of models front the Balmain x L'Oréal collection and two YSL museums are set to open. Discover these stories and more as we reveal this week's top international fashion news.
Karl Lagerfeld is Collaborating with Vans
We all know sneaker collaborations are the 'It' thing do at the moment. And the latest designer to join the popular movement is Karl Lagerfeld. The head designer and creative director for Chanel and Fendi is teaming up with Vans for an exclusive capsule collection of apparel and footwear through his namesake brand. Including six styles, the collection is set to be an ode to both Karl Lagerfeld and Vans, fusing many of their signature patterns, styles and characters together. For example, Vans' hallmark checkerboard pattern is returning with a cameo motif depicting Lagerfeld's iconic profile.
The entirely black-and-white capsule collection will include six interpretations of Vans footwear classics, like the Sk8-Hi laceless platform and Old Skool laceless styles. Other highlights include a T-shirt with an image of Lagerfeld wearing a checkerboard tie, a black and white raglan sleeve bomber and a premium leather backpack. The collection will be available online and in-store at selected Karl Lagerfeld and Vans locations on September 7.
Jason Wu Makes his Beauty Debut with Release of First Ever Fragrance
He's already dominated the world of fashion, and now luxury womenswear designer Jason Wu is trying his hand in the beauty world. The New York based designer, who has dressed everyone from Michelle Obama to Reese Witherspoon, has launched his very first eponymous perfume. Wu's new scent is a delightful floral fragrance, with the key note being a rare Jasmine sambac – also known as Arabian Jasmine. The plant is handpicked in India at specific times of the year to ensure the full power of the scent is captured. It's a smell Wu says is reminiscent of his childhood in Taiwan, spent picking Jasmine flowers from a neighbour's wall. Other notes include Peonies and Lily of the Valley. The fragrance was developed in collaboration with master perfumer Frank Voelkl from renowned fragrance and flavour firm, Firmenich.
A Diverse Gang of Models Fronts New Balmain x L'Oréal Collection
Anticipation for the Balmain x L'Oréal collection has been building rapidly since May when their exciting collaboration was first announced. Last week the brands confirmed the capsule collection's 12 unique shades. This week, we've been given the first look at the upcoming collaboration. Photographed by Nico Bustos, Balmain's creative director Oliver Rousteing stars in the campaign along with a gang of twelve Balmain-wearing models of all different origins and backgrounds. The diverse squad includes Lara Stone, Doutzen Kroes, Grace Bol and Ming Xi who have been specifically chosen to represent the diversity of shades within the collection. The campaign is also meant to evoke a message of "beauty in diversity and female empowerment," according to a statement by the brands. As Rousteing also explained to British Vogue: "The reason we made them like this is because we wanted to talk to so many women of all ages, all colours and all backgrounds."
The range, which is being dubbed the first ever beauty-couture collection, is Rousteing's first foray into beauty. But he's no stranger to collaborating, recently partnering with Beats to design a pair of gold headphones with Kylie Jenner as the face. The L'Oréal Paris x Balmain collection will officially debut on September 1 during Paris Fashion Week and will be sold at Balmain stores before being widely released on September 25.
Two Yves Saint Laurent Museums to Preserve Iconic Designer's Legacy will Open This Year
Yves Saint Laurent is regarded as one of the most groundbreaking fashion designers in history. And now the iconic designer will have his legacy preserved with two Yves Saint Laurent museums to open in October in Paris and Morocco. Years in the making, the two museums honouring the late designer, will be solely dedicated to his work. They will give fans of Yves Saint Laurent an opportunity to get a closer look at his designs, career and life. Both places hold a special significance to Saint Laurent. Paris is where he moved to as a teen to learn the 'trade' under famed designer Christian Dior. He later launched his eponymous label there in 1966 and remained until he retired to his beloved city of Marrakech in 2002 where he spent his last few years here before his death in 2008.
The Paris museum is located at Yves Saint Laurent's former studio at 5 Avenue Marceau. It will be a renovation of the pre-existing Fondation Pierre Bergé–Yves Saint Laurent. The space was initially used as Saint Laurent's atelier and office for more than 30 years. It will be fully refurbished in its original style, allowing visitors the opportunity to experience Saint Laurent's studio as it was while he was sketching and designing. The same building will also be renovated to include more exhibition space to hold over 20,000 couture pieces.It is expected to open on October 3 to coincide with Paris Fashion Week.
Cindy Crawford Partners with RE/DONE Denim for Exciting Collaboration
Innovative denim brand RE/DONE has partnered with a number of iconic American brands like Levi's, Champion and Haines since its launch. But now it's landed one of its most iconic collaborations yet. The brand, known for its vintage flair and flattering styles, is partnering with the one and only, Cindy Crawford. The collaboration comes, after the legendary supermodel posted a TBT of herself in Levi's 501 jeans in May, calling out the brand. And RE/DONE approached her soon after, which is how the Crawford capsule came about. The 20-piece collection includes a short-sleeve tee, a long-sleeve tee, a crewneck sweatshirt in white, black or grey with her signature emblazoned on the sleeve. As well as a hand sewn mid-rise straight leg jean in four different types of denim.
The range is inspired by Crawford and reflects her inimitable effortless and laid-back ease through fashion. "Crawford popularised the look that is the core of the RE/DONE brand," said RE/DONE co-founder Sean Barron. To highlight the all-American aesthetic of both Crawford and the brand, the iconic model posed for a series of shots dressed in the pieces she helped to create. Crawford announced the collection on her Instagram story on Thursday. At the same time, the pieces became available on RE/DONE's Instagram through swipe-to-shop. The collection officially launches in September at Barneys, Colette, Ron Herman Japan and shopredone.com. Pieces range between US$125 and $328.
SUBSCRIBE TO OUR NEWSLETTER
Subscribe to our mailing list and get interesting stuff and updates to your email inbox.