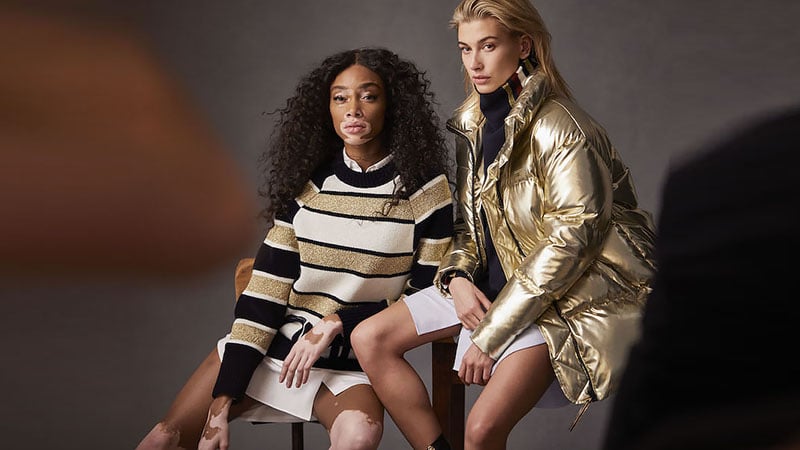 This week in fashion, Meghan Markle attends her first royal engagement as the Duchess of Sussex, Andy Warhol's Interview magazine closes, Winnie Harlow and Hailey Baldwin become the new faces of Tommy Hilfiger. Find these stories and more as we reveal this week's top international fashion news.
Meghan Markle Attended Her First Royal Engagement as the Duchess of Sussex
Just days following the royal wedding, Meghan Markle has made her first official appearance as the newly appointed Duchess of Sussex. She stepped out alongside her husband, Prince Harry, and in-laws, Prince Charles and Camilla, Duchess of Cornwall, for a garden party at Buckingham Palace. And her outfit was indeed worthy of a princess.
Taking cues from sister-in-law Kate, Meghan wore the label Goat, a design frequented by the Duchess of Cambridge. Meghan styled the gorgeous blush pink dress with a fascinator by Philip Treacy and tasteful diamond bracelets and studs. Her outfit also included nude pantyhose (a rule among Royals) and a pair of neutral stilettos by Tamara Mellon. She completed the tonal look with the addition of a pink blush clutch. In true royal fashion, a custom-made version of Meghan's dress retailing for US$450 has already sold out. Proving she may be giving trendsetting Kate a run for her money.
Interview Magazine, Founded by Andy Warhol Closes Down
Founded by Andy Warhol in 1969, Interview magazine has since been considered a bible of all things fashion, art and lifestyle. The era has ended this week with the magazine publishing its final edition. After 50 years, the "crystal ball of pop" succumbed to pressures of lawsuits and financial mismanagement. It was forced to file for Chapter 7 bankruptcy and immediately cease digital and print publication. Senior online editor Trey Taylor broke the news to the public with a tweet reading, "After ten months at my dream job at @InterviewMag, today is sadly my last day as the magazine has closed".
The likes of David Bowie, Madonna and Grace Jones have appeared on the cover of Interview which has become known for its boundary-pushing photography (think Kim Kardashian as a modern Jackie O). It is currently involved in two major lawsuits. Former senior executive, Deborah Blasucci served the magazine with a multimillion-dollar unfair dismal suit while former Editorial Director, Fabien Baron is seeking $600,000 in unpaid invoices. Baron's wife, stylist Ludivine Poiblanc, is also owed $66,000. They are among the alleged 300 creative professionals who are owned money by Interview magazine. This is the latest closure in the decline of print media, following Conde Nast's Teen Vogue, folding in November.
Winnie Harlow and Hailey Baldwin are the New Faces of Tommy Hilfiger
Tommy Hilfiger has tapped Hailey Baldwin and Winnie Harlow as the faces of his latest line. Their individual sense of style and drive to succeed heavily inspire some of the pieces.
The capsule collection dubbed, Tommy Icons, also celebrates the icons of tomorrow across fashion, art and music. Ahead of the campaign's fall 2018 release, the label unveiled a sneak peek of the collection on Instagram. You can expect knitwear, puffers, blazers and other cosy winter essentials set to a moody palette of black, creme, burgundy and gold.
Balenciaga Overtakes Gucci as Kering's Fastest Growing Brand
The Gucci revolution is officially over as fellow Kering owned label, Balenciaga, overtakes it in sales. Men and Millenials are the primary drivers in sales of Balenciaga. The label's chief executive, Cedric Charbit, told Financial Times in a conference, "Millennials represent 60 percent of what we sell. Together with men, these are growing faster than any other category."
According to Francois-Henri Pinault, Kering CEO, Balenciaga will generate over one billion euros in annual sales. This includes the designer's range of clothing, accessories, shoes and handbags. Despite Gucci holding the top spot for revenue at 6.2 billion euros in 2017, Balenciaga has shown much faster rates of growth for the past two quarters.
Nicolas Ghesquière's Contract With Louis Vuitton is Renewed
After being appointed Louis Vuitton's Artistic Director of women's collections five years ago, Nicolas Ghesquière has had his contract renewed. Achieving such longevity with a luxury label is a stunning accomplishment considering the turnover of staff within other designer brands. Ghesquière joined the French Fashion House in 2013 after departing Marc Jacobs. Chairman and chief executive officer of LVMH Bernard Arnault reveres him as "one of the best designers in the world today" and credits Ghesquière with "delivering "major commercial successes."
The news was announced via Instagram with Louis Vuitton sharing a picture of Ghesquière captioned "Louis Vuitton is delighted to announce the renewal of Nicolas Ghesquiere's contract as Artistic Director of Women's Collections." Ghesquiere has said, "I am very pleased to open the next chapter of the story I started with Louis Vuitton almost five years ago. Balancing an incredible heritage with a constant quest for innovation has always been an essential part of my work, it is also at the centre of the history of this company, and I look forward to further develop the codes we have implemented over the last years. "
SUBSCRIBE TO OUR NEWSLETTER
Subscribe to our mailing list and get interesting stuff and updates to your email inbox.