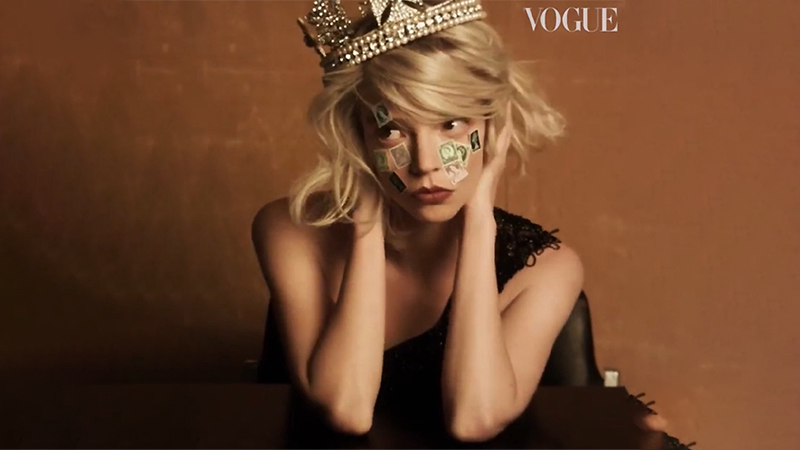 Anya Taylor-Joy and Queen Elizabeth II front the cover of Vogue, and the finalists of the LVMH Prize are here. Stay up to date with the top international fashion news stories of the week.
The LVMH Finalists Are Here
The eight finalists for the LVMH Prize are here. The semifinalists were decided on 5th March, cutting down from 19 designers. Of the eight, two offer genderless designs, three are in womenswear, and the final three work with menswear. From the US are ERS and Winnie New York, S.S. Daley, and KNWLS represent the UK, Róisín Pierce is from Ireland, Ashlyn is from South Kora, TOKYO JAMES from Nigeria, and RYUNOSUKEOKAZAKI comes from Japan.
The winner of the LVMH Prize receives a €300,000 allocation and tailored mentorship. Last year's winner was Nensi Dojaka, best known for her revealing and delicate fabrics. Her pieces have since been worn by the likes of Bella Hadid and Zendaya. Previous winners of the Prize were Marine Serre and Jacquemus, who have since become some of the leading designers in their fields.
View this post on Instagram
The World Switches Off for Earth Hour
It's the 15th anniversary of Earth Hour, where the world was encouraged to switch off all electricity on Saturday 26th March from 8.30 PM to 9.30 PM. Iconic landmarks across Australia switched off their lights in honor of the event, such as the Sydney Opera House, Adelaide Convention Center, and Brisbane's Store Bridge. It's not just Australia that took part in Earth Hour. The Eiffel Tower, Cairo Pyramids, and the Empire State Building has also switch off in solidarity.
"There's never been a more critical time for us to come together to protect our planet and shape our future," said Dermot O'Gorman, WWF-Australia's CEO. "That's why we're asking Australians to make the symbolic switch for Earth Hour to add their voice to the millions calling for greater action on climate change. Our communities, landscapes, and wildlife populations cannot afford to wait any longer."
View this post on Instagram
Queen Elizabeth and Anya Taylor-Joy Front British Vogue
Her Majesty Queen Elizabeth and Anya Taylor-Joy are both on British Vogue's April cover. In her first-ever Vogue cover, the Queen celebrates her Platinum Jubilee with a photo of her in the early days of her reign, wearing the George IV State Diadem crown. In a playful second cover, Anya Taylor-Joy wears an exact replica of the crown, with ruffled, messy hair against a champagne backdrop.
View this post on Instagram
It's the End of See by Chloé
See by Choe is winding down operations. The offshoot label, Chloé, will cease its operations in the next few years, the business shared. Founded in 2001 by then-Creative director Stella McCartney, the line was a more affordable option for the luxury brand. However, under the direction of Gabrielle Hearst, the brand has since decided to gin a different direction. All 19 stores will begin to close, which the CEO, Riccardo Bellini, said is a 'natural and necessary evolution' for the business.
View this post on Instagram
SUBSCRIBE TO OUR NEWSLETTER
Subscribe to our mailing list and get interesting stuff and updates to your email inbox.