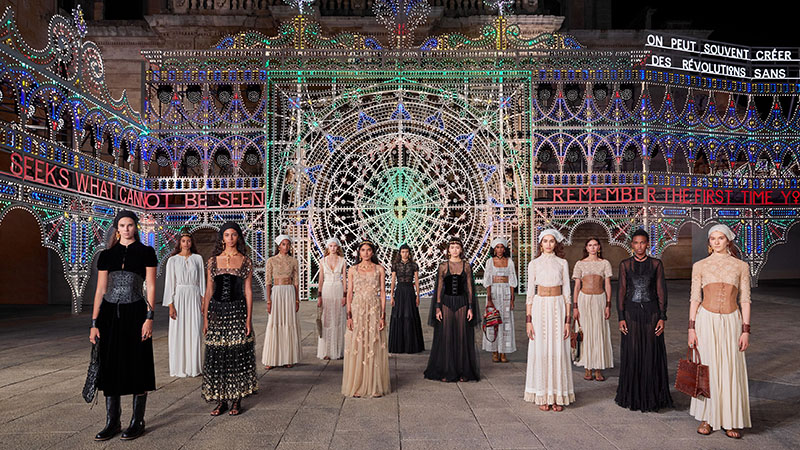 Burberry takes on the streets of London to present its Cruise collection, and Maison Margiela has a new CEO. Let's take a look at some of the biggest international fashion news stories that happened this week.
Maison Margiela Has a New CEO
Gianfranco Gianangeli is the new CEO of Maison Margiela. He previously worked with Givenchy, Prada and Bottega Veneta, as well as at his family-owned high-end knitwear factory. The Paris-based fashion house has been free of CEO since December 2019, after Riccardo Bellini left to join Chloé. In the last year, Maison Margiela had a 36% increase in revenue, with overall sales reaching $233 million. The introduction of the new CEO will aim to lead key growth strategies across OTB, the parent company of Maison Margiela.
Dior Showcases Cruise Collection
Dior has debuted its Cruise 2021 collection in a live-streamed event in Lecce, Italy. The series featured models walking down the runway at a distance of two meters apart through the grounds of the Piazza del Duomo Cathedral. The pieces included corsets, delicate weaving, Tombolo lace, and details that were inspired by the local culture. The collection was an ode to "memory, values, culture, and the future of exceptional craftsmanship."
Dior's Creative Director for womenswear, Maria Grazia Chiuri, found her source of inspiration from her home town in Italy and wanted to reconnect people during these times of isolation, using fashion. The pieces included blouses, skirts, and dresses of delicate lace, oversized belts, and soft white handkerchiefs worn on the models' heads. Embroidered wheat, earthy shades, and delicate fabric adorned the runway, expressing homage to the Italian countryside and craftmanship.
Armani and Net-A-Porter Launch Collaboration
Armani and Yoox Net-A-Porter Group (YNPA) are launching a collaborative project to change the shopping experience. The newly-extended contract aims to be a 'revolutionary, digital, and integrated shopping experience' for its customers. The service will also integrate Armani's physical stores and digital platform and the global logistics network from YPNA.
"In Yoox Net-A-Porter I've found a partner that allows me to transform this principle in a new multi-channel shopping project where the relationship with the customer is increasingly personal and direct, while e-commerce and boutiques are integrated in a dynamic balance, which will have a positive effect, also on the environment," said Armani. The first installment of the project will commence next year and will be completed by 2022.
Burberry Debut Resort 2021 Collection
Burberry debuted its latest Resort collection through a series of photographs inspired by the homes in London. The collection featured its classic checks and colors, introduced via chunky sweaters, shorts, and dresses. Among the traditional styles, the collection featured silks shirts and dresses with delicate rose blossom prints. The lookbook included models, Burberry staff, and members of the 'Burberry community' in front of their homes in the English city.
boohooMAN Launch Collab with Swae Lee
BoohooMAN is releasing a collaboration with American singer and producer, Swae Lee. The collection offers a series of tracksuits, with its roots coming from '90s aesthetics and culture. Every item available seeks its inspiration from the life of the Grammy-nominated artist and his iconic sporty flair style. The limited-edition pieces include color blocking, 'x-ray like' tie-dye, and funnel neck velour silhouettes. The collection is now available for purchase online.
SUBSCRIBE TO OUR NEWSLETTER
Subscribe to our mailing list and get interesting stuff and updates to your email inbox.