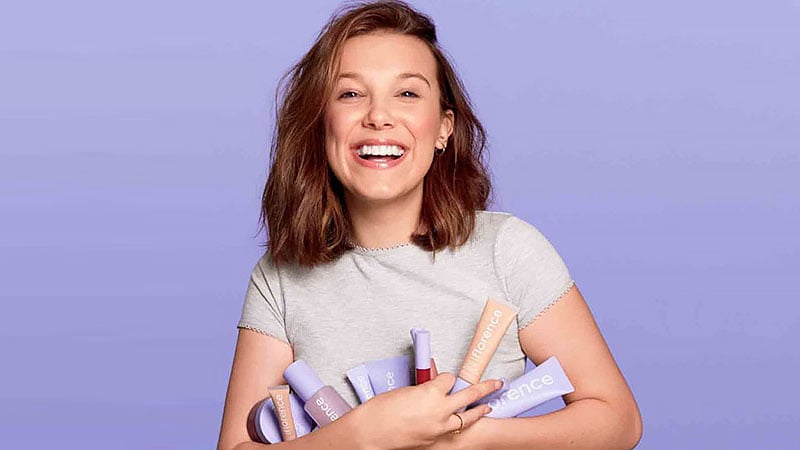 This week in fashion, Zoe Kravitz launches a six-shade lipstick line with YSL and the Anna Wintour Musical is back. Find these stories and more as we uncover the top international fashion news of the week.
Millie Bobby Brown Launches Gen Z Beauty Line
Actress and model, Millie Bobby Brown, is launching a new cosmetic line, Florence Mills. The PETA-certified, cruelty-free and vegan line is for Gen Z, the generation that she falls into herself. The range includes skincare, lipstick, foundations and other makeup products. "I'm very decisive. As soon as I make a decision, that's my decision, and I will do it. There's no regret, usually," Brown said in an interview. "Every decision I make with Florence has been literally made in two or three seconds," said the actress. The line will be available at Ulta, Boots and ranges from $10 to $34.
Zoe Kravtiz Teams with YSL
Zoe Kravitz is releasing a line of lipsticks with YSL. The range features six shades, and range from everyday wear and classic reds. "Makeup, in general, can be seen as warpaint," she explained. "I wanted to start with a simple group of nudes and reds to be your everyday collection. "When I go for a lipstick, it's usually something in that category unless I'm feeling very adventurous." The shades get their names from Ms Kravitz's friends and family, including her dog.

Ryan Raftery Brings Back Anna Wintour the Musical
Ryan Raftery is bringing back his one-person show about Anna Wintour. The show about the Vogue Editor portrays her life at the fashion magazine and features a duet with former Style Editor, Grace Coddington. The musical will play off-Broadway and marks the fifth anniversary of the first performance. "Five years ago, I wrote a musical about Anna Wintour that changed my life. "Ryan Raftery is the Most Powerful Woman in Fashion," he said.
Tommy Hilfiger Launches Repurposed Collection
Tommy Hilfiger is releasing its Fall 2019 TOMMY JEANS – a line of men's and women's jeans that's 100% repurposed unused materials, fabrics and finishings. This follows their first collection of entirely recycled denim, which launched earlier in 2019. With a vision to close the loop in the fashion industry, this line features apparel 'made from at least 90% deadstock fabric, as well as rivets from deadstock and re-embossed leather patches'. Inside the collection are high-waisted tapered jeans, jackets, skirt and a dungaree dress.
H&M Partner with Richard Allan
H&M is collaborating with Richard Allan in its latest campaign. The limited-edition womenswear collection features patterns and designs from the iconic '60s designer. The line will include dresses, blouses, skirts and accessories in shades of gold, red and black. The collab is now available online, with prices starting at $12.99.

SUBSCRIBE TO OUR NEWSLETTER
Subscribe to our mailing list and get interesting stuff and updates to your email inbox.