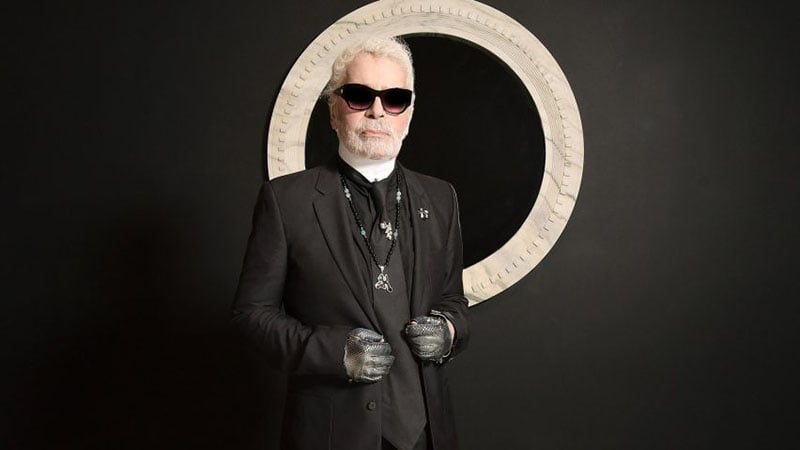 This week in fashion the world mourns the death of Karl Lagerfeld, Melbourne prepares for Australia's largest fashion event, Kim Kardashian accuses fast fashion labels of ripping off her clothes, and Zendaya has just landed a huge new beauty role.
Karl Lagerfeld Dies at 85
Fashion designer Karl Lagerfeld was 85 when he passed away on 19th February. Lagerfeld is credited for his contribution to the house of Chanel, Fendi and his own eponymous label. In 1986 Lagerfeld became the Artistic Director of Chanel, transforming the brand into one of the most identifiable and coveted luxury labels of today. He's also recognised as the man who designed Fendi's "Fun Fur" logo and Chanel's distinctive interlocking "CC" label.
Lagerfeld leaves behind a legacy of design, art and fantasy; his work at Fendi and Chanel reinvented the fashion industry. A statement from the house of Lagerfeld remembers him as "one of the most influential and celebrated designers of the 21st century and an iconic, universal symbol of style."
Preparations Begin for VAMFF
Fashion weeks continue around the globe while Melbourne is preparing for one of the biggest fashion events of the year – Virgin Australia Melbourne Fashion Festival (VAMFF), that starts next week. Throughout the week, the festival will showcase Australia's best talent on the runway and will host beauty workshops, industry seminars and forums. Some of the designers showcasing on the premium runways include Dion Lee, Camilla and Marc, Aje, Bianca Spender, Carla Zampatti and lots more.
An exciting program is jam-packed with fashion events, supported by the creative industries and premium hospitality. This year, VAMFF have announced their new sponsor of the festival, Doss Blockos replacing last year's beer sponsor Asahi, alongside Virgin Australia, Visa and many others. Now in its 23rd year, the festival will present two stages at the Melbourne Exhibition Building with musicians performing during the runway and many off-site activations and other breathtaking surprises. The event takes place from 1 – 10 March 2019. Check out the full VAMFF program and don't miss your chance to be part of this top fashion event.
Kim Kardashian is Suing Missguided for $10 Million
Kim Kardashian is reportedly suing online fast fashion label, Missguided, for using her name and images without permission. Earlier in February she shared a post on Instagram, accusing fast fashion brands of copying designs she wears; "fast fashion brands, can you please wait until I wear this in real life before you knock it off?" she wrote.
In a statement to E! News, Missguided claimed, "We haven't received any notification of legal action, but in any event, any action based on online banter would be meritless." Kardashian has since been accused of giving details of her clothes to another fast fashion site, Fashion Nova, which she has denied. She filed the suit on Wednesday and is seeking damages of $10 million.
Zendaya Becomes Lancôme's Youngest Ambassador
Actress and singer Zendaya is the new face of Lancôme and is the brand's youngest ambassador. Breaking the news on Instagram, the 22-year-old stands alongside fellow ambassadors Lupita Nyong'o, Julia Roberts and Lily Collins. In 2016 Zendaya became the face of the cosmetic brand Covergirl.
Lancôme aims to reach a younger audience with Zendaya as the face of the brand; international president Françoise Lehmann said: "She's very influential and she has a youthful vision of beauty that perfectly complements Lancôme's vision and creativity." Zendaya is the second black woman to become the face of the brand.
SUBSCRIBE TO OUR NEWSLETTER
Subscribe to our mailing list and get interesting stuff and updates to your email inbox.