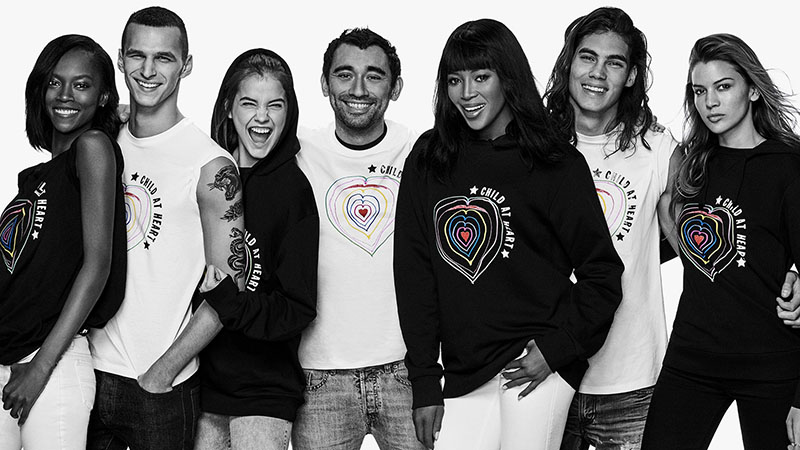 From Harper's Bazaar's jawdropping 150th birthday to Givenchy's premiere kids collection, these are the top international fashion news stories of the week.
Naomi Campbell and Diesel Collaborate to Help Children Globally
Naomi Campbell is renowned in the fashion industry for her stunning face and outspoken voice. This week, she used both of those for a good cause, teaming up with Diesel to launch their 'Child at Heart' collaboration. Proceeds from the collection will go to Save the Children's 'Every Last Child' campaign, which aims to improve the lives of children globally. The foundation is working to ensure that no child dies from preventable causes, that all children receive a quality, basic education, and that violence against children is no longer tolerated.
The 'Child at Heart' collection was unveiled at Diesel's Parisian store and includes cool, casual t-shirts and hoodies. Artwork made by children forms the central designs, with colourful ladybirds and hearts adorning the minimal clothes.
Salvatore Ferragamo Unveils Fruity, Sustainable New Collection
We all know orange is the new black. On April 22, Salvatore Ferragamo celebrated Earth Day by launching a capsule collection using fabric made entirely from citrus fruit byproducts. 'Orange Fiber' is a sustainable and silk-like cellulose yarn that was created in 2014 by Adriana Santanocito and Enrica Arena. The innovation for this material stemmed from Adriana's frustration at the wastage left over when oranges are squeezed for juice. This versatile and luxurious fibre saves water, fertilisers, and prevents environmental pollution. Better yet, it can now land in your closet with a lovely Salvatore Ferragamo label.
The brand's Italian heritage inspired the Mediterranean feel of this sustainable collection of shirts, dresses and pants. The stunning range features drawings of Sicilian fruits, as well as island flowers and floating clouds. To create these exclusive prints, the brand employed international award-winning freehand architect and designer, Mario Trimarchi.
Harper's Bazaar Lights Up The Empire State Building
If you make it to your 150th birthday, it's fitting to celebrate in a big way. If you're Harper's Bazaar, this is achieved by teaming up with Tiffany and Co to take over the Empire State Building for a night. This week, the fashion magazine celebrated the big 150 by shining 42 story high projections onto New York's prized skyscraper. The monumental images were carefully curated from the magazine's long history. The included cover shots of Audrey Hepburn and Reese Witherspoon, and works by Andy Warhol.
Glenda Bailey, the editor in chief of Harper's Bazaar spoke of wanting to "allow New York to enjoy the greatest fashion show in the world." As for the cost, Ms Bailey commented before the big event, "It's wildly expensive, but it will be worth every penny."
Dior Takes Over Tokyo Ahead of New Store Opening
Transporting lovers of couture into a realm of exquisite, fairytale gowns, Dior celebrated the opening of their colossal new Tokyo store with two exclusive shows. For the men, Kris Van Assche presented his Dior Homme Autumn/Winter 2017 Collection. For the women, Maria Chiuri transported her Spring/Summer 2017 haute couture collection to the rooftop gardens of Tokyo's luxury shopping centre, Ginza Six.
Creating an enchanted maze reminiscent of a scene from a Midsummer Night's Dream, Chiuri's show unveiled eight never-before-seen pieces. Designed exclusively for the Tokyo show, they were inspired by Japanese cherry blossoms and Christian Dior's 1953 'Jardin Japonais'. Ethereal models floated through the gardens in stunning handmade gowns and wearing crowns of flowers, feathers, or branches. According to Chiuri, "Couture has to be magic, and at the same time it has to be wearable."
Following the stunning shows, the new five-story Dior boutique opened on April 17 at Ginza Six, Tokyo. It features a men's floor, a café, and three floors dedicated to womenswear and accessories.
Givenchy Reveals First Ever Childrenswear Collection
Climbing trees and playing in sandpits just got a whole lot more stylish with the release of Givenchy's first ever childrenswear collection. 'Givenchy Kids' takes the bold, streetwear aesthetic of departing creative director, Riccardo Tisci, and shrinks it in size to fit children aged 0-12. The collection hits stores this July and will give gap-toothed, tiny trendsetters the opportunity to wear iconic 'mini-me' Givenchy designs. With over 130 luxury pieces to choose from, the collection features oversized knitwear, bomber jackets, denim jeans, star embellished shirts, and knee-high socks. Dark colours with bright pops of red and white push aside the traditional blues and pinks of young children's clothing.
Pieces from the premiere collection will cost between $115 to just over the $400 mark. If your piggy bank isn't quite full enough to splurge come July, don't despair. 'Givenchy Kids' collections will be released bi-annually. Did we mention they have exclusive Givenchy teddy bears? Start saving.
Gucci's Upcoming Intergalactic Collection Stars Aliens
Things got weird and wonderful this week over at Gucci as they revealed intergalactic model 'castings' for their Autumn/Winter 2017 campaign. The high-fashion house surprised Instagram with videos of well-dressed aliens (yes you read that correctly) undergoing a green screen audition. Each short clip includes a description of the alien model's name, age, and home planet, as well as the space age hashtag "#Gucciandbeyond".
With the exception of a scaled green sea beast and mechanical robot, each of the unusual models entered their audition wearing heavily patterned, embellished, or sophisticated garments. With their alien entourage, Gucci is proving that it doesn't matter who you are or where you're from, if you're dressed in Gucci you'll always look incredible.
SUBSCRIBE TO OUR NEWSLETTER
Subscribe to our mailing list and get interesting stuff and updates to your email inbox.