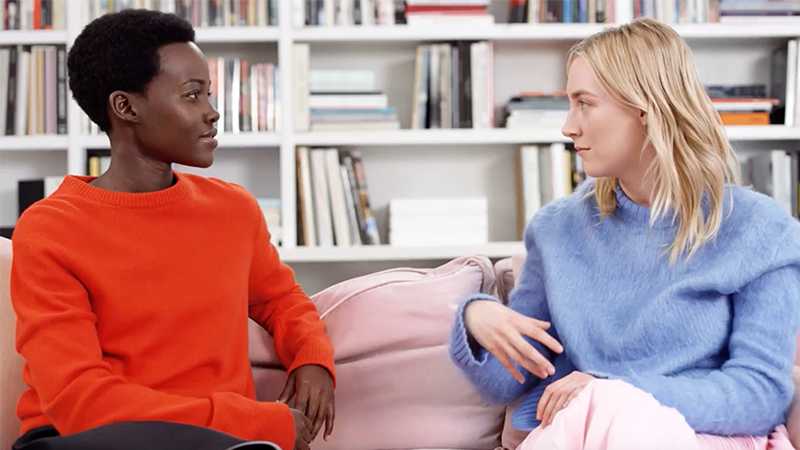 This week in fashion, MOGA vows to no longer use white models, Calvin Klien taps Lupita Nyong'o and Saoirse Ronan as the faces of its new fragrance while Sarah Paulson and Amanda Murphy are the new faces of Prada. Find these stories and more as we reveal this week's top international fashion news.

Lupita Nyong'o and Saoirse Ronan are the New Faces of Calvin Klein's Latest Fragrance
Actress and Academy Award winner, Lupita Nyong'o will feature alongside Ladybird star, Saoirse Ronan in Clavin Klein's latest fragrance campaign. Titled "Women", this is the fashion house's first perfume since Raf Simons took over as a chief creative officer and will drop on August the 15th.
The campaign will show Lupita and Saoirse as inspirational figures like Eartha Kitt, Katharine Hepburn, Sissy Spacek and Nina Simone. A TV commercial will be released later this year accompanying the print ad. The label has also spearheaded a social media campaign using the hashtag #IAmWoman. Fans are posting the hashtag alongside a picture of a woman who inspires them. Calvin Klein released a teaser of the campaign video on Instagram, check it out below.
Sarah Paulson and Amanda Murphy are the Faces of Prada's New Line
The Queen of American Horror Story stars alongside model, Amanda Murphy in Prada's latest campaign. Shot by renowned filmmaker Willy Vanderperre, the print campaign and digital commercial debuts Prada's ready-to-wear Autumn/Winter '18/'19 collection.
Titled Neon Dream, a snapshot of the campaign film was released on the fashion house's Instagram earlier this week. It shows Amanda driving through a fictional Americana-inspired Las Vegas and walking down the infamous Sunset Strip. Sarah Paulson makes a series of mysterious appearances as different characters throughout the short film. The movie is also complete with a soundtrack by French music producer Frédéric Sanchez.
Burberry Accused of Burning $37 million in Unsold Clothing and Beauty Products
Burberry's annual report has shown that they have incinerated more than US$13 million in beauty products and over US$24 million in ready-to-wear pieces. Even the high-end label's prices such as their signature trench coats.
According to The Times, the label burnt the unwanted stock in a bid to maintain the label's exclusivity. However, wastefulness appears to be a growing trend for Burberry whose waste value has risen 50% in two years. This is along with a six per cent increase since 2013. In fact, Burberry has destroyed more than $100 million worth of stock in the last five years. The British fashion house has responded to criticism by claiming it harnessed the energy generated from the burning clothing. Therefore making it more environmentally friendly. "Burberry has careful processes in place to minimise the amount of excess stock we produce," the company said in a statement. "On the occasions when disposal of products is necessary, we do so in a responsible manner, and we continue to seek ways to reduce and revalue our waste."
Daniel Lee Will Make Runway Debut with Bottega Veneta in February
Italian luxury label, Bottega Veneta has announced that Daniel Lee will not be making his runway debut until next year. Lee took over as creative director earlier this year. However, we won't get a glimpse of his next collection until February.
The label has traditionally held its ready-to-wear Spring/Summer '19 show in September as part of Milan fashion week. Mixing things up a little, Bottega Veneta has instead decided to postpone this debut. Instead, Lee's first collection for the label will be his ready-to-wear Autumn/Winter '18/'19 one presented during Milan fashion week next year.
MOGA Announces it Will No Loner Feature White Models in its Campaigns
Sri Lankan headscarf label MOGA will no longer use Caucasian models in any of its advertising campaigns. The move comes as the label strives to promote more opportunities for racial and ethnic minorities. The label has launched a model search to find someone to represent them for the next 12 months. They are calling for women of all shapes, sizes and colours – except those who are white. MOGA stated in a press release; "We want to use the limited spacing we have in each of our campaigns to show races that are currently underrepresented in the media in an effort to promote racial diversity and more opportunities for ethnic minorities."
You may know the accessories brand as the label who gifted its head scarfs to Pauline Hansons, only to have them returned by the politician. This is also not their first move for equality. In 2017 MOGA directed its online advertising towards Australia Day. A series of ads were made in response to growing negativity towards minorities and immigrants. It showed four women from various backgrounds, with very different styles. Each woman styled a green and gold scarf in a way that embodies their own personal culture and style.
SUBSCRIBE TO OUR NEWSLETTER
Subscribe to our mailing list and get interesting stuff and updates to your email inbox.