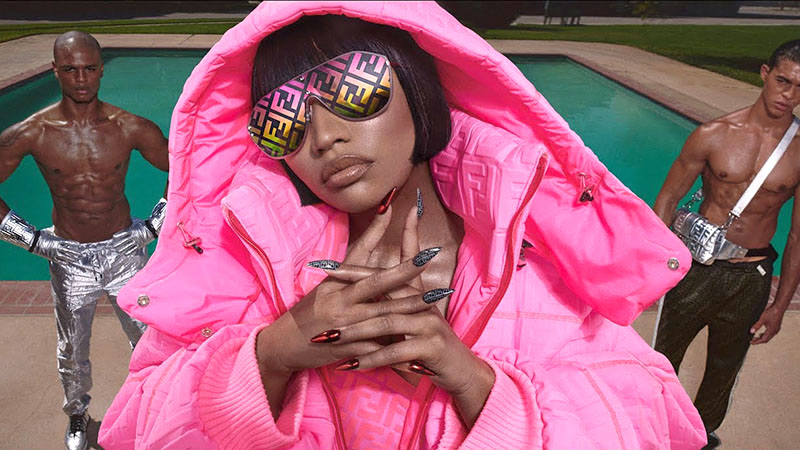 This week in fashion, Nicki Minaj releases her collab with Fendi, and Serena Williams launches a designer apprenticeship with Nike. Find these stories and more as we uncover the top international fashion news of the week.
Balmain Collaborates with Puma and Cara Delevigne
Balmain is collaborating with Puma and Cara Delevigne in a new unisex collection. It features silk boxing shorts, bomber jackets, distressed T-shirts, hoodies and leggings and has a focus around boxing and athleisure. Oliver Rousting said the collab was "really born out of our friendship. She asked me to work with her on this collection with Puma. We had a very clear point of view because we both love boxing," he told WWD. "We also wanted to use this collaboration as a platform to promote diversity and inclusivity." The 35-piece collection will debut on November 21st in Puma stores and online.
Louis Vuitton Opens Factory in Texas
Louis Vuitton is opening a factory in Texas to create more jobs in the United States. LVMH made to American Workers and will introduce more than 1,000 positions into the industry. "I'm not here to judge any types of policies," said LVMH CEO, Bernard Arnault. "I'm here to work with my brand."
"I have always been close to the U.S. since the beginning of the Eighties when I lived here. You remember that France, a beautiful country, was becoming a little bit socialist at the time, and so I tried to find a country where business was welcome."
Serena Williams Creates Design Apprenticeship with Nike
Serena Williams is launching a design school with Nike. Forty up and coming New York designers will take place in the apprenticeship, and ten will be selected to work in the Nike headquarters. The final apprentices will create a collection inspired by the tennis star.
"I wanted to introduce a special collection, and with my role in Nike and what I do just in general, I always want to make sure that we are able to increase diversity and inclusiveness. I thought it was a great way to partner with them," said Serena Williams. The collection will propel a series of new designers into the industry, and it also invites further diversity.
Bella Hadid Named Highest Score of Golden Ratio of Beauty Phi
Bella Hadid has scored the highest score for the Golden Ratio of Beauty Phi. The test is a Classical Greek method of evaluating beauty and has been used by Michelangelo and Da Vinci. It applies mathematics and measures the ratio of the nose, eyes, chin and jaw. The American supermodel scored a 94.35, with Beyoncé coming in second at 92.44 per cent and Amber Heard receiving 91.85.
Nicki Minaj Releases Collab with Fendi
Nicki Minaj is debuting her capsule collection with Fendi, called 'Prints On'. The collaboration includes 127 ready-to-wear pieces, including shoes, swimwear and handbags. The design contains splashes of bubblegum pink and the iconic double F logo.
"I made a song called 'Chun Li', and I said 'Fendi prints on," said Ms Minaj. "Fendi then brought me out to Milan and said, 'When your song came out, the clothes that had the actual Fendi prints on started selling more.' I respected them so much for telling me that; we all know how hip-hop influences fashion, but a lot of times, we don't get that credit, so I fell in love with them for saying that." The collection is available for purchase online and selected Fendi boutiques.
Ally Feiam is an enthusiastic Journalist and Fashion Writer with a passion for fashion. She has an impressive portfolio of experience in the industry, including four years as Editor of Power Retail and five years as co-host of The Stockman Breakfast radio show. Currently, she serves as Producer/Editor at NewsCorp and has been writing for The TrendSpotter since 2018. With a degree in Journalism Ally's work has been featured in notable publications such as The Herald Sun, Arirang TV South Korea, Kidspot, The House of Wellness, and The Daily Telegraph.
SUBSCRIBE TO OUR NEWSLETTER
Subscribe to our mailing list and get interesting stuff and updates to your email inbox.