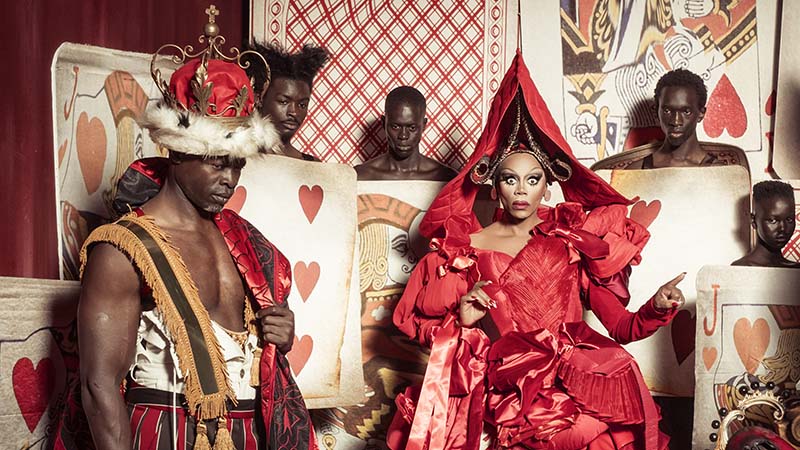 Pirelli launched its 2018 calendar with an all-star black cast, Vanity Fair appointed a new editor-in-chief, and Victoria's Secret gave us a first peek at the Balmain collaboration. Discover these stories and more as we reveal this week's top international fashion news.
First Look at Balmain x Victoria's Secret
With only a week to go until the anticipated Victoria's Secret Fashion show in Shanghai, the lingerie brand has finally given us a peek at the glamorous designs that Olivier Rousteing has created for the occasion. The idea pitched by VS creative director Sophia Neophitou-Apostolou was 'punk rock', therefore, it's not surprising that the collection features elaborate metallic details, embellishments and lots of leather. "We went with the idea of punk rock but he turned it into glam punk," shares the creative director behind the scenes of a pre-show fitting. "It's much more finessed and beautiful." Unlike other runway pieces that are exclusively designed for the show, the Balmain x Victoria's Secret collection is going to be available for purchase at selected VS stores. "We need to give the public what they expect, and even more, surprise them," said Rusteing of the collaboration.
At the same time news has broken that five angels were forced to pull out of the show in Shanghai last-minute. First-timer Julia Belyakova and fellow Russian models Kate Grigorieva, Irina Sharipova and Dasha Khlystun from the Ukraine were not granted a visa to enter China. Gigi Hadid, who had her VS runway debut in 2015, confirmed earlier this week that she wouldn't be walking in this year's show either. Hadid was allegedly forced to bow out following a video that shows her mocking a Buddha-shaped cookie in February. On the bright side, we have learned that Channel Nine will be taping the show on behalf of the Australian public on November 20. While no official date has been confirmed yet, the station aired the show just a few days after the US in previous years. There, CBS will be broadcasting the show on November 28.
Pirelli Champions Black Beauty for 2018 Calendar
This week, Pirelli has given us a first look at the stunning images that are going to grace the pages of the coveted Pirelli Calendar in 2018. For the second time in its long-standing history, Pirelli has cast an all-black crew. This time, to recreate the tale of Lewis Carrol's Alice in Wonderland as envisioned by photographer Tim Waleker. British Vogue's new editor-in-chief, Edward Enningful, styled and handpicked the group of 18 models, activists, artists and actors himself, with Australian-Sudanese model Duckie Thot in the lead. Fellow countrywoman Adut Akech was chosen for the role of Queen of Diamonds. In an interview with The Cut, Thot weighs in on the personal impact the concept has had on her. "It means so much to me because I know it's going to impact some girl's life in a way that I wish I had when I was younger."
The Aussies are joined by a number of other notable names, such as RuPaul as the Queen of Hearts, Whoopi Goldberg as The Royal Duchess and Lupita Nyong'o as Dormouse. Meanwhile, Diddy and Naomi Campbell were ready to see some heads rolling as the Royal Beheaders. Walker views his work on this project as a celebration of beauty. "I wanted it to be a very definite comment on black beauty, which I think is sometimes forgotten about." First launched in 1963, the Pirelli calendar was until recently showcasing explicit, high-quality photographs of female models and celebrities. Having caught up with the societal zeitgeist, it has shifted its focus in recent years to feature figures of cultural significance. Only last year, Annie Leibovitz created a series of women celebrated for their accomplishments, which included the likes of Nicole Kidman, Helen Mirren and Julianne Moore.
Ixiah Charity Collection Raises Over 2k
When Krystal's sister Tiff was caught in a tragic car accident at only six years old, the family's life changed in an instant. What followed were months of hospital visits, doctor's appointments and a long road towards rehabilitation. However, what the Australian designer and Ixiah founder fondly remembers from this challenging time is the love and care her family received during months of living at a Ronald McDonald House near the hospital. "As a small child, I have strong memories of living in this facility. It was our home away from home," she writes. After all these years, Krystal feels she's finally able to repay some of the kindness done by her family. "It is a strong and supportive community, there are kitchens and playgrounds and so much more that takes the stress off what you are going through away as you care for your sick child, or in my case sibling."
In a continued effort to raise awareness for the Ronald McDonald House Charity, she did what she does best and designed stylish limited edition pieces. Earlier this year, the Ixiah Embellished Symbol Jumper quickly raised a whopping $1000 for the organisation. In the second round, which officially started earlier in October, the designer opted for a more summer appropriate style with shorter arms and lighter fabric. The first batch of the stylish Ixiah Symbol Tee sold out in just six days. So get your hands on in it while you can, $15 of every shirt purchased proceed directly to the RMCH. To date, the brand has already donated more than $2000.
Vanity Fair Appoints New Editor-in-Chief
It's the start of a new era for the US edition of Vanity Fair. For the first time in 25 years, Condé Nast announced a new editor-in-chief for the society publication. Dubbed the 'surprise choice' by the New York Times, Radhika Jones will be succeeding Graydon Carter, who has been at the helm of the magazine since his appointment in 1992. He announced his departure from the magazine in September. The appointment makes Radhika Jones the sixth person to hold the torch since Vanity Fair was founded in 1913 and the fifth since it was revived in the 80s. In an interview following her appointment, the former book editor says that it was the magazine's particular flair that made the role most appealing to her. "Vanity Fair holds this very unique place in the culture. There is no title that compares."
Anna Wintour, who was involved in the search for Carter's successor said in a statement that they were "proud to have a fearless and brilliant editor whose intelligence and curiosity will define the future of Vanity Fair in the years to come." Her current resume already includes multiple high-ranking editorial roles, having held the positions of deputy managing editor at Time magazine and editorial director of the book department at the New York Times. Although Jones' involvement in celebrity culture has been rather secondary thus far, she yields a particular fascination for the niche. "It feels right to me to be thinking about these things at this moment. It feels like our culture is calling for it." When asked whether her predecessor has spoken any words of wisdom to her, she just replied: "He said I'm gonna be very busy for at least a year or two, probably longer."
Watch the First Trailer for 'Versace: American Crime Story'
After a successful introductory season of American Crime Story revolving around the O.J. Simpson trial, we finally got a glimpse at the second instalment. Centred around the untimely death of design legend Gianni Versace, the clip enters into the colourful world of the Italian designer and the double life of his disturbed perpetrator. Penelope Cruz already delivers an incredibly convincing Donatella, while Darren Criss as serial killer Andrew Cunanan is barely recognisable from his former Glee days. Aside from the obvious case of the designer's homicide, the docu-drama promises to broach the subject of homophobia, which has apparently actively influenced the Miami police department's investigations at the time.
Andrew Cunanan killed four men before fatally shooting the Italian designer at the steps of his Florida home, Casa Casuarina. This year marks the 20th anniversary of his death, which has been an occasion for Donatella to honour his legacy with a retrospective of his iconic prints at the Versace show during Milan Fashion Week. American Crime Story: The Assassination of Gianni Versace is scheduled to premiere early next year on January 17.
SUBSCRIBE TO OUR NEWSLETTER
Subscribe to our mailing list and get interesting stuff and updates to your email inbox.