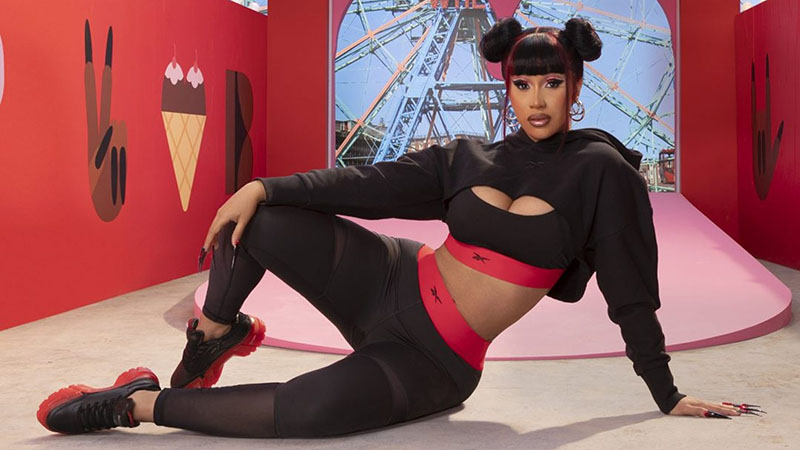 The theme for this year's Met Gala is here, and Gucci and Balenciaga are joining forces. Stay up to date with the hottest international fashion news stories of the week.
Balmain Launches a Collaboration with Maluma
Balmain has released a limited-edition collaboration with Colombian singer, Maluma. The capsule finds its inspiration from Miami and features lush shades of pink, blue and tropical patterns. The logos for the French fashion house and musician splatter across T-shirts, sweaters, and pants, with a mix of palm trees and the addition of a striped blazer.
"It's been one of my goals to work with a respected fashion house on a collection, " shared Maluma in a statement. "My friend Maluma was quick to note that Balmain's new relaxed Miami vibe—with all those pastels and eye-catching patterns—was a perfect match for his distinctive style and addictive beat," said Olivier Rousteing. The collection is available for purchase online.
A Look at Cardi B's Reebok Collection
Cardi B is teaming up with Reebok for a collaboration project. The 90s-inspired collection features cropped sweaters, bold colors, and an athletic feel. The rapper has combined her love of growing up in the 90s in New York with its club scenes, beach workouts, and Coney Island styles.
This is the first apparel collection that Cardi B is completing with Reebok, following her two footwear releases. "I'm so happy to be releasing my first collection with Reebok," she said. The collection will debut on April 23.
2021 Met Gala Theme is Here
The theme for the Met Gala has been revealed, and this year will have a different date. Usually held on the first Sunday of May, this year it will take place on September 13 instead. The theme for this year's event is In America: A Lexicon of Fashion and will center around the innovations, stylings, and historic pieces by American designers over time.
For the first time, the Metropolitan Museum of Art will host a two-part exhibition for the event, with the Met Gala taking the spot as Part One. This will tie in with the closure of New York Fashion Week. Secondly, another show, In America: An Anthology of Fashion, will open on in May 2022 and will run until September.
Gucci and Balenciaga are Teaming Up
Gucci and Balenciaga are teaming up for their inaugural partnership. As part of Gucci's 100th birthday, the designer debuted the breakout project. This is not known as a 'collaboration,' says Allesandro Michele, the Creative Director for Gucci, but instead a 'hacking' of the two iconic brands.
The runway show, Aria, features a combination of the two distinctive styles. The film took place in a fictional venue called Savoy Cub – a clear nod to London's Savoy Hotel. Pieces included Balenciaga's Hourglass Tote combined with Gucci's interlocking logo and coats, footwear, shirts, and accessories following a similar pattern. While the two fashion houses are owned by Kerin, this marks the first time the two brands have intertwined styles and worked together for a collection.
SUBSCRIBE TO OUR NEWSLETTER
Subscribe to our mailing list and get interesting stuff and updates to your email inbox.