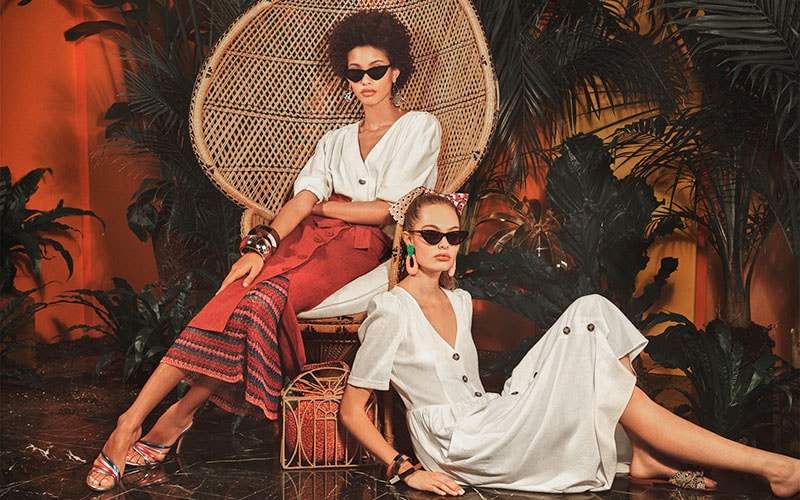 This week in fashion, we said goodbye to 91-year-old fashion icon, Hubert De Givenchy, Selena Gomez announced she's designing a clothing and accessories line with Coach, Donatella Versace ditched fur and Zara blessed Australia with an online store. Find these stories and more as we reveal this week's top international fashion news.

1. Hubert De Givenchy Dies at 91
Earlier this week the world said goodbye to one of the most revered fashion designers of all time. Hubert De Givenchy, fashion designer and couturier of the house of Givenchy died, aged 91. His family announced his passing via French news wire AFP on Monday after he passed away on Saturday the 10th of March.
One of the most famous names in haute couture, Givenchy is responsible for some of history's greatest fashion moments. From that little black dress worn by Audrey Hepburn in Breakfast at Tiffany's to Grace Kelly's emerald-green day dress and bolero jacket. He is among those such as Christian Dior, Yves Saint Laurent and Cristobal Balenciaga, whose work is credited with redefining fashion in the wake of World War II. He is renowned for his work and friendships with Hollyoowd starlets such as Liz Taylor and Lauren Bacall as well as women of the state, including Jackie Kennedy and Princess Grace of Monaco. However, there was no bond quite as special as the one he shared with Audrey Hepburn. Hubert De Givenchy is remembered as a pioneer of ready-to-wear, revolutionary and stunning couture designs.
2. Selena Gomez is Designing Her Own Line of Coach Clothing and Accessories
The longtime face of Coach, Selena Gomez, has taken her relationship with the designer label to the next level. On Wednesday, the brand officially announced CoachxSelena with Gomez's line of clothing and accessories expected to hit shelves later this year. The partnership follows Selena's incredibly successful designer debut with the brand after she releasing her own Coach bag last year. However, this will be the first time the actress, singer and model will try her hand at clothing design.
The collection will be co-designed by Stuart Vevers, the creative director at Coach. It will feature ready-to-wear, handbags, leather goods and other accessories. Based on Selena's edgy, yet feminine aesthetic, we are thinking this collection will be a grungy girly girl's dream. Set to be released in spring we are picturing edgy biker jackets, feminine florals, combat boots and a meld of minimal and extravagant accessories.
3. Zara Launches Online Australian Store
Australians can finally shop Zara online after the fast fashion giant launched its Australian online store this week. The European retailer announced its plans for the new digital space in typically low-key Zara fashion. Updating its Australian URL website and including a single message, "Dear Australia, shop online March 14." Austalia has been eagerly awaiting its launch since, and this week that day finally arrived.
The Aussie online store offers complete collections for women, men, and kids and free returns, in-store and online. In the even more spectacular news, if you're in Melbourne, Sydney, Perth, Canberra, Adelaide or Brisbane, you can get free next-day delivery – on orders over $75. Sydney-siders can even get same-day delivery. You can also choose to have your items delivered to a store for in-store collection.
4. Donatella Versace Ditches Fur
Donatella Versace has pledged that it will be faux fur only from now on for the designer label. The veteran fashion designer stated, "Fur? I'm out of that. I don't want to kill animals to make fashion. It doesn't feel right," in an interview with The Economist's 1843 magazine. She is the latest in the line of high-end fashion designers to drop the fabric, such as Armani in 2016, Gucci and Michael Kors last year, and Furla this year. Stella McCartney and Calvin Klein also no longer feature fur on their runways or in their designs.
Versace's revelation is a welcomed change for the label, which has long been synonymous with using animal pelts in its designs. Even at the time of the announcement, Versace was promoting fur-embellished coats on its website. Donatella has given no specific timeframe as to when the label will ditch the fabric completely. However, it seems the new rules may be effective immediately. Animal activist groups have praised the move, yet PETA still urges the label to ditch leather from its lineup too. The plethora of designers taking a stance against fur sends a powerful message that animal cruelty is so last year.
5. Chanel's Fall 2018 Runway in the Woods
These days Chanel is known for much more than just its innovative designs but also its revolutionary and creative runway shows. Taking models sky-high in airplanes and space stations or sending them traipsing through grocery stores, now they have sent models into the woods. The label had models strutting through the forest for its Fall 2018 show. Not literally of course; however, onlookers could be forgiven for thinking so.
Karl Lagerfeld transformed the Grand Palais into a whimsical and lifelike forest. The realistic decorations featured tall trees lining the runway and an extended forest backdrop. From leaf-covered invitations to leaf-covered floors, Chanel's guests truly got in touch with nature. Chanel muses Carla Bruni, Lily Allen, and Keira Knightley were front and center for the Fall 2018 show. The collection itself featured 80 fall looks, complete with classic Chanel tweed coats, black lace gowns, and oversized scarves. The color palette was mostly neutral with blacks and greys, with accessories such as fingerless gloves and scarves woven through in brighter hues such as blue, pink, and orange.
SUBSCRIBE TO OUR NEWSLETTER
Subscribe to our mailing list and get interesting stuff and updates to your email inbox.