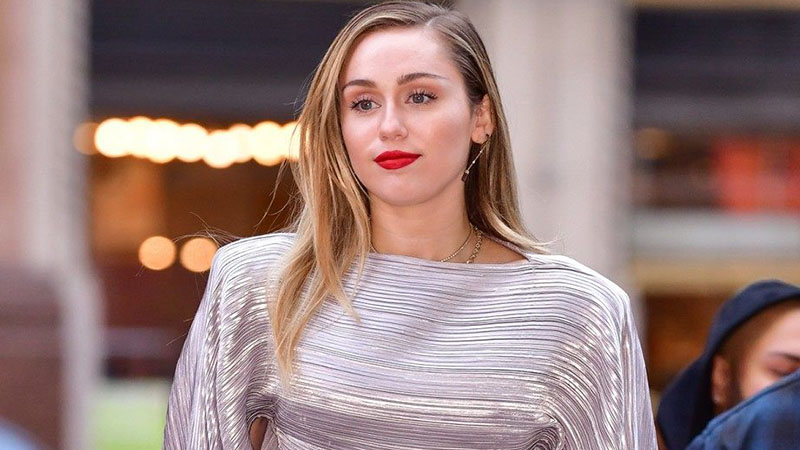 This week in fashion, Valentino opened its first-ever Sydney store, Gigi Hadid has launched sneakers in collaboration with Reebok, Stella McCartney extended partnership with consignment firm and Miley Cyrus shows support of cruelty-free fashion. Find these stories and more as we reveal the top international fashion news of the week.
Valentino is Opening its First-ever Sydney Store
Valentino is opening the doors to the city's very-first boutique in Westfield Sydney—just in time for Christmas. Designed by British architect David Chipperfield, the new 342 square metre boutique combines elements of Valentino's signature romanticism style and classical aesthetic, with complimenting geometric accents—think a trapezoidal space complete with a single free column and an assortment of furniture pieces in different materials and shapes. With its walls, floors and façade made entirely of Venetian terrazzo, the new store echoes the appealing nature of those that have come before it, along with features that have become synonymous with the Italian fashion house and the values of craftsmanship it has become known for.
In celebration of the store opening, the brand is also launching a Christmas-themed Rockstud Spike bag, available to shop exclusively at Westfield. With only 400 pieces that come complete with ruby-hued studs and a Yrsa Daley-Ward poem, you'd better get in quick before they sell out.
Gigi Hadid has Launched Sneakers in Collaboration with Reebok
Gigi Hadid has announced the release of Gigi x Reebok which will include sneakers as part of a larger collection. The shoes are now available for purchase here and are part of an initial limited collection. They look like a stylish '80s-meets-'90s hybrid and come in two colourways — white with raspberry and black with mustard. The two Reebok x Gigi crop tops will also hit shelves when the first stage of the release comes out next month. The rest of the collection is expected to go on sale in January or February of 2019.
Over the past few years, Gigi has partnered with Reebok as part of their #neverperfect campaign and has had her fair share of design experience working with other labels. In 2016, she designed a pair of boots with Stuart Weitzman, and has created multiple runway collections with Tommy Hilfiger.
Stella McCartney Extends Partnership with Consignment Firm
Stella McCartney's fashion and lifestyle brand have extended its partnership with The RealReal through 2019 to keep products out of landfills. Shoppers who consign with The RealReal receive $100 of store credit to spend at Stella retail stores or online, the companies say. When designer McCartney and The RealReal CEO Julie Wainwright initially joined forces, it marked the first time that a luxury brand actively began pushing for items to be consigned.
Their partnership has yielded strong results so far, the two women say. The RealReal consignors of Stella McCartney items have increased by 65%, and the number of the brand's items consigned increased by 74% each year. Founded in 2011 as an online startup, the luxury consignment company now has store locations in cities across the United States. The need for a shift in the industry is pressing. Last year, the Ellen MacArthur Foundation's Circular Fibers Initiative found that every second, humanity burns or trashes enough clothing to fill a garbage truck. Well-known fashion brands are getting called out for their practices, too. Recently that included Burberry, which came under fire for destroying finished luxury products and agreed in September to end the practice.
Adidas, Gucci, Zara, and H&M Have Pledged to Reduce Their Greenhouse Gas Emissions by 2030.
At the UN's big COP24 climate summit in Poland this week, the brands and other stakeholders from across the industry launched the Fashion Industry Charter for Climate Action. The charter includes the 30% emissions cut as well as 15 other goals. These include a commitment to analysing and setting a "decarbonisation pathway" – basically a way of reducing emissions – and signatory companies phasing out coal-fired power generation from 2025. Many of the other goals are pretty fuzzy, though. They include supporting the goals of the Paris Agreement, pursuing energy efficiency measures, partnering with banks to catalyse scalable solutions, and establishing a closer dialogue with consumers and governments.
UN Climate Change Executive Secretary Patricia Epinosa described the charter as "important" and "a unique commitment". "The fashion industry is always two steps ahead when it comes to defining world culture," she said. The global fashion business is a massive industrial source of greenhouse gases. Textile production released 1.2 billion tons of CO2 equivalent in 2015 – equal to the emissions of about 300 coal-fired power plants in one year, or more than double of Australia's annual emissions. In March, the UN described the practice of churning out large volumes of cheap, disposable clothing ('fast fashion'), as an "environmental and social emergency". It said this is only going to get worse as growing middle classes in countries such as China and India begin buying more clothes. The industry-led charter does not suggest reducing consumption of clothes. The UN will "facilitate and coordinate" the climate work of the fashion industry, including arranging workshops and setting annual goals. The first working groups will convene early next year.
Miley Cyrus in Support of Cruelty-Free Fashion
It's rare for celebrities to wear clothing that represents the issues important to them, but Miley Cyrus is currently running a masterclass on how to incorporate your beliefs into your wardrobe. Currently in London to promote her new single with Mark Ronson, "Nothing Breaks Like a Heart", the singer and longtime animal rights activist have used the occasion to show off her best in cruelty-free fashion. Out a few days ago at BBC's Maida Vale studio, Cyrus posed for pictures with fans wearing a vintage faux fur from Vivienne Westwood. Layered over a Wolford bodysuit, Westwood shorts, and vegan leather cowboy boots by Casadei, the look reflected the ethical principals Cyrus holds dear.
The all-black colour scheme and use of cruelty-free items have been a continual theme on Cyrus's London tour. She opted for the stunning combination of a Chanel mini-skirt and Stella McCartney's thigh-high boots while leaving her hotel in Westminster. With vegan versions of leather, fur, and wool all in the mix in her wardrobe, Cyrus proves that cruelty-free fashion is stylish and on-trend.
SUBSCRIBE TO OUR NEWSLETTER
Subscribe to our mailing list and get interesting stuff and updates to your email inbox.