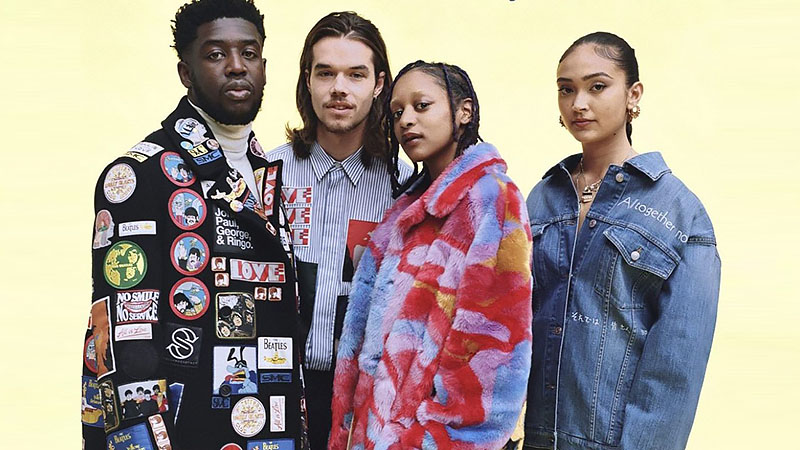 This week in fashion, Lady Gaga launches her makeup line, and Off-White is sued for copyright infringement. Discover these stories and more as we uncover the top international fashion news of the week.
Lady Gaga Launches Her Own Beauty Line
Lady Gaga is launching her first makeup brand, Haus Laboratories. The line will be sold exclusively on Amazon. One of the collections, Glam Attack, features six items, including lip liner and lip gloss, eyeshadow and an eye pencil.
Gaga announced the launch on Instagram and explained her reason for starting it. "When I was young, I never felt beautiful. And as I struggled to find a sense of both inner and outer beauty, I discovered the power of makeup. I've come to accept that I discovered my beauty by having the ability to invent myself and transform. They said I was just weird, but really, I was just Born This Way," the statement read. Haus Laboratories will release in September.
Off-White Hit with Copyright Infringement
Virgil Abloh's label, Off-White, is being sued by creative agency, OffWhite Co, for copyright infringement. The agency said it has 'publicly done business as 'OffWhite' since the late 1990s', working with brands such as Coca-Cola and IBM. In a statement made by the agency, the designer's name is too confusing and is 'effectively dooming [OffWhite Productions'] ability to make use of, develop and enjoy the benefits of its brand,'. Christopher Kelly, Chair of Trademark Practice at Wiley Rein LLP said, "If these parties operated in the same space, sold to the same consumers, and had a more compelling relatedness, this would be a very different case."
Idris Elba is Launching a Fashion Line
Idris Elba is dropping a unisex fashion line, 2HR Set, it is inspired by his passion for music and the DJ culture. The collection includes hoodies, sweats, long-sleeve ad crew-neck T-shirts and other basics. 2HR Set features collaborative styling from DJs like Fatboy Slim, and will soon include other collabs with artists and musicians that love Elba.
The inspiration stems from his love and passion for music. "A two-hour set is the acid test for a DJ. But for me, I've taken this idea a step further. Whether I'm behind the decks on stage, in the gym, or studying a new script, I'll give myself two hours and really get stuff done. It's my window to go for it, get it done, and get it done well," he explained. 2HR Set is available for purchase.
Stella McCartney Releases a Beatles Inspired Collection
Stella McCartney is releasing a collection, All Together Now. It takes inspiration from the Beatles' 1968 psychedelic film, Yellow Submarine and is based on the song with the same name. The film celebrated its 50th anniversary in 2018, and Ms McCartney was inspired to create a line dedicated to her father's legacy. "It's shockingly modern, what those four young guys did. The beauty of the lyrics blows me away," she said. The collection includes shirts, coats and bags, and is available for purchase online.
SUBSCRIBE TO OUR NEWSLETTER
Subscribe to our mailing list and get interesting stuff and updates to your email inbox.