This week, Hollywood stars wore black to champion solidarity, an exclusive Gucci museum opened in Florence and actress Nikki Reed launched a jewellery line that recycles gold from old computers. Find these stories and more as we reveal this week's top international fashion news.
The Death of a Dark Era: Stars Wear Black to The Golden Globes
As 2018 began, we bid farewell to a world where victims of sexual assault are silenced. The sea of black gowns and suits at this week's 75th Golden Globes depicted a funeral of sorts, which set into stone the beginning of a new era. Actress Issa Rae described it as "the death of old Hollywood", as actors and actresses wore black as a stand against anyone who has used their position of power to abuse, blackmail or silence others. The movement and correlating 'Time's Up' campaign arose in late 2017, in the wake of the Harvey Weinstein sexual harassment scandal. The domino effect of this campaign engulfed the entertainment industry and saw women around the world coming forward with their own stories.
It was not merely on the red carpet, however, that some of the world's most prominent voices rallied against this abuse. Host Seth Myers set the stage for the powerful speeches to come as he announced to the audience that "for the male nominees here tonight, this is the first time in three months it won't be terrifying to hear your name read out loud." The award recipients themselves also signified a shift in cultural thinking and the way society views women and relationships of abuse. Elisabeth Moss won the award for Best Actress for her role in the controversial 'The Handmaid's Tale'. Meanwhile, Nicole Kidman's portrayal of a wealthy mother in a highly abusive relationship in 'Big Little Lies' saw her take out her own golden trophy.

Finally, there was Oprah. Upon receiving the Cecil B DeMille Lifetime Achievement Award, Oprah Winfrey brought the crowd to a standing ovation and reinforced the theme of the night. "We all have lived," she declared, "too many years in a culture broken by brutally powerful men. For too long, women have not been heard or believed if they dare speak the truth to the power of those men. But their time is up. Their time is up."
Florence Unveils Long-Awaited 'Gucci Garden' Museum
Italy's famous city of Florence is the home to many of the art world's greatest treasures. From Botticelli's Venus to Michelangelo's David, it is no wonder travellers have been enchanted by the city for centuries. Now, another famous name has joined the list of great artists in Florence, with the opening of the highly anticipated Gucci Garden.
Located in the 14th century Palazzo della Mercanzia, just a stone's throw away from the renowned Uffizi Gallery, the Gucci Garden is a fashion lover's wonderland. Inside, visitors may explore a carefully curated museum of all things Gucci or shop at the boutique that sells exclusive ready-to-wear pieces. Afterwards, a restaurant titled the Gucci Osteria da Massimo Bottura is set to lure in diners with its tantalising menu. Lead by a three-Michelin-star chef, it features iconic Italian cuisine as well as a fresh take on Tuscan classics.
The Gucci museum is open to the public from 10 am – 7 pm. Entry tickets cost 8 euros, with half of this price being donated to support restoration projects in Florence.
The Future is in Sight with New Augmented Reality Smart Glasses
In 2018, there are cars that drive themselves and AI systems that control your entire home. There are smartphones and smartwatches, and now, there are smart glasses. At this week's Consumer Electronics Show in Las Vegas, New York company Vuzix introduced the world's first augmented reality smart sunglasses. Welcome to the future. Teaming up with international powerhouse Amazon, Vuzic has incorporated the Alexa voice-controlled digital technology into their new 'Blade' AR glasses.
The Vuzix Blade glasses involve a small screen that hovers in the upper right corner of your vision. Connected to the internet via Wi-Fi or your phone through Bluetooth, it brings all your technology needs to the forefront of your attention. Literally. While you view the world beyond the lens, the glasses allow you to answer phone calls, follow mapping directions, track your exercise performance, browse Snapchat and Instagram and text your friends. You can even capture memories exactly as you view them, with a built-in camera for photos and videos.
The concept of having handsfree information and internet connectivity is intended to drastically transform and enhance performance in the professional fields of science, medicine and more. When it comes to everyday use, however, the question remains as to whether these glasses will lead to a more integrated, interactive future. Or, whether we are about to enter a real-life Netflix episode of Black Mirror.
Hollywood Hosts 'American Crime Story: Versace' Premiere
This week in Hollywood stars Ricky Martin, Penelope Cruz, Edgar Ramirez and Daniel Criss took to the red carpet for the premiere of the upcoming series, 'The Assassination of Gianni Versace'. The show, directed by Ryan Murphy, is the second instalment of the riveting 'American Crime Story'. The first season, 'The People v. O.J Simpson' won countless awards for its depiction of the infamous O.J Simpson murder trial. This time around, the show will be based on the life and sudden murder of high-profile fashion designer Gianni Versace in 1997.
The upcoming television series was inspired by the 1999 book, 'Vulgar Favours.' Written by Maureen Orth, it depicts the events surrounding Versace's death. While Ryan Murphy has announced that "Donatella Versace sent Penelope Cruz a huge arrangement of flowers yesterday", following the actress's portrayal of the iconic designer, the Versace company has stated that the show is based on a "work of fiction" that is "full of gossip and speculation". Despite this, 'The Assassination of Gianni Versace', is destined to draw viewers en masse for its season debut. The first episode is set to air on FX on January 17th.
Nikki Reed Creates Gold Jewellery from Recycled Tech
As sustainable fashion becomes more coveted than ever, designers are constantly looking for fresh, new ways to make their pieces eco-friendly. This week, actress and activist, Nikki Reed, revealed a glittering new gold jewellery collection, which presents the precious resource in an entirely unique way. Launched at the Las Vegas Consumer Electronics Show, the collection is the brainchild of a partnership between Reed and electronics mega company, Dell.
Named The Circular Collection, each piece of 14-18 carat gold jewellery is created from gold that has been entirely sourced from recycled tech products. In other words, the gold inside that old computer motherboard you threw out last year could have now been transformed into stunning earrings, rings or cufflinks. As Nikki explained on her Instagram, extracting gold from old computers is 99% more environmentally friendly than mining it from the earth. Ultimately, fashion doesn't have to cost the earth, and Nikki has approached this mantra in more ways than one, ensuring her new range is luxurious yet affordable. Prices range from $78 to $348. View the full of Nikki Reed and Dell's innovative jewellery range here.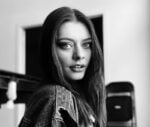 Alexandra Feiam is an experienced fashion writer who holds a degree in journalism. She has an impressive portfolio and expertise working as the Editor at Power Retail and Commercial Content Editor at Newscorp. Ally has been writing for The TrendSpotter since 2018, and her work has been featured in notable publications such as The Herald Sun, Arirang TV South Korea, Kidspot, The House of Wellness, and The Daily Telegraph.
SUBSCRIBE TO OUR NEWSLETTER
Subscribe to our mailing list and get interesting stuff and updates to your email inbox.